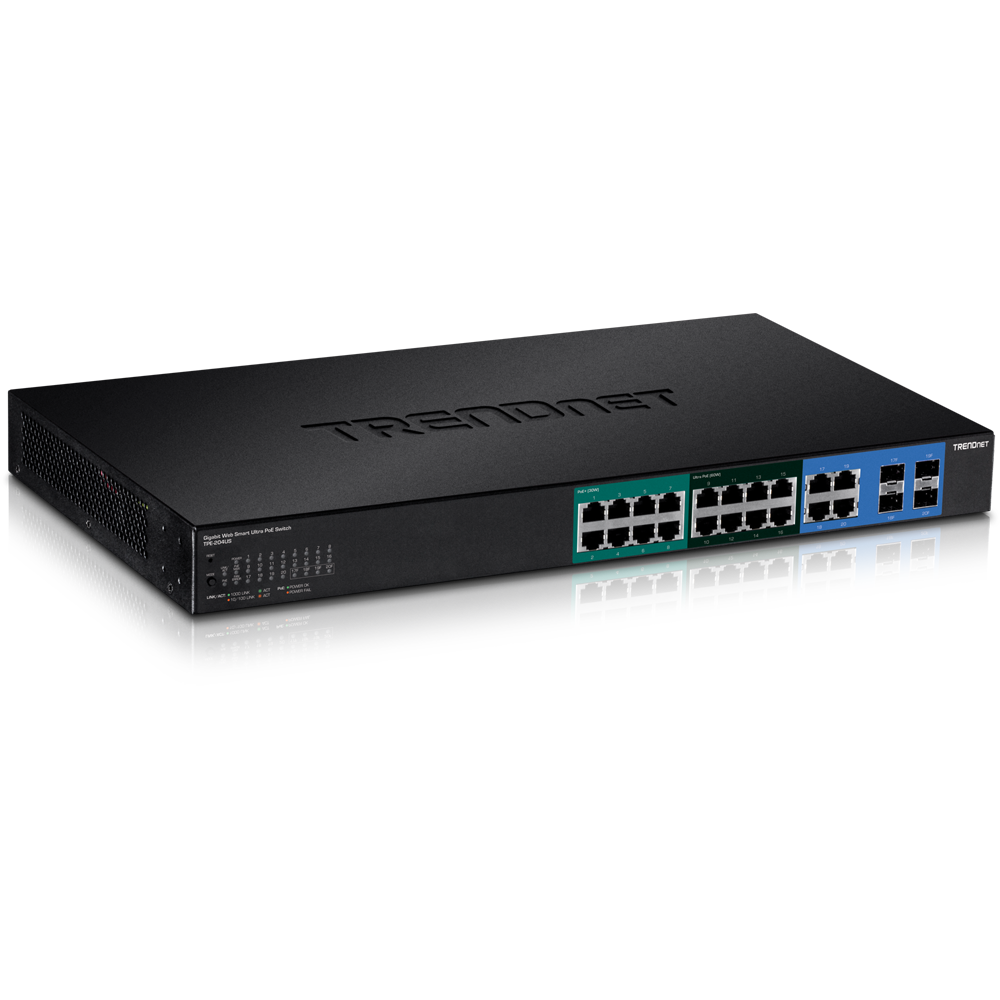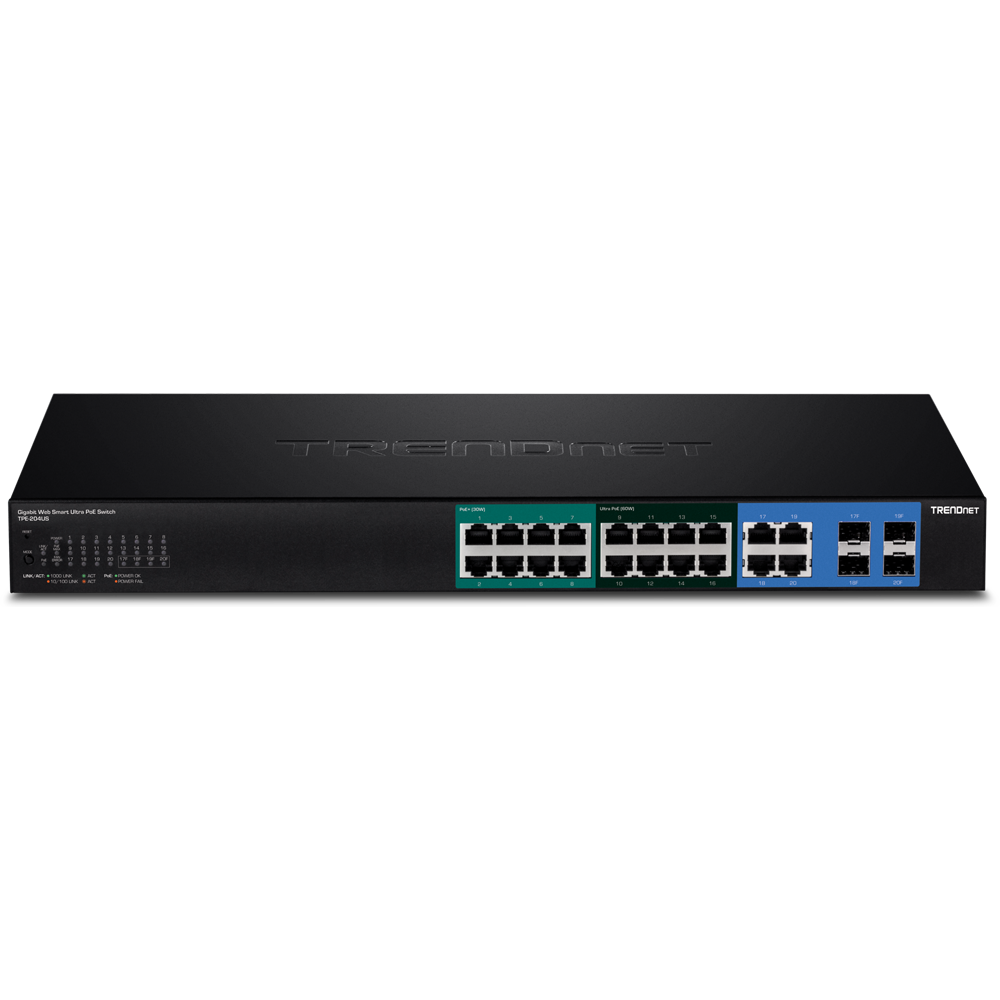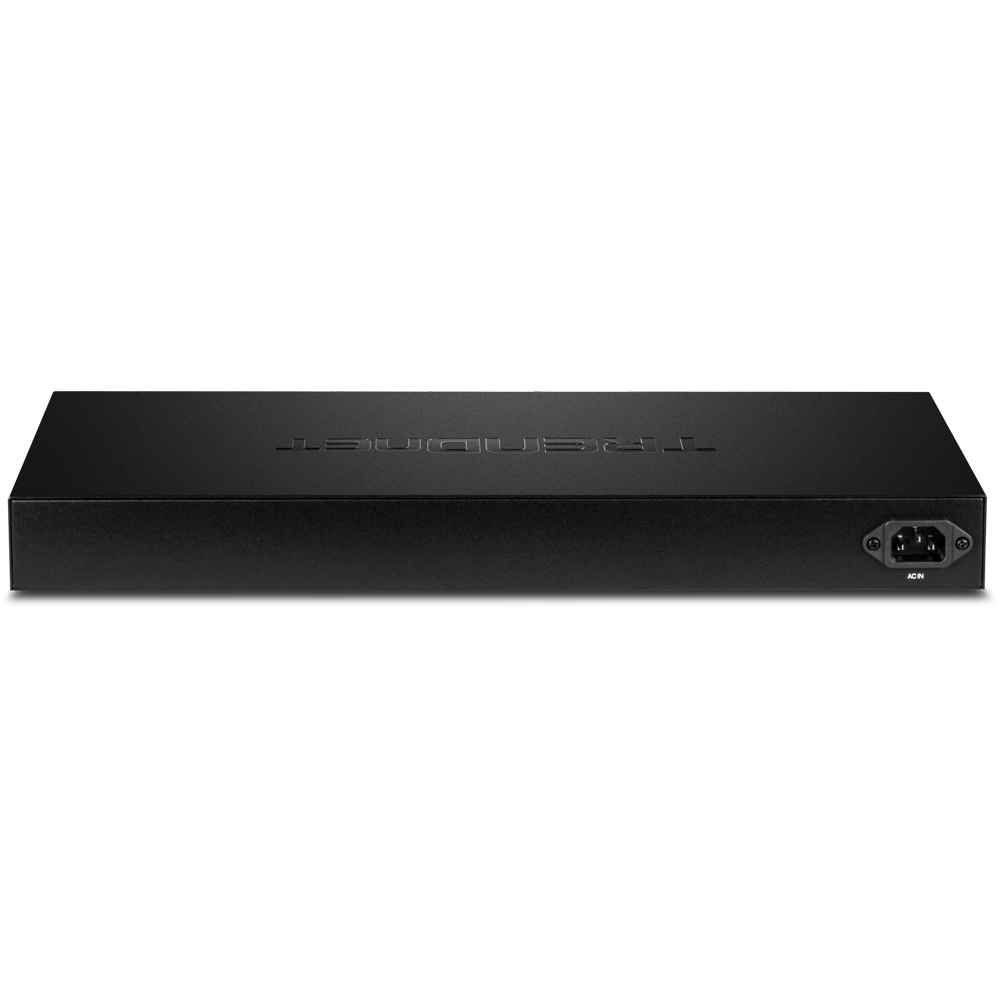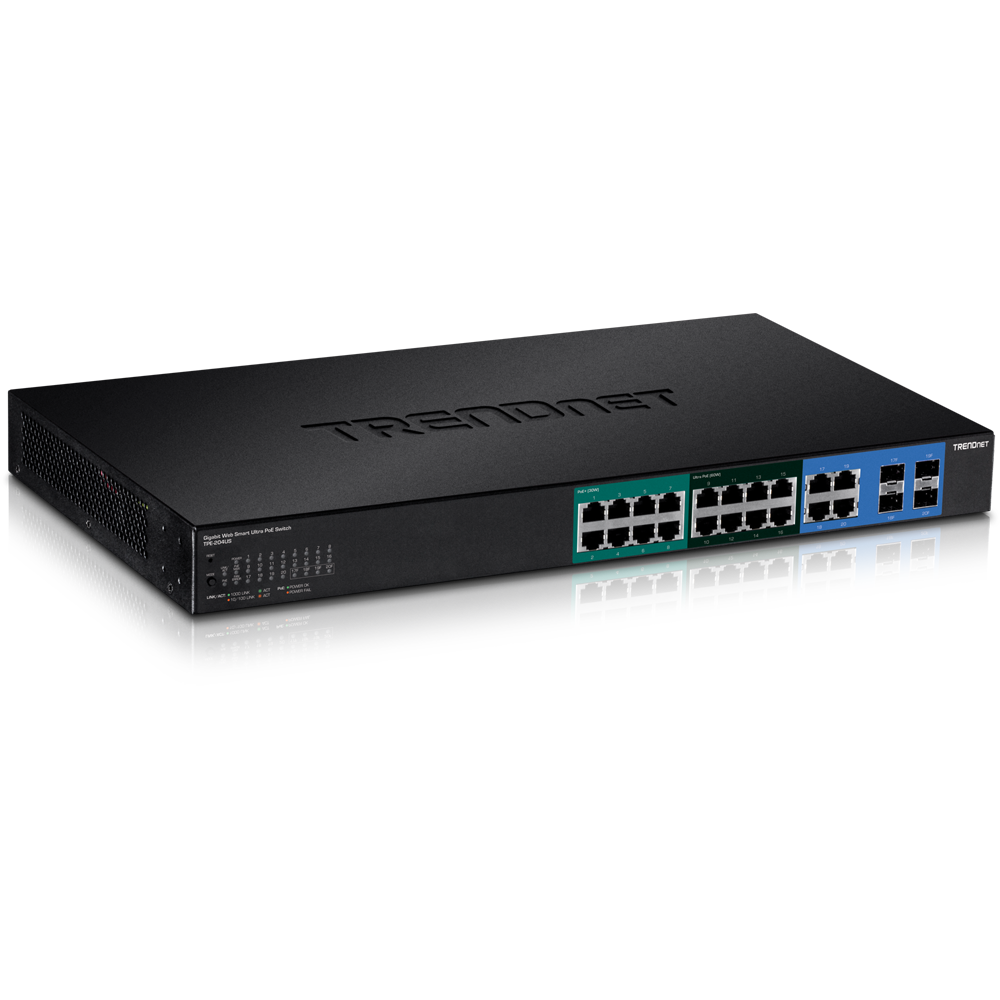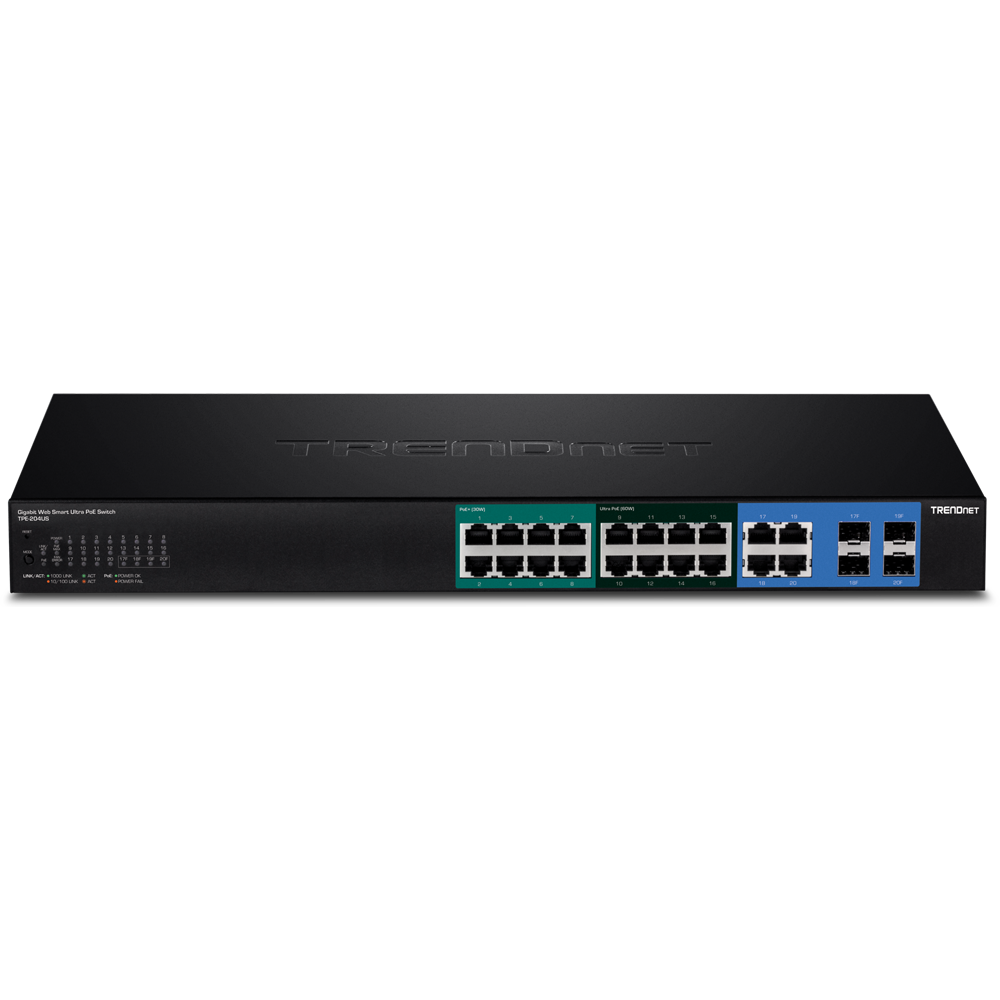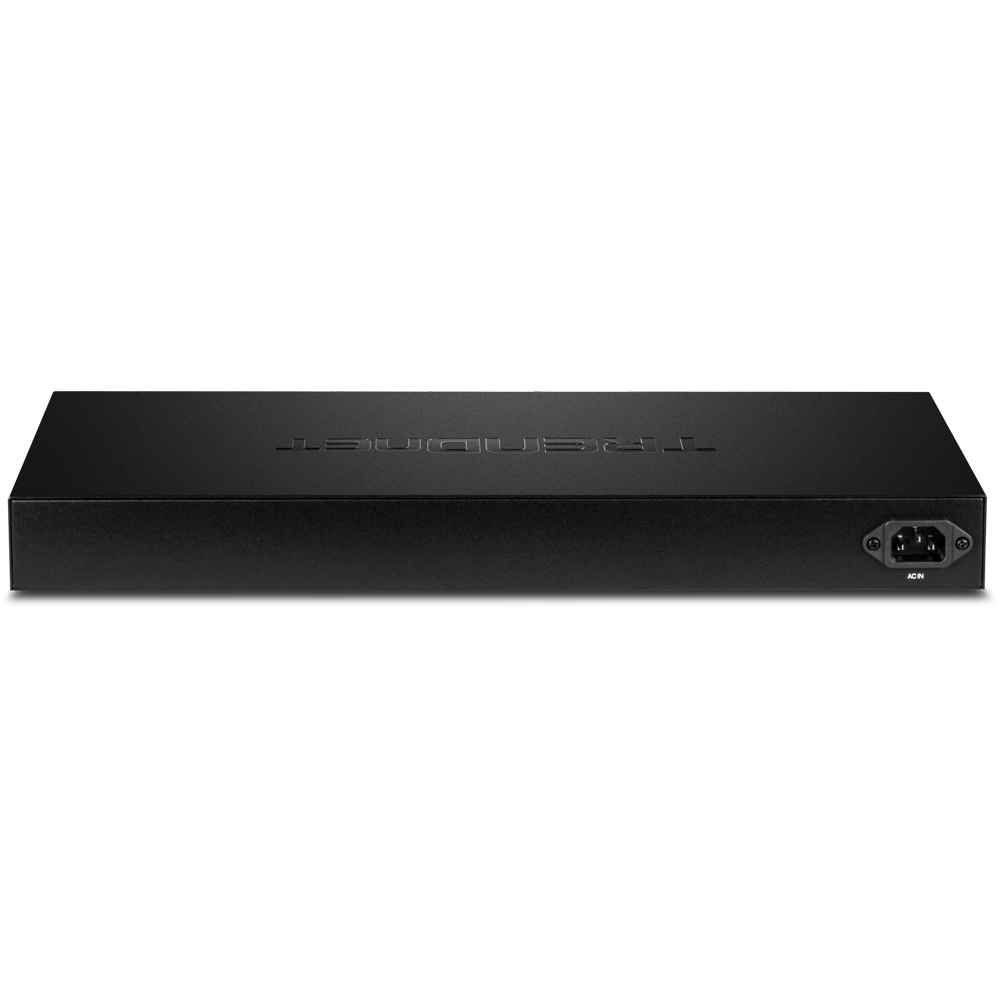 Switch Gigabit Web Smart Ultra PoE de 20 puertos
TPE-204US (Version v1.5R)
8 puertos Gigabit UPoE
8 puertos Gigabit PoE+
4 puertos Gigabit compartidos (RJ-45 o SFP)
Admite potencia PoE (15.4W), PoE+ (30W) y UPoE (60W)
Potencia PoE total disponible de 370W
Interfaz de administración basada en web y fácil de usar
La comprobación de la actividad de los dispositivos alimentados (PD) automáticamente intenta recuperar un dispositivo PoE conectado que no responda
Remote cloud management with TRENDnet Hive (Additional fee applies)
Admite IPv6, LACP, VLAN, QoS y IGMP Snooping
Control de ancho de banda por puerto
Admite VLAN privada y de voz
Ventilador inteligente
Capacidad de conmutación de 40 Gbps
QoS IEEE 802.1p con programación de colas
Firmware
Firmware Version: v3.01.012
Release Date: 08/2021
Note:
***If upgrading from firmware version 1.00.010, firmware version 1.10.026 must be loaded first,then version 2.10.010 or above afterwards.(Firmware is included in this download)***
*If it is the first time upgrading the switch from 1.00.010 to 2.10.010 or above, it is recommended to manually reset the device to factory default and clear web browser cache after the loading firmware file.*
New GUI
Add Ping Watchdog feature
Adds Cloud enabled feature (TRENDnet Hive)
Adds capability to backup, copy, restore config functions on Hive
Adds capability to configure additional QoS functions
Sync time settings from Hive
Bug Fixes
Nombre del archivo: TPE-204US_FW-3-01-012.zip
SHA-1 Checksum: 59D1E42BCB5177C0923E32932AA692264578E977
Fecha
8/4/2021
Tamaño del archivo
23.19 mb
Guía del usuario
Nombre del archivo: TRENDnet_Hive_User_Guide_08172021.pdf
Fecha
10/6/2021
Tamaño del archivo
2.45 mb


You will find management login and default settings in the quick installation guide and user's guide. Included with the Switch is a hard copy of the quick installation guide. The user's guide is available for download from our website under the Support section....
Only managed or web smart PoE Switches will have reset instruction. Unmanaged PoE Switches are not configurable and do not have settings to reset. Your Switch will have a reset button. This button is typically recessed and located on the front or the back of the Switch. You will need a small pin or ...
A Switch cannot share an IP address provided by your ISP with multiple devices. You will need a Router to share your Internet service with multiple devices. The Switch can be used to expand the amount of available ports on your network....
Each Switch will have a maximum amount of power that can be supplied to powered devices. This is the overall amount of power for the entire Switch. Please check detailed product specifications for PoE budget under the Products sections of our website. The TPE-204US power budget is 370W....
The TPE-204US supports IEEE 802.3af and 802.3at PoE standards. TRENDnet PoE Switches typically support IEEE industry standards. Please check detailed product specifications under the Product section of our website. If your device is not IEEE PoE compliant it may not be compatible with TRENDnet PoE S...
Padrões

IEEE 802.1d
IEEE 802.1p
IEEE 802.1Q
IEEE 802.1s
IEEE 802.1w
IEEE 802.1X
IEEE 802.1ab
IEEE 802.3
IEEE 802.3u
IEEE 802.3x
IEEE 802.3z
IEEE 802.3ab
IEEE 802.3ad
IEEE 802.3af
IEEE 802.3at
IEEE 802.3az
IEEE 802.3bt (borrador)

Interfaz del dispositivo

8 puertos Gigabit Ultra PoE
8 puertos Gigabit PoE+
4 puertos Gigabit compartidos (RJ-45 o SFP)
Indicadores LED
Botón de modo de visualización LED (activa los indicadores LED para indicar enlace/actividad, o estado de los puertos solo PoE)

Tasa de transferencia de datos

Ethernet: 10 Mbps (half duplex), 20 Mbps (full duplex)
Fast Ethernet: 100 Mbps (half duplex), 200 Mbps (full duplex)
Ethernet Gigabit: 2000 Mbps (full duplex)

Funcionamiento

Estructura de conmutación: 40 Gbps
Búfer RAM: 512 KB
Tabla de direcciones MAC: 8K de entradas
Jumbo Frames: 10 KB
Prevención de bloqueo HOL
Tasa de reenvío: 29.8 Mpps (tamaño de paquetes de 64 bytes)

Gestión

GUI basada en Internet de HTTP / HTTPS (SSL v2/3 TLS)
SNMP v1, v2c, v3
RMON v1
Dirección MAC estática Unicast
Habilitar/deshabilitar ahorro de energía 802.3az
LLDP y LLDP-MED
Prueba virtual de diagnóstico de cables
IPv6: Detección de vecino IPv6 (IP de IPv6 estática y autoconfiguración

MIB

TABLA DE REENVÍO DE IP MIB RFC 1354
RMON MIB RFC 1271
IPV4 MIB RFC 1213
IPV6 MIB RFC 2465
GVRP MIB IEEE 802.1Q-VLAN
LA MIB IEEE 802.3ad
LLDP MIB IEEE 802.1AB
IGMP SNOOPING MIB RFC 2933
MLD SNOOPING MIB RFC 3019
VLAN PRIVADA MIB IEEE 802.1Q
DHCPSNOOP MIB RFC 2026
QOS MIB RFC 4323
SNMP MIB RFC 3415
STP MIB RFC 4318
PNAC MIB IEEE 802.1x
VLAN MIB IEEE 802.1q
DNS MIB RFC 1611
ACL MIB
ANCHO DE BANDA CTRL MIB
LBD MIB
DUPLICACIÓN MIB

VECINO IPV6 MIB

SNTP MIB
STORM CTRL MIB
ESTADÍSTICAS MIB
Herramienta MIB
VLAN DE VOZ MIB
DOS MIB

Spanning Tree

IEEE 802.1D STP (protocolo de árbol de expansión)
IEEE 802.1w RSTP (protocolo de árbol de expansión rápido)
IEEE 802.1s MSTP (protocolo de árbol de expansión múltiple)

Agregación de enlaces

LACP dinámica 802.3ad
Agregación estática de enlaces

Calidad de servicio (QoS)

Clase de servicio (CoS) 802.1p
DSCP (Punto de código de servicios diferenciados)
Control de ancho de banda por puerto
Programación de colas: Strict Priority, Weighted Round Robin (WRR)

VLAN

Asignación de VLAN multi-administración
VLAN asimétrica
VLAN 802.1Q etiquetada
GVRP
Hasta 256 grupos VLAN, intervalo ID 1-4094
VLAN privada (puertos protegidos)
VLAN de voz (10 OUI definidos por el usuario)

Multicast

IGMP Snooping v1, v2, v3
Dirección multidifusión estática
Hasta 256 entradas multicast

Port Mirror

RX, TX o ambos
Uno a uno, muchos a uno

Encriptación

Control de acceso a la red basado en puertos 802.1X, RADIUS, TACACS+
Autenticación local de usuario
DHCP Snooping
Detección de conexión en bucle
Detección de dirección duplicada
Host de confianza
Denegación de servicio (DoS)

ACL IPv4 L2-L4 e IPv6

Dirección MAC
ID de VLAN
Tipo éter (sólo IPv4)
Protocolo IP 0-255
Puerto 1-65535 TCP/UDP
802.1p
DSCP (solamente IPv4)
Dirección IPv6 (solamente IPv6)

Compatibilidad

Herramienta de software opcional: Windows® 10, 8.1, 8, 7 y Windows® Server 2003/2008/2012/2016

Alimentación

Entrada: Fuente de alimentación interna de 100 – 240 V AC y 50/60Hz
Consumo máximo: 25.2W (sin carga PoE)

PoE

Potencia PoE disponible: 370W
802.3at: Hasta 30 W por puerto (puertos 1-8)
802.3bt: Hasta 60 W por puerto (puertos 9-16)
Modo A: Pins 1,2 para power+ y pins 3,6 para power- (modo A)
Clasificación automática/manual de dispositivos alimentados
Prioridad de puertos PoE
Programación de alimentación PoE
Protección contra sobrecorriente y cortocircuitos

Ventilador y acústica

Cantidad: 2
Nivel de ruido máx.: 52.8 dBA

MTBF
Temperatura admitida
Humedad admitida

Máx. 95% sin condensación

Dimensiones:

440 x 250 x 44mm (17.3 x 9.8 x 1.74 pulgadas)
Altura 1U, montaje en bastidor

Peso
Certificaciones
Garantía
CONTENIDO DEL PAQUETE
TPE-204US
Guía de instalación rápida
Cable de corriente (1.8 m/ 6 pies)
Kit de montaje en bastidor
La información que se suministra en este documento pertenece a los productos de TRENDnet y, por lo tanto, está sujeta a cambios en cualquier momento, sin previo aviso.