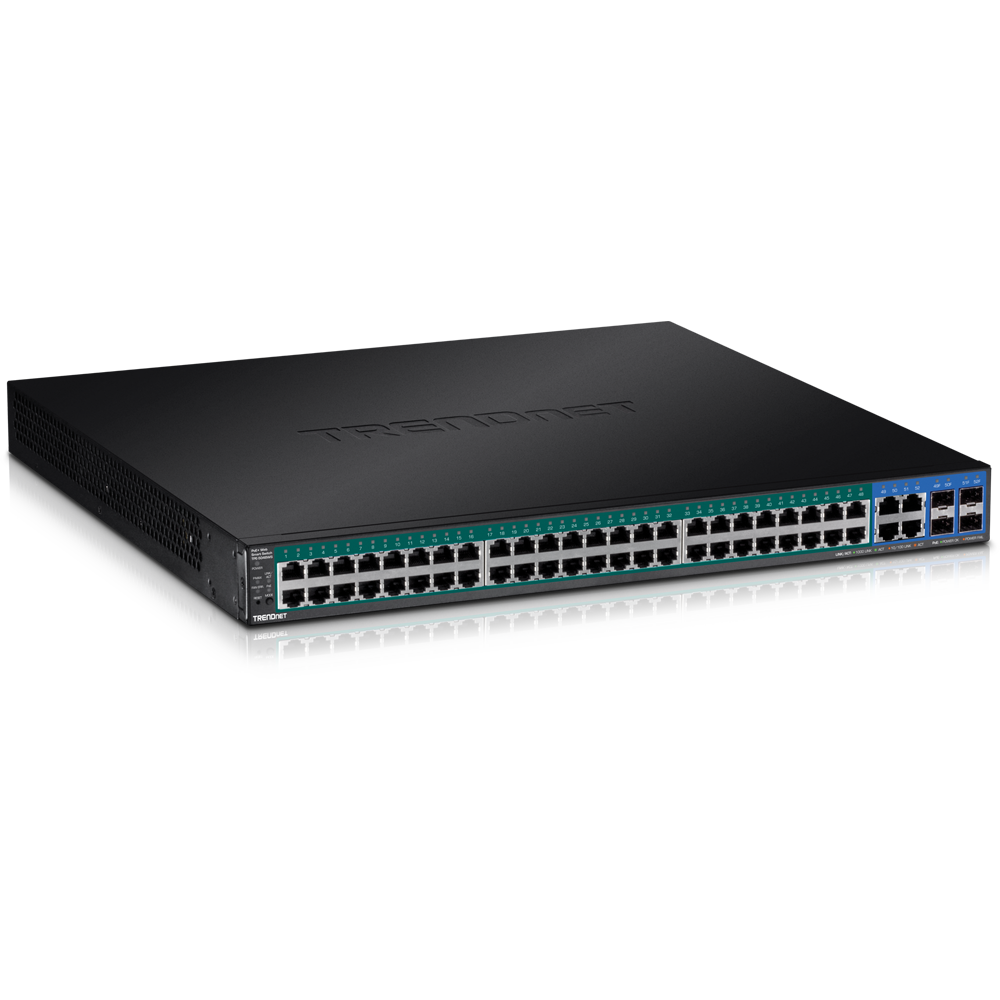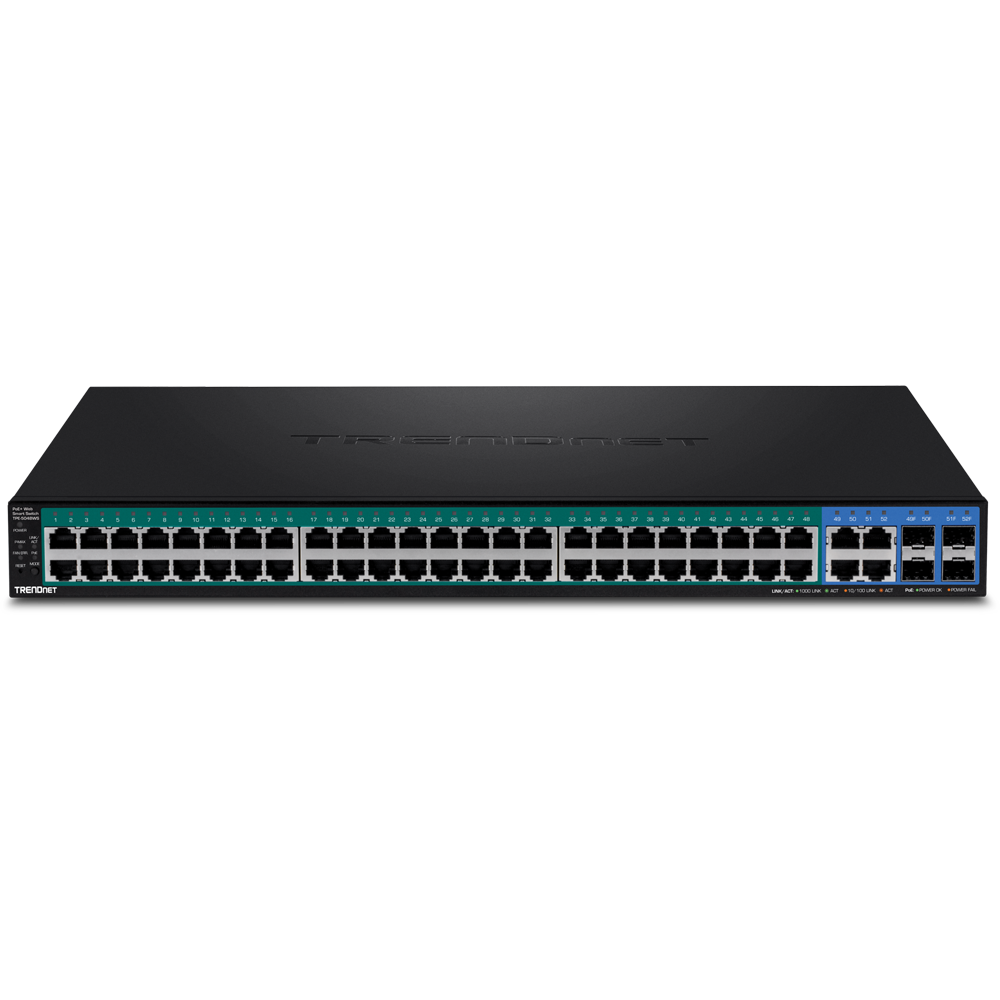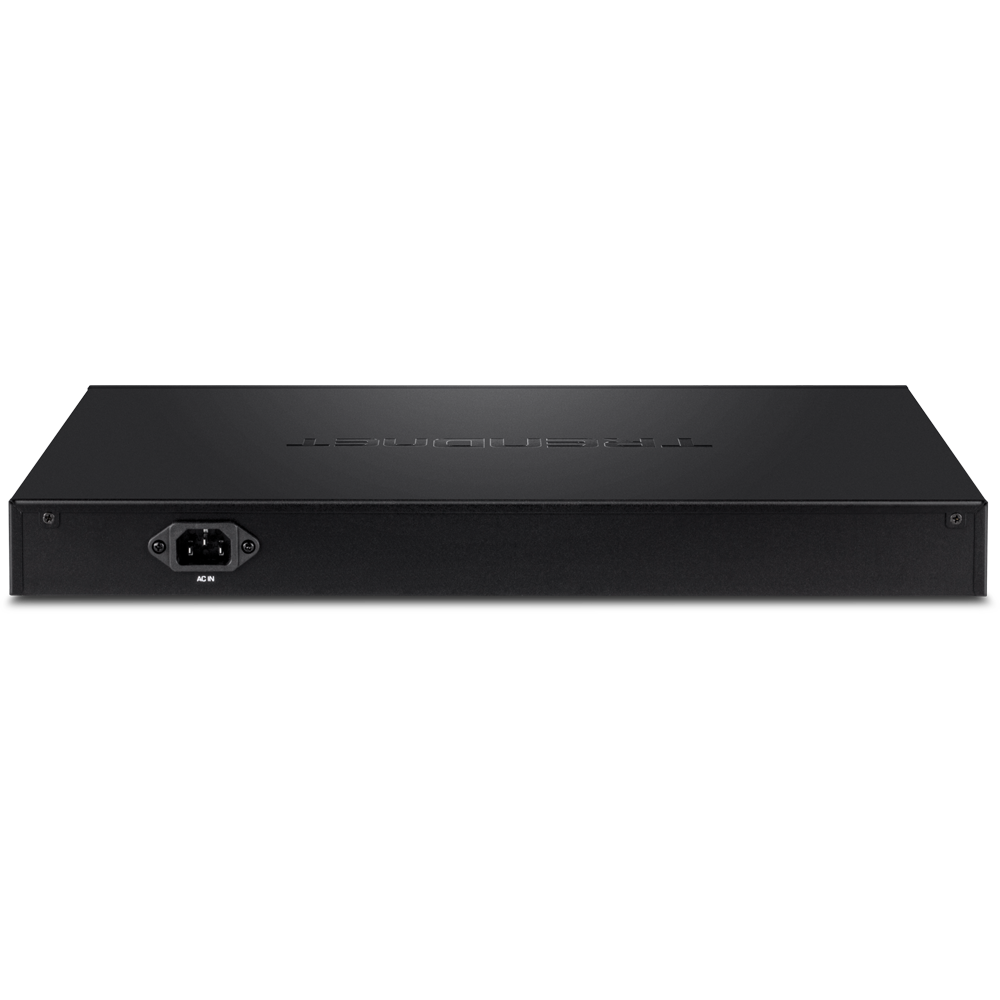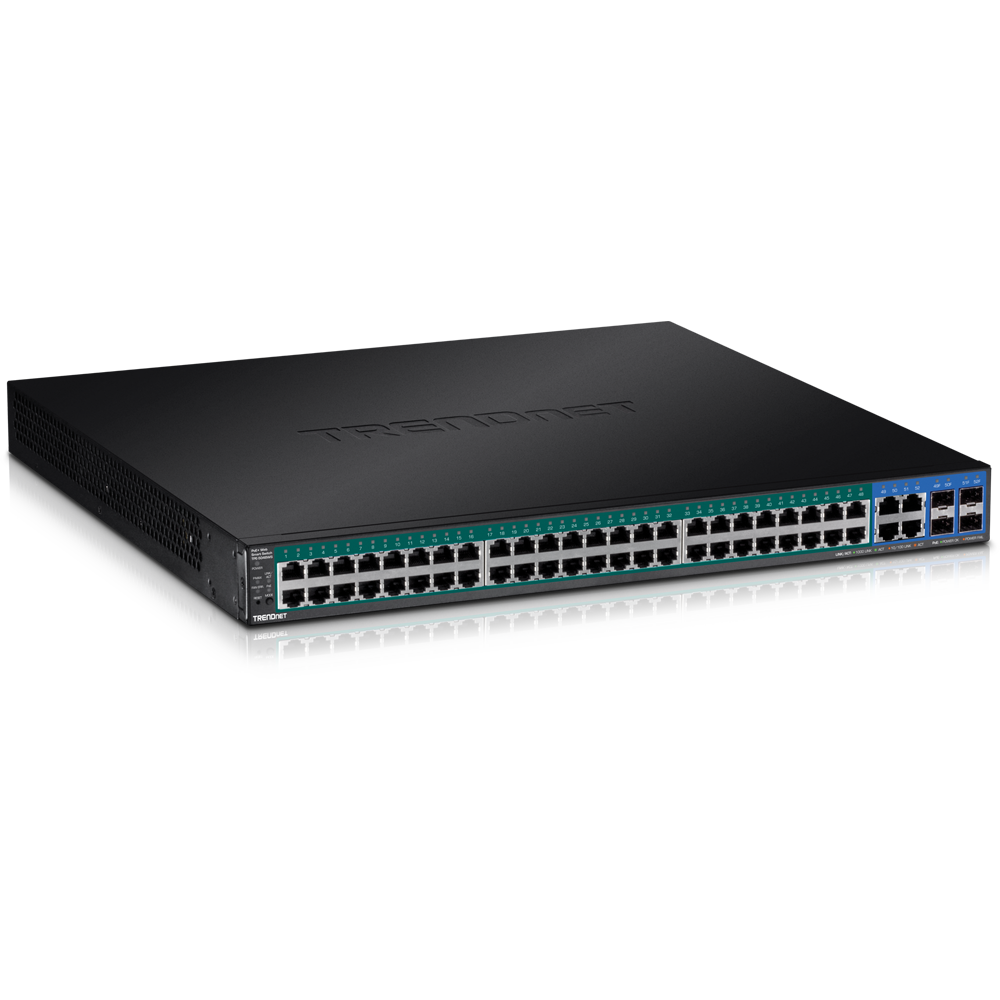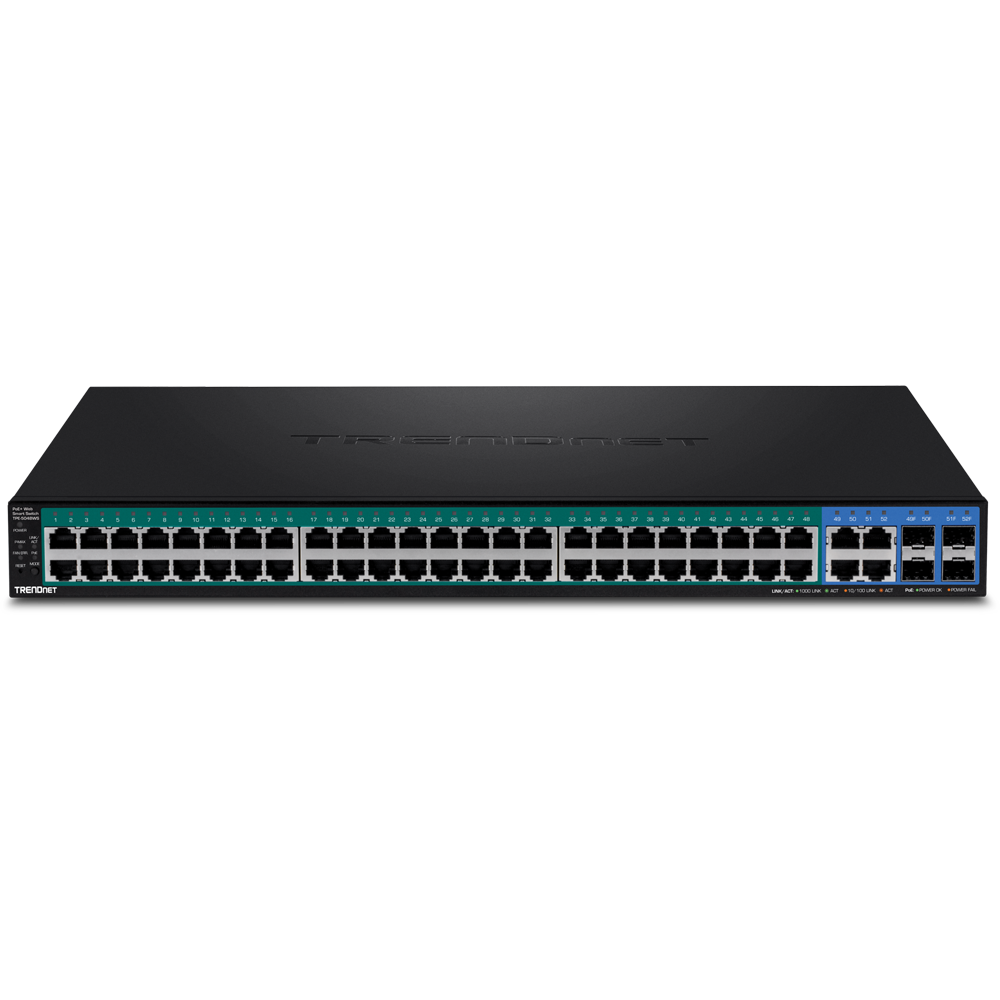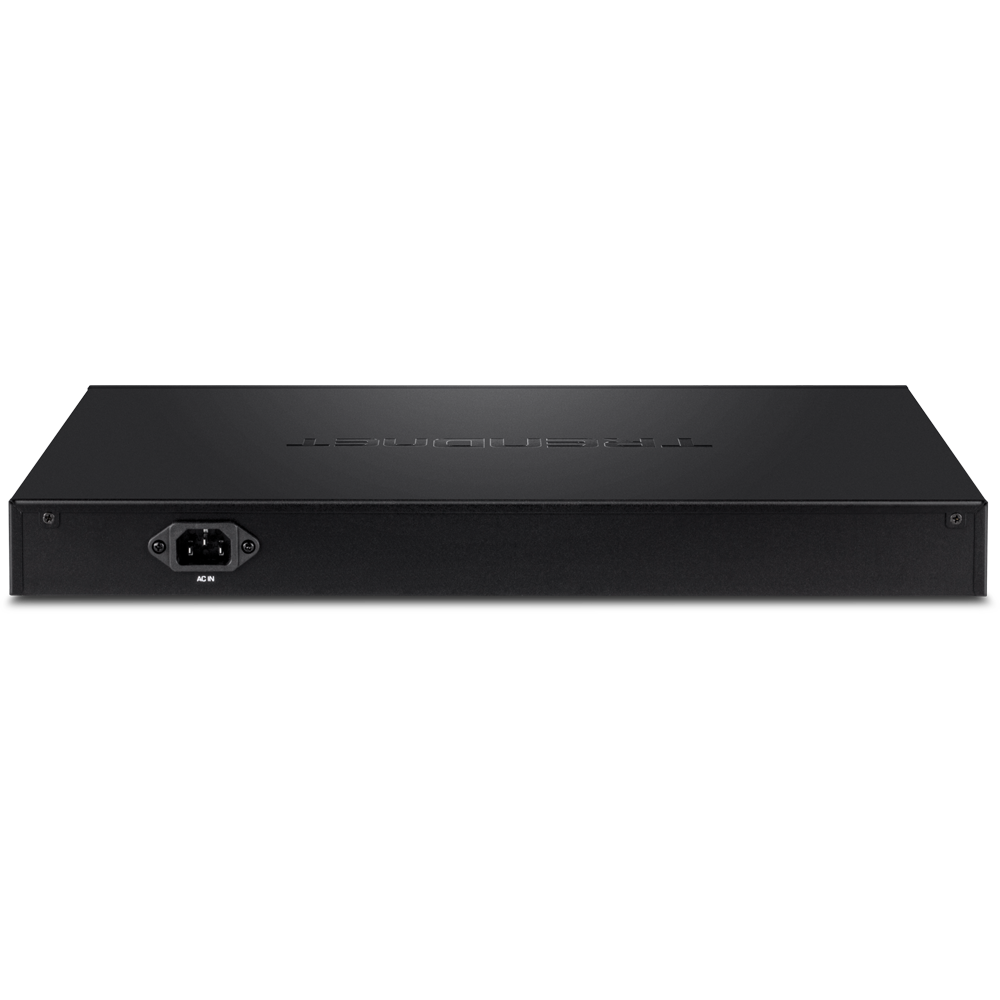 52-Port Gigabit Web Smart PoE+ Switch
TPE-5048WS (Version v1.5R)
48 x Gigabit PoE+ ports
4 geteilte Gigabit-Ports (RJ-45 oder SFP)
740 Watt PoE-Gesamtleistung
Leicht zu bedienende webbasierte Verwaltungsoberfläche
PoE-Alive-Check versucht automatisch, ein nicht reagierendes angeschlossenes PoE-Gerät wiederherzustellen
Cloud-Fernvwerwaltung mit TRENDnet Hive (gegen zusätzliche Gebühr)
Unterstützt IPv6, LACP, VLAN, QoS und IGMP Snooping
Bandbreitenkontrolle je Port
Unterstützt privates, Multicast- und Voice-VLAN
Intelligente Lüftung
104 Gbit/s Schaltkapazität
IEEE 802.1p QoS mit Warteschlangenplanung
Firmware
Firmware Version: v3.01.012
Release Date: 08/2021
Note:
***If upgrading from firmware version 1.00.010, firmware version 1.10.026 must be loaded first,then version 2.10.010 or above afterwards.(Firmware is included in this download)***
*If it is the first time upgrading the switch from 1.00.010 to 2.10.010 or above, it is recommended to manually reset the device to factory default and clear web browser cache after the loading firmware file.*
New GUI
Add Ping Watchdog feature
Adds Cloud enabled feature (TRENDnet Hive)
Adds capability to backup, copy, restore config functions on Hive
Adds capability to configure additional QoS functions
Sync time settings from Hive
Bug Fixes
Dateiname: TPE-5048WS_FW_3-01-012.zip
SHA-1 Checksum: B458DA7B61FA95D03BD74EF15DC626596FC1F65B
Datum
8/4/2021
Dateigröße
33.13 mb
Kurzanleitung zur Installation
---
---
---
---
---
---
Bedienungsanleitung
Dateiname: TRENDnet_Hive_User_Guide_08172021.pdf
Datum
10/6/2021
Dateigröße
2.45 mb
---
Dateiname: PoE_Web_Smart_Switch_Series_Users_Guide_11122020.pdf
Datum
1/11/2021
Dateigröße
4.69 mb


You will find management login and default settings in the quick installation guide and user's guide. Included with the Switch is a hard copy of the quick installation guide. The user's guide is available for download from our website under the Support section....
Only managed or web smart PoE Switches will have reset instruction. Unmanaged PoE Switches are not configurable and do not have settings to reset. Your Switch will have a reset button. This button is typically recessed and located on the front or the back of the Switch. You will need a small pin or ...
A Switch cannot share an IP address provided by your ISP with multiple devices. You will need a Router to share your Internet service with multiple devices. The Switch can be used to expand the amount of available ports on your network....
Each Switch will have a maximum amount of power that can be supplied to powered devices. This is the overall amount of power for the entire Switch. Please check detailed product specifications for PoE budget under the Products sections of our website. The TPE-5048WS power budget is 740W....
The TPE-5048WS supports IEEE 802.3af and 802.3at PoE standards. TRENDnet PoE Switches typically support IEEE industry standards. Please check detailed product specifications under the Product section of our website. If your device is not IEEE PoE compliant it may not be compatible with TRENDnet PoE ...
Normes

IEEE 802.1d
IEEE 802.1p
IEEE 802.1Q
IEEE 802.1s
IEEE 802.1w
IEEE 802.1X
IEEE 802.1ab
IEEE 802.3
IEEE 802.3u
IEEE 802.3x
IEEE 802.3z
IEEE 802.3ab
IEEE 802.3ad
IEEE 802.3af
IEEE 802.3at
IEEE 802.3az

Interface du périphérique

48 ports PoE+ Gigabit
4 ports Gigabit partagés (RJ-45/SFP)
Voyants LED

Débit de transfert des données

Ethernet: 10 Mb/s (half duplex), 20 Mb/s (full duplex)
Fast Ethernet: 100 Mb/s (half duplex), 200 Mb/s (full duplex)
Ethernet Gigabit: 2000 Mb/s (full duplex)

Performance

Matrice de commutation 104 Gb/s
Tampon RAM: 12Mb/s
Tableau des adresses MAC Entrées de 16K
Trame Jumbo: 10Kbytes
Prévention du blocage en tête de ligne
Débit de transmission: 77,4Mb/s (paquets de 64 octets)

Gestion

HTTP/HTTPS (SSL v2/3 TLS) Outils d'interface utilisateur graphique (GUI) basé Internet
SNMP v1, v2c, v3
RMON v1
Adresse MAC Unicast statique
Activer/désactiver l'économie d'énergie 802.3az
LLDP et LLDP-MED
Test virtuel de diagnostic du câble
IPv6: Découverte du voisin IPv6, IP statique IPv6, DHCPv6, configuration automatique

Hive Cloud Management

Konfigurieren, überwachen und verwalten Sie mitdem TRENDnet Hive Cloud Verwaltungsportal per Fernzugriff über einen PC- oder Mac-Webbrowser
Verwaltung mehrerer Geräte
Provisionierung durch geplante Batch-Firmware- oder Konfigurations-Updates für mehrere Switche
Ereignis-/Hardware-Netzwerküberwachung (CPU-/Speicherauslastung)
Aktivieren und Deaktivieren von PoE, Einrichtung des PD-Alive-Checks (Powered Device), Konfigurieren der PoE-Zeitplanung und Überwachen der PoE-Leistungsauslastung (nur für PoE-Switche)
Konfigurieren Sie Funktionen wie IP-Adresseinstellungen, VLANs, Spanning Tree, Loopback-Erkennung, IGMP-Snooping, Link-Aggregation und Bandbreitenkontrolle über Cloud-Management

MIB

TABLEAU DE ROUTAGE IP MIB RFC 1354
MIB RMON RFC 1271
MIB IPV4 RFC 1213
MIB IPV6 RFC 2465
MIB GVRP IEEE 802.1Q-VLAN
IEEE 802.3ad
LLDP-MIB IEEE 802.1ab
SURVEILLANCE MIB IGMP RFC 2933
SURVEILLANCE MIB MLD RFC 3019
VLAN PRIVE MIB IEEE 802.1Q
MIB RFC DHCPSNOOP 2026
MIB QOS RFC 4323
MIB SNMP RFC 3415
MIB STP RFC 4318
MIB PNAC IEEE 802.1x
MIB VLAN IEEE 802.1q
MIB DNS RFC 1611
MIB ACL
LARGEUR DE BANDE CTRL MIB
MIB LBD
MIB MIROIR
MIB VOISIN IPv6
MIB SNTP
STORM CTRL MIB
STATISTIQUES MIB
Outils MIB
VLAN VOCAL MIB
MIB DOS

Arborescence

IEEE 802.1D STP (protocole Spanning Tree)
IEEE 802.1w RSTP (protocole spanning tree rapide)
IEEE 802.1s MSTP (protocole spanning tree multiple)

Agrégation de liens

Agrégation de liens statique
LACP dynamique 802.3ad

Quality of Service (QoS)

Classe de service 802.1p (CoS)
DSCP (services de points de code différentiés)
Contrôle de la largeur de bande par port
Programmation de la file d'attente: priorité stricte, Weighted Round Robin (WRR)

VLAN

Assignation VLAN à plusieurs gestionnaires
VLAN asymétrique
Repérage VLAN 802.1Q
GVRP dynamique
Jusqu'à 256 groupes VLAN, Gamme d'ID de 1 à 4094
VLAN privé (ports protégés)
VLAN vocal (10 OUI définis par utilisateur)

Multidiffusion

Filtrage IGMP v1, v2, v3 (par VLAN)
Adresse statique de multidiffusion
Jusqu'à 256 entrées de multidiffusion

Port miroir

RX, TX, ou les deux
Un vers un

Cryptage

Contrôle d'accès au réseau basé sur le port 802.1X, RADIUS, TACACS+
Authentification de l'utilisateur Dial in local
Surveillance DHCP (par VLAN)
Détection des boucles
Détection des adresses dupliquées
Hôtes approuvés
Dénis de service (DoS)

ACL IPv4 L2-L4 & IPv6

Adresse MAC
VLAN ID
Type Ether (IPv4 uniquement)
Protocole IP 0-255
Port TCP/UDP 1-65535
802.1p
DSCP (IPv4 uniquement)
Adresse IPv6 (IPv6 uniquement)

Compatibilité

Utilitaire optionnel : Windows® 10, 8.1, 8, 7, Vista, XP, Windows® 2003/2008 Server

Fonctions spéciales

PoE+
IPv6
Economie d'énergie 802.3az
Installable dans une armoire informatique
Planification PoE

Leistung

Eingang: 100 – 240 V AC, 50/60 Hz, eingebautes Netzteil
Max. Verbrauch: 963W

PoE

PoE-Gesamtleistung: 740 Watt
802.3at: Bis zu 30 Watt je Port
PoE Modus A: Pole 1, 2, 3, und 6 für Strom
PoE automatische/manuelle Klassifizierung
PoE-Port-Priorität/Power Scheduling

Ventilateurs/Acoustique

Quantité: 5
Niveau du bruit: 55 dB(A) (max.)

MTBF
Température de fonctionnement
Humidité en fonctionnement
Dimensions

440 x 430 x 44 mm (17,3 x 17 x 1,74 pounce)
Installable dans une armoire informatique d'une hauteur de 1U

Poids
Certifications
Garantie
PACKUNGSINHALT
TPE-5048WS
Schnellinstallationseinrichtung
CD-ROM (Hilfsprogramm und Benutzerhandbuch)
Stromkabel (1,8 m/6 Fuß)
Montagesatz für Gestell
Die in diesem Dokument enthaltenen Informationen beziehen sich auf Produkte von TRENDnet und können jederzeit ohne vorherige Ankündigung geändert werden.