Benefits of a Cloud Managed Network
July 2023
Why Do You Want a Cloud Managed Network? What Can You Do with Cloud Network Monitoring?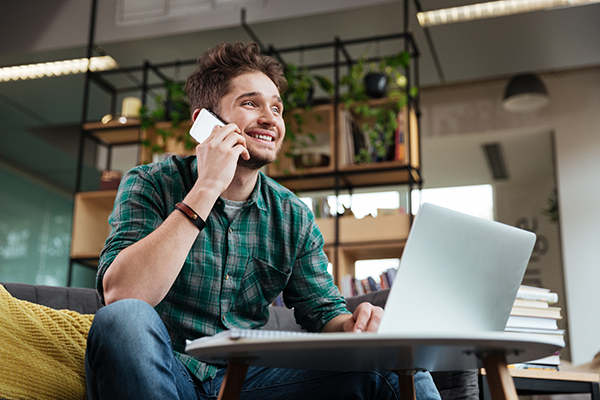 IT admin working remotely
A cloud network manager, such as TRENDnet Hive, is a cloud network monitoring solution or cloud managed network that is designed to save you on cost and time by simplifying and centralizing the management, monitoring, and control of your network or networks (and network devices). Remote access and remote management are hassle-free through a dedicated cloud service, and no personal cloud or server is required.
Access to networks remotely allow users to work on critical network issues immediately, so that simple issues do not become more serious problems. No special apps are usually required, and most cloud managed networks can be accessed through the browser of the user's choice.
Overall, a cloud-based network monitoring solution will play an essential role to ensure the reliability, performance, and protection of a company's network in real-time. If you are looking for a way to improve your network's performance, security, and cost-effectiveness, then a cloud managed network may be a good option for you.
Cloud Managed Network Benefits


Centralized Management

Easily view multiple networks at different organizations from a single interface, whether the office is down the street or across the world. This permits users to setup, configure, monitor, and manage their networks from anywhere in the world at any time of day or night. In general, users will be able to manage multiple network devices easily from an intuitive web-based portal, and often a mobile app.

Cloud network monitoring provides improved and centralized network visibility, allowing IT staff to focus on identifying network problems and troubleshooting them more quickly and efficiently. It also helps to reduce network complexity by automating certain network management tasks, further opening the IT department to focus on more important tasks, such as improving customer service or developing new business applications.

Mobile phone with cloud manager app

Cost and Time Savings

Streamline network operations and resources, and ease management by automating routine tasks and processes. This allows in-house IT administrators to focus their attention on more strategic tasks and critical projects, allowing a company to improve efficiency, reduce costs, and minimize errors.

A cloud network manager, such as TRENDnet Hive, can help to reduce the overall cost and time spent on network infrastructure. With cloud-based solutions, companies can reduce the costs spent on hardware, maintenance, and upgrades; there's no need to purchase and maintain certain types on-site network hardware. With a dedicated cloud service, companies won't need a dedicated server or special applications; cloud managed networks can usually be accessed through a standard web browser.

Remotely monitor and manage networks around the globe, without having to send a service truck onsite to physical locations. A cloud network monitor can send intuitive alerts and notifications, allowing users to stay on top of minor issues before they turn into more serious problems. Detailed reporting tools can also help identify areas of the network that require improvements.

Enhanced Performance

Improve network performance with cloud managed networks by optimizing network traffic and routing. It helps to ensure that the network infrastructure is running smoothly and efficiently, with resources appropriately allocated to network applications and services. Using a cloud managed network can help reduce or even avoid network lag and latency, crashes, and other performance issues that can disrupt normal business operations.

Flexibility

Cloud network monitoring offers a high degree of flexibility when it comes to connectivity and network access. Users can access network applications and data remotely from anywhere with an internet connection, improving team collaboration and offsite work.

Network Protection

Cloud managed networks often have advanced security features and protocols in place to protect data and prevent unauthorized access. This can help ensure that data is kept safe and secure, even when accessed remotely. With centralized visibility and control over network devices, organizations can gain improved and enhanced security.

Additionally, cloud managed networks help to enforce organizational network security policies that prevent unauthorized access to the network and protects sensitive data. Use a cloud networking monitoring solution to better monitor the network for unusual or suspicious activity, and take immediate action to prevent and reduce potential threats.

In the event of network disaster or major issue, a cloud managed network can help organizations recover more quickly as backup copies of the network can be stored conveniently on the cloud.

Scalability

Cloud managed networks can be easily scaled up or down to meet changing business needs, but especially for future expansions and upgrades. This means that companies can quickly adjust their network infrastructure to match their current requirements, without having to invest in additional hardware or software until absolutely needed.

As a company grows, its network infrastructure must expand, too. A cloud network monitoring solution can facilitate scalability, ensuring that the network infrastructure is scalable, and can accommodate new business services and applications without causing disruptions or a dip in network performance.
What Can You Do with Cloud Network Monitoring?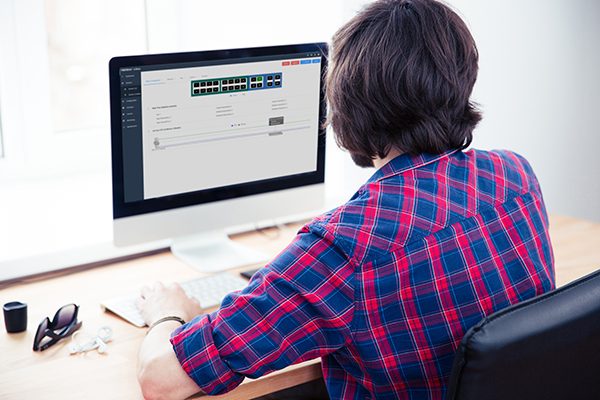 IT admin using a cloud network manager
A cloud network monitoring solution is a powerful tool that you can use to manage and monitor your network(s) more effectively, and to perform and automate a wide range of networking tasks. At the start, networks are easier to plan and design with a cloud managed network solution because the visual tools allow users to identify and manage potential areas of data bottlenecks as well as identify areas for improvement.
Provision and manage network devices, virtual machines, and other network resources all from the cloud. Manage bandwidth and ensure that network resources are allocated appropriately. Automate network management asks to streamline operations and further improve efficiency.
As already mentioned, monitoring network performance is one of the main features of a cloud network manager. Efficient network monitoring helps to identify and diagnose issues before they can make a big impact on network performance or the business. Ensure that critical applications and data are available even in the event of a network outage. A cloud network monitoring solution will offer reporting and analytic tools to help identify trends and issues, and can help to optimize overall network performance.
Manage and monitor multiple networks in a centralized location at any time with a cloud managed network; save time and money on having to roll a service truck out to a client onsite location.