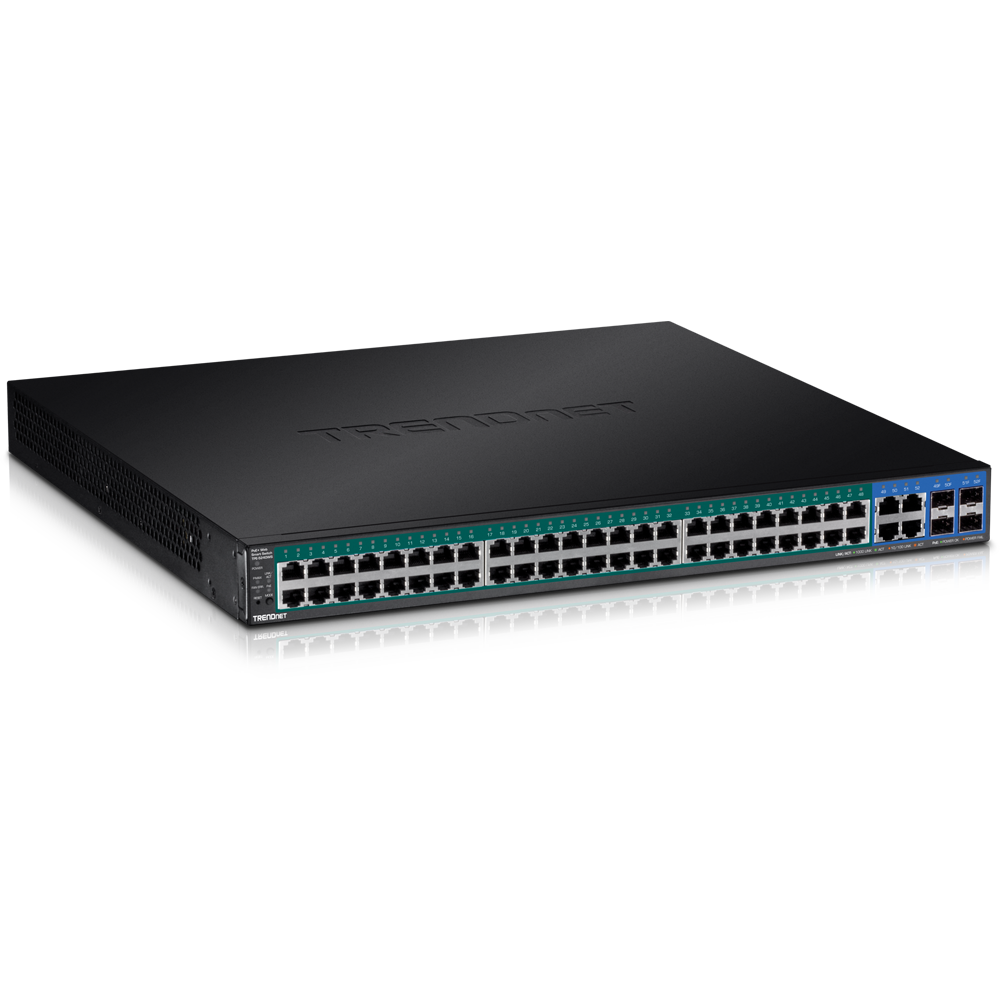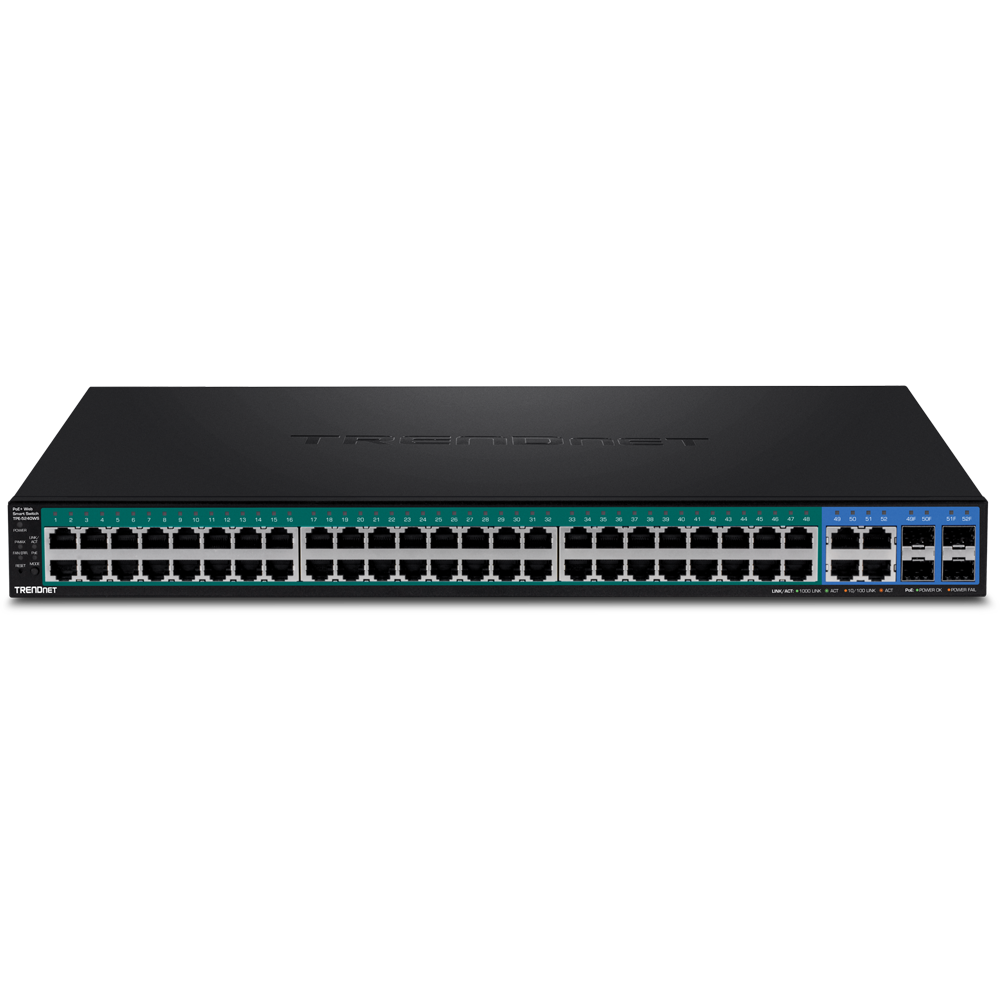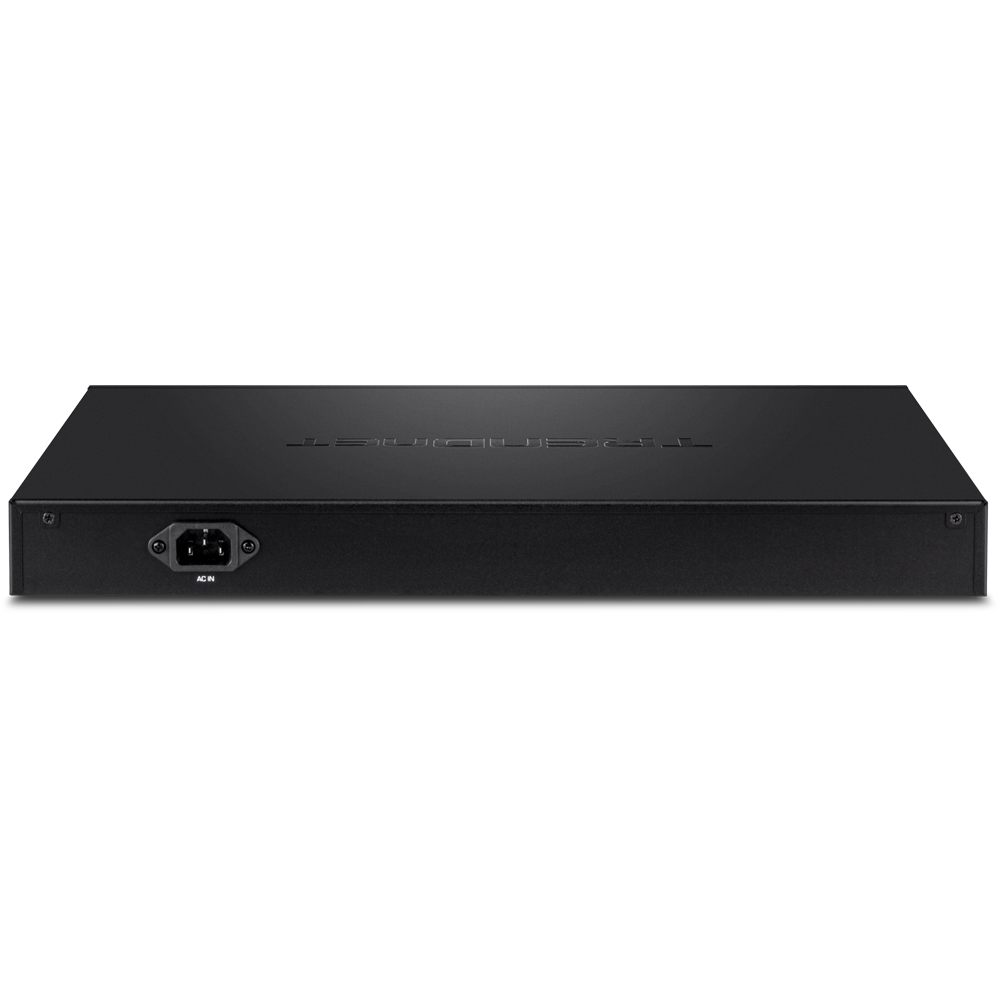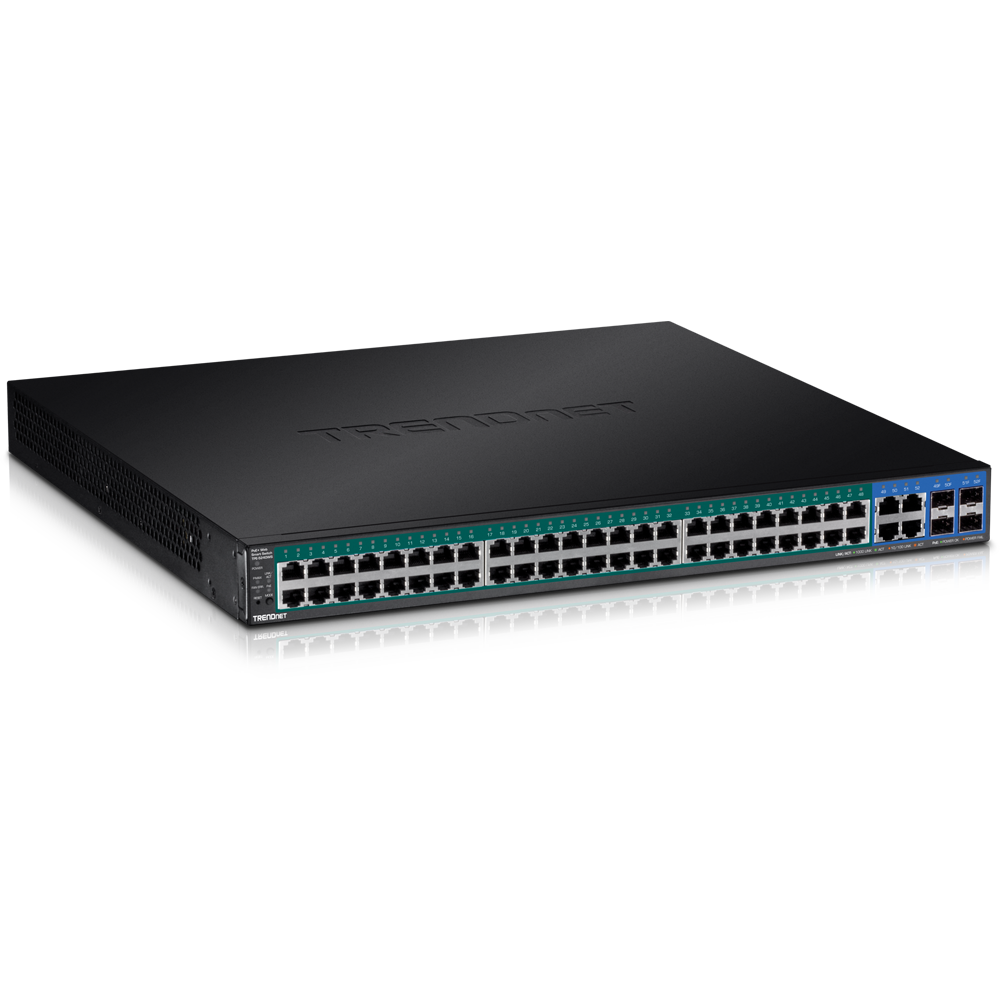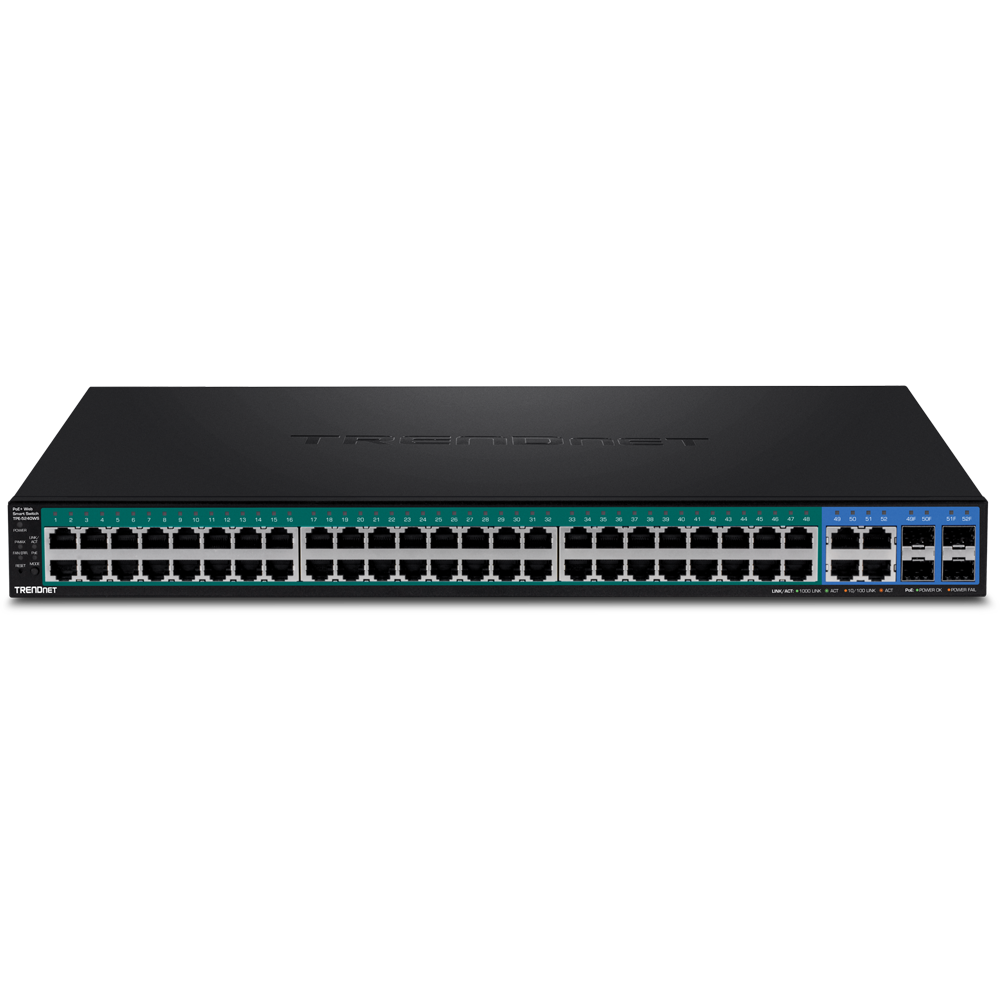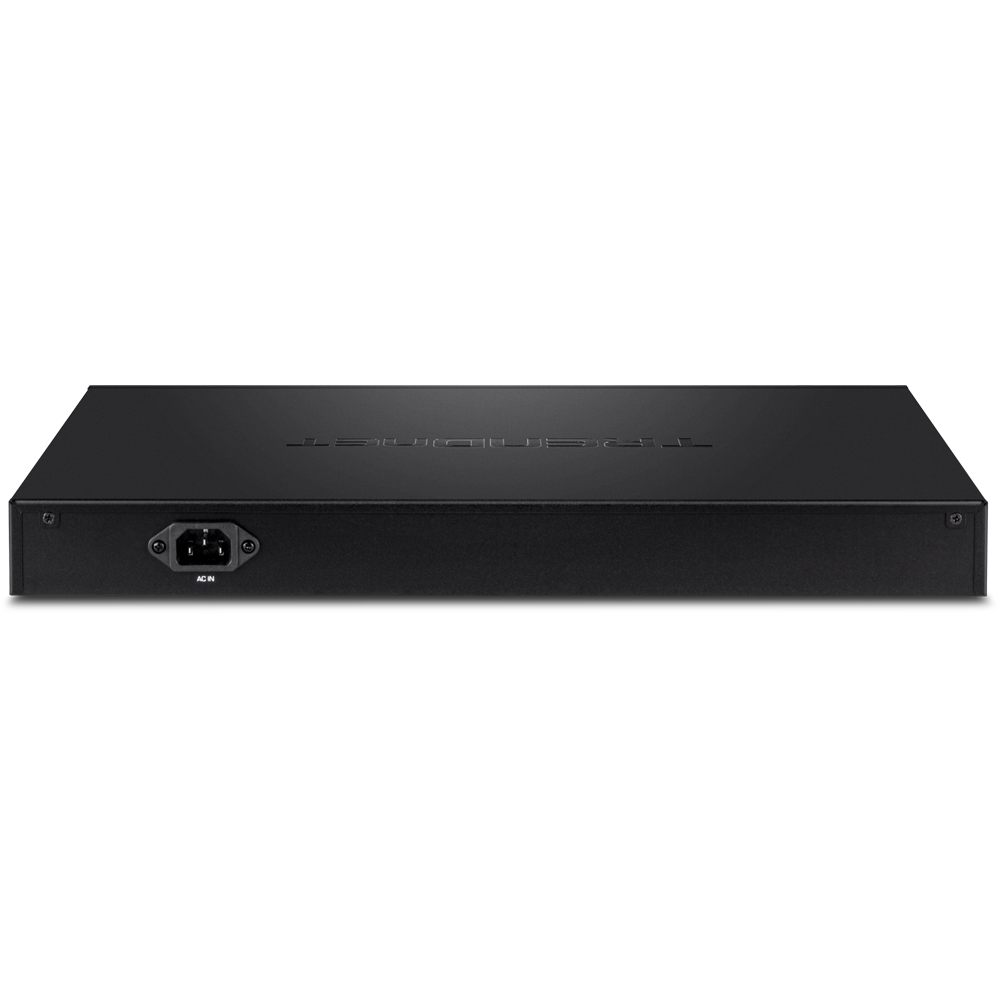 52-Port Gigabit Web Smart PoE+ Switch
TPE-5240WS (Version v1.5R)
48 x Gigabit PoE+ ports
4 x Shared Gigabit ports (RJ-45 or SFP)
370W PoE power budget
Easy-to-use web-based management interface
PoE alive check automatically attempts to recover an unresponsive PoE device connected
Remote cloud management with TRENDnet Hive (Additional fee applies)
48 x Gigabit PoE+ ports
Supports IPv6, LACP, VLAN, QoS, and IGMP Snooping
Bandwidth control per port
Private, Multicast, and Voice VLAN support
Smart Fan
104Gbps switching capacity
IEEE 802.1p QoS with queue scheduling support
Drivers
Имя файла : RU_PoE_Web_Smart_Switch_Series_v2.0R_061621.pdf
SHA-1 Checksum: 1F2D51E1A910D0F226F3A4A3E6C1536373001621
Дата
3.9.2021
Размер файла
2.24 mb
Встроенное ПО
Встроенное ПО Version: v3.01.012
Release Date: 08/2021
Note:
***If upgrading from firmware version 1.00.010, firmware version 1.10.026 must be loaded first,then version 2.10.010 or above afterwards.(Встроенное ПО is included in this download)***
*If it is the first time upgrading the switch from 1.00.010 to 2.10.010 or above, it is recommended to manually reset the device to factory default and clear web browser cache after the loading firmware file.*
New GUI
Add Ping Watchdog feature
Adds Cloud enabled feature (TRENDnet Hive)
Adds capability to backup, copy, restore config functions on Hive
Adds capability to configure additional QoS functions
Sync time settings from Hive
Bug Fixes
Имя файла : TPE-5240WS_FW_3-01-12.zip
SHA-1 Checksum: 41F8D6387F2442567E99F301FD26D932DFE20E11
Дата
4.8.2021
Размер файла
33.13 mb
Руководство по быстрой установке
---
---
---
---
---
Руководство пользователя
Имя файла : TRENDnet_Hive_User_Guide_08172021.pdf
Дата
6.10.2021
Размер файла
2.45 mb
---
Имя файла : PoE_Web_Smart_Switch_Series_Users_Guide_11122020.pdf
Дата
11.1.2021
Размер файла
4.69 mb


You will find management login and default settings in the quick installation guide and user's guide. Included with the Switch is a hard copy of the quick installation guide. The user's guide is available for download from our website under the Support section....
Only managed or web smart PoE Switches will have reset instruction. Unmanaged PoE Switches are not configurable and do not have settings to reset. Your Switch will have a reset button. This button is typically recessed and located on the front or the back of the Switch. You will need a small pin or ...
A Switch cannot share an IP address provided by your ISP with multiple devices. You will need a Router to share your Internet service with multiple devices. The Switch can be used to expand the amount of available ports on your network....
Each Switch will have a maximum amount of power that can be supplied to powered devices. This is the overall amount of power for the entire Switch. Please check detailed product specifications for PoE budget under the Products sections of our website. The TPE-5240WS power budget is 370W....
The TPE-5240WS supports IEEE 802.3af and 802.3at PoE standards. TRENDnet PoE Switches typically support IEEE industry standards. Please check detailed product specifications under the Product section of our website. If your device is not IEEE PoE compliant it may not be compatible with TRENDnet PoE ...
Standards

IEEE 802.1d
IEEE 802.1p
IEEE 802.1Q
IEEE 802.1s
IEEE 802.1w
IEEE 802.1X
IEEE 802.1ab
IEEE 802.3
IEEE 802.3u
IEEE 802.3x
IEEE 802.3z
IEEE 802.3ab
IEEE 802.3ad
IEEE 802.3af
IEEE 802.3at
IEEE 802.3az

Device Interface

48 x Gigabit PoE+ ports
4 x Shared Gigabit ports (RJ-45/SFP)
LED indicators

Data Transfer Rate

Ethernet: 10Mbps (half duplex), 20Mbps (full duplex)
Fast Ethernet: 100Mbps (half duplex), 200Mbps (full duplex)
Gigabit Ethernet: 2000Mbps (full duplex)

Performance

Switch fabric: 104Gbps
RAM buffer: 12Mbits
MAC Address Table: 16K entries
Jumbo Frames: 10Kbytes
HOL Blocking Prevention
Forwarding rate: 77.4Mpps (64-byte packet size)

Management

HTTP/HTTPS (SSL v2/3 TLS) Web based GUI
SNMP v1, v2c, v3
RMON v1
Static Unicast MAC Address
Enable/disable 802.3az Power Saving
LLDP and LLDP-MED
Virtual Cable Diagnostics Test
IPv6: IPv6 Neighbor Discovery, IPv6 Static IP, DHCPv6, Auto configuration

Hive Cloud Management

Configure, monitor, and manage through the TRENDnet Hive Cloud Management Portal remotely via PC or Mac web browser
Multi-device management
Provisioning through scheduled batch firmware or configuration updates for multiple switches
Event/hardware network monitoring (CPU/memory utilization)
Enable & disable PoE, set PD (powered device) alive check, configure PoE scheduling, and monitor PoE budget utilization (for PoE switches only)
Configure features such as IP address settings, VLANs, spanning tree, loopback detection, IGMP snooping, link aggregation, and bandwidth control through cloud management

MIB

IP FORWARD TABLE MIB RFC 1354
RMON MIB RFC 1271
IPV4 MIB RFC 1213
GVRP MIB IEEE 802.1Q-VLAN
LA MIB IEEE 802.3ad
LLDP MIB IEEE 802.1AB
IGMP SNOOPING MIB RFC 2933
MLD SNOOPING MIB RFC 3019
PRIVATE VLAN MIB IEEE 802.1Q
DHCPSNOOP MIB RFC 2026
QOS MIB RFC 4323
SNMP MIB RFC 3415
STP MIB RFC 4318
PNAC MIB IEEE 802.1x
VLAN MIB IEEE 802.1q
DNS MIB RFC 1611
ACL MIB
BANDWIDTH CTRL MIB
LBD MIB
MIRROR MIB
IPV6 NEIGHBOR MIB
SNTP MIB
STORM CTRL MIB
STATISTICS MIB
Tool MIB
VOICE VLAN MIB
DOS MIB

Spanning Tree

IEEE 802.1D STP (Spanning Tree protocol)
IEEE 802.1w RSTP (Rapid Spanning Tree protocol)
IEEE 802.1s MSTP (Multiple Spanning Tree protocol)

Link Aggregation

Static Link Aggregation
802.3ad Dynamic LACP

Quality of Service (QoS)

802.1p Class of Service (CoS)
DSCP (Differentiated Services Code Point)
Bandwidth Control per port
Queue Scheduling: Strict Priority, Weighted Round Robin (WRR)

VLAN

Multiple management VLAN assignment
Asymmetric VLAN
802.1Q Tagged VLAN
Dynamic GVRP
Up to 256 VLAN groups, ID Range 1-4094
Private VLAN (Protected Ports)
Voice VLAN (10 user defined OUIs)

Multicast

IGMP Snooping v1, v2, v3 (per VLAN)
Static Multicast Address
Up to 256 multicast entries

Port Mirror

RX, TX, or Both
One to one

Encryption

802.1X Port-Based Network Access Control , RADIUS, TACACS+
Local Dial In User Authentication
DHCP Snooping (per VLAN)
Loopback Detection
Duplicated Address Detection
Trusted Host
Denial of Service (DoS)

ACL IPv4 L2-L4 & IPv6

MAC Address
VLAN ID
Ether Type (IPv4 only)
IP Protocol 0-255
TCP/UDP Port 1-65535
802.1p
DSCP (IPv4 only)
IPv6 Address (IPv6 only)

Compatibility

Optional Software Utility: Windows® 10, 8.1, 8, 7, Vista, XP, Windows® 2003/2008 Server

Special Features

PoE+
IPv6
802.3az power saving
Rack mountable

Power

Input: 100 – 240V AC, 50/60Hz, internal power supply
Max. consumption: 479W

PoE

Power Budget: 370W
802.3at: Up to 30W per port
PoE Mode A: Pins 1, 2, 3, and 6 for power
PoE auto/manual classification
PoE port priority/power scheduling
PD alive check

Fan/Acoustics

Quantity: 3
Noise Level: 52.4 dBA (max.)

MTBF
Operating Temperature
Operating Humidity
Dimensions

440 x 430 x 44mm (17.3 x 17 x 1.74 in.)
Rack mountable 1U height

Weight
Certifications
Warranty
Содержимое упаковки
TPE-5240WS
Quick Installation Guide
CD-ROM (Utility & User's Guide)
Power cord (1.8m/6 ft.)
Rack mount kit
Приведенная в данном документе информация относится к продуктам TRENDnet и подлежит изменениям в любой момент и без уведомления.