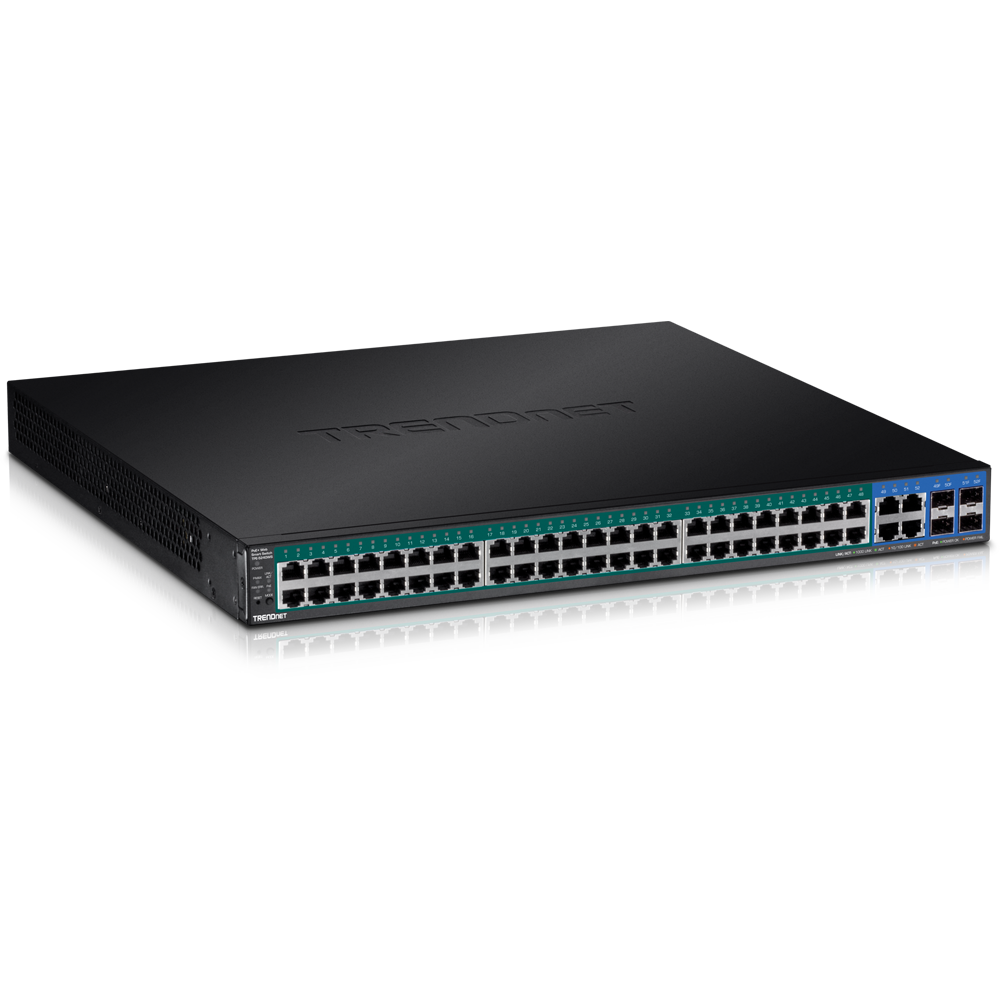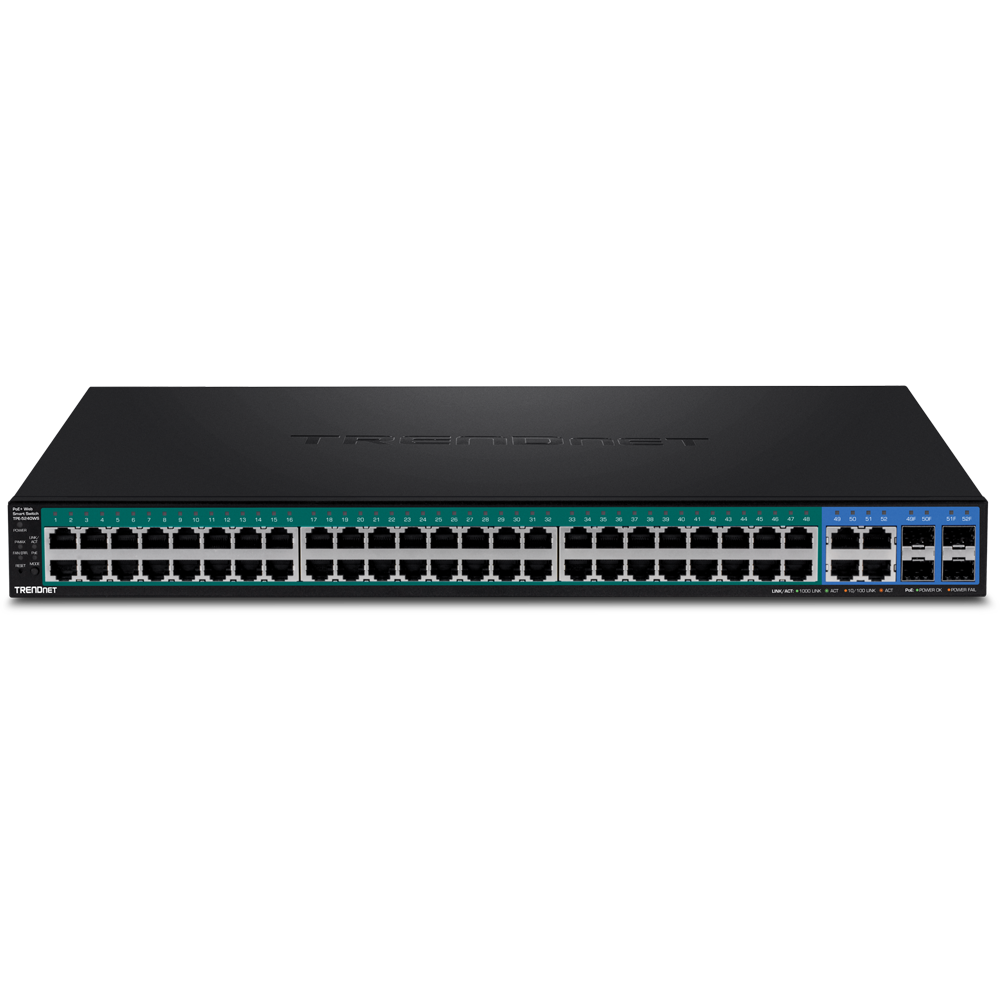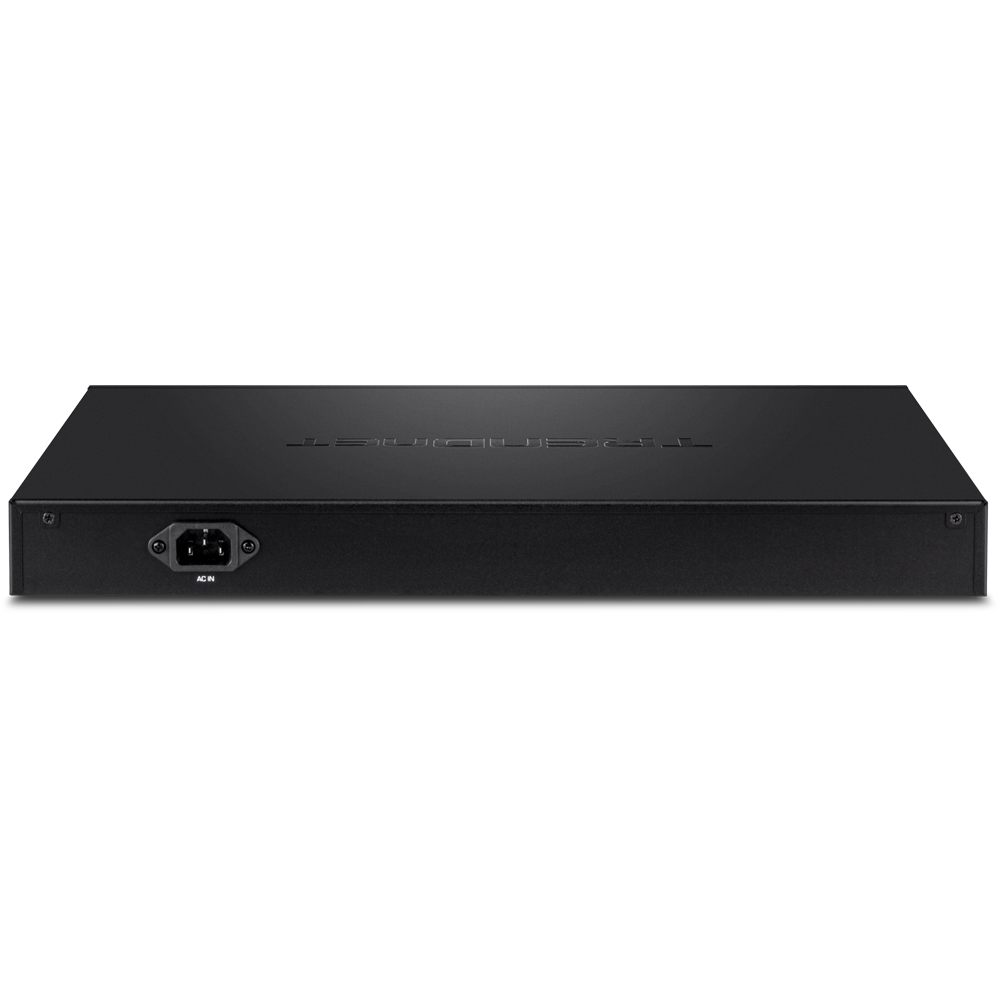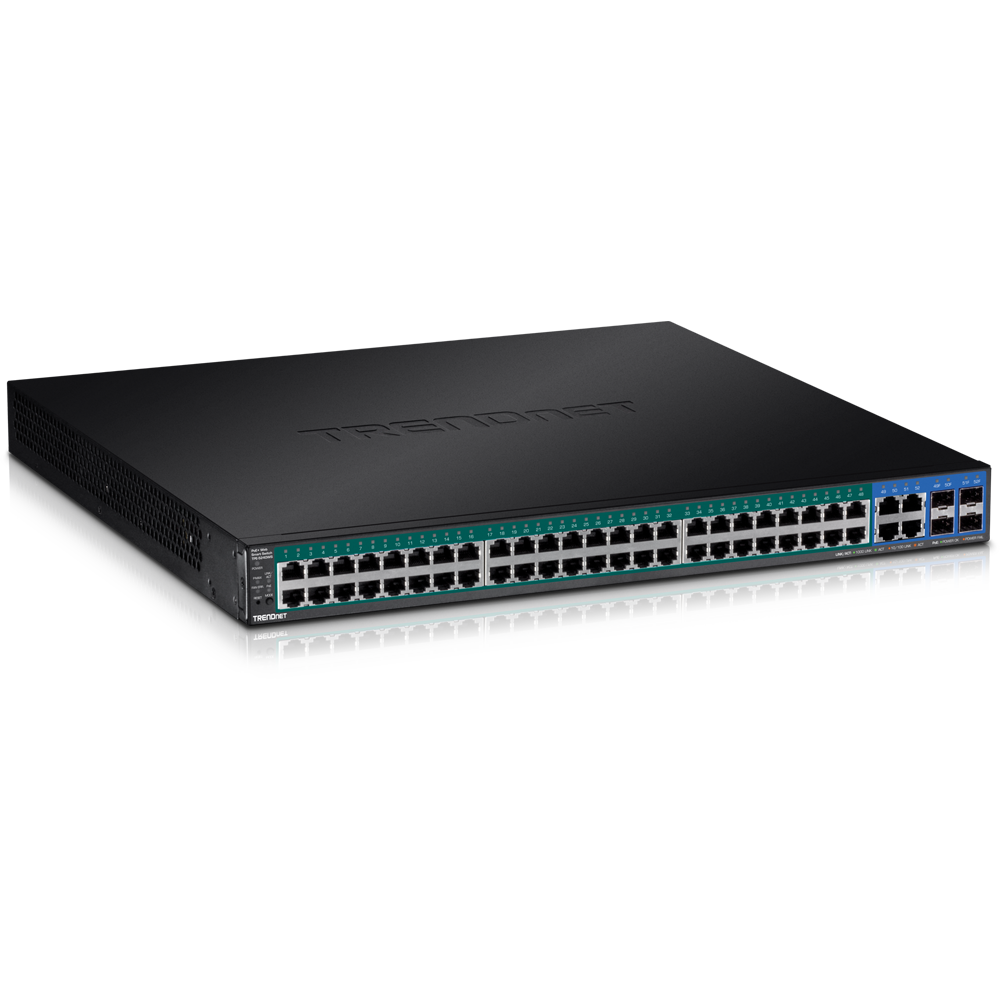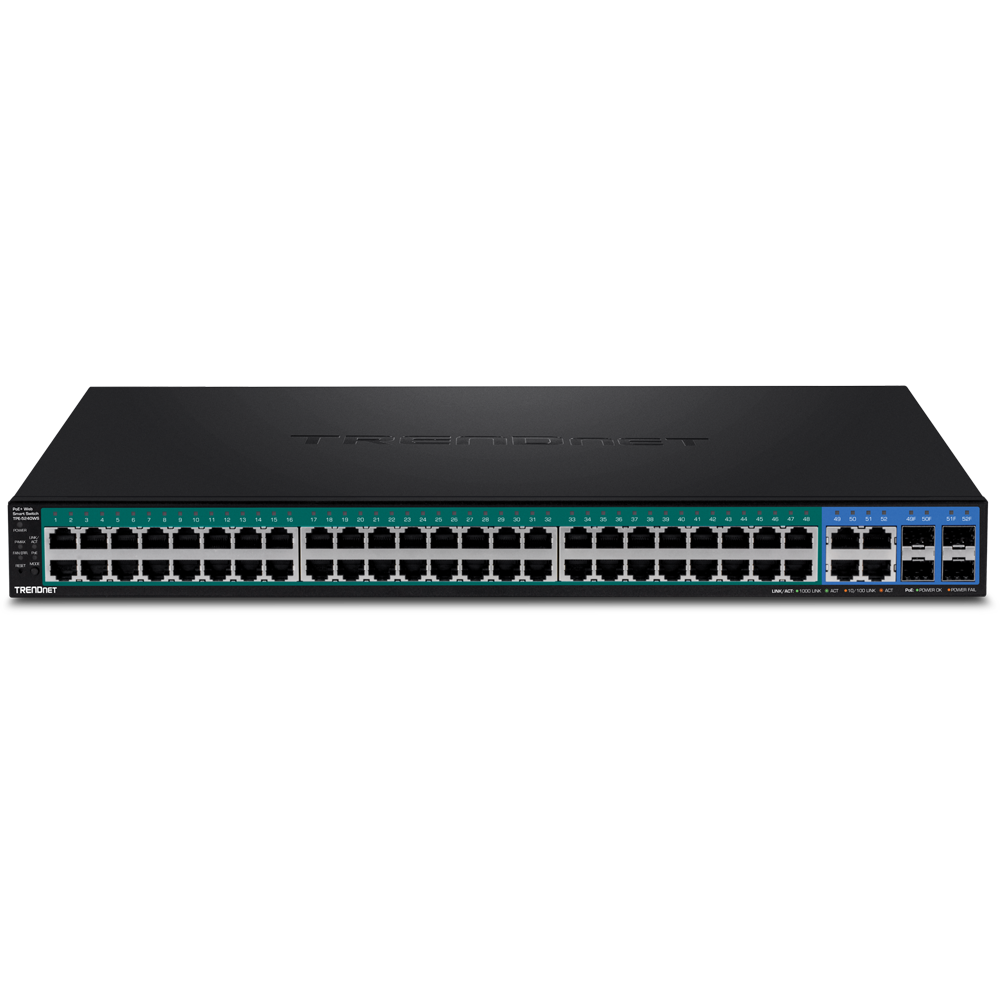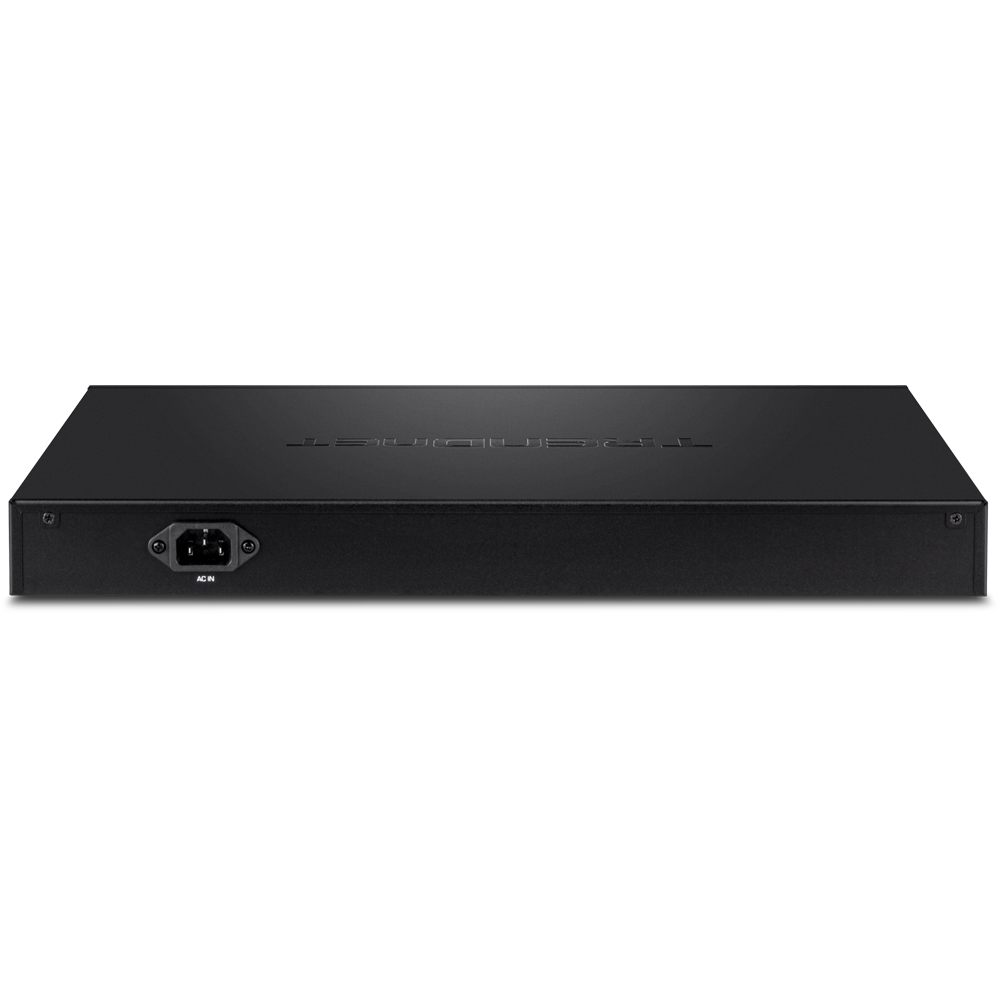 52-Port Gigabit Web Smart PoE+ Switch
TPE-5240WS (Version v1.0R)
48 x Gigabit PoE+ Ports
4 geteilte Gigabit-Ports (RJ-45 oder SFP)
370 Watt PoE-Gesamtleistung
Leicht zu bedienende webbasierte Verwaltungsoberfläche
Unterstützt IPv6, LACP, VLAN, QoS und IGMP Snooping
Bandbreitenkontrolle je Port
Unterstützt privates VLAN und Voice VLAN
Intelligente Lüftung
104 Gbit/s Schaltkapazität
IEEE 802.1p QoS mit Warteschlangenplanung
Firmware
Firmware Version: V2.10.024
Release Date: 02/2020
Note:
***If upgrading from firmware version 1.00.010, firmware version 1.10.026 must be loaded first, then version 2.10.010 or above afterwards.(Firmware is included in this download)***
*If it is the first time upgrading the switch from 1.00.010 to 2.10.010 or above, it is recommended to manually reset the device to factory default and clear web browser cache after the loading firmware file.*
-Adjusted fan speed during switch operation for the following models: TPE-5240WS / TPE-5028WS / TPE-5048WS / TPE-1620WS / TPE-2840WS
Dateiname: FW_WS-2-10-024-ALL.zip
SHA-1 Checksum: 3DE0DBE424A79C78A09A410FDC8937A6CFE2DAEB
Datum
6/16/2020
Dateigröße
21.68 mb
Kurzanleitung zur Installation
---
---
---
---
---
Bedienungsanleitung
Dateiname: PoE_Web_Smart_Switch_Series_User's_Guide.pdf
Datum
4/20/2021
Dateigröße
4.99 mb


Standards

IEEE 802.1d
IEEE 802.1p
IEEE 802.1Q
IEEE 802.1s
IEEE 802.1w
IEEE 802.1X
IEEE 802.1ab
IEEE 802.3
IEEE 802.3u
IEEE 802.3x
IEEE 802.3z
IEEE 802.3ab
IEEE 802.3ad
IEEE 802.3af
IEEE 802.3at
IEEE 802.3az

Geräteschnittstelle

48 x Gigabit PoE+ Ports
4 geteilte Gigabit-Ports (RJ-45/SFP)
LED-Leuchten

Datenübertragungsrate

Ethernet: 10 Mbit/s (Halbduplex), 20 Mbit/s (Vollduplex)
Fast Ethernet: 100 Mbit/s (Halbduplex), 200 Mbit/s (Vollduplex)
Gigabit Ethernet: 2000 Mbit/s (Vollduplex)

Leistung

Switch Fabric: 104 Gbps
RAM-Puffer: 1.5 MBt
MAC Adressentabelle: 16 K Einträge
Jumbo Frames: 10 KB
HOL Blockiervermeidung
Weiterleitungsrate: 77,4 Mpps (64-byte Paketgröße)

Management

HTTP/HTTPS (SSL v2/3 TLS) webbasiertes GUI
SNMP v1, v2c, v3
RMON v1
Static Unicast MAC-Adresse
Stromsparfunktion 802.3az aktivieren/deaktivieren
LLDP und LLDP-MED
Virtueller Kabeldiagnostiktest
IPv6: IPv6 Neighbor Discovery, IPv6 Statisch IP, DHCPv6, Auto-Konfiguration

MIB

IP WEITERLEITUNGSTABELLE MIB RFC 1354
RMON-MIB RFC 1271
IPV4-MIB RFC 1213
IPV6-MIB RFC 2465
GVRP-MIB IEEE 802.1Q-VLAN
LA-MIB IEEE 802.3ad
LLDP-MIB IEEE 802.1AB
IGMP SNOOPING-MIB RFC 2933
MLD SNOOPING-MIB RFC 3019
PRIVATES VLAN-MIB IEEE 802.1Q
DHCPSNOOP-MIB RFC 2026
QOS-MIB RFC 4323
SNMP-MIB RFC 3415
STP-MIB RFC 4318
PNAC-MIB IEEE 802.1x
VLAN-MIB IEEE 802.1q
DNS-MIB RFC 1611
ACL-MIB
BANDBREITENKONTROLLE-MIB
LBD-MIB
MIRROR-MIB
IPV6 NEIGHBOR-MIB
SNTP-MIB
STORM CTRL-MIB
STATISTIK-MIB
Tool-MIB
VOICE VLAN-MIB
DOS-MIB

Spanning Tree

IEEE 802.1D STP (Spanning Tree Protokoll)
IEEE 802.1w RSTP (Rapid Spanning Tree Protokoll)
IEEE 802.1s MSTP (Multiple Spanning Tree Protokoll)

Link Aggregation

Static Link Aggregation
802.3ad Dynamic LACP

Quality of Service (QoS)

802.1p Class of Service (CoS)
DSCP (Differentiated Services Code Point)
Bandbreitenkontrolle je Port
Warteschlangenplanung: Strict Priority, Weighted Round Robin (WRR)

VLAN

Multiple Management VLAN-Zuteilung
Asymmetrisches VLAN
802.1Q Tagged VLAN
Dynamic GVRP
Bis zu 256 VLAN Gruppen, ID Bereich 1-4094
Privates VLAN (geschützte Ports)
Voice VLAN (10 benutzerdefinierte OUIs)

Multicast

IGMP Snooping v1, v2, v3 (per VLAN)
Static Multicast Address
Bis zu 256 Multicast-Einträge

Port-Spiegelung

RX, TX, oder beides
One-to-one

Verschlüsselung

802.1X portbasierte Netzwerkzugangskontrolle, RADIUS, TACACS+
Lokale Benutzerauthentifizierung
DHCP Snooping (über VLAN)
Loopback-Erkennung
Doppelte Adresserkennung
Trusted Host
Denial of Service (DoS)

ACL IPv4 L2-L4 & IPv6

MAC-Adresse
VLAN ID
Ether Type (nur IPv4)
IP-Protokoll 0-255
TCP/UDP Port 1-65535
802.1p
DSCP (nur IPv4)
IPv6 Adresse (nur IPv6)

Kompatibilität

Optionales Softwarehilfsprogramm: Windows® 10, 8.1, 8, 7, Vista, XP, Windows® 2003/2008 Server

Sonderfunktionen

PoE+
IPv6
802.3az (stromsparend)
Rackmontierbar
PoE-Planung

Stromversorgung

Eingang: 100 – 240 V AC, 50/60 Hz, eingebautes Netzteil
Verbrauch: 479 Watt (max.)
Gesamtleistung: 370W

Lüfter/Akustik

Menge: 3
Geräuschpegel: 52,4 dB(A) (max.)

MTBF
Betriebstemperatur
Betriebsfeuchtigkeit

Max. 95% nicht-kondensierend

Maße

440 x 430 x 44 mm (17,3 x 17 x 1,74 Zoll)
Rackmontierbar, 1U hoch

Gewicht
Zertifizierungen
Garantie
PACKUNGSINHALT
TPE-5240WS
Schnellinstallationseinrichtung
CD-ROM (Hilfsprogramm und Benutzerhandbuch)
Stromkabel (1,8 m/6 Fuß)
Montagesatz für Gestell
Die in diesem Dokument enthaltenen Informationen beziehen sich auf Produkte von TRENDnet und können jederzeit ohne vorherige Ankündigung geändert werden.