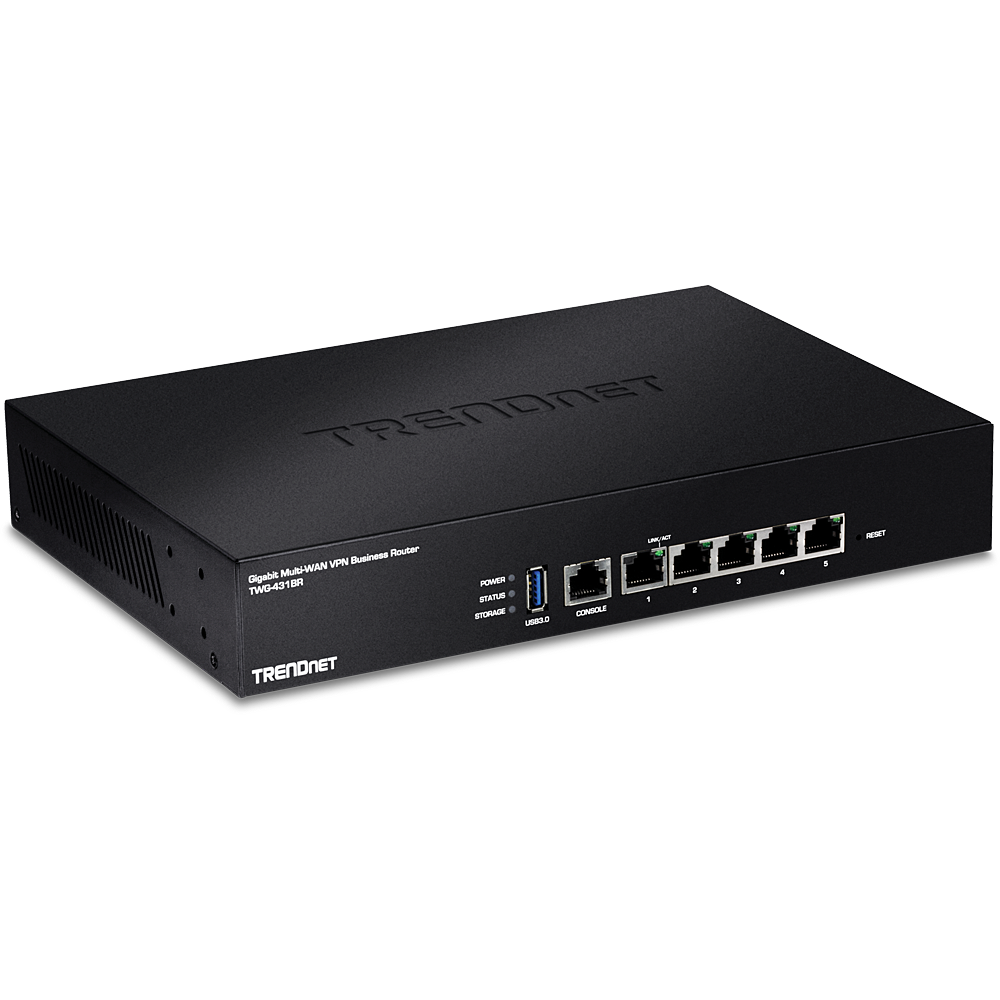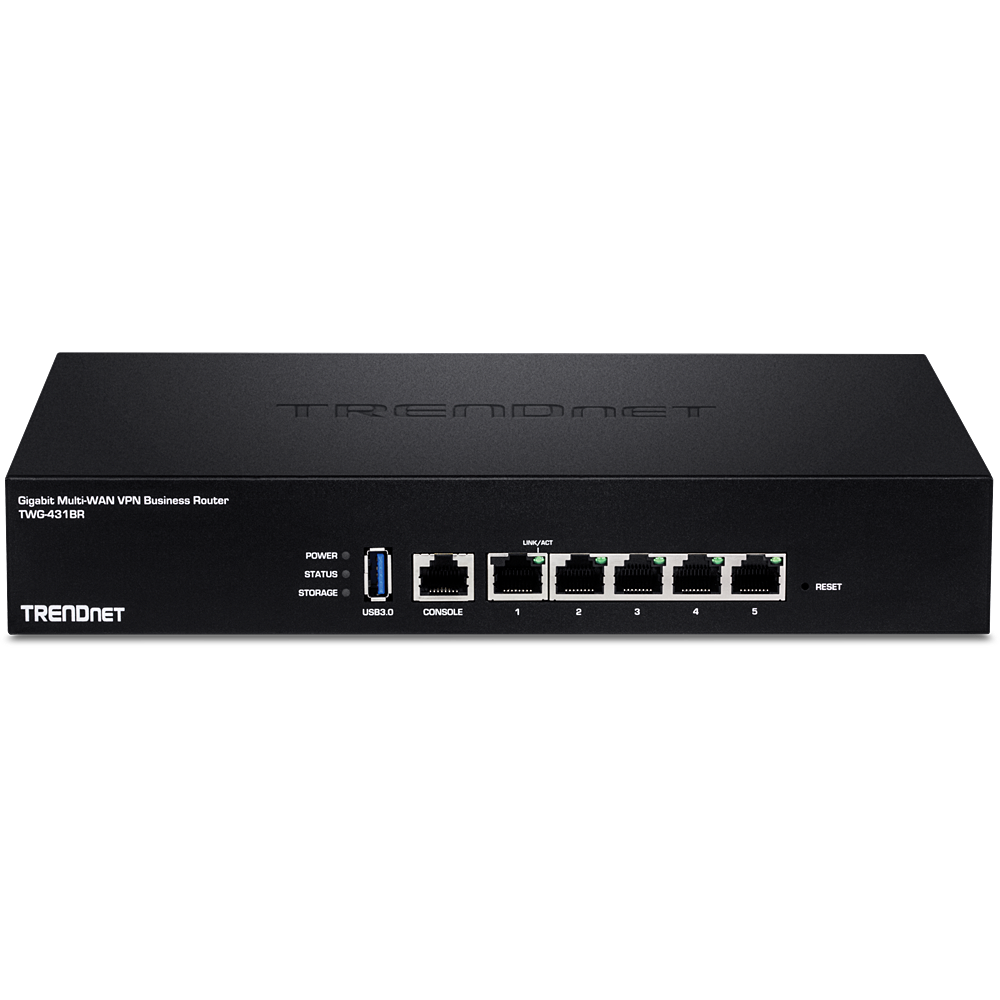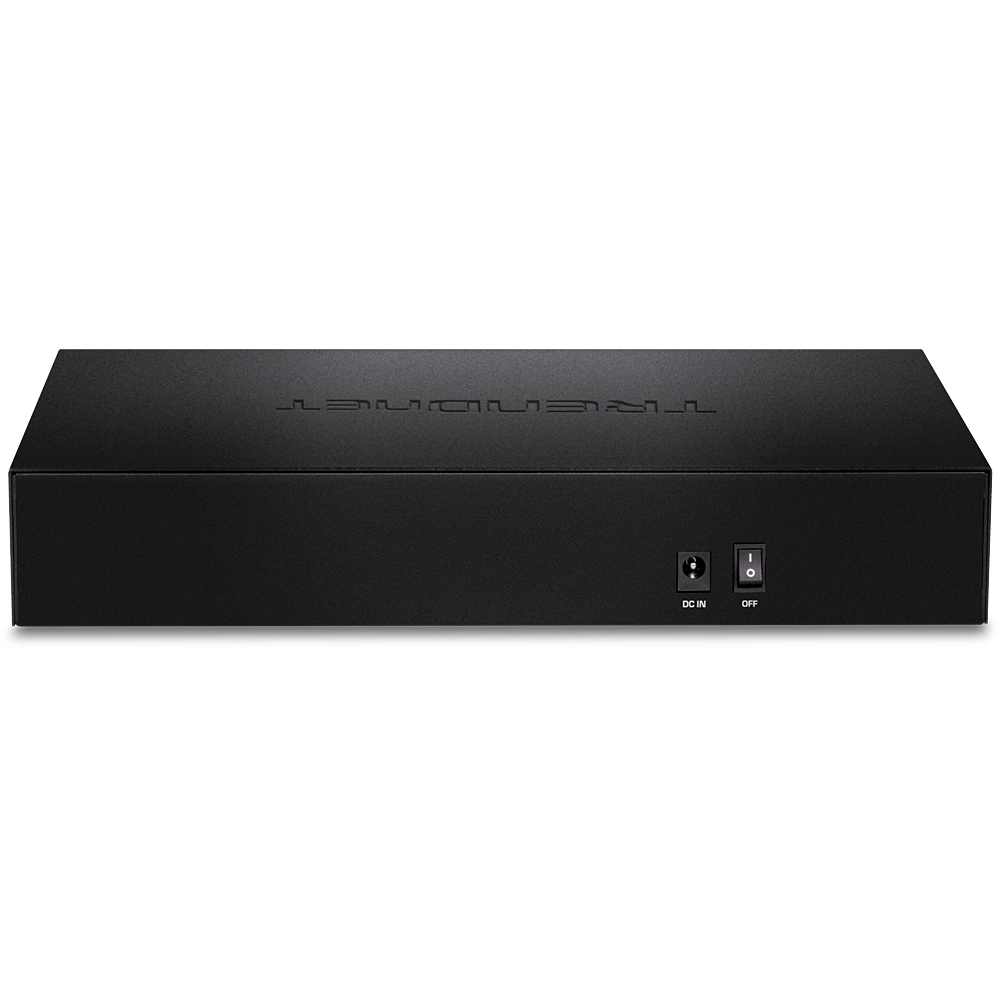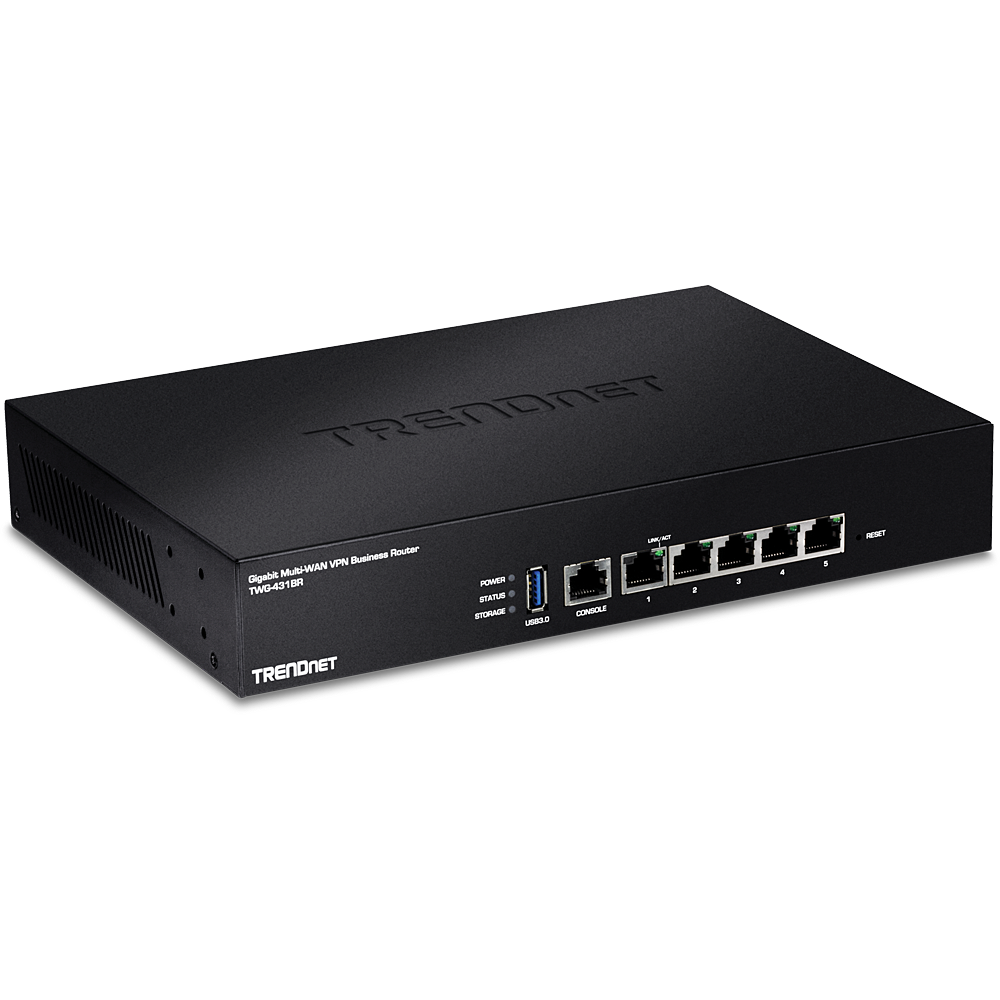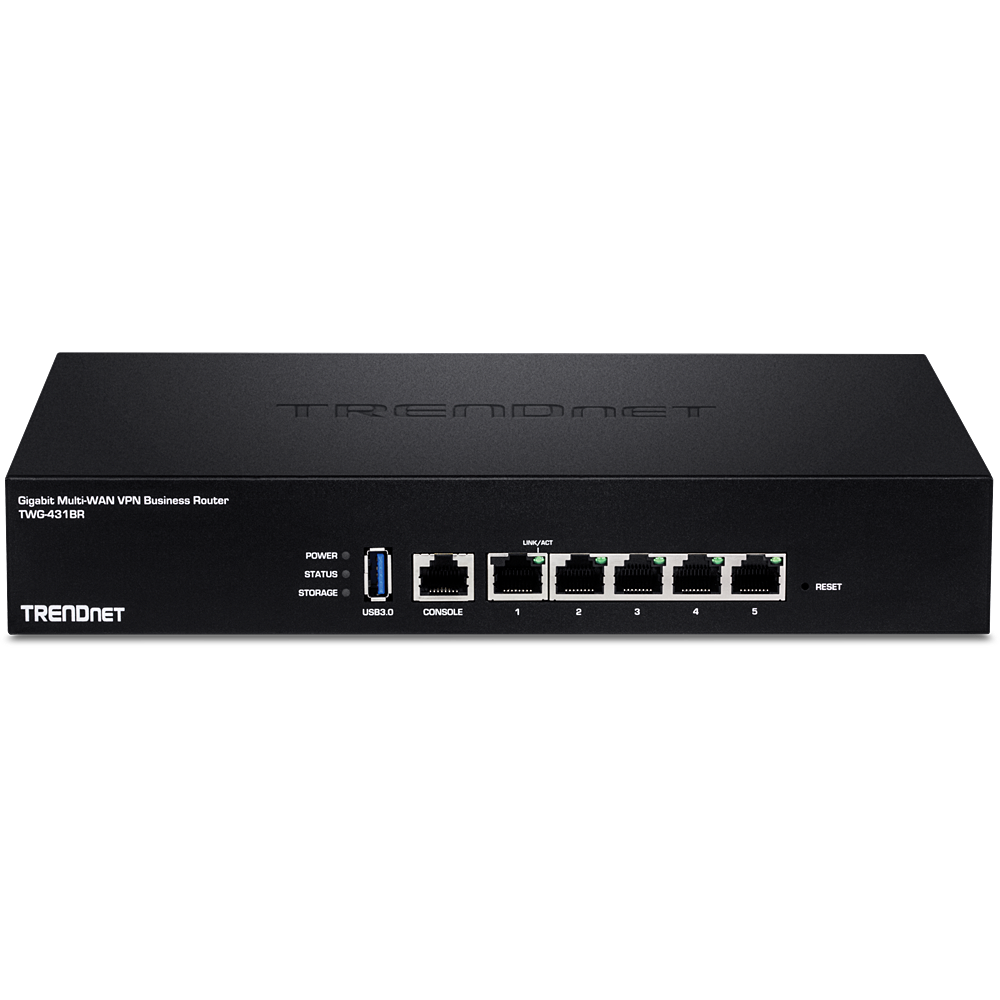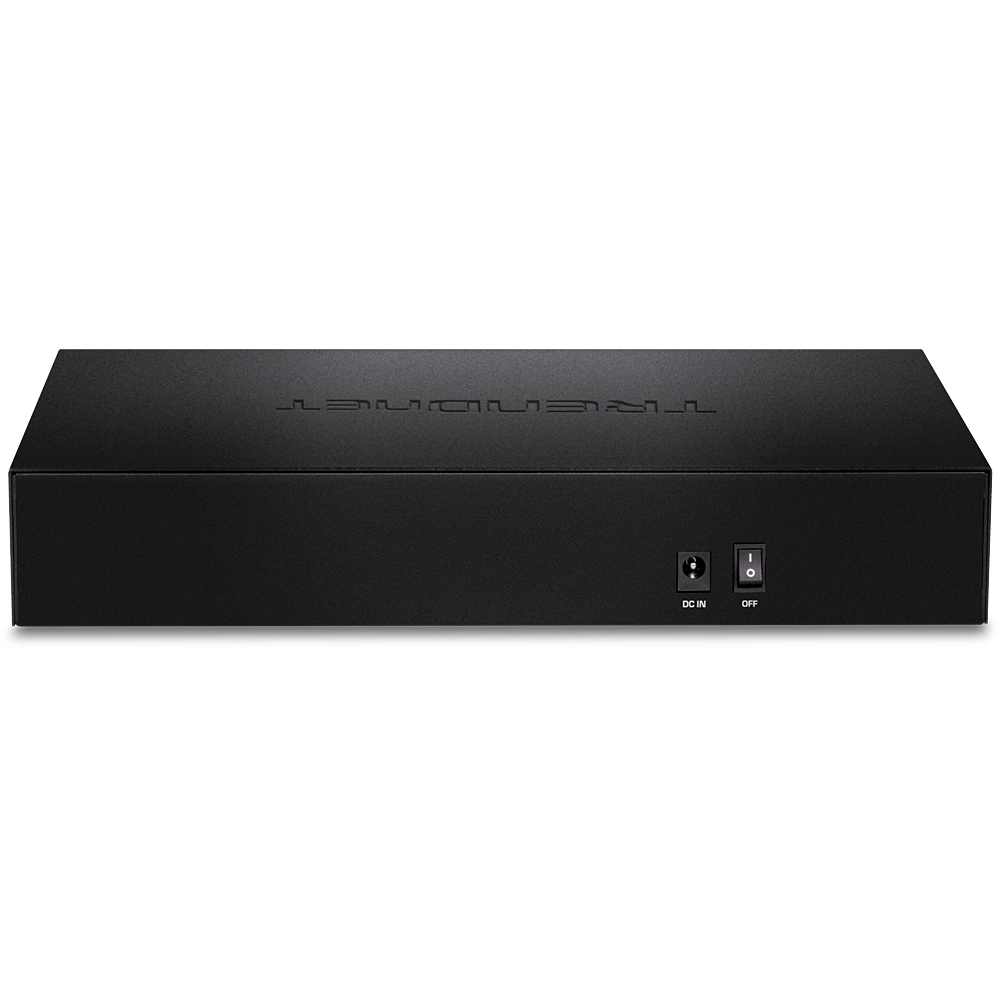 Gigabit Multi-WAN VPN Business Router
TWG-431BR (Version v1.0R)
Multi-WAN support
High Availability
IEEE 802.1Q inter-VLAN routing
WAN load-balancing and fail-over modes
SSL, IPsec, PPTP, and L2TP w/IPsec VPN support
Web browser and Command Line Interface (CLI) Management
Advanced web content filtering service powered by Router Limits™
Online firmware notification and upgrade
QoS for VoIP and media streaming
Firmware
DO NOT upgrade firmware on any TRENDnet product using wireless connection.
Firmware upgrade over wireless connection may damage the product. Please perform firmware upgrade with "wired" network connection only
Model:
TWG-431BR
Firmware Version:
v1.0.13
Release Date:
3/2022
Notes:
**IMPORTANT NOTE: This update requires the router to be reset to factory defaults after uploading.****
Fixed OpenSSL NULL pointer dereference vulnerability.
Updated default SSL certificate file.
Added capability to display SSL (OpenVPN) server loggin.
Updated pppd and openvpn packages.
Added capability to specify DHCP relay server IP address.
Filename: FW_TWG-431BR_v1(1.0.13).zip
SHA-1 Checksum: 1DD862691AC3D3157F87206B98A2EC14BF94F11C
Date
3/9/2022
File Size
15.73 mb
Datasheet
Filename: EN_datasheet_TWG-431BR_(v1.0R).pdf
Date
8/26/2019
File Size
714.10 kb
User's Guide
Filename: UG_TWG-431BR(V1).pdf
Date
4/5/2022
File Size
3.37 mb


Standards

IEEE 802.3
IEEE 802.3u
IEEE 802.3x
IEEE 802.3ab
IEEE 802.1Q

Device Interface

5 x Gigabit ports (Modes: 4 WAN ports / 1 LAN port or 1 WAN port / 4 LAN ports)
1 x USB 3.0 port (Backup & Restore Configuration / Export Logging)
1 x RJ-45 console port
Reset button
LED indicators
On/off switch

Performance

NAT (LAN-to-WAN) Throughput: 900Mbps
Routing Performance: 900Mbps
Maximum Concurrent Sessions: 50,000
Maximum Number of VLANs: 8 (ID: 1-4093)
IPsec VPN (AES-256/SHA-256/LAN-to-LAN) Throughput: 200Mbps
SSL VPN Throughput (Blowfish/SHA-1/Bridge): 20Mbps

VPN

SSL VPN Client-to-Site (Up to 30 tunnels)
IPsec VPN Site-to-Site / Client-to-Site (Up to 40 tunnels)
PPTP/L2TP VPN Server / Client-to-Site (Up to 40 tunnels)
L2TP with IPsec VPN Server / Client-to-Site (Up to 40 tunnels shared with L2TP)
IPsec Encryption: 3DES, AES-128/192/256
IPsec Authentication: MD5, SHA-1, SHA-256
IPsec Key Exchange: IKE: Main/Aggressive Mode, Pre-shared Key, DH Groups 1/2/5/14
IPsec Protocols: ESP, PFS DH Groups 1/2/5/14, DPD, Local/Remote ID: IP Address, FQDN
IPsec NAT Traversal
SSL VPN Encryption: AES
SSL VPN Certificate: RSA
PPTP/L2TP Encryption: MPPE 40-bit, 128-bit, IPsec
PPTP/L2TP Authentication: MS-CHAPv1/2

Networking

WAN Modes: NAT, Classical Routing
NAT Modes: NAT, PAT
IPv4 WAN Modes: DHCP, Static IP, PPPoE, PPTP
IPv6 WAN Modes: Static, Auto-configuration (SLAAC/DHCPv6), Link-Local, PPPoE, 6to4, 6rd
Routing: Static, dynamic RIPv2, OSPFv1/2, distribute RIPv2 over OSPFv1/2, routing policies (Up to 20 entries)
Inter-VLAN Routing (Up to 8 VLANs, 8 IP interfaces)
DHCP Server/Relay
Dynamic DNS: dyn.com, no-ip.com
WAN Failover
WAN Load Balancing: Assign weight by percentage or bandwidth, source IP based, source & destination IP based, session based
High Availability: Supports 1 active-passive cluster up to a total of 6 units (1 master + 5 standby)
VPN passthrough: IPsec, PPTP, L2TP

Access Control

MAC address filtering (Up to 64 entries)
IP address filtering: TCP, UDP, ICMP (Up to 64 entries)
Content filtering: URL (HTTP only), Keyword, P2P, IM (Up to 64 entries)
Virtual server/port forwarding (Up to 64 entries)
Advanced web content filtering service powered by Router Limits™
Scheduling: IP/MAC/Content filters, virtual server (Up to 10 entries)
DMZ host

Quality of Service

Bandwidth Control: applicable by IP network, IP range, TCP/UDP port, SIP, RTSP, RTP, web

Management

CLI (Console/Telnet/SSHv2) command line management
HTTP/HTTPS (SSL v2/3 TLS) web based management, upload custom SSL certificate
SNMP v1, v2c, v3
SNMP trap (Up to 4 receivers)
Scheduled automatic reboot
Scheduled Wake-on-LAN (WoL) to remote network device
Internal logging or send logging to external syslog server
Manual or online firmware upgrade and notification
Backup and restore configuration
Diagnostic tools: Built-in ping & traceroute network utilities

MIB
Power

Input: 100 – 240V AC, 50/60Hz, 0.5A
Output: 12V DC, 1.5A external power adapter
Max. consumption: 17.4W

MTBF
Operating Temperature
Operating Humidity
Certifications
Dimensions

265 x 185 x 44.45mm (10.4 x 7.28 x 1.75 in.)
Rack mountable 1U height

Weight
Warranty
PACKAGE CONTENTS
TWG-431BR
Quick Installation Guide
RJ-45 to RS-232 console cable (1.5m / 5 ft.)
Power adapter (12V DC, 1A)
Rackmount kit
Information provided in this document pertain to TRENDnet products and is subject to change at any time, without notice.