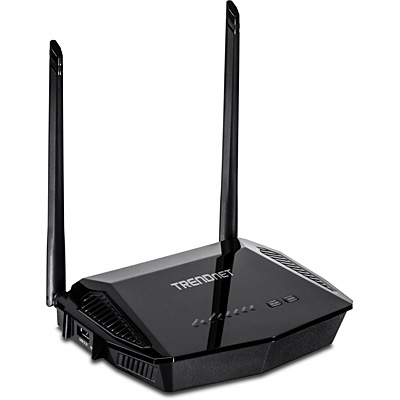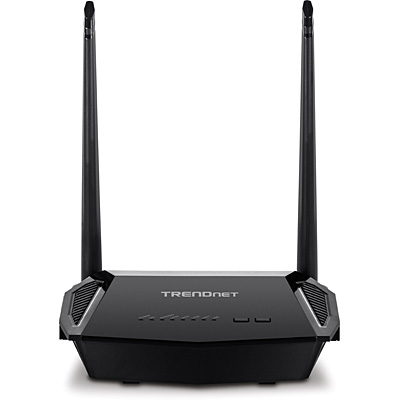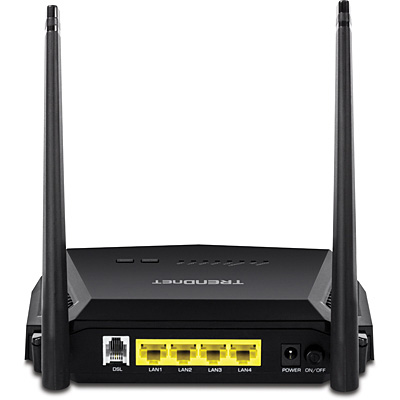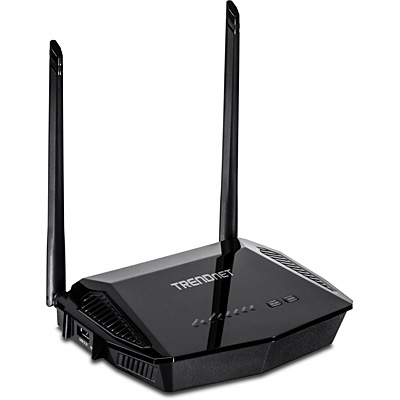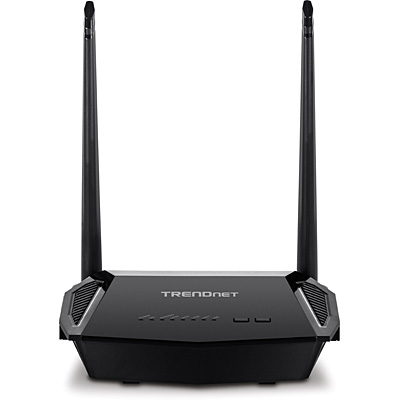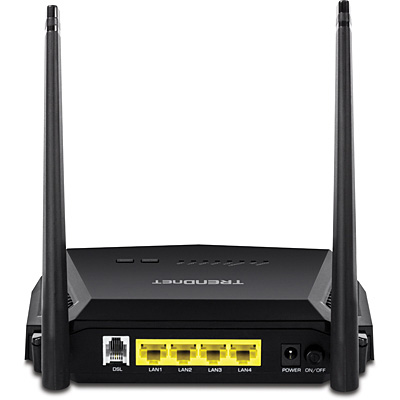 N300 WiFi ADSL 2+ Modem Router
TEW-723BRM (Version v1.0R)
Combination high speed modem and wireless N300 router
Compatible with ADSL 2/2+ networks
Pre-encrypted wireless for your convenience
Wireless on / off button
Four Ethernet ports for wired devices and one USB 2.0 port
DISCONTINUED PRODUCT
The TEW-723BRM (Version v1.0R) has been discontinued. For a list of discontinued products,
click here
.
Firmware
DO NOT upgrade firmware on any TRENDnet product using wireless connection.
Firmware upgrade over wireless connection may damage the product. Please perform firmware upgrade with "wired" network connection only
Firmware Version:1.00.01
Release Date: 10/2016
Note:
Initial Release
Filename: FW_TEW-723BRM_v1(1.00.01).zip
SHA-1 Checksum: 812E3035BA2381F6D00565CC4FE200C3F448E73A
Date
7/28/2017
File Size
2.58 mb
User's Guide
Filename: UG_TEW-723BRM(v1.0R).pdf
Date
6/27/2017
File Size
3.60 mb


ADSL Interface Standards

ADSL: ANSI T1.413 Issue 2, ITU G.992.1 (G.dmt, Annex A, and Annex B), ITU G.992.2 (G.lite)
ADSL2: ITU G.992.3 (G.dmt.bis, Annex I, Annex J, and Annex L)
ADSL2+: ITU G.992.5 (Annex L and Annex M)

Standards

IEEE 802.3
IEEE 802.3x
IEEE 802.3u
IEEE 802.3az
IEEE 802.11b
IEEE 802.11g
IEEE 802.11n (2.4 GHz up to 300 Mbps)

Hardware Interface

4 x 10/100 Mbps LAN ports
1 x RJ-11 ADSL2/2+ port
1 x USB 2.0 port (3G USB Modem Backup)
WPS button
WLAN on / off button
On / Off Power button
Reset button
LED indicators

ATM & PPP Modes / Protocols

VC and LLC multiplexing (Up to 8 PVCs)
802.1Q VLAN tagging
1483 Bridged
1483 MER (IPv4 & IPv6 Static or DHCPv4 / Auto-configuration (SLAAC / DHCPv6))
1483 Routed (IPv4 & IPv6 Static or DHCPv4 / Auto-configuration (SLAAC / DHCPv6))
PPPoE (IPv4 & IPv6 Static or DHCPv4 / Auto-configuration (SLAAC / DHCPv6))
PPPoA (IPv4 & IPv6 Static or DHCPv4 / Auto-configuration (SLAAC / DHCPv6))
IPoA (IPv4 & IPv6 Static or DHCPv4 / Auto-configuration (SLAAC / DHCPv6))

Special Features

IPv6 Support
5 dBi Antennas
Multi-Language interface: English, Spanish, Portuguese
Pre-encrypted wireless network

Access Control

Wireless encryption: WEP, WPA / WPA2-PSK, WPA / WPA2-Enterprise (RADIUS)
Wireless Access Control (IPv4 / IPv6) Inbound / Outbound: HTTP, FTP, SNMP, SSH, FTP, Telnet, TFTP, ping or all services
Up to 4 additional SSIDs
Firewall: NAT, NAPT, SPI, Port Forwarding, Port Mapping, Port Triggering, DMZ Host
IPv4 & IPv6 Inbound / Outbound Port filter and MAC address Inbound / Outbound filter
ALG: FTP, H.323, SIP, RTSP, PPTP / L2TP / IPsec VPN Passthrough
Parental Control: Schedule URL / Keyword and / or MAC Address filters
DoS Attack Prevention
IP to MAC Address Binding (Static ARP)
Client limiting for devices accessing Internet
NAT IP Mapping: One-to-One, Many-to-One, Many-to-Many, One-to-Many

Quality of Service

WMM
Diffserv / Differentiated Services Code Point (DSCP) – Strict Priority (SP), Weighted Fair Queuing (WFQ)
ATM Traffic QoS Constant Bit Rate (CBR), Unspecified Bit rate (UBR), Real-Time Bit Rate (rt-VBR), Non-Real-time Variable Bit Rate (nrt-VBR)

Management & Monitoring

Local / remote web based management
Telnet
TR-069
IGMP v1/2/3 Proxy and Snooping
SNMP v1/2c
DHCP Server / Relay, Option 60
IPv4 / IPv6 Static Routes & Dynamic RIPv1/2
Syslog
UPnP
IPv4 / IPv6 ping, traceroute, ADSL & diagnostic connectivity tests
Upgrade firmware
Backup / restore configuration
Reboot
Restore to factory defaults
Dynamic DNS support for dyn.com and no-ip.com

Frequency
Modulation

802.11b: CCK (11 Mbps & 5.5 Mbps), DQPSK (2 Mbps), DBPSK (1 Mbps)
802.11g: OFDM with BPSK, QPSK and 16/64-QAM
802.11n: BPSK, QPSK, 16-QAM, 64-QAM with OFDM

Media Access Protocol
Antenna Gain

2 x 5 dBi external adjustable

Wireless Output Power

802.11b: FCC: 18 dBm (max.) @ 11 Mbps
802.11g: FCC: 15 dBm (max.) @ 54 Mbps
802.11n: FCC: 14 dBm (max.) @ 300 Mbps

Receiving Sensitivity

802.11b: -79 dBm (typical) @ 11 Mbps
802.11g: -65 dBm (typical) @ 54 Mbps
802.11n: -61 dBm (typical) @ 300 Mbps

Wireless Channels
Power

Input: 100 – 240 V AC, 50/60 Hz
Output: 12V DC, 1A external power adapter
Consumption: 7 W (max.)
Surge (Power) Protection: 6kV / ITU-T K.21 (12/2016)

Operating Temperature
Operating Humidity
Certifications
Dimensions

165 x 122 x 40 mm (6.5 x 4.8 x 1.57 in.)
Antenna length: 195 mm (7.7 in.)

Weight
Warranty
PACKAGE CONTENTS
TEW-723BRM
Quick Installation Guide
Network cable (1 m / 3.28 ft.)
RJ-11 telephone cable (1 m / 3.28 ft.)
Power adapter (12V DC, 1A)
Information provided in this document pertain to TRENDnet products and is subject to change at any time, without notice.