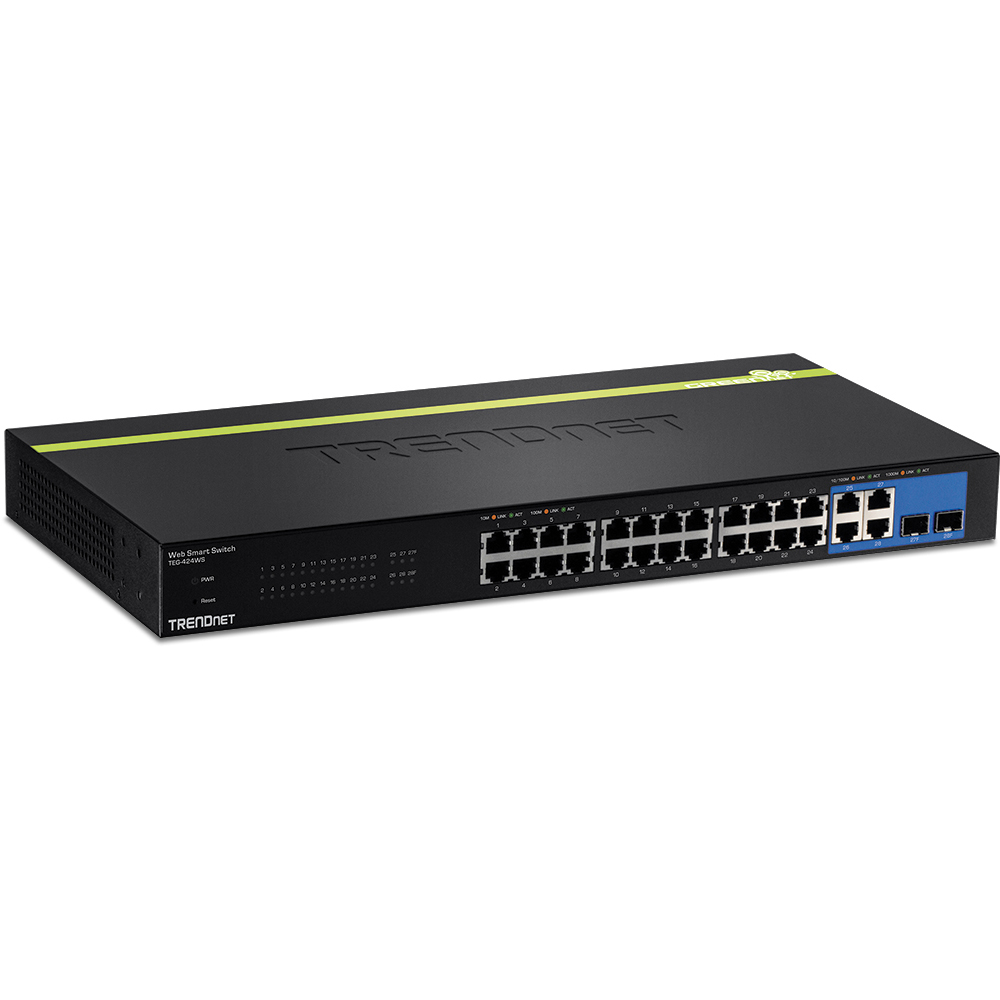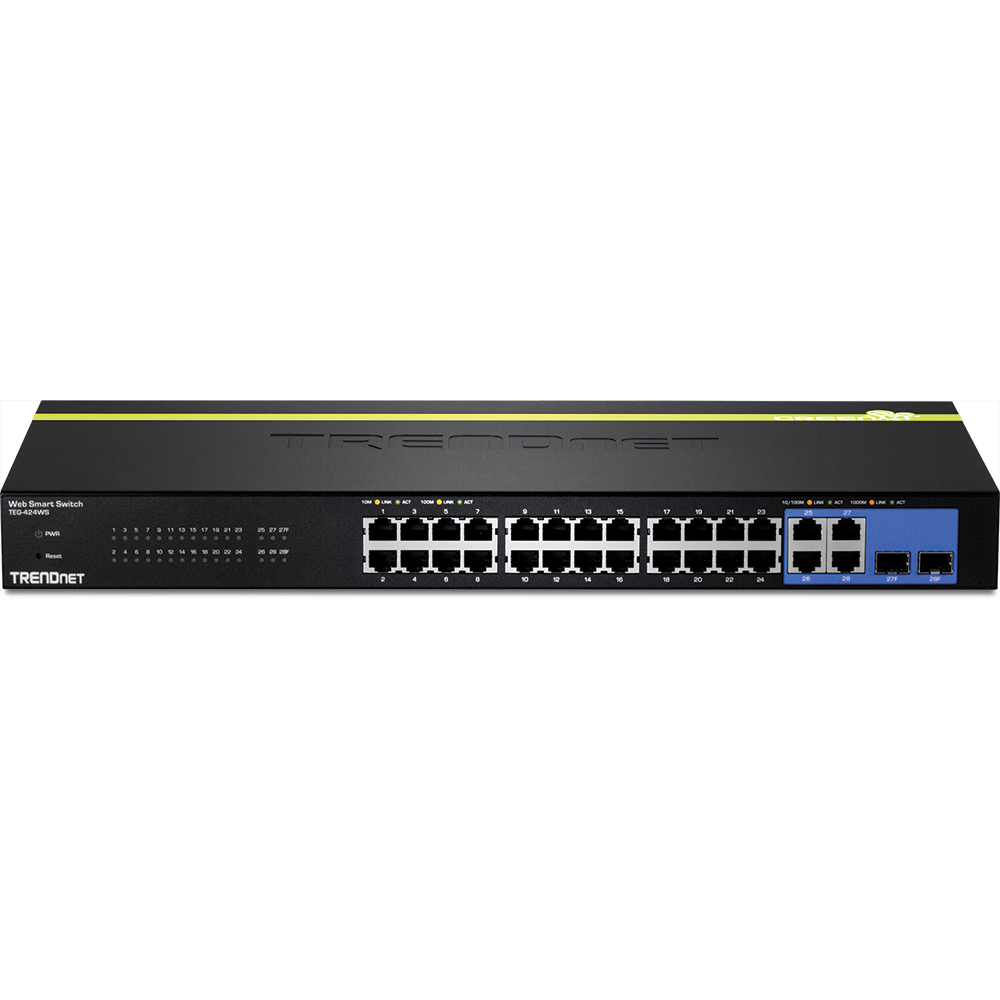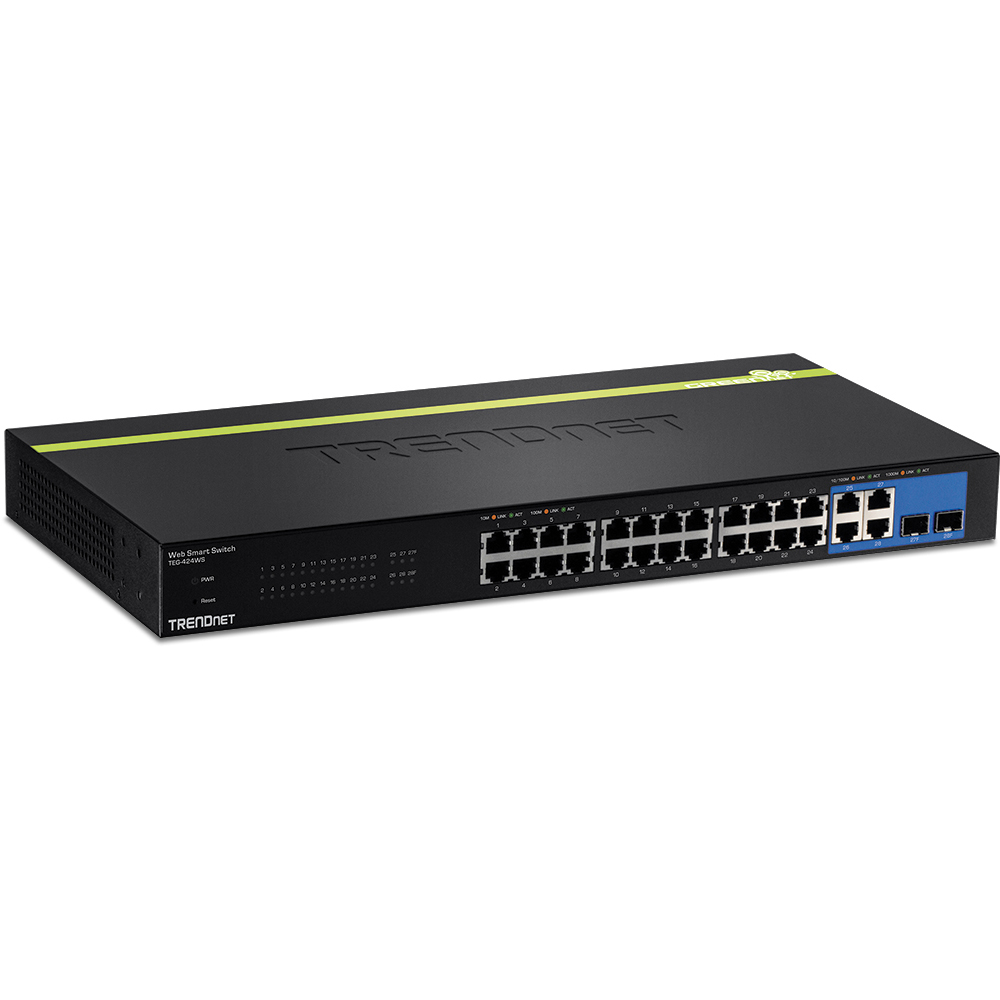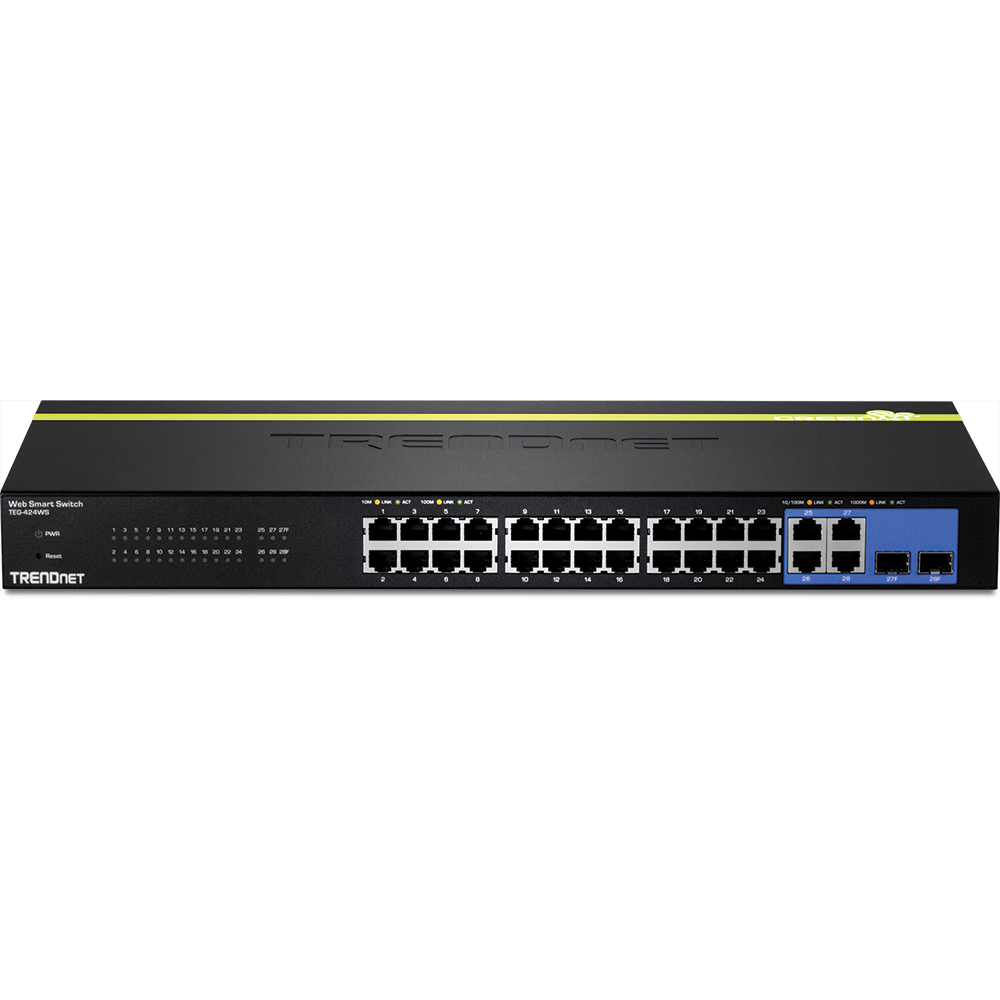 24-Port 10/100 Mbps Web Smart Switch (Certified Refurbished)
RB-TEG-424WS (Version v2.0R)
24 x 10/100 Mbps ports
4 x Gigabit uplink ports
2 x shared SFP slots
12.8 Gbps switching capacity
Advanced Web Smart management
Fanless design reduces energy consumption and operating noise
Rackmount brackets included
Firmware
Firmware Version: 4.00.020
Release Date: 01/2017
Release Notes:
Fixed issues accessing GUI in Mac OS 10.12 using Safari, Chrome, Firefox browsers
Fixed issue with TEG-MGBSX H/W: v3.x SFP module will disable automatically after system reboot
Fixed 802.3ax link aggregation issue with some network cards
Modified SSL function to generate random certificate after system reset
Modified default IGMP functionality to filter mode
**It is highly recommended to clear your web browser cache after upgrading due to updates in GUI layout**
Filename: FW_TEG-424WS_v2(4.00.020).zip
SHA-1 Checksum: F3DF0C151BA2853FBC2821BE4D70A86689A1364E
Date
7/28/2017
File Size
8.22 mb
User's Guide
Filename: UG_TEG-424WS(V2).pdf
Date
8/15/2014
File Size
3.31 mb


For this example we are going to create 2 separated VLANs with a shared port. VLAN 10: Tagged ports: 1 Untagged ports: 2 – 9 VLAN 20: Tagged ports: 1 Untagged ports: 15-20 Click Bridge > VLAN > Tagged VLAN. Input the VLAN ID and the VLAN Name under Tagged VLAN Settings. For this example...
Download the latest firmware update from our website here https://www.TRENDnet.com/support/. The firmware download will be in a compressed format.  You will need to extract or unzip the file.  We recommend extracting the file where you can locate it.  For example, your desktop. Open your web bro...
Press and hold the reset button located on the front of the TEG-424WS for 10 seconds to reset it to factory defaults. ...
If you encounter problems when logging into the web management interface, you may need to temporarily disable your Antivirus software. Antivirus software installed with additional web browser components (such as the AVG® Anti-Virus Surf Shield component under the LinkScanner feature) may cause probl...
When plugging in mini-GBIC modules it will automatically disable the shared copper Gigabit Ethernet RJ-45 ports. The mini-GBIC slots have priority over the RJ-45 ports and this cannot be changed....
Yes, the TEG-424WS is firmware upgradeable.  To upgrade the firmware you will need to access the web interface of the unit and click on System>Firmware Upgrade.  From this page you can either upload the firmware to the unit or you can back-up the firmware of the unit to a file should that firmwar...
Yes, the TEG-424WS will allow you to back-up your settings to the computer.  To backup settings you will need to access the web interface of the unit and click on System>Backup Setting.  From this page you can either backup the current settings to a file so that you can restore if necessary, or y...
There is not a save option for the traffic statistics however there is a visual display of the statistics.  Going to System>Statistics from the web interface will give a breakdown of every port and its transfer/received okay and transfer/received error.  From here you can also select on each port...
You configure traps to allow the Web Management Utility to monitor specified events and inform the SNMP managing PC. To Enable the Trap Setting features click on System>Trap Settings from the web interface.  Next enable the Trap Setting options and enter in the IP address of the PC in which you w...
For the TEG-424WS there can be six trunking groups formed and in the groups it can support up to 8 ports. Ensure that the trunking group's ports are within the same VLAN group....
The TEG-424WS can support up to 256 Virtual Local Area Networks (VLAN).
Asymmetric VLAN is a mechanism to allow you to have a multiple bridged networks to transparently share the same physical network link without leakage of information between networks. It uses port tagging to enable this feature by creating a Virtual ID for a group of network port....
The benefits of using a web smart switch are the ability to utilize features such as VLAN, QoS, Trunking, IGMP, and Port Mirroring. Being able to manage these features allows the management of traffic to be controlled and therefore running a smoother network. They play an integral part for most Ethe...
Mini-GBIC slots allow network administrator to enlarge network coveragewith fiber optic network cables. Copper Ethernet cables provide up to 100 meters of distance between a network switch and its connected network devices. Using available mini GBIC modules, network administrators can extend their p...
The copper Gigabit Ethernet ports can operate at 10Mbps, 100Mbps, or 1000Mbps however the Gigabit Mini GBIC slots are strictly 1000Mbps based. Gigabit Ethernet is auto-negotiable, where as fiber is not....
There are total of 4 Gigabit Ethernet ports available on the TEG-424WS. 2 ports are dedicated for copper Gigabit Ethernet connectivity. The other two available ports are shared by two pairs of copper Gigabit Ethernet port and Mini GBIC slot. Therefore you can either have 4 copper Gigabit Ethernet po...
There are 24 10/100 Mbps ports available with 4 additional ports that are 10/100/1000Mbps. Therefore there are 28 ports that have the ability to run at 10Mbps or 100Mbps speeds....
Yes.  Through the web interface in the Setup>Port Setting tab you can force ports to certain speeds and duplex mode.  Below is an image of the web interface and the options it allows. ...
The default IP address of the unit is 192.168.0.1.  If you forget the IP address of the unit you can log into your router and find the IP address assigned to it or you can run the utility installed from the CD.  If you have installed the utility as stated by the quick installation guide, to access i...
A non-blocking switch is one that is capable of carrying all packets without delays if the backplane bandwidth exceeds the total bandwidth of the ports combined.  A switch with non-blocking will allow all ports to run at its highest speed in full duplex A blocking switch has less backplane bandwidt...
Store-and-forward switching is a method in which the switch will wait until an entire packet is received before forwarding to the destination.  The switch will use its internal memory to store the packet while it then checks the destinations address, source address, and CRC to ensure there are no er...
This is a feature of the switch that will take control of the connection between devices. The switch will broadcast its available connection speeds and will also detect the connection speeds available of the device connected to it, then configure the connection to the highest performance met on both...
Auto-MDIX is an interface within the unit that will automatically detect required cable connections types (straight-through or crossover) and configure the connection appropriately. With Auto-MDIX it allows the user to not be concerned with crossover cables for connecting switches or peer-to-peer PC...
A web smart switch is a switch that has an embedded web-based interface that allows users to manage the switch.  This can be done from anywhere through a standard browser such as Internet Explorer....
Port-based VLAN is a grouping based on physical ports on the switch.  Each port is assigned to a specific group and if a user is moved into a different port on the switch that is not part of the VLAN group they will not be allowed to communicate with the initial group.  Tagged based VLAN is slight...
Yes it is possible to create multiple VLANs and have each one act independent of each other while still sharing a common port.  Basically a VLAN is treated like its own subnet and those assigned to that group are the one able to communicate within it.  One can be assured there will be no leakage of ...
The TEG-424WS does not require cross-over cabling since it supports Auto-MDIX.  The Auto-MDIX feature will detect connections and configure them correctly.  This eliminates the hassle of using cross-over cables. Any port can be used to cascade to another switch....
Internet Group Membership Protocol (IGMP) is a feature that allows the switch to perform intelligent multicast forwarding by examining the contents of each frame's Layer 2 MAC header.  Once the switch sees a IGMP packet it will learn the MAC address of the destination and the sender so that it can l...
Port mirroring is a feature available on the TEG-424WS enabling network traffic to be examined on one of the Ethernet ports by a network administrator. Transmit or receive (or both) data traffics can be duplicated to a designated port on the TEG-424WS. Network administrators can very easily monitor ...
Trunking is using multiple ports/cables to increase bandwidth beyond the capabilities of a single port/cable.  This also increases redundancy for higher availability.  Trunking is usually used in switch-to-switch connectivity to increase transmission rates therefore creating bigger data pipelines fo...
The IEEE 802.1p standard is a method for assigning priority to packets traversing a network. It works with the MAC (media access control) header at the data link layer (Layer 2 in the OSI reference model). The MAC header is inspected by switches in a network, which are also responsible for different...
A broadcast storm occurs when a network is flooded with broadcast data packets and none of the network devices (workstations, servers, and other network appliances) is able to communicate. Broadcast data packet is a special packet where all network devices will receive. Broadcast data packet is comm...
VLANs can be configured using various implementations. Two prevalent VLAN implementations are MAC-based and tagged-based. As the name indicates, MAC-based VLAN allows a network administrator to create and maintain VLAN membership based on hardware MAC addresses. Tagged-based VLAN, on the other hand,...
VLAN stands for Virtual Local Area Network. The TEG-424WS offers VLAN as defined in IEEE 802.1Q standard. The TEG-424WS works with any network switch that support the same standard. VLAN allows grouping of physical workstations/servers into a logical structure regardless where systems are physically...
Standards

IEEE 802.1d
IEEE 802.1p
IEEE 802.1Q
IEEE 802.1s
IEEE 802.1w
IEEE 802.1X
IEEE 802.1ab
IEEE 802.3
IEEE 802.3u
IEEE 802.3x
IEEE 802.3z
IEEE 802.3ab
IEEE 802.3ad
IEEE 802.3az

Device Interface

24 x 10/100 Mbps ports (ports 1-24)
4 x Gigabit ports (25-28)
2 x Shared SFP slots (shared with ports 27-28)
LED indicators

Data Transfer Rate

Ethernet: 10 Mbps (half duplex), 20 Mbps (full duplex)
Fast Ethernet: 100 Mbps (half duplex), 200 Mbps (full duplex)
Gigabit Ethernet: 2000 Mbps (full duplex)

Performance

Switch fabric: 12.8 Gbps
RAM buffer: 512 KB
MAC Address Table: 8K entries
Jumbo Frames: 10 KB
HOL Blocking Prevention
Forwarding rate: 9.5 Mpps (64-byte packet size)

Management

HTTP/HTTPS (SSL v2/3 TLS) Web based GUI
SNMP v1, v2c, v3
RMON v1
Static Unicast MAC Address
Enable/disable 802.3az Power Saving
LLDP
Virtual Cable Test
IPv6: IPv6 Neighbor Discovery, IPv6 Static IP
DHCPv6, Auto configuration

MIB

MIB II RFC 1213
Bridge MIB RFC 1493
Bridge MIB Extension RFC 2674
SNMPv2 MIB RFC 1907
Ethernet Interface MIB RFC 1643
Ethernet –like MIB RFC 2863
Interface Group MIB RFC 2233
MIB Traps Convention RFC 1215
RMON MIB RFC 1757, RFC 2819
802.1p MIB RFC 2674
RADIUS Client Authentication MIB RFC 2618
LLDP-MIB IEEE 802.1ab
Ping MIB RFC 2925, RFC 4560

Spanning Tree

IEEE 802.1D STP (Spanning Tree protocol)
IEEE 802.1w RSTP (Rapid Spanning Tree protocol)
IEEE 802.1s MSTP (Multiple Spanning Tree protocol)

Link Aggregation

Static Link Aggregation
802.3ad Dynamic LACP

Quality of Service (QoS)

802.1p Class of Service (CoS)
DSCP (Differentiated Services Code Point)
Bandwidth Control per port
Queue Scheduling: Strict Priority, Weighted Round Robin (WRR)

VLAN

Multiple management VLAN assignment
Asymmetric VLAN
802.1Q Tagged VLAN
Dynamic GVRP
Up to 256 VLAN groups, ID Range 1-4094
Private VLAN (Protected Ports)
Voice VLAN (10 user defined OUIs)

Multicast

IGMP Snooping v1, v2, v3 (per VLAN)
Static Multicast Address
Up to 256 multicast entries

Port Mirror

RX, TX, or Both
One to one

Access Control

802.1X Port-Based Network Access Control, RADIUS, TACACS+
Local Dial In User Authentication
DHCP Snooping (per VLAN)
Loopback Detection
Duplicated Address Detection
Trusted Host
Denial of Service (DoS)

ACL IPv4 L2-L4 & IPv6

MAC Address
VLAN ID
Ether Type (IPv4 only)
IP Protocol 0-255
TCP/UDP Port 1-65535
802.1p
DSCP (IPv4 only)
IPv6 Address (IPv6 only)

Compatibility

Optional Software Utility: Windows® 8.1, 8, 7, Vista, XP, Windows® 2003/2008 Server

Special Features

Fanless Design
IPv6
802.3az power saving
Rack mountable

Power

Input: 100 - 240 V AC, 50/60 Hz, internal power supply
Consumption: 11.56 Watts (max.)

Fan/Acoustics
MTBF
Operating Temperature
Operating Humidity
Dimensions

440 x 210 x 44.45 mm (17.3 x 8.27 x 1.75 in.)
Rack mountable 1U height

Weight
Certifications
Warranty
PACKAGE CONTENTS
TEG-424WS
Quick Installation Guide
CD-ROM (Utility & User's Guide)
Power cord (1.8 m/6 ft.)
Rack mount kit
All references to speed are for comparison purposes only. Product specifications, size, and shape are subject to change without notice, and actual product appearance may differ from that depicted herein.