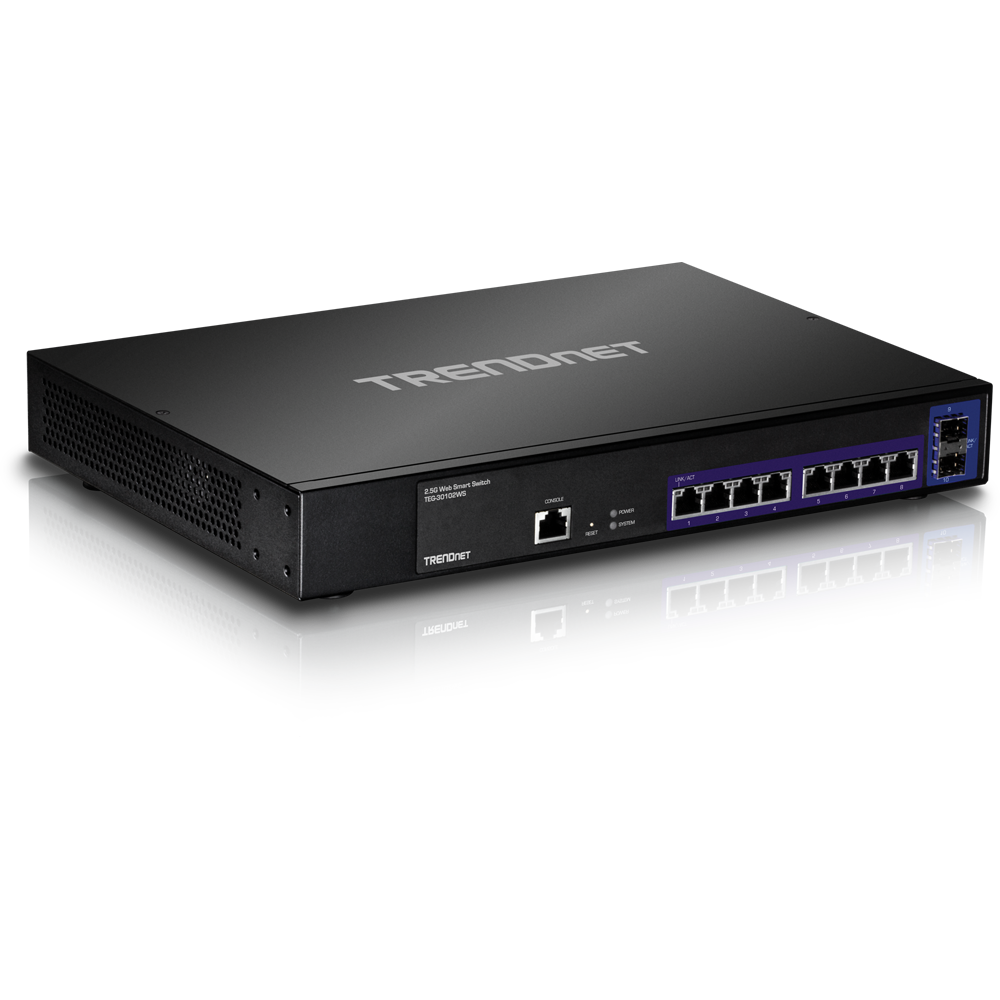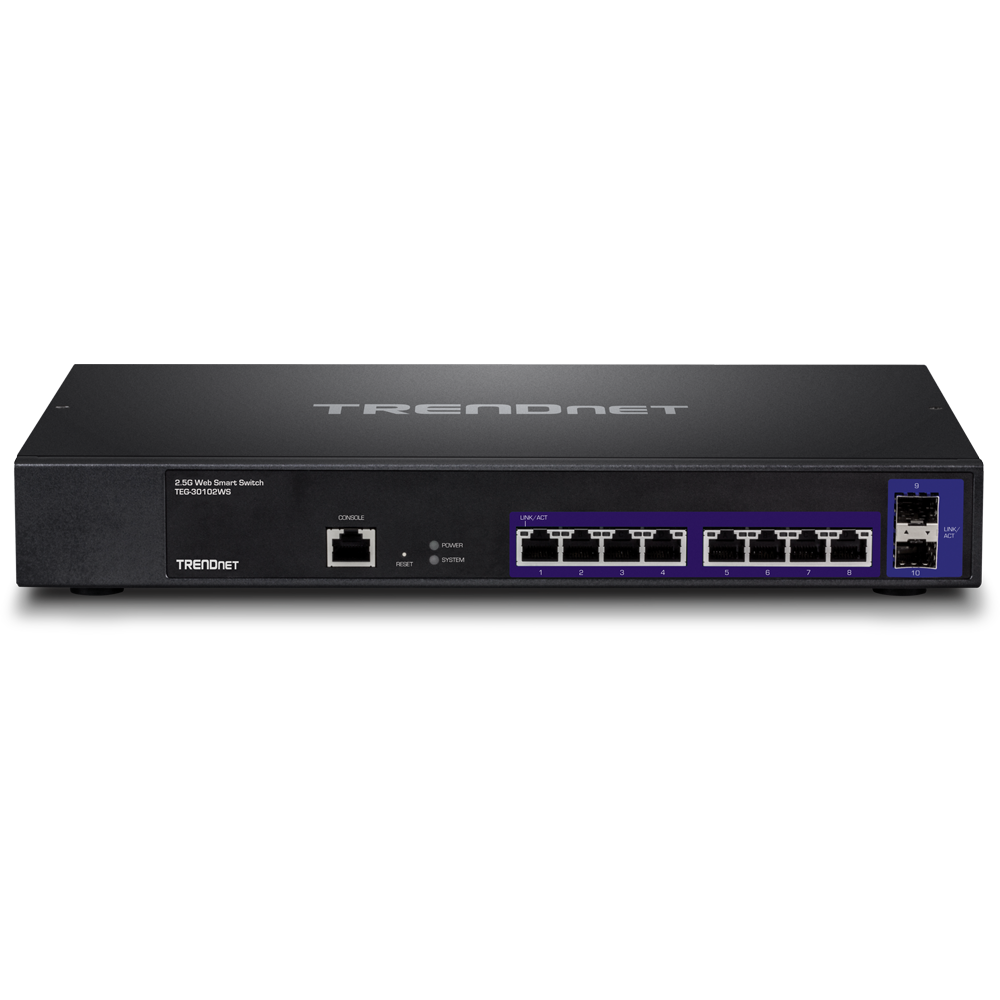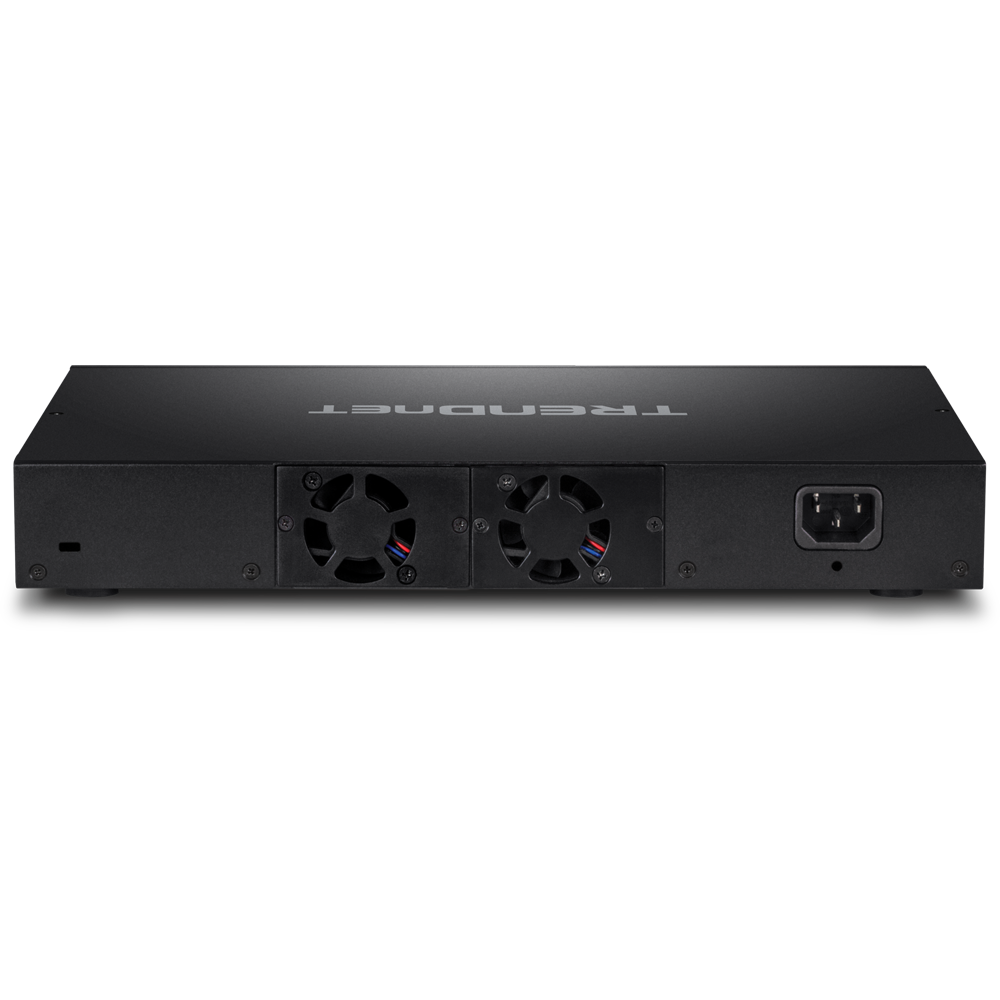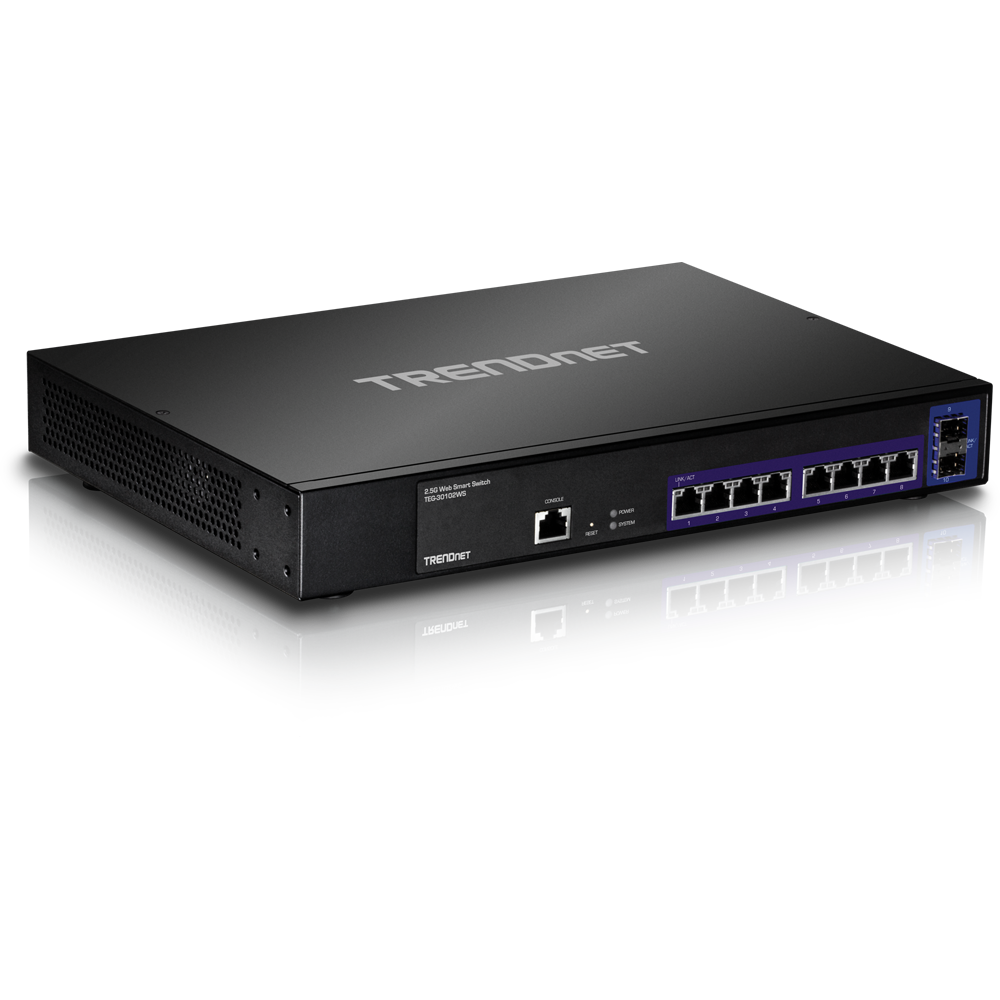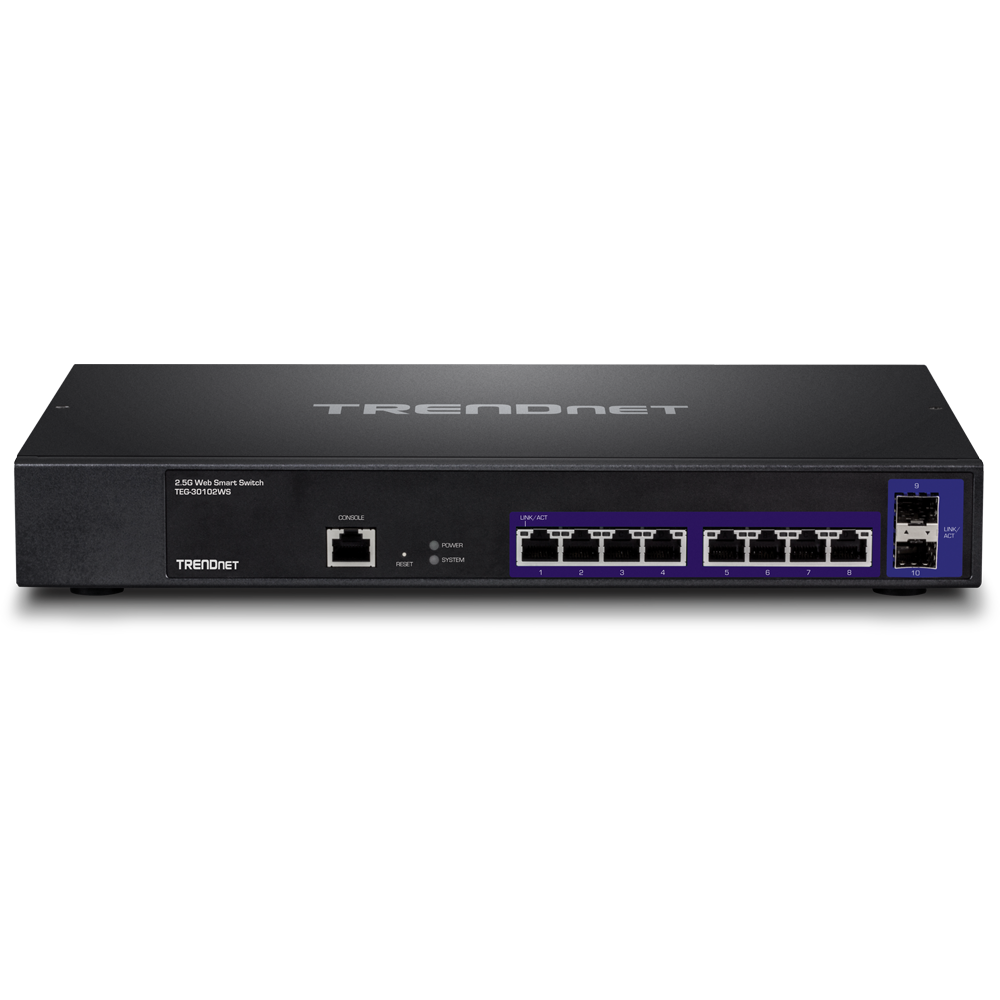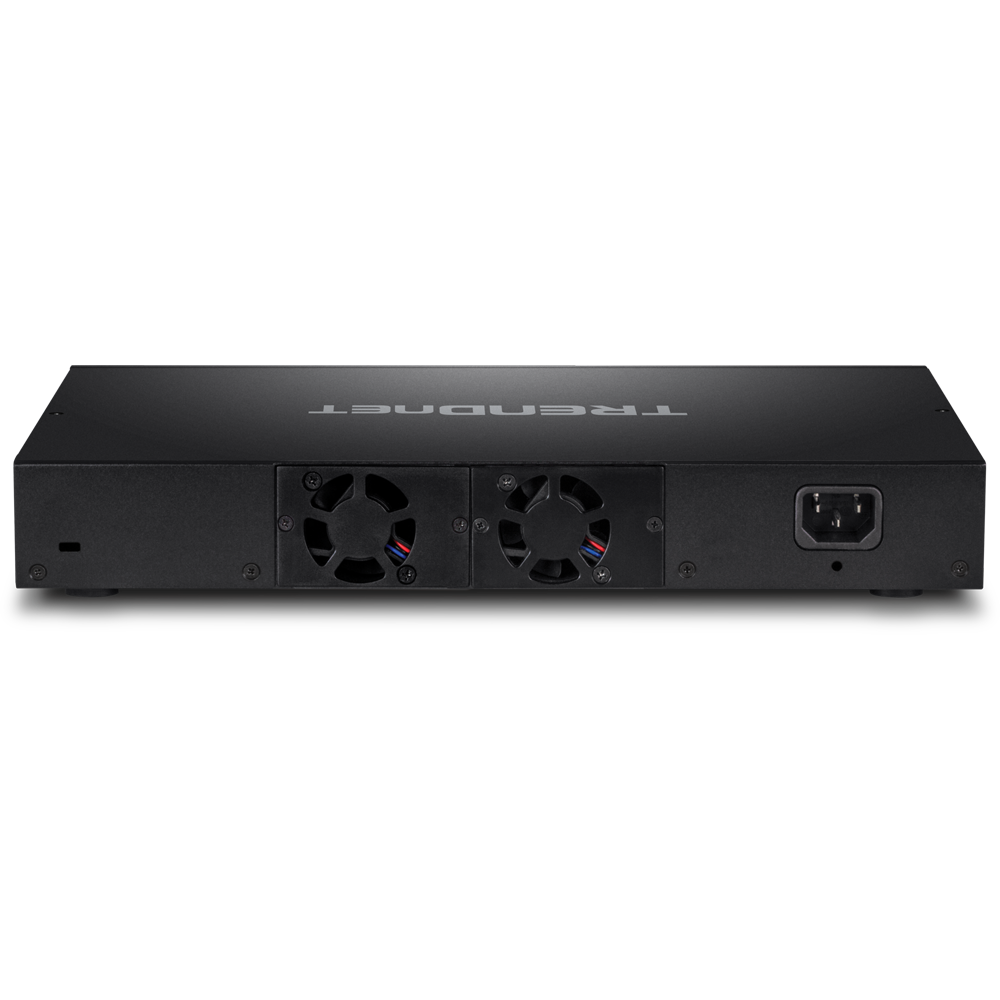 10-Port 2.5GBASE-T Web Smart Switch with 2 x 10G SFP+ Slots (Certified Refurbished)
RB-TEG-30102WS (Version v1.0R)
8 x 2.5GBASE-T RJ-45 ports with 2 x 10G SFP+ slots
2.5GBASE-T supports up to 2.5Gbps connection speeds
Compatible with existing Cat5e or better cabling
Easy to use web-based management interface
Supports up to 32 IPv4/IPv6 static routes
Supports LACP, VLAN, and IGMP Snooping
IEEE 802.1p QoS with queue scheduling support
Per port MAC restriction and dynamic ARP inspection
Bandwidth control per port
80Gbps switching capacity
1U rack mountable (brackets included)
Firmware
DO NOT upgrade firmware on any TRENDnet product using wireless connection.
Firmware upgrade over wireless connection may damage the product. Please perform firmware upgrade with "wired" network connection only
Firmware Version: 1.00.21
Release Date: 5/2021
Release Note:
Fixed security vulnerabilities
Filename: FW_TEG-30102WS_v1(1.00.21).zip
SHA-1 Checksum: 77473F785DFBBBF2068A0BAEA16F7EA0E05BAE6C
Date
5/21/2021
File Size
12.20 mb
User's Guide
Filename: UG_TEG-30102WS(v1).pdf
Date
6/18/2018
File Size
4.18 mb


Standards

IEEE 802.1d
IEEE 802.1p
IEEE 802.1Q
IEEE 802.1s
IEEE 802.1w
IEEE 802.1X
IEEE 802.1ab
IEEE 802.3u
IEEE 802.3x
IEEE 802.3z
IEEE 802.3ab
IEEE 802.3ad
IEEE 802.3ae
IEEE 802.3bz

Device Interface

8 x 2.5GBASE-T ports (100Mbps/1Gbps/2.5Gbps)
2 x 10G SFP+ slots (1Gbps/10Gbps)
1 x RJ-45 console port
LED indicators
Reset button

Data Transfer Rate

Fast Ethernet: 100Mbps (half duplex), 200Mbps (full duplex)
Gigabit Ethernet: 2000Mbps (full duplex)
2.5 Gigabit Ethernet: 5Gbps (full duplex)
10 Gigabit Ethernet: 20Gbps (full duplex)

Performance

Switch fabric: 80Gbps
RAM buffer: 2MB
MAC address table: 32K entries
Jumbo frames: 9KB
Forwarding mode: store and forward
Forwarding rate: 59.5Mpps (64-byte packet size)

Management

CLI (Console / Telnet / SSHv2) for IP address settings and password configuration only
HTTP / HTTPS (SSL v2/3 TLS 1.2) web based GUI
SNMP v1, v2c, v3
SNMP trap (Up to 4 receivers)
RMON groups 1/2/3/9
Cable diagnostic test
Static unicast entries
LLDP
IPv6 neighbor discovery, IPv6 static IP, and DHCPv6

MIB

MIB II RFC 1213
Bridge MIB IEEE8021-Q
RMON (Group 1,2,3,9) RFC 2819
Interface group MIB using SMIv2 RFC 2863
Multicast group membership discovery MIB RFC 5519
SNMP management frameworks RFC 3411
User-based security model for SNMPv3 RFC 3414
View-based access control model for SNMP RFC 3415
Ethernet-like MIB RFC 3635
802.3 MAU MIB RFC 3636
Entity MIB v3 RFC 4133
Bridge MIB RFC 4188
IP MIB RFC 4293
RADIUS authentication client MIB RFC 4668
RADIUS accounting MIB RFC 4670
LLDP-MIB IEEE802.1AB
PAE MIB IEEE802.1X

Spanning Tree

IEEE 802.1D STP (spanning tree protocol)
IEEE 802.1w RSTP (rapid spanning tree protocol)
IEEE 802.1s MSTP (multiple spanning tree protocol)

Link Aggregation

Static link aggregation and 802.3ad dynamic LACP (Up to 4 groups)
802.3ax dynamic LACP (Up to 4 groups)

Quality of Service (QoS)

802.1p Class of service (CoS)
DSCP (Differentiated Services Code Point)
Bandwidth control per port
Queue Scheduling: strict priority (SP), deficit weighted round robin (DWRR)

VLAN

Multiple management VLAN assignment
Asymmetric VLAN
802.1Q tagged VLAN
Dynamic GVRP
Up to 32 VLAN groups, ID range 1-4094
Private VLAN
Voice VLAN (16 user defined OUIs)

Multicast

IGMP snooping v1, v2, v3
IGMP fast leave
Static multicast entries
MLD Snooping v1, v2
Up to 1K multicast groups

Port Mirror
Storm Control

Broadcast (Min. limit: 10pps)
Multicast (Min. limit: 10pps)
Destination lookup failure (Min. limit: 10pps)

Access Control

802.1X port-based network access control
MAC-based authentication
RADIUS (Up to 5 servers)
TACACS+ (Up to 5 servers)
Local dial in user authentication
DHCP IPv4 snooping
Duplicated address detection
Loopback detection
Head-of-line (HoL) blocking prevention
Denial of service (DoS) prevention
Trusted Host/IP Access List
Port Security/MAC address learning restriction (Up to 64 entries per port)
Destination MAC filter
Static/dynamic ARP inspection

ACL IPv4 & IPv6

MAC address
VLAN ID
ARP/RARP
EtherType
ICMP type 1-255
IP protocol 1-255
TCP/UDP port 1-65535
802.1p
DSCP
IPv4/IPv6 address
Up to 256 entries

Layer 3 Features

IPv4 / IPv6 static routing
IP interfaces: Up to 8
Routing table entries: Up to 32 (IPv4 / IPv6)
ARP table (up to 1024 entries)
DHCP server, relay, option 82
Inter-VLAN routing

Power

Input: 100 – 240V AC, 50/60 Hz
Max. Consumption: 27.36W

Smart Fan / Acoustics

Quantity: 2 (Hot swappable)
Noise Level: 41.7 dBA (max.)

MTBF
Operating Temperature

0° – 50° C (32° – 122° F)

Operating Humidity
Dimensions

330 x 230 x 44.45mm (13 x 9.1 x 1.75 in.)
Rack mountable 1U height

Weight
Certifications
Warranty
PACKAGE CONTENTS
TEG-30102WS
Quick Installation Guide
Power cord
RJ-45 to RS-232 console cable (1m / 3.28 ft.)
Rackmount kit
All references to speed are for comparison purposes only. Product specifications, size, and shape are subject to change without notice, and actual product appearance may differ from that depicted herein.