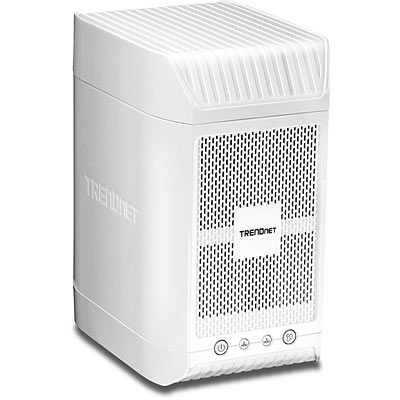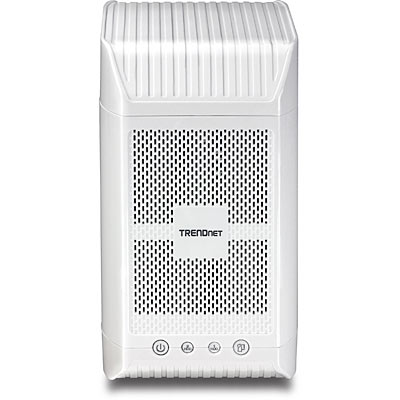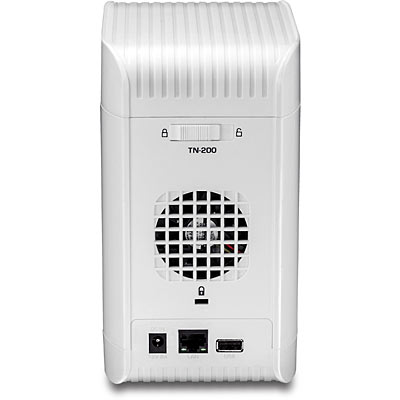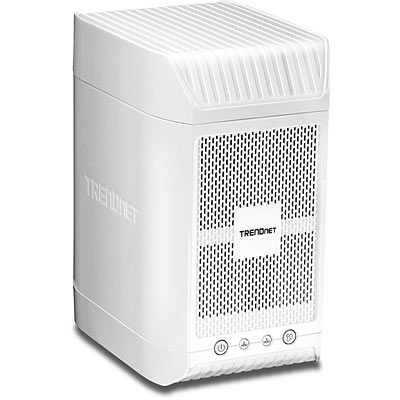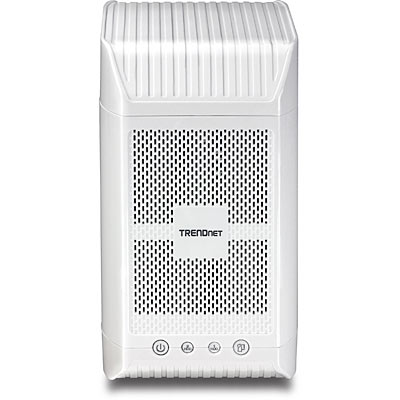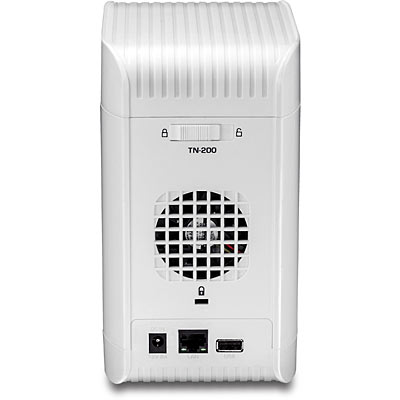 2-Bay NAS Media Server Enclosure
DLNA® media server seamlessly streams HD videos to a smart TV
Share a large iTunes® library
Up to 8 Terabyte storage capacity (drives sold separately)
Two 3.5" SATA I/II bays
USB share port
Energy saving controls
Gigabit Ethernet port
DISCONTINUED PRODUCT
The TN-200 (Version v1.0R) has been discontinued. For a list of discontinued products,
click here
.
Drivers/Utility
Version: 1.0.2.6
Release Date: 3/2016
Note:
Addressed startup interface error
Filename: NAS_Setup(1.0.2.6).zip
SHA-1 Checksum: 0D4DCDB9F71AAE71D0968C4E86263AAE1DA2FA2C
Date
7/28/2017
File Size
2.20 mb
User's Guide
Filename: UG_TN-200_200T1(V1).pdf
Date
7/11/2013
File Size
10.94 mb


Yes the TN-200 and TN-200T1 is certified for DLNA 1.5.
The TN-200 and TN-200T1 supports up to 64 (Samba) server connections and 10 (FTP) connections.
The TN-200 and TN-200T1 support up to 256 user accounts.
The TN-200 and TN-200T1 support SSD and SATA I/II hard disk drives up to 4TB each.
The File System type's that are supported by the TN-200 and TN-200T1 are as follows. Internal HD: EXT4 External HD: FAT32, NTFS ...
The TN-200 does not come with a preinstalled hard drive. The TN-200T1 includes 1 x 1TB SATA hard disk drive. ...
Open a web browser and type in https://TN-200 or the IP address of the TN-200 in the address field and press Enter. Click Login at the top right-hand corner.  The default Username and Password are both admin. ...
Slide and hold the lock and push the top cover towards the back to open the top cover. Insert SATA hard drive(s) and make sure the hard drive is firmly placed into the SATA slots. ...
The default Username and Password are both admin.
Press and hold the Reset button located on the side of the unit for 5 seconds to reset it. ...
Hardware
Standards

IEEE 802.3, IEEE 802.3u, IEEE 802.3ab

Interface

1 x 10/100/1000 Mbps Auto-MDIX RJ-45 Port
1 x USB 2.0 Port (Storage device not included)
2 x 3.5" SATA I/II Bay (up to 4 TB each bay) (HDD/SSD Not Included)

Hard Drive

RAID 0
RAID 1
JBOD
Reformat Disk
USB port
Support external storage device
UPS monitoring
MTP/PTP

Management Interface

Internet Explorer 7 or above
Firefox 3 or above
Safari 4 or above
Chrome 3 or above

To Run NAS Finder Utility

Windows 8, 7, Vista, & XP

LED
Power Consumption
Power

Input: 100~240 V AC, 1 A, 50~60 Hz
Output: 12 V DC, 3 A

Dimensions

152 x 105 x 185 mm (6 x 4 x 7.2 in)

Weight
Temperature

Operation: 0°C ~ 40°C (32°F ~ 104°F)
Storage: -20°C ~ 70°C (-4°F ~ 158°F)

Humidity
Certifications
Software
Operating System
Network File Protocols

HTTP/HTTPS
NFS, AFP/Time Machine
CIFS/SMB

Network Service Protocols

DHCP Client
FTP over explicit SSL/TLS
SMTP Client
DDNS Client
NTP Client
HTTP/HTTPS
LLTD
UPnP
DLNA 1.5
Bonjour
IPv4/IPv6

File System Type

Internal HD: EXT 4
External HD: FAT32, NTFS

File Management

Max 256 user accounts
Max 32 groups
Max 128 shared folders (without P2P)
Max 64 concurrent samba connections
Max 10 concurrent FTP connections

Disk Management

Single, RAID 0, RAID 1, JBOD
RAID 1 auto rebuild
RAID level migration: Normal to RAID 1
Disk Status Monitoring (S.M.A.R.T)
HDD S.M.A.R.T Test
Advanced Format HDD
Scan Disk

Device Management

Web browser management
Windows based utility
Email notifications

Power Management

Hard Drive hibernation
Auto power recovery
Smart FAN control
Power on/off scheduling
PACKAGE CONTENTS
TN-200
Multi-Language Quick Installation Guide
CD-ROM (User's Guide & Utility)
Network cable (1 m / 3.28 ft.)
Power adapter (12 V DC, 3 A)
All references to speed are for comparison purposes only. Product specifications, size, and shape are subject to change without notice, and actual product appearance may differ from that depicted herein.