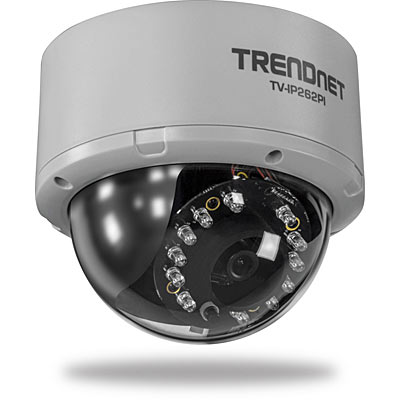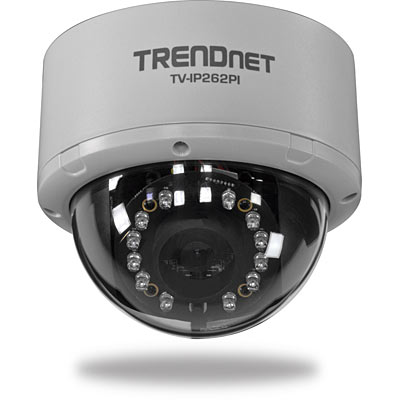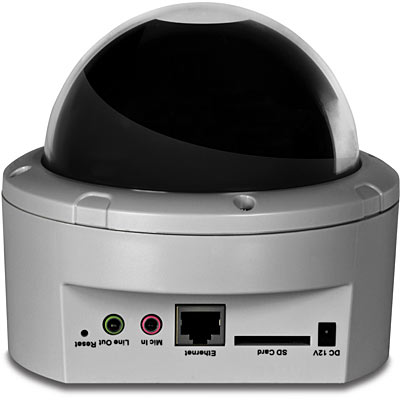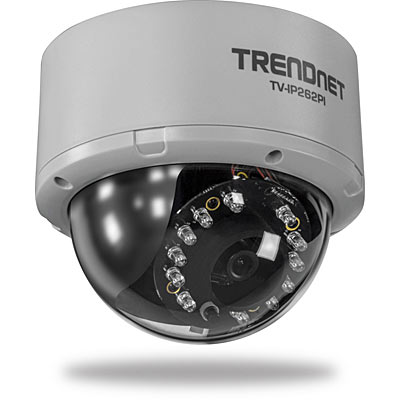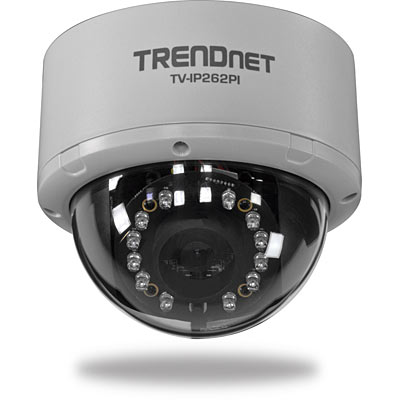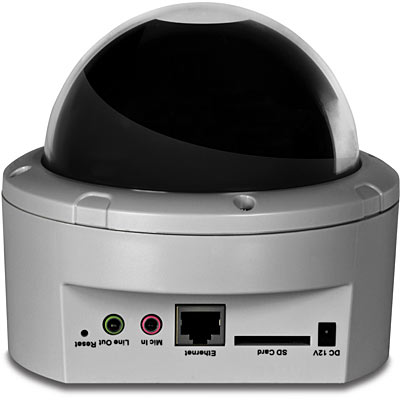 Megapixel HD PoE Day/Night Dome Network Camera (Certified Refurbished)
RB-TV-IP262PI (Version v1.0R)
Indoor night vision for up to 12 m (40 ft.)
Megapixel resolution with H.264 compression
Adjustable fixed position camera
Save installation costs with Power over Ethernet (PoE)
DHCP IPv6 Auto Configuration
Utility
Filename: Utility_IPSetup.zip
SHA-1 Checksum: 95E0585E73182C2E759D10999BB34C2B3CC6A521
Date
7/25/2017
File Size
795.25 kb
Firmware
Firmware Version: 1.1.3
Release Date: 09/2014

Fixed Active X issue.
Note:
Please do not save the camera's configuration file from the old firmware and restore it after the firmware upgrade.
After a successful firmware upgrade, please reset the camera to factory default and reconfigure the camera. We strongly recommend that you change the camera's administrator's account password.
Filename: FW_TV-IP262PI(V1.1.3).zip
SHA-1 Checksum: A21672947819C284CDC807C79952ABEBB4BE499B
Date
7/25/2017
File Size
5.62 mb
Software
Software Version: 2.5.9
Release Date: 4/2017
Notes:
Fixed TV-IP420P P/T issue
Filename: TRENDnetViewPro(2.5.9).zip
SHA-1 Checksum: 7CD1D9AE621816395E9FE9644B651F3696388215
Date
7/25/2017
File Size
41.15 mb
Quick Installation Guide
Filename: EUNL_Web_Lineart_QIG_TV-IP262PI(V1.0R).pdf
Date
10/2/2012
File Size
1.58 mb
---
Filename: Lineart_Web_QIG_TV-IP262PI(V1.0R).pdf
Date
10/2/2012
File Size
2.40 mb
TrendnetVIEW Pro Quick Installation Guide
---
---
---
---
---
---
---
---
---
TrendnetVIEW App Quick Installation Guide
Filename: TRENDnetVIEW_App_(Android).pdf
Date
6/24/2014
File Size
1.90 mb
---
Filename: TRENDnetVIEW_App_(iOS).pdf
Date
6/24/2014
File Size
1.90 mb
User's Guide
Filename: UG_TV-IP262PI(V1.0R).pdf
Date
10/3/2012
File Size
3.26 mb
---
Filename: UG_TRENDnetVIEW_Pro.pdf
Date
6/10/2014
File Size
7.92 mb


Camera
General

Sensor: 1/4" Megapixel CMOS sensor
Max. Resolution: 1280 x 1024 pixels
Board Lens
Focal Length: 3.58 mm
Aperture (F/No): F2.0 +/- 5%
Minimum illumination: 0 Lux (night vision)
Viewing Angle
Horizontal: 70°
Vertical: 48°
Diagonal: 80°

Audio

Microphone out port (microphone sold separately)
Audio out port: Mono (speakers sold separately)
Sensitivity: -42 dB +/- 3 dB
Frequency: 100~10,000 Hz
Format: PCM/AMR

Pan/Tilt (Manually)

Manually adjust camera to final fixed position:
Pan: -175° ~ +175°
Tilt: 20 ~ 90

SD Slot

Supports SD/SDHC (up to 32 GB); SD card not included

Hardware
Network

IEEE 802.3u 10/100 Mbps Fast Ethernet
IEEE 802.3af PoE

LED

Power, Link/Act (can turn off LEDs)

Reset Button

Reboot or restore to factory default

Power Consumption
Power

Input: 100 ~ 240 V AC, 0.5 A, 50~60 Hz
Output: 12 V DC, 1.5A external power adapter (for non-PoE installations)

Dimension

131 x 131 x 127 mm (5.2 x 5.2 x 5 in.)

Weight
Temperature

Operating: 0°C ~ 50°C (32°F ~ 122°F)
Storage: -15°C ~ 60°C (5°F ~ 140°F)

Humidity
Certifications
Requirement
Management Interface

Internet Explorer 6.0 or above

To Run TRENDnetVIEW

Windows 10, 8.1, 8, 7 (32/64-bit), Vista (32/64-bit), XP (32/64-bit)
Windows Server 2003, 2008

TRENDnetVIEW

Channel: supports up to 32 cameras
Record/Playback/Motion Detection/Audio

Network Protocols

TCP/IP, IPv4, DHCPv6, UDP, ICMP, DHCP, NTP, DNS, DDNS, SMTP, FTP, HTTP, HTTPs, Samba, PPPoE, UPnP, Bonjour, RTP, RTSP, SSL, RTCP, 3GPP, Compliant with 8.1 to 8.4 ONVIF 1.01.1.26 platforms

Management
Remote

Remote management supported

Backup/Restore

Save/retrieve configuration files

Settings
Image

Automatic exposure, white balance, and gain control
Brightness, saturation, sharpness, light frequency, and mirror (horizontal/vertical)

Video

Encoding type: H.264, MPEG-4, MJPEG
Compression: 5 levels
Resolution/Frame Rate:
SXGA (1280 x 1024) up to 15 fps
720p (1280 x 720) up to 15 fps
VGA (640 x 480) up to 30 fps
QVGA (320 x 240) up to 30 fps
QQVGA (160 x 120) up to 30 fps
Multi-Stream
H.264: SXGA, VGA, QVGA, QQVGA, 720P
MPEG-4: VGA, QVGA, QQVGA
MJPEG: SXGA, VGA, QVGA, QQVGA, 720P

Recording/snapshot

Recording type: continuous, schedule, motion detection, or snapshot

Event Management

Event trigger: motion, schedule
Store video file to SD card or storage device
Send Instant message to Jabber client via Jabber server

Overlay

Text overlay: time, date, and text
Mask overlay: define up to 2 opaque boxes to conceal portions of the recording area

QoS
Port Settings

HTTP port: 80 (default)
RTSP port: 554 (default)

Digital Zoom
Dynamic DNS
Time

Synchronize with NTP server or set time/date manually

Email

Supports up to 2 destination accounts

System Log
PACKAGE CONTENTS
TV-IP262PI
Multi-language Quick Installation Guide
CD-ROM (Utility, software, and User's Guide)
Power adapter (12 V DC, 1.5 A)
Network cable (1.5 m / 5 ft.)
Camera mounting hardware
Information provided in this document pertain to TRENDnet products and is subject to change at any time, without notice.