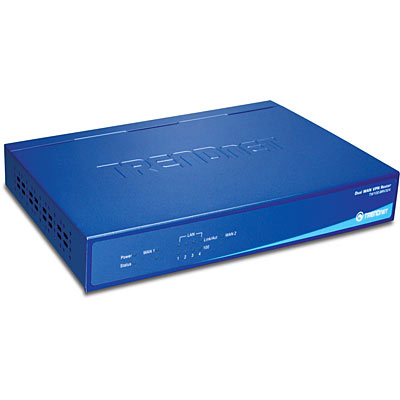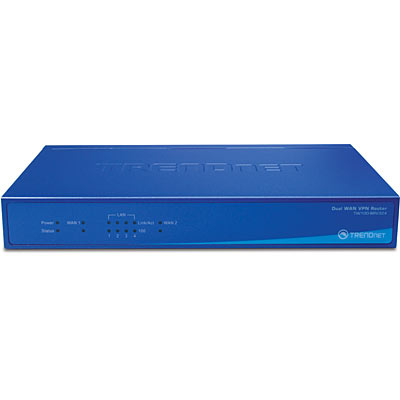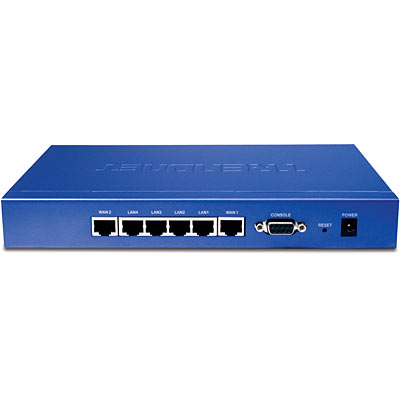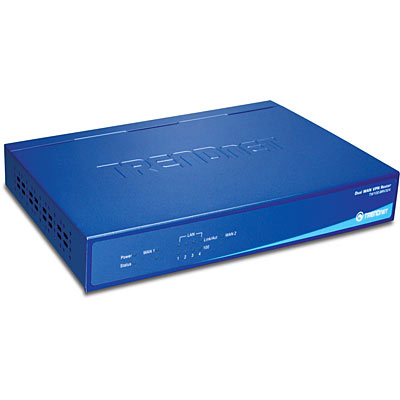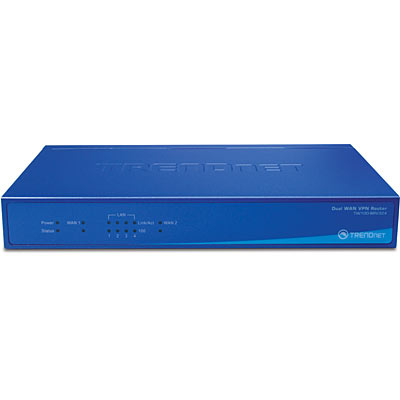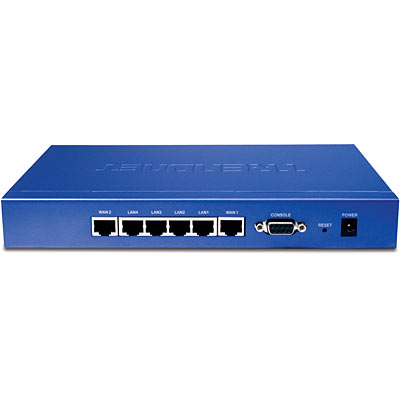 4-Port Dual WAN VPN Firewall Router
TW100-BRV324 (Version 1.0R)
Ensure zero downtime and load balancing with Dual Wide Area Network (WAN) ports
Provides up to 70 IPSec and 10 Microsoft VPN tunnels
Advanced firewall protection with NAT, NAPT, NAT-T and SPI
Enjoy secure remote management utilizing an HTTPS connection
User's Guide
Filename: TW100-BRV324_v1.0R_.pdf
Date
1/21/2009
File Size
1.93 mb


Step 1: Log into the router and click on the Advanced URL Filter page. In the URL Filter Rule list select Black List Rule and click Edit. Add keywords to block. Step 2: Click on Firewall>Rules. Add a new outbound rule. Step 3: In the source IP address enter in the computer you want...
Dual 10/100 WAN ports let you have a second link to your ISP, providing failover protection. You can use both WAN ports simultaneously, and let the router balance the requirements between them for maximum bandwidth efficiency. ...
The TW100-BRV324 can support IPSec 70 VPN tunnels, and up to 10 Microsoft PPTP VPN tunnels. Additionally the TW100-BRV324 can support 100 (PPTP, L2TP, IPSec) pass-through sessions....
The TW100-BRV324 has two different types of QoS, both are described below. Generic QoS: This is a simplified version of QoS, which allows users to prioritize computers on the network via their IP address. Classic QoS: This is a more technical version of QoS, which allows users to priorit...
70 VPN connections using IPSec technology. 10 VPN connections using PPTP (Microsoft VPN) technology. 100 sessions of VPN pass-through for PPTP, IPSec and L2TP...
Load Balancing: This setting determines how the traffic is shared among the two WAN ports. With load balancing you can allocate specific bandwidth limitations for each WAN port. Backup: This setting dedicates one WAN port to the primary connection for the Internet, and the secondary ...
A Virtual Private Network (VPN) is a network connected together via securely encrypted communication tunnels over a public network, such as the global Internet. The TW100-BRV324 supports two methods of VPN tunneling; IPSec and PPTP....
The TW100-BRV324 has the ability to support separate Dynamic DNS accounts for each WAN connection. Supported Dynamic DNS Services: DtDNS.com 3322.org Oray.cn...
The TW100-BRV324 supports two different types of URL filtering options. White List: This permits access to websites that you have specified in your white list. Black List: This denies access to websites that you have specified in your black list. The URL filtering rules can be m...
Unfortunately the TW100-BRV324 is only capable of balancing the two WAN connections, or to provide a primary connection with second connection acting as a backup....
Yes. The TW100-BRV324 allows network administrators to dedicate certain workstations on the network to a specific WAN connection. This allows the network administrator to optimize network traffic to the Internet....
Yes. The TW100-BRV324 allows network administrators to create outbound firewall rules to block outgoing traffic to the Internet. Example: If a server is comprised it is possible that the hack could send out information from the server over the Internet. This information could fur...
The TW100-BRV324 can be paired with a VPN server, such as Windows 2000/2003 Server. See VPN Server example below [LAN]------[Windows 2003 Server]-----[Internet]------[TW100-BRV324]----[LAN] With this configuration you can save money by using a Windows 2000/2003 Server to facilitate the s...
Hardware
Standards
IEEE 802.3 and 802.3u
Protocols
NAT, PPPoE, HTTP, DHCP, TCP/IP, UDP, PAP, CHAP, RIP1and DDNS
Firewall
NAT, NAPT, NAT T, Stateful Packet Inspection, Attack Alert Emails and Log and Denial of Service
Security
Access Control, IP Addressing, URL and Content Filtering
Local port
4 x 10/100Mbps Auto-MDIX RJ45 Fast Ethernet LAN Ports
Internet port
2 x 10/100Mbps Auto-MDIX RJ45 Fast Ethernet WAN Ports
Reset Button
Reset to Factory Default Settings
LEDs
Power, Status, WAN1, Link/Act, 10 ,100, LAN and WAN2
Power
DC 5v3.0A External Power Adapter
Dimensions (LxWxH):
235 x 148 x 33 mm (9.25x 5.82 x 1.29 inches)
Weight
363g (12.8 oz.)
Temperature
Operating: 0° to 40° C (32° to 104° F) Storage: -10° to 70° C (14° to 158° F)
Humidity
Operating: 0 % ~ 80 % (non-condensing) Storage: 0% ~ 95% (non-condensing
Certifications
CE/FCC
Hardware
Firewall
NAT Firewall, SPI Firewall
Security
URL Filter, Access Control, Password Protection, Email Alert and Logs
VPN (IPSec)
MD5-HMAC/SHA1-HMAC Authentication, DES-CBC, 3DES-CBC Encryption, Internet Key Exchange, Manual Key Negotiation
VPN Tunnels
70 (IPSec), 10 (PPTP)
Pass-Through
IPSec, PPTP, L2TP (100 Sessions)



PACKAGE CONTENTS
TW100-BRV324
Multi-Language Quick installation Guide
CD-ROM (User's Guide)
Power Adapter (5V DC, 3A)
Information provided in this document pertain to TRENDnet products and is subject to change at any time, without notice.