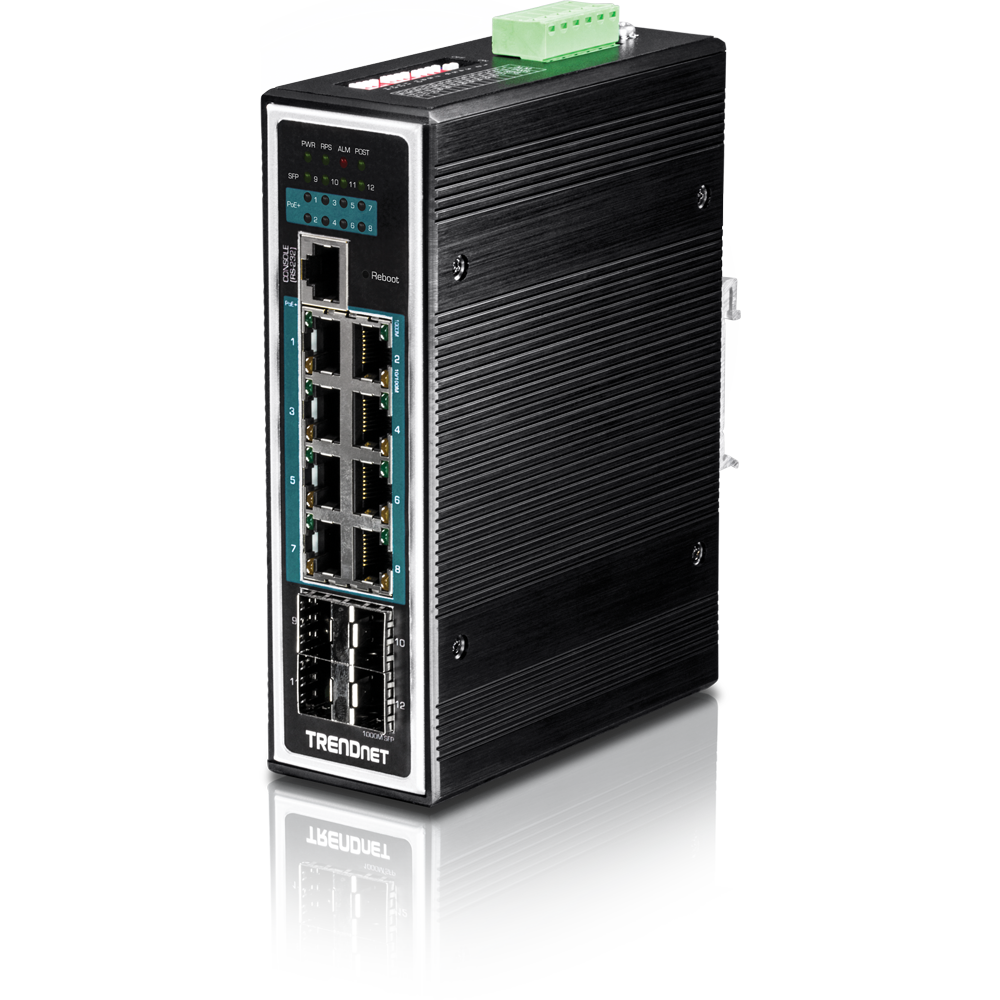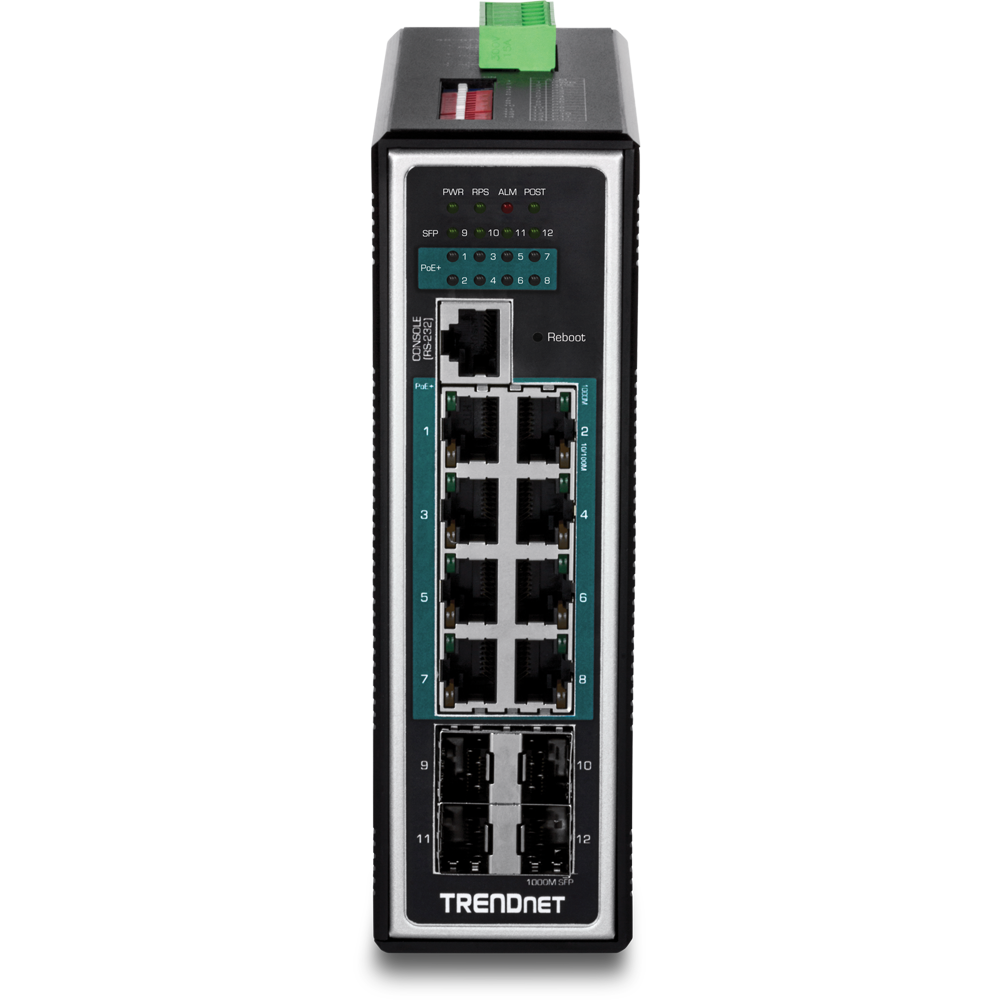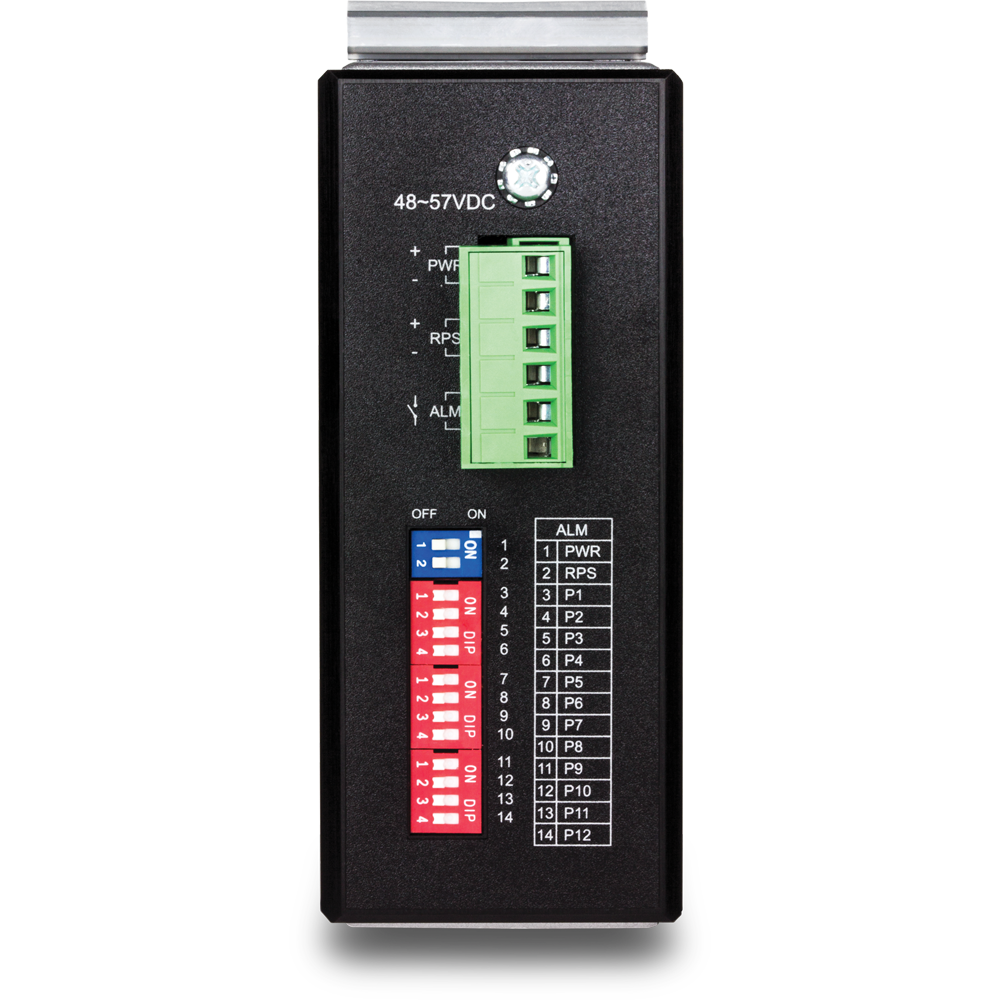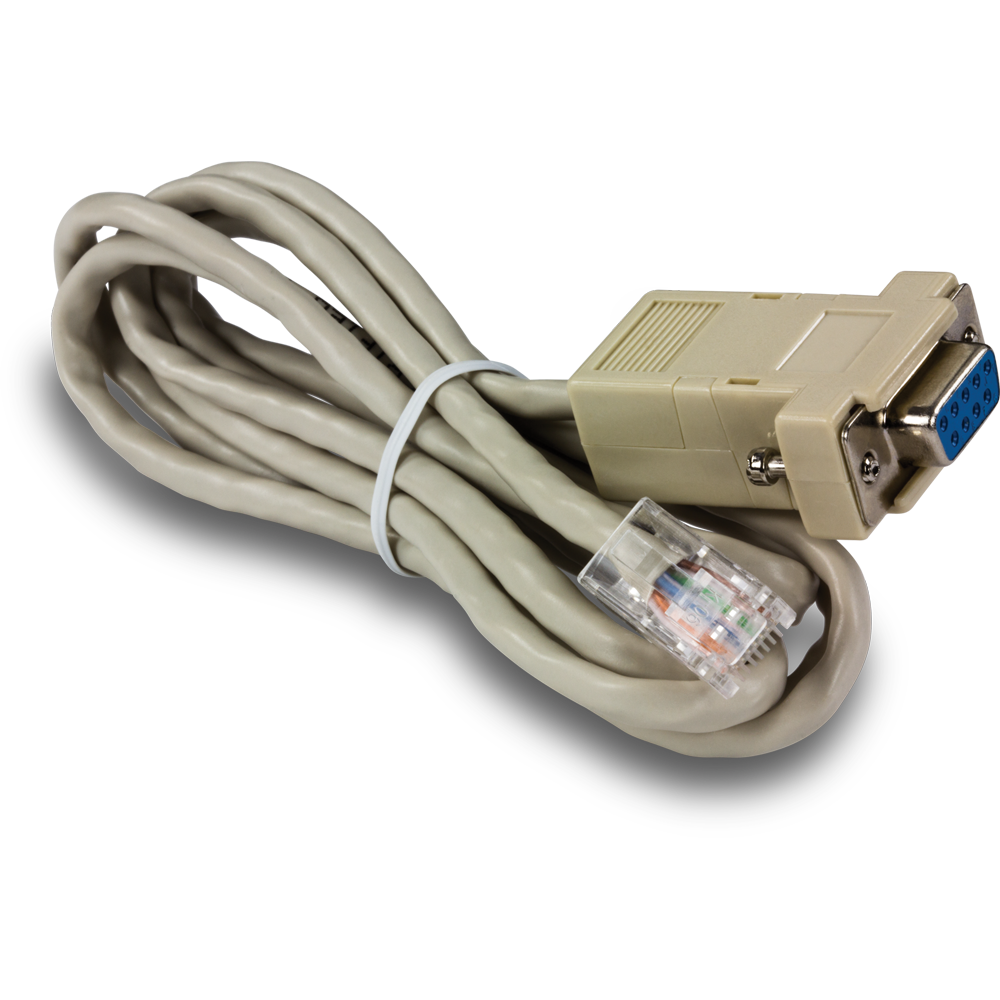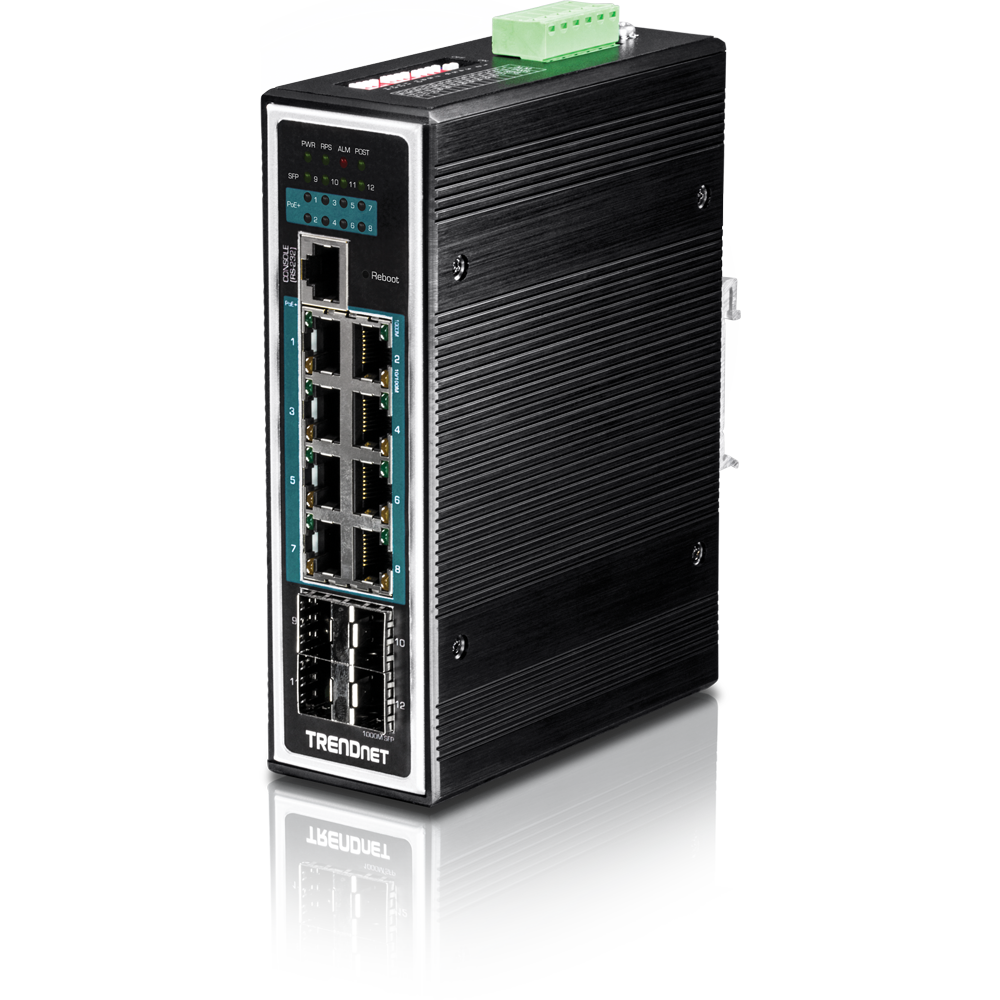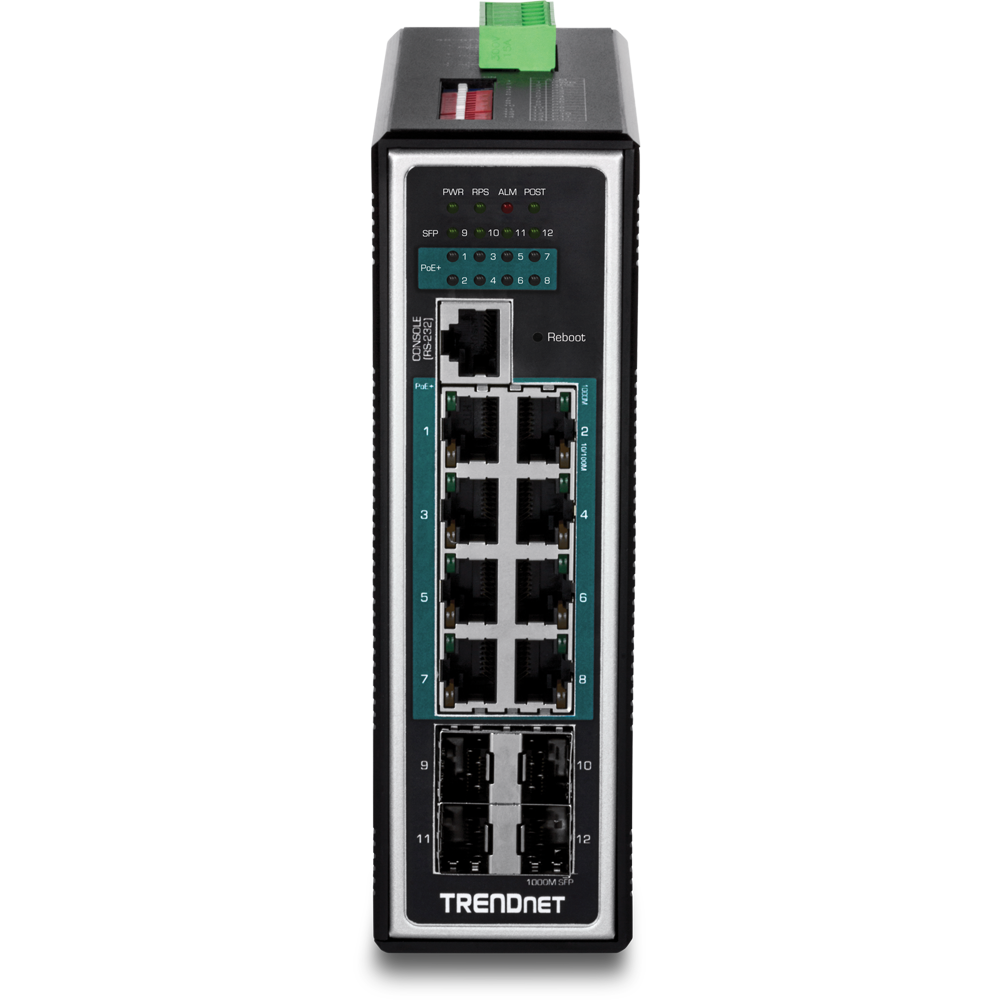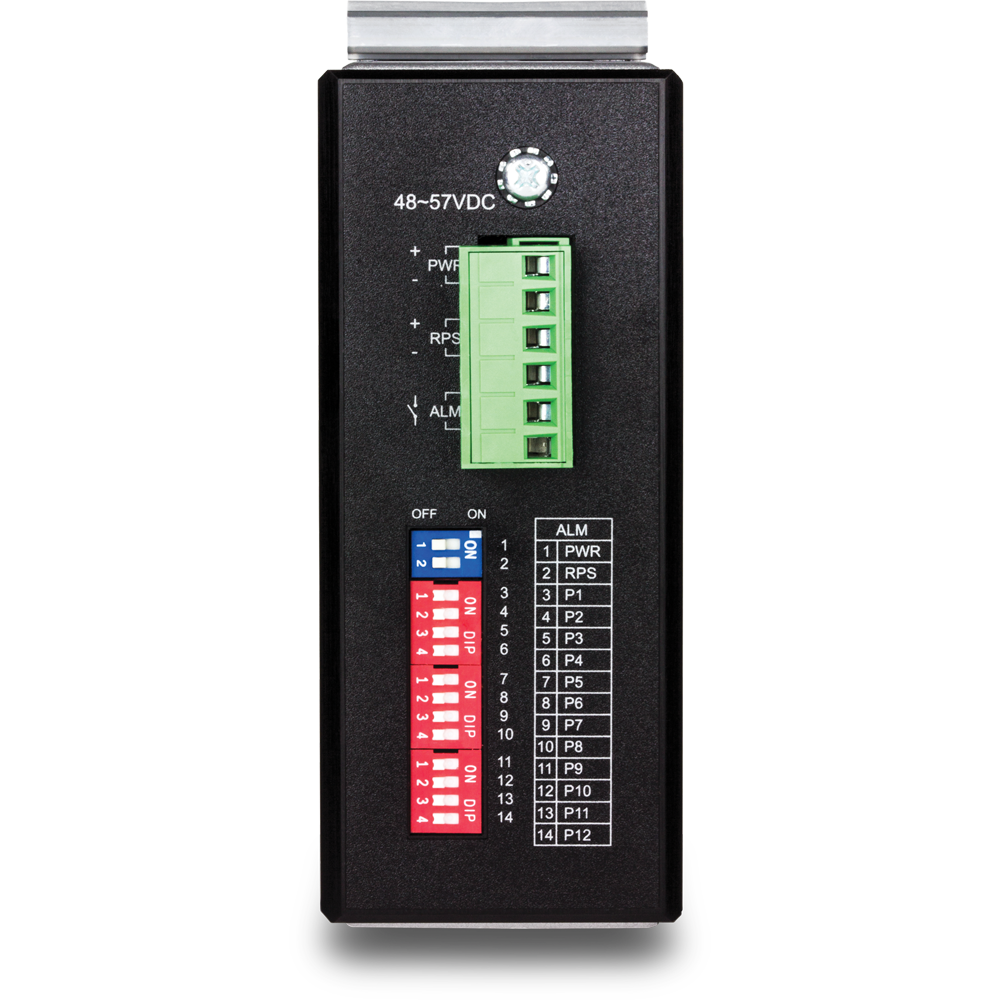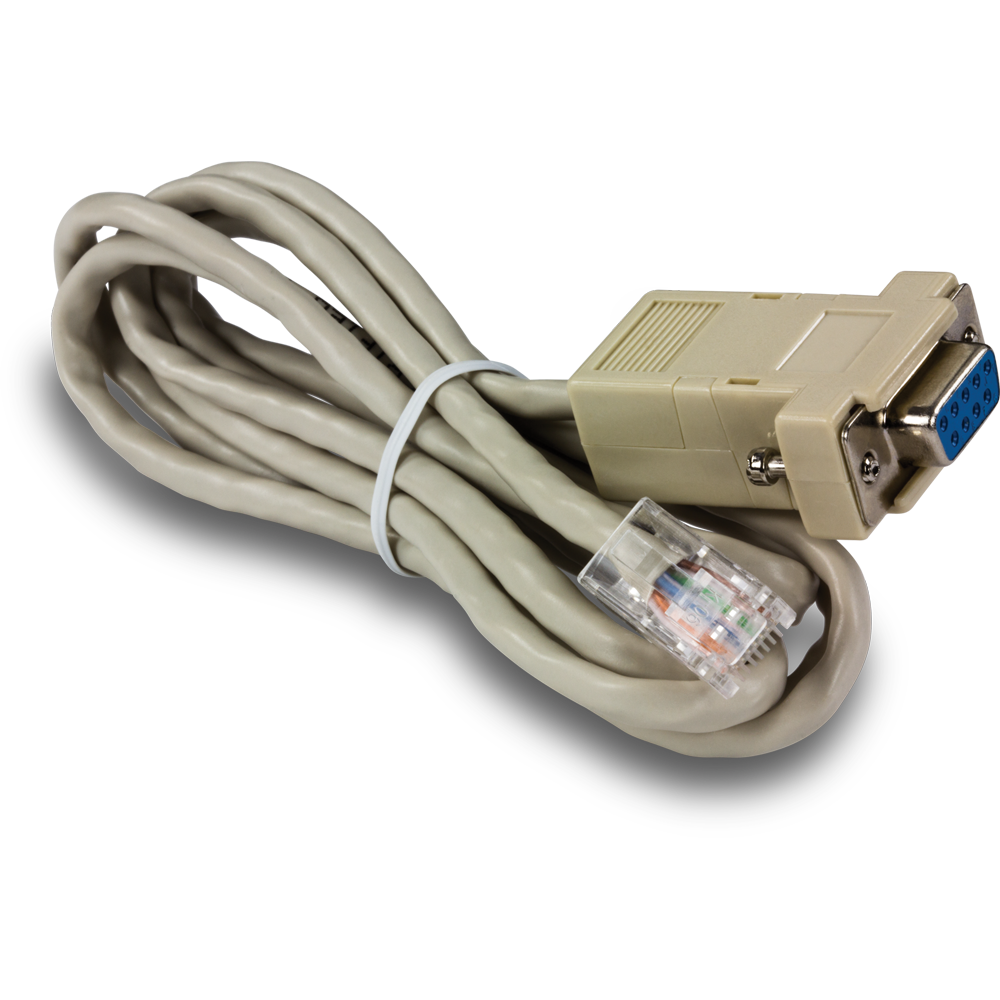 12-Port Hardened Industrial Gigabit PoE+ Layer 2+ Managed DIN-Rail Switch (Certified Refurbished)
RB-TI-PG1284i (Version v1.0R)
Hardened IP30 rated metal enclosure with integrated DIN-Rail mount
Wide operating temperature range - 40 to 75 °C (-40 to 167 °F)
8 x Gigabit PoE+ (802.3at) ports, 4 x Gigabit SFP slots, and 1 x console port
240 Watts total power budget
Dual redundant power inputs and alarm relay output
CLI (Console / Telnet / SSH), Web (HTTP / HTTPS), SNMP v1 / 2c / 3 management
802.1Q / Q-in-Q VLAN and IGMP Snooping / MLD / MVR support
802.1p / DSCP / Queue Scheduling (SPQ / WRR) QoS support
Power supply sold separately (model: TI-S24048)
Firmware
DO NOT upgrade firmware on any TRENDnet product using wireless connection.
Firmware upgrade over wireless connection may damage the product. Please perform firmware upgrade with "wired" network connection only
Model:
TI-PG1284i
Hardware Version:
v1.xR
Firmware Version:
1.1.9.S0
Release Date:
11/2019
Filename: FW_TI-PG1284i_v1(1.1.9.S0).zip
SHA-1 Checksum: 6F11A62B452F2392F7B7978305DA4AD8E10B07D5
Date
11/18/2019
File Size
9.94 mb
User's Guide
Filename: UG_TI-PG1284i(v1).pdf
Date
7/8/2016
File Size
5.79 mb


Answer: For this example we are going to create 2 separated VLANs with a shared port. VLAN 10: Tagged ports: 1 Untagged ports: 1 - 5 VLAN 11: Tagged ports: 1 Untagged ports: 6 - 9 Click Advanced > VLAN > VLAN. Input the same VLAN ID in the From and To field. Configure the VLAN Name and un...
Answer: Download the latest firmware update from http://www.trendnet.com/support/. The firmware download will be in a compressed format. You will need to extract or unzip the file. We recommend extracting the file where you can locate it. For example, your desktop. Open your web browser and...
Answer: The maximum PoE power budget is 240 Watts.
Answer: A power supply is not included. Many installations scenarios will have power readily available. If power is not available we do offer the TI-S24048 power supply....
Answer: The switch housing is made to withstand many industrial environments and temperatures of 40 to 75 °C (-40 to 167 °F)...
Answer: Yes, if the primary power supply fails for any reason the secondary power supply will take over with the intention of increasing system reliability....
Answer: LED status indicator description ...
Standards

IEEE 802.1d
IEEE 802.1p
IEEE 802.1Q
IEEE 802.1s
IEEE 802.1w
IEEE 802.1X
IEEE 802.1ab
IEEE 802.3
IEEE 802.3u
IEEE 802.3x
IEEE 802.3z
IEEE 802.3ab
IEEE 802.3ad
IEEE 802.3af
IEEE 802.3at

Device Interface

8 x Gigabit PoE+ ports
4 x Gigabit SFP slots
1 x Console port (RJ-45)
6-pin removable terminal block (Primary / RPS power inputs & alarm relay output)
DIP switch (Alarm for primary / RPS power and ports / slots failure)
LED indicators

Data Transfer Rate

Ethernet: 10 Mbps (half-duplex), 20 Mbps (full-duplex)
Fast Ethernet: 100 Mbps (half-duplex), 200 Mbps (full-duplex)
Gigabit Ethernet: 2000 Mbps (full-duplex)
SX / LX: 2000 Mbps (full-duplex)

Performance

Switch fabric: 24 Gbps
RAM buffer: 128 MB
MAC address table: 16 K entries
Jumbo frames: 10 KB
Forwarding rate: 17.86 Mpps (64-byte packet size)

Management

CLI (Console, Telnet, SSH)
HTTP / HTTPS (SSL) web based GUI
SNMP v1, v2c, 3
SNMP trap
RMON groups 1, 2, 3, 9
LLDP
SNTP
SMTP alert
Syslog
Port statistics / utilization
Traffic monitor
Port mirror (Ingress, Egress, Both)
Storm control (Multicast, DLF, Broadcast)
Modbus / TCP
IPv6 static IP address, DHCPv6 client
Dual Image
Auto Provision via FTP / TFTP / HTTP Server
Xpress Ring
ERPS (Ethernet Ring Protection Switching) G8032v2
SFP DDMI (Digital Diagnostic Monitoring Interface)

MIB

MIB II RFC 1213
Bridge MIB RFC 1493
Ethernet Interface MIB RFC 1643
RMON MIB RFC 1757

Spanning Tree

STP (Spanning Tree protocol)
RSTP (Rapid Spanning Tree protocol)
MSTP (Multiple Spanning Tree protocol)

Link Aggregation

Static link aggregation
802.3ad dynamic LACP
Up to 6 link aggregation groups

Quality of Service (QoS)

802.1p Class of Service (CoS)
DSCP (Differentiated Services Code Point)
Bandwidth control per port
Queue Scheduling: Strict Priority (SP), Weighted Round Robin (WRR)

VLAN

802.1Q tagged VLAN
MAC-based VLAN
Dynamic GVRP
Protocol-based (Ethernet II, Non-LLC-SNAP, LLC-SNAP)
Q-in-Q VLAN stacking / double VLAN (port-based, selective)
Port isolation
Up to 256 VLAN groups, ID range 1-4094

Multicast

IGMP snooping v1, v2, v3
MVR
MLD v1, v2
IGMP filtering / querier / proxy
Static multicast address
Up to 256 multicast entries

Access Control

802.1X port-based network access control RADIUS
Local dial-in user authentication
DHCP snooping / screening
Loopback detection
ARP inspection
IP Source Guard
IP-MAC-Port binding
Trusted host
MAC address learning

ACL IPv4

MAC Address
VLAN ID
Ethernet Type
IP Protocol 0-255
TCP / UDP Port 1-65535
DSCP

Layer 3 Features

IPv4 / IPv6 static routing
IPv4 / IPv6 proxy ARP
IP interfaces: Up to 16
Routing table entries: Up to 500 (IPv4: 400 / IPv6: 100)
DHCP Server / Relay / Option 82

Special Features

CLI & web based management
Full power PoE+
Wide operating temperature range
Dual redundant power inputs
Alarm relay triggered by power and ports / slots failure
Surge / ESD protection
L2+ management features

Power

PWR (Primary) terminal input: 48 – 57 V DC (TI-S24048 sold separately)
RPS (Redundant) terminal input: 48 – 57 V DC (TI-S24048 sold separately)
Consumption: 18 W (max.), 260 W (max.) with PoE+ fully loaded

Optional Power Supply (TI-S24048 sold separately)

Input: 100-240 V AC, 50 / 60 Hz, 1.8 A 125-370 V DC
Output: 240 Watts, 48 V, 5 A
DIN-rail: TS-35 / 7.5 or 15
Operating Temperature: - 25 to 70 °C (- 13 to 158 °F)

PoE

PoE budget: 240 W
Up to 15 W per port for PoE
Up to 30 W per port for PoE+
Mode A: Pins 1, 2 (V+) and pins 3, 6 (V-)
PoE enable / disable per port setting, priority, scheduling, power delay, and PD alive check

Enclosure

IP30 rated metal enclosure
DIN-Rail mount
Grounding point
ESD (Ethernet) Protection: 8 KV DC
Surge (Power) Protection: 6 KV DC

MTBF

99,992 hrs @ 75 °C
322,805 hrs @ 25 °C

Operating Temperature

- 40 to 75 °C (-40 to 167 °F)

Operating Humidity
Dimensions

170 x 132 x 50 mm (6.69 x 5.2 x 1.97 in.)

Weight
Certifications

CE
FCC
Shock (IEC 60068-2-27)
Freefall (IEC 60068-2-32)
Vibration (IEC 60068-2-6)

Warranty
PACKAGE CONTENTS
TI-PG1284i
Quick Installation Guide
CD-ROM (User's Guide)
Console cable (RJ-45 to RS-232)
Information provided in this document pertain to TRENDnet products and is subject to change at any time, without notice.