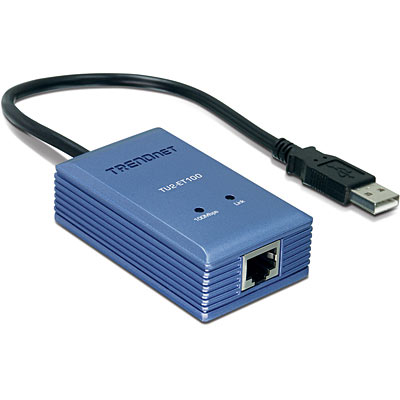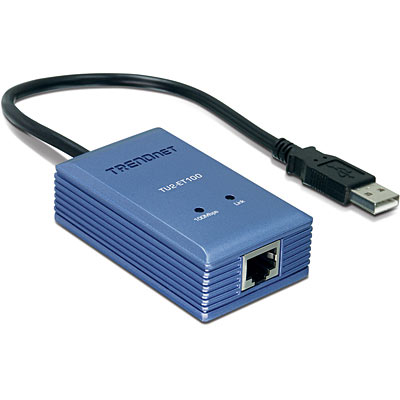 USB to 10/100Mbps Adapter
TU2-ET100 (Version v3.0R)
Connect your laptop or PC at Fast Ethernet speeds

Quickly share data, music, movies and more

Compact design is ideal for on the go professionals

Drivers
Please follow "readme" installation instructions
Drivers are for Kernel 2.6.9 to 2.6.13 only
Filename: TU2-ET100(v3.0R)_LINUX2.6.9_Drivers.zip
SHA-1 Checksum: C9B77498F2EBF78A4F145EB4DD032B6F73AD14D1
Date
7/25/2017
File Size
38.49 kb
---
Filename: VistaDriver_TU2-ET100.zip
SHA-1 Checksum: D317FBC86C399E9CEB238A355E23465386AD59C9
Date
7/25/2017
File Size
7.67 mb
---
Quick Installation Guide
Filename: PO_Web_QIG_TU2-ET100(V3).pdf
Date
7/13/2010
File Size
1.00 mb
---
Filename: Estonian_QIG_TU2-ET100(V3.0R).pdf
Date
4/3/2008
File Size
461.34 kb
User's Guide
Filename: UG_TU2-ET100_Mac10.4.x.pdf
Date
7/19/2007
File Size
1,014.70 kb
---
Filename: UG_TU2-ET100(v3.23).pdf
Date
3/22/2011
File Size
2.87 mb


TU2-ET100 (V3.0r) will work with Mac OS/X 10.5. To install the TU2-ET100: Connect the TU2-ET100 into an available USB port on your computer. Drivers will install automatically. "A new network interface has been detected" window appears. Click "Network Pr...
If you are seeing the messages like the pictures above, please check the bottom of the TU2-ET100. If it shows "H/W:V3.0R", check the CD-ROM that comes with the TU2-ET100 and if it says "Version 3.1", please follow the instructions below to update the driver. Put the CD-ROM back to th...
Unfortunately this is not possible. The TU2-Et100(v3) requires drivers to be installed for use. It is not possible to install drivers onto your USB device....
The TU2-ET100 supports Mac OS X 10.4.
Linux is not a supported operating system. The following is the chipset for the TU2-ET100: AX88772. Check with the chipset manufacturer to see if Linux drivers are available....
The TU2-ET100 (v3) is compatible with the Nintendo Wii. The Wii is preloaded with drivers so no driver installation is required. The TU2-ET100 (v3) is not compatible with any other game consoles....
Go to Control Panel and double-click the System icon. Go to the Device Manager and expand the Network adapters heading. Double-click ASIX ax887722 USB2.0 to Fast Ethernet Adapter (the icon that has an exclamation point on it), and click the Driver tab. On the Driver tab, click Update Driver. Use ...
Make sure that the CAT-5 cable is connected properly into your switch, or broadband modem. Double check the connection at the other end of the CAT-5 cable, and verify that the cable is inserted properly into your TU2-ET100. Also, verify that your switch or your broad-band modem is getting any powe...
Yes, you can connect or disconnect TU2-ET100 while the computer is on because the USB interface is Plug-and-Play compliant and hot-pluggable. ...
Hardware
Standards

USB 2.0, 1.1
IEEE 802.3 10Base-T
IEEE 802.3u 100Base-TX

Data Transfer Rate

Ethernet: 10Mbps/20Mbps (Half/Full Duplex)
Fast Ethernet: 100Mbps/200Mbps (Half/Full Duplex)

Embedded Buffers

20KB SRAM for RX Packets buffering
8KB SRAM for TX Packets buffering

Supported OS
Windows 98SE/ME/2000/XP/Vista/7, Mac OS X
LEDs
100Mbps, Link
Power
Bus-Powered
Power Consumption
850mW
Power Management

Suspend mode
Hibernate Mode

Temperature

Operating: 0° C~ 40° C (32° F~ 104° F)
Storage: -10° C~ 55° C (14° F~ 131° F)

Humidity
85% (Non-Condensing)
Certifications
FCC, CE
PACKAGE CONTENTS
TU2-ET100
Multi-Language QuickInstallation Guide
CD-ROM (Driver and user's guide)
All references to speed are for comparison purposes only. Product specifications, size, and shape are subject to change without notice, and actual product appearance may differ from that depicted herein.