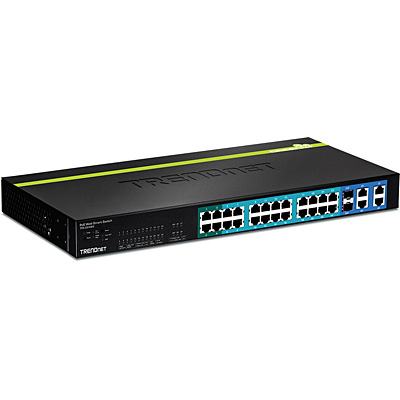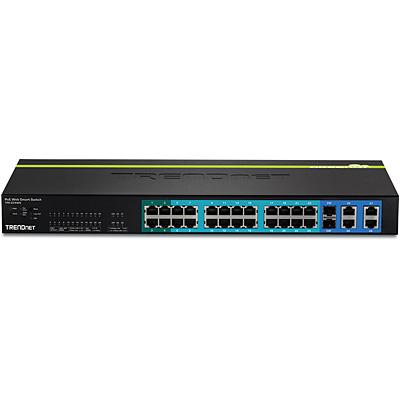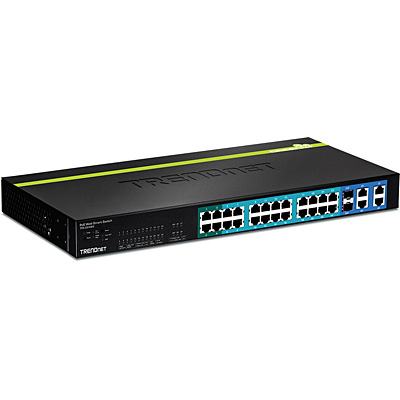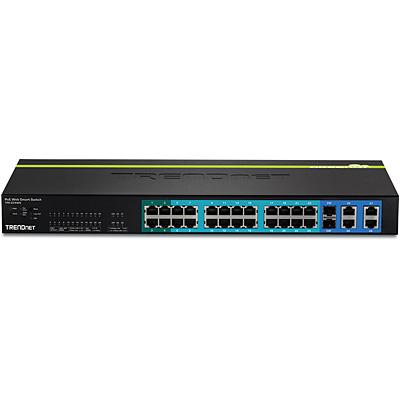 24-Port 10/100 Mbps Web Smart PoE+ Switch (Certified Refurbished)
RB-TPE-224WS (Version C1.0R)
24 x 10/100 Mbps PoE ports
Ports 1-4 support PoE+ (30 Watts/port)
4 x Gigabit ports
2 x shared SFP slots
193 Watt PoE budget
12.8 Gbps switching capacity
Rack mountable
Smart fans reduce energy consumption
Utility
Utility Version: 3.4
Release Date: 05/2014
Note:
Added Windows® 8.1 OS Support
Filename: Utility_WebSmartManagement(v3.4).zip
SHA-1 Checksum: 172AE7AED31C4BC25D38F53792679847FC2172DB
Date
7/25/2017
File Size
1.43 mb
Firmware
Firmware Version: 4.00.020
Release Date: 1/2017
Note:
Fixed issues accessing GUI in Mac OS 10.12 using Safari, Chrome, Firefox browsers
Fixed issue with TEG-MGBSX H/W: v3.x SFP module will disable automatically after system reboot
Fixed 802.3ax link aggregation issue with some network cards
Modified SSL function to generate random certificate after system reset
Modified default IGMP functionality to filter mode
**It is highly recommended to clear your web browser cache after upgrading due to updates in GUI layout**
Filename: FW_TPE-224WS_C1(4.00.020).zip
SHA-1 Checksum: 0C07717DA7876476002D6BAFCB4ACF4BCA709CA7
Date
7/25/2017
File Size
8.24 mb
User's Guide
Filename: UG_TPE-224WS(C1).pdf
Date
9/10/2014
File Size
3.42 mb


Answer: For this example we are going to create a VLAN with ports 1-10. Port 10 is going to be a tagged port and 1-9 is going to be untagged. Click Bridge > VLAN > Tagged VLAN. Input the VLAN ID and the VLAN Name under Tagged VLAN Settings. Under Static Tagged select port 10. Under Static Un...
Answer: Open your web browser and type the IP address of your switch in the address bar. The default IP address is 192.168.10.200. Once you get to the login screen enter admin as the username and by default the password is admin then click Login. Click Tools > Firmware Upgrade > via HTTP. C...
Answer: The PoE budget is 193 Watts
Answer: Yes, you are able to use non-Power over Ethernet devices with TPE-224WS. Power over Ethernet technology uses digital signatures to identify PoE devices and their proper powering requirements, and any device that does not have a digital signature will not be powered ensuring its protection. ...
Answer: Press and hold this button on the front of the switch for 10 seconds and release to reset the switch to factory defaults. ...
Standard

IEEE 802.1d
IEEE 802.1p
IEEE 802.1Q
IEEE 802.1s
IEEE 802.1w
IEEE 802.1X
IEEE 802.1ab
IEEE 802.3
IEEE 802.3u
IEEE 802.3x
IEEE 802.3z
IEEE 802.3ab
IEEE 802.3ad
IEEE 802.3af (15.4 Watts/port)
IEEE 802.3at (30 Watts/port)
IEEE 802.3az

Device Interface

24 x 10/100 Mbps PoE ports (ports 1-4 PoE+, ports 5-24 PoE)
4 x Gigabit ports (ports 25-28)
2 x Shared SFP slots (shared with ports 25-26)
LED indicators
LED Display Mode Button (Toggles LED indicators to display Link/Activity or PoE only port status)
Reset Button

Data Transfer Rate

Ethernet: 10 Mbps (half duplex), 20 Mbps (full duplex)
Fast Ethernet: 100 Mbps (half duplex), 200 Mbps (full duplex)
Gigabit Ethernet: 2000 Mbps (full duplex)

Performance

Switch fabric: 12.8 Gbps
Ram buffer: 0.5 MB
MAC Address Table: 8 K entries
HOL Blocking Prevention
Forwarding rates: 9.5 Mpps (64-byte packet size)

Management

HTTP/HTTPS (SSL v2/3 TLS) Web based GUI
SNMP v1, v2c, v3
RMON v1
Static Unicast MAC Address
Enable/disable 802.3az Power Saving
LLDP
Virtual Cable Test
IPv6: IPv6 Neighbor Discovery, IPv6 Static IP, DHCPv6, Auto configuration

MIB

MIB II RFC 1213
Bridge MIB RFC 1493
Bridge MIB Extension RFC 2674
SNMPv2 MIB RFC 1907
Ethernet Interface MIB RFC 1643
Ethernet –like MIB RFC 2863
Interface Group MIB RFC 2233
MIB Traps Convention RFC 1215
RMON MIB RFC 1757, RFC 2819
802.1p MIB RFC 2674
RADIUS Client Authentication MIB RFC 2618
LLDP-MIB IEEE 802.1ab
Ping MIB RFC 2925, RFC 4560

Spanning Tree

IEEE 802.1D STP (Spanning Tree protocol)
IEEE 802.1w RSTP (Rapid Spanning Tree protocol)
IEEE 802.1s MSTP (Multiple Spanning Tree protocol)

Link Aggregation

Static Link Aggregation
802.3ad Dynamic LACP

Quality of Service (QoS)

802.1p Class of Service (CoS)
DSCP (Differentiated Services Code Point)
Bandwidth Control per port
Queue Scheduling: Strict Priority, Weighted Round Robin (WRR)

VLAN

Multiple management VLAN assignment
Asymmetric VLAN
802.1Q Tagged VLAN
Dynamic GVRP
Up to 256 VLAN groups, ID Range 1-4094
Private VLAN (Protected Ports)
Voice VLAN (10 user defined OUIs)

Multicast

IGMP Snooping v1, v2, v3 (per VLAN)
Static Multicast Address
Up to 256 multicast entries

Port Mirror

RX, TX, or Both
One-to-one
Many-to-one

Access Control

802.1X Port-Based Network Access Control, RADIUS, TACACS+
Local Dial In User Authentication
DHCP Snooping (per VLAN)
Loopback Detection
Duplicated Address Detection
Denial of Service (DoS)
ACL IPv4 L2-L4 & IPv6
MAC Address
VLAN ID
Ether Type (IPv4 only)
IP Protocol 0-255
TCP/UDP Port 1-65535
802.1p
DSCP (IPv4 only)
IPv6 Address (IPv6 only)

Compatibility

Optional Software Utility: Windows® 8, 7, Vista, XP, Windows® 2003/2008 Server

Special Features

PoE+ (ports 1-4)
IPv6
802.3az power saving
Rack mountable

Power

Input: 100 - 240 V AC, 50/60 Hz, internal power supply
Consumption: 239.7 Watts (max.)

PoE

PoE budget: 193 Watts
Pin 3,6 for power+ and pin 1,2 for power- (mode A)

Fan/Acoustics

Smart fans turn on when needed
Quantity: 2
Noise Level: 54 dB(A) (max.)

MTBF
Operating Temperature
Operating Humidity
Dimensions

440 x 210 x 44.45 mm (17.3 x 8.27 x 1.75 in.)
Rack mountable 1U height

Weight
Certifications
Warranty
PACKAGE CONTENTS
TPE-224WS
Multi Language Quick Installation Guide
CD-ROM (Utility & User's Guide)
Power cord (1.8 m/6 ft.)
Rack mount hardware
Information provided in this document pertain to TRENDnet products and is subject to change at any time, without notice.