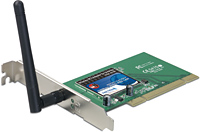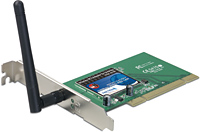 108Mbps 802.11g Wireless PCI Adapter
Connect your PC to a wireless network in minutes
2x the speed of wireless g* with XR technology
Advanced wireless encryption provides robust security
DISCONTINUED PRODUCT
The TEW-443PI has been discontinued. For a list of discontinued products,
click here
.
Utility
Filename: UtilityDriver_TEW-441PC_443PI.zip
SHA-1 Checksum: 60D6827DB11F194671666A146B83E11412A977AB
Date
7/26/2017
File Size
14.18 mb
---
Description: TEW-441PC Hardware Version A2.0R "Driver and Utility Set" version 1.2b01.
Driver and Utility for Windows 98 Second Edition, Windows ME, Windows 2000, and Windows XP.
This "Driver and Utility Set" is included in the product CD-ROM version 1.1.
Release Note:
Driver and Utility for Windows 98 Second Edition, Windows ME, Windows 2000, and Windows XP.
Previous version Driver and Utility do not support Windows 98 Second Edition and Windows ME.
If your current Wireless Adapter is working fine with Windows 2000 or XP, there is no need to install this new Driver/Utility.
Drivers/Utility Installation Procedure:
Please download and unzip the file to the Computer's local hard drive and then follow the instructions in the "readme" file to install the Driver/Utility.

Filename: Driver_Utility_TEW-441PC_443PI_v1.2b01.zip
SHA-1 Checksum: 64A4E7A6A2B317A1BA8376EA872A1D64919523A6
Date
7/26/2017
File Size
35.43 mb
User's Guide
Filename: UG_TEW-441PC(A2.0R).pdf
Date
10/5/2007
File Size
717.81 kb


Hardware
Interface

32-bit PCI 2.2 Bus Master

Standards

IEEE 802.11b and IEEE 802.11g

Antenna

1 x 2dBi Detachable Dipole Antenna

LED Indicator
Power Consumption

Receive Mode: 300mA
Transmit Mode: 480 mA

Supported OS

Windows 98(SE), ME, 2000, XP(SP1/SP2), 2003 Server

Dimensions (LxWxH)

133 x 121 x 21.6 mm (5.2 x 4.8 x 0.85 inches) (without metal bracket)

Weight

63.5 g (2.2 oz.) (with antenna)

Temperature

Operating: 0° ~ 40° C (32° ~ 104° F) Storage: -10°~ 70° C (14° ~ 158° F)

Humidity

10% ~ 95% max. (Non-condensing)

Certification

Wireless
Module Technique

802.11b: CCK (11 and 5.5Mbps), DQPSK (2Mbps), DBPSK (1Mbps)
802.11g: OFDM

Frequency

2.412 to 2.484 GHz (Industrial Scientific Medical Band)

Media Access Protocol
Data Rate (auto fallback)

802.11b: 11Mbps, 5.5Mbps, 2Mbps, and 1Mbps
802.11g: 54Mbps, 48Mbps, 36Mbps, 24Mbps, 18Mbps, 12Mbps, 9Mbps and 6Mbps
Super G™: 108Mbps

Output Power

18dBm (typically) @ 802.11b
14dBm (typically) @ 802.11g

Receiving Sensitivity

54Mbps 10% PER @ -71 dBm (typical)
11Mbps 8% PER @ -83 dBm (typical)

Security

WPA, WPA-PSK, 64/128-Bit WEP

Channels

PACKAGE CONTENTS
TEW-443PI
Utility & Driver CD-ROM
Multi-Language Quick Installation Guide
Information provided in this document pertain to TRENDnet products and is subject to change at any time, without notice.