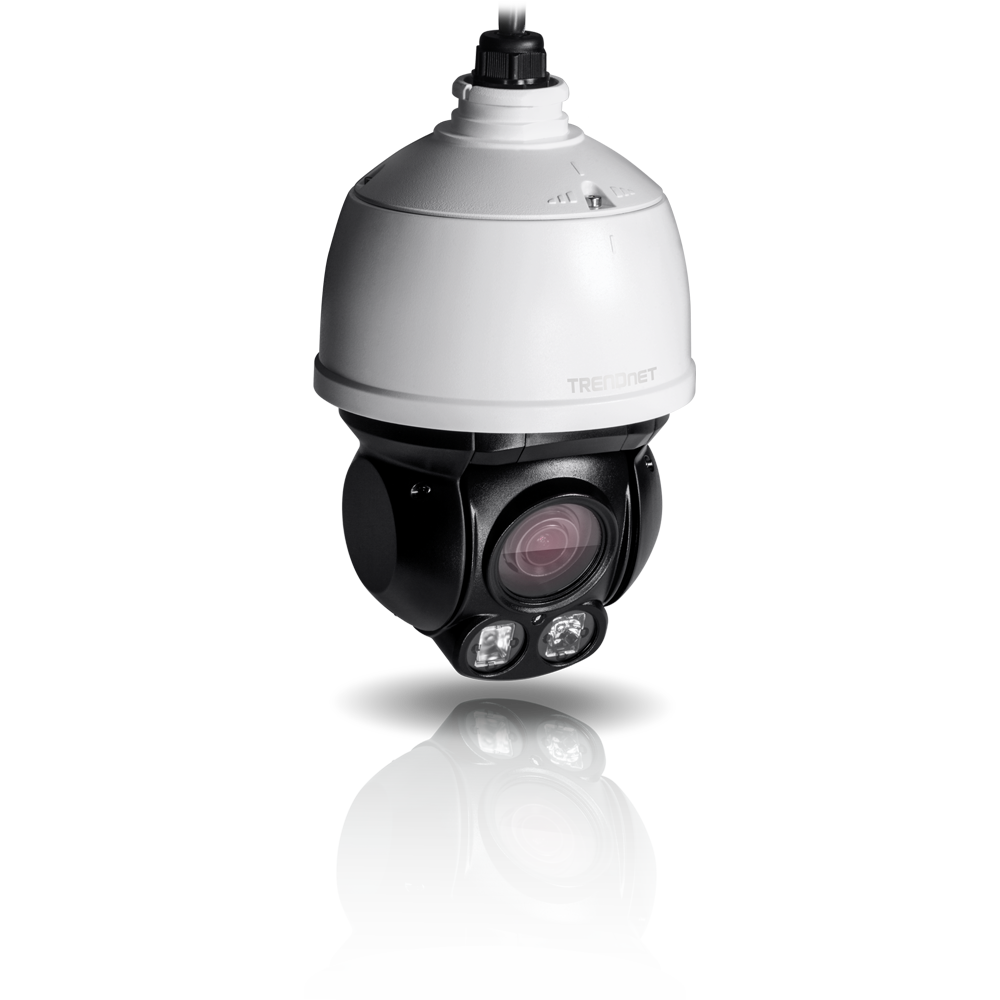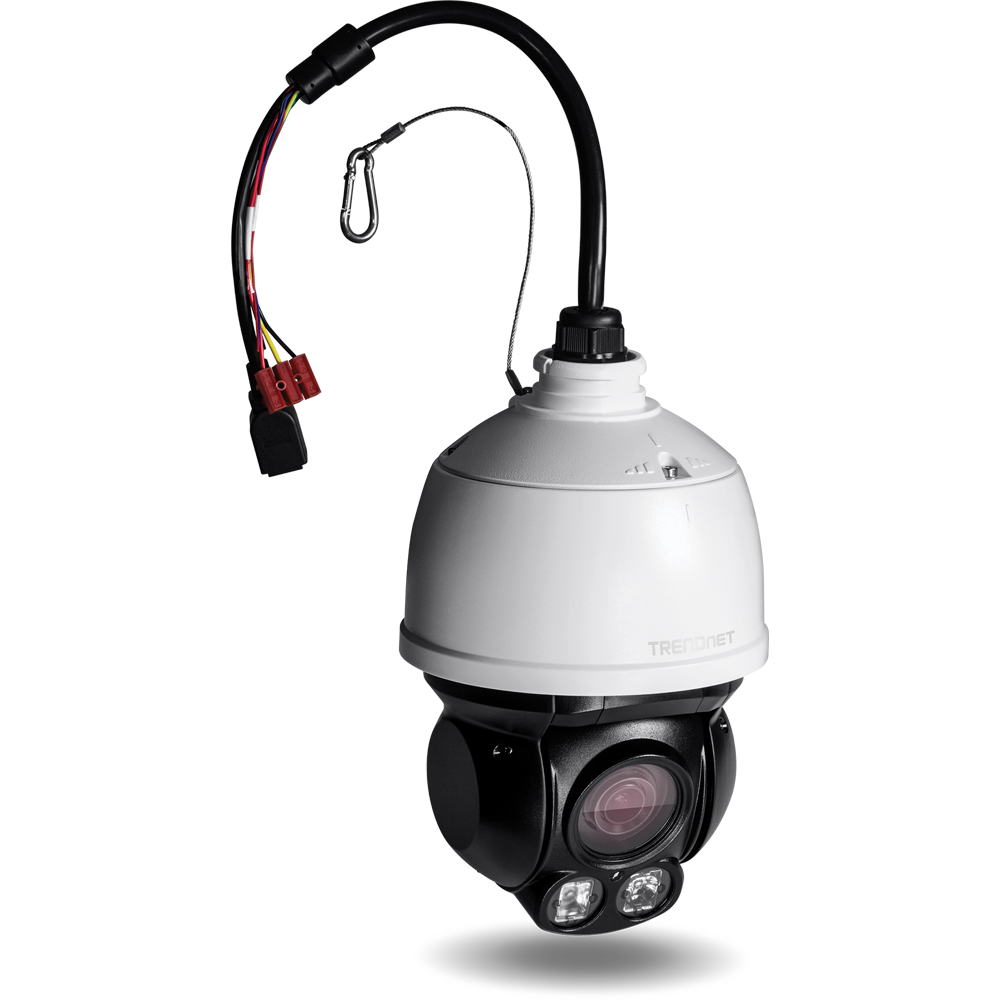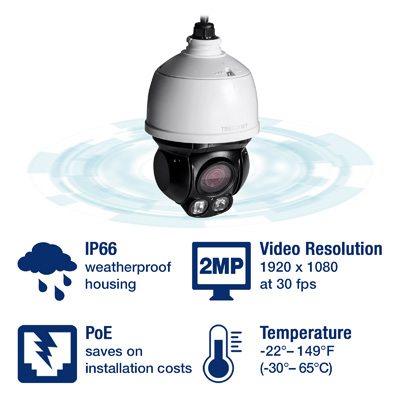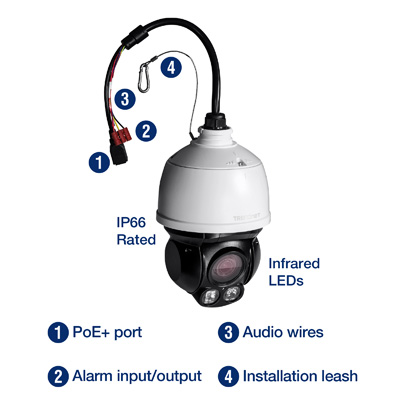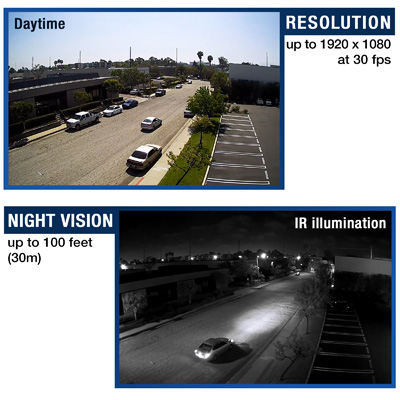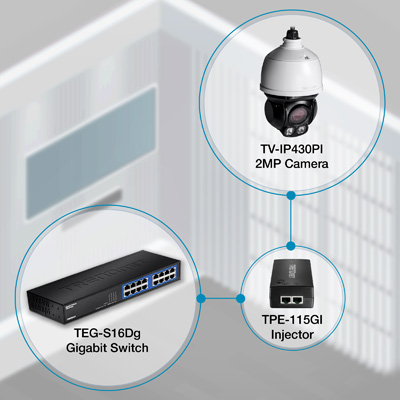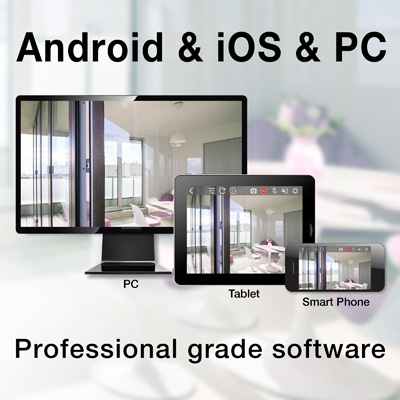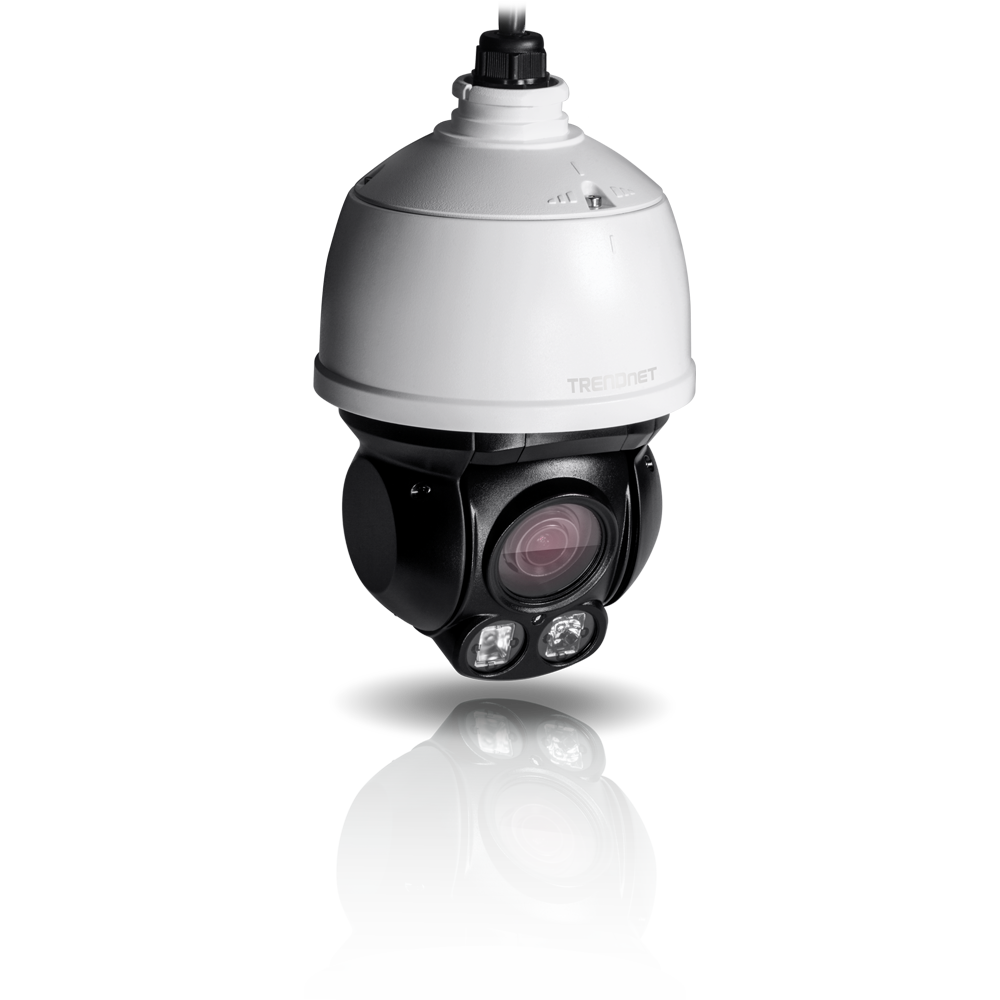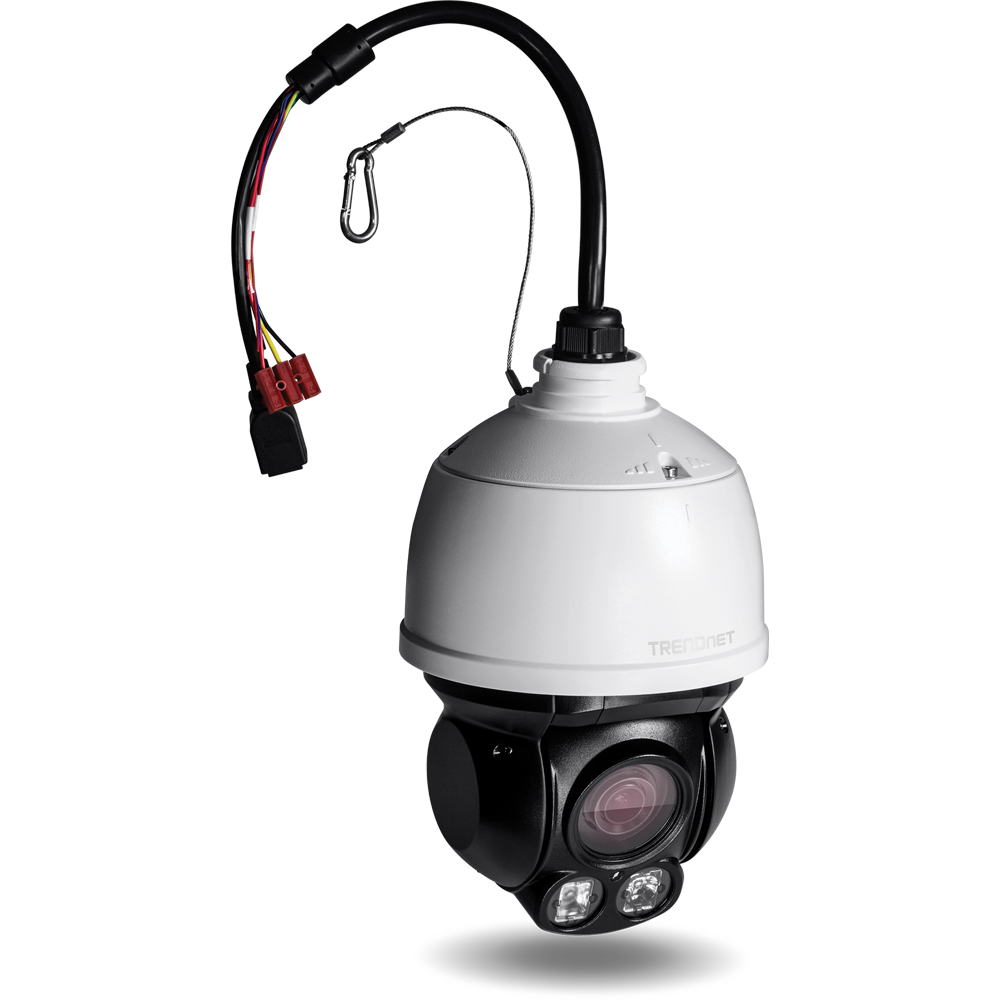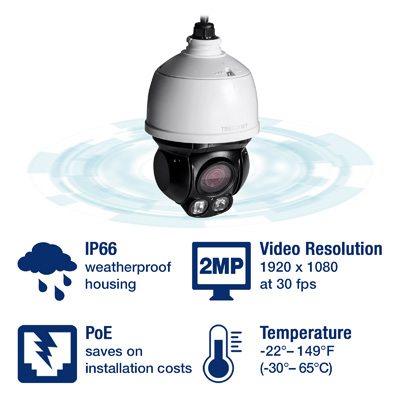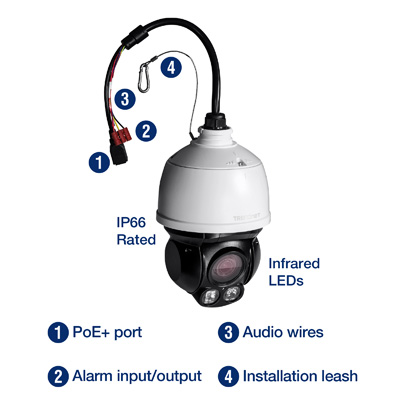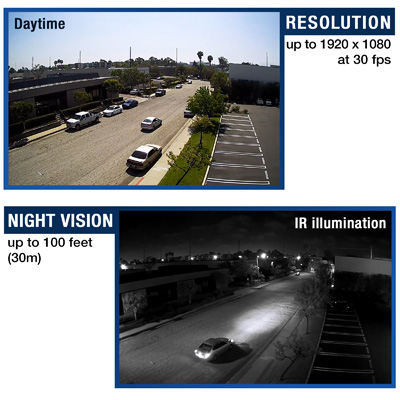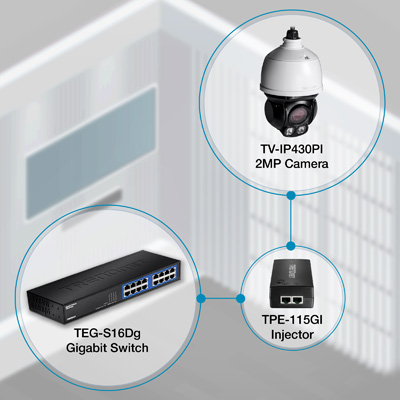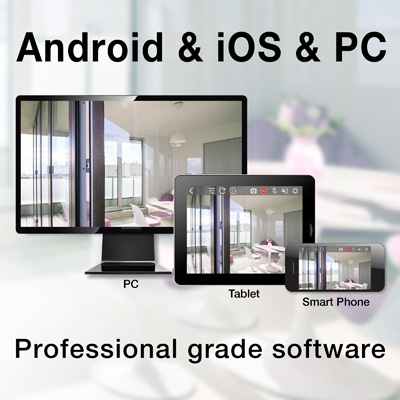 Outdoor 2 MP Full HD 1080p PoE+ IR Mini Speed Dome Network Camera
TV-IP430PI (Version v1.0R)
Full 1080p HD 2MP resolution
4x optical zoom, 16x digital zoom, and autofocus
Night vision up to 30 meters (100 ft.)
Outdoor IP66 weather rating
Endless 360° PTZ
Digital WDR optimizes high contrast lighting environments
Free pro-grade management software and mobile app
Separate mounting bracket required—TV-HC400, TV-HW400, TV-HP400, or TV-HN400
DISCONTINUED PRODUCT
The TV-IP430PI (Version v1.0R) has been discontinued. For a list of discontinued products,
click here
.
Utility
Filename: Camera_Utility.zip
SHA-1 Checksum: 679B96BB0EF1F0763DC23D01D670C8FC4E943004
Date
10/27/2017
File Size
20.98 mb
---
Filename: Utility_TV-IP430PI(V1.01).zip
SHA-1 Checksum: C6B64E0A549E98DD6846F21D92DAEAA41E5574AC
Date
7/27/2017
File Size
10.26 mb
Firmware
DO NOT upgrade firmware on any TRENDnet product using wireless connection.
Firmware upgrade over wireless connection may damage the product. Please perform firmware upgrade with "wired" network connection only
Firmware Version: 5.3.9 build 170413
Release Date: 10/2017
Note:
Update to new password login rule
Filename: FW_TV-IP450P_450PI_430PI(5.3.9 build 170413).zip
SHA-1 Checksum: 1CAC1715679F0DB4523DB1C906CB8F2CD2AF45F7
Date
10/27/2017
File Size
17.21 mb
Software
Version 1.10.0
Product Information
Filename: TRENDnetView_EVO__x64_1.10.0.zip
SHA-1 Checksum: 2B5BD0BFFF960D487E4ADFC1130AE0B64220A986
Date
8/2/2018
File Size
367.72 mb
---
Version 1.10.0
Product Information
Filename: TRENDnetView_EVO__x86_1.10.0.zip
SHA-1 Checksum: 2963E3F4127E318913ABCDA69CB347364CB39448
Date
8/2/2018
File Size
261.77 mb
Other
Date
7/15/2016
File Size
5.02 mb
User's Guide
Filename: UG_TV-IP430PI(V1)_02162016.pdf
Date
2/17/2016
File Size
5.66 mb


How do I reset or recover my password?
Answer: For security reasons the camera cannot be reset without assistance from TRENDnet. Please go to:http://trendnet.com/asp/helpdesk to submit a Help Desk ticket to begin the password reset process. We will have a technician assist you as soon as possible. After the reset process has been co...
Lens

Focal length: 2.8 - 12 mm
Focal depth: 10 – 1,500 mm (Wide-Tele)
Aperture: F1.6 – 2.7 (Wide - Tele)
Sensor: 1/2.8" Progressive Scan CMOS
Focus: auto, semi-auto, and manual
Iris control: auto and manual

Viewing Angle

Horizontal: 115 - 33.8° (Wide – Tele)

Zoom

Combined zoom factor: 64x
Optical: 4x
Digital: 16x
Speed: 1s

Pan/Tilt

Pan: endless 360°
Tilt: -10 - 90° (auto flip)
Pan speed: (manual) 0.1 - 160°/s, (preset) 160°/s
Tilt speed: (manual) 0.1 - 120°/s, (preset) 120°/s
Number of presets: 256
Patrol: 8 patrols, up to 32 presets per patrol
Scheduled PTZ: create detailed weekly schedule with the following activity options: auto scan, frame scan, random scan, patrol, pattern, preset, panorama scan, tilt scan, dome reboot, and dome adjust

Minimum Illumination

IR off: color: 0.05 lux, B/W: 0.01 lux
IR on: 0 lux
30 m IR illumination distance
Smart IR: automatically adjusts wide angle and narrow focus IR to match zoom ratio

Video

Digital Wide Dynamic Range (D-WDR)
Backlight Compensation (BLC)
3D Digital Noise Reduction (DNR)
Shutter speed: 1 - 1/10,000s
H.264 resolution: 1920 x 1080 up to 30 fps
MJPEG resolution: 704 x 480 up to 30 fps

Audio

2-way audio supported (mic and speaker not included)
External microphone line in / speaker line out

I/O

External input/output for alarm installation

Micro SD

Up to 64 GB micro SD card support

Hardware Standards

IEEE 802.1X
IEEE 802.3
IEEE 802.3u
IEEE 802.3at

Device Interface

10/100 Mbps PoE+ port
Power connector (for non-PoE installation)
Audio wires (in/out/ground)
Micro SD card slot (64 GB max.)
Alarm I/O wires
Suspension cable holds the camera during installation

Input / Output

Alarm input: 1 ( 0 – 5v DC)
Alarm output: 1 relay output
Audio input: 1 audio line in, 2 – 2.4 V; impedance: 1000 Ω, ± 10%
Audio output: 1 output line out, impedance: 600 Ω

Housing

Weather rating: IP66
TVS 4,000 V lightning, surge, and voltage transient protection
Built-in automatic heater for cold weather conditions

Network Protocol

IPv4, IPv6, UDP, TCP, IGMP, ICMP, ONVIF v2.2
DHCP, NTP, DNS, DDNS, SMTP, FTP, SNMP (v1, v2c, v3)
CIFS/SMB, NFS
HTTP, HTTPS
PPPoE
UPnP, RTSP, RTP

Operating Temperature

-30 - 65 °C (-22 - 149 °F)

Operating Humidity
Certifications
Dimensions

155 x 155 x 235 mm (6.1 x 6.1 x 9. in.)

Weight
Power (Power brick not included)

Input: PoE+ (IEEE 802.3at)
Consumption: 20 /14 Watts max. (IR and heater on/off)

Required Mounting Accessories (not included)

Ceiling mount: TV-HC400
Pole mount: TV-HP400
Wall mount: TV-HW400
Corner mount: TV-HN400

Management Interface

Multi-language support: English, French, German, Russian, and Spanish
IP address filter
QoS traffic prioritization
Time, date, and text overlay
Image settings: brightness, contrast, saturation, limit gain, sharpness, focus mode, minimum focus, exposure mode, smart IR, video standard, day/night switch, sensitivity, mirror, slow shutter, D-WDR, lens initialization, BLC, white balance, digital noise reduction, noise reduction level, Defog mode, zoom limit, HLC
D-WDR enhances video quality in high contrast daytime lighting
3D DNR Digital Noise Reduction enhances night vision quality
Scheduled recording: continuous and motion detection
Video storage: to computer, NAS, CIFS/SMB share, NFS, Micro SD card, FTP server, or through software
Motion detection fields: define custom motion detection areas, motion sensitivity, and dynamic motion analysis
Smart privacy masks: custom privacy masks are fixed to an area of interest as the camera pans and tilts
Tamper detection: email notification if the viewing field is suddenly obscured
Browser video playback: advanced playback functionality with visual timeline displaying detected motion and scheduled recordings
Alert messages: storage full, storage error, and illegal login
Snapshot: real time snapshot, motion detection with schedule, tamper detection with schedule
Supported dynamic DNS services: dyn.com and No-IP.org
Management Setting: maximum 32 user accounts
Supports remote management
Storage logs: Alarm, Exception, Operation, and others
Compatibility: Internet Explorer® 9.0 or higher, Safari® 5.0 or higher

TRENDnetVIEW Pro Software

Supports up to 32 TRENDnet cameras
Multiple language support
Set recording options (motion detection, schedule, event trigger)
Search and playback
Custom viewing modes and options
Compatibility: Windows® 10, 8.1, 8, 7, Vista, XP, Windows Server® 2003, 2008

TRENDnetVIEW App

Free iOS and Android™ app
View your camera on your mobile device
Take snapshots
Pan/Tilt/Zoom

Warranty
PACKAGE CONTENTS
TV-IP430PI
CD-ROM (Software & User's Guide)
Quick Installation Guide
Information provided in this document pertain to TRENDnet products and is subject to change at any time, without notice.