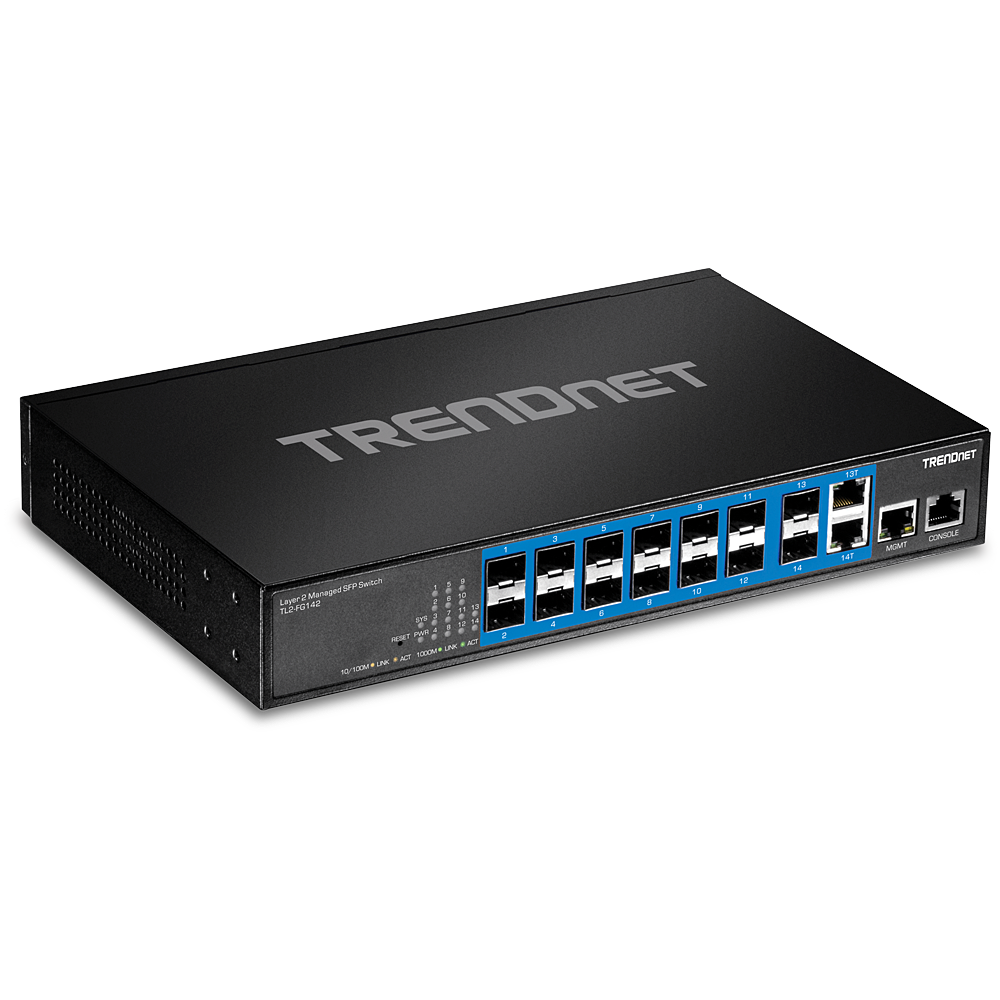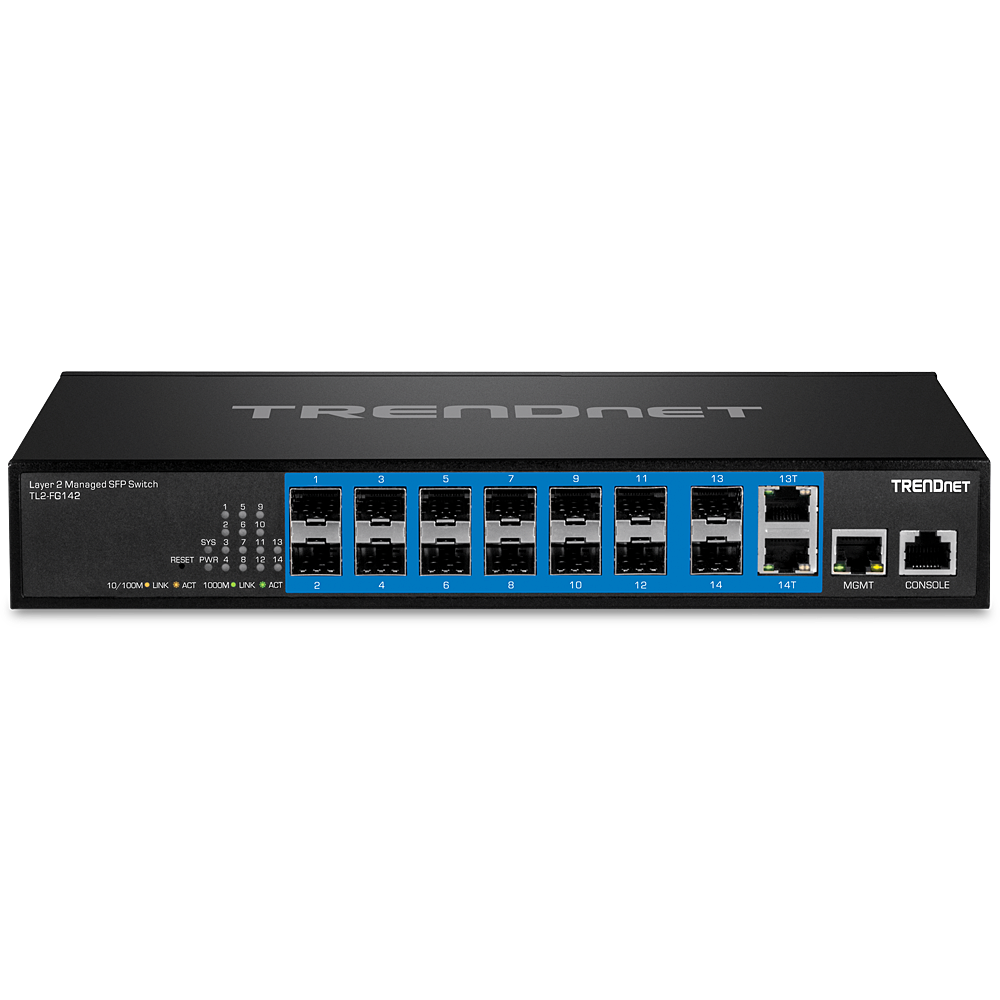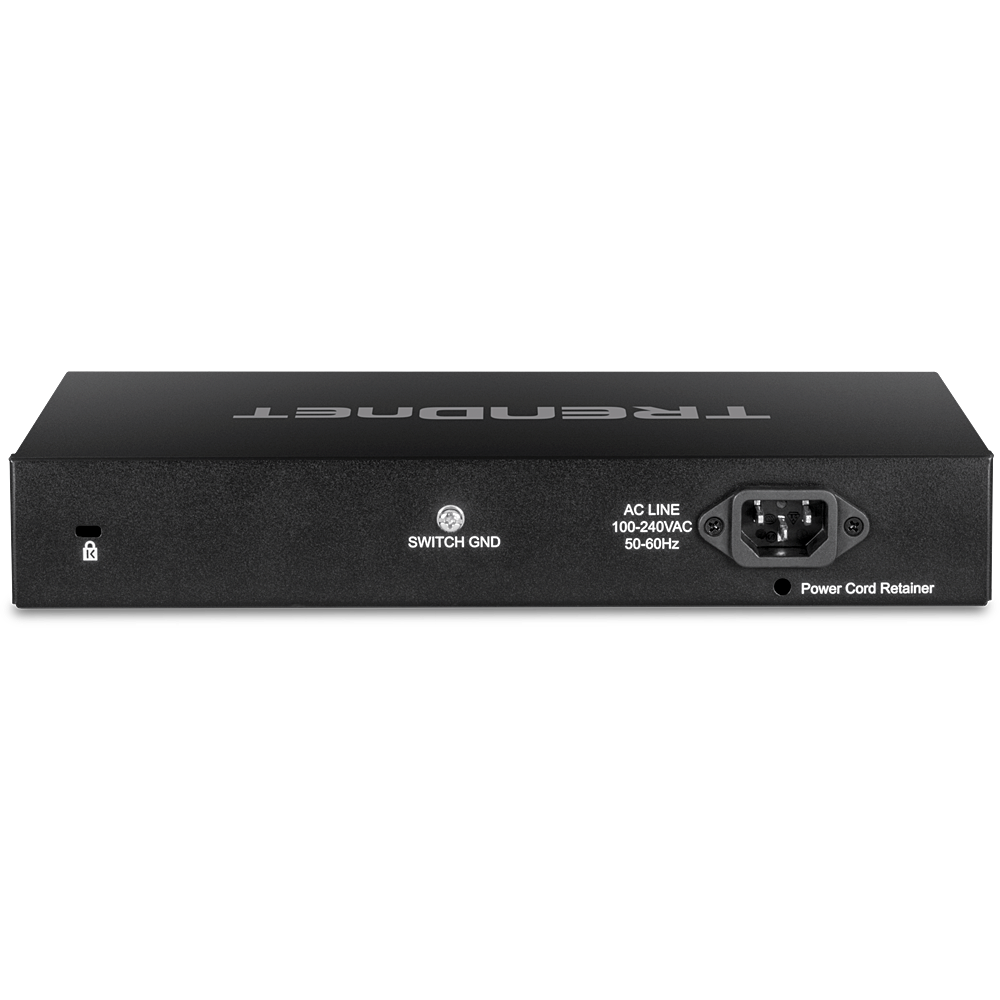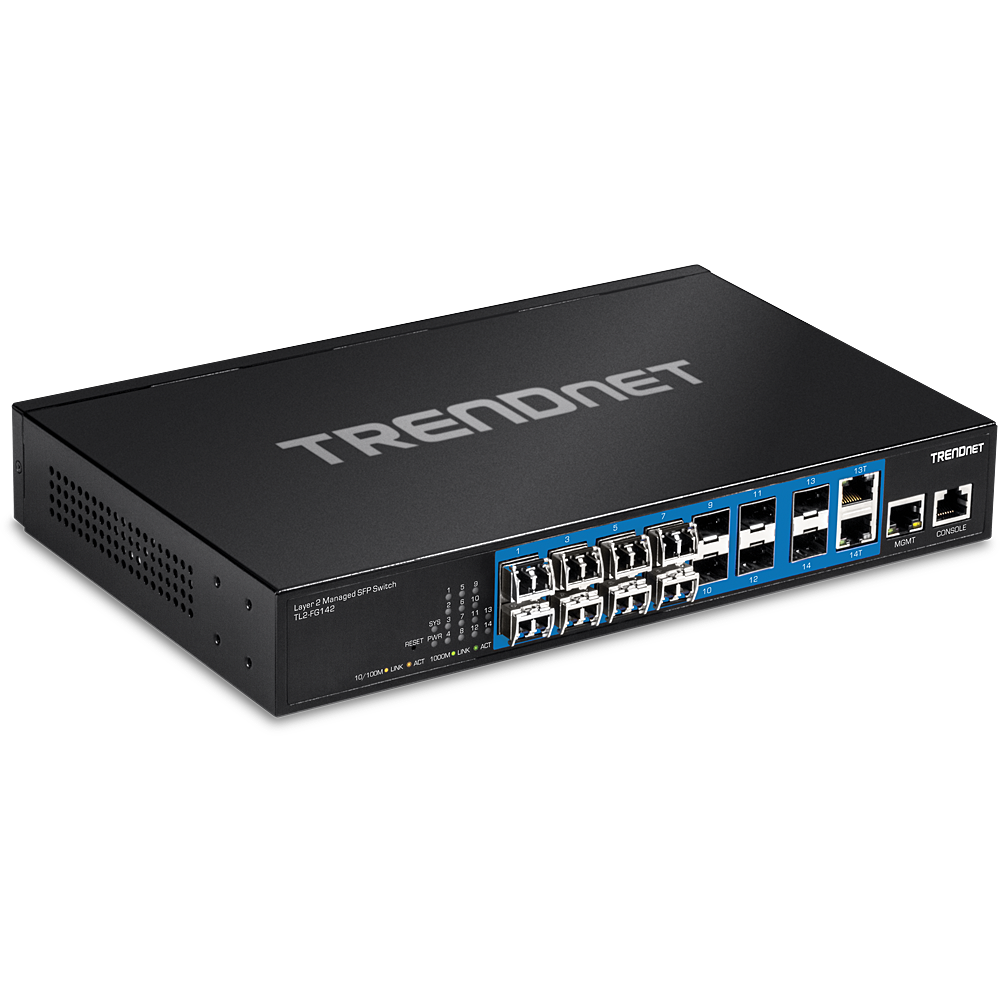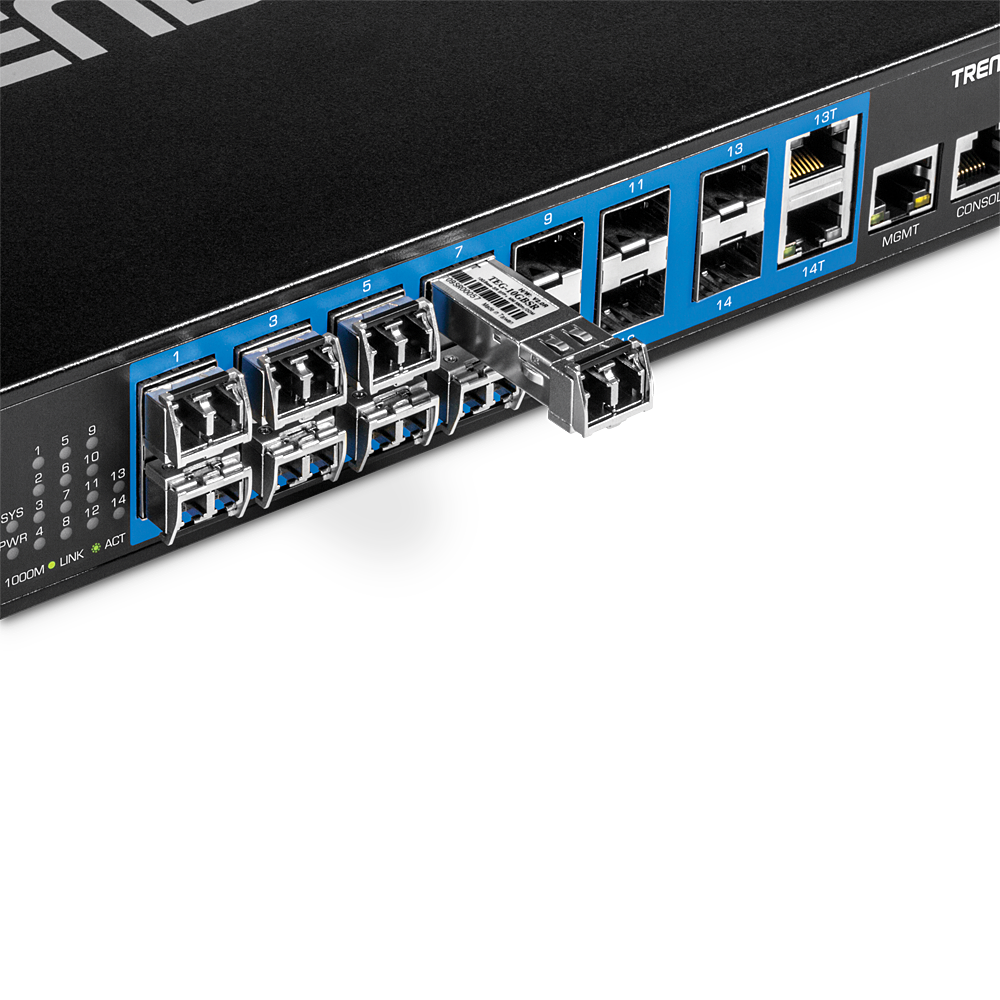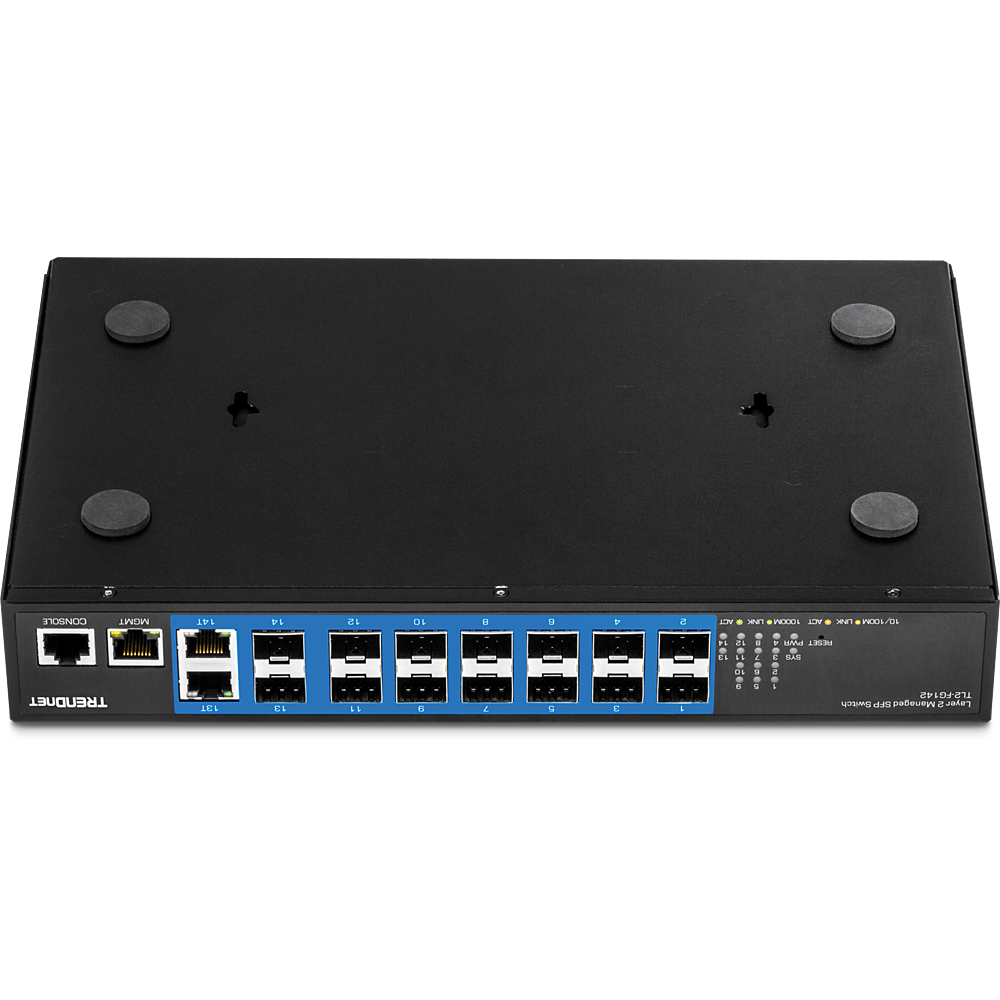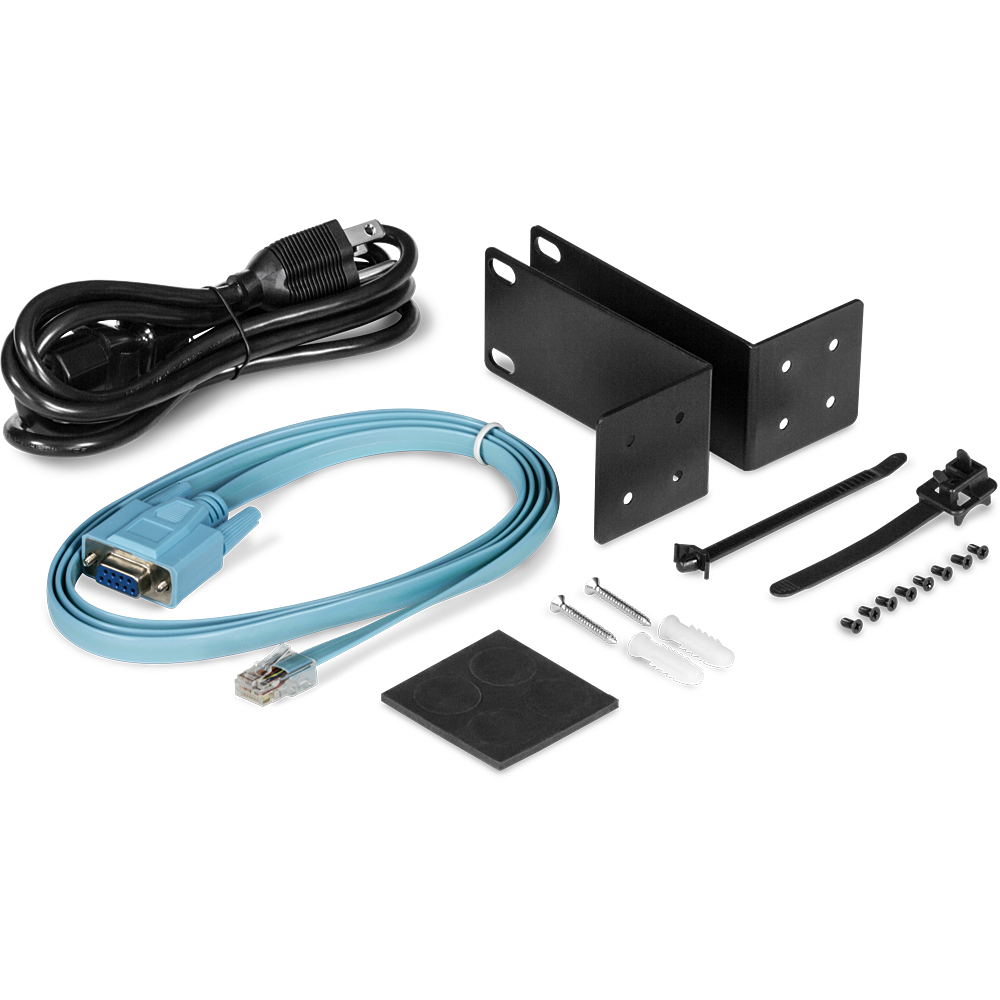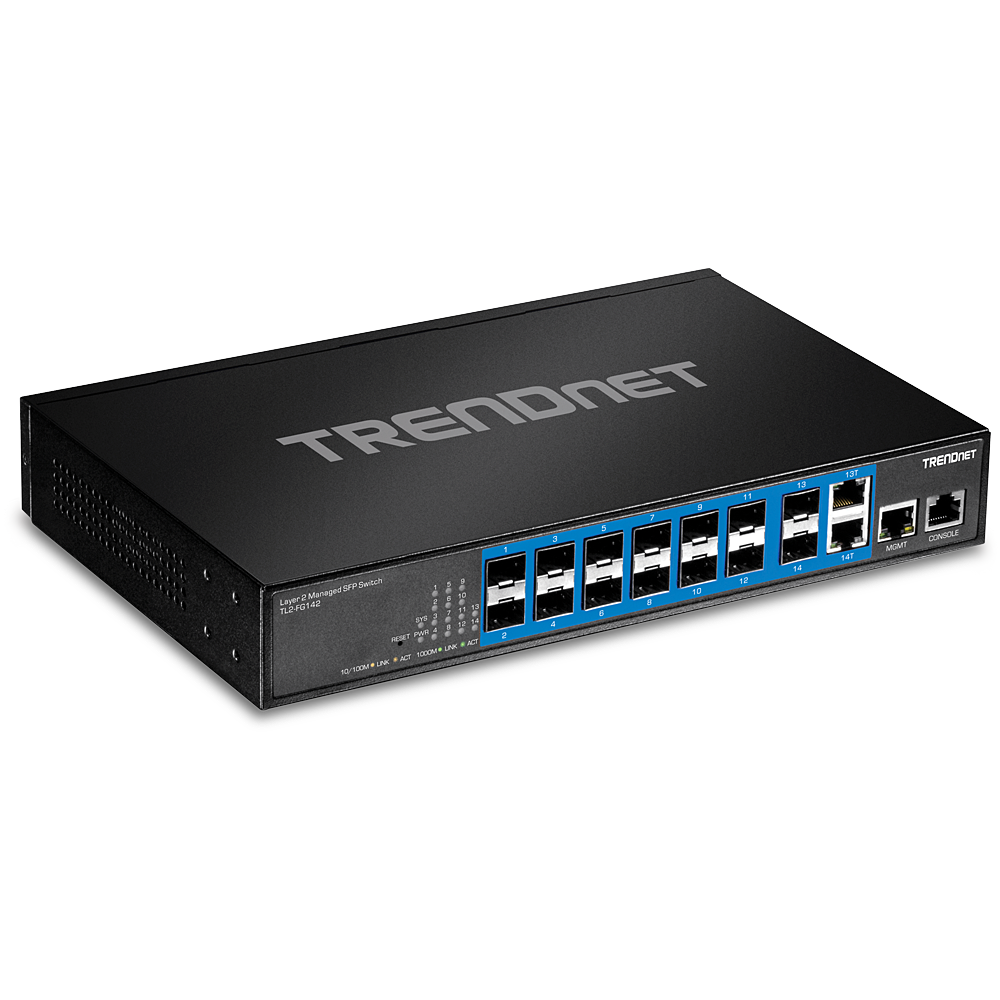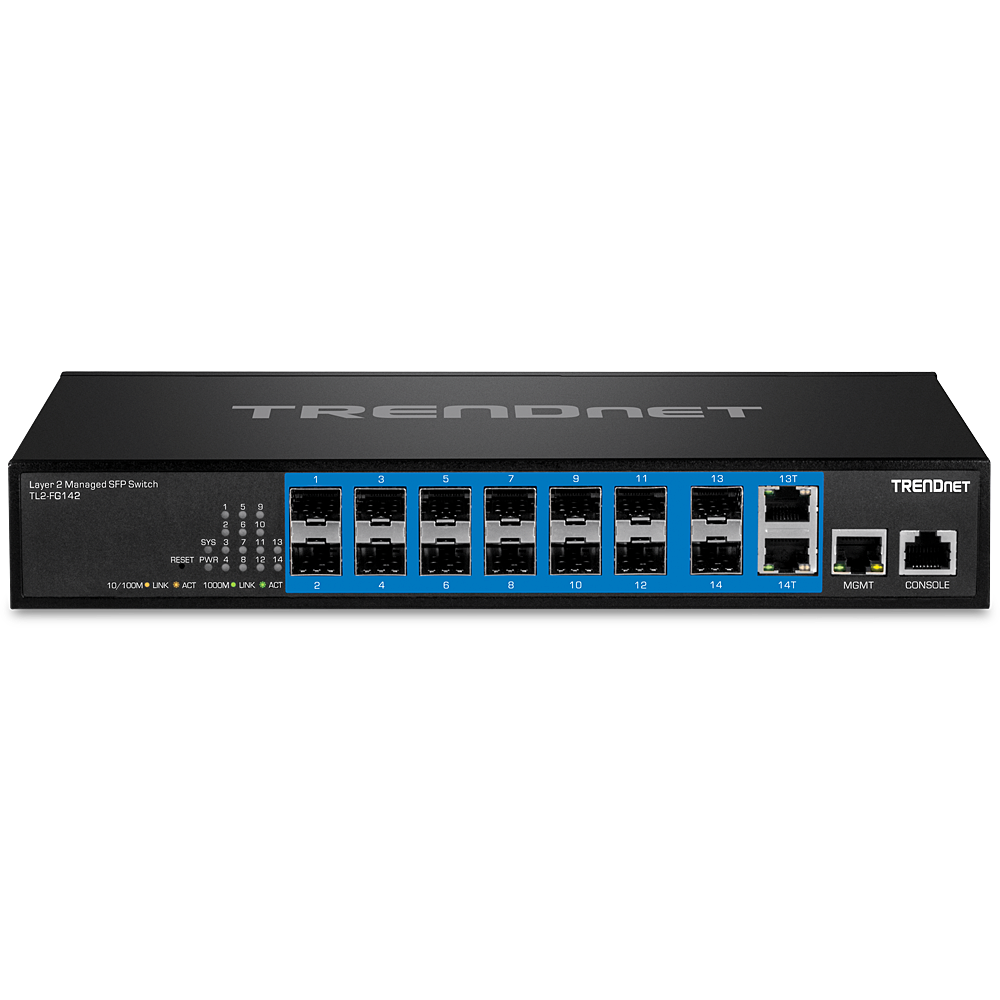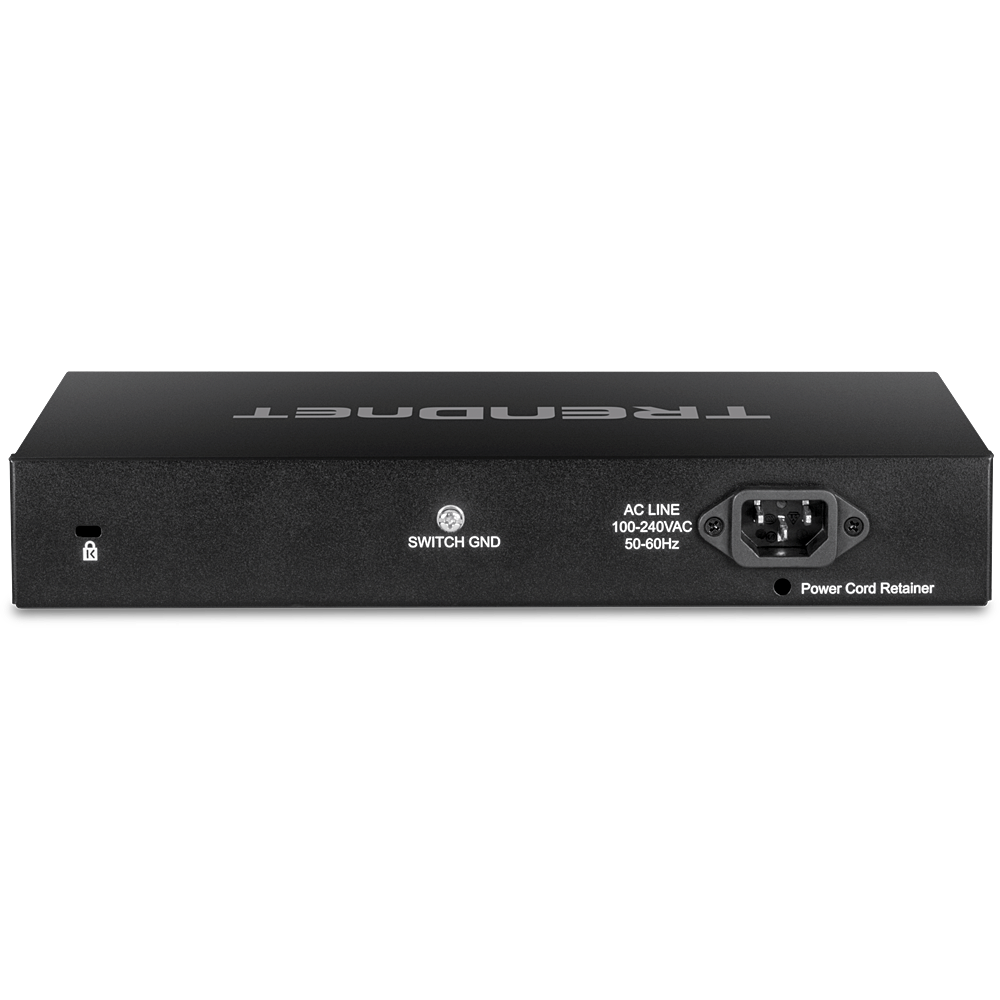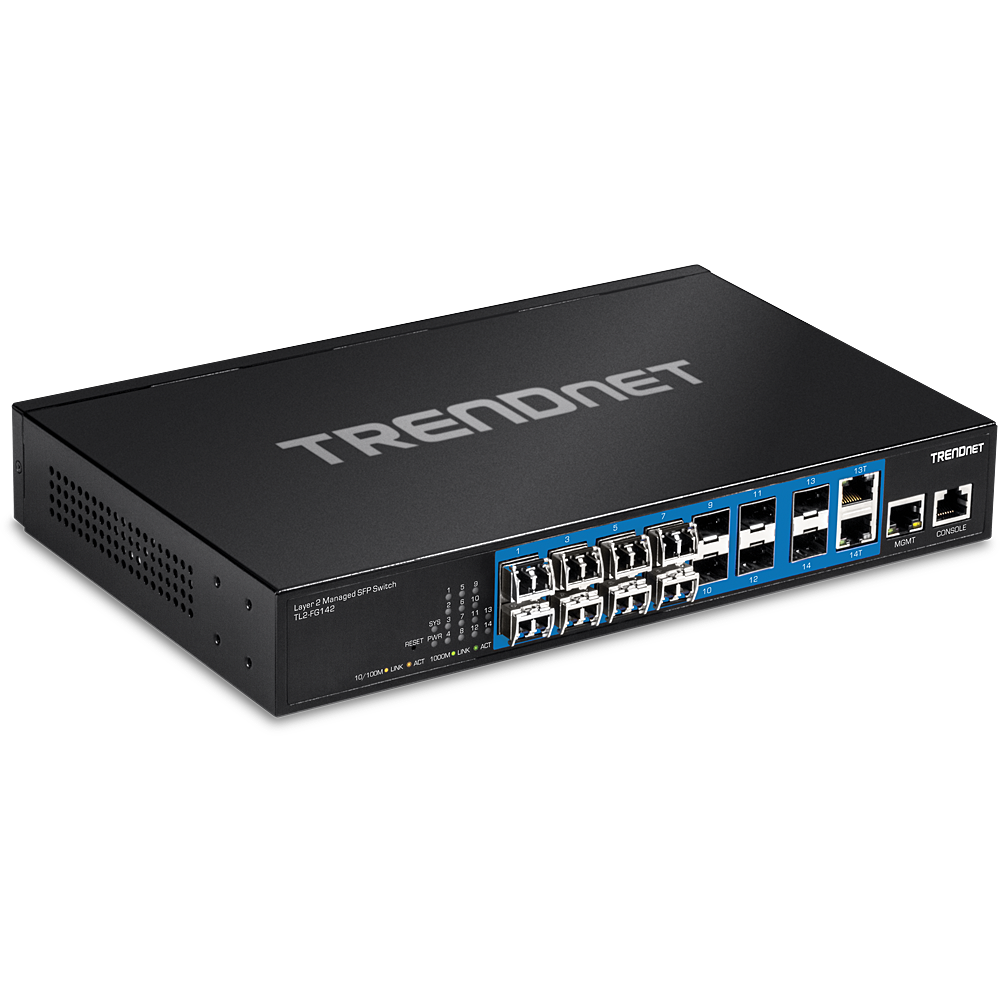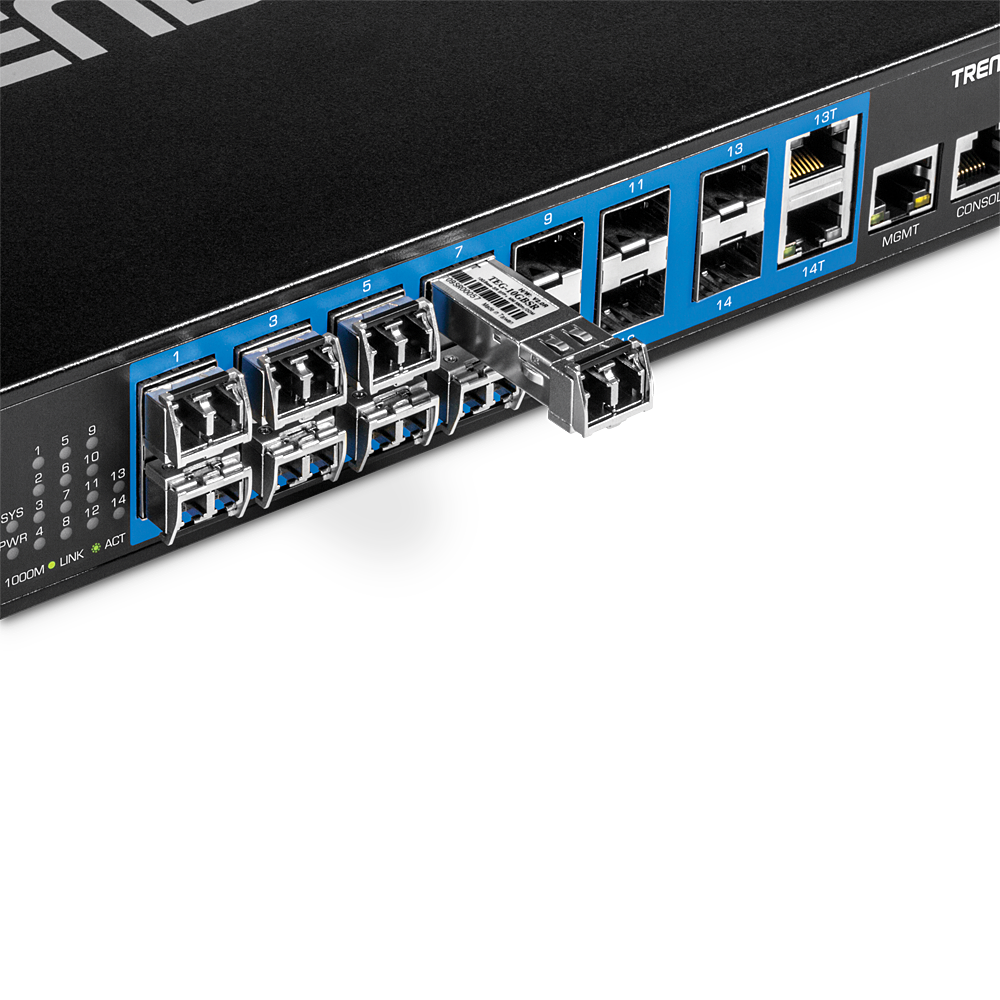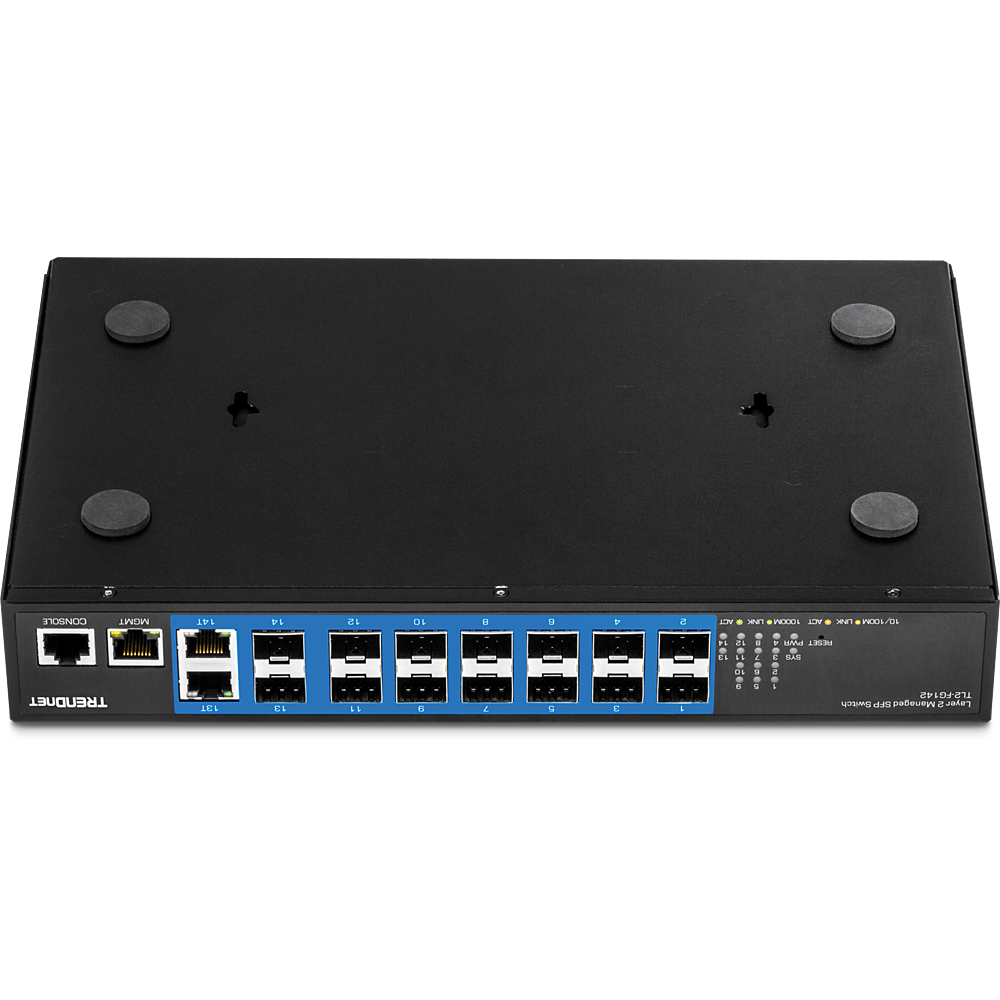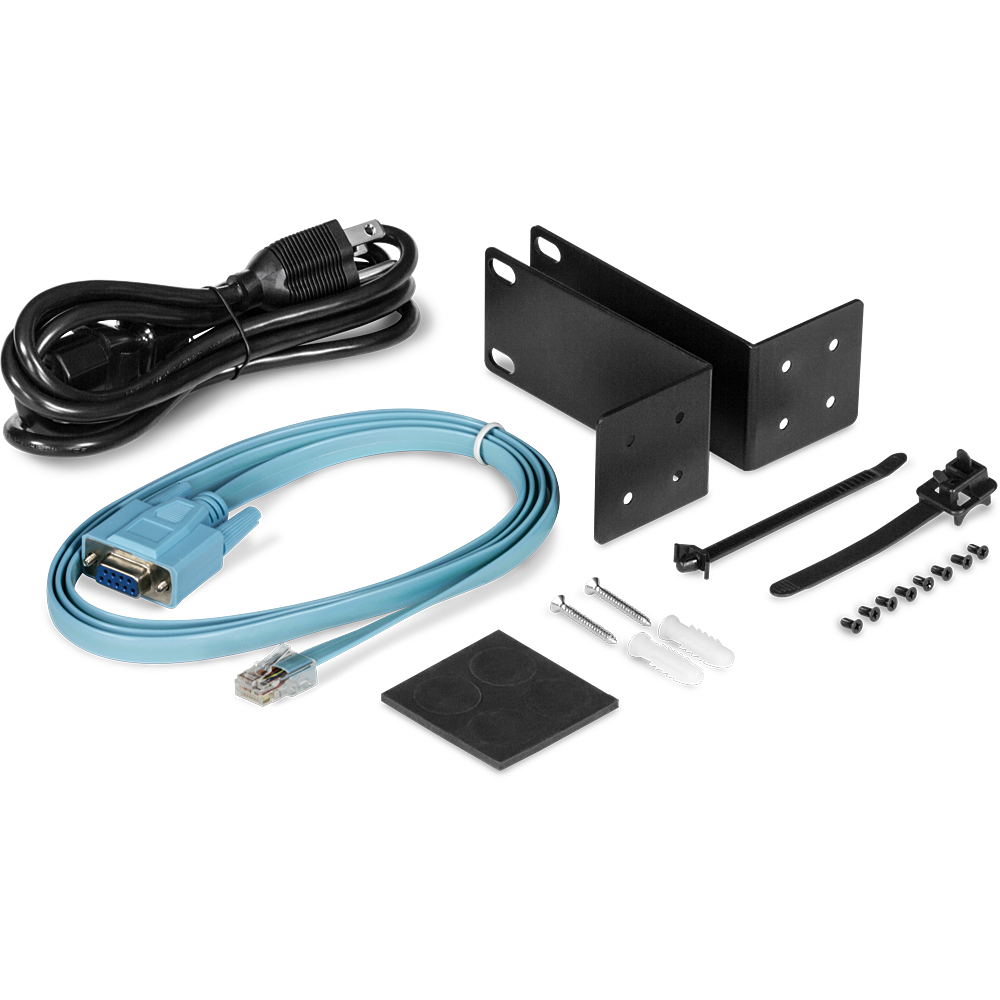 14-Port Gigabit Managed Layer 2 SFP Switch with 2 Shared RJ-45 Ports
TL2-FG142 (Version v1.0R)
12 x SFP slots (100/1000Mbps)
2 x Shared Gigabit ports (RJ-45 or SFP slots)
Web-based management interface
Supports IPv6, LACP, VLAN, and IGMP Snooping
802.1Q tagged-based VLAN, Protocol, Private, and Voice VLAN support
Q-in-Q VLAN tunneling and translation
QoS with queue scheduling support
Supports up to 32 IPv4/IPv6 static routes
SFlow agent for layer 2 network analysis
Bandwidth control per port
28Gbps switching capacity
Connectivity Fault Management / OAM
Supports 100/1000Base-FX fiber SFP modules
Compatible with TEG-MGBRJ and TE100-MGBFX RJ-45 SFP modules
Fanless design
Lifetime Warranty*
Firmware
Model:
TL2-FG142
Hardware Version:
v1.XR
Firmware Version:
1.2.0.22
Release Date:
11/2020
-Fixed issues with MEP (Maintenance entity group end point) function
Filename: FW_TL2-FG142_v1(1.2.0.22).zip
SHA-1 Checksum: 36CEA44884A4BE37ADEDF551C57CA098E61C8797
Date
11/6/2020
File Size
5.37 mb
User's Guide
Filename: UG_TL2-FG142(v1).pdf
Date
9/13/2019
File Size
4.63 mb


Standards

ITU-T G.8013/Y.1731
IEEE 802.1ag
IEEE 802.3ah
IEEE 802.1d
IEEE 802.1p
IEEE 802.1Q
IEEE 802.1s
IEEE 802.1w
IEEE 802.1X
IEEE 802.1ab
IEEE 802.1ad
IEEE 802.3
IEEE 802.3u
IEEE 802.3x
IEEE 802.3az (RJ-45 ports only)
IEEE 802.3ab
IEEE 802.1ax
IEEE 802.3z

Device Interface

12 x SFP slots (100/1000Mbps)
2 x Shared Gigabit ports (RJ-45 or SFP slots)
1 x RJ-45 management port (in-band)
1 x RJ-45 console port (out-of-band)
Ground point
LED indicators
Reset button

Data Transfer Rate

Ethernet: 10Mbps (half duplex), 20Mbps (full duplex)
Fast Ethernet: 100Mbps (half duplex), 200Mbps (full duplex)
Gigabit Ethernet: 2000Mbps (full duplex)

Performance

Switching capacity: 28Gbps
RAM buffer: 128MB
MAC address table: 8K entries
Jumbo frames: 9.6KB (configurable per port)
Forwarding mode: store and forward
Forwarding rate: 20.8Mpps (64-byte packet size)

Management

CLI (Console / Telnet / SSHv2)
HTTP / HTTPS web based GUI
SNMP v1, v2c, v3
SNMP trap
RMON groups 1/2/3/9
LLDP/LLDP-MED with optional TLVs
ICMPv4/ICMPv6
IPv4/IPv6
IPv6 neighbor discovery
DNS proxy
Network time protocol (NTP)
Green Ethernet/EEE or 802.3az per port
Dual image

Monitoring

CPU load
IP interfaces/routing table
Internal system logging
External syslog
Port traffic statistics
QoS queue counters
QCL control list
Port mirror (One to one, many to one)
EVC (Ethernet Virtual Connection) statistics
MAC address table
Digital diagnostics monitoring (DDM) for SFP modules
RFC2544 support
SFlow statistics

MIB

MIB II RFC 1213
Bridge MIB IEEE8021-Q
RMON (Group 1,2,3,9) RFC 2819
Interface group MIB using SMIv2 RFC 2863
Multicast group membership discovery MIB RFC 5519
SNMP management frameworks RFC 3411
User-based security model for SNMPv3 RFC 3414
View-based access control model for SNMP RFC 3415
Ethernet-like MIB RFC 3635
802.3 MAU MIB RFC 3636
Entity MIB v3 RFC 4133
Bridge MIB RFC 4188
IP MIB RFC 4293
RADIUS authentication client MIB RFC 4668
RADIUS accounting MIB RFC 4670
LLDP-MIB IEEE802.1AB
PAE MIB IEEE802.1X

Spanning Tree

Spanning tree protocol (STP)
Rapid spanning tree protocol (RSTP)
Multiple spanning tree protocol (MSTP)

Link Aggregation

Static link aggregation and 802.3ad dynamic LACP (Up to 15 groups)

Quality of Service (QoS)

Class of service (CoS)
Set default drop precedence (DPL), priority code point (PCP), drop eligible indicator (DEI)
Differentiated Services Code Point (DSCP) classification and translation
Set egress port scheduler, port shaping, port tag marking
Bandwidth control per port/rate limiting
Queue scheduling: strict priority (SP), deficit weighted round robin (DWRR)

Storm Control

Broadcast (Min. limit: 1pps)
Multicast (Min. limit: 1pps)
Unicast (Min. limit: 1pps)

VLAN

802.1Q tagged VLAN
802.1ad VLAN Q-in-Q
Group VLAN Registration Protocol (GVRP)
MAC-based VLAN
Protocol-based VLAN
VLAN ID range 1-4095
Private VLAN/port isolation
Voice VLAN (16 user defined OUIs)
VLAN port to group and VID translation

Carrier Ethernet / OAM

IEEE 802.1ag Connectivity Fault Management (CFM)
IEEE 802.3ah Link OAM
Per port per queue dual leaky bucket service policers with PCP or DSCP marking per service point
Statistics and tagging options per service point
Y.1731 Fault Management (AIS, RDI, LCK)
Y.1731 Performance Management (LM, DM)
RFC2544 support
Link OAM statistics, port status, event status
Link state tracking
Link OAM MIB Retrieval
Maintenance entity point (MEP)

Link Protection

ITU-T G.8032/Y.1344 Ethernet ring protection switching (ERPS)
ITU-T G.8031/Y.1342 Ethernet linear protection switching

L3 Features

IPv4 / IPv6 static routing
IPv4 interfaces: Up to 8
IPv6 interfaces: Up to 8
Routing table entries: Up to 32 (IPv4 / IPv6)
ARP table (up to 1024 entries)
DHCP IPv4 server, relay, option 82
Inter-VLAN routing

Multicast

IGMP snooping v1, v2, v3
IGMP fast leave
Static multicast entries
MLD Snooping v1, v2
Multicast VLAN Registration (MVR)
Up to 1K multicast groups

Access Control

User account control with privilege level management
Access management control
Port Security/MAC address learning restriction (Up to 64 entries per port)
802.1X port-based/single/multiple or MAC-based authentication
RADIUS (Up to 5 servers)
TACACS+ (Up to 5 servers)
RADIUS assigned QoS/VLAN/Guest VLAN
Local dial in user authentication
DHCP IPv4 snooping
Loopback detection/prevention
IP Source Guard
Static/dynamic ARP inspection
Create ACLs based on rate limit/EVC profile

Power

Input: 100 – 240V AC, 50/60 Hz
Max. Consumption: 36W

Fan/Acoustics
MTBF
Operating Temperature

0° – 50° C (32° – 122° F)

Operating Humidity
Dimensions

280 x 185 x 44.45mm (11.02 x 7.28 x 1.75 in.)
Rack mountable 1U height
Wall mountable

Weight
Certifications
Warranty
PACKAGE CONTENTS
TL2-FG142
Quick Installation Guide
Power cord
RJ-45 to RS-232 console cable (1.5m / 5 ft.)
Wall mount and Rackmount kit
Information provided in this document pertain to TRENDnet products and is subject to change at any time, without notice.