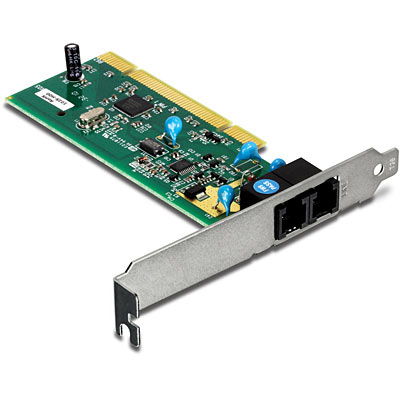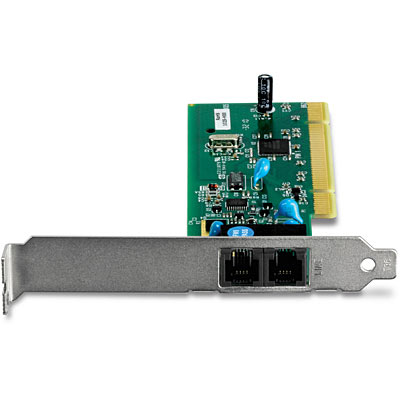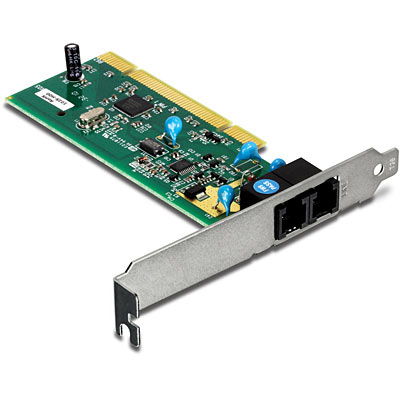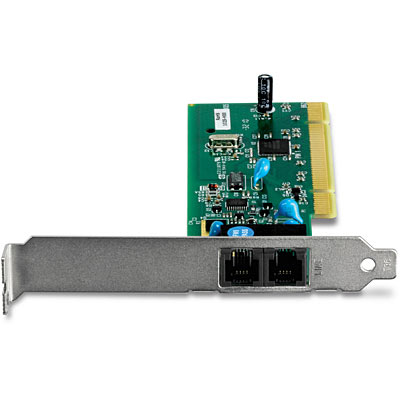 56K PCI Data/Fax/TAM Modem
TFM-PCIV92A (Version B1.xR)
Save time with fast data transfer rates
Quickly network this compact device to your computer
DISCONTINUED PRODUCT
The TFM-PCIV92A (Version B1.xR) has been discontinued. For a list of discontinued products,
click here
.
Utility
Filename: Driver_Utility_TFM-PCIV92A(B1.21).zip
SHA-1 Checksum: 6950BEF4A39A0D8C50EAC9F34E4CFDFE60987259
Date
7/25/2017
File Size
251.39 mb
User's Guide
Filename: UG_TFM-PCIV92A(B1.21).pdf
Date
10/18/2011
File Size
3.14 mb


Unfortunately the TFM-PCIV92a does not support speakerphone functionality.
1. Ensure that the telephone cord is securely connected at both modem and wall outlet. 2. Unplug the telephone cord from the computer and connect it directly to a telephone from the wall outlet. Check for a dial tone. If there is none, the problem is in the telephone cord or system. Call your...
Make sure the computer meets the minimum system requirements as shown at the beginning of this quick installation guide. Also try putting the modem into a different PCI slot. ...
Hardware
Interface

PC: PCI Specification 2.2
PSTN: RJ-11

Data Mode

V.92 & V.90, V.34, V.32(bis), V.22(bis), V.23, V.21, Bell 212A, Bell 103

Error Correction
Data Compression
Fax Mode

Group III Send & Receive, ITU-T V.17, V.29, V.27ter and V.21 ch2

Power Management

ACPI Power Manager Registers

PME# pin and APM Support

Power Consumption (Input 3.3VDC)
Sleep Mode: 25mW
Idle Mode: 200mW
Operating Mode: 300mW

Dimensions

133 x 124 x 21mm (5.2 x 4.8 x 0.8 inches)

Weight
Temperature

Operating: 0°~ 55°C (32°~ 131°F)
Storage: -20°~ 60°C (-4°~140°F)

Humidity
Certifications
Functions
Supported OS

Windows® 8.1, 8, 7, Vista, XP
Mac OS® 10.4-10.9

Voice Function

TAM (USA) Support with Concurrent DRMD Detect, Ring Detect
8-Bit u– Law/A-Law/Linear Coding
TIA-695 Command Set
8000 Hz Sample Rate

Video Phone Ready

V.80 sync Access mode Supports Host-Controlled Communication Protocol
H.324 interface Support

Multiple Country

Call Progress, Blacklisting Support

Other

Single Profile Stored in Host
Modem and Audio Paths Concurrent Across PCI Slot
DTMF
PACKAGE CONTENTS
TFM-PCIV92A
Multi-Language Quick Installation Guide
CD-ROM (Driver & User's Guide)
RJ-11 Telephone Cable
Information provided in this document pertain to TRENDnet products and is subject to change at any time, without notice.