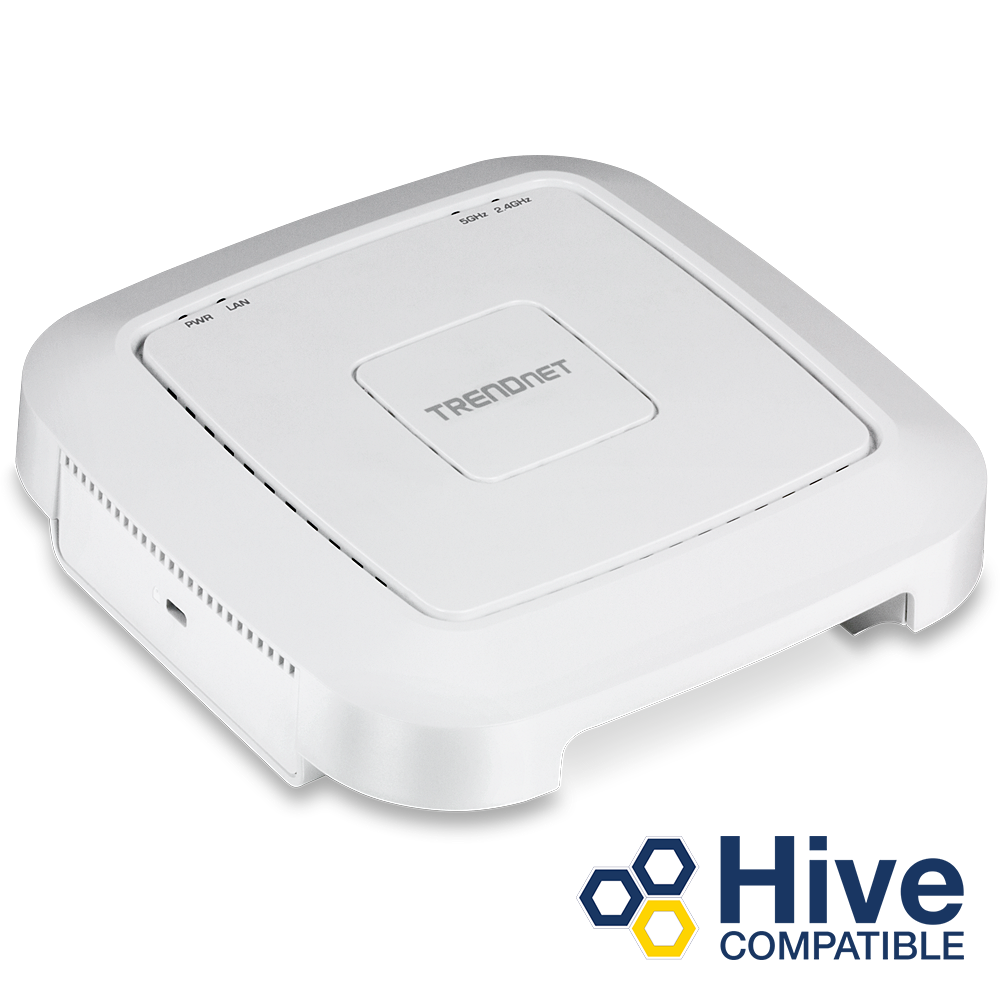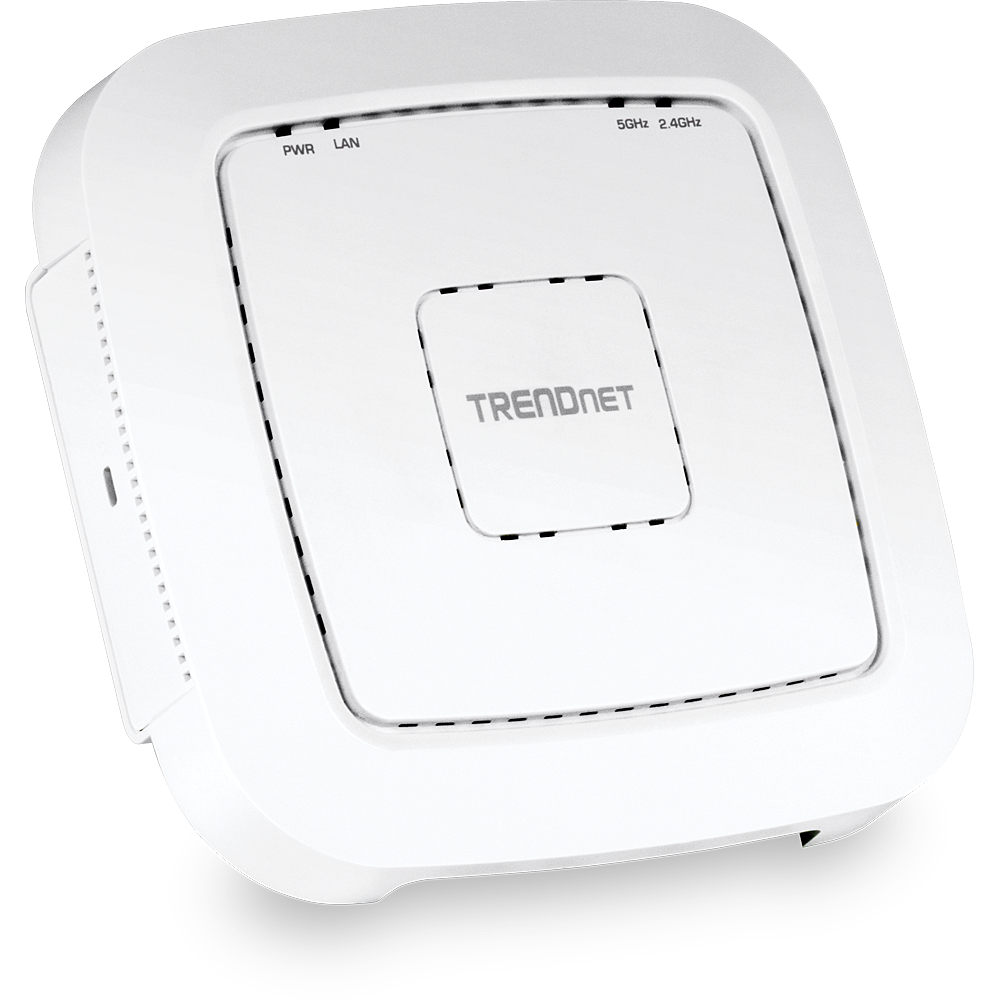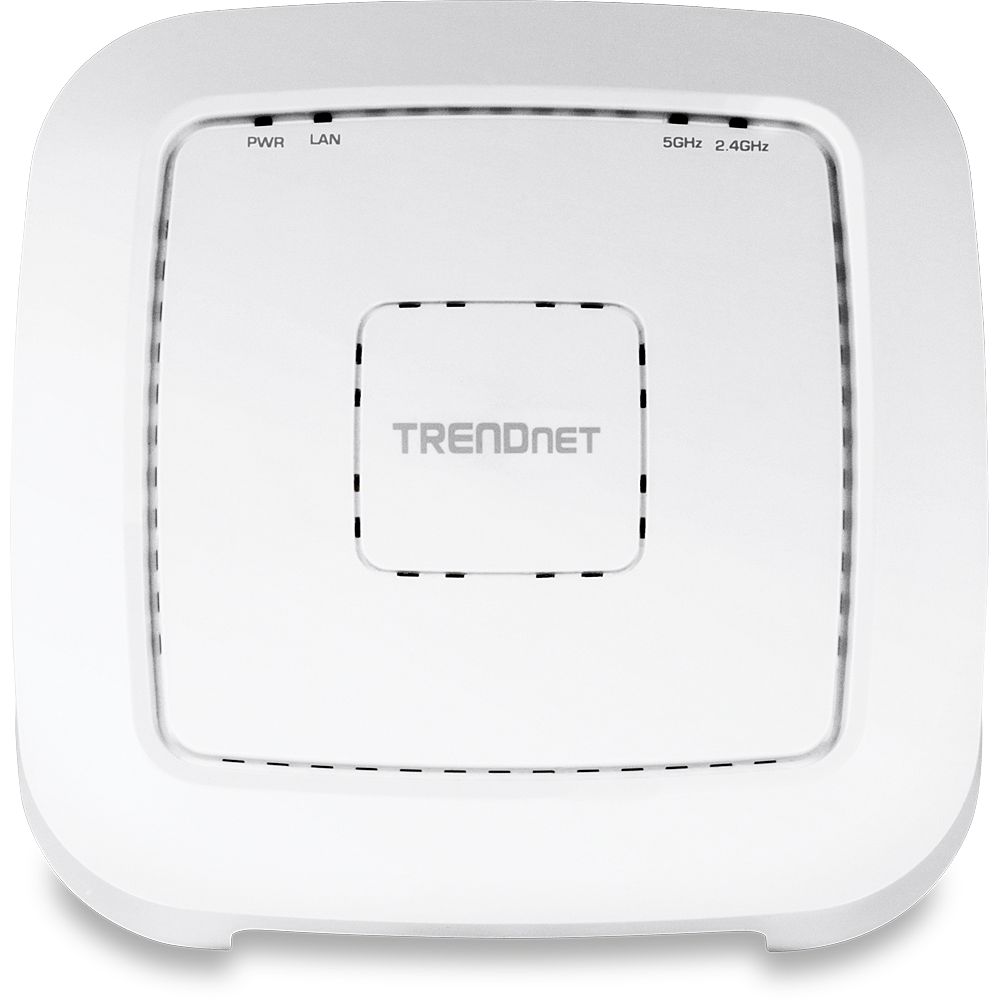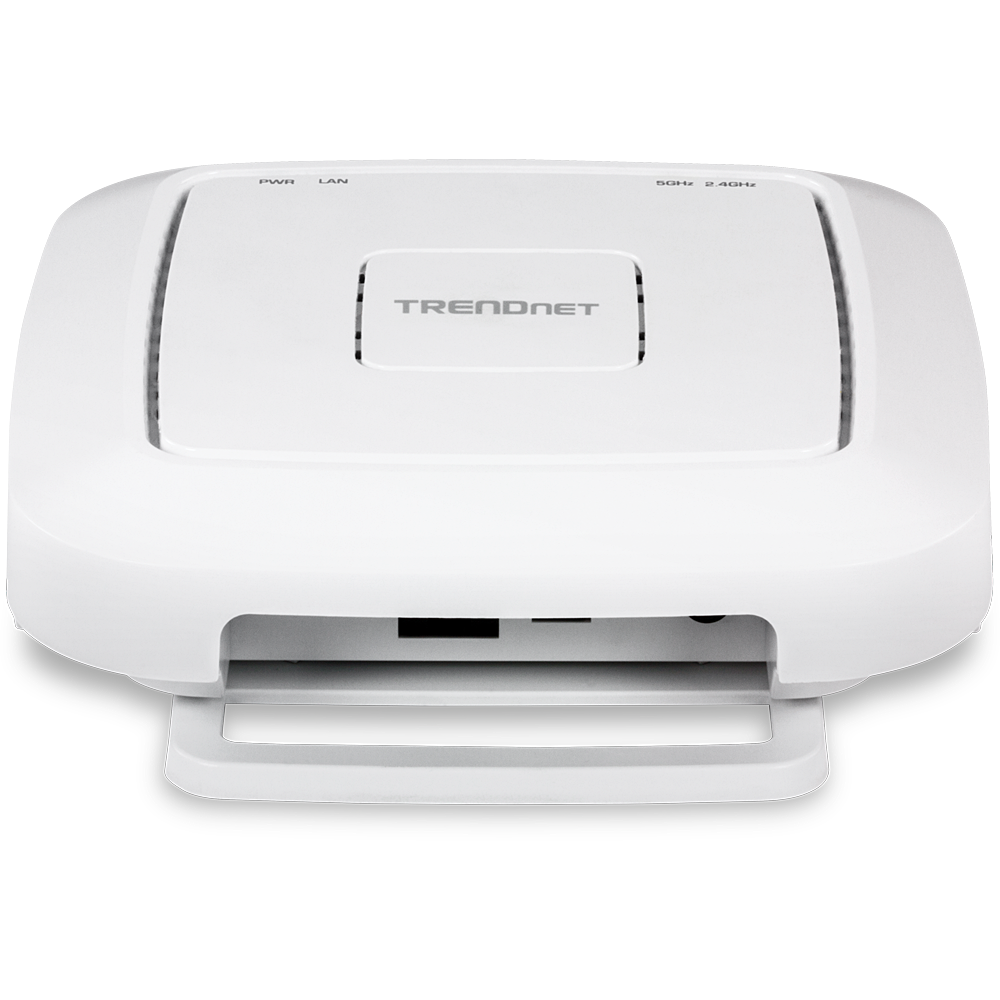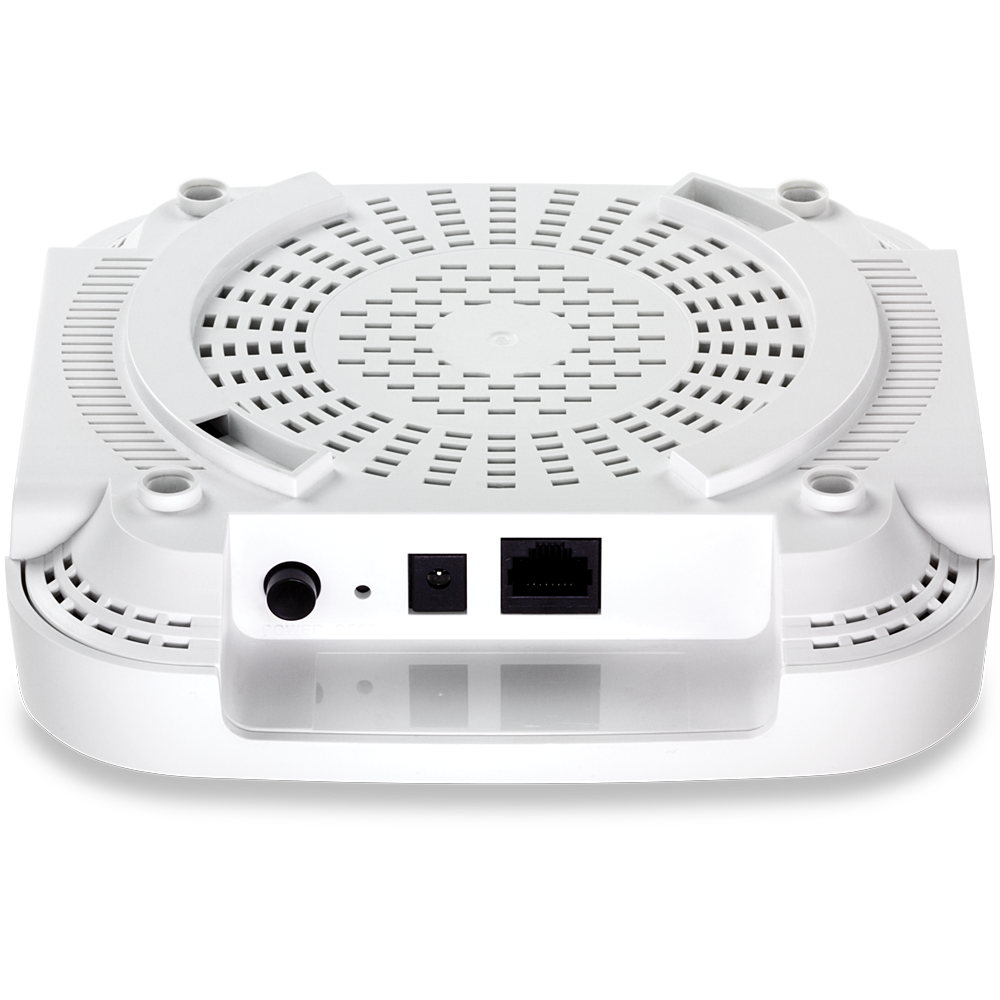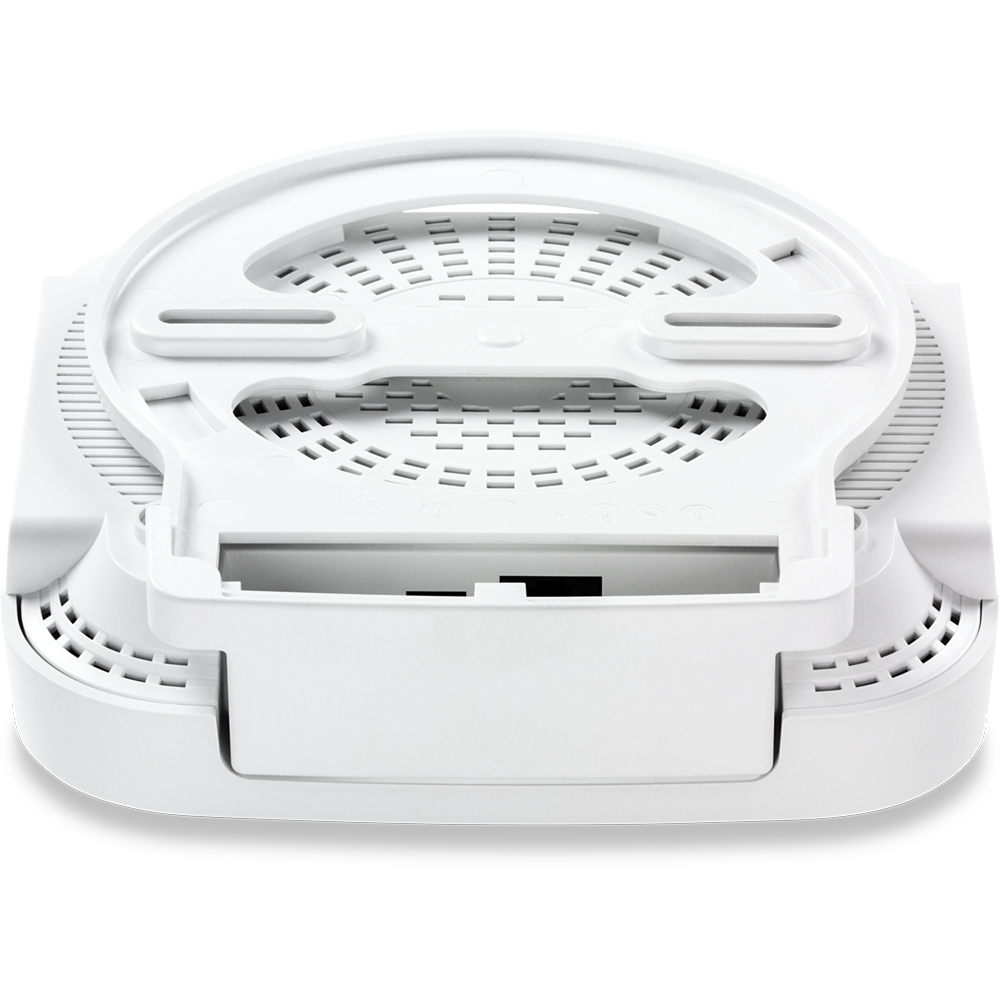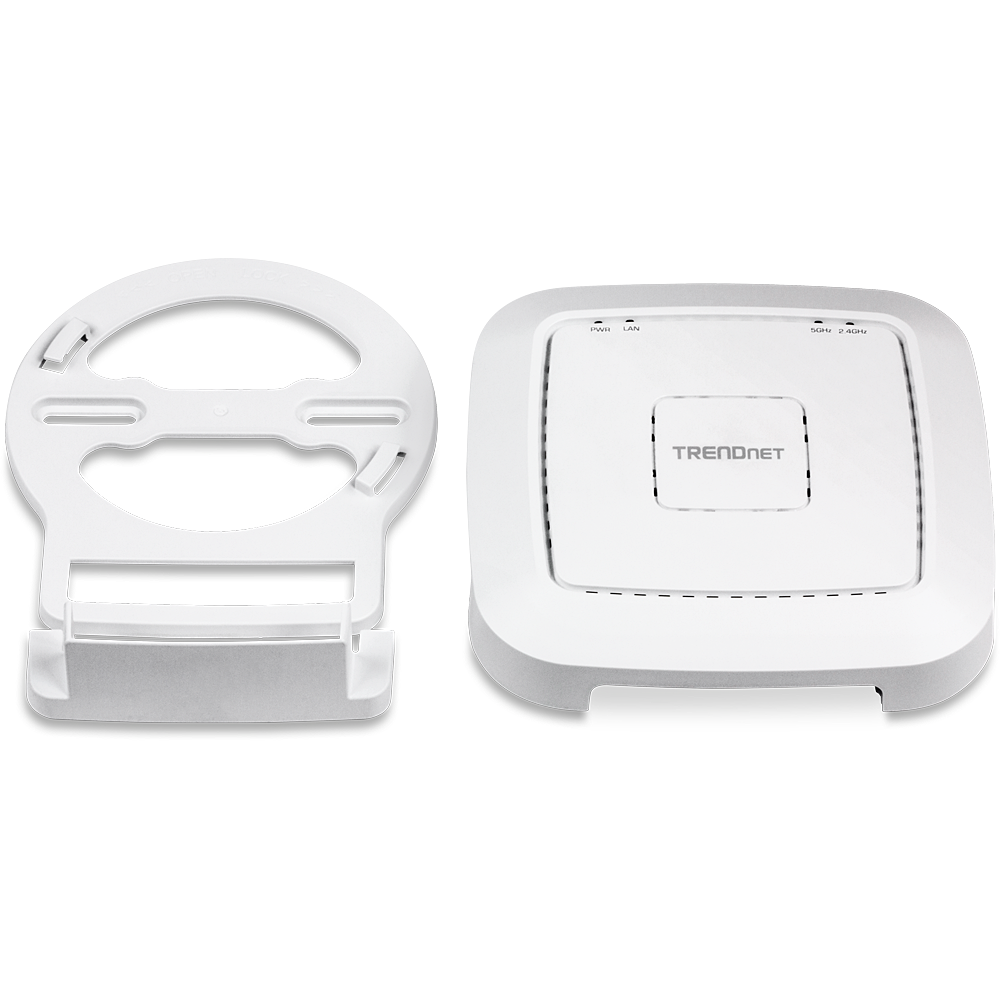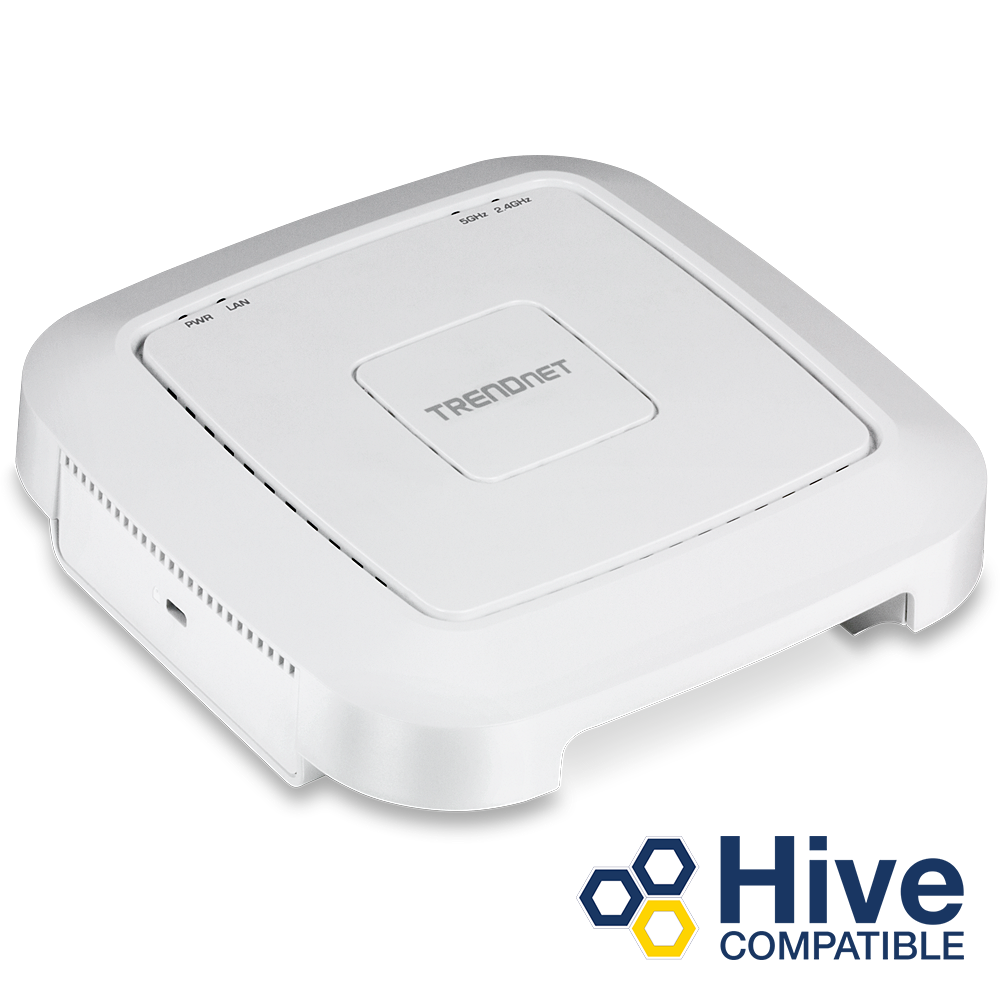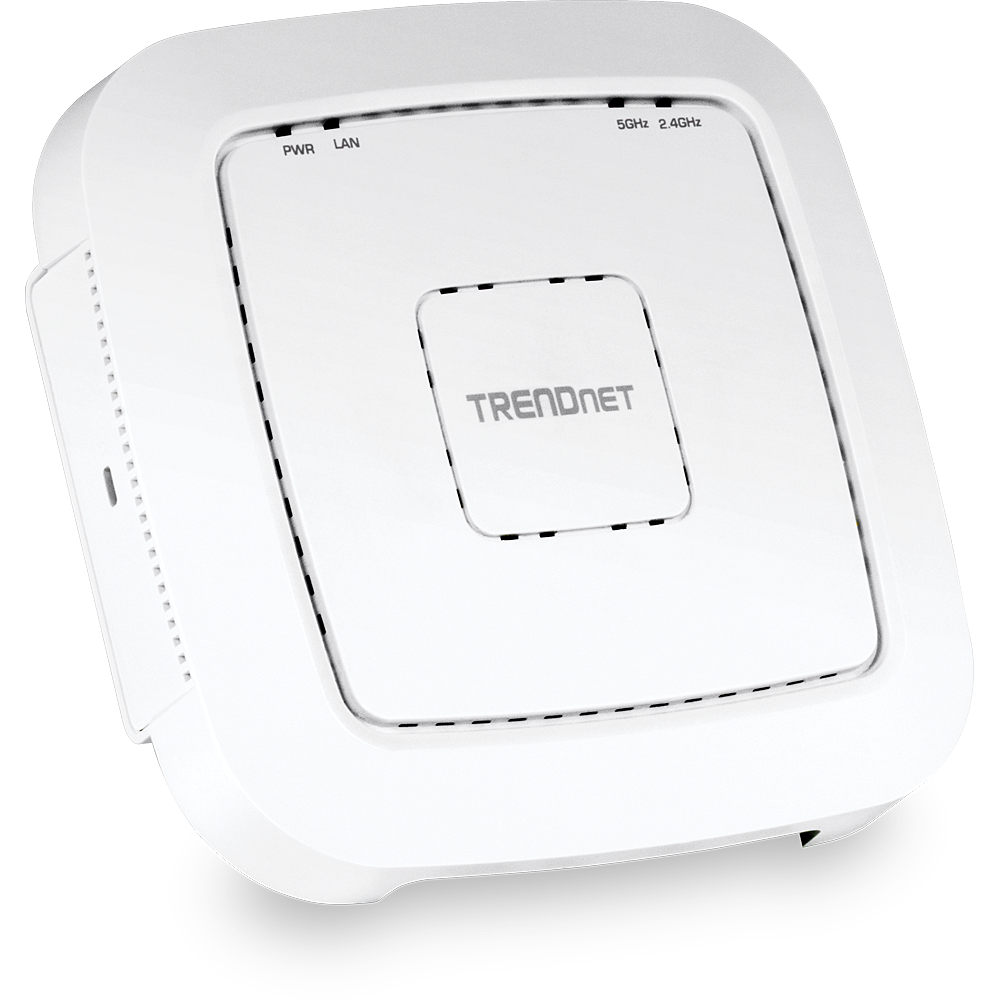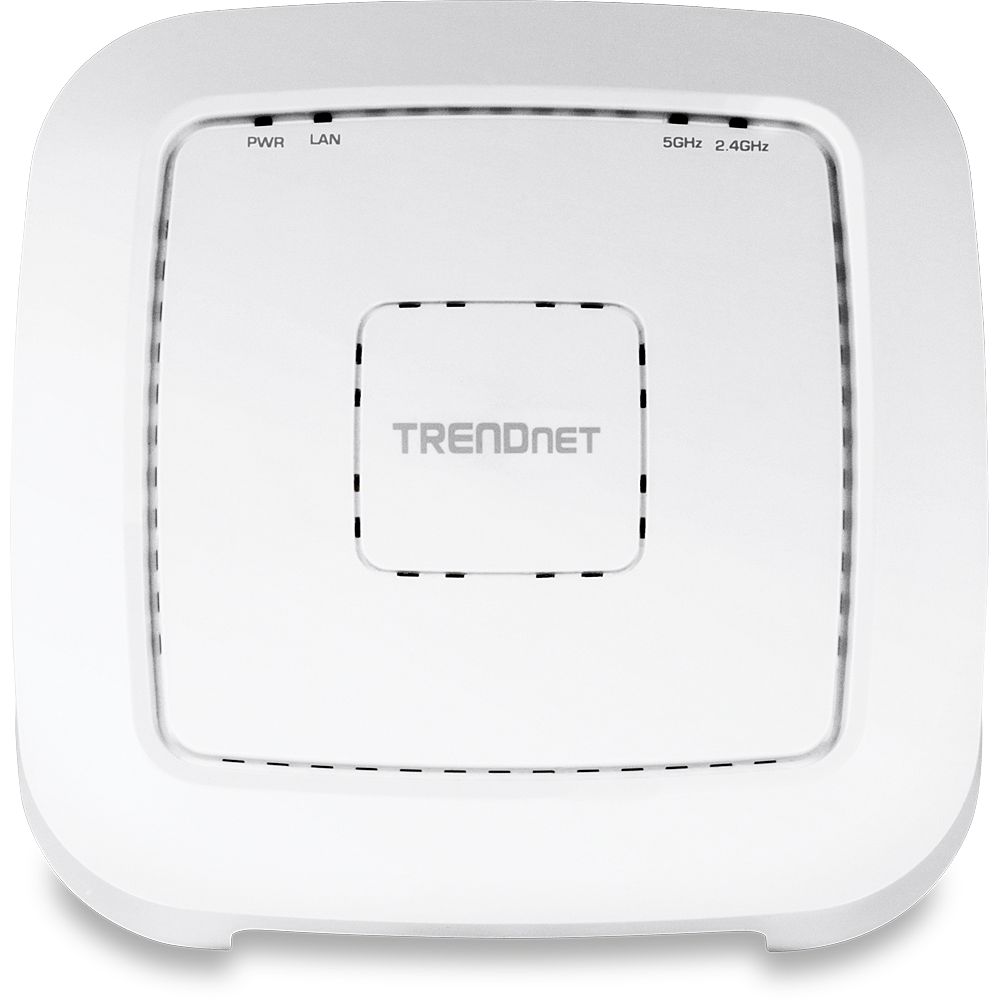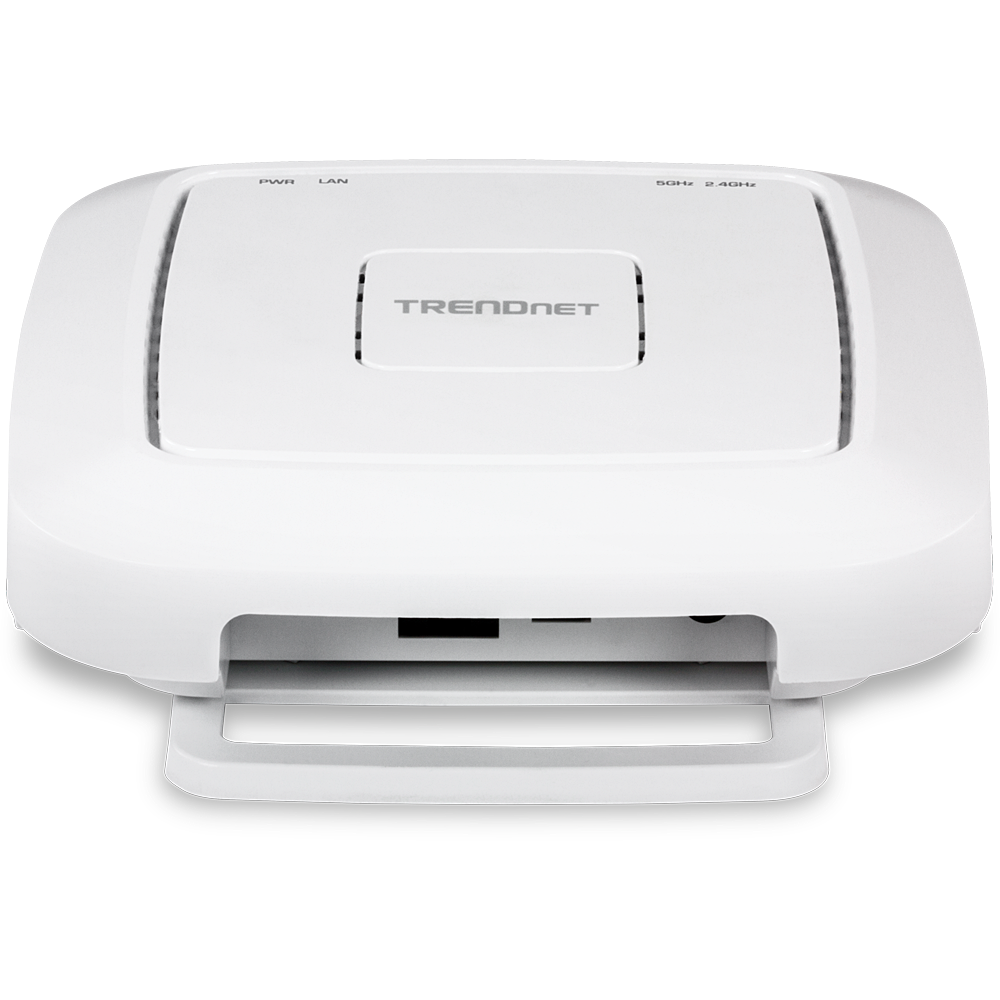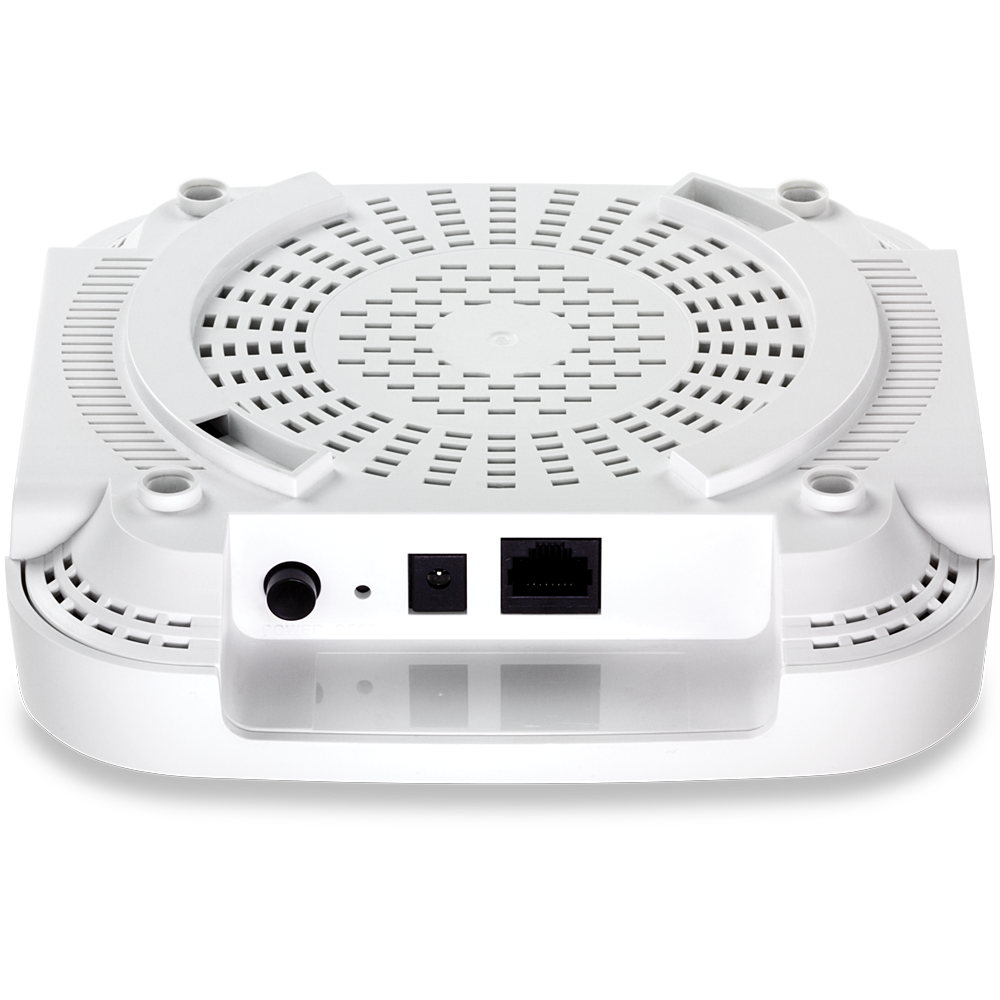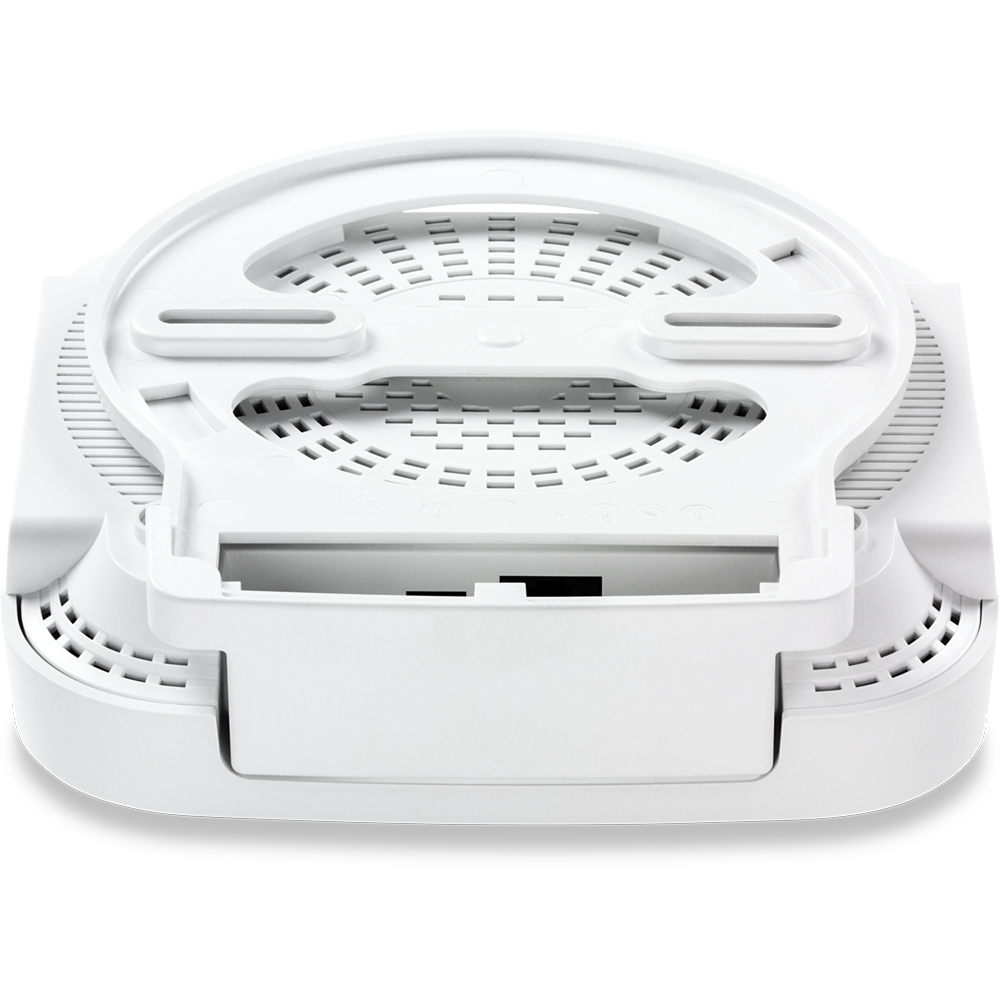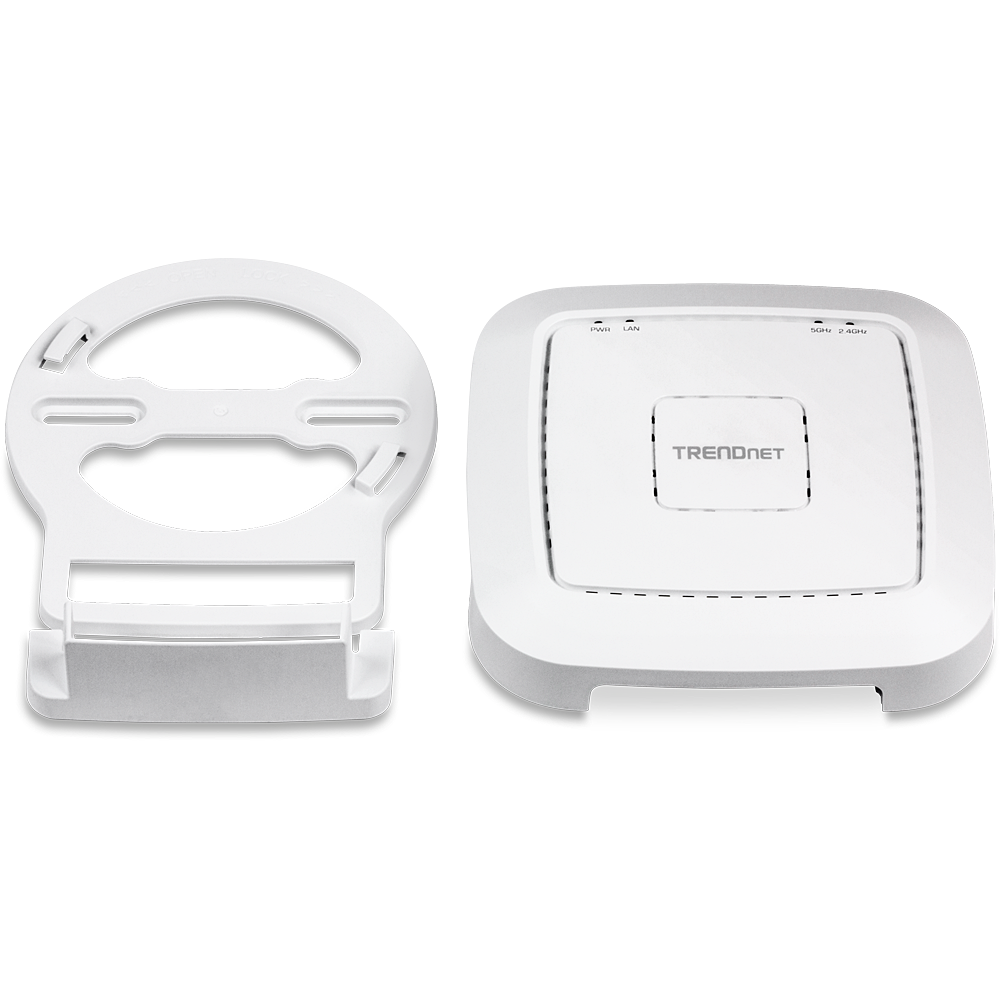 AC1200 Dual Band PoE Indoor Wireless Access Point (Certified Refurbished)
RB-TEW-821DAP (Version v2.0R)
High performance AC1200 PoE access point
Wireless AC wave 2 MU-MIMO technology boosts performance in a busy home
AC1200: concurrent 867Mbps WiFi AC + 300Mbps WiFi N bands
Access Point, Client Bridge, WDS AP, WDS Bridge, WDS Station, and Repeater modes
Gigabit PoE LAN port
Low-profile housing blends into most environments
Includes wall / ceiling mounting plate with cable guard
Captive portal for hotspot applications
Compatible with TRENDnet's TEW-WLC100 and TEW-WLC100P wireless controllers
NDAA / TAA compliant (U.S. and Canada only)

Utility
Utility Version
: 1.60
Release Date
: 10/2018
OS Compatibility
: Windows® 10, 8.1, 8, 7, Vista, XP, Windows® 2003/2008 Server
Note
:
Fixed issue uploading AP configuration files
Fixed issue upgrading firmware 1.07B07 to 1.08B04 on model TEW-821DAP H/W:v1.XR
Added support for TEW-826DAP H/W: v1.XR
*Any previous AP utility versions must be completely uninstalled before installing version 1.60 or above.*
Filename: Utility_APUtility(v1.60).zip
SHA-1 Checksum: 3B6FE7BEEFF0767B0E3A6DB74A16EDADC4813328
Date
10/10/2018
File Size
24.79 mb
Firmware
DO NOT upgrade firmware on any TRENDnet product using wireless connection.
Firmware upgrade over wireless connection may damage the product. Please perform firmware upgrade with "wired" network connection only
Firmware Version
: 3.00b06
Release Date
: 02/2023
Important Note:
:Connecting the device to your TRENDnet Hive cloud account will disable management and functionality with the TEW-WLC100/WLC100P controllers and AP software utility.If upgrading from 2.XX firmware, it is highly recommended to reset the device to factory default after upgrading.
Added TRENDnet Hive management compatibility
Updated GUI design
Filename: FW_TEW-821DAP_v2(3.00b06).zip
SHA-1 Checksum: 21E824C3DF54132608FC7F10378578D2C9749B92
Date
2/1/2023
File Size
14.18 mb
User's Guide
Filename: UG_TEW-821DAP(v2.0R).pdf
Date
5/23/2019
File Size
3.72 mb


Standards

IEEE 802.3
IEEE 802.3u
IEEE 802.3x
IEEE 802.3ab
IEEE 802.3af
IEEE 802.1Q
IEEE 802.11a
IEEE 802.11b
IEEE 802.11g
IEEE 802.11n (up to 300 Mbps)
IEEE 802.11ac Wave 2 (up to 867 Mbps)

Hardware Interface

1 x PoE Gigabit LAN port
Power port (optional non-PoE installation)
LED indicators
Mounting plate and cable guard
On/Off power button
Reset button

Features

802.11ac MU-MIMO Wave 2 support
IP30 rated housing (with mounting plate and cable guard installed)
Concurrent dual band
Band steering
WiFi traffic shaping
802.1Q VLAN assignment per SSID
IPv6 support (Link-Local, Static IPv6, Auto-Configuration (SLAAC/DHCPv6))
Multi-Language interface, English, French, Spanish, German, Russian
LEDs on/off
Captive Portal (external Coovachilli server authentication)
Internal Captive Portal (Local user account authentication and customizable portal page)
802.11k intelligent radio resource management
RSSI Threshold (client signal strength and connectivity control)
Airtime Fairness

Operation Modes

Access Point
Client Bridge
WDS AP
WDS Bridge
WDS Station
Repeater

Management/Monitoring

Web based management
AP software utility
SNMP v1/v3
STP
Event logging
Ping test
Traceroute
CLI

Access Control

Wireless encryption: WEP, WPA/WPA2-PSK, WPA/WPA2-RADIUS
MAC filter
Maximum client limit

QoS

WMM
Bandwidth control per SSID or client

SSID

Up to 8 SSIDs per wireless band (16 total)

Frequency

2.4GHz: 2.412 – 2.472GHz
5GHz: 5.180 – 5.8525GHz

Wireless Channels

2.4GHz: FCC: 1–11, ETSI: 1 – 13
5GHz: FCC: 36, 40, 44, 48, 149, 153, 157, 161 and 165 ETSI: 36, 40, 44, 48 (52, 56, 60, 64, 100,104,108,112,116, 132,136,140)**

Modulation

DBPSK/DQPSK/CCK for DSSS technique
BPSK/QPSK/16-QAM/64-QAM/256-QAM for OFDM technique

Antenna Gain

2.4GHz: 2 x 3 dBi internal
5GHz: 2 x 4 dBi internal

Wireless Output Power

802.11a: FCC: 19 dBm (max.) / CE: 19 dBm (max.) / IC: 19 dBm (max.)
802.11b: FCC: 23 dBm (max.) / CE: 10 dBm (max.) / IC: 23 dBm (max.)
802.11g: FCC: 19 dBm (max.) / CE: 12 dBm (max.) / IC: 19 dBm (max.)
802.11n (2.4 GHz): FCC: 19 dBm (max.) / CE: 12 dBm (max.) / IC: 19 dBm (max.)
802.11n (5 GHz): FCC: 19 dBm (max.) / CE: 19 dBm (max.) / IC: 19 dBm (max.)
802.11ac: FCC: 18 dBm (max.) / CE: 18 dBm (max.) / IC: 18 dBm (max.)

Receiving Sensitivity

802.11a: -65 dBm (typical) @ 54 Mbps
802.11b: -83 dBm (typical) @ 11 Mbps
802.11g: -65 dBm (typical) @ 54 Mbps
802.11n (2.4 GHz): -64 dBm (typical) @ 300 Mbps
802.11n (5 GHz): -61 dBm (typical) @ 300 Mbps
802.11ac: -51 dBm (typical) @ 867 Mbps

Power

IEEE 802.3af Type 1 PoE PD Class 3
Input: 100 - 240V AC, 50/60Hz, Output: 12V DC, 1A external power adapter (optional)
Max. consumption: 8W

Operating Temperature

0° – 40° C (32° – 104° F)

Operating Humidity
Certifications
Dimensions

163 x 165 x 44mm (6.4 x 6.5 x 1.7 in.)

Weight
Warranty:
PACKAGE CONTENTS
TEW-821DAP
Network cable (1.5m/5 ft.)
Quick Installation Guide
Power adapter (12V DC, 1A)
Mounting plate and cable guard
All references to speed are for comparison purposes only. Product specifications, size, and shape are subject to change without notice, and actual product appearance may differ from that depicted herein.