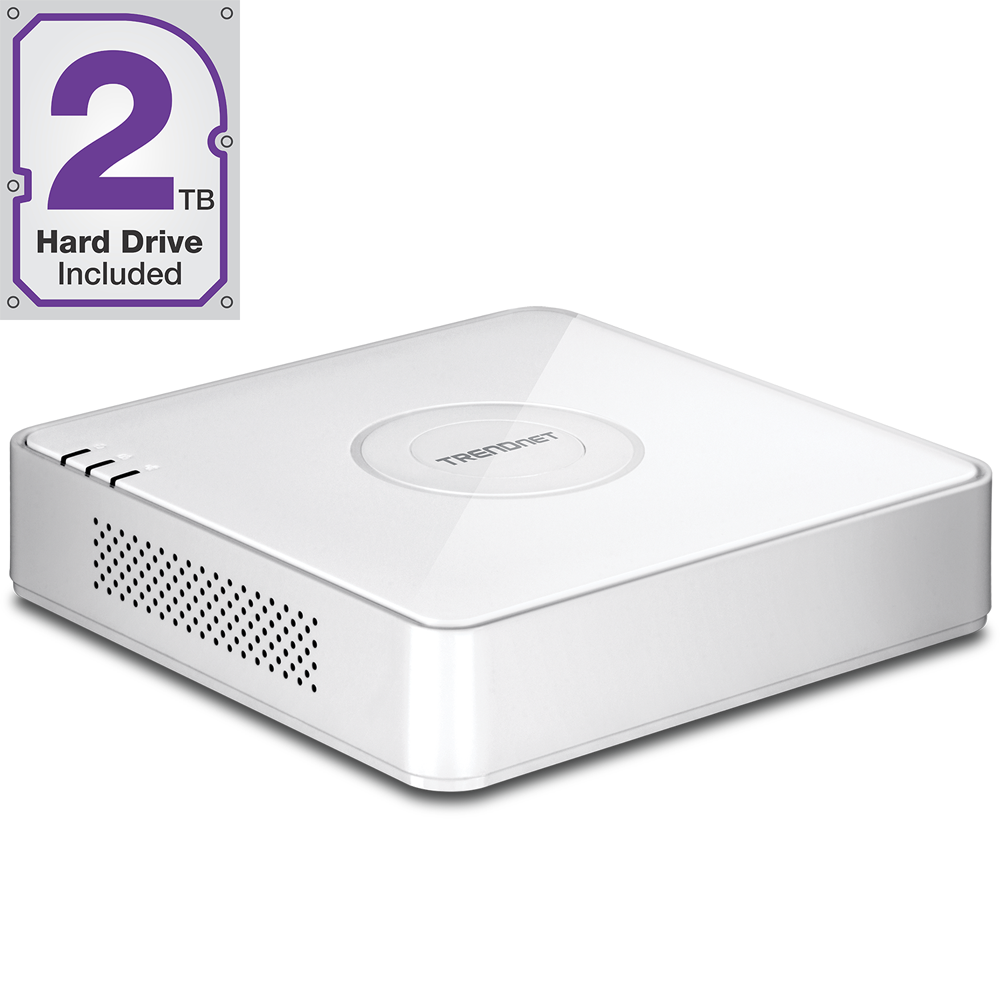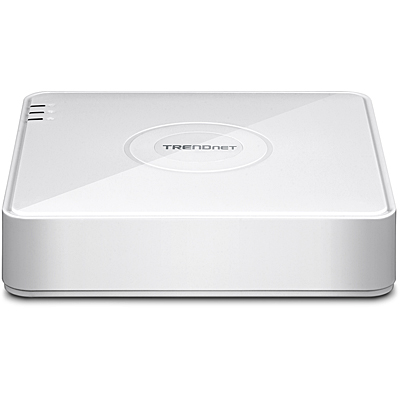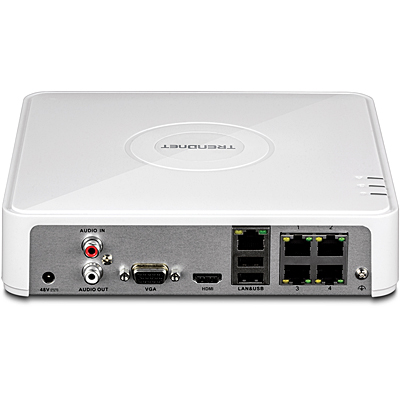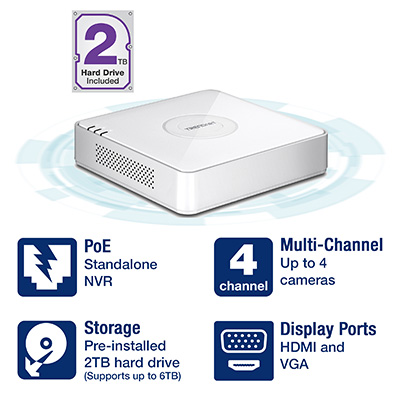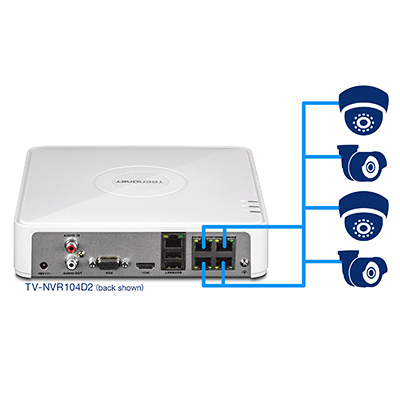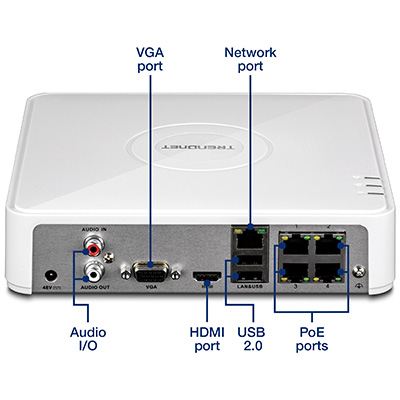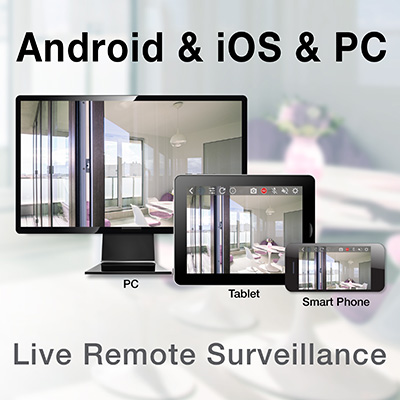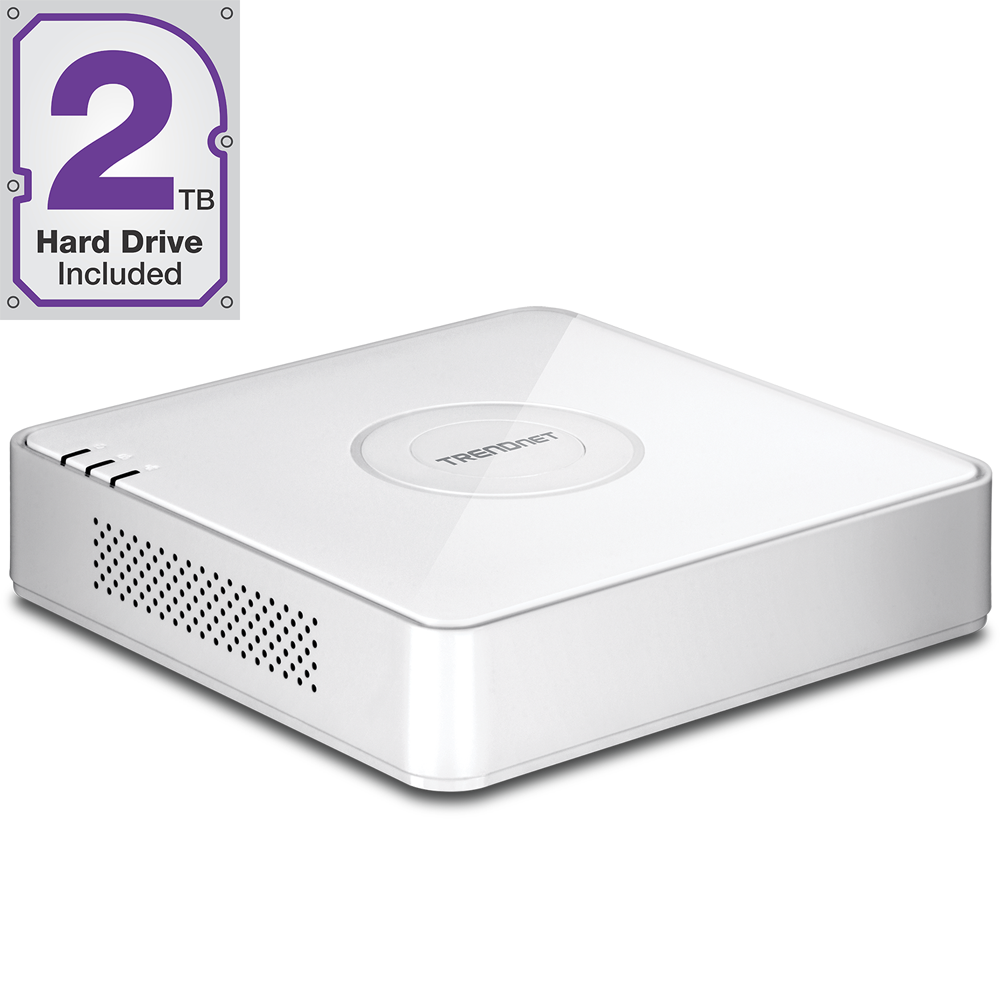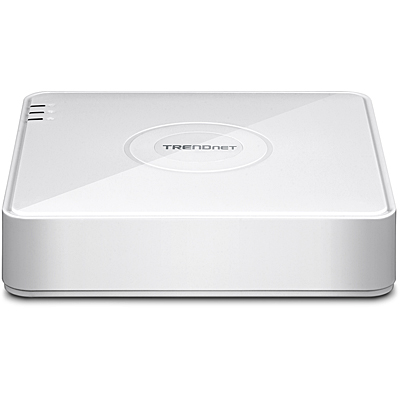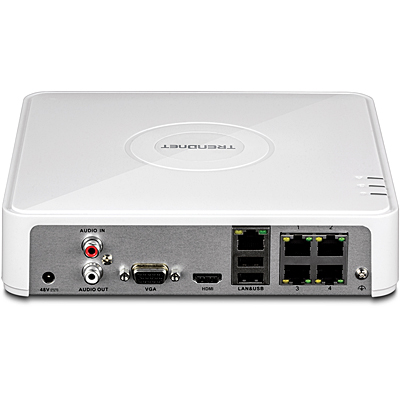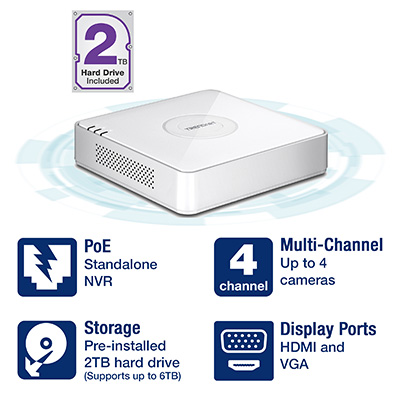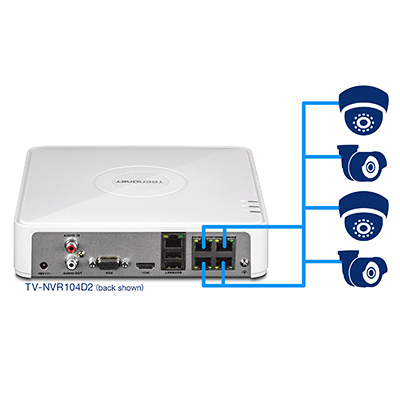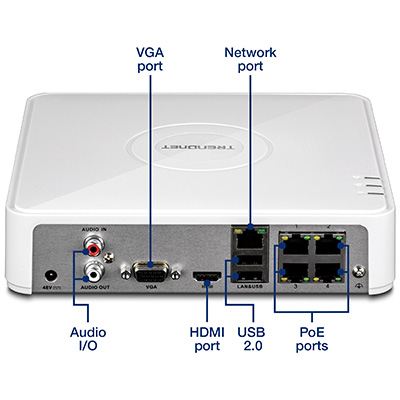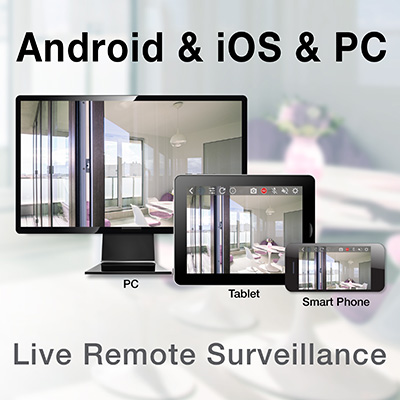 4-Channel HD PoE NVR with 2 TB HDD
TV-NVR104D2 (Version v1.0R)
Standalone 4-channel PoE network video recorder
Plug and play up to 4 TRENDnet PoE cameras*
Concurrent 720p video recording for all channels
Preinstalled 2 TB HDD provides two weeks of continuous 720p video recording***
One 3.5" SATA II bay support up to a 6 TB of storage**
Advanced video playback
PoE power budget: 35 W
Supports ONVIF compliant network camera
Utility
Filename: Storage_Calculator.zip
SHA-1 Checksum: 26BE8392F414FE137337AFF66224AE9B06F24406
Date
7/25/2017
File Size
18.52 mb
---
Filename: player.zip
SHA-1 Checksum: C71B448CD1E655D9A3CBADE38AB496EF3D04EC28
Date
7/25/2017
File Size
1.32 mb
Firmware
DO NOT upgrade firmware on any TRENDnet product using wireless connection.
Firmware upgrade over wireless connection may damage the product. Please perform firmware upgrade with "wired" network connection only
Version: 2.3.7
Date: 09/2015
Note:
Fix the Web GUI bug on schedule recording
Add URL of web plug-in for MAC on download link.
Supports TRENDnet IP View mobile app
Fix manual UPnP issue
Fix RTSP port number setting issue
Filename: FW_TV-NVR104_v2.3.7.zip
SHA-1 Checksum: 0D8C94891AA1C5E3BDB004A90D9BA8F43254BC24
Date
7/25/2017
File Size
7.27 mb
Software
Software Version: 2.5.9
Release Date: 4/2017
Notes:
Fixed TV-IP420P P/T issue
Filename: TRENDnetViewPro(2.5.9).zip
SHA-1 Checksum: 7CD1D9AE621816395E9FE9644B651F3696388215
Date
7/25/2017
File Size
41.15 mb
Other
Date
11/29/2016
File Size
5.02 mb
User's Guide
Filename: UG_TV-NVR104(v1.0R).pdf
Date
11/29/2016
File Size
8.87 mb


Answer: Yes, an app is available for Android and iOS. Download the TRENDnet IPView app from the Google Play Store or the Apple App store. ...
Answer: To remotely access the TV-NVR104 you will need to forward TCP port 80 and TCP port 554 to the NVR in your router.  If the TV-NVR104 has a dynamically assigned IP address please make sure you use a DHCP reservation or set a static IP address on it to ensure the port forwarding rules remain...
Answer: The TV-NVR104 is not capable of displaying 1080p simultaneously on all four channels. Change the resolution on the cameras to 1280 x 960 on all cameras. This is the max resolution for four channel simultaneous viewing. ...
Answer: The default Username and Password are both admin. The first time you log into the TV-NVR104 you will be prompted to change the password. Do not forget this password. For security purposes the TV-NVR104 cannot be reset without TRENDnet technical support interaction. The TV-NVR104 is confi...
Answer: For security purposes, if you find yourself in need of restoring the TV-NVR104 to factory default settings you will need to contact TRENDnet technical support. Click Reset Password and provide the Serial Number to the support agent for a temporary access code. This code is time sen...
Ingresso video
Uscita video

Uscite display HDMI e VGA
Risoluzione: 1920 x 1080 (1080p), 1280 x 1024, 1280 x 720 (720p), 1024 x 758 @ 60 Hz

Audio

Audio analogico in / out (1.0 Vp-p, 1kΩ)

Memoria

Un 3.5" SATA I / II HDD o SSD fino a 6 TB di memoria

Standard di rete

IEEE 802.3
IEEE 802.3u
IEEE 802.3x
IEEE 802.3af

Interfaccia dispositivo

Porta di rete 10/100 Mbps
4 x porte di rete telecamera PoE 10/100 Mbps
1 x 2 TB HDD
2 x porte USB 2.0
Porta HDMI
Porta VGA
Porta analogica audio in
Porta analogica audio out
Porta di alimentazione
Indicatori LED (alimentazione, memoria e rete)
Punto di messa a terra

Protocollo di rete

IPv4, IPv6, UDP, TCP, ICMP, ONVIF v2.2
DHCP, NTP, DNS, DDNS, SMTP, FTP
HTTP, UPnP, RTSP, RTP, RTCP

Alimentazione

Ingresso: 100 - 240 V CA , 50 / 60 Hz, 1,5 A
Uscita: 48 V CC, 1 A
Consumo: 50 watt (con HDD e Max. PoE PD)
Budget di potenza PoE 35 watt

Temperatura d'esercizio

-10 - 55 °C (14 - 131 °F)

Umidità di funzionamento
Certificazioni
Dimensioni

205 x 198 x 45 mm (8.1 x 7.8 x 1.8 pollici)

Peso
Interfaccia di gestione

Vista Live: Telecamera singola o visuale quadrupla
Gestione della telecamera*:
Sul display dello schermo: nome della telecamera, data, settimana e formato data
Qualità dell'immagine: luminosità, contrasto, saturazione, tonalità, inversione dell'immagine
PTZ: pan(movimento orizzontale), tilt,(movimento verticale) zoom,(controllo focale dell'obiettivo) focus (messa a fuoco), iris (diaframma), preset points (punti prestabiliti), pattern (modello), funzione cruise fra i vari preset, patrol (ronda)
Rilevazione movimento: definire un' area personalizzata di rilevazione del movimento, sensibilità al movimento, e canali di attivazione
Maschere privacy: definire aree privacy personalizzate
Rilevazione manomissione video: azione attivata se il campo di visuale si oscura improvvisamente
Rilevazione perdita video: azione attivata se il video setup è perso
Registrazione programmata: rilevamento in continuo e di movimento
Registrazione video Registra fino a 720p HD video
Pianificazione festive per registrazioni pianificate personalizzate durante le festività nazionali
Playback avanzato: playback multicanale simultaneo e ricerca registrazioni video con eventi speciali o tag
Esportazione video: tag, cut e esportazione video clip
HDD: Formattazione video codificata, monitoraggio e testing dello stato di salute del disco S.M.A.R.T., rilevazione di settore danneggiato, quota di memoria allocata per ogni canale video, ricicla vecchie registrazioni o manda all'amministratore per email avvisi di disco pieno
Memoria USB esterna: aggiornamento firmware, importa / esporta file di configurazione e log, esporta file di registrazione video, ricerca e riproduce video direttamente dalla memoria esterna
Impostazioni vista dal vivo locale: definisce il layout dello schermo e la sequenza di visualizzazione del canale
Messaggi di allerta: memoria piena, errore di memoria, rete non connessa, conflitto IP, login non autorizzato, e eccezioni di registrazione
Servizi dinamici DNS supportati: Dyn.com e NO-IP.com
Impostazione della gestione: numero massimo di utenti 32
Grafici di traffico e statistiche per la gestione della rete
Supporto IPv6
Telecamera di rete conforme ONVIF supporta

Visualizzazione Remota e Gestione

Interfaccia utente compatibile con Internet Explorer® 9.0 o superiore, Safari® 4.0 o superiore

Garanzia
PACKAGE CONTENTS
TV-NVR104
1 x 2 TB Hard Drive
Network cable (1.8 m / 6 ft.)
Optical mouse
CD-ROM (User's Guide)
Quick Installation Guide
Power adapter (48 V DC, 1A)
Information provided in this document pertain to TRENDnet products and is subject to change at any time, without notice.