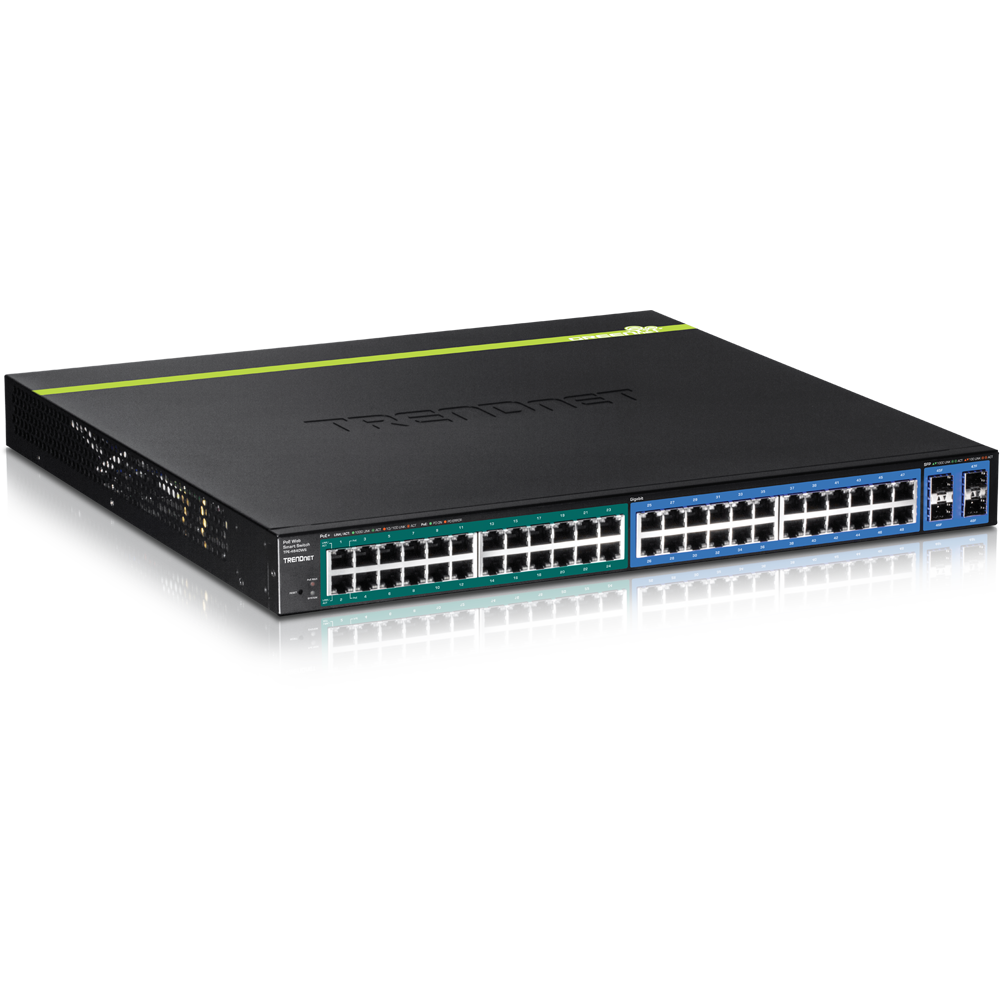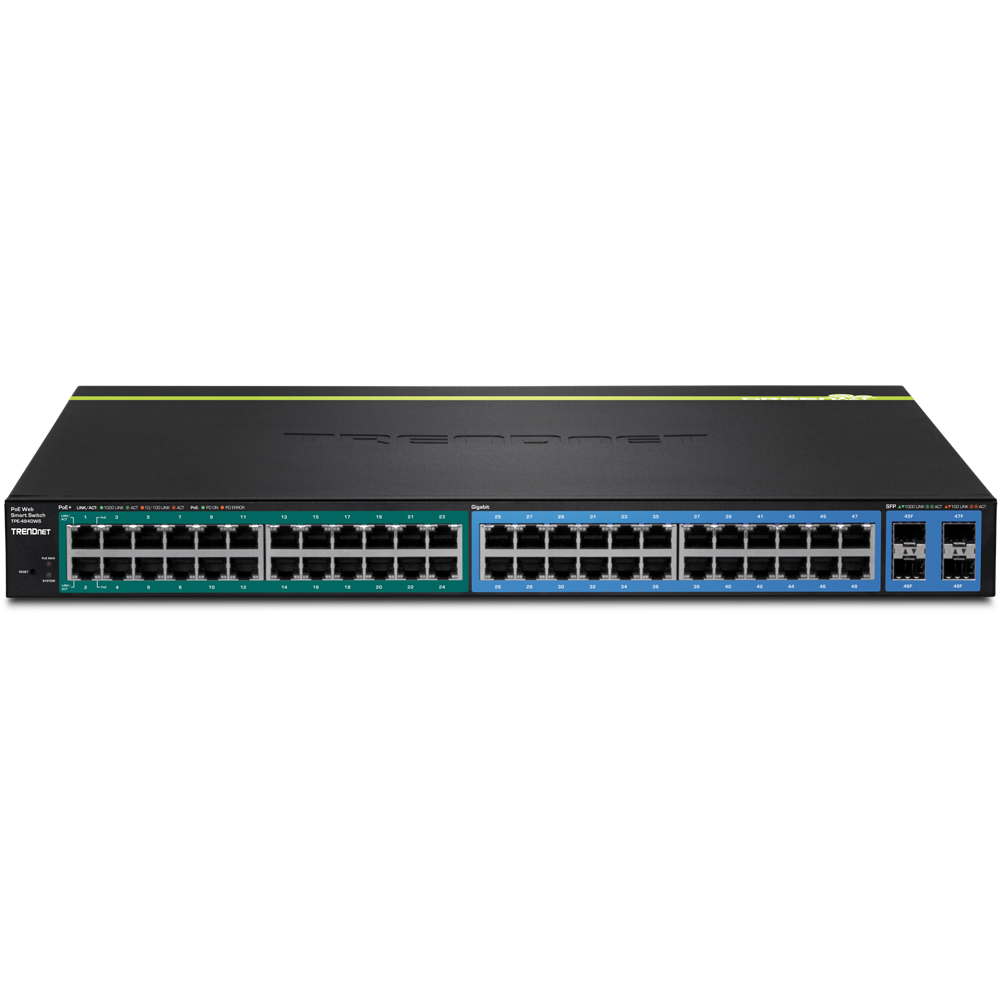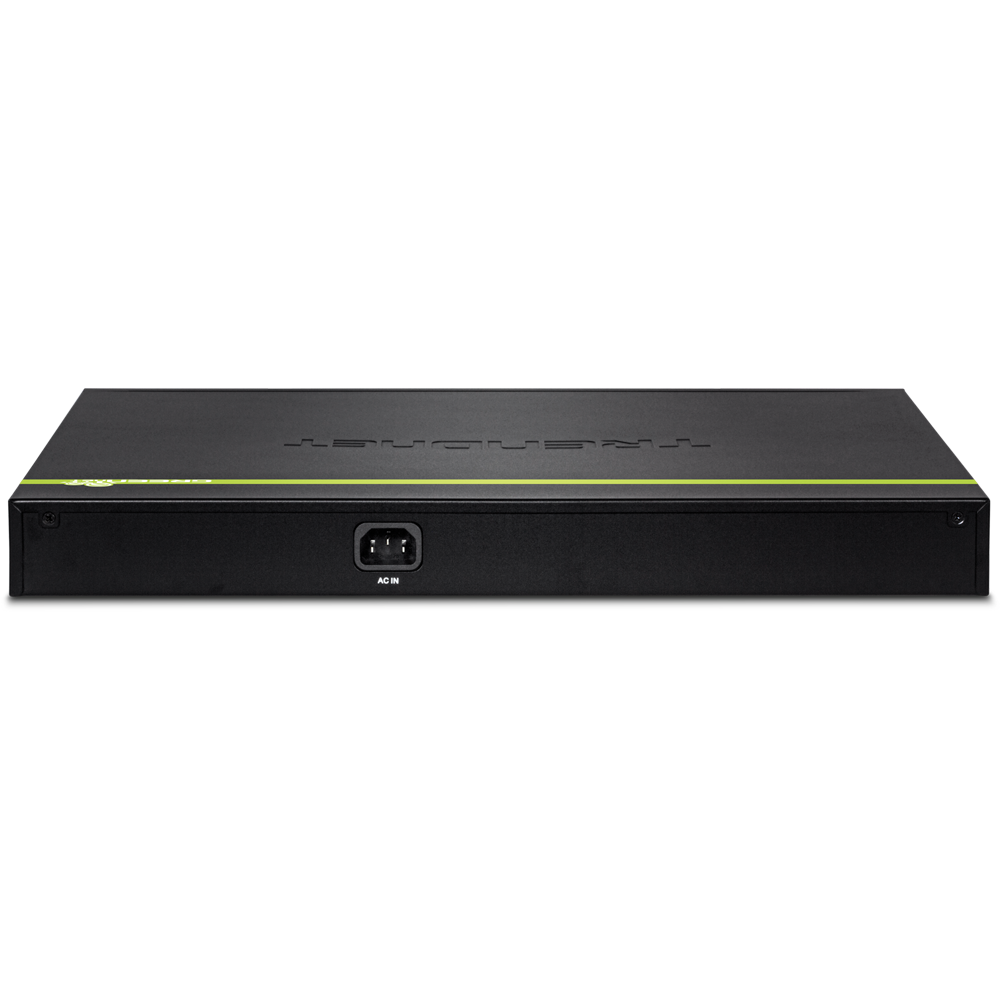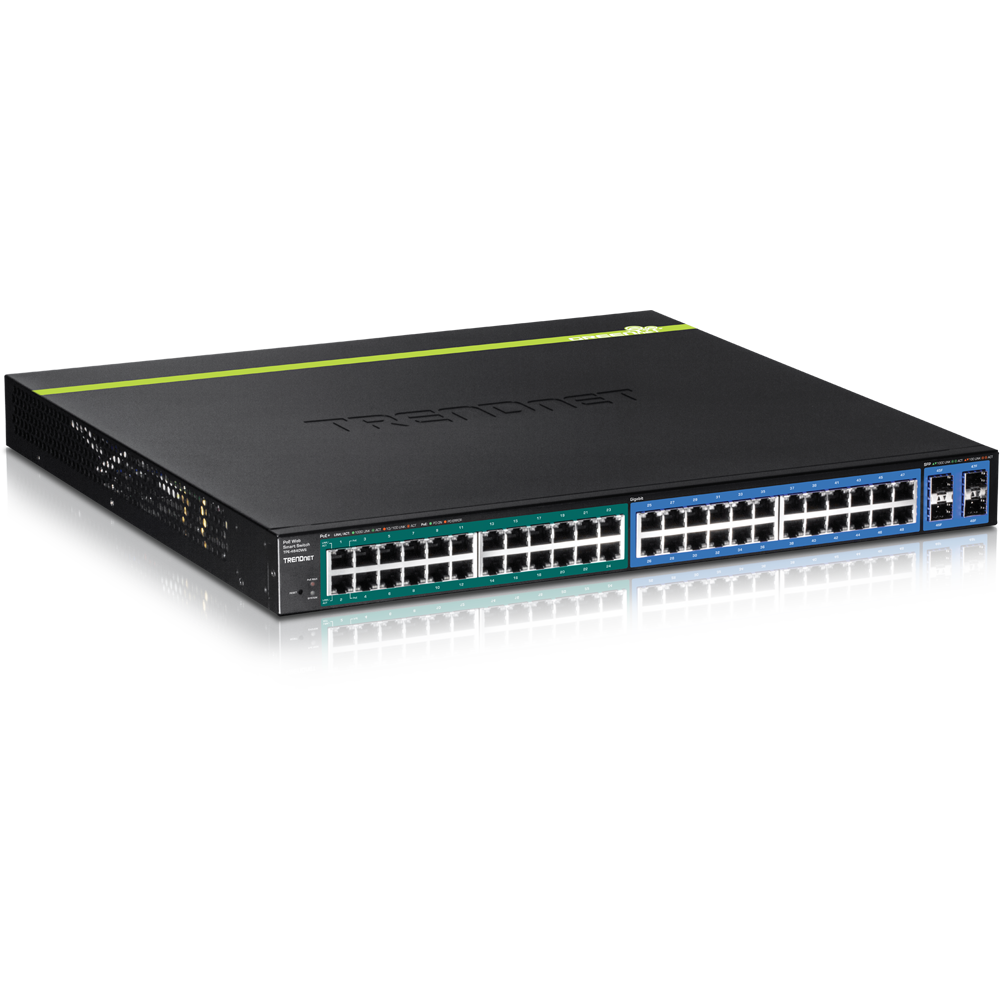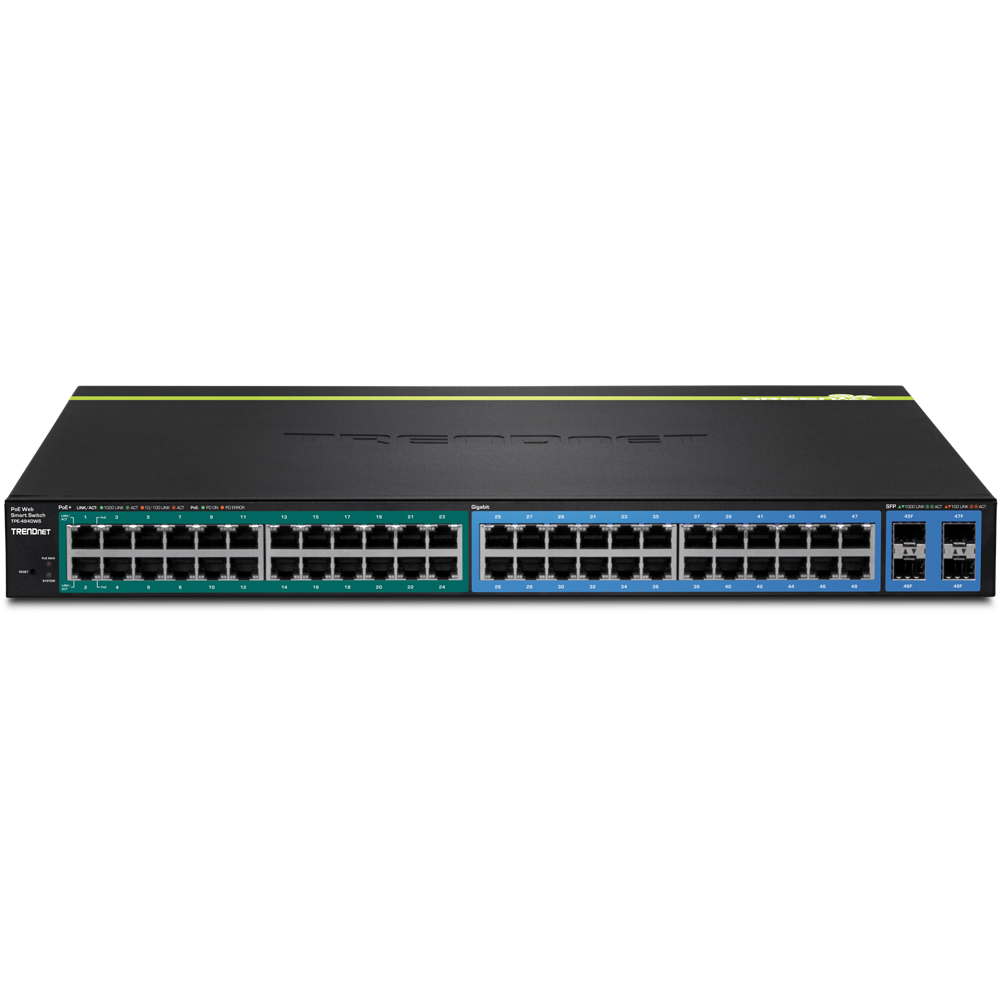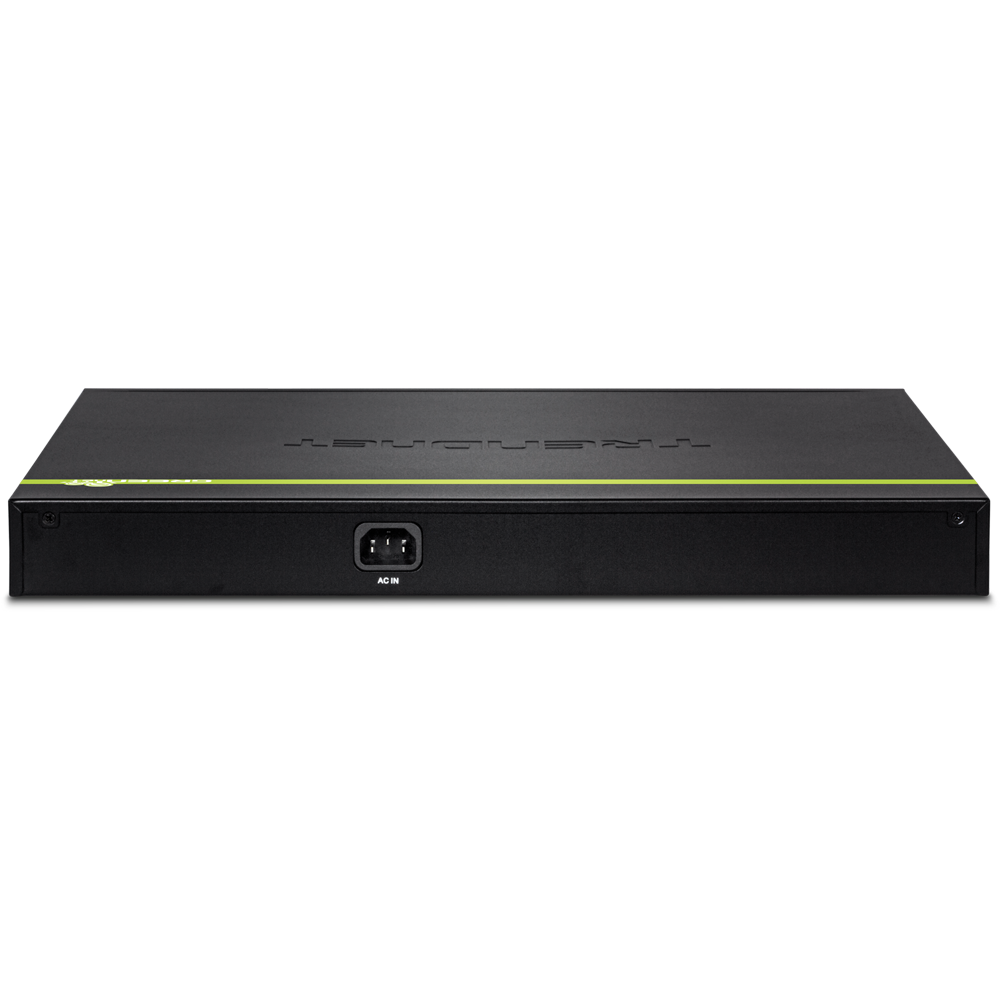 48-Port Gigabit Web Smart PoE+ Switch (Certified Refurbished)
RB-TPE-4840WS (Version v1.0R)
24 x Gigabit PoE+ ports
24 x Gigabit ports
4 x shared SFP slots
370 Watt PoE budget
96 Gbps switching capacity
Private/Voice VLAN, QoS, and bandwidth controls
Smart fans reduce energy consumption
Rack mount brackets included
Utility
Utility Version: 3.4
Release Date: 5/2014
OS Compatibility: Windows® 8.1, 8, 7, Vista, XP, Windows® 2003/2008 Server
Notes:
Initial Release
Filename: Utility_WebSmartManagement(v3.4).zip
SHA-1 Checksum: 7E6970B5C2AE0622C778A99FED84C699BFC2A70A
Date
7/28/2017
File Size
1.43 mb
Firmware
Firmware Version: 1.00.10
Release Date: 10/2018
Note:
Fixed PoE auto detection classification with some access points including TEW-826DAP.
Fixed PoE manual mode function by properly disabling two event handlers.
Added ability to specify port description.
Modified maximum length from 12 to 20 alphanumeric characters.
Fixed issue logging into the switch management GUI page after firmware upgrade.
Fixed issue changing switch IP address to other class B IP addresses other than 172.16.x.x/16.
Added IGMP fast leave to IGMP snooping settings.
Filename: FW_TPE-4840WS_v1(1.00.10).zip
SHA-1 Checksum: 45D9AFCDA622C8BF9B109A9254A24A92DF391AAD
Date
10/30/2018
File Size
10.25 mb
Other
MIB Version: 1.00.06
Release Date: 10/2018
Note:
Added parameter to specify port description.
Updated max. password length parameter from 12 to 20 alphanumeric characters.
Added IGMP querier and IGMP fast leave parameters.
Filename: MIB_TPE-4840WS_v1(1.00.06).zip
Date
10/30/2018
File Size
77.96 kb
User's Guide
Filename: UG_TPE-4840WS(v1).pdf
Date
11/2/2015
File Size
8.79 mb


Standards

IEEE 802.1D
IEEE 802.1Q
IEEE 802.1S
IEEE 802.1X
IEEE 802.1p
IEEE 802.1w
IEEE 802.1ab
IEEE 802.3
IEEE 802.3u
IEEE 802.3x
IEEE 802.3z
IEEE 802.3ab
IEEE 802.3ad
IEEE 802.3af
IEEE 802.3at
IEEE 802.3az

Device Interface

24 x Gigabit PoE+ ports (ports 1-24)
24 x Gigabit ports (ports 25-48)
4 x shared SFP slots (shared with ports 45 - 48)
LED indicators

Data Transfer Rate

Ethernet: 10 Mbps (half duplex), 20 Mbps (full duplex)
Fast Ethernet: 100 Mbps (half duplex), 200 Mbps (full duplex)
Gigabit Ethernet: 2000 Mbps (full duplex)

Performance

Switch fabric: 96 Gbps
RAM buffer: 1 MB
MAC Address Table: 16K entries
Jumbo Frames: 10 KB
HOL Blocking Prevention
Forwarding rates: 71.42 Mpps (64-byte packet size)

Management

HTTP/HTTPS (SSL v2/3 TLS) Web based GUI
SNMP v1, v2c, v3
RMON v1
Static Unicast MAC Address
Enable/disable 802.3az power saving
LLDP
Virtual cable test
IPv6: IPv6 Neighbor Discovery, IPv6 Static IP, DHCPv6, Auto configuration

MIB

MIB II RFC 1213
Bridge MIB RFC 1493
Bridge MIB Extension RFC 2674
SNMPv2 MIB RFC 1907
Ethernet Interface MIB RFC 1643
Ethernet–like MIB RFC 2863
Interface Group MIB RFC 2233
MIB Traps Convention RFC 1215
RMON MIB RFC 1757, RFC 2819
802.1p MIB RFC 2674
RADIUS Client Authentication MIB RFC 2618
LLDP-MIB IEEE 802.1ab
Ping MIB RFC 2925, RFC 4560

Spanning Tree

IEEE 802.1D STP (Spanning Tree protocol)
IEEE 802.1w RSTP (Rapid Spanning Tree protocol)
IEEE 802.1s MSTP (Multiple Spanning Tree protocol)

Link Aggregation

Static Link Aggregation
802.3ad Dynamic LACP

Quality of Service (QoS)

802.1p Class of Service (CoS)
DSCP (Differentiated Services Code Point)
Bandwidth control per port
Queue scheduling: strict priority, Weighted Round Robin (WRR)

VLAN

Multiple management VLAN assignment
Asymmetric VLAN
802.1Q tagged VLAN
Dynamic GVRP
Up to 256 VLAN groups, ID range 1-4094
Private VLAN (protected ports)
Voice VLAN (10 user defined OUIs)

Multicast

IGMP Snooping v1, v2, v3 (per VLAN)
Static Multicast Address
Up to 256 multicast entries

Port Mirror

RX, TX, or both
One to one
Many to one

Access Control

802.1X Port-Based Network Access Control, RADIUS, TACACS+
Local Dial In User Authentication
DHCP Snooping (per VLAN)
Loopback Detection
Duplicated Address Detection
Trusted Host
Denial of Service (DoS)

ACL IPv4 L2-L4 & IPv6

MAC Address
VLAN ID
Ether Type (IPv4 only)
IP Protocol 0-255
TCP/UDP Port 1-65535
802.1p
DSCP (IPv4 only)
IPv6 Address (IPv6 only)

Compatibility

Optional Software Utility: Windows® 8.1, 8, 7, Vista, XP, Windows® 2008/2003 Server

Power over Ethernet

Total PoE power budget: 370 Watts
PoE+ ports 1 – 24: up to 30 Watts per port
PoE over current protection
PoE short circuit protection

Power

Input: 100 – 240 V AC, 50/60 Hz, internal power supply
Consumption: 55.6 Watts (max. with no connected PoE devices)
Consumption: 425.6 Watts (max. with total 370W PoE budget )

MTBF
Operating Temperature
Operating Humidity
Dimensions

440 x 430 x 44 mm (17.3 x 16.9 x 1.7 in.)
Rack mountable 1U height

Weight
Certifications
Warranty
PACKAGE CONTENTS
TPE-4840WS
Multi-Language Quick Installation Guide
CD-ROM (Utility & User's Guide)
Power cord (1.8 m/6 ft.)
Rack mount kit
Information provided in this document pertain to TRENDnet products and is subject to change at any time, without notice.