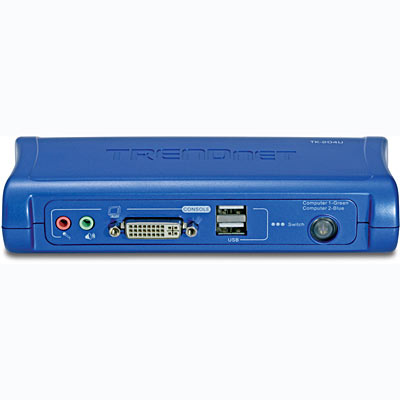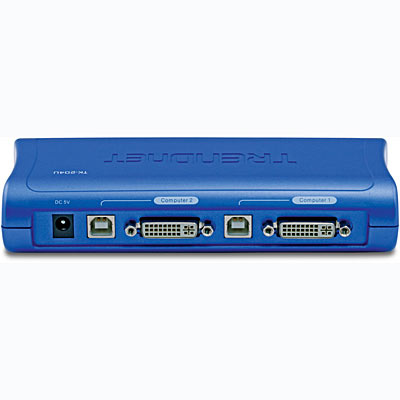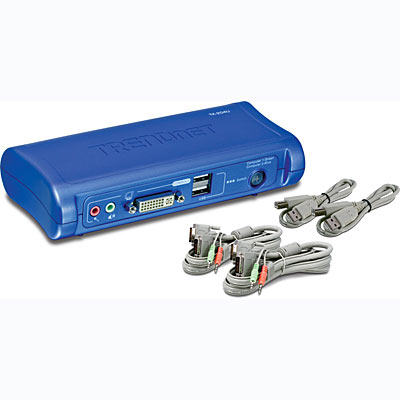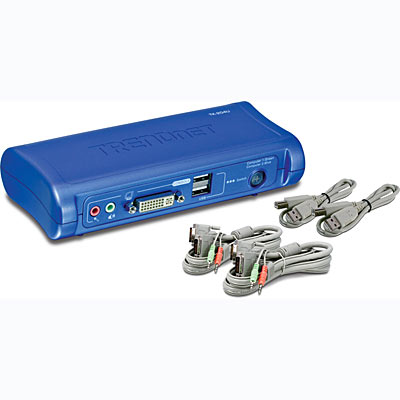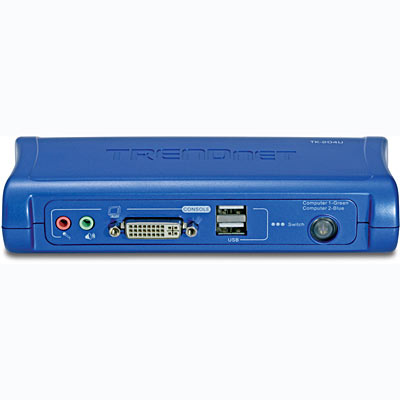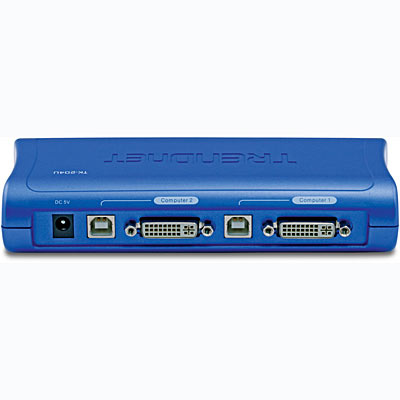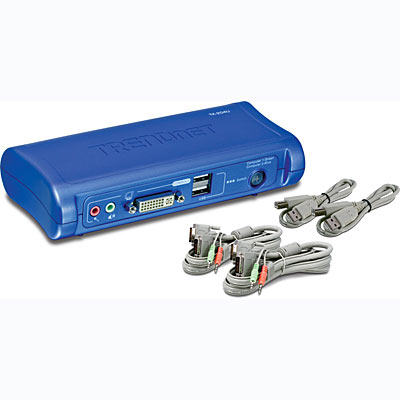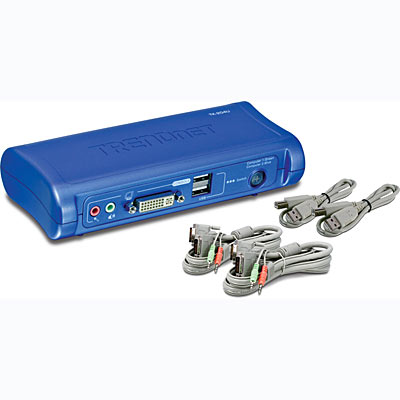 The 2-Port DVI USB KVM Switch with Audio Kit allows you to control 2 computers with one set of console controls featuring high definition Digital Video Image (DVI) technology. Manage 2 computers that have DVI and USB ports at the touch of a button with one set of USB keyboard, USB mouse, DVI monitor, microphone and speakers. Enjoy DVI quality images from both of your computers. No need for additional cabling, all required cables are included. Listen to music on one computer while working on the other. With Hot-Plug, Auto-Scan and Hot-Key operating features, this versatile device is the perfect choice for managing 2 computers.
2-port compact desktop DVI USB KVM switch with audio and mic
USB console support for USB keyboard, mouse and high-speed USB devices
Audio and microphone switching for uninterrupted multimedia experience across multi-platforms.
USB 2.0/1.1 specification compliant USB interface power
Independent simultaneous switching of both PC and audio and mic channel
Multi-platform support for PCs and Macintosh G3/G4, iMAC
Hot-plugging PCs for maintenance without powering down the KVM switch or PCs
Switching software client for easy software switching on Windows and Mac platform
User definable hotkeys additional universal port switching hotkey – ScrollLock + ScrollLock – for non-Windows OS on PC platform.
Channel selection by push button, keyboard hotkeys and switching software client (for Windows/Mac)
USB interface power LED indicators for easy status monitoring
Digital video resolution 1920 x 1200
2-year limited warranty
Hardware
Interface
PC Port connection

2 x USB type B
2 x DVI-I (integrated with audio&mic)

Console Port Connector

2 x USB Type A (keyboard & mouse & USB 2.0/1.1 Devices)
1x DVI 15-pin female
1 x 3.5mm audio jack
1 x 3.5mm mic jack

Cable

2 x detachable DVI/audio and mic combo cable 2 x USB cable

PC Selection

Push button, hotkeys, switching software (for Windows/Mac)

Keyboard/Mouse Emulation
LED

2 x (green – PC1 / blue – PC2)

VGA Resolution
Power

5V DC 2A external power adapter

Dimensions (L x W x H)
Weight
Temperature

Operating: 0° ~ 40°C (32° ~104° F)
Storage: -20° ~ 60°C (-4° ~ 140° F)

Humidity

0%~90% RH, non-condensing

Certification
PACKAGE CONTENTS
TK-204UK
2 sets of DVI-I dual link cables
Multi-Language User's Guide
Power Adapter
(5V DC, 2A)
All references to speed are for comparison purposes only. Product specifications, size, and shape are subject to change without notice, and actual product appearance may differ from that depicted herein.