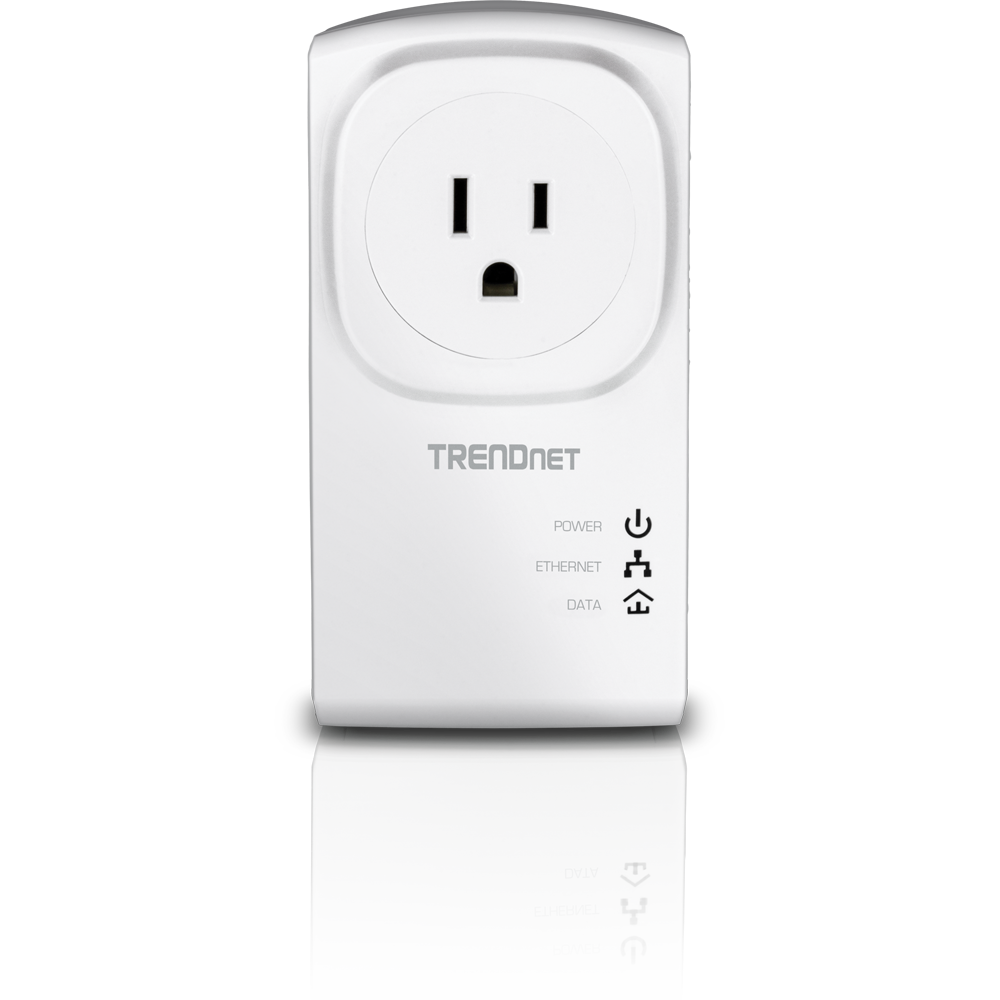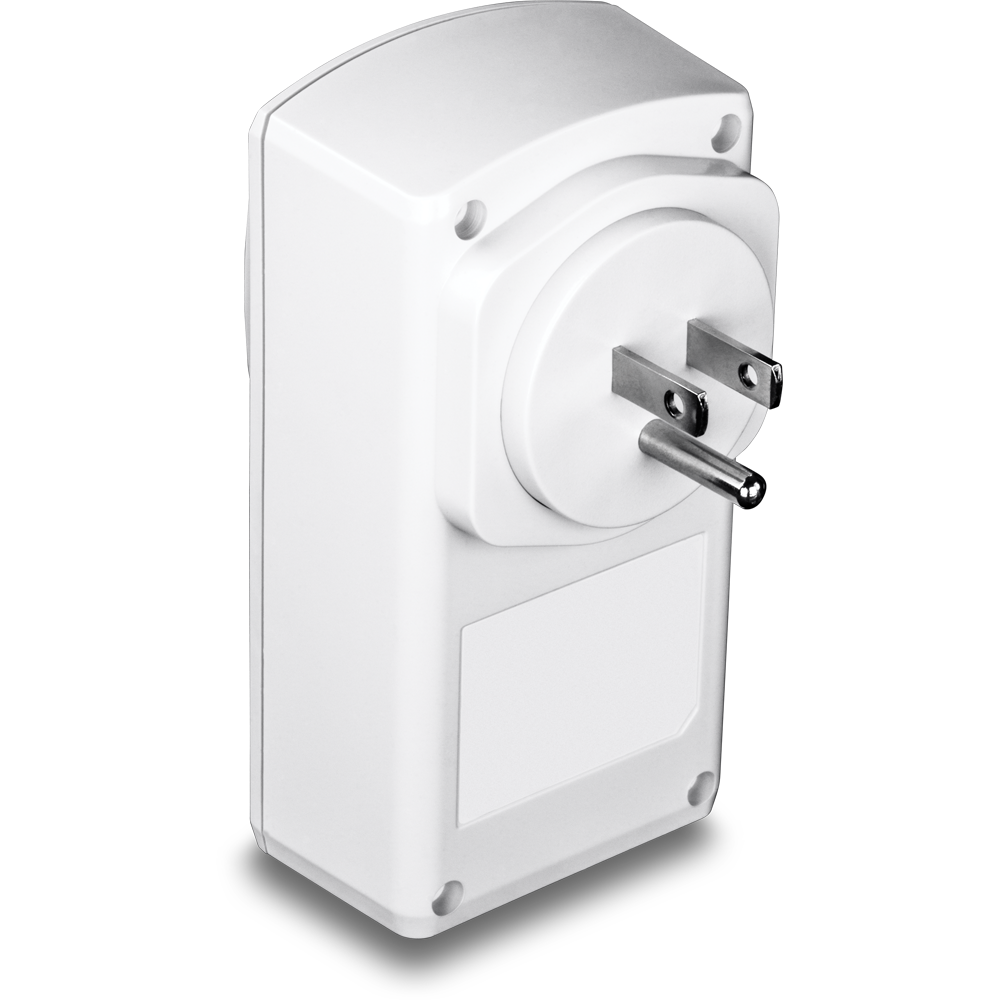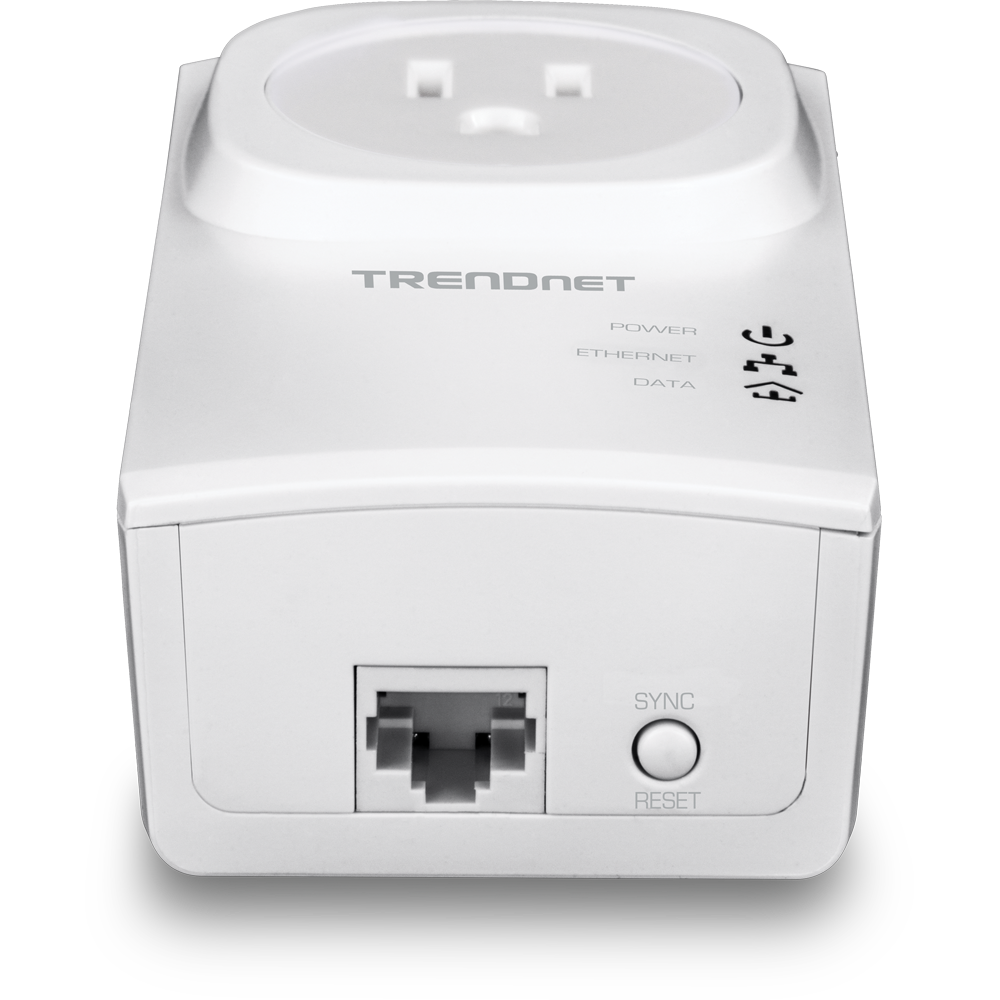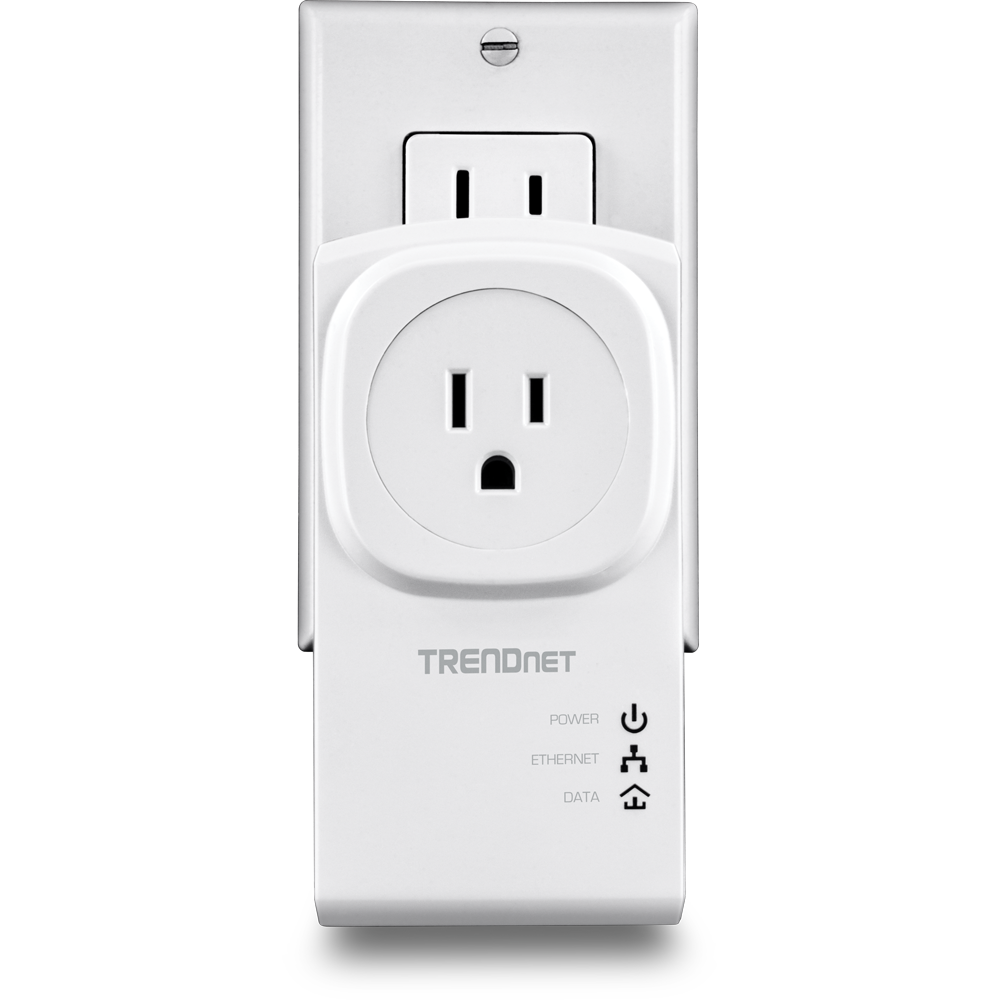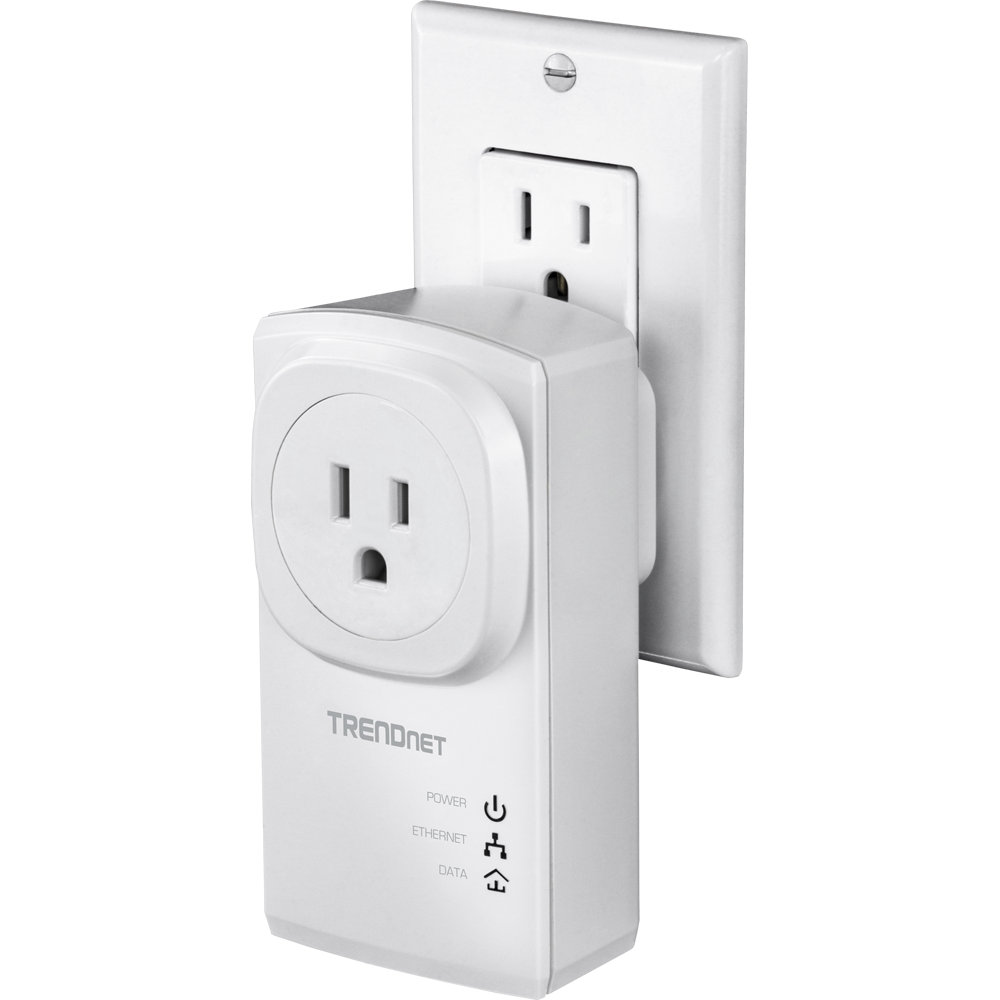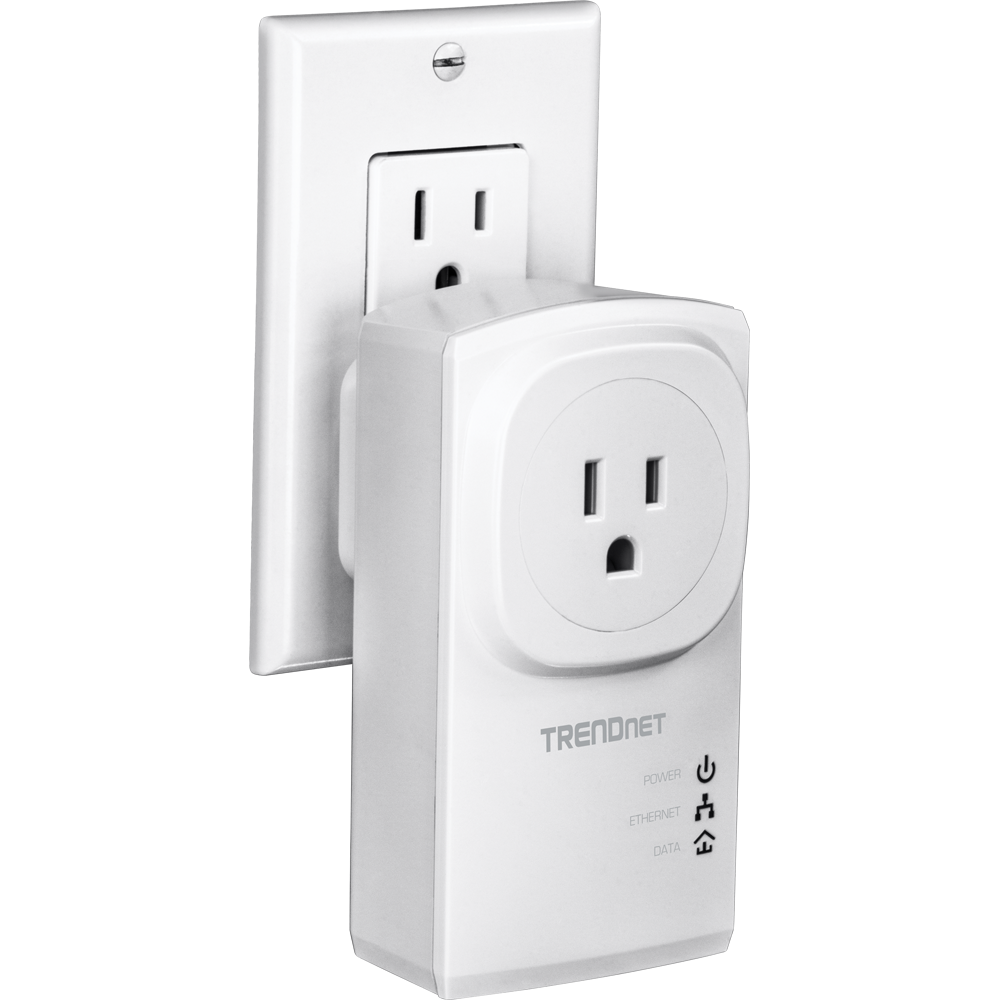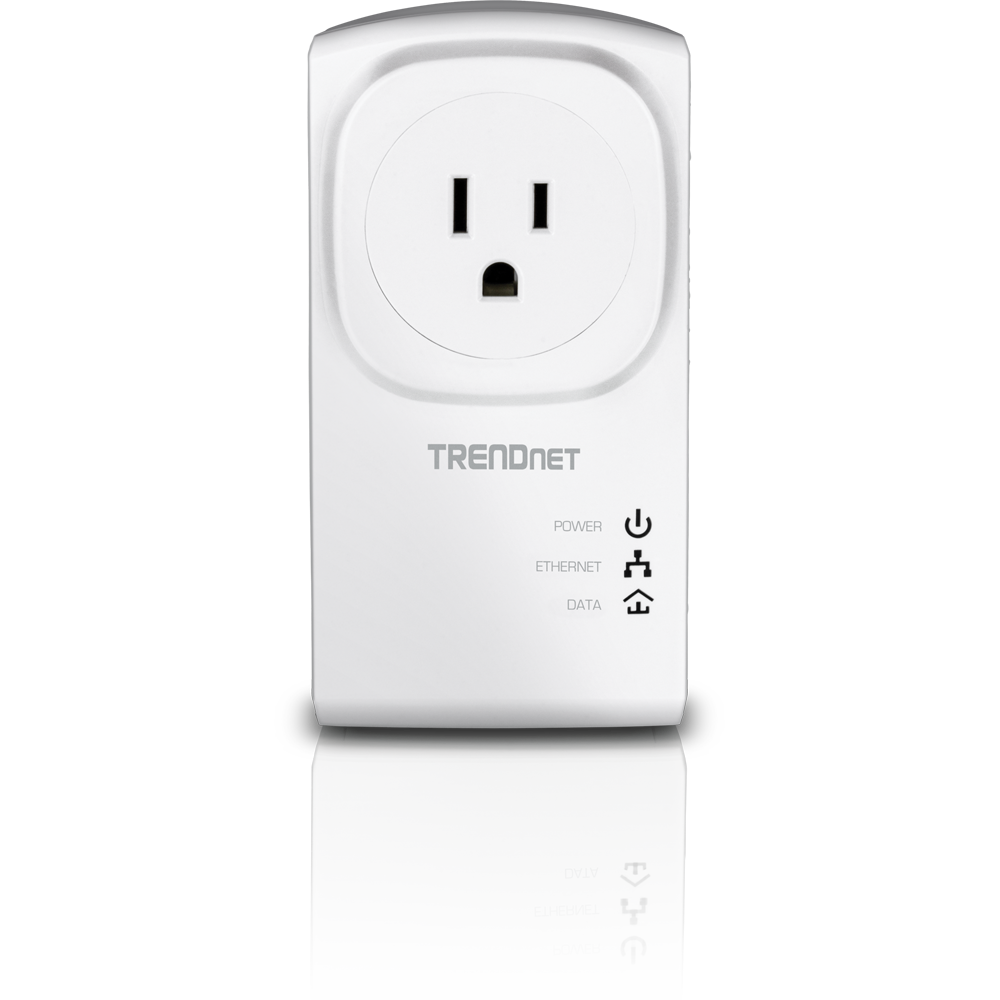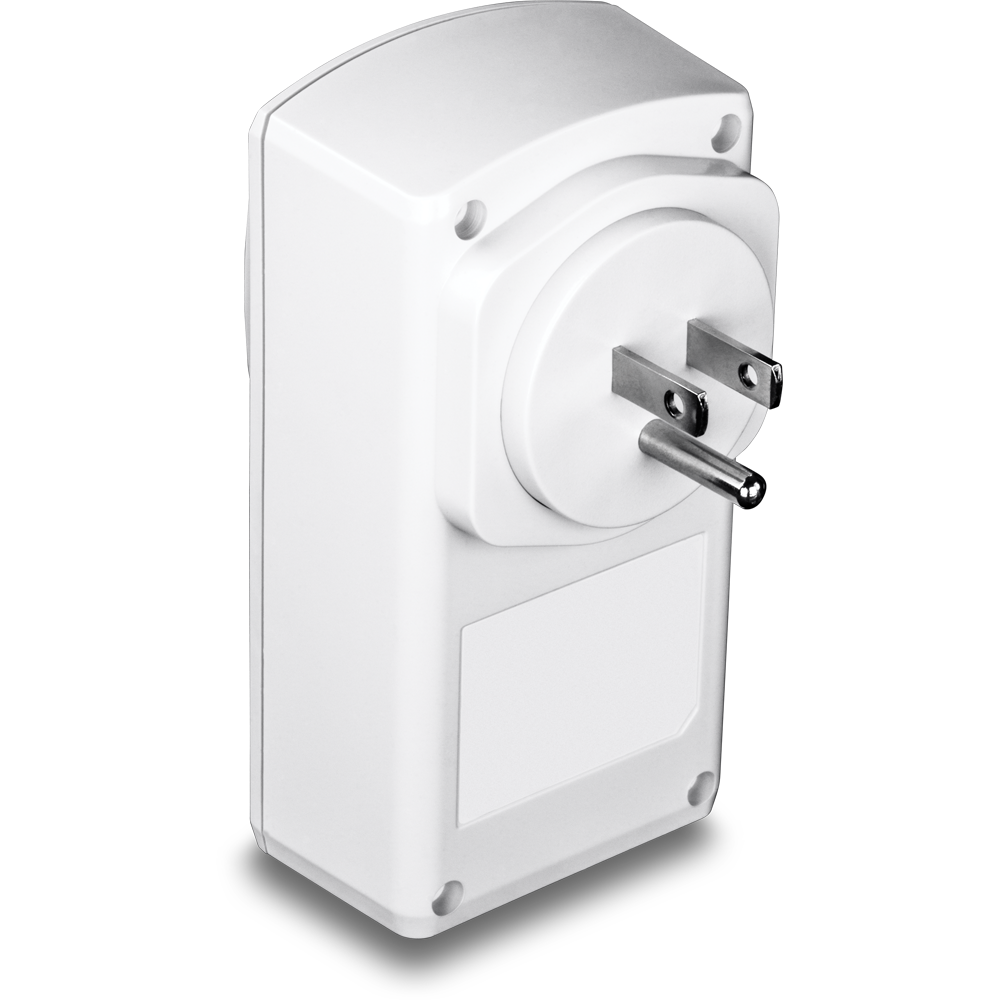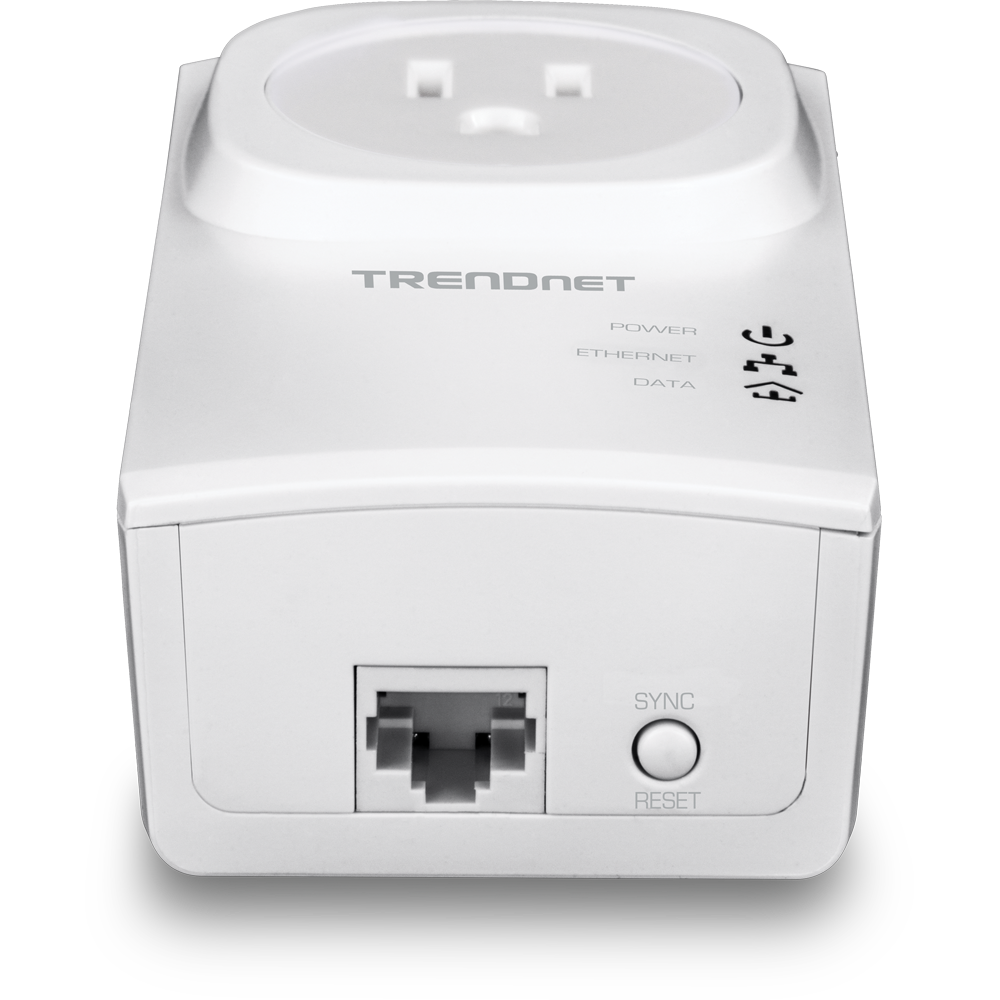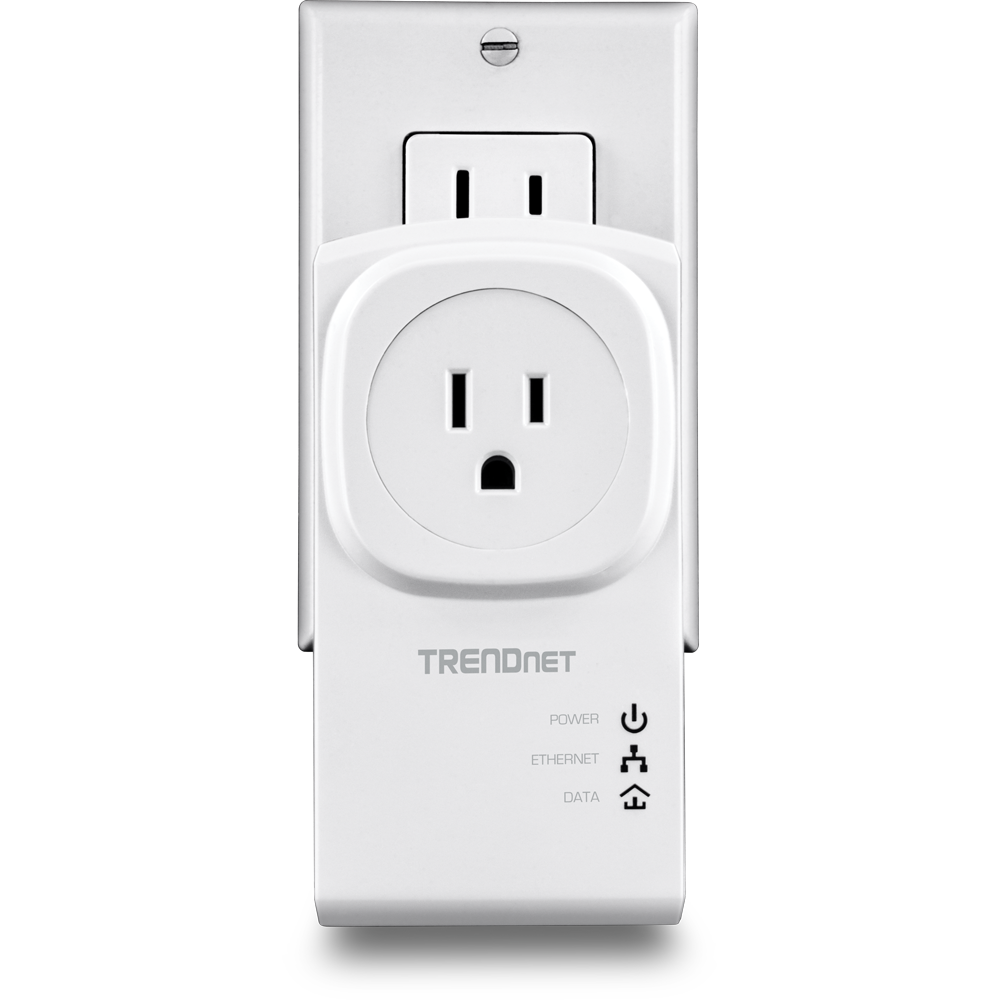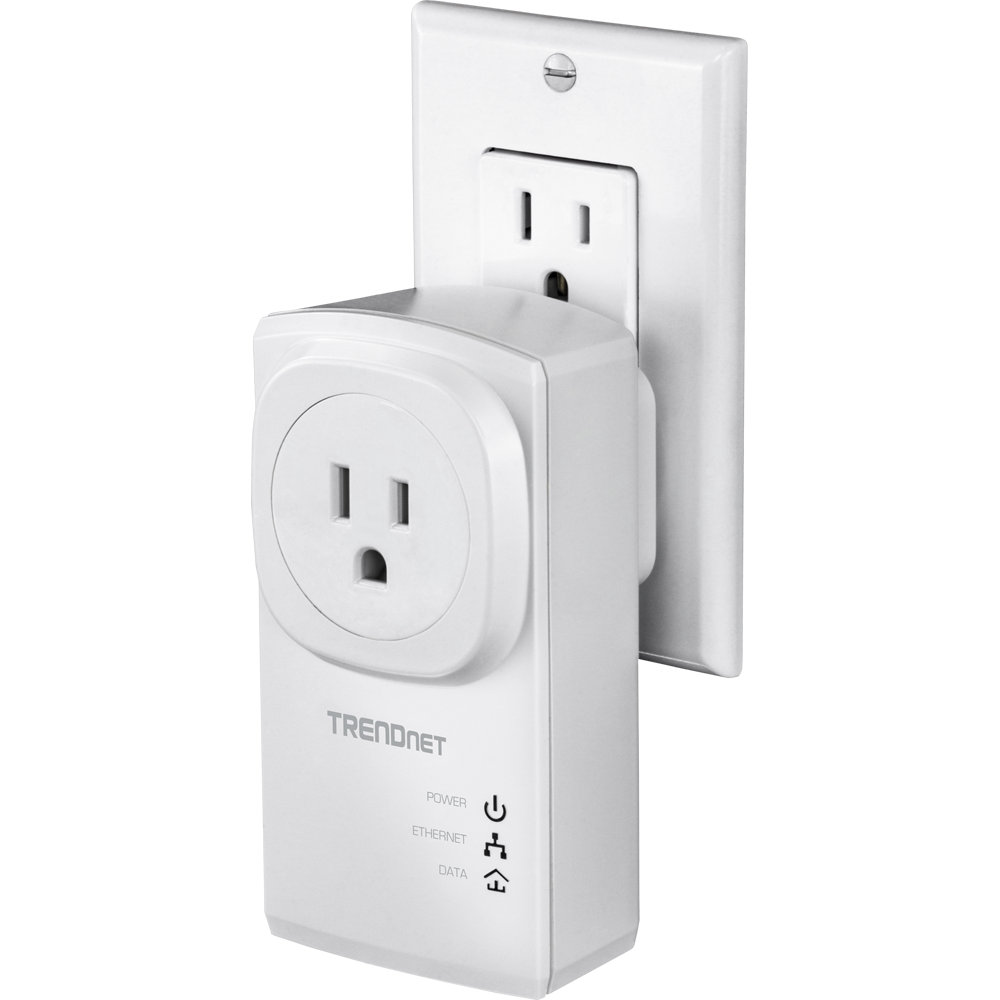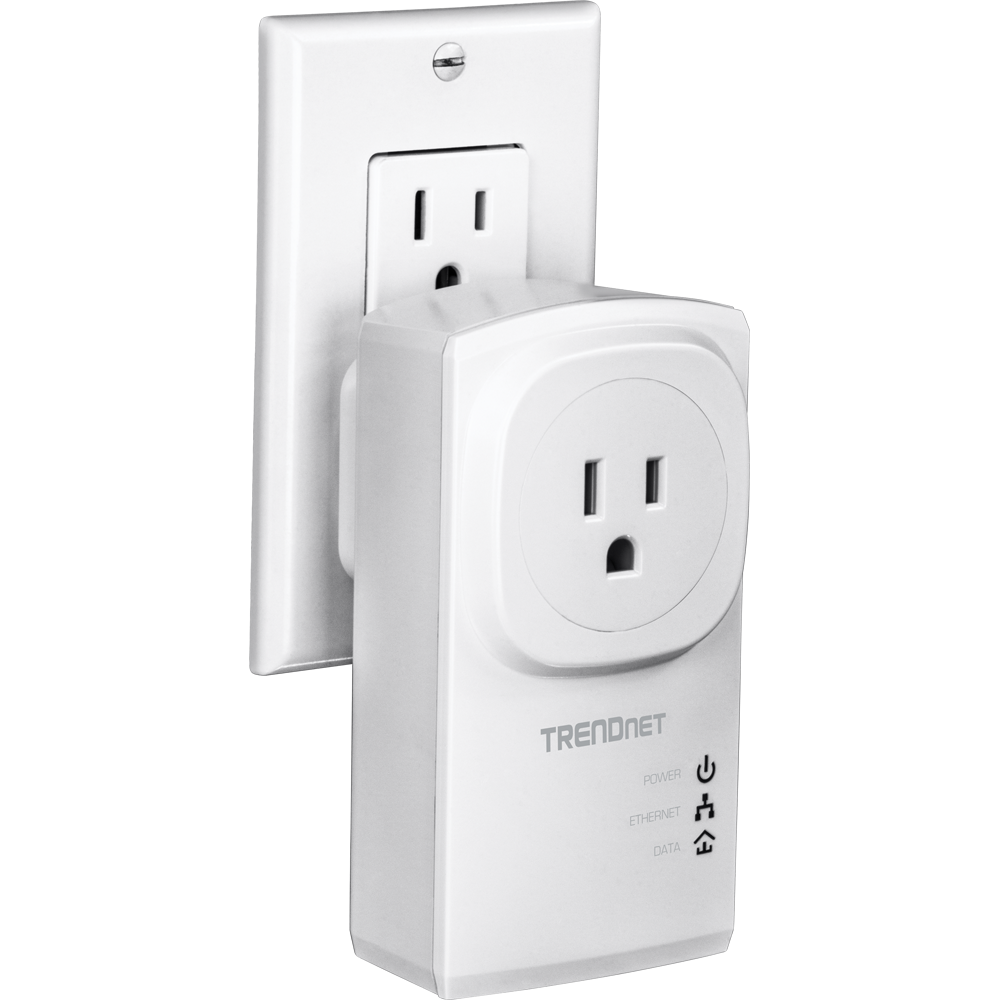 The Powerline 500 AV Adapter Kit with Built-In Outlet, model TPL-407E2K, uses existing electrical lines to create a high-speed network. Two adapters are needed to start a network. Connect one adapter to your router and plug another adapter into an outlet on your electrical system for instant high-speed network access. The compact form factor saves space and offers an additional electrical outlet.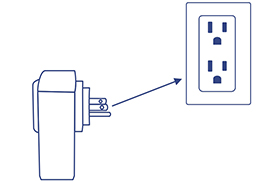 Plug In Install
Simply plug in TRENDnet adapters! The encrypted Powerline signal auto-connects over an existing electrical system.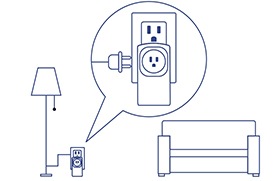 Built-In Outlet
With so many devices needing power, you don't lose an outlet when plugged in. Plug the adapter into an outlet, then plug a power strip into the adapter.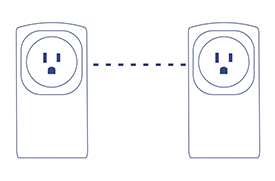 Network Stability
Ultra-stable Powerline networking is preferred by internet service providers.

Ease of Use

Adapters
Includes two TPL-407E adapters

Powerline 500
Powerline networking over existing electrical lines**

Built-In Outlet
Never lose an electrical outlet with the built-in socket-Plug the adapter into an outlet, then plug in other devices

Noise Filter
Advanced electrical noise filter boosts performance

Multiple Adapters
Two adapters are needs to start a network-use up to 8 adapters

Easy Installation
Simply plug in the adapters

Cross Compatible
Backward compatible with all Powerline 600, 500, and 200 adapters

Sync Button
Press the Sync button to change existing encryption keys

Energy Savings
Power Save mode reduces electrical consumption by up to 80%
Standards

IEEE 802.3
IEEE 802.3u
IEEE 802.3x
IEEE 1901

Device Interfaces

Ethernet port
Sync / reset button
Status LEDs
Power plug
A: North America Type B (NEMA 5–15)
EU: Euro Type C (CEE 7/16)
UK: United Kingdom Type G (BS 1363)

Frequency Band
Data PHY Rate
Networking Distance

Up to 300 m (980 ft.) linear distance over electrical power lines

Encryption

128-Bit AES (Advanced Encryption Standard)

Optional Utility: OS Compatibility

Windows® 10, 8.1, 8, 7, Vista, XP

Nodes
Overlapping Powerline Networks

Up to 4 (per electrical system)

Outlet Current

110V AC, 20A (max.)
220V AC, 16A (max.)

Power

Input: 100 – 240 V AC, 50/60 Hz
Consumption: Active mode: 2.7 Watts (max.); Standby mode: 0.34 Watts (max.)

Operating Temperature
Operating Humidity
Certifications
Dimensions

112 x 68 x 40 mm (4.4 x 2.7 x 1.1 in.)

Weight

A: 104 g (3.7 oz.)
EU: 190 g (6.7 oz.)
UK: 190 g (6.7 oz.)

Warranty
PACKAGE CONTENTS
2 x TPL-407E
Quick Installation Guide
2 x Network cable (1.5 m / 5 ft.)
All references to speed are for comparison purposes only. Product specifications, size, and shape are subject to change without notice, and actual product appearance may differ from that depicted herein.