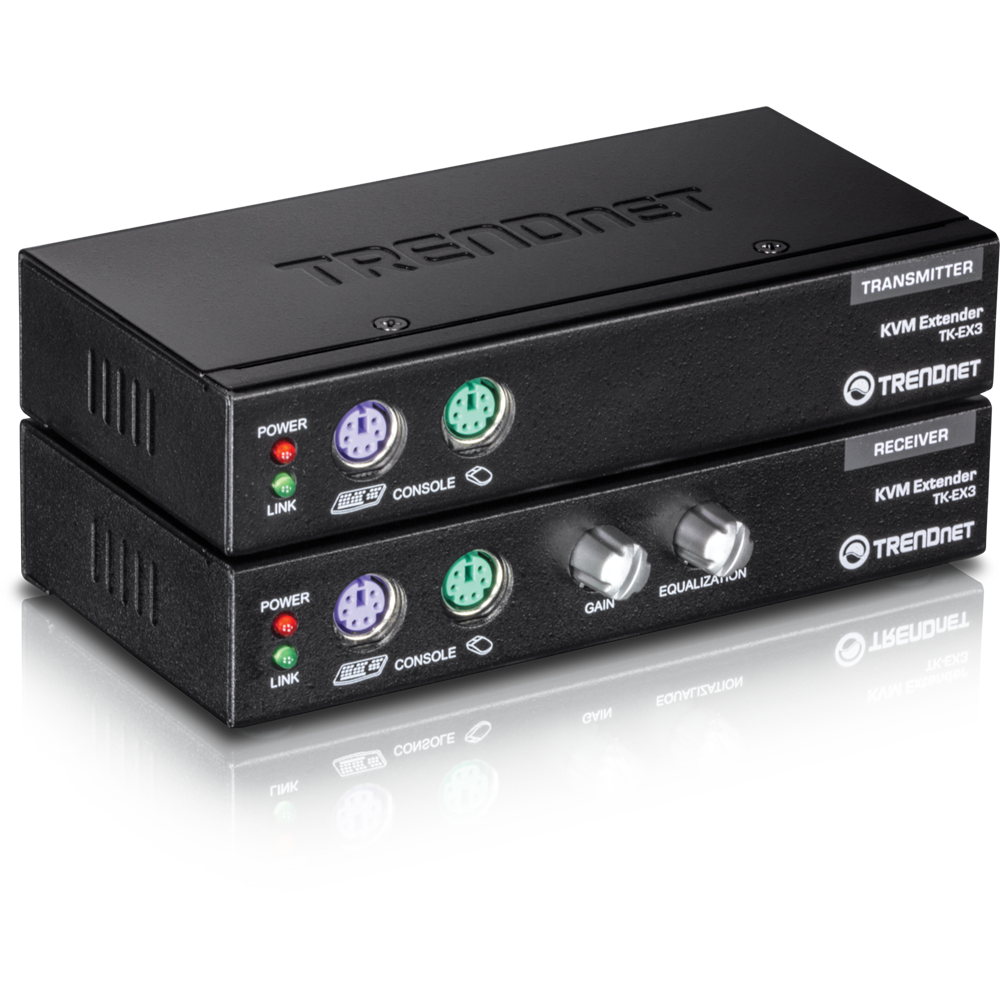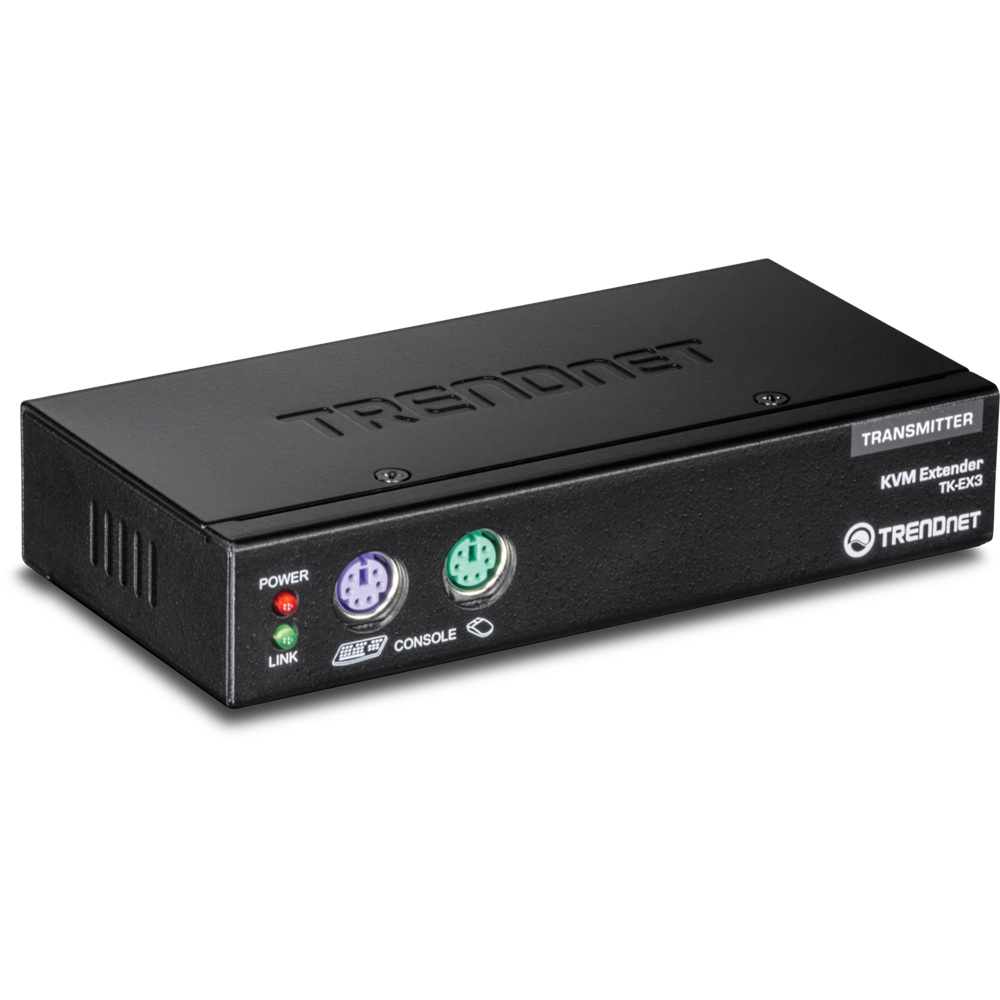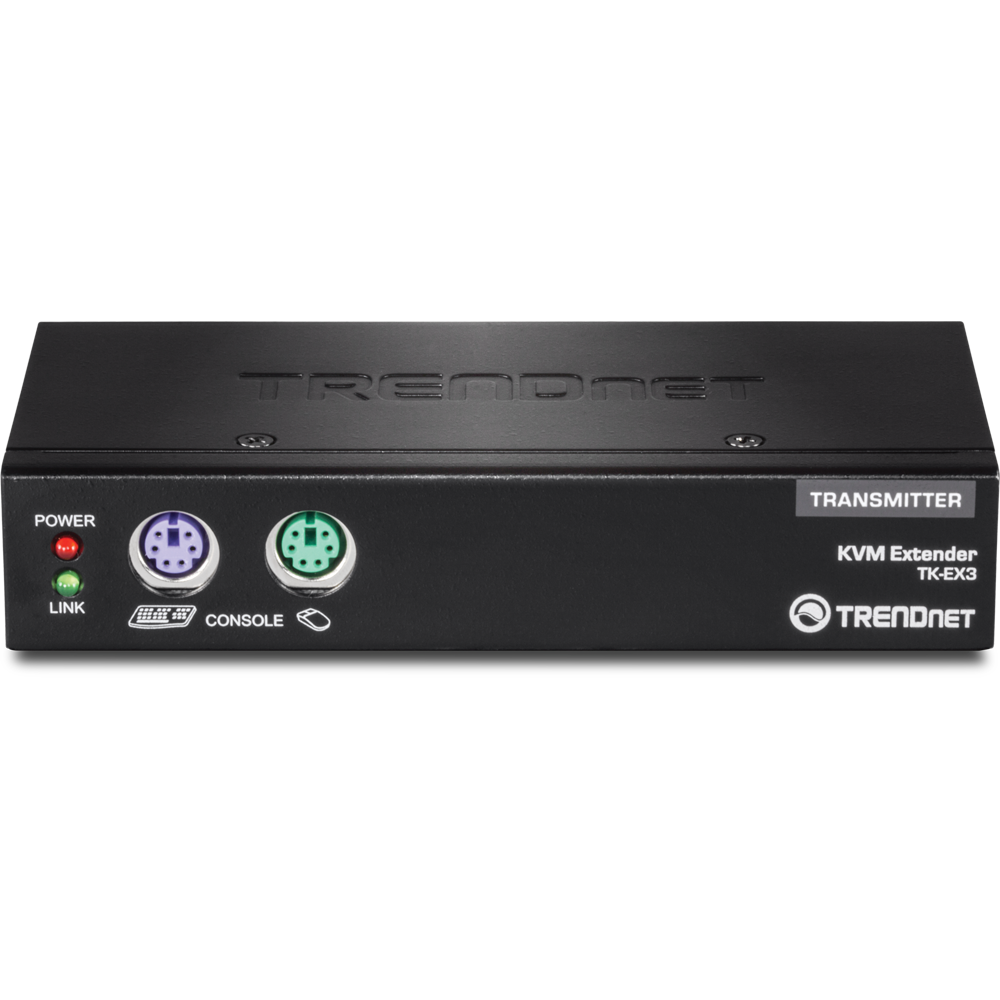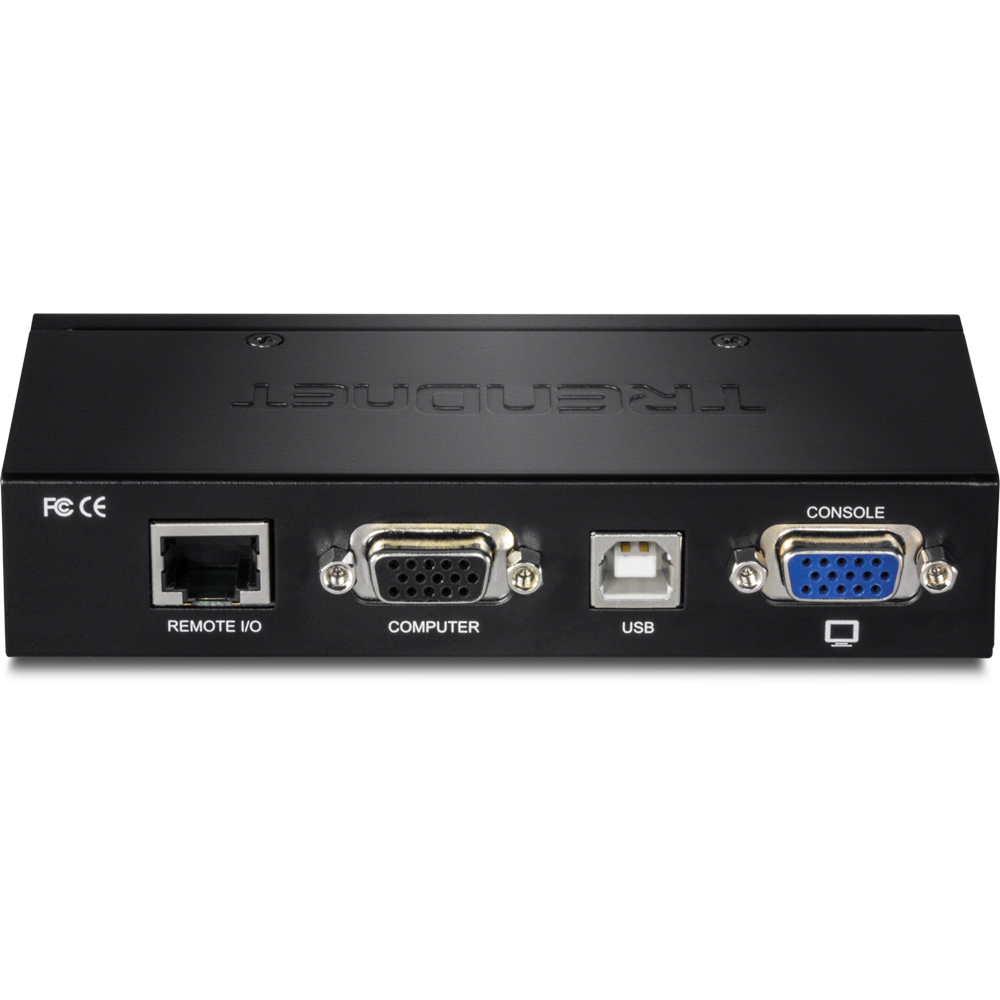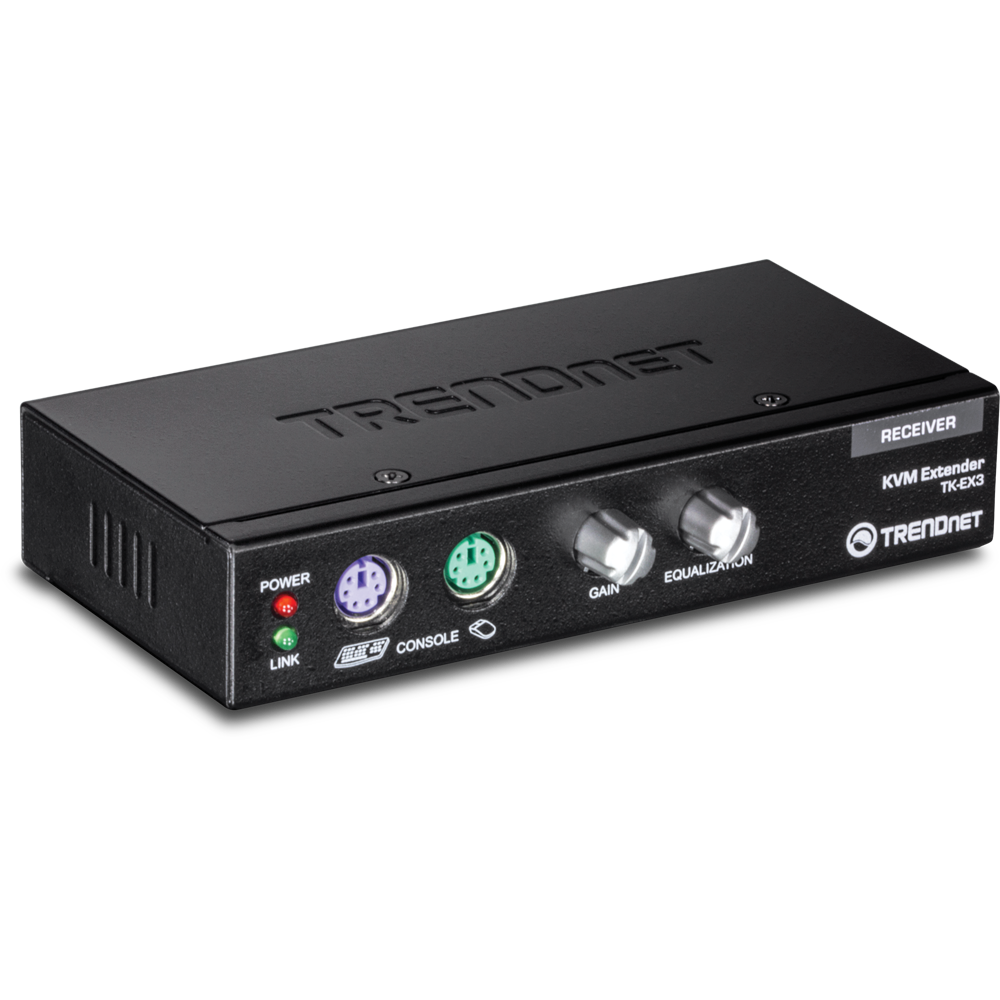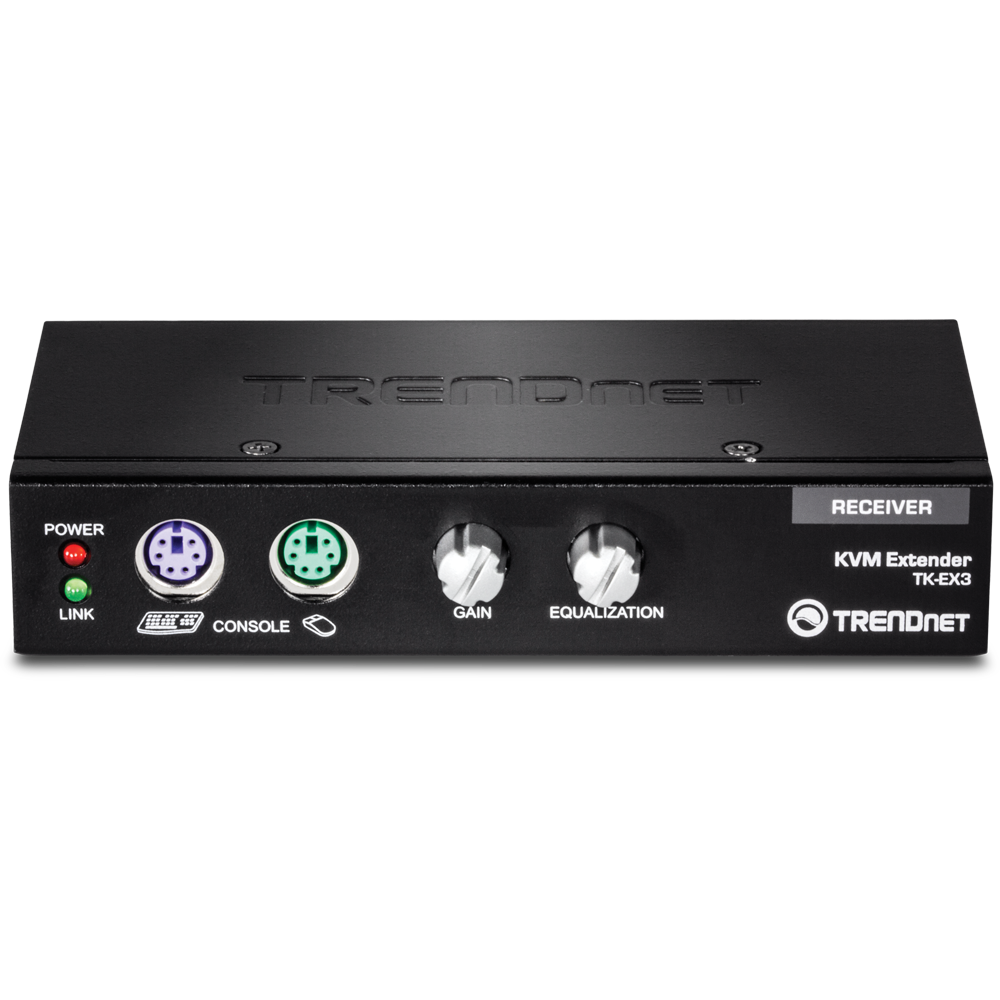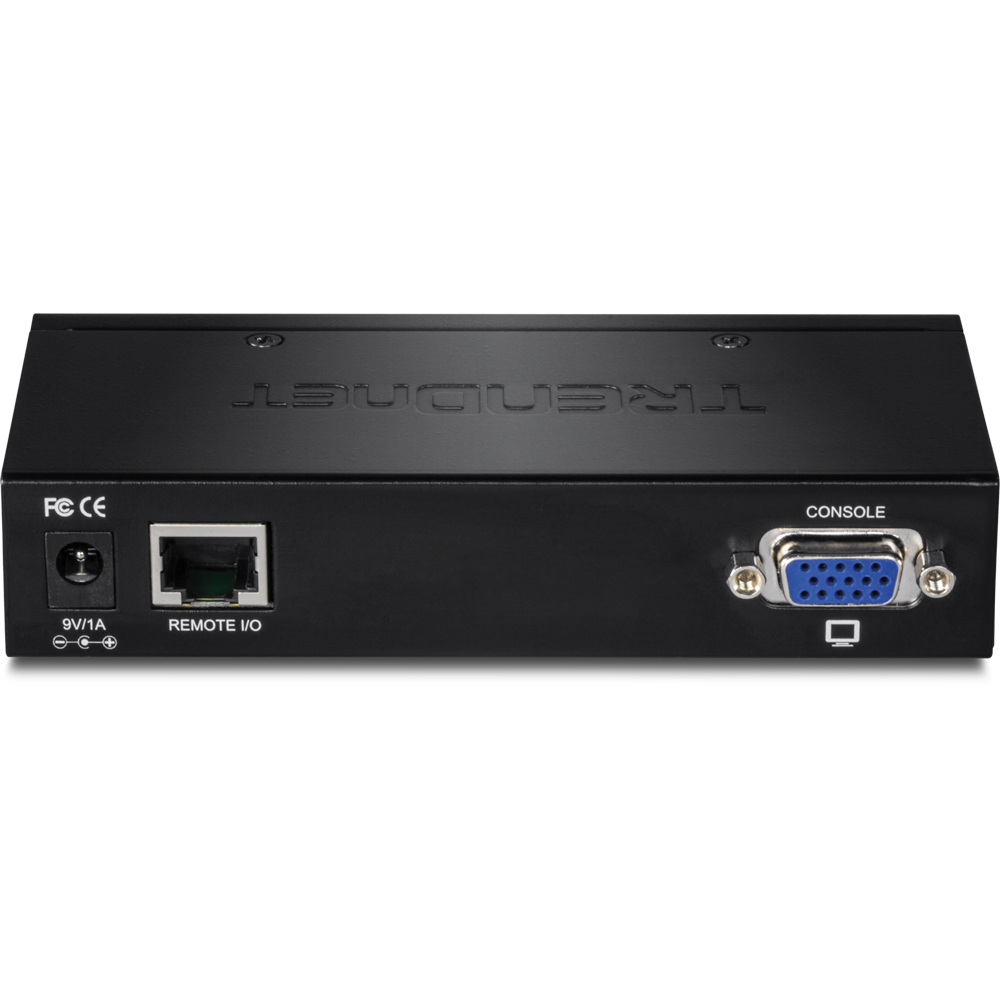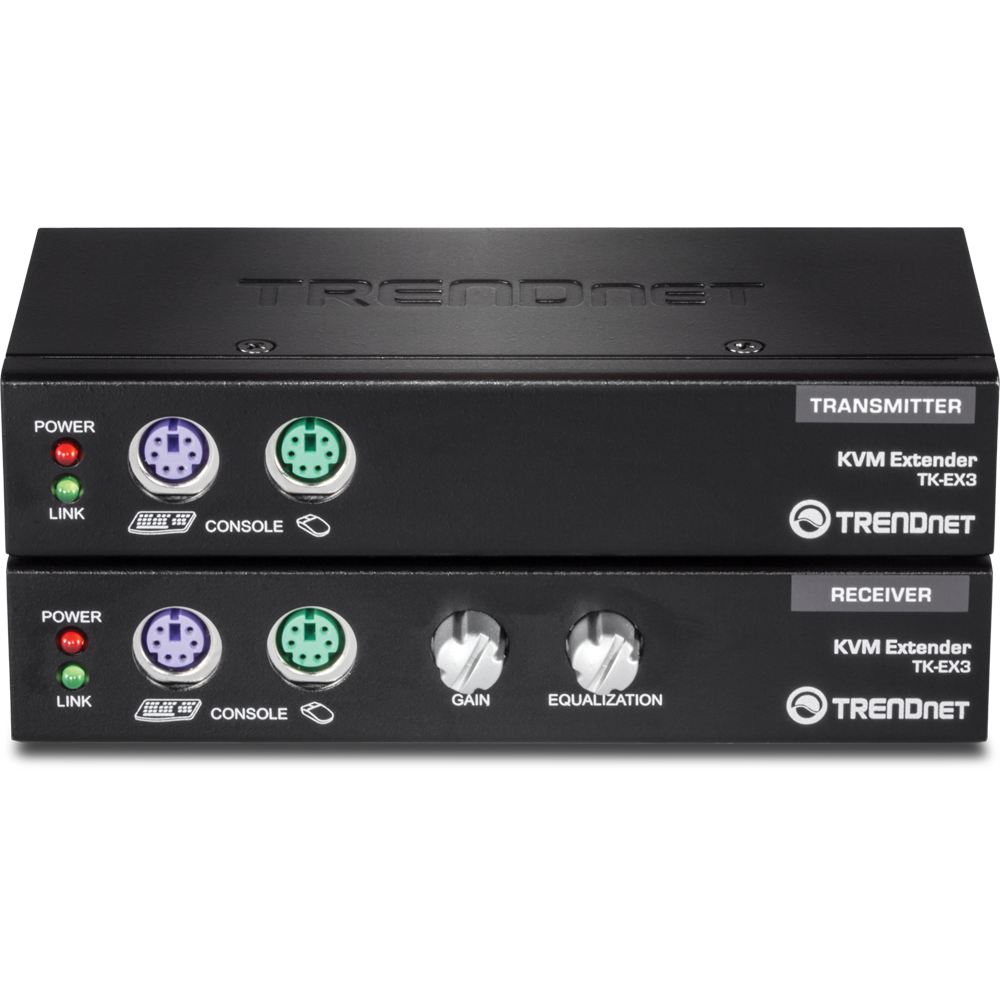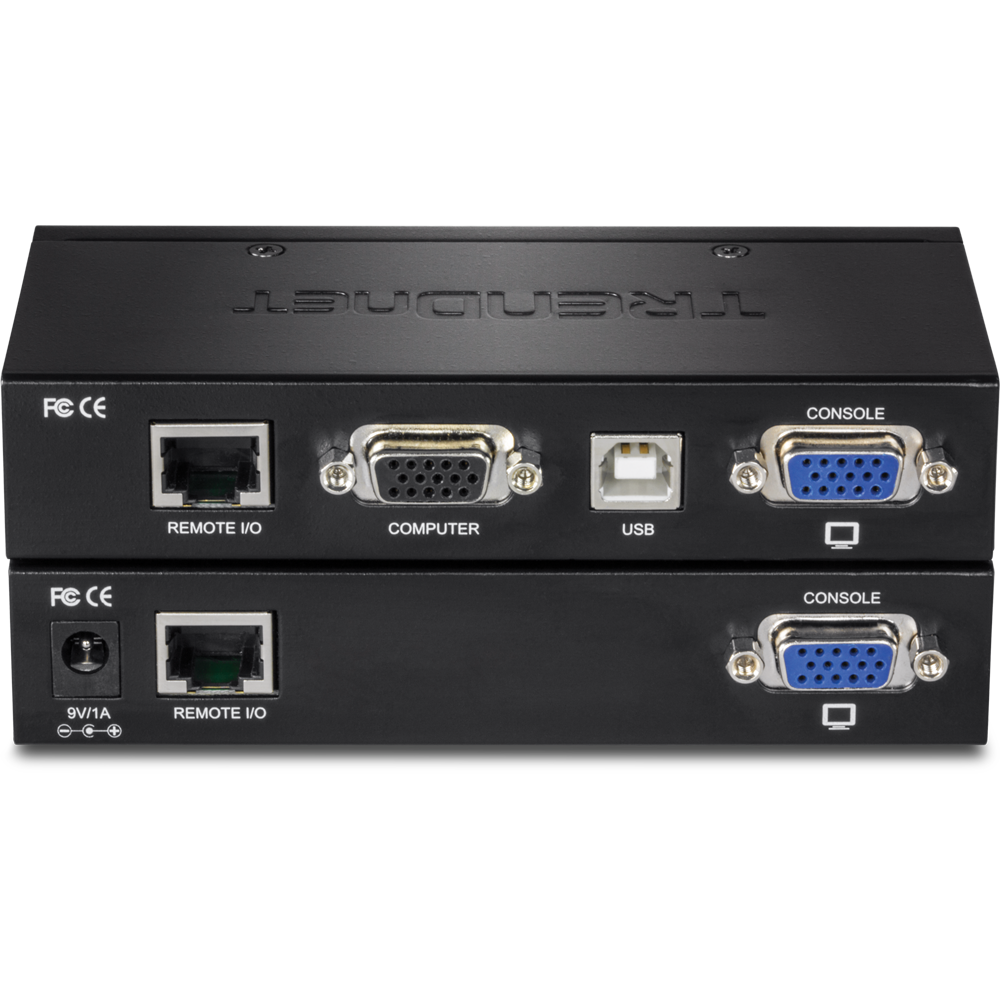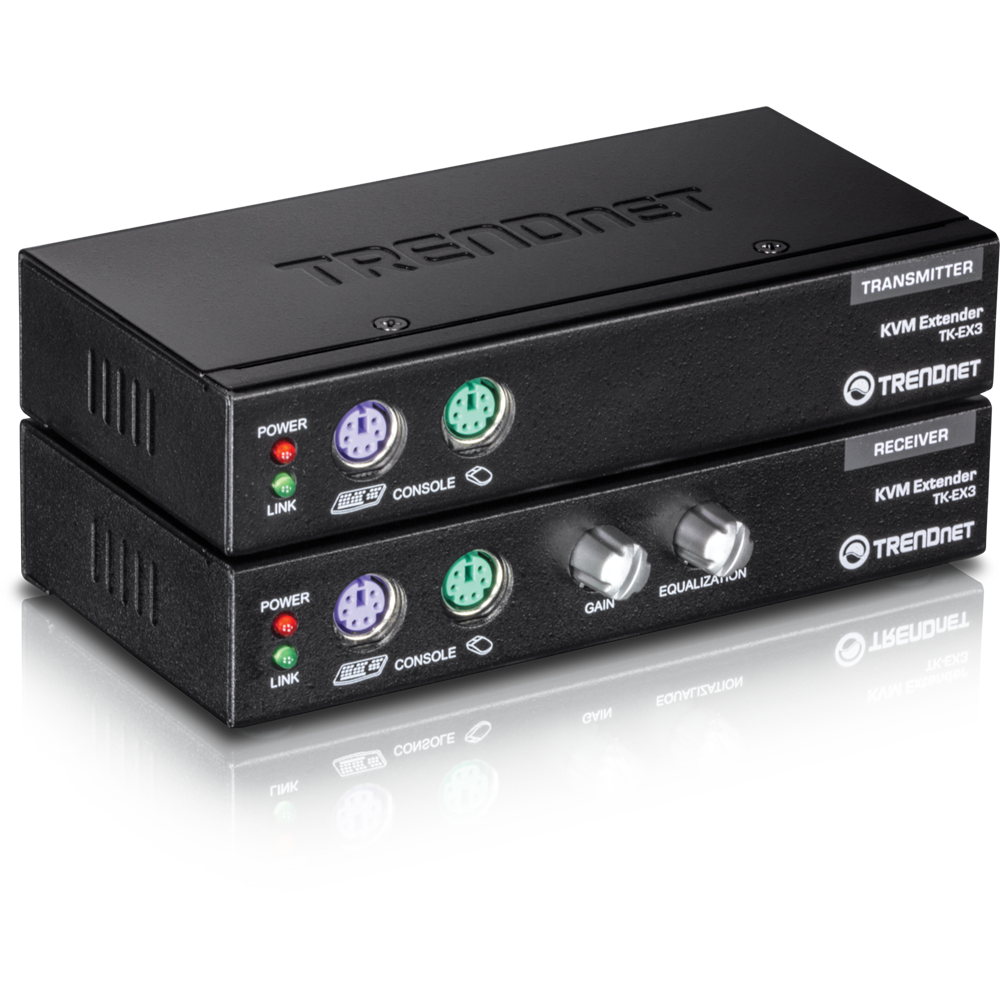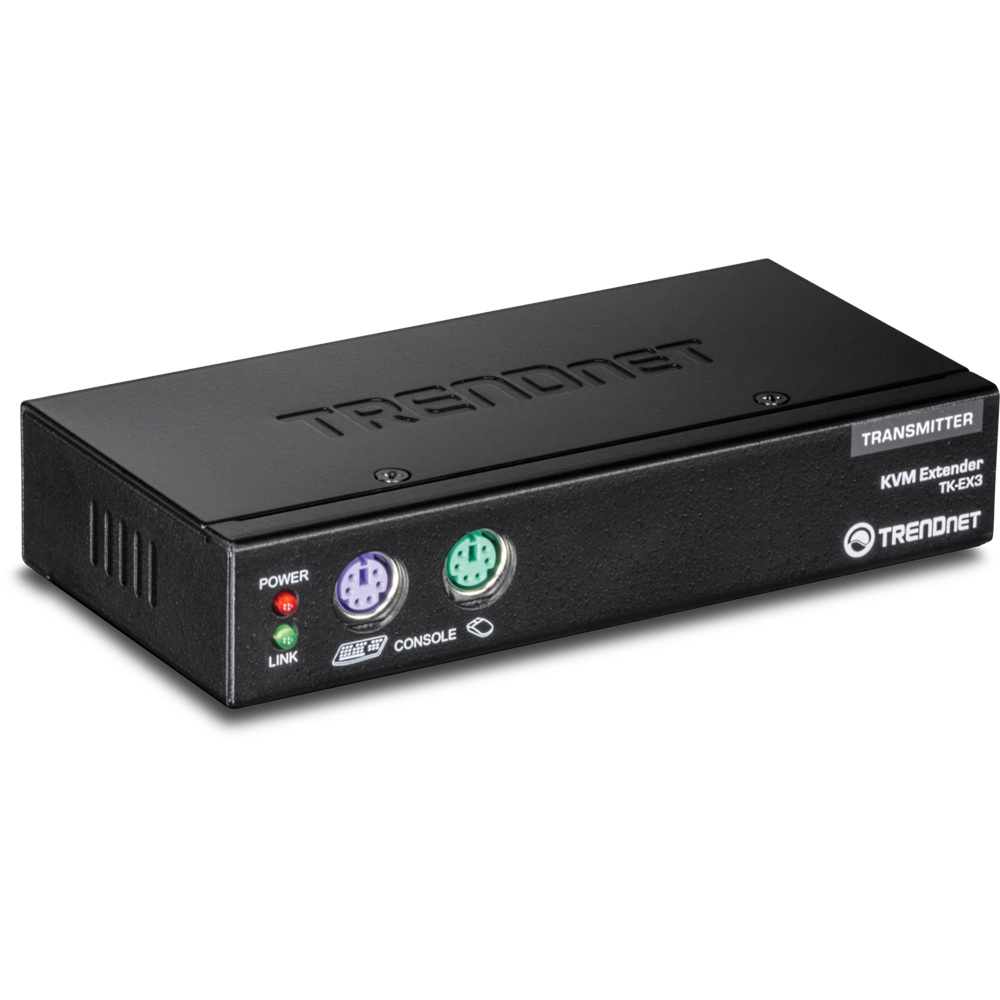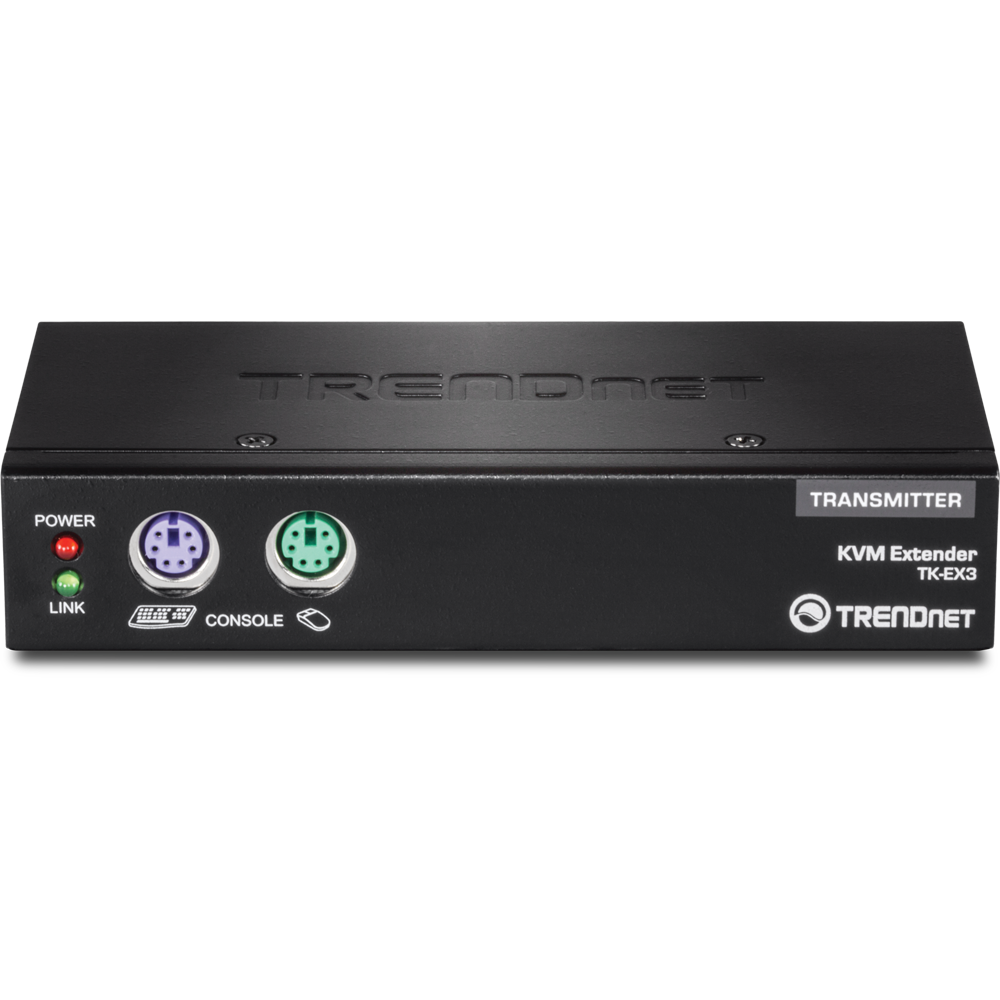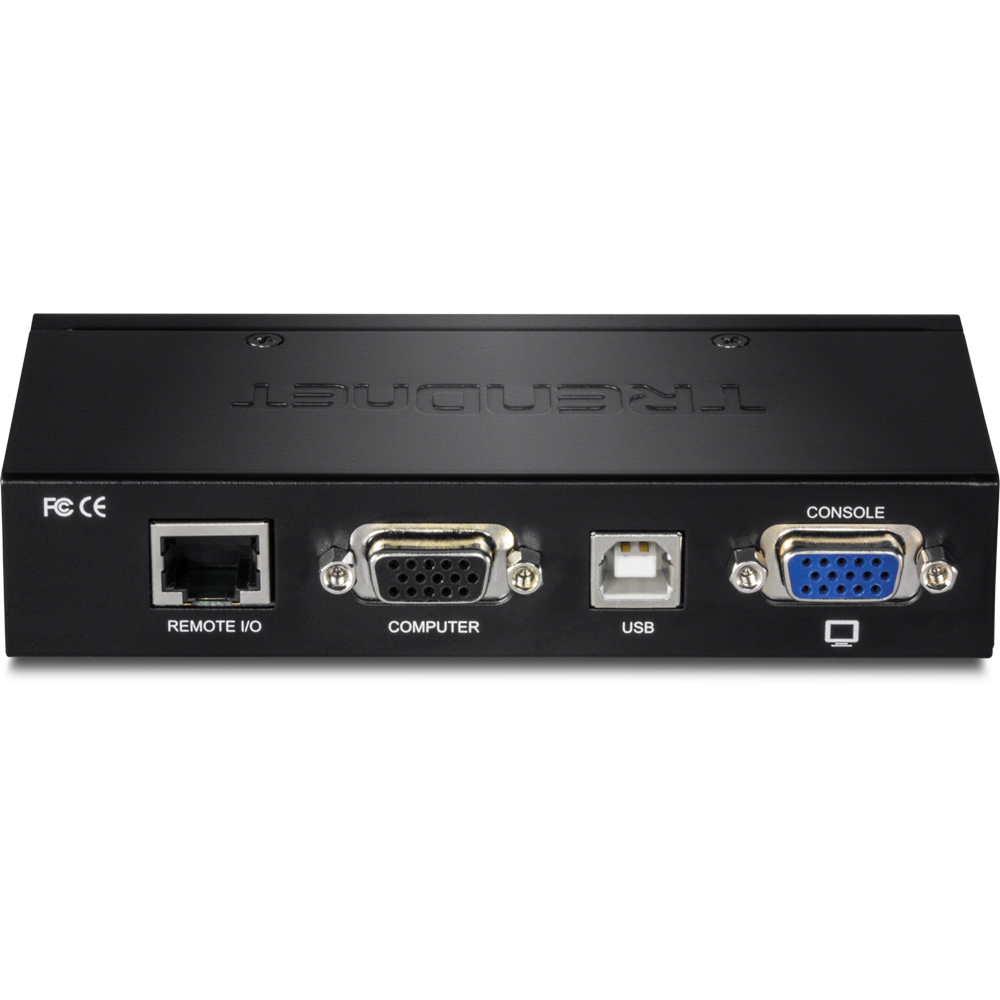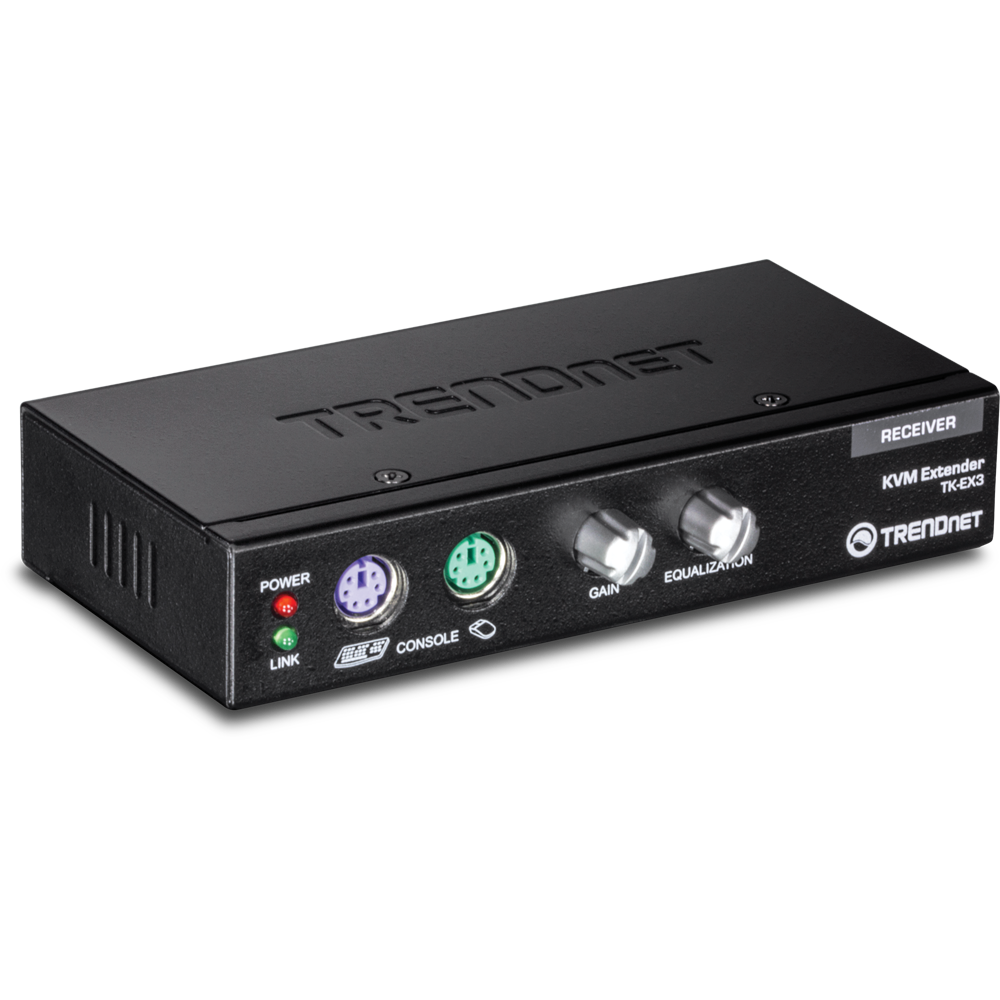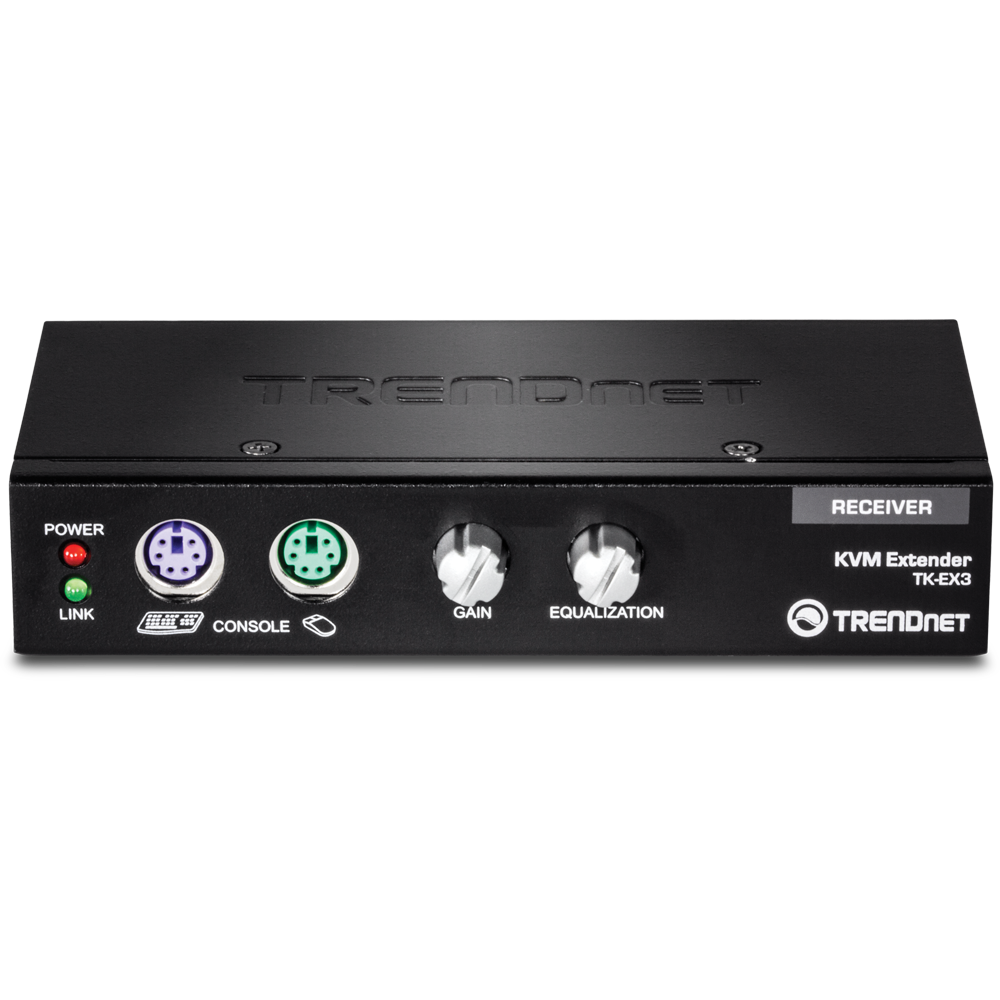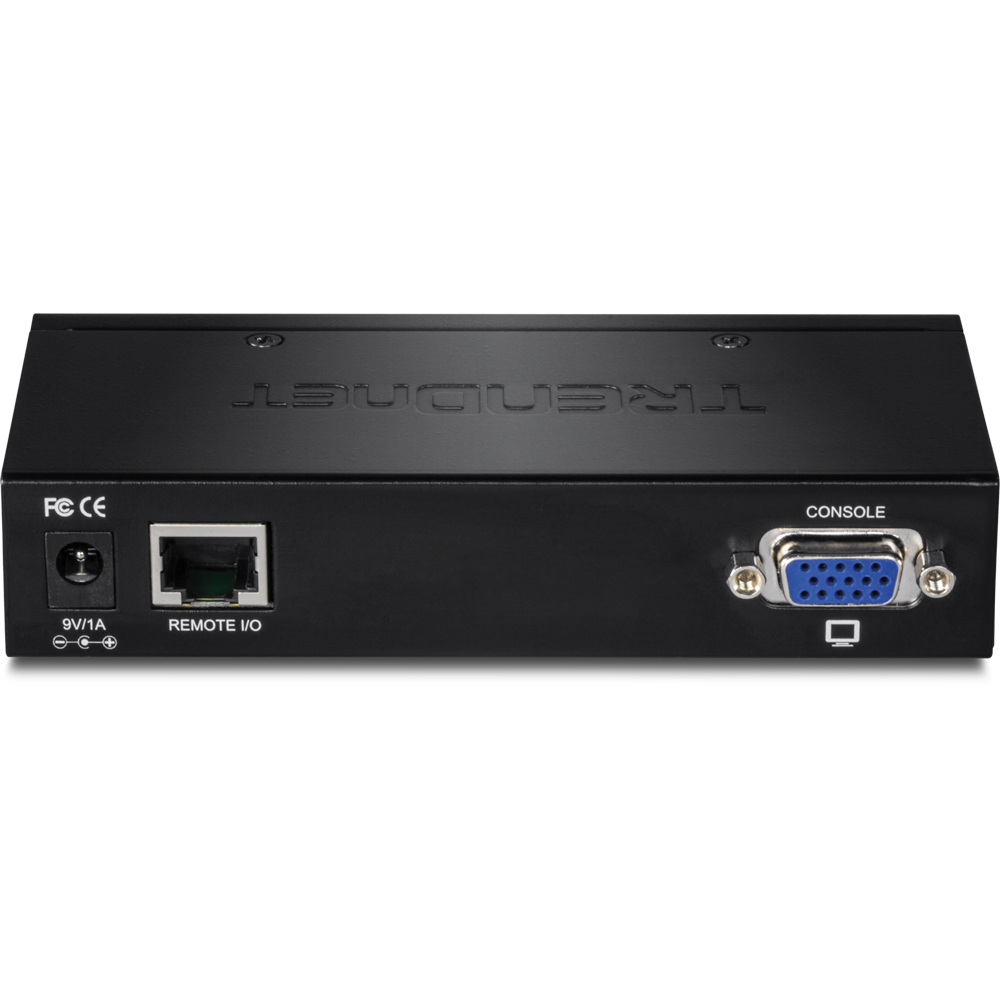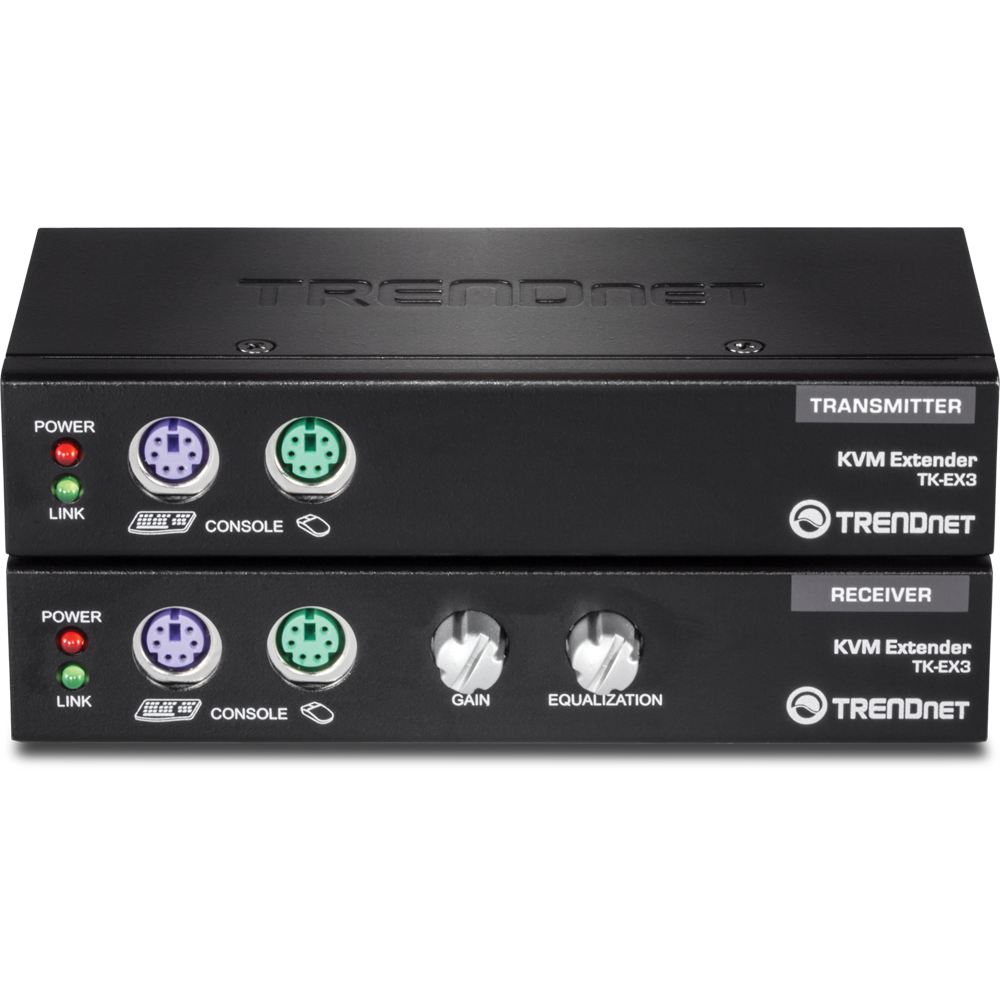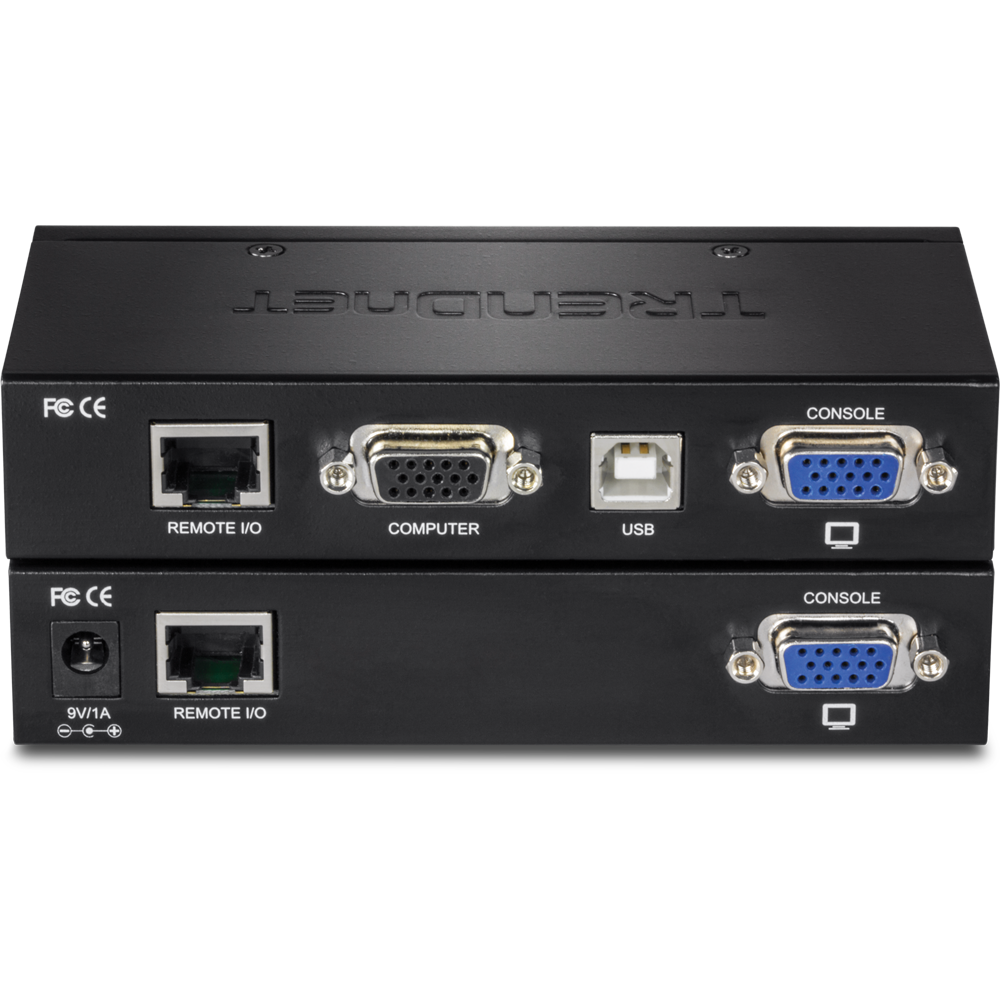 The sturdy KVM Extension Kit extends keyboard, video, and mouse controls for distances of up to 150m (490ft.). Eliminate the time it takes to walk to the networking room by extending KVM controls to your office. Connect the KVM Extension Kit to a TRENDnet KVM switch to control multiple servers from a remote location.
No software installation is required. Simply connect the devices with the included cables for full KVM controls. Use the convenient dials on the front of the remote console unit (receiver unit) to adjust Gain (resolution adjustment) and Equalization (contrast correction). Input hot-key commands to control local and remote console stations. The remote console unit (receiver unit) supports PS/2 Keyboard and mouse devices and monitors with a VGA port. The local console unit (transmitter unit) supports USB, PS/2, and VGA connections.


Extends keyboard, mouse, and monitor distances up to: 150m (490ft.)  at 1280 x 1024 resolution and 100m (328ft.) at 1600 x 1200 resolution
Controls multiple servers remotely when used with a KVM switch
Displays high quality resolution  up to 1600 x 1200 pixels
Provides local and remote console ports to access one computer
Connect the local console (transmitter) to the remote console (receiver) with an Ethernet cable
Cat. 5, Cat. 5E or Cat. 6 Ethernet cable compliant
Fine-tune resolution on the remote consoles viewing monitor, with Gain (resolution adjustment) and Equalization (contrast correction)
PS/2 and USB interface support for loca console (transmitter)
PS/2 interface support for remote console (receiver)
Data and power LED indicators
Supports Windows, Mac, and Linux operating systems
No driver or software installation required
2-year limited warranty
Hardware
Connections

Connect to a computer or KVM switch

Connectors

Transmitter
HDB 15-pin VGA
USB type B
RJ-45 port
Receiver
HDB 15-pin VGA
PS/2 keyboard & mouse
RJ-45 port
Power connector

Cables (included)

1 x VGA cable (VGA to VGA and PS/2), 1.2m/ 4ft.
1 x USB cable (type A to type B), 1.2m/ 4ft.

Supported OS

Windows 7 (32/-64bit)/ Vista (32/64-bit)/ XP (32/64-bit)/2000/98/SE/ME
Linux, Mac, Sun Solaris, DOS

Resolution

Up to 100m (328ft.) with 1600 x 1200 resolution
Up to 150m (490ft.) with 1280 x 1024 resolution

Power
LEDs
Dimension (L x W x H)

130 x 65 x 25mm (5 x 2.6 x 1in.)

Weight

Transmitter: 275g (9.7oz.)
Receiver: 290g (10oz.)

Temperature

Operation: 0°C~40°C (32°F~104°F)
Storage: -20°C~60°C (-4°F~140°F)

Humidity

Max. 90% (non-condensing)

Certifications
PACKAGE CONTENTS
TK-EX3 Transmitter
TK-EX3 Receiver
Multi-Language Quick Installation Guide
Power adapter (9V DC, 1A)
VGA combination cable (1.2m/ 4ft.)
USB cable (1.2m/ 4ft.)
All references to speed are for comparison purposes only. Product specifications, size, and shape are subject to change without notice, and actual product appearance may differ from that depicted herein.