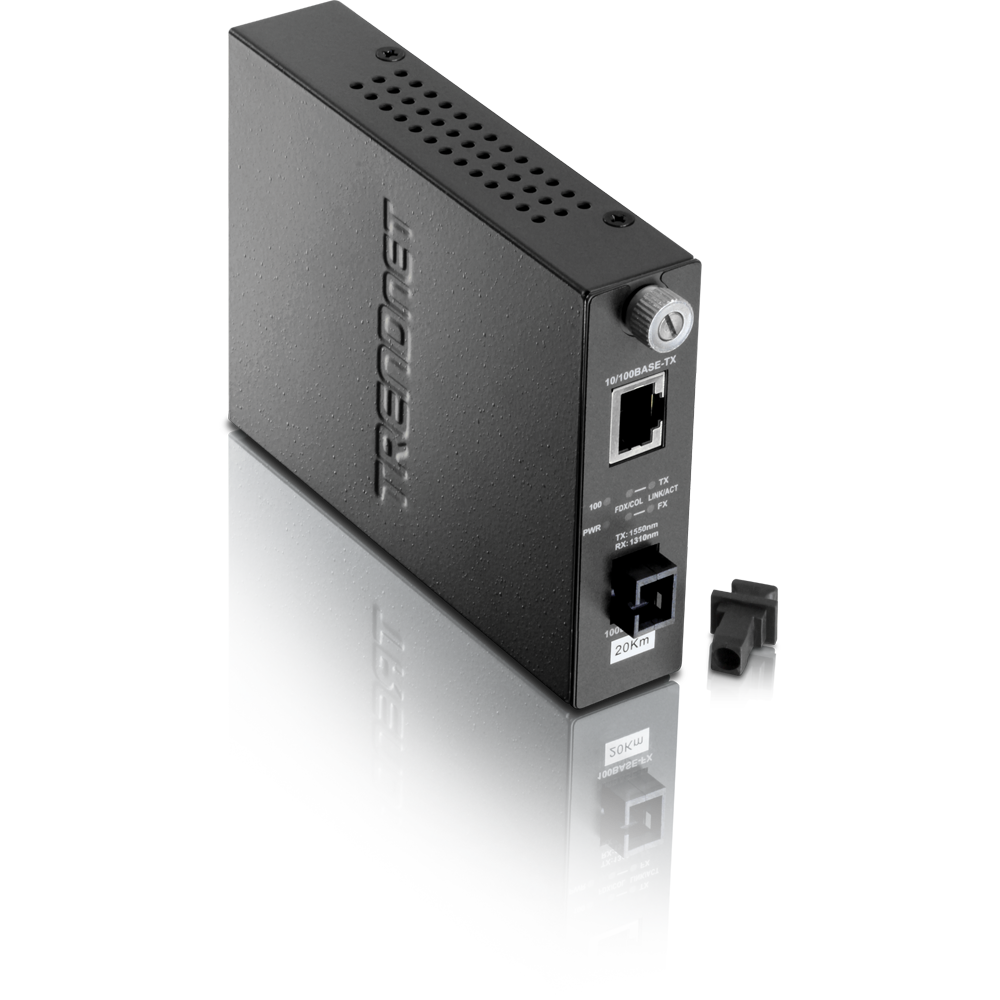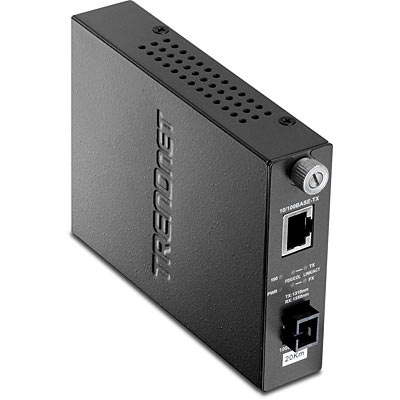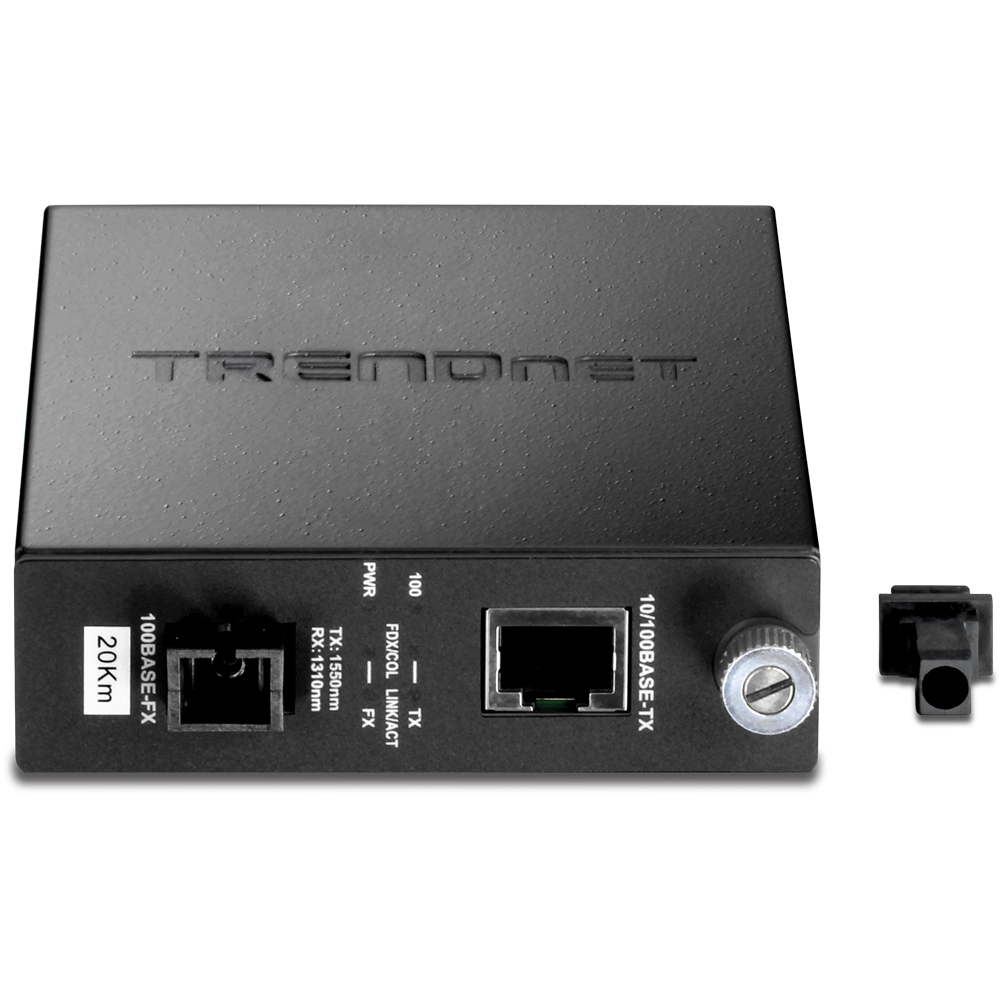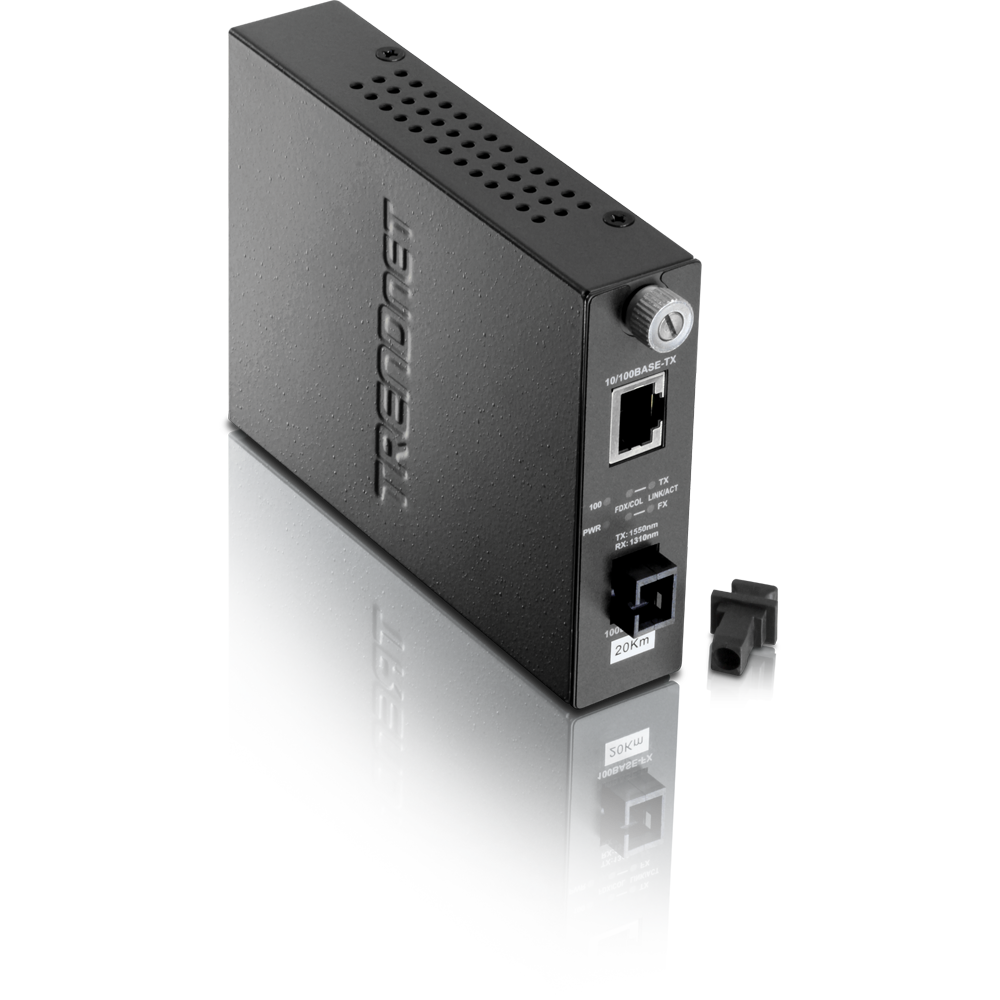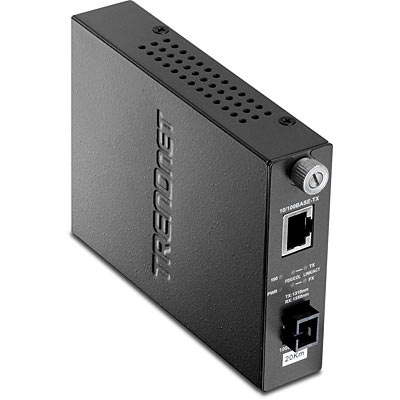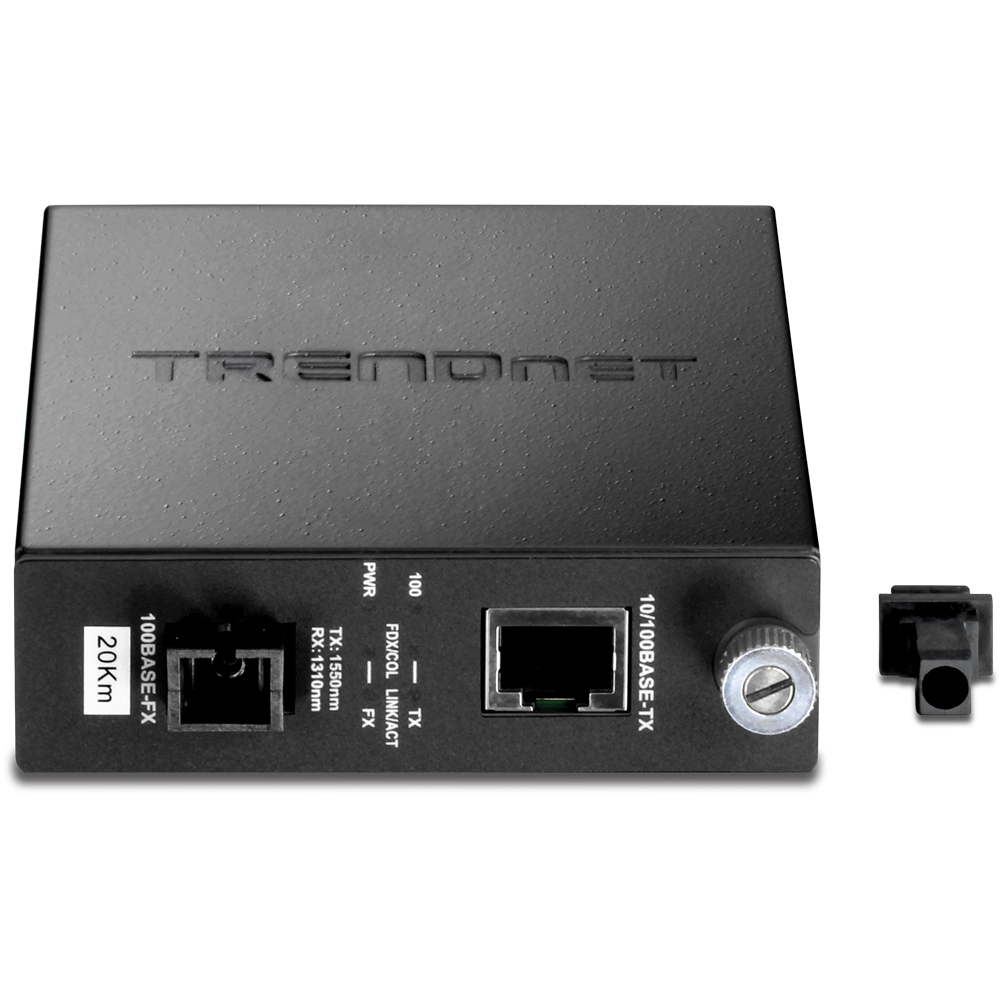 The TFC-110S20D5i intelligent fiber converter works with the TFC-1600 chassis system or as a standalone unit. This converter is a Dual Wavelength Single Mode SC-Type fiber converter that spans distances up to 20 km (12.4 miles). This module must be used with the TFC-110S20D3i module. Ports include 1 x 10/100Base-TX (RJ-45) port and 1 x 100Base-FX (SC Simplex Type) port.
Must use with TFC-110S20D3i
Compliant with IEEE 802.3u 100Base-TX and 100Base-FX standards
1 x 10/100Base-TX RJ-45 port
1 x 100Base-FX single-mode bi-directional simplex-SC type fiber port
Port level SNMP management support
Monitor and configure Ethernet or Fiber's duplex mode, LLR, port on / off and receive link down information via management module TFC-1600MM and chassis TFC-1600
Dip switch controls: Fiber (Full / Half-Duplex), UTP (Auto negotiation / Manual), Speed (10 Mbps / 100 Mbps),
Copper (Full / Half-Duplex), LLR (Enable / Disable), and LLCF (Enabled / Disable)
Link Loss Carry Forward (LLCF) support
Link Loss Return (LLR) support
Status LED indicators for Power and Link / Activity
Removable metal enclosure
Wall mountable
Functions as a standalone converter or with the TFC-1600 fiber chassis
Hardware
Standard

IEEE 802.3 10Base-T
IEEE 802.3u 100Base-TX/FX

Network Media

100Base-TX: Cat. 5 EIA/TIA-568 100-ohm UPT/STP, up to 100 m
100Base-FX: Single-mode fiber optic cable 9/125 µm or 10/125 µm, up to 20 km

Protocol
Ports

1 x 10/100Base-TX
1 x 100Base-FX (simplex SC-type)

Dip Switch

Fiber (full/half duplex)
UTP (auto negotiation/manual)
Speed (10 Mbps/100 Mbps)
Copper (full/half duplex)
LLR (enable/disable)
LLCF (enable/disable)

Transfer Rate

100 Mbps (half duplex)/200 Mbps (full duplex)

Diagnostic LEDs

Per Unit: power
Per Port (TX): Link/Activity, FDX/HDX, Link Fail, Speed
Per Port (FX): Link/Activity, FDX/HDX, Link Fail

Power Adapter

Input: 100~240 V 50/60Hz, 0.2 A
Output: 5 V DC, 1 A

Power Consumption
Dimensions

120 x 88 x 25 mm (4.7 x 3.46 x 0.98 in.)

Weight
Temperature

Operating: 0° ~ 40°C (32° ~ 104°F)
Storage: -25° ~ 70°C (-13 ° ~ 158°F)

Humidity
Certifications
Media
Wavelength
Optical Output Power (dBm)
Optical Input Power (dBm)

Min (Sensitivity): -31
Max: 0

Power Budget
Distance
PACKAGE CONTENTS
TFC-110S20D5i
Multi-Language Quick Installation Guide
Power adapter (5 V DC, 1 A)
All references to speed are for comparison purposes only. Product specifications, size, and shape are subject to change without notice, and actual product appearance may differ from that depicted herein.