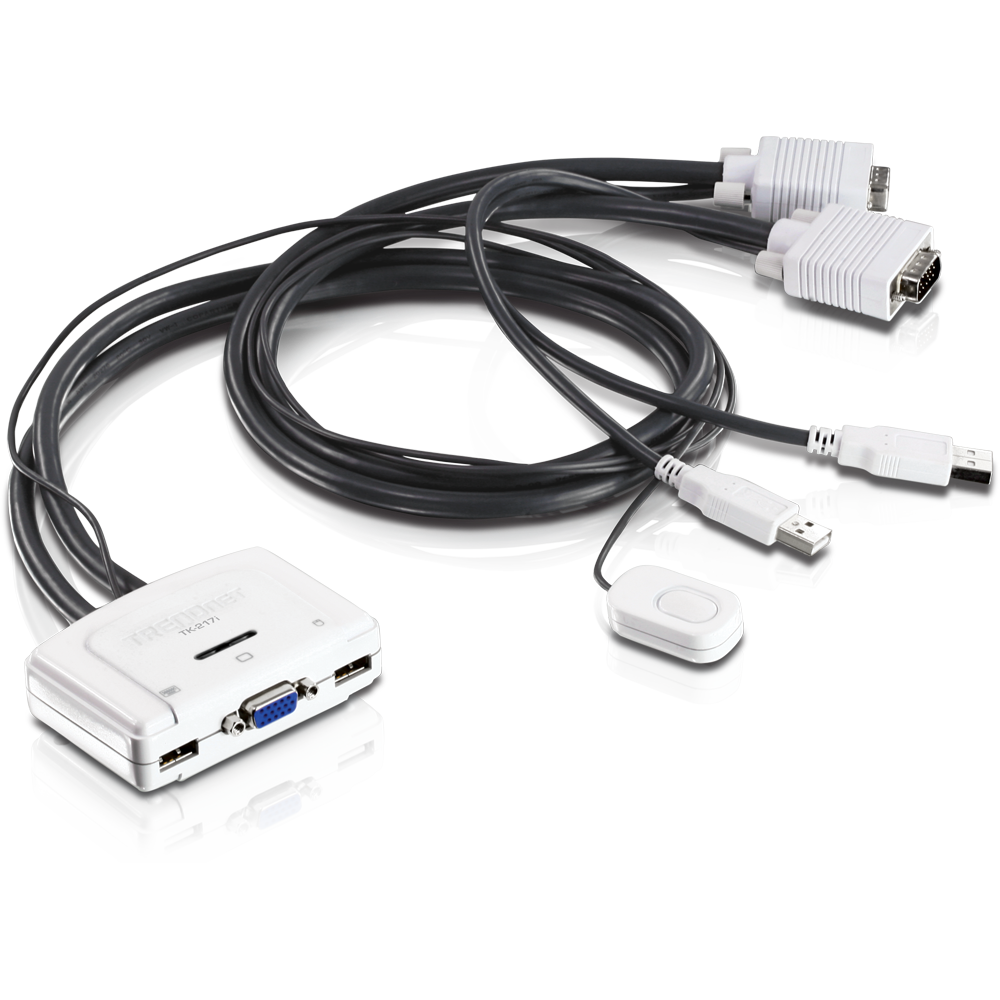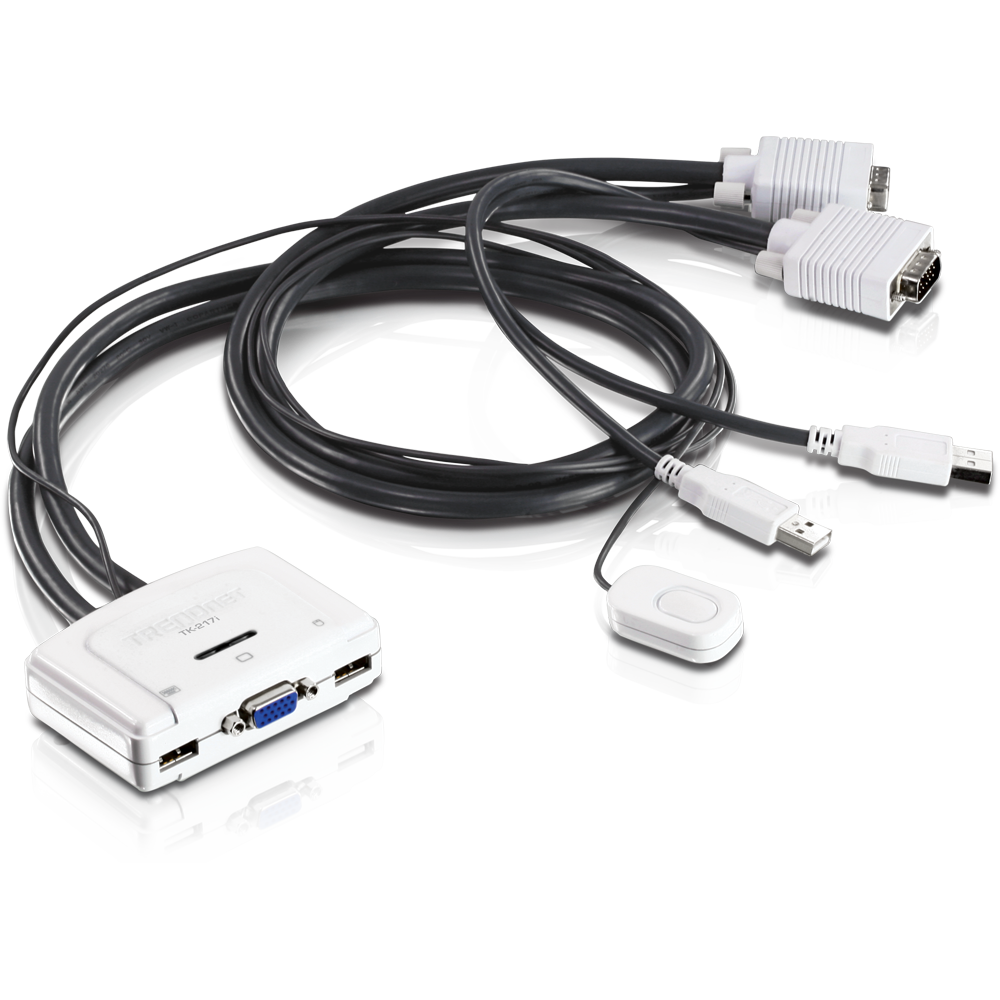 The 2-Port USB KVM Switch, model TK-217i, allows you to control 2 PC and/or Mac computers with one set of console controls. Manage laptops or desktops that have VGA and USB ports at the touch of a button, with a set of USB keyboard, USB mouse, and VGA monitor console controls. No driver installation required, simply plug in the devices to control 2 computers. A convenient toggle switch with a 1.5 m (5 ft.) extension cable can be placed in the most ergonomic location on your workstation.
View high quality VGA resolution at up to 2048 x 1536 pixels. Built in 0.8m (2.6 ft.) combination cables include all the necessary USB and VGA connectors for each respective computer. This KVM switch does not need to be plugged into an outlet—it is powered by the connected computers. Download a Windows and Mac compatible utility to define Hot Keys and create Auto Scan intervals.
Use one keyboard, monitor, and mouse to control two computers
Console-side hardware

1 x USB 2.0 Type A port (keyboard connection)
1 x USB 2.0 Type A port (mouse connection)
1 x 15-pin VGA port (VGA monitor connection)
LED display indicates which computer is active
Push button switch with a 1.45 m (4.8 ft.) extension cable

Computer-side hardware

2 x built-in VGA / USB combination cable
Each combination cable has one VGA and one USB port

Works with most USB Mouse and Keyboard devices
Supports up to 2048 x 1536 pixel resolution
Supports Windows, Linux, and Mac operating systems*
Install the included KVM switcher software in order to program Hot-Keys and Auto-Scan intervals
Plug and Play with no software download required
No power required, this device is powered by the computer's USB port
2-year limited warranty
* KVM Switcher Software only support Mac 10.4 or higher
*For optimal performance, we recommend using a wired keyboard and mouse. Please go tohttp:/www.trendnet.com/downloadsto download the client switching software.
Hardware
Computer Connections
USB Interface
KVM Cable

2 x built-in VGA and USB combination cable (80 cm/2.6 ft)

Computer Connectors

2 x USB Type A port (male)
2 x 15-pin VGA port (female)

Console Connectors

1 x 15-pin VGA (male)
2 x USB Type A ports (female) (mouse and keyboard connections)

Port Selection

Push button Switch: Windows, Mac, Linux
Hot Keys Command: Windows, Linux
KVM Switcher Software: Windows and Mac 10.4 or higher

Supported OS

Windows 8, 7, Vista, XP, Server 2003, 2000, 98

LED

Computer 1 or Computer 2 Status Indicator

Power Type
Dimensions

89x 64x 25 mm (3.5 x 2.5 x 1.0 in.)

Weight
Temperature

Operating: 0°C ~ 40°C (32°F ~104°F)
Storage: -20°C ~ 60°C (-4°F ~140°F)

Humidity

Max. 90%, (non-condensing)

Certifications
PACKAGE CONTENTS
TK-217i
Multi-Language Quick Installation Guide
CD-ROM (Utility and User's Guide)
All references to speed are for comparison purposes only. Product specifications, size, and shape are subject to change without notice, and actual product appearance may differ from that depicted herein.