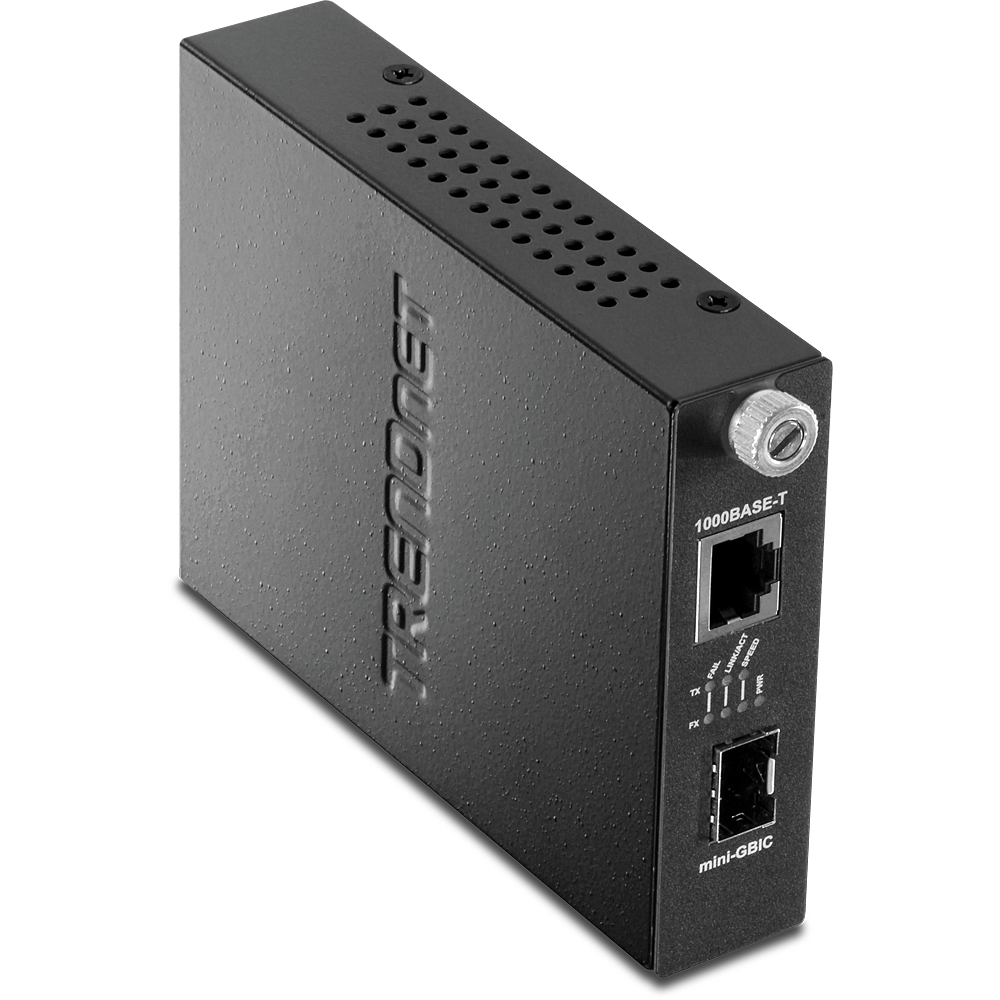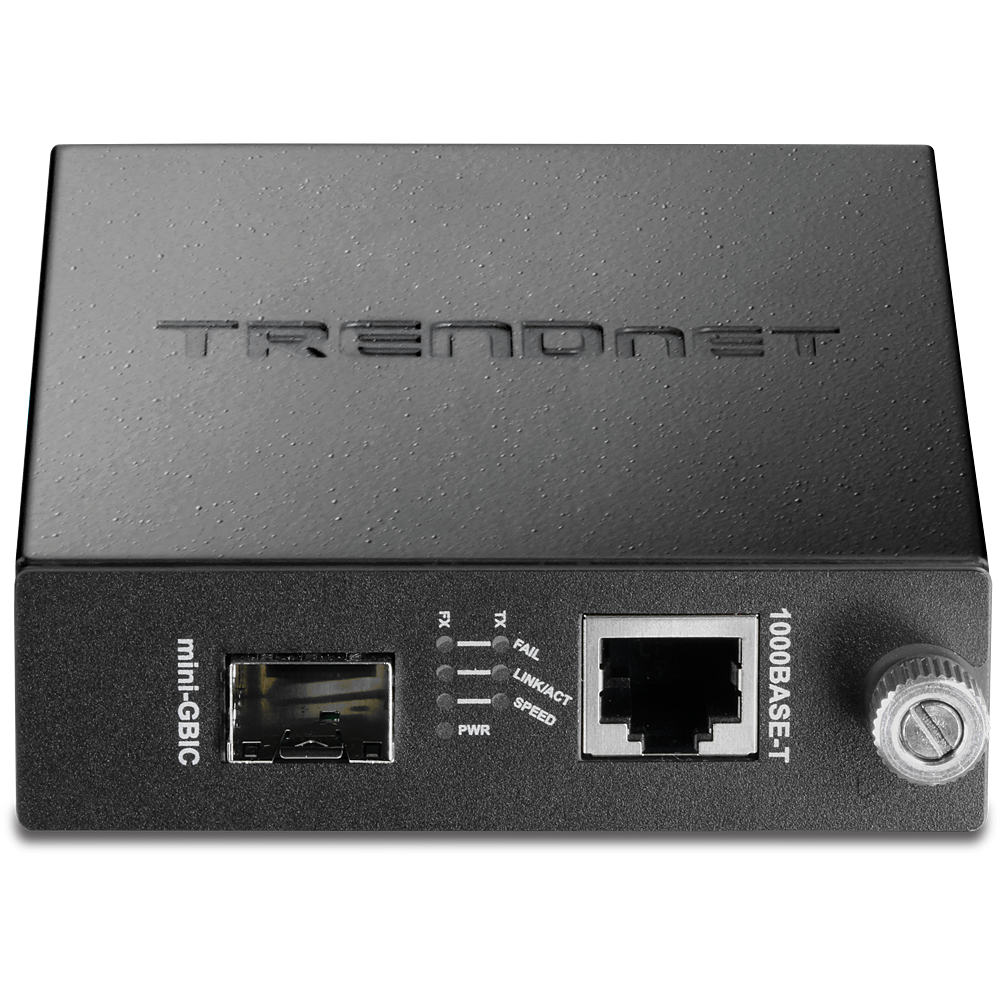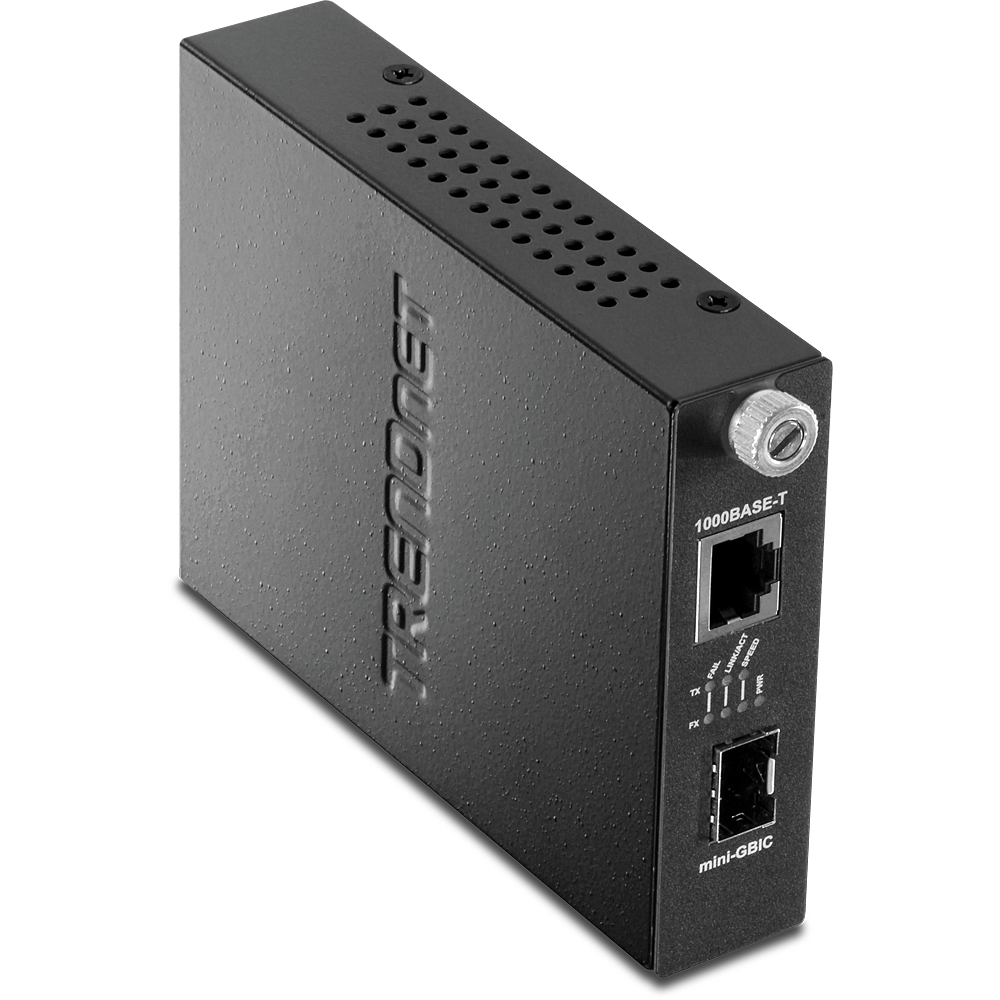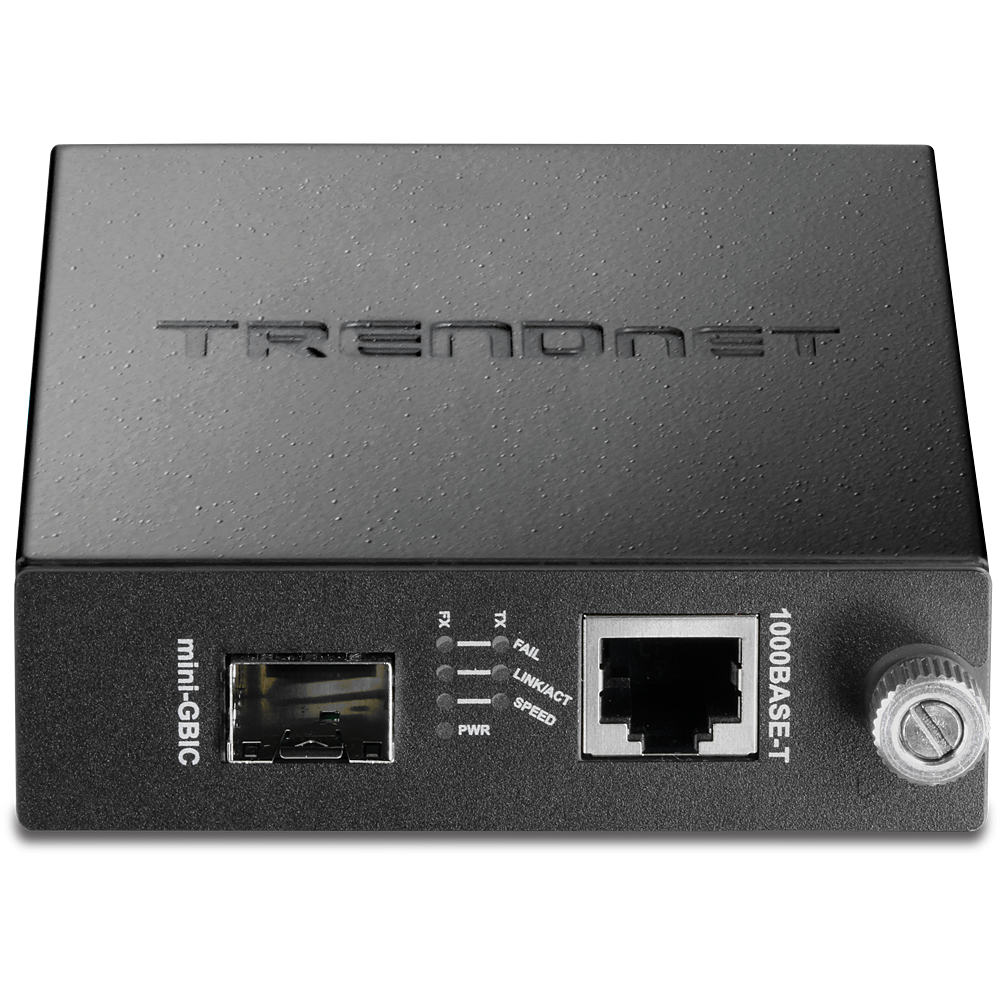 El convertidor de medios de fibra de 1000BASE-T a SFP de TRENDnet, modelo TFC-1000MGA, es un convertidor fiable con conexión Plug-and-Play SFP a Ethernet en un factor de forma compacto. Este versátil convertidor de medios SFP es compatible con módulos SFP de fibra monomodo y multimodo para distancias de transmisión de hasta 120 km (74,56 millas).
La ranura SFP y el puerto Gigabit Ethernet admiten velocidades de transmisión de 100 Mbps y 1000 Mbps. Los indicadores LED de diagnóstico situados en la parte frontal del convertidor transmiten el estado del dispositivo. Nuestros convertidores de fibra de la serie TFC-110 y TFC-1000 pueden instalarse como unidades independientes, o se pueden utilizar con sistema de chasis para convertidor de fibra de TRENDnet expansible a 16 bahías (modelo TFC-1600).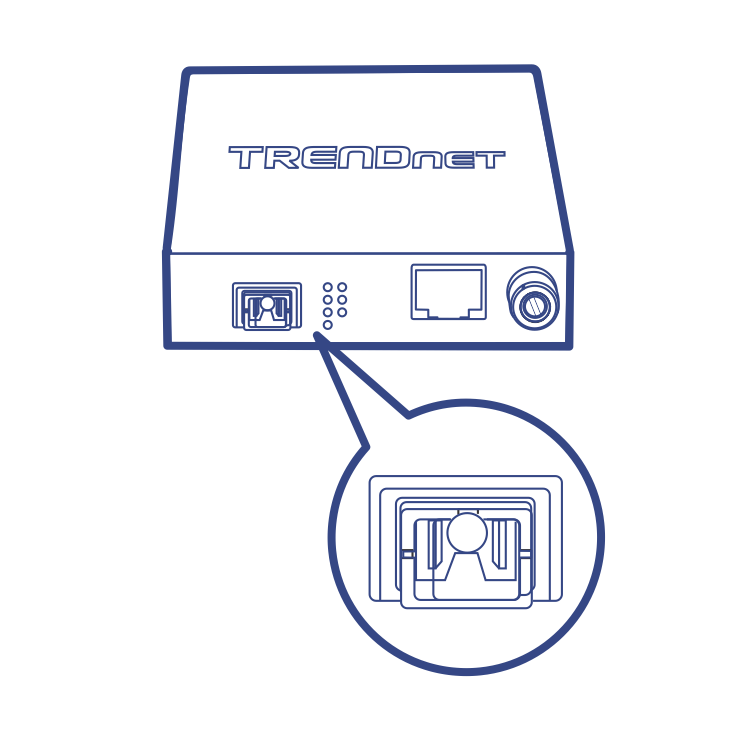 Ranura SFP de dos velocidades
La ranura SFP de dos velocidades admite módulos SFP a 100 y también a 1000 Mbps.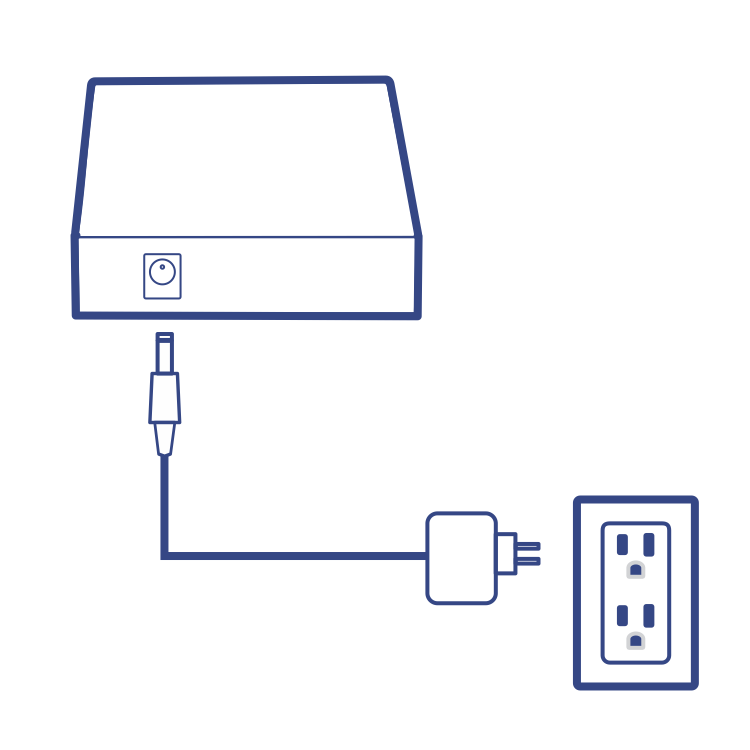 Power adapter
El convertidor de fibra SFP incluye un adaptador de corriente para uso independiente.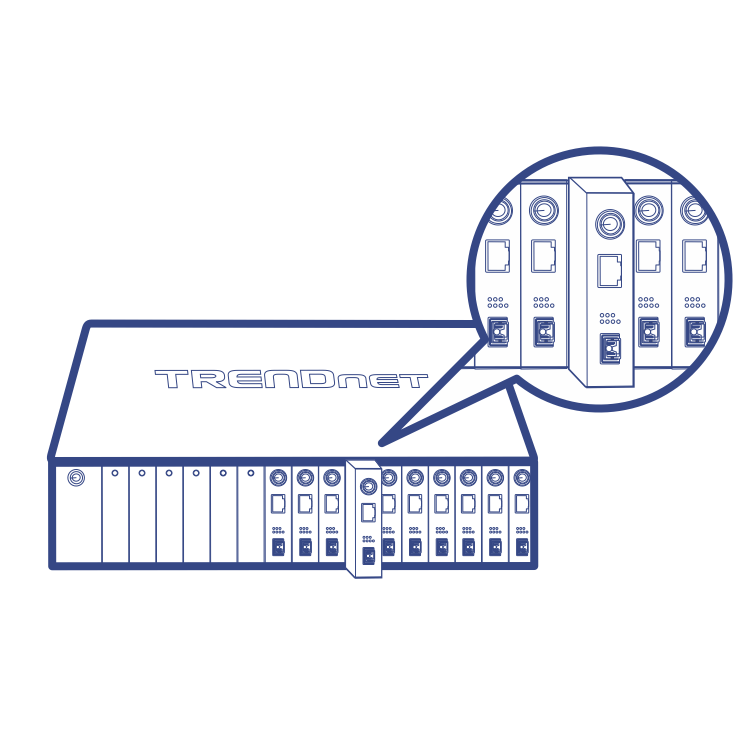 Compatible con chasis de TFC-1600
Funciona como una unidad SFP independiente, o se puede utilizar con el sistema de chasis para convertidor de fibra de 16 bahías de TRENDnet, modelo TFC-1600 (se vende por separado).



Network Ports
1 x 100/1000Mbps RJ-45 copper port and 1 x 100/1000Mbps dual-speed SFP slot

Fanless
Fanless design lowers energy consumption and eliminates operating noise

Compact Design
Small, compact, and lightweight metal housing provides greater installation flexibility

LED Indicators
LED indicators convey port status

Fiber Wavelength
Compatible with multi-mode and single mode transmissions
Padrões

IEEE 802.3 (10Base-T)
IEEE 802.3u (100Base-TX)
IEEE 802.3u (100Base-FX)
IEEE 802.3ab (1000Base-T)
IEEE 802.3z (1000Base-SX/LX)

Interfaz del dispositivo

Un puerto Gigabit
1 ranura 100/1000Base-SX/LX Mini-GBIC para módulos SFP opcionales
Indicadores LED

Medias de la red

10/100Base-TX: Cat.5 EIA/TIA-568 100 ohmios UTP/STP, hasta 100 m
1000Base-T: Cat.5e o Cat.6 EIA/TIA-568 de 100 ohmios, UTP/STP, hasta 100 m
Cable de fibra óptica multimodo de 50/125 µm, hasta 550 m
Cable de fibra óptica multimodo de 62,5/125 µm, hasta 220 m
Cable de fibra óptica monomodo de 9/125 µm, hasta 120 km (TEG-MGBS120)

Protocolo
Switch DIP

LLCF (activación y desactivación)

Tasa de transferencia de datos

Ethernet Gigabit: 2000 Mbps (full duplex)

Jumbo Frame
Alimentación

Entrada: 100 – 240V AC, 50 – 60Hz, 0,2 A
Salida: Adaptador de corriente externo 1A y 5 V DC
Consumo: 2,63 W (máx.)

Características especiales

Compatible con LLCF ("Link Loss Carry Forward") y LLR integrado ("Link Loss Return")
Indicadores LED del estado de la alimentación y del enlace o la actividad
Para montaje en pared
El sistema de chasis de 19 pulgadas (TFC-1600) opcional alberga hasta 16 convertidores de medios serie TFC-100/1000

Temperatura admitida

0° – 40° C (32° – 104° F)

Humedad admitida

Máx. 90% sin condensación

Dimensiones

120 x 88 x 25mm. (4.7 x 3.46 x 0.98 pulgadas)

Peso
Certificaciones
Garantía
CONTENIDOS DEL PAQUETE
TFC-1000MGA
Guía de instalación rápida
Adaptador de corriente (5V DC, 1A)
All references to speed are for comparison purposes only. Product specifications, size, and shape are subject to change without notice, and actual product appearance may differ from that depicted herein.