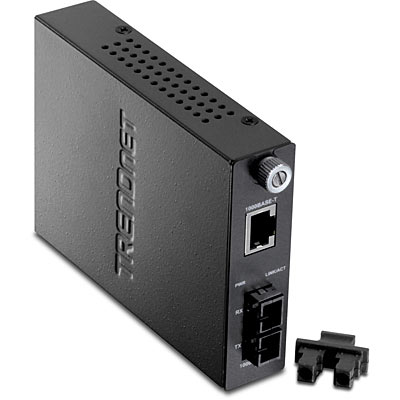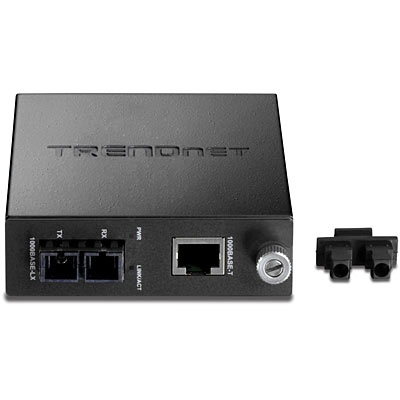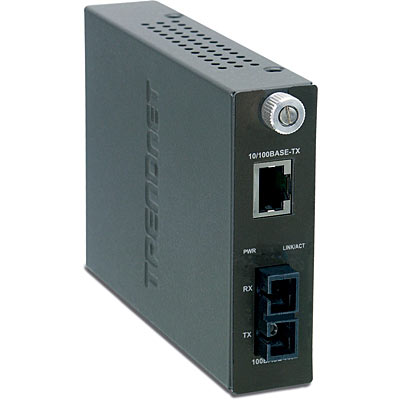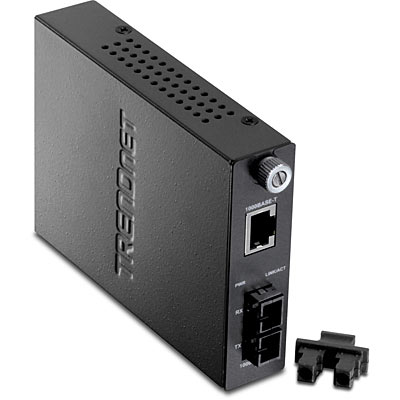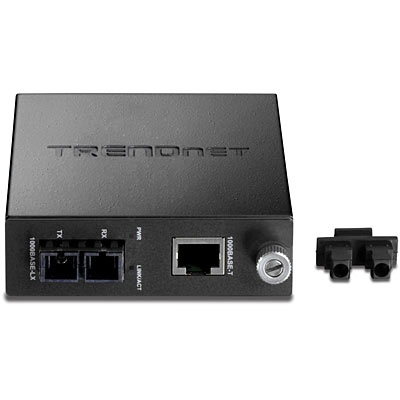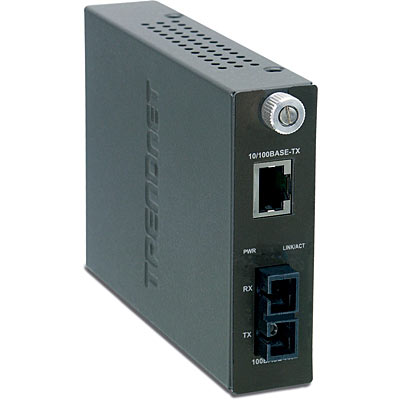 El conversor inteligente de fibra TFC-1000S50 funciona con el sistema de chasis TFC-1600 o como unidad independiente. Este conversor de fibra de tipo SC monomodo es compatible con SNMP y tiene un alcance de hasta 50 km (31 millas). Entre los puertos hay uno 1000Base-T (RJ-45) y otro 100Base-LX (tipo SC).
Compatible con IEEE 802.3ab 1000Base-T y IEEE 802.3z 1000Base-LX
Un puerto RJ-45 1000Base-T
Un puerto 1000Base-LX con conector tipo SC
Proporciona conmutador Dip: Fibra (Modo forzoso / Autonegociación), LLR (Activado / Desactivado)
Compatible con LLCF (Link Loss Carry Forward y Link Pass Through)
Compatible con LLR (Link Loss Return) para puerto Fiber
Supervise y configure el modo dúplex en fibra o Ethernet, LLR, puerto activo/inactivo y reciba información de enlace descendente vía un módulo administrado TFC-1600MM y chasis TFC-1600
Estatus de los indicadores LED para la Potencia, Enlace/Actividad, Full-Dúplex y Velocidad
Para montaje en pared
Sistema de chasis opcional de 19" con alimentación eléctrica redundante (TFC-1600), con capacidad para hasta 16
Garantía limitada de 3 años
Hardware
Estándares

IEEE 1000Base-T and 1000Base-LX

Compatibilidad con tamaño de estructura

Ethernet estánda (Hasta 10Kbytes)

Medios de Red

1000Base-T : Cat. 6 EIA/TIA-568 100-ohm UPT/STP, Hasta 100m
1000Base-LX : Cable óptico de fibra monomodo 9/125 μm o 10/125 μm, Hasta 50 km

Protocolo
Puertos

1 x 1000Base-T
1 x 1000Base-LX (simplex tipo SC)

Conmutador DIP

Fibra (Modo forzoso / Autonegociación), LLR (Activado / Desactivado)

Transfer Rate
LEDs de diagnóstico

Por unidad: Encendido
Por puerto:Enlace/Actividad

Adaptador de corriente

Adaptador de alimentación externo 1A y 5V

Consumo eléctrico
Dimensiones

120 x 88 x 25 mm (4.7 x 3.46 x 0.98 pulgadas)

Peso
Temperatura

Operación: 0° ~ 40° C (32° ~ 104° F)
Almacenamiento: -25° ~ 70° C (-13° ~ 158° F)

Humedad

Max. 90% (Sin-Condensing)

Certificación
Medios
Longitud de onda
Potencia óptica de salida (dBm)
Potencia óptica de entrada (dBm)
Capacidad de potencia
Distancia
CONTENIDOS DEL PAQUETE
TFC-1000S50
Guía de instalación rápida multilingüe
Adaptador de alimentación externo 5V, 1A
All references to speed are for comparison purposes only. Product specifications, size, and shape are subject to change without notice, and actual product appearance may differ from that depicted herein.