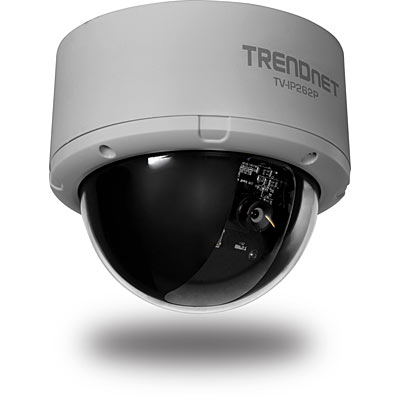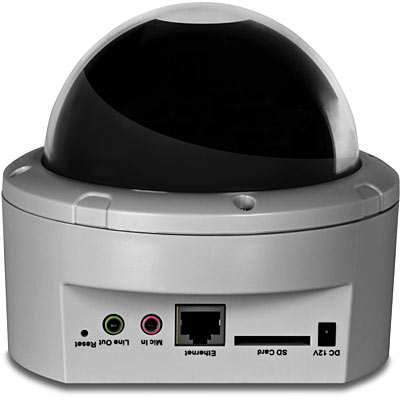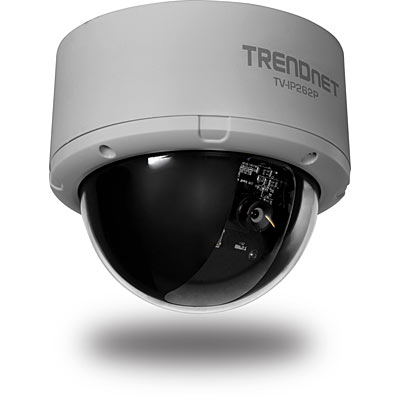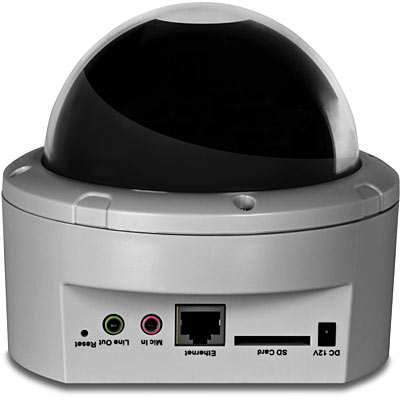 Megapixel HD PoE Dome Network Camera
TV-IP262P (Version v1.0R)
Megapixel resolution with H.264 compression
Tamper resistant interior wall and ceiling mount applications
Adjustable fixed position camera
Save installation costs with Power over Ethernet (PoE)
Program motion detection recording, email alerts, and more with complimentary software
Free mobile viewing App
The Megapixel HD PoE Dome Network Camera, model TV-IP262P, is an indoor, enterprise class surveillance camera capable of transmitting H.264 video at up to 1280 x 1024 resolution. View and manage the tamper resistant dome IP camera from any computer with an internet connection. Manually pan the camera side-to-side 350° and tilt it up-and-down 70° to fix its final viewing position. No need to install this camera near a power source, power and data are received through a single Ethernet cable using Power over Ethernet (PoE) technology. View this camera on your mobile device with TRENDnet's free App.
Manage up to 32 TRENDnet cameras with the included complimentary camera management software. Define up to three motion detection windows with email alert, image snapshot, and continuous recording triggers. Scheduled recording sessions and define video storage location with Samba client support. Multiple video streaming support for H.264, MPEG-4, and MJPEG compression types. Other features include two-way audio support (mic and speaker sold separately), date / time text overlay, mask overlay to conceal sensitive areas, and image flip capabilities for upside down installations. Integrated cabling allows for easy wall / ceiling mounting and the off-white IP camera housing blends into most environments.
IEEE 802.3af PoE compliant device
1 x 10/100 Mbps PoE Auto-MDIX port
Optional power port for non-PoE installations
SD/SDHC card slot*
Microphone and speaker audio ports
Tinted dome
Camera LEDs display link and activity status (can be turned off)
Supports H.264, MPEG-4, and MJPEG video compression
3GPP support
Resolution up to 1280 x 1024 pixels at up to 15 frames per second (fps) and 640 x 480 pixels at up to 30 fps
Supports simultaneous video streaming
Video mirror support (horizontal/vertical) enables upside down installations
Two way audio (optional third party microphone and speakers required)
Fully integrated cabling simplifies installation
Dynamic DNS support
Images controls: brightness, saturation, and sharpness
Mask overlays conceal sensitive areas
Date, time, and text overlays
Supports TCP/IP networking, email, HTTP, and other Internet protocols
Record streaming video to your computer or Network Storage device with Samba support
Three motion detection windows with just-in-time snapshot, motion detection triggered email alerts, and image upload to FTP
Send instant messages to Jabber client via Jabber Server
Supports Quality of Service (QoS) with Differentiated Services Code Point (DSCP)
Quick Universal Plug and Play (UPnP) installation
3-year limited warranty
TRENDnetVIEW Camera Software Features
Manage up to 32 cameras**
Compatible with Windows and Microsoft Server 2008
Multiple language support

Camera Viewing
Preset viewing modes
Program custom viewing modes
Full screen view
Drag and drop live feeds to a new location
Program camera cycle viewing sequence
Motion detection brings video forward
Side, top, and bottom tool bars can be hidden
Web based access from smart phones and tablets

Recording options

Program weekly recording schedules
Motion detection recording

Define motion detection areas of any shape
Define motion detection sensitivity

Event trigger recording
Date and time overlay
Mask overlay to conceal sensitive areas
Save a single video stream to multiple locations simultaneously
Define recording quotas by recording time or space allocation
Disk clean feature condenses and optimizes old files
Real time recording stats to help manage files

Search and Playback

Navigation timeline provides a quick visual reference to the recorded content
Search continuous recordings by motion
Search recordings by motion within a defined field (a portion of the viewing area)
Time lapse playback search

Map cameras on an image such as a floor plan
Map cameras on Google Maps™
* SD card sold separately** Monitoring multiple cameras may require a high performance CPU
Camera
General

Sensor: 1/4" Megapixel CMOS sensor
Max. Resolution: 1280 x 1024 pixels
Board Lens
Focal Length: 3.58 mm
Aperture (F/No): F2.0 +/- 5%
Minimum illumination: 1 Lux
Viewing angle:
Horizontal: 63°
Vertical: 46°
Diagonal: 74°

Audio

Microphone outport (microphone sold separately)
Audio outport: Mono (speakers sold separately)
Sensitivity: -42 dB +/- 3 dB
Frequency: 100~10,000 Hz
S/N: 65 dB
Format: PCM/AMR

Pan/Tilt (Manually)

Manually adjust camera to final fixed position
Pan: -175° ~ +175°
Tilt: 20° ~ 90°

SD Slot

Supports SD/SDHC (up to 32 GB)

Hardware
Network

IEEE 802.3u 10/100 Mbps Fast Ethernet
IEEE 802.3af PoE

LED

Power, Link/Act (can turn off LEDs)

Reset Button

Reboot or restore to factory default

Power Consumption
Power

Input: 100 ~ 240V AC , 0.5A, 50~60Hz
Output: 12VDC 1.5A external power adapter (for non-PoE installations)

Dimension

131 x 131 x 127 mm (5.2 x 5.2 x 5 in.)

Weight
Temperature

Operating: 0°C ~ 50°C (32°F ~ 122°F)
Storage: -15°C ~ 60°C (5°F ~ 140°F)

Humidity
Certifications
Requirement
Management Interface

Internet Explorer 6.0 or above

To Run TRENDnetVIEW

Windows 7 (32/64-bit), Vista (32/64-bit), XP (32/64-bit)
Windows Server 2003, 2008

TRENDnetVIEW

Channel: supports up to 32 cameras
Record/Playback/Motion Detection/Audio

Network Protocols

TCP/IP, IPv4, IPv6, UDP, ICMP
DHCP client, NTP client, DNS client, DDNS client, SMTP client, FTP client
HTTP, HTTPs
Samba client
PPPoE
UPnP
Bonjour
RTP (Real Time Protocol)
RTSP (Real Time Streaming Protocol)
RTCP (Real Time Control Protocol)
SSL
ONVIF
3GPP (video only)

Management
Remote

Remote management supported

Backup/Restore

Save/retrieve configuration files

Settings
Image

Automatic exposure, white balance, and gain control
Brightness, saturation, sharpness, light frequency, and mirror (horizontal/vertical)

Video

Encoding type: H.264, MPEG-4, MJPEG
Compression: 5 levels
Resolution/Frame Rate:
SXGA (1280 x 1024) up to 15fps
720p (1280 x 720) up to 20fps
VGA (640x480) up to 30fps
QVGA (320x240) up to 30fps
QQVGA (160x120) up to 30fps
Multi-Stream:
H.264: SXGA, VGA, QVGA, QQVGA, 720P
MPEG-4: VGA, QVGA, QQVGA
MJPEG: SXGA, VGA, QVGA, QQVGA, 720P

Recording/snapshot

Recording type: continuous, schedule, motion detection, or snapshot
Event Management
Event trigger: motion, schedule
Store video file to SD card or storage device
Send Instant message to Jabber client via Jabber server

Overlay

Text overlay: time, date, and text
Mask overlay: define up to 2 opaque boxes to conceal portions of the recording area

QoS
Port Settings

HTTP port: 80 (default)
RTSP port: 554 (default)

Digital Zoom
Dynamic DNS
Time

Synchronize with NTP server or set time/date manually

Email

Supports up to 2 destination accounts

System Log
PACKAGE CONTENTS
TV-IP262P
Multi-language Quick Installation Guide
CD-ROM (Utility, Software, & User's Guide)
Power adapter (12 V DC, 1.5 A)
Network cable (1.5 m / 5 ft.)
Camera mounting Kit
All references to speed are for comparison purposes only. Product specifications, size, and shape are subject to change without notice, and actual product appearance may differ from that depicted herein.
DIY: Viewing IP Cameras Over The Internet
DIY Video: Predicting Camera Viewing Field Sizes
DIY: Camera Mounting Tips
TRENDnetView App (Apple® and Android®)
TRENDnetView Pro Camera Software Video
DIY: Using PoE Technology to Install IP Cameras