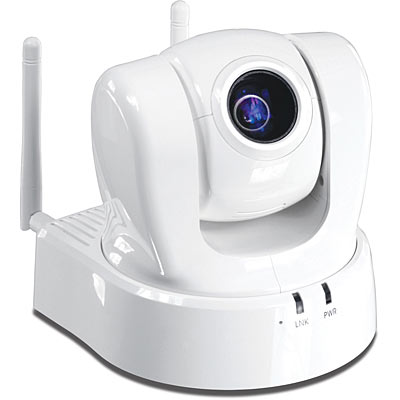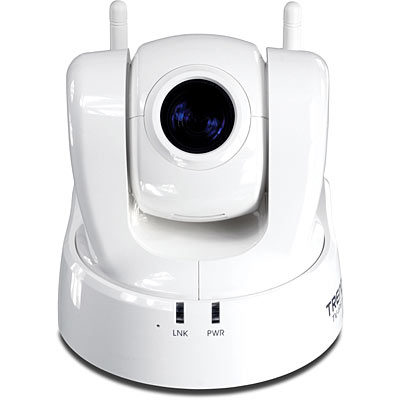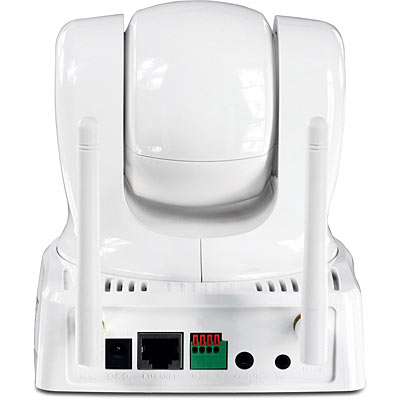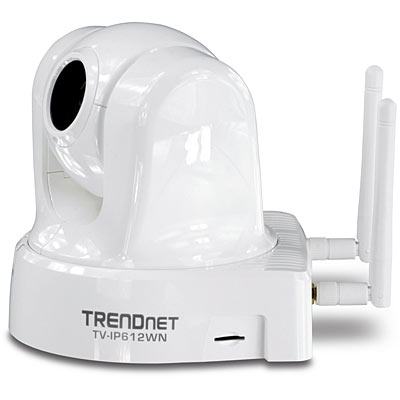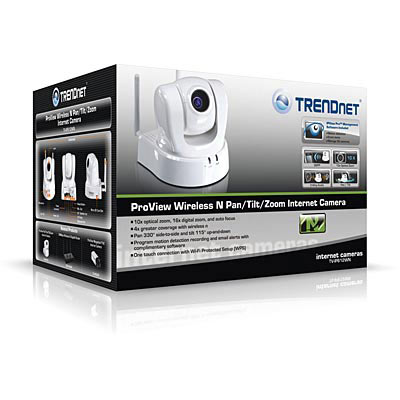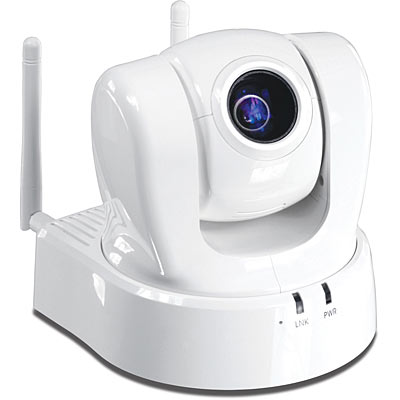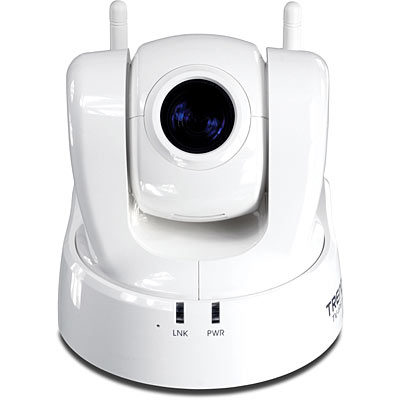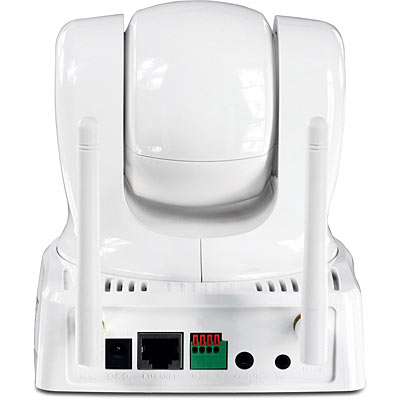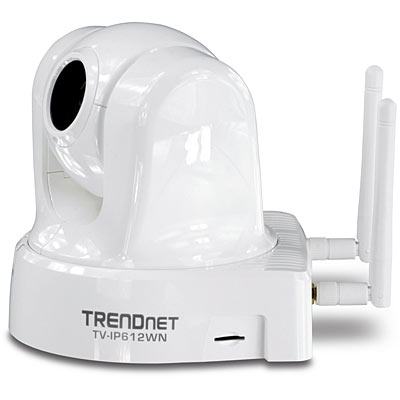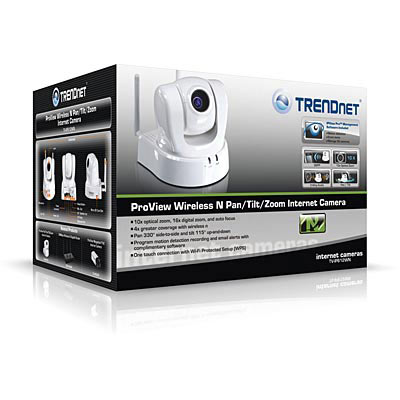 Wireless PTZ Network Camera
TV-IP612WN (Version 1.0R)
10x optical zoom, 16x digital zoom, and auto focus
4x greater coverage with wireless n
Pan 330° side-to-side and tilt 115° up-and-down
Program motion detection recording and email alerts with complimentary software
One touch connection with Wi-Fi Protected Setup (WPS)
The ProView Wireless N Pan/Tilt/Zoom Network Camera provides video monitoring over a large area. 10x optical zoom combined with 16x digital zoom and auto focus technology capture clear images of distant objects. Wireless n technology provides unsurpassed wireless coverage and improved streaming video quality. Pan the camera side-to-side a remarkable 330 degrees and tilt up-and-down 115 degrees from any Internet connection. Manage up to four video profiles to record H.264 quality video while at the same time streaming content to a compatible 3GPP mobile phone.
Add this camera to your wireless network at the touch of a button with Wi-Fi Protected Setup (WPS). The TV-IP612WN streams up to 704 x 480 resolution over a wireless connection. Manage up to 32 ProView cameras with the included complimentary camera management software. Advanced features include motion detection recording, email alerts, scheduled recording sessions, H.264 and MPEG-4 compression, 2-way audio, pan/tilt auto patrol, input/output ports, optical and digital zoom, and a built-in Micro SD card slot to store video directly to a memory card. A wall/ceiling mounting kit is included and the off-white IP camera housing blends into most environments. This camera's brilliant image quality, pan and tilt functionality, and recording capabilities make it ideal for home, small office, and business use.
Wi-Fi compliant with IEEE 802.11n standard
Backwards compatible with IEEE 802.11g and IEEE 802.11b devices
One touch WPS connection button
1 x 10/100 Mbps Auto-MDIX RJ-45 port
Power and activity LED indicators (can be disabled)
Micro SD* card slot
2-way audio: built-in microphone, jack for additional 3rd party microphone and speaker
Input/Output ports to network alarm systems and other devices
Reset button
2 x detachable antennas
Auto focus zoom board lens
10x optical zoom
16x digital zoom
Pan left or right 165° for a total of 330°
Tilt the camera up 84° and down 31° for a total of 115°
Stream and record up to 4 different video profiles simultaneously
Stream Network camera video to a 3GPP compatible wireless device
Dynamic DNS support
High quality H.264, MPEG-4, and MJPEG video recording
Supports up to 704 x 480 pixel resolution at up to 30 frames per second

Live View Controls: (full functionality when using Internet Explorer)
Program Auto Patrol viewing points, transition speed, and pause duration at each point
Auto Pan functionality continuously pans side to side
Define up to 20 preset viewing points
Auto focus mode
When in manual focus mode: manage Focus In and Focus Out controls
Manual pan, tilt, and zoom functionality
Set pan and tilt speed
Full screen video mode
Snapshot functionality takes snapshot in real time
View each of the pre-defined viewing profiles
One click mouse controlled zoom in/zoom out

Image controls: Brightness, contrast, auto gain control, noise reduction, saturation, sharpness, back light control, hue, frequency, flip image vertically, mirror image horizontally, and Black and White mode
Automatically adjusts between day and night modes or schedule day and night mode times
Record video to a Samba network drive or a Micro SD Card
Define a recording schedule, continuous recording, or event based recording
Individually manage recording space and recycle options for each video profile
Event based recording: program the device to record for up to 15 seconds before and after a motion detection or Input port signal event
Create motion detection fields of any shape over the viewing area
Supports TCP/IP networking, Email, HTTP, Samba, and other Internet protocols
System controls:

Define up to 20 user login accounts
Set the date and time or synchronize with an NTP server

Supports 64/128-bit WEP and WPA/WPA2-PSK wireless encryption
Quick Universal Plug and Play (UPnP) installation
Complimentary IPView Pro 2.0 software: manage up to 32 cameras **
IPView Pro 2.0 compatible with Windows operating systems
3-year limited warranty
* Micro SD memory card sold separately**Monitoring multiple cameras may require a high performance CPU
Camera
General

Sensor: 1/4" CCD Sensor
Focal Length: f(wide) 3.8mm to f(tele) 38.0mm
F/No: F(wide)=1.8 , F(tele) = 2.8
LENS: Auto focus zoom lens with IR cut filter
Zoom Ratio: 10x optical zoom plus 16x digital zoom
Color: full color or black and white mode
Day & Night image modes: Automatic or scheduled transition between modes
Minimum illumination: Color: 0.7 lux@F1.8 B/W: 0.02 lux@F1.8
View:
Wide Angle:
Horizontal: 51.3°
Vertical: 39.3°
Max. Zoom Angle:
Horizontal: 5.6°
Vertical: 7.3°

Audio

Built-in omni-directional microphone
Sensitivity: -40dB +/- 3dB (5 meters max.)
Frequency: 100~2 Hz
Codec: ARM/PCM
External speaker output (speaker sold separately)
Two-way audio with echo canceling

Pan & Tilt

Pan: -165° ~ +165°
Tilt: up 84° and down 31°
Preset positions: 20
Auto Patrol and manual controls

Image & Video

Compression: simultaneous H.264/MPEG-4/MJPEG
Profiles: up to 4 profiles simultaneously
IRIS Control/white balance control: automatic
Resolution: 704 x 480, 352 x 240, and 176 x 112 @ 30fps (NTSC)
Resolution: 704 x 576, 352 x 288, and 176 x 144 @ 30fps (PAL)
Built-in ICR

GPIO

Input: 1 set
Output: 1 set

Micro SD slot

Micro SD card (up to 16G)

Hardware
Network

IEEE 802.3u 10/100 Mbps Auto-MDIX Fast Ethernet

LED
Reset Button
Power Consumption
Power

12V, 2A external power adapter

Dimension

125 x 130 x 125 mm (4.9 x 5.1 x 4.9 in.)

Weight

Camera: 800 g (28.22 oz.)

Temperature

Operating: 0°C ~ 45°C (32°F ~ 113°F)
Storage: -15°C ~ 60°C (5°F ~ 140°F)

Humidity

Max. 90% (non-condensing)

Certifications
Requirement
To View Camera

Internet Explorer 7.0 or above, Firefox 3.5 or above, Safari 4.0 or above

To Run Software

Windows 10, 8.1, 8, 7 (32/64-bit), Vista (32/64-bit), XP (32/64-bit)

IPView Pro 2.0

Channel: supports up to 32 cameras
Record/Playback/Motion Detection/Audio

Network Protocols

IPv4, ARP, TCP, UDP, ICMP
DHCP Client, NTP Client, DNS Client, DDNS Client, SMTP Client, FTP Client
HTTP
Samba Client
PPPoE
UPnP
RTP (Real Time Protocol)
RTCP (Real Time Control Protocol)
RTSP (Real Time Streaming Protocol)

Wireless
Standard

IEEE 802.11b, IEEE 802.11g, and IEEE 802.11n

Frequency
Modulation

DQPSK, DBPSK, DSSS and CCK
OFDM: BPSK, QPSK, 16QAM, 64QAM

Antenna

2 x detachable 2dBi dipole antennas (Reverse-SMA connector)

Date Rate

802.11b: up to 11 Mbps
802.11g: up to 54 Mbps
802.11n: up to 300 Mbps

Encryption

64/128-bit WEP, WPA/WPA2-PSK

Output Power

802.11b: 18dBm (typical)
802.11g: 15dBm (typical)
802.11n: 13dBm ((typical)

Receiving Sensitivity

802.11b: -85dBm at 11 Mbps
802.11g: -73dBm at 54 Mbps
802.11n: -65dBm at 300 Mbps

Channels
Management
Accounts
Remote Login

Remote management supported

Backup/Restore

Save/retrieve configuration files

Log

System log up to 1023 entries

Settings
Image

Brightness, contrast, saturation, sharpness, white balance, flip, mirror (horizontal/vertical), black & white, day, night, schedule mode

Video Setting

Encoding Type: MJPEG/MPEG-4/H.264
Resolution: 704 x 480, 352 x 240, 176 x112 (NTSC)
Resolution: 704 x 576, 352 x 288, 176 x144 (PAL)
Max. frame rate: 30 fps (NTSC)/30 fps (PAL)

Recording

Resolution: Define individual resolution for up to 4 profiles
Required storage: 32MB (minimum per profile)
Recording type: event based (motion detection and digital input trigger), continuous, and scheduled

Snapshot

Trigger event: motion detection or digital input signal
Action: send alert email and/or upload to FTP
Real time snapshot

Port Settings

HTTP port: 80 (default)
RTSP port: 554 (default)

Dynamic DNS
Time

Synchronize with NTP server or set time/date manually
PACKAGE CONTENTS
TV-IP612WN
CD-ROM (Utility & User's Guide)
Cat. 5 Ethernet cable (1.5 m / 5 ft.)
Power adapter (12V, 2A)
Camera mounting kit
AV Cable AV Cable (25 mm / 10.5 in.)
All references to speed are for comparison purposes only. Product specifications, size, and shape are subject to change without notice, and actual product appearance may differ from that depicted herein.
DIY: Viewing IP Cameras Over The Internet
DIY Video: Predicting Camera Viewing Field Sizes
DIY: Camera Mounting Tips
TRENDnetView App (Apple® and Android®)
TRENDnetView Pro Camera Software Video
DIY: Using PoE Technology to Install IP Cameras