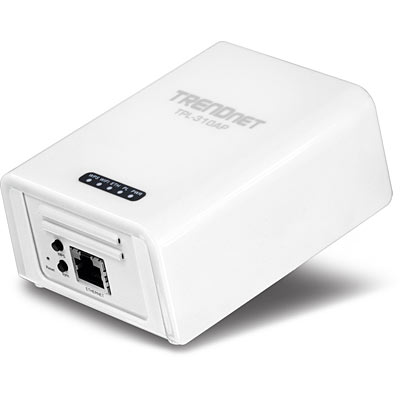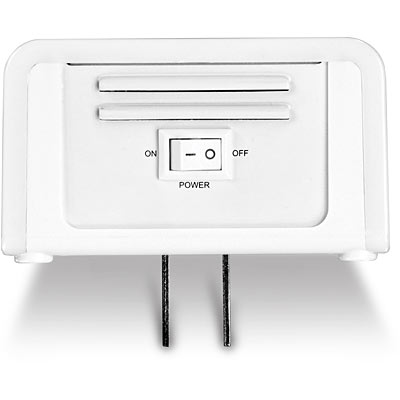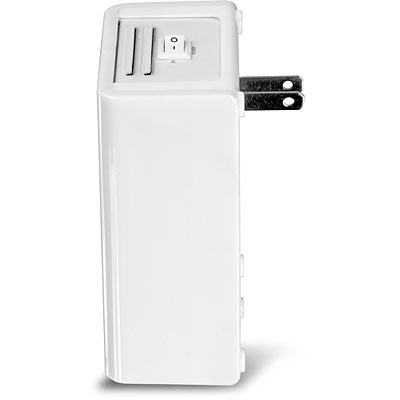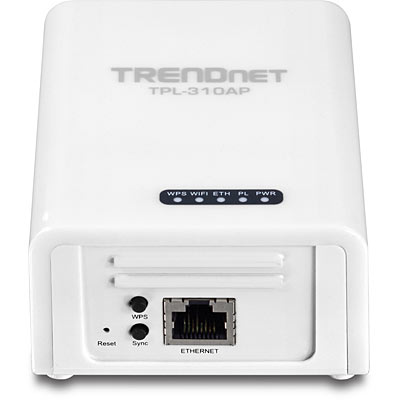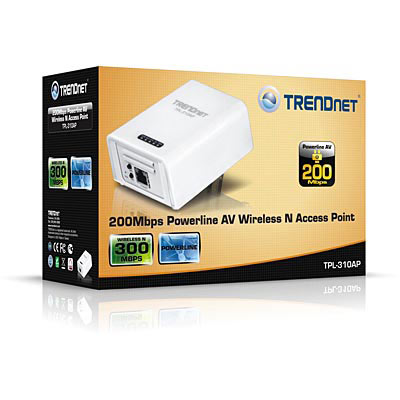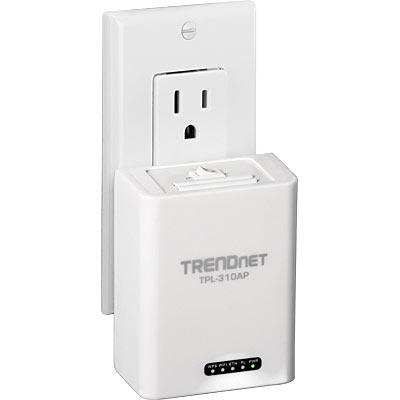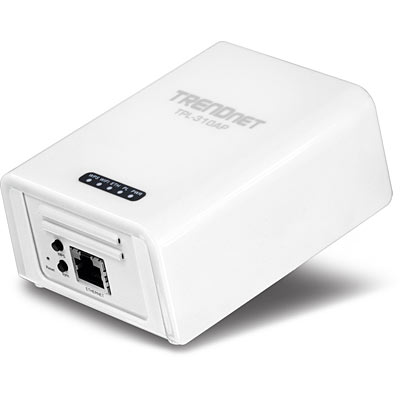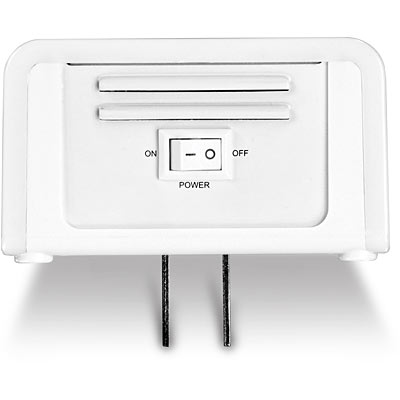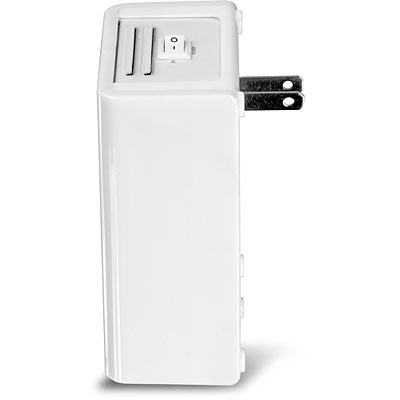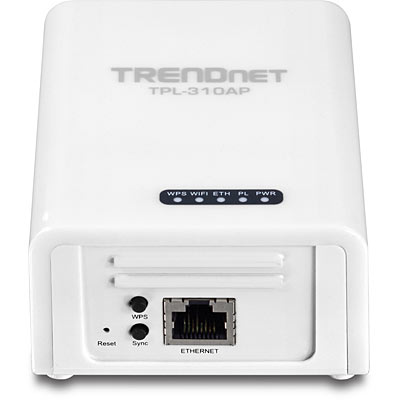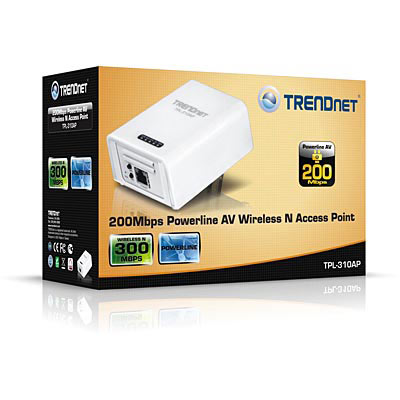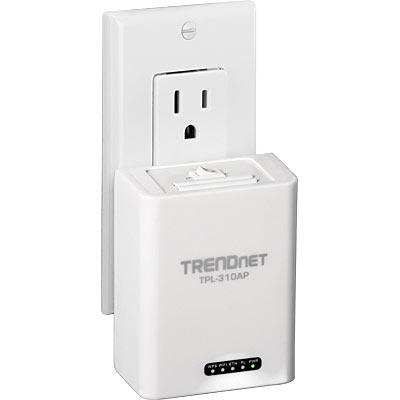 Powerline 200 AV Wireless Access Point
TPL-310AP (Version v1.0R)
Combination 200Mbps** Powerline adapter and 300Mbps wireless n access point
Create a 300Mbps*** wireless network from any room in your home
Connect up to 16* high speed powerline adapters
Wireless n access point offers Access Point, Client, WDS, and Mesh mode functionality
Advanced encryption
The Powerline 200 AV Wireless Access Point, model TPL-310AP, allows users to create a wireless network from any outlet on their electrical system. Connect one adapter to your network and plug in up to 15* other adapters for high speed network access. Connect adapters quickly using the convenient one-touch Sync button. Advanced AES encryption provides optimum Powerline security, LED displays convey device status for easy troubleshooting, and Quality of Service technology prioritizes video, audio, and online gaming.
The built in 300Mbps*** wireless n access point offers Access Point, Client, WDS, and Mesh mode functionality. One-touch Wi-Fi Protected Setup (WPS) connects wireless clients quickly. Advanced features include 4 SSIDs, different encryption for each SSID, WMM Quality of Service data prioritization, WPA2-RADIUS encryption, MAC Access Control, and Spanning Tree support.
Powerline
1 x 10/100Mbps Auto-MDIX Ethernet port
Connect one 200Mbps** Powerline AV Adapter to the Internet and then plug in up to 15* additional Powerline AV adapters for instant building connectivity
One-touch Sync button networks adapters quickly
Share data intensive files, play games, download music, and more at faster data transfer rates
Advanced 128-bit AES encryption to ensure total network security
Neighbor network support for up to 4 overlapping networks
Tri-color LED Indicator
Network signal transmits up to 300 meters (984ft.)
Auto QoS support through traffic classification and multiple priority queuing
Optional management utility compatible with Windows 7 (32/64-bit), Vista (32/64-bit), and XP (32/64-bit) operating systems
Wireless
Integrated high performance wireless n access point
Based on IEEE 802.11n technology and compliant with IEEE 802.11b/g standards
High-speed data rates of up to 300Mbps*** with IEEE 802.11n
One-touch Wi-Fi Protected Setup (WPS) button connects wireless clients quickly
Supports Access Point or Access Point (AP) Client (wireless adapter) mode
In Access Point mode: expand a wireless network using Repeater mode (listed as AP Mode Support), Wireless Distribution System (WDS), or Mesh mode (bridging)
MAC filter feature for added security (AP mode only)
Wireless security up to WPA/WPA2-RADIUS
Create a weekly schedule to enable or disable wireless network
Wi-Fi Multimedia (WMM) Quality of Service (QoS) support
Broadcast up to 4 SSIDs with different wireless encryption
Web graphical user interface provides backup, configuration, and firmware management
Wireless indoor coverage up to 100 m (328 ft.)***
3-year limited warranty
* Maximum of 16 adapters (nodes) recommended for streaming video across your network. Additional adapters may decrease performance.** 200Mbps is the maximum theoretical Powerline data rate. Actual throughput will vary depending on environment.***Maximum wireless signal rates are referenced from IEEE 802.11 theoretical specifications. Actual data throughput and coverage will vary depending on interference, network traffic, building materials and other conditions.**** Networked Powerline devices need to be plugged into power outlets that are on the same electrical system.*****GFCI outlets and AFCI circuit breakers may degrade Powerline network signals.
Hardware
Standards

IEEE 802.3, IEEE 802.3x, IEEE 802.3u, IEEE 802.11n, IEEE 802.11b, IEEE 802.11g, IEEE 802.11s, IEEE 802.1d, HomePlug® AV, IEEE 1901

Interface

1 x 10/100Mbps Auto-MDIX RJ-45 Port,
Power prong:
A: North America Type B (NEMA 5–15)
EU: Euro Type C (CEE 7/16)
FR: French Type E (CEE 7/5)

Powerline Frequency
Modulation

OFDM Symbol Modulation on link synchronization, 1024/256/64/8 - QAM, QPSK, BPSK, ROBO Carrier

Protocols
Wired Speed

Powerline: Up to 200Mbps**
Ethernet: Up to 200Mbps (Full Duplex mode)

Utility OS Compatibility

Windows 7 (32/64-bit), Vista (32/64-bit), XP(32/64-bit)

Nodes

Up to 64 (max.)
Recommended: Up to 16* per powerline network

Overlapping Powerline Networks

Up to 4 (per electrical system)

Powerline Coverage
Powerline Security

128-bit AES (Advanced Encryption Standard)

LED

Power (PWR)
Wireless (WLAN)
WPS (Wi-Fi Protected Setup)
Powerline (PL) Connection
Best (Green)
Better (Amber)
Good (Red)
No connection (Off)
Ethernet (ETH) Connection
Solid
Blinking
Off

Power Switch
Buttons
Dimension (L x W X H)

A: 103 x 81 x 66 mm (4.1 x 3.2 x 2.6 in.)
EU/FR: 103 x 81 x 81 mm (4.1 x 3.2 x 3.2 in.)

Weight

A: 266 g (9.4 oz)
EU/FR: 272 g (9.6 oz)

Power Source
Consumption
Temperature

Operating: 0° ~ 40°C (32° ~ 104°F)
Storage: -10° ~ 70°C (14° ~ 158°F)

Humidity

Max. 90% (non-condensing)

Certifications
Wireless
Modulation

OFDM with BPSK, QPSK, 16QAM, and 64QAM

Access Point Modes

Access Point (AP)
Access Point (AP) Client (wireless adapter)
Wireless Distribution System (WDS)
Wireless Distribution System (WDS) with Access Point (AP)
Mesh
Mesh with Access Point (AP)
Repeater (using Client mode only)

Frequency Band
Data Rate***

802.11b: 1,2,5.5, and 11Mbps
802.11g: 6,9,12,18,24,36,48 and 54Mbps
802.11n: up to 300 Mbps

Security

64/128-Bit WEP (HEX & ASCII), WPA/WPA2 RADIUS, WPA/WPA2-PSK

Antenna

2 x 2dBi internal printed dipole antennas

Channel

2.4GHz: 1~11 (FCC), 1~13 (ETSI)

Output Power

16dBm typically @ 802.11b
14dBm typically @ 802.11g
13dBm typically @ 802.11n

Receiver Sensitivity

802.11n Typical -68 dBm
802.11g Typical -73 dBm
802.11b Typical -84 dBm
PACKAGE CONTENTS
TPL-310AP
Multi-Language Quick Installation Guide
CD-ROM (Utility & User's Guide)
Network cable (1.5 m / 5 ft.)
All references to speed are for comparison purposes only. Product specifications, size, and shape are subject to change without notice, and actual product appearance may differ from that depicted herein.
TRENDnet DIY: Connecting an Internet TV with Powerline
New to Networking: Introduction to Powerline