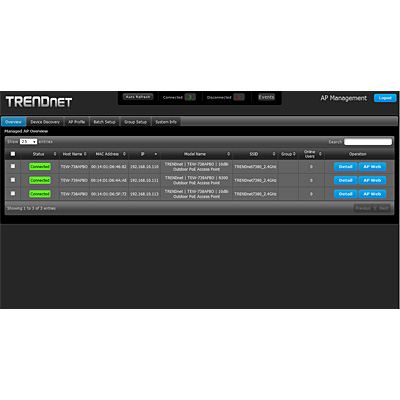 AP Management Software
TEW-APC1 (Version: v1.0)
Centralized firmware upgrade allows you to upgrade multiple access points simultaneously
Backup and restore access points using configuration templates
Restore configuration settings (i.e. SSID, channel, wireless encryption, IP Address)
Monitor access point status and connected network devices
Multi-SSID support
Compatible with TEW-738APBO and TEW-739APBO
Easily manage multiple access points (AP) across your wireless network with TRENDnet's AP Management Software. Simultaneously manage up to 200 access points, batch firmware upgrades and monitoring network connection status. Reduce setup time by creating specific configura-tions and assigning it to multiple APs. Save templates to quickly restore an access point's configuration.
Features
Access Point Monitoring
View the status of online users or network devices
Simultaneously Upgrade Firmware
Select multiple access points to upgrade firmware at the same time
Access Point Group Management
Create custom profiles and assign them to multiple access points
Specifications
Standards

Compatible with Windows® 10, 8.1, 7, Vista, XP

Recommended System Requirements

Web browser-based support: Mozilla Firefox, Google Chrome, or Internet Explorer 9 and above.
2GB RAM recommended
1G HDD space

Management

Manage wireless clients
IP-Based monitoring of supported access points (up to 200) on the same network

Special Features

AP Group management, allowing to set templates to assign similar settings to multiple APs
Central firmware upgrade allowing to upgrade multiple APs firmware at the same time
Easy system recovery

Access Control

WLAN Partition
MAC Control list
Up to WPA2 (802.1x) wireless encryption
Package Contents
AP Management Software
Ordering Information
20675 Manhattan Place
Torrance, CA 90501
USA

Tel: 1-310-961-5500
Fax: 1-310-961-5511
Web: www.trendnet.com
Email: sales@trendnet.com
To Order Please Call

1-888-326-6061
Information provided in this document pertain to TRENDnet products and is subject to change at any time, without notice. Copyright © 2018 TRENDnet. All rights reserved.