TRENDnet Sponsors Youth Sports, Local Soccer Athlete
TRENDnet (4/5/2023)


TORRANCE, Calif. and ENGLAND – Apr. 5, 2023 – TRENDnet® (www.TRENDnet.com), a global leader in reliable SMB and consumer networking and surveillance solutions, sponsors local US youth sports soccer athlete, Andrea Garcia for a once-in-a-lifetime opportunity to play overseas against high-level European teams. Top European coaches and talent scouts were also in attendance to view top performers for consideration in future professional contracts.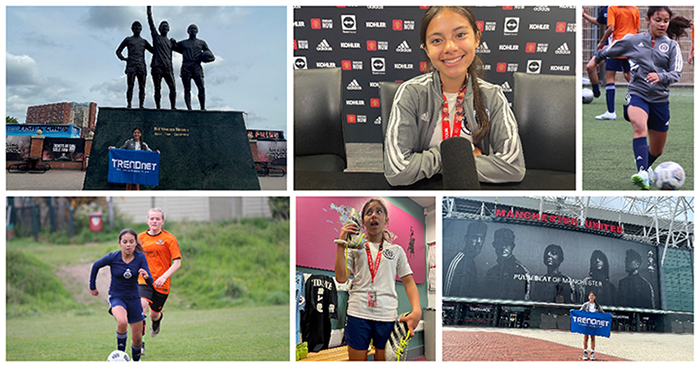 Andrea Garcia is a young female soccer player from Southern California, currently playing for the West Coast FC Academy. Her team played against some of the best U14 teams out of London, Liverpool, and Manchester, winning two out of their three scheduled games during the showcase.
"TRENDnet's sponsorship helped me to make my dream come true of playing soccer in Europe and I am very thankful for it," said Garcia. "Playing in England gave me the opportunity to show my soccer skills to various European scouts and most important, I made many new soccer friends, who I will keep in touch with for years to come to help each other with future soccer opportunities all over the world."
The youth soccer showcase took place overseas in multiple locations throughout England during the summer of 2022.
For several years, TRENDnet has continued to support local youth athletes to reach their goals. It is one of many ways TRENDnet supports their local community.
---
About TRENDnet, Inc.
TRENDnet is a global provider of award-winning networking and surveillance solutions to small and medium-sized businesses, as well as home office users. Building networking solutions since 1990, TRENDnet enables users to share broadband access, multimedia content, and networked peripherals for true anywhere connectivity. TRENDnet's diverse product portfolio includes PoE, switches, Industrial, IP cameras, NVRs, fiber, Powerline, wireless, KVM, USB, and more. To learn more about TRENDnet, please visit www.trendnet.com.
Contact:
TRENDnet
20675 Manhattan Place
Torrance, CA 90501
USA