TRENDnet® Announces the First AC1200 Wireless Adapter with a USB 3.0 Port
TRENDnet (1/8/2013)


TORRANCE, Calif. –January 8, 2013– TRENDnet, a best-in-class wired and wireless networking hardware brand, today announces, from 2013 International CES in Las Vegas, Nevada, the AC1200 Dual Band Wireless USB 3.0 Adapter, model TEW-805UB—The first wireless adapter with a USB 3.0 port to maintain ultimate performance wireless transmissions to your Windows® based laptop or desktop computer.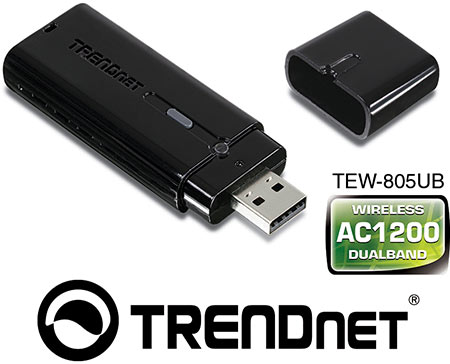 TRENDnet's dual band TEW-805UB can connect to two different wireless networks—a Wireless AC network for the fastest wireless available today and a Wireless N network to connect to common Wireless N routers. The TEW-805UB supports Wireless AC speeds of up to 867 Mbps and Wireless N speeds of up to 300 Mbps. This adapter can also connect to older legacy Wireless G networks.
An intuitive installation process takes less than five minutes. A convenient adapter utility stores multiple network passwords and prioritizes network connections. A Wi-Fi Protected Setup (WPS) button connects the adapter to a wireless network at the touch of the button. This compact adapter is powered by the computer.
"The use of the first ever USB 3.0 port with our AC1200 Dual Band Wireless USB Adapter simply makes sense," stated Zak Wood, director of global marketing for TRENDnet. "The TEW-805UB's USB port will not bottleneck record Wireless AC speeds realized by the adapter."
Wireless: Next generation Wireless AC
USB: SuperSpeed 5 Gbps USB 3.0 port
Dual Band: 867 Mbps Wireless AC or 300 Mbps Wireless N
Whole Home Coverage: Whole home wireless coverage
One Touch Connection: Connect to the router at the touch of the Wi-Fi Protected Setup (WPS) button
Form Factor: Compact Wireless AC adapter
TEW-805UB
AC1200 Dual Band Wireless USB 3.0 Adapter
TEW-805UB Availability: April, 2013
TEW-805UB MSRP U.S.: $69.99
---
About TRENDnet, Inc.
TRENDnet is a global provider of award-winning networking and surveillance solutions to small and medium-sized business and home users. Building networking solutions since 1990, TRENDnet enables users to share broadband access, multimedia content and networked peripherals for true anywhere connectivity. TRENDnet's diverse product portfolio includes Wireless, Internet Cameras (IP Cameras), Switches, Power over Ethernet (PoE), Fiber, Gigabit, Home Automation, Network Video Recorders (NVR), Keyboard/Video/Mouse (KVM), Print Servers, Powerline, NAS Media Servers, Multimedia Accessories, and more. To learn more about TRENDnet, please visit www.trendnet.com.
Contact:
TRENDnet
20675 Manhattan Place
Torrance, CA 90501
USA