PoE Cameras Guide for Beginners
Choosing the Best PoE Camera for You
February 2021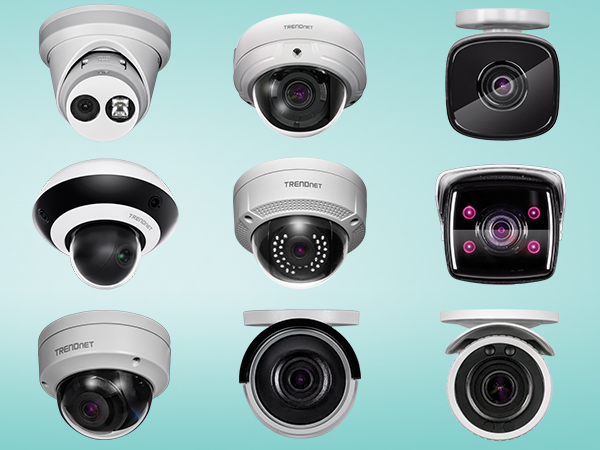 What is PoE? What are PoE Surveillance Cameras?
Power over Ethernet or PoE technology allows you to use a single cable for both data and power. Without PoE, you would need to run two separate cables, one for a network connection and one for power. Running multiple cables increases both infrastructure costs and labor costs. The ability to run one cable essentially kills two birds with one stone.
PoEsurveillance cameras are IP cameras (or also called network cameras)that utilize PoE technology, delivering both data and power over a singlecable. Note that while all PoE cameras are IP cameras, not all IP cameras are PoE cameras. Unlike traditional analog CCTVcameras, IP cameras (and PoE cameras) can be used as a standalone device; toconnect analog cameras to the network, these cameras require a DVR to convertthe analog signal to IP.
PoE Terms You Need to Know
PoE Type: Amount of PoEpower that can be delivered per port
PoE Class: Amount of PoEpower that may be reserved on a PoE switch for a PoE device
PoE Budget: Maximum amountof power a PoE device will require
Knowing the type and class of powereddevices will help you determine which type of network switch you'll need, and how much power you'll need. Note that some devices use"passive PoE;" these devices use a non-standard technology and will likelyrequire a proprietary PoE injector to connect with your network. Since passivePoE is not an industry standard, there may be incompatibility issues if notinstalled correctly. For more information on IEEE PoE Standards and PoEBudgets, read 'How PoE Device Class Affects Your PoE Budget.'
What are the benefits to PoE and PoE Surveillance Cameras?
Delivering both data and power over a single cable helps tosave on unnecessary infrastructure costs and reduce total installation time.Setting up two sets of lines to go to the same location adds to cabling costsand labor costs, including the cost of the cables and the time it takes tocomplete the wiring. Additionally, with PoE surveillancecameras, you won't need to worry about a nearby power outlet topower the camera, standard PoE can be extended from the power source for up to100m (about 328 ft.).
In terms of resolution, analog cameras are no match to IPcameras. Currently, the highest resolution analog camera available is 1080p. A1080p resolution is still considered HD resolution, but if you're looking forhigher quality video, such as 4K UHD resolution, you'll need to use IPcameras.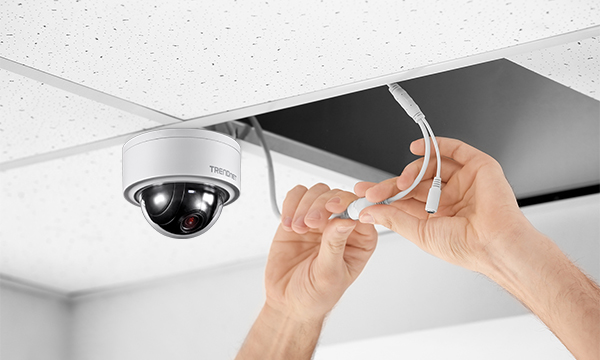 PoE Camera Form Factors
PoE surveillancecameras come in many shapes and form factors. The most common formfactors used are bullet, dome, turret, PTZ, multi-sensor, and speed dome. Otherform factors you may hear about include box, pin hole, fish eye, panoramic, andthermal.
Bullet:
Named for its size and shape. Fixed viewingangle.
Turret:
Also called a mini-dome or flat-faced domecamera; ball-and-socket design. Fixed viewing angle. Insect-proof. No IRbounce. No glare. Ideal for outdoor use.
Dome:
Named for its dome shell housing. Fixed viewingangle. Vandal resistant design.
PTZ:
Allows you to control pan, tilt, and zoomoptions remotely.
Multi-Sensor:
Features multiple cameras acting as one.
Speed Dome:
Also referred to as a PTZ dome. Allows you tocover a wide area with almost no blind spots.
Most Important PoE Camera Features to Consider
PoEsurveillance cameras are available with a wide range of features,and ultimately the most important features to you will be based on your needsor goals. However, for most users, these are the four features that you want topay attention to the most.
1. Resolution
A higher resolution will result in higherquality surveillance video from your PoE camera.Also consider the fps (frames per second). A higher fps will also result inhigher quality video files.
2. Night Vision
Night vision allows you to see surveillance footage taken inthe dark. The night vision range on PoEcameras can vary. If you're selecting a camera that will need nightvision, be sure to check the technical specifications to confirm the nightvision supports the distance you need.
3. Field of View
The field of view (FOV) is the visible area yourPoE camera will capture. Certain camera features will have a direct impact onyour camera's field of view. The zoom feature plays an important role in yourcamera's field of view. Zoom support varies, such as optical vs digital, and manualvs motorized. For more flexibility, consider a camera with a varifocallens, which allows you to adjust the focal length of the cameralens.
4. Remote Access & Mobile App
One of the most important aspects of surveillance is theability to prevent crime as well as respond to problems quickly. Whether it'sfor your home or business, remote accessto your PoE cameras is crucial and allows you to act immediately. Youmay not have someone available to constantly watch live surveillance footageonsite. Look for PoE surveillance camera brands that provide free mobileapps with features such as mobile alerts.
Other PoE Camera Features: Depending on your needs and goals, other PoE camera features to consider include sound detection support, MicroSD card support, outdoor rating, and audio support (mostly for indoor cameras).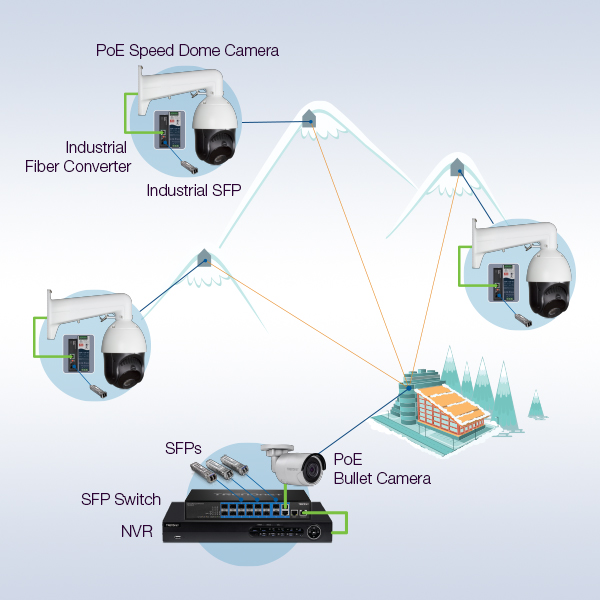 European Ski Resort Networking Example
A popular, high-end winter snow resort based in Europe waeslooking to upgrade their existing surveillance system. The plan was toimplement the upgrade in multiple phases. The first phase focused on networkingcameras from key points through the slopes back to the mainsurveillance center. It also focused on upgrading the networking equipment atthe main surveillance center and adding new surveillancecameras that were not previously monitored.
The challenge for this European ski resort was to find onebrand that could supply the core of the networking and surveillance equipmentthat could be utilized for long distances, and work in harsh weather conditionsoutdoors. The ski resort was looking for a complete solution. Through vigoroustesting, TRENDnet's PoE cameras and fiber solutions were utilized to complete the task.
TRENDnet's fiber solutions were utilized to provide the long-distancenetworking connections needed from the surveillance center to theseven critical locations that were selected for an upgrade. TRENDnet industrialSFP modules and TRENDnetcameras are rated to work in both extremely hot and cold conditions.Back at the surveillance center, a layer 2 managed SFP switch was utilized to managed all the SFPs, three bullet PoE cameras and a network videorecorder were installed for site surveillance.