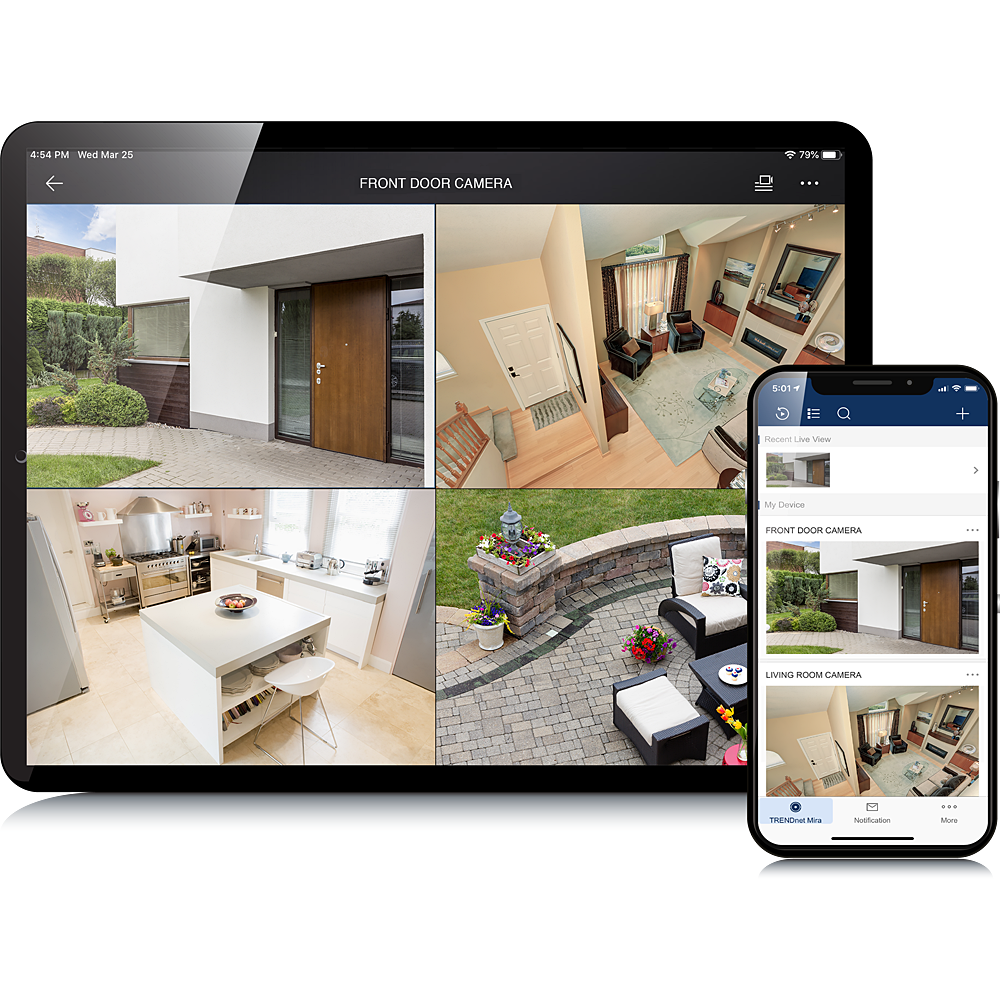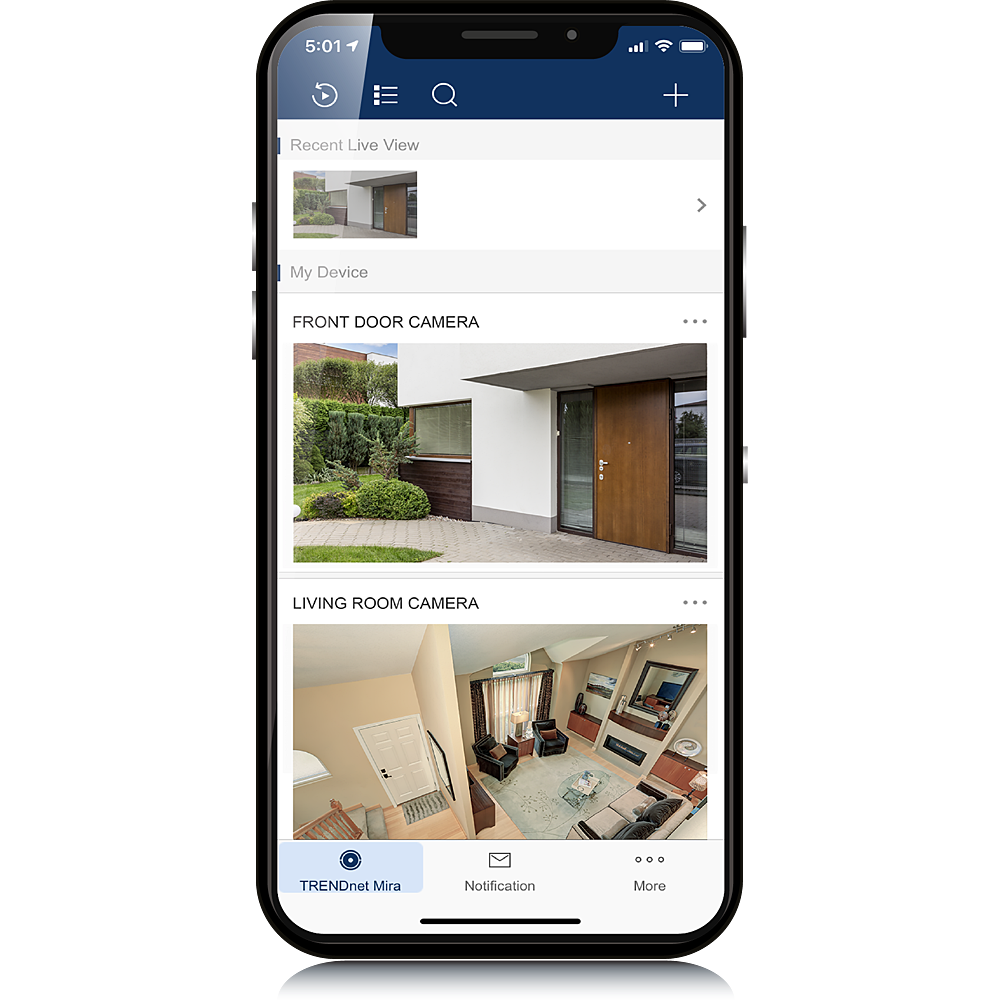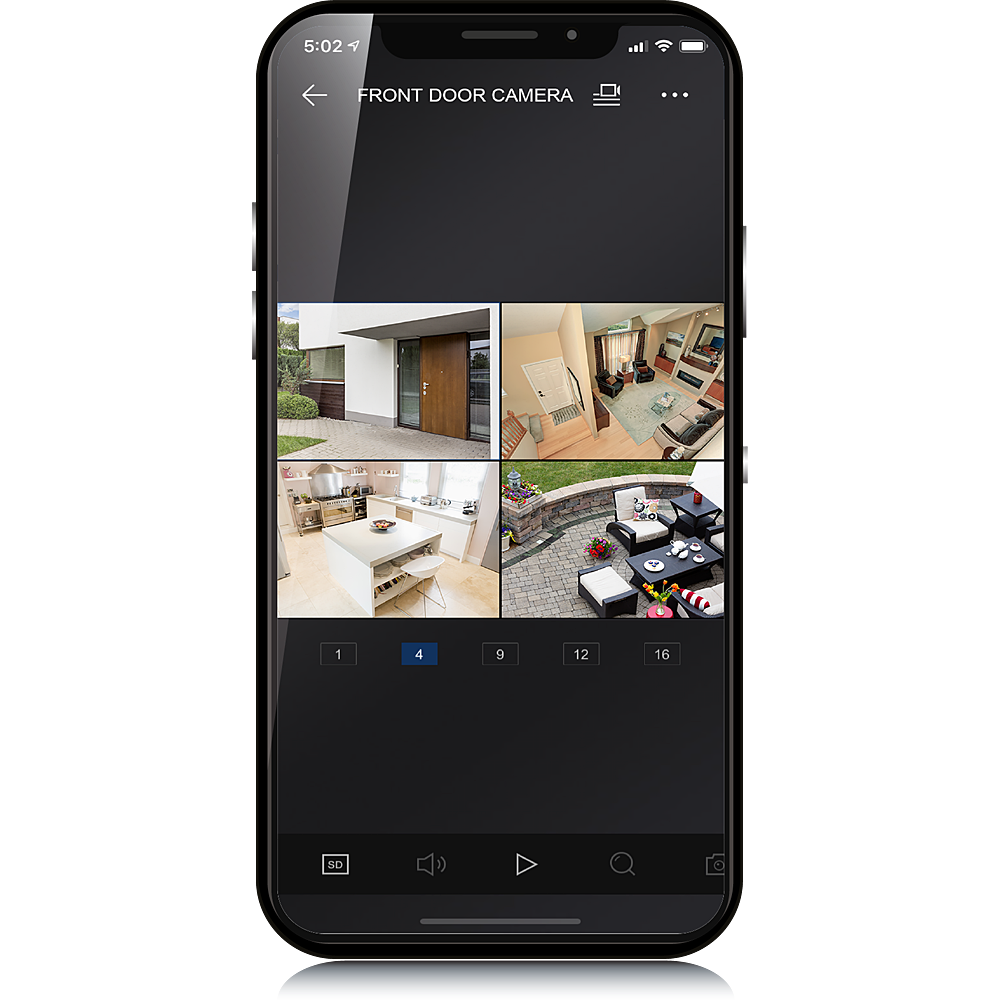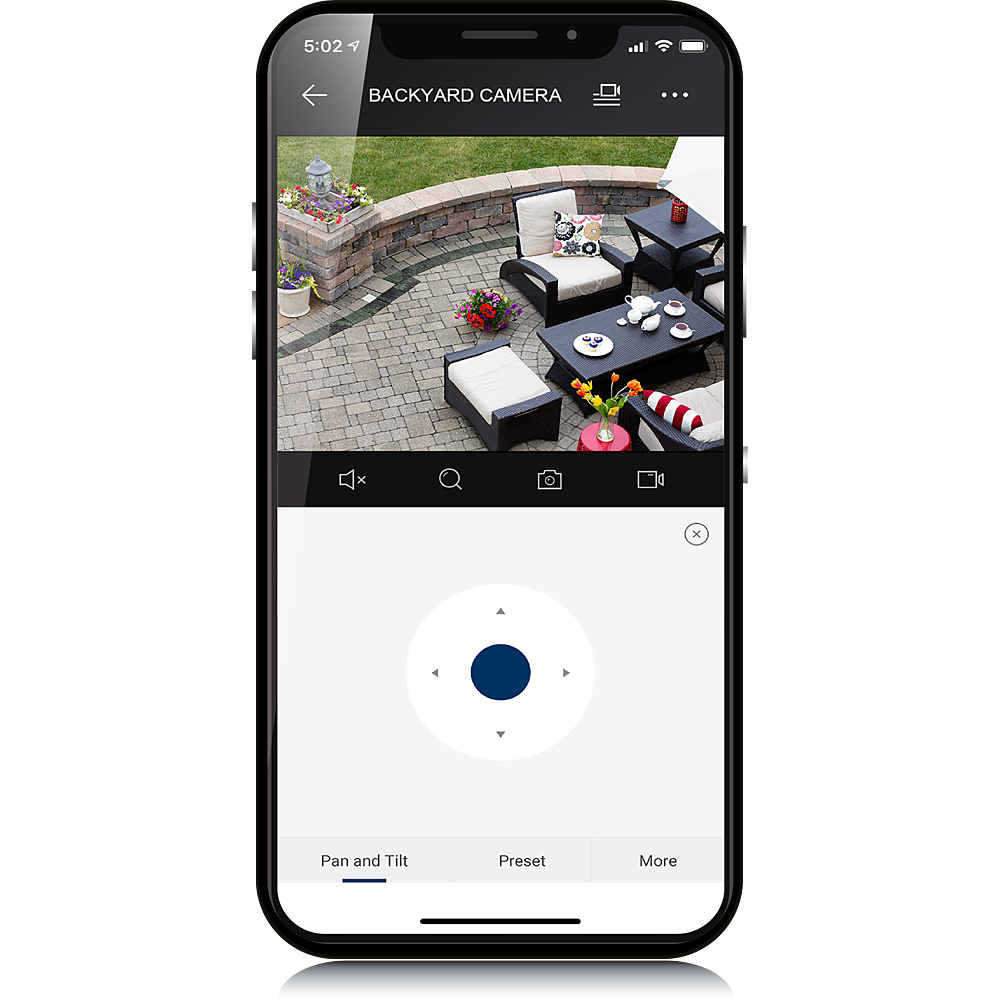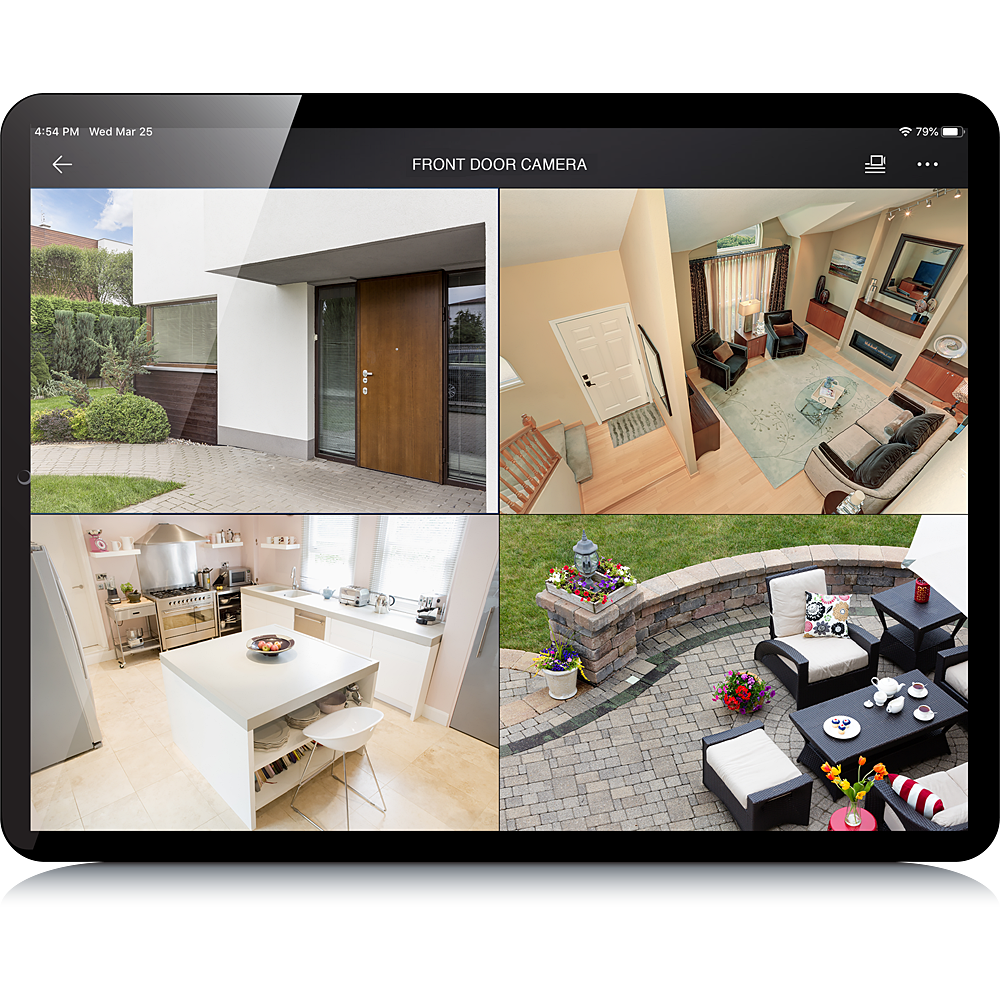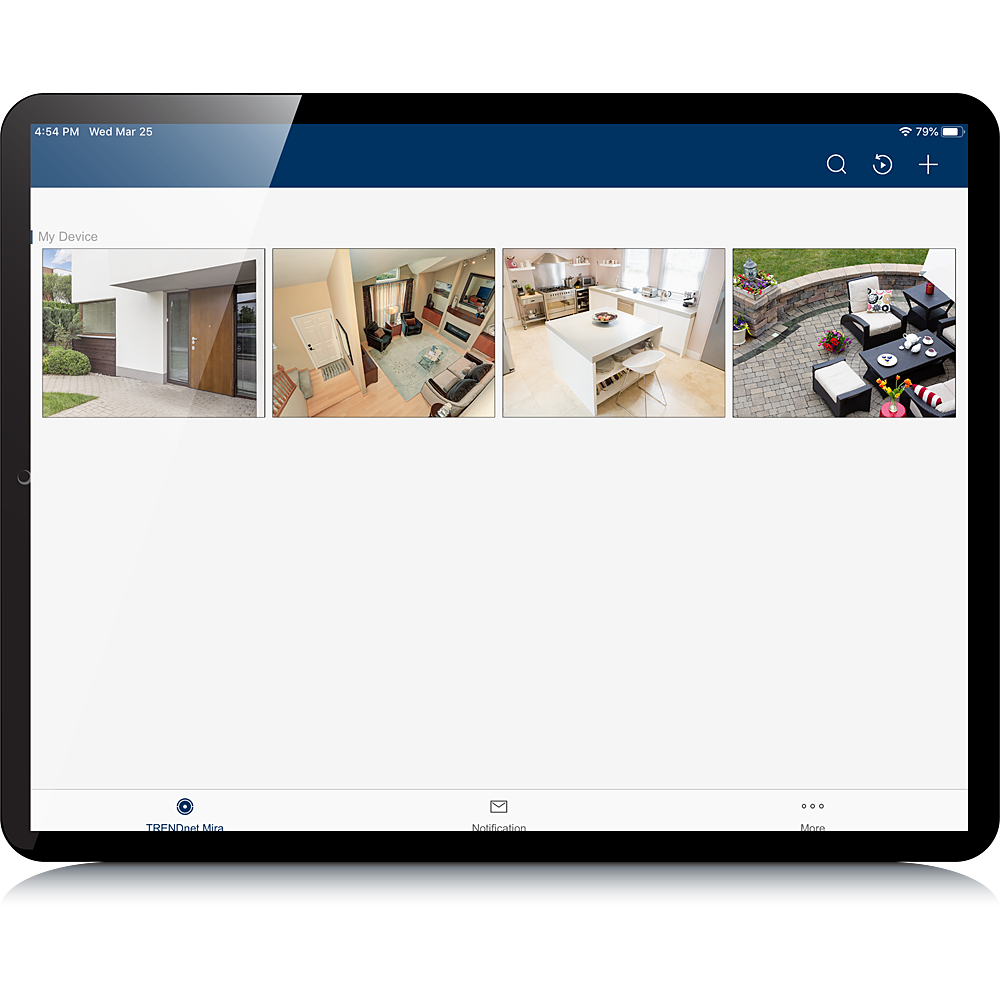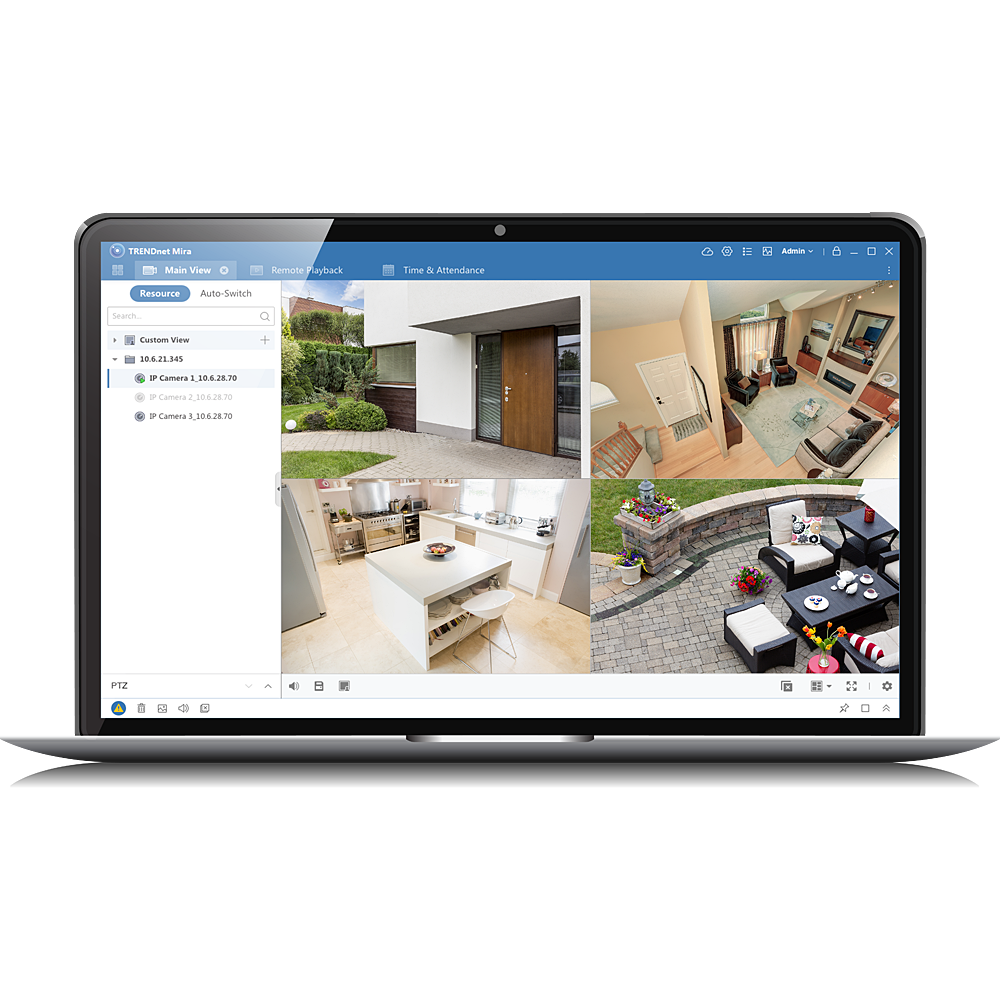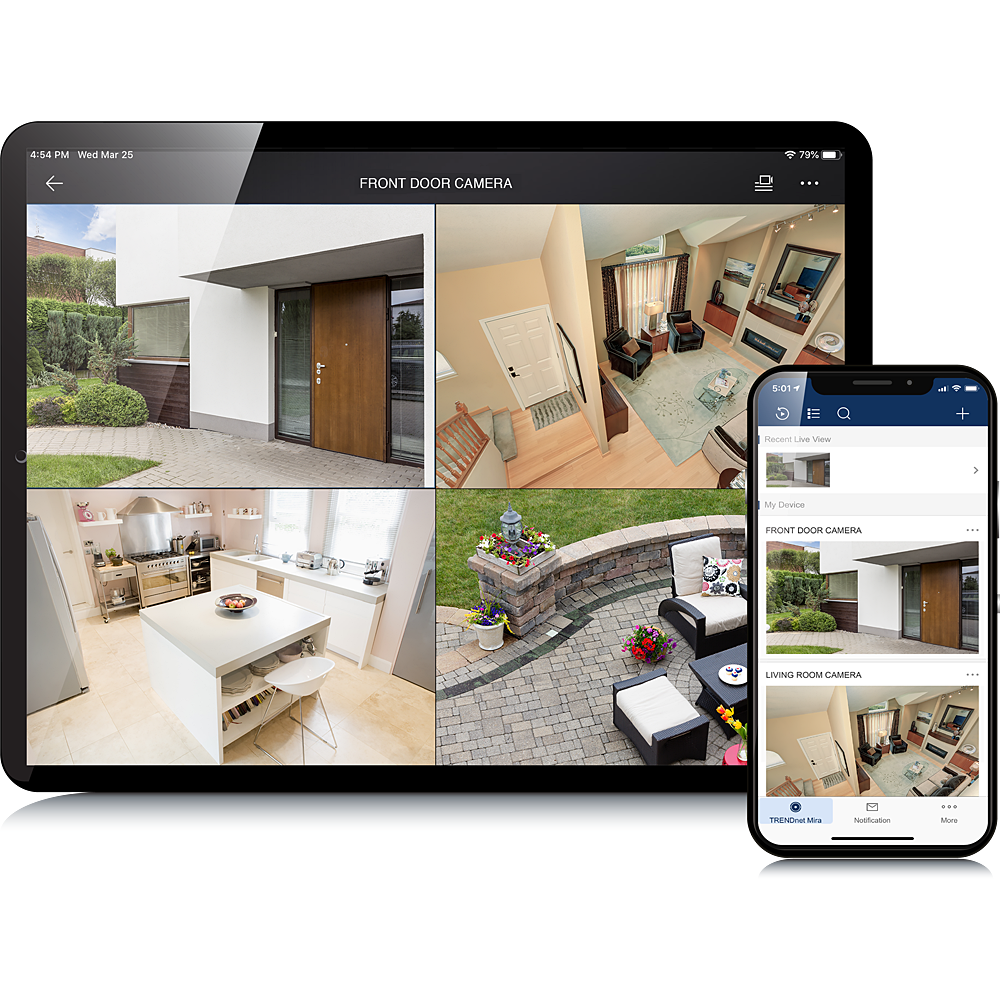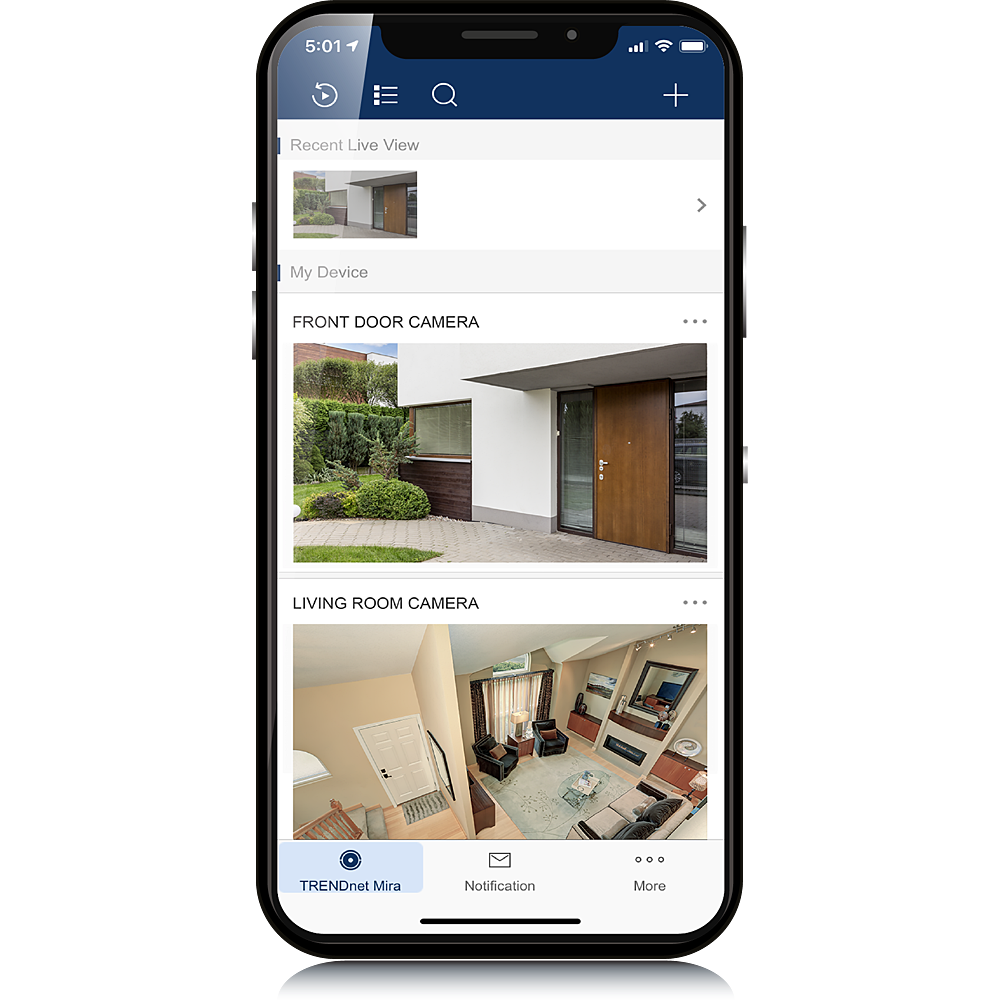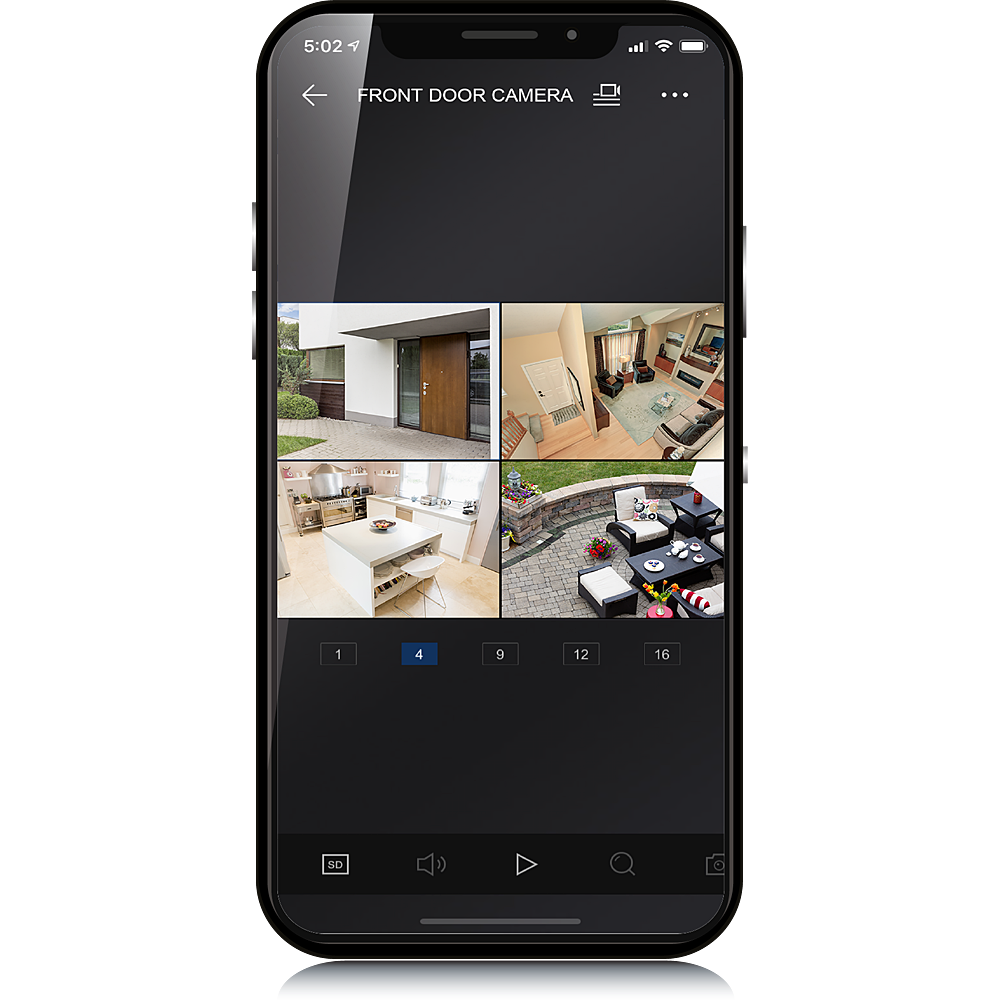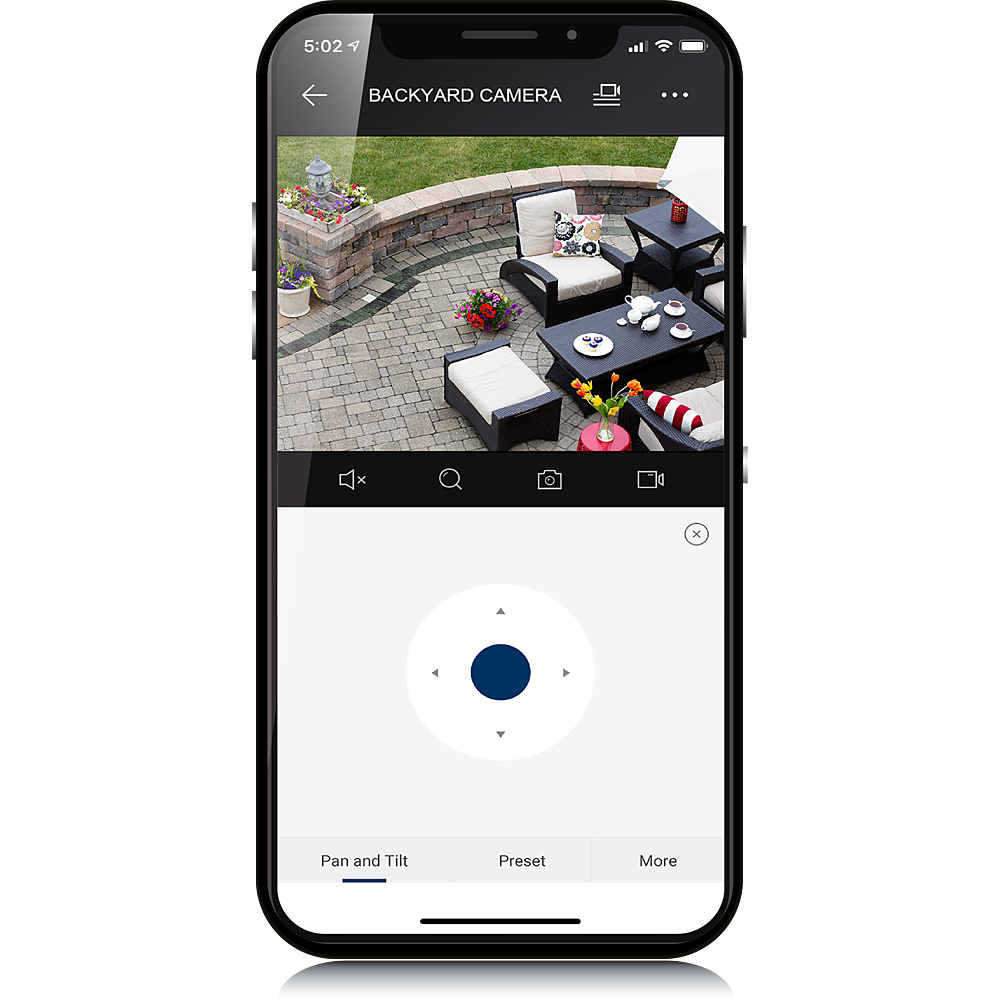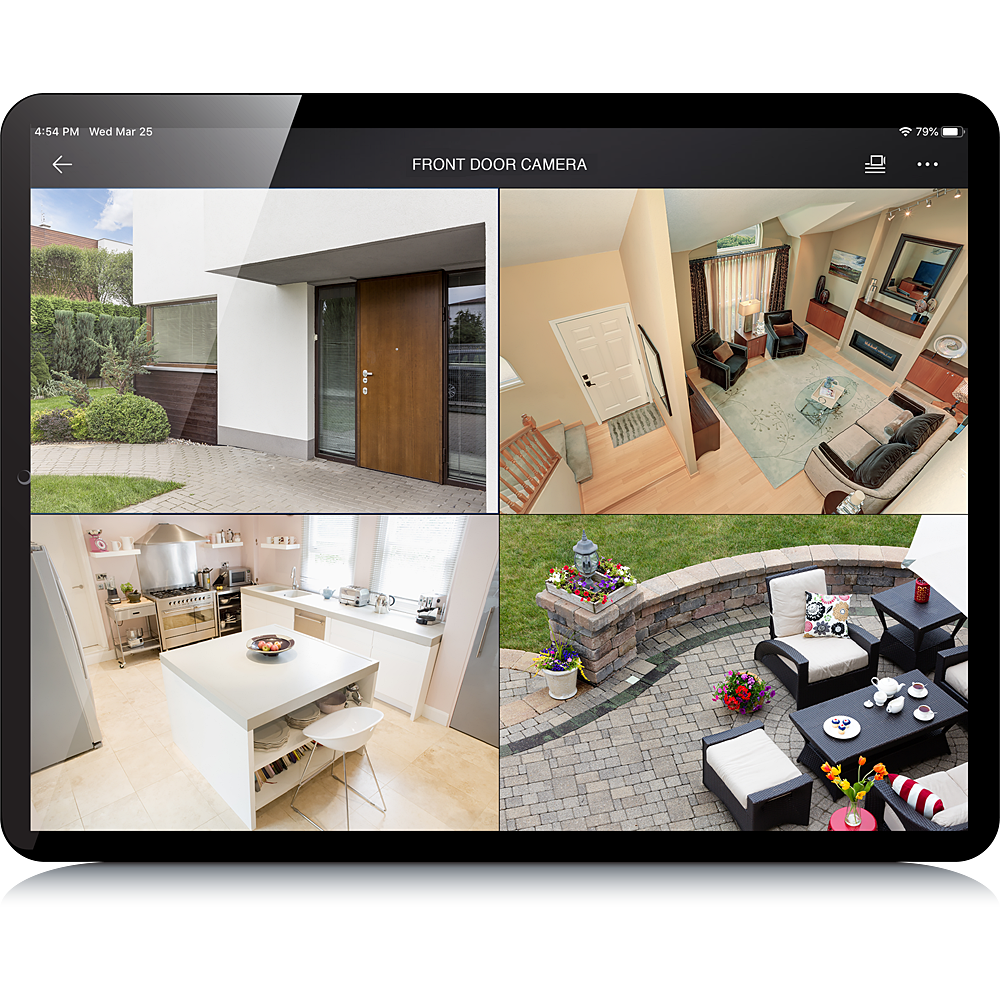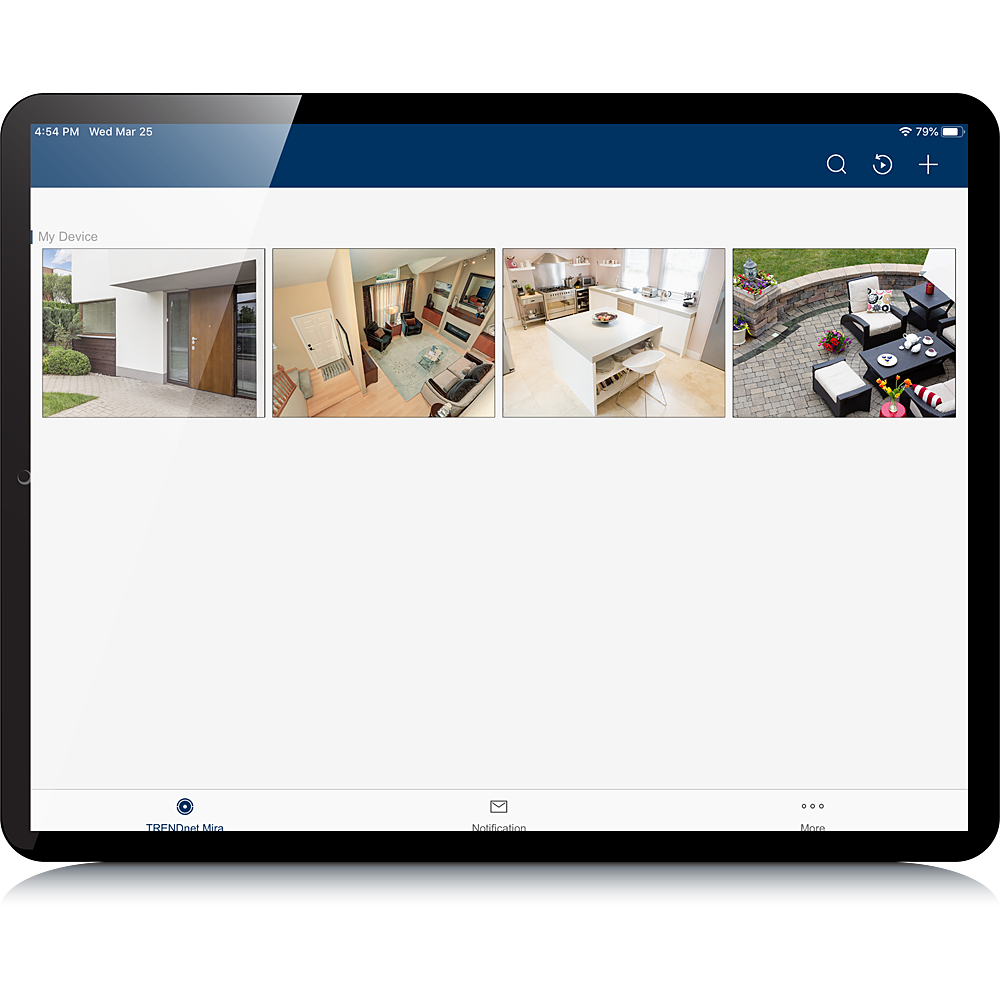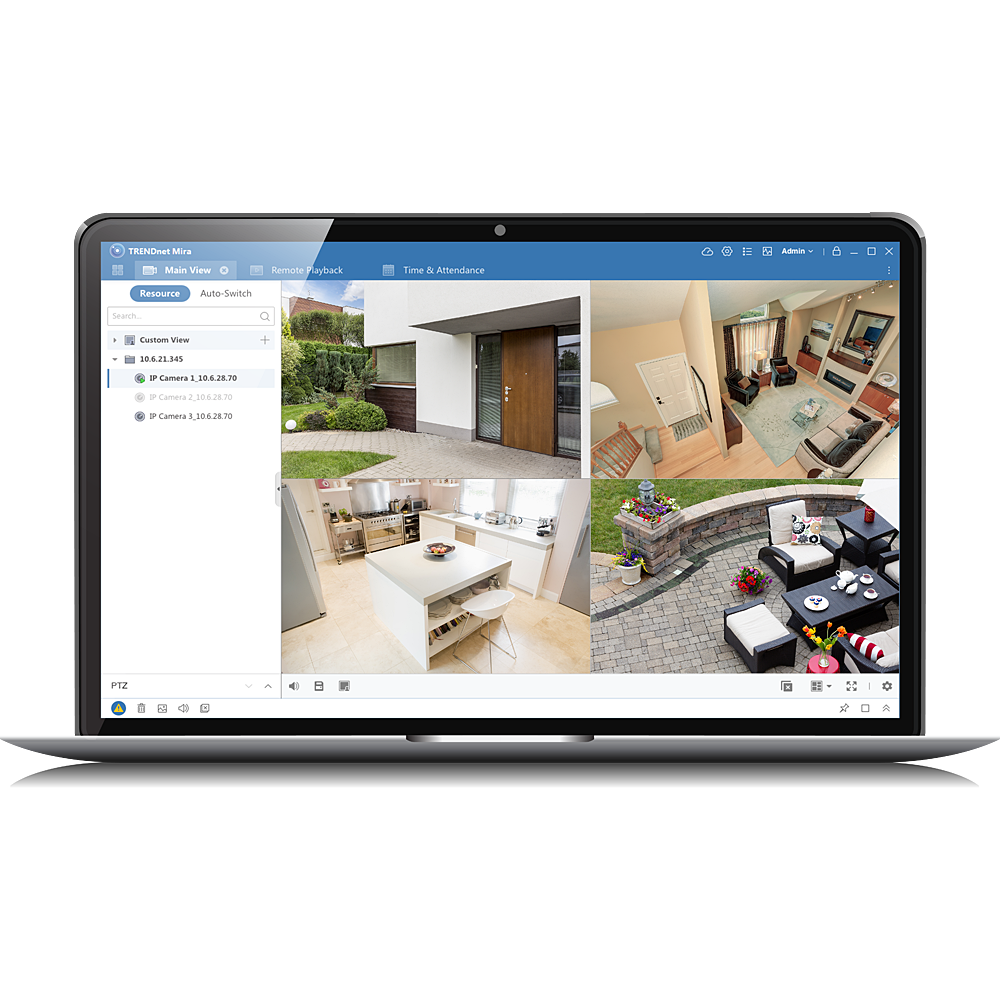 App Mira de TRENDnet y VMS
Mira (Version v1.0R)
Al utilizar el servicio de Mira, está aceptando la Política de privacidad y las Condiciones de uso de TRENDnet.
App Mira de TRENDnet
Fácil instalación con el código QR
Visualización de video en vivo a distancia
Almacenamiento de fotos y videos
Admite reproducción de video
Notificaciones push y alertas en tiempo real
Establecimiento de la configuración previa de las cámaras con movimiento horizontal/vertical
Configuración del enfoque, el zoom y la velocidad de movimiento horizontal/vertical
Transmisión de la vista en vivo de la cámara por teléfono o correo electrónico
VMS Mira de TRENDnet
Configuración de opciones de grabación (detección de movimientos, programación, activación por eventos)
Búsqueda y reproducción de movimiento, grabación activada por eventos
Modos y opciones de visualización personalizada
Compatibilidad: Windows® y Mac®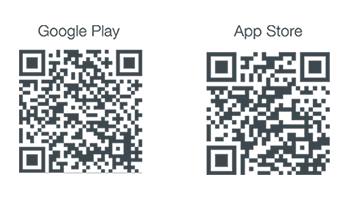 Mira de TRENDnet le permite configurar y administrar fácilmente sus cámaras IP y NVR de TRENDnet desde su dispositivo móvil. Escanee el código QR del dispositivo para iniciar el sencillo proceso de configuración.
Con Mira de TRENDnet, puede transmitir video en vivo, guardar capturas de pantalla y videos, configurar los preajustes de la cámara y más. Configure las notificaciones push para recibir alertas en tiempo real y tener la tranquilidad de que su casa y su lugar de trabajo están seguros mientras esté ausente.

Cámaras compatibles con Mira de TRENDnet
TV-IP1313PI
TV-IP310/311PI
TV-IP320/321PI
TV-IP420P
TV-IP1314/1315PI
TV-IP312PI
TV-IP324/325PI
TV-IP430PI
TV-IP1318/1319PI
TV-IP313PI
TV-IP326/327PI
TV-IP440PI
TV-IP1328/1329PI
TV-IP314/315PI
TV-IP340/341PI
TV-IP450P
TV-IP1331PI
TV-IP316/317PI
TV-IP342/343PI
TV-IP450PI
TV-IP1350PTI
TV-IP318/319PI
TV-IP344/345PI v2
TV-NVR408/416
* Se requiere actualización del firmware
Una vez que se actualice el firmware a la versión compatible con Mira, la cámara ya no será compatible con la aplicación IPView y el software EVO de TRENDnet.
Mira VMS
Live View

View settings and instant playback
Live view on main/auxiliary screen
Up to 64-window division for standard screen, and 48-window division for the wide screen
Add up to 256 cameras
Custom window division configurable
Resuming the latest live view status after client restart

Recording

Remote manual recording
Recording schedule for continuous recording, event recording and command recording
Storing alarm pictures on Storage Server
Video file overwritten and expired video file deleting

Playback

Local and remote playback
Instant playback, normal playback, event playback
Up to 16-ch synchronous playback
Locate the playback time accurately
Searching the video files which contain POS information
Providing Player in the installation directory to view the downloaded video file
Merging the video files when downloading by date

Access Control and Video Intercom

Managing video intercom and access control in one module
Pre-defining scheduled report that the client will send to the email address automatically
Real-time alarm management for added access control devices
Subscribing alarm that the client can display in real-time alarm management when it is triggered
Adding access control point as hot spot on E-map and viewing the video of the linked camera
Configuration wizard for access control and time and attendance

Network

Checking device's online users
NTP protocol for time synchronization
Searching the active online devices

Backup

Downloading video files to PC
Log search and backup
Importing and exporting the configuration file
Auto backing up database according to the configured schedule

General

Applied in local area network and wide area network
H.264, H.264+, H.265, and H.265+ video encoding formats
E-map function
Remote configuration for added devices
User permission management
Resetting device password
Hardware decoding for live view and playback
Linkage between video surveillance and non-video surveillance (access control, video intercom, and security control panel)

PTZ Control

Remote PTZ control, preset, patrol, and pattern settings
Displaying analog speed dome's local menu via PTZ control panel
PTZ control of one-touch patrol and one-touch park
Management
Client
General
User

Supports up to 50 users and one super user

E-map
Encoding Device

Supports up to 256 encoding devices

Decoding Device

Supports up to 64 decoding devices

Group

Supports up to 256 groups
Supports up to 256 channels for each group

Channel

Supports up to 256 channels for all groups

Storage Server

Supports up to 16 Storage Servers

Stream Media Server

Supports up to 16 Stream Media Servers

Video
Live View

Supports up to 64-ch live view at a time

Auxiliary Screen Preview

Supports up to 4 auxiliary screens for live view

Playback

Supports up to 16-ch playback at a time

Synchronous Playback

Supports up to 16-ch synchronous playback

Download

Supports up to 16 downloading tasks at a time

Access Control
Person

Supports up to 10,000 persons
Supports up to 5 cards for each person

Organization

Supports up to 10 hierarchies

Fingerprint

Supports up to 10 fingerprints per person, and 100,000 fingerprints in total

Access Control Device

Supports up to 16 access control devices

Access Control Point

Supports up to 64 access control points

Template

Supports up to 255 templates

Permission

Supports up to 128 access control permission groups

Door Station

Supports up to 16 door stations

Indoor Station/ Master Station

Supports up to 512 indoor stations or master stations

Time and Attendance Data

Retention period of attendance result: one year
Retention period of original data: three months

Shift
Attendance Report

Supports 12 reports, including check-in/out correction report, leave and business trip report, attendance summary, attendance details report, abnormal attendance report, overtime report, card swiping log report, total overtime monthly report, overtime details monthly report, attendance monthly report, start/end-work time report, and department attendance report

Security Control Panel
Security Control Panel

Supports up to 256 security control panels

Zone

Supports up to 2,048 zones

Storage Server
User
Recording Performance

Supports up to 64-ch × 2 Mbps at a time

VOD Performance

Supports up to 64-ch × 2 Mbps at a time

Stream Media Server
Incoming/ Outgoing Stream

Supports up to 64-ch incoming video stream
Supports up to 200-ch outgoing video stream
Todas las referencias a la velocidad son solo para fines de comparación. Las especificaciones, el tamaño y la forma del producto están sujetos a cambios sin previo aviso, y el aspecto real del producto puede diferir del que se describe en este documento.
a. We will continue to sell Luxriot EVO-S and EVO-Global internationally only. b. New cameras will be implemented into Luxriot in the near future.< ...
a. TRENDnet EVO paid version will be discontinued, and new cameras will not be supported. b. We will manage support issues on a case-by-case basis, if a new camera purchase is intended. ...
No, they are two different systems; the license and plugins cannot be transferred.
No, Mira is 100% free.
No, there will not be a license-based upgrade available.
  EVO Mira OS Support Windows Windows / Mac Live View 32 64 Playback 4 16 Camera Connections 32 256 NVR Connections Channel Based 64 Storage Server 1 16 E-map N/A 256 Layout Preset Preset/Cus...
Firmware for following models are already available on the Mira page: Compatible models TV-IP314PI v2 / TV-IP315PI v2 TV-IP317PI v1 / TV-IP318PI v1 TV-IP326PI v1 / TV-IP327PI v1 TV-IP313PI / TV-IP323PI v1 TV-IP1314PI v1 / TV-IP1315PI v1 TV-IP1318PI v1 / TV-IP1319PI v1 TV-IP1313PI v1 P...
a. v2 is compatible with Mira, but does not support cloud installation. b. v3 is compatible with Mira, and also adds support for QR code cloud installation. ...
No, legacy cameras must be added to Mira with its local or remote IP addresses (which is not p2p).
Yes, the new 13xx series cameras are cloud cameras with a simple QR code installation; new versions of existing camera models will also be cloud cameras....
Under the Downloads section at www.TRENDnet.com/mira...
Yes, the legacy cameras on the Mira compatibility list will work. For models that are not listed, continue to use the current software....
You can find all the latest info at www.TRENDnet.com/mira...
Check to see if your cameras are on the compatibility list, and update the firmware on existing cameras before moving everything to Mira....
Continue to use the existing software (IPView / TRENDnet EVO), unless you plan to add a new camera.