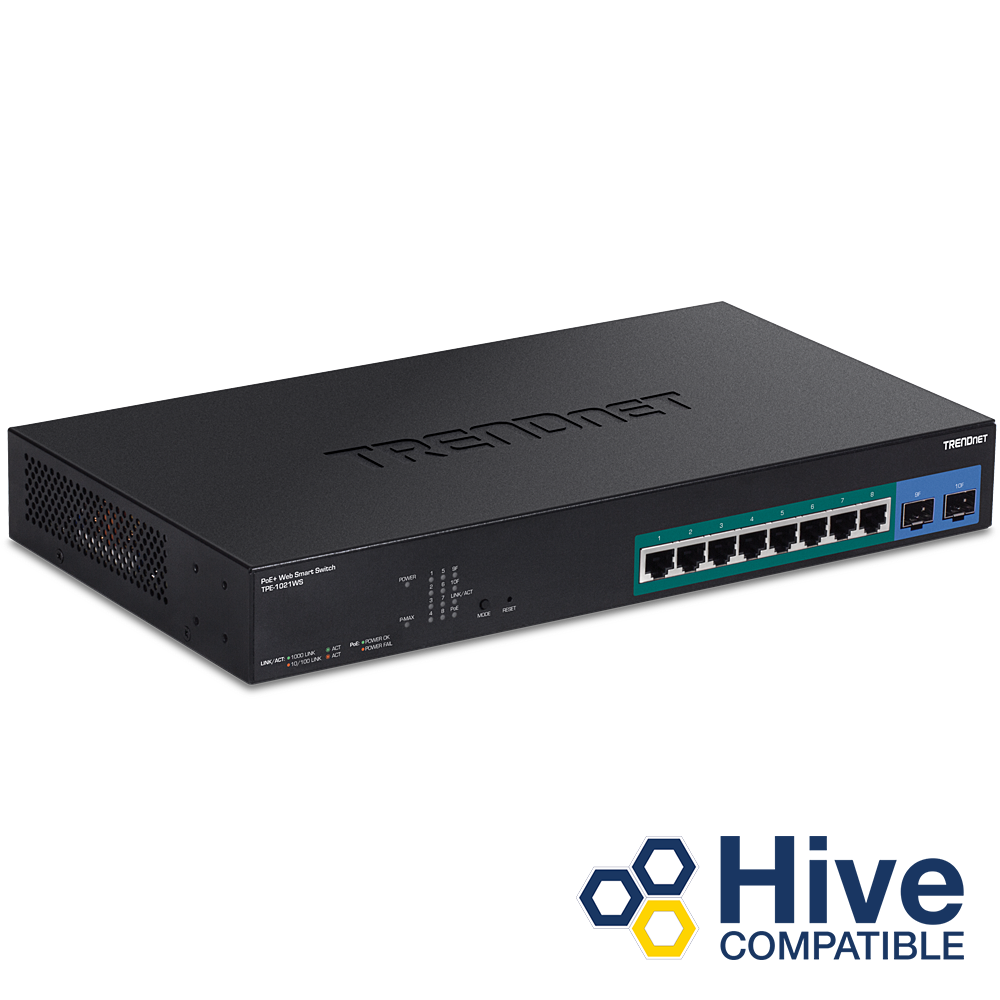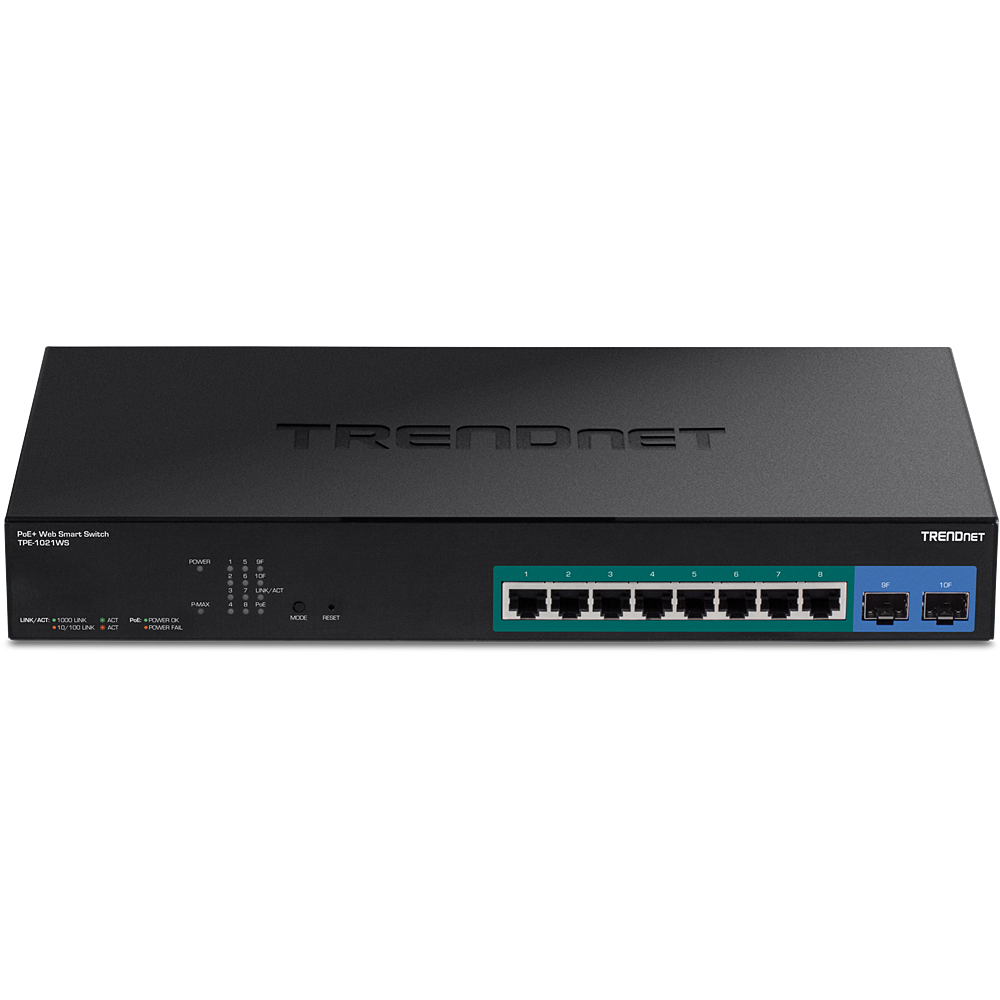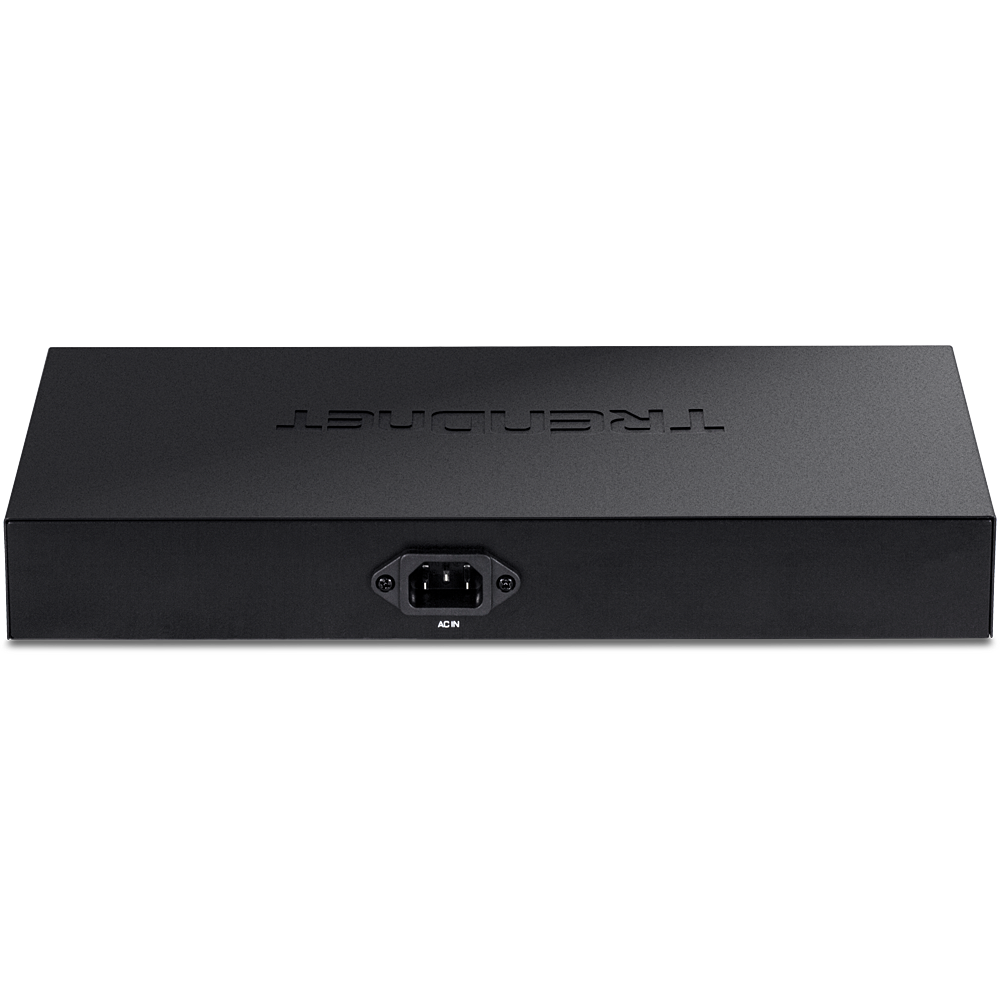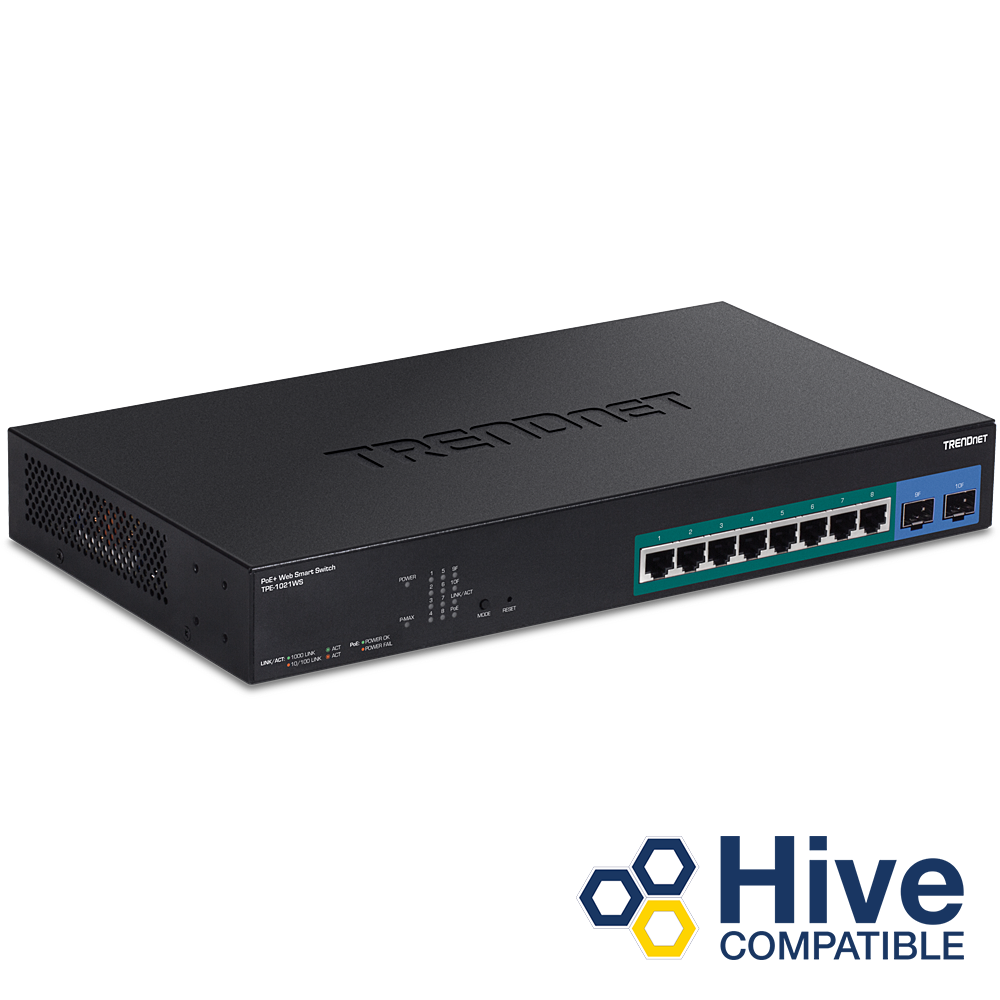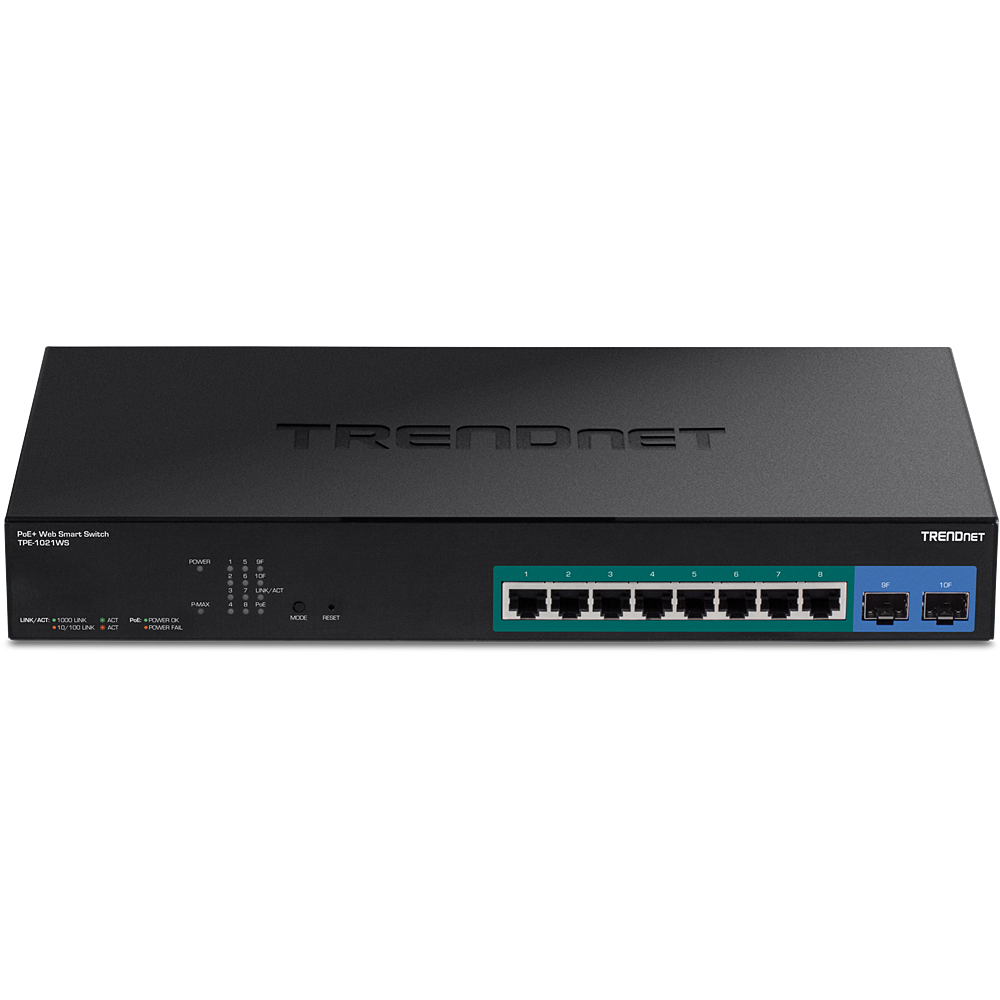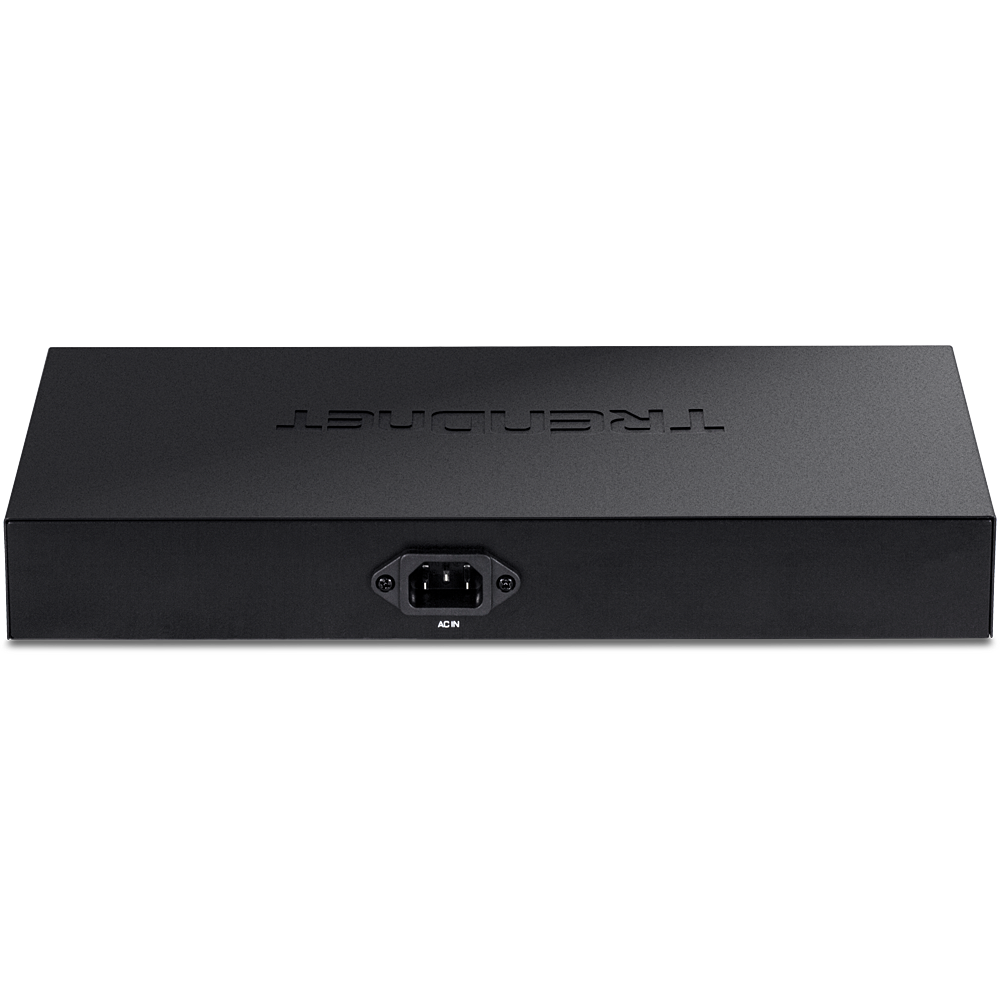 Switch PoE+ Smart Web Gigabit a 10 Porte
TPE-1021WS (Version v1.0R)
8 porte Gigabit PoE+
2 slot SFP
Budget di potenza PoE 130 W
Interfaccia di gestione basata sul Web di facile utilizzo
La configurazione PoE alive check tenta automaticamente di recuperare un dispositivo collegato PoE non rispondente
Gestione remota del cloud con TRENDnet Hive (a pagamento)
Supporta IPv6, LACP, VLAN, QoS e Snooping IGMP/MLD
Supporto per l'instradamento statico IPv4/IPv6
Controllo larghezza di banda per porta
Supporta Privato, Multicast e VLAN Voce
IEEE 802.1p QoS con supporto di programmazione della coda
Capacità di switching di 20 Gbps
Conforme a NDAA/TAA (solo Stati Uniti e Canada)
Firmware
Firmware Version: v3.01.021
Release Date: 11/2022
Note:
** This download only includes Firmware version 3.0.015. If upgrading from firmware version 2.10.024 or earlier, please download firmware version 3.01.012 first (firmware can be downloaded from below)**
If it is the first time upgrading the switch from 1.00.010 to 2.10.010 or above, it is recommended to manually reset the device to factory default and clear web browser cache after the loading firmware file.
Add DHCP Option 12 for client packet capture
Switch can display client information
Fixed SSL/HTTPS GUI access issue with web browsers
Nome del file: TPE-1021WS_fw_3-01-021.zip
SHA-1 Checksum: FDB385C8941535CBB2869EAA6803D7B56752515D
Data
11/9/2022
Dimensioni del file
12.07 mb
---
Firmware Version: v3.01.012
Release Date: 08/2021
Note:
New GUI
Add Ping Watchdog feature
Adds Cloud enabled feature (TRENDnet Hive)
Adds capability to backup, copy, restore config functions on Hive
Adds capability to configure additional QoS functions
Sync time settings from Hive
Bug Fixes
Nome del file: TPE-1021WS_FW_3-01-012.zip
SHA-1 Checksum: 0A55572448B90D650D623EBDBB6BA06133F111F2
Data
8/4/2021
Dimensioni del file
11.70 mb
Guida rapida per l'installazione
---
---
---
---
---
---
Guida per l'utente
Nome del file: TRENDnet_Hive_User_Guide_08172021.pdf
Data
10/6/2021
Dimensioni del file
2.45 mb
---
Nome del file: PoE_Web_Smart_Switch_Series_Users_Guide_11122020.pdf
Data
8/11/2021
Dimensioni del file
4.69 mb


You will find management login and default settings in the quick installation guide and user's guide. Included with the Switch is a hard copy of the quick installation guide. The user's guide is available for download from our website under the Support section....
Only managed or web smart PoE Switches will have reset instruction. Unmanaged PoE Switches are not configurable and do not have settings to reset. Your Switch will have a reset button. This button is typically recessed and located on the front or the back of the Switch. You will need a small pin or ...
A Switch cannot share an IP address provided by your ISP with multiple devices. You will need a Router to share your Internet service with multiple devices. The Switch can be used to expand the amount of available ports on your network....
Each Switch will have a maximum amount of power that can be supplied to powered devices. This is the overall amount of power for the entire Switch. Please check detailed product specifications for PoE budget under the Products sections of our website. The TPE-1021WS power budget is 130W....
The TPE-1021WS supports IEEE 802.3af and 802.3at PoE standards. TRENDnet PoE Switches typically support IEEE industry standards. Please check detailed product specifications under the Product section of our website. If your device is not IEEE PoE compliant it may not be compatible with TRENDnet PoE ...
Standards

IEEE 802.1d
IEEE 802.1p
IEEE 802.1Q
IEEE 802.1s
IEEE 802.1w
IEEE 802.1X
IEEE 802.1ab
IEEE 802.3
IEEE 802.3u
IEEE 802.3x
IEEE 802.3z
IEEE 802.3ab
IEEE 802.3ad
IEEE 802.3af
IEEE 802.3at
IEEE 802.3az

Interfaccia dispositivo

8 porte Gigabit PoE+
2 slot SFP
Indicatori LED
Pulsante di attivazione della modalità display LED (attivare gli indicatori LED per visualizzare il collegamento/l'attività o lo stato della porta PoE)

Velocità trasferimento dati

Ethernet: 10 Mbps (half duplex), 20 Mbps (full duplex)
Fast Ethernet: 100 Mbps (half duplex), 200 Mbps (full duplex)
Gigabit Ethernet: 2000 Mbps (full duplex)
SFP: 2000Mbps (full duplex)

Rendimento

Matrice di commutaizone: 20 Gbps
Memoria tampone RAM Mbit 4,1
MAC Address Table: 8 K voci
Jumbo Frames: 10 KB
HOL Blocking Prevention
Velocità invio: 14,9 Mpps (dimensione pacchetto 64-byte)

Gestione

CLI (Telnet / SSHv2) per amministrazione di base
HTTP/HTTPS (SSL v2/3 TLS) GUI basata su Web
SNMP v1, v2c, v3
RMON v1
Static Unicast MAC Address
Abilitazione/disabilitazione risparmio energetico 802.3az
LLDP e LLDP-MED
Test diagnostico Cavo Virtuale
IPv6: IPv6 Neighbor Discovery, IPv6 Static IP, DHCPv6, Auto configuration
Configurazione immagine doppia
Root TC/Protezione

MIB

1354 RFC MIB SCHEDA AVANZAMENTO IP
RMON MIB RFC 1271
1213 RFC MIB IPV4
2465 RFC MIB IPV6
VLAN-Q 802.1 IEEE MIB GVRP
Ad802.3 IEEE MIB LA
AB802.1 IEEE MIB LLDP
2933 RFC MIB SNOOPING IGMP
3019 RFC MIB SNOOPING MLD
Q802.1 IEEE MIB VLAN PRIVATO
2026 RFC MIB DHCPSNOOP
43213 RFC MIB QOS
3415 RFC MIB SNMP
4318 RFC MIB STP
802.1X IEEE MIB PNAC
Q802.1 IEEE MIB VLAN
1611 RFC MIB DNS
MIB ACL
MIB CTRL AMPIEZZA DI BANDA
MIB LBD
MIB MIRROR
MIB NEIGHBOR IPV6
MIB SNTP
MIB CTRL STORM
STATISTICHE MIB
Strumento MIB
MIB VLAN VOCALE
MIB DOS

Spanning Tree

IEEE 802.1D STP (Protocollo Spanning Tree)
IEEE 802.1w RSTP (Protocollo Rapid Spanning Tree )
IEEE 802.1s MSTP (Protocollo Multiple Spanning Tree)

Link Aggregation

Static Link Aggregation
802.3ad Dynamic LACP

Quality of Service (QoS)

802.1p Class of Service (CoS)
(Punto Codice Servizi Differenziati) DSCP
Controllo larghezza di banda per porta
Programmazione della coda: Strict Priority, Weighted Round Robin (WRR)

VLAN

Definizione di VLAN di gestione multiple
Asymmetric VLAN
802.1Q Tagged VLAN
Dynamic GVRP
VLAN basate su MAC
VLAN basata su protocollo
Fino a 256 gruppi VLAN , intervallo ID 1-4094
Private VLAN (porte protette)
VLAN Voce (10 OUI definiti dall'utente)

Multicast

IGMP Snooping v1, v2, v3 (per VLAN)
Snooping MLD v1, v2
Funzione di uscita rapida dal protocollo IGMP
MVR (Registrazione VLAN Multicast)
Static Multicast Address
Fino a 256 voci multicast

Port mirror

RX, TX, od entrambi
Relazione molte ad una

Controllo d'accesso

Controllo di accesso in rete basato su porta 802.1X, RADIUS, TACACS+
Autenticazione locale di utente Dial In
Snooping DHCP
Protezione da Loopback
Protezione da duplicazione di indirizzo
Trusted Host
Denial of Service (DoS)
Vincolo porta MAC IP
Ispezione ARP dinamica
Blocco multicast sconosciuto

ACL IPv4 L2-L4 & IPv6

MAC Address
VLAN ID
Ether Type (soltanto IPv4)
Protocolli IP 0-255
Porte TCP/UDP 1-65535
802.1p
DSCP (soltanto IPv4)
IPv6 Address (soltanto IPv6)

Funzioni Layer 3

Routing statico IPv4/IPv6
Initerfacce IP: fino a 6
Voci tabella di routing: fino a 500 (IPv4 / IPv6)
Tabella ARP (fino a 128 ingressi)
Instradamento Inter-VLAN

Compatibilità

Utility Software Opzionale: Server Windows® 10, 8.1, 8, 7, Vista, XP, Windows® 2003/2008

Alimentazione

Ingresso: 100 – 240 V AC, 50/60 Hz, alimentatore interno
Consumo massimo: 152,3W
Consumo massimo (nessun carico PoE):

PoE

Budget di potenza: 130W
802.3at: Fino a 30W per porta
Modalità PoE A: Pin 1,2 per alimentazione e pin 3,6 per alimentazione
Classificazione PoE automatica/manuale
Priorità porta PoE/programmazione alimentazione

Ventole/rumore
MTBF
Temperatura di esercizio

-5° – 50° C (23° – 122° F)

Umidità di esercizio
Dimensioni

330 x 180 x 44mm (12,99 x 7,08 x 1,74 pollici)
Montaggio a rack 1 unità

Peso
Certificazioni
Garanzia
CONTENUTO DELLA CONFEZIONE
TPE-1021WS
Guida rapida d'installazione
Cavo alimentazione (1,8 m / 6 ft.)
Kit di montaggio a rack
Tutti i riferimenti relativi alla velocità sono solo a scopo comparativo. Le specifiche, le dimensioni e la forma del prodotto sono soggette a modifiche senza preavviso e l'aspetto effettivo può differire da quello raffigurato nel presente documento.