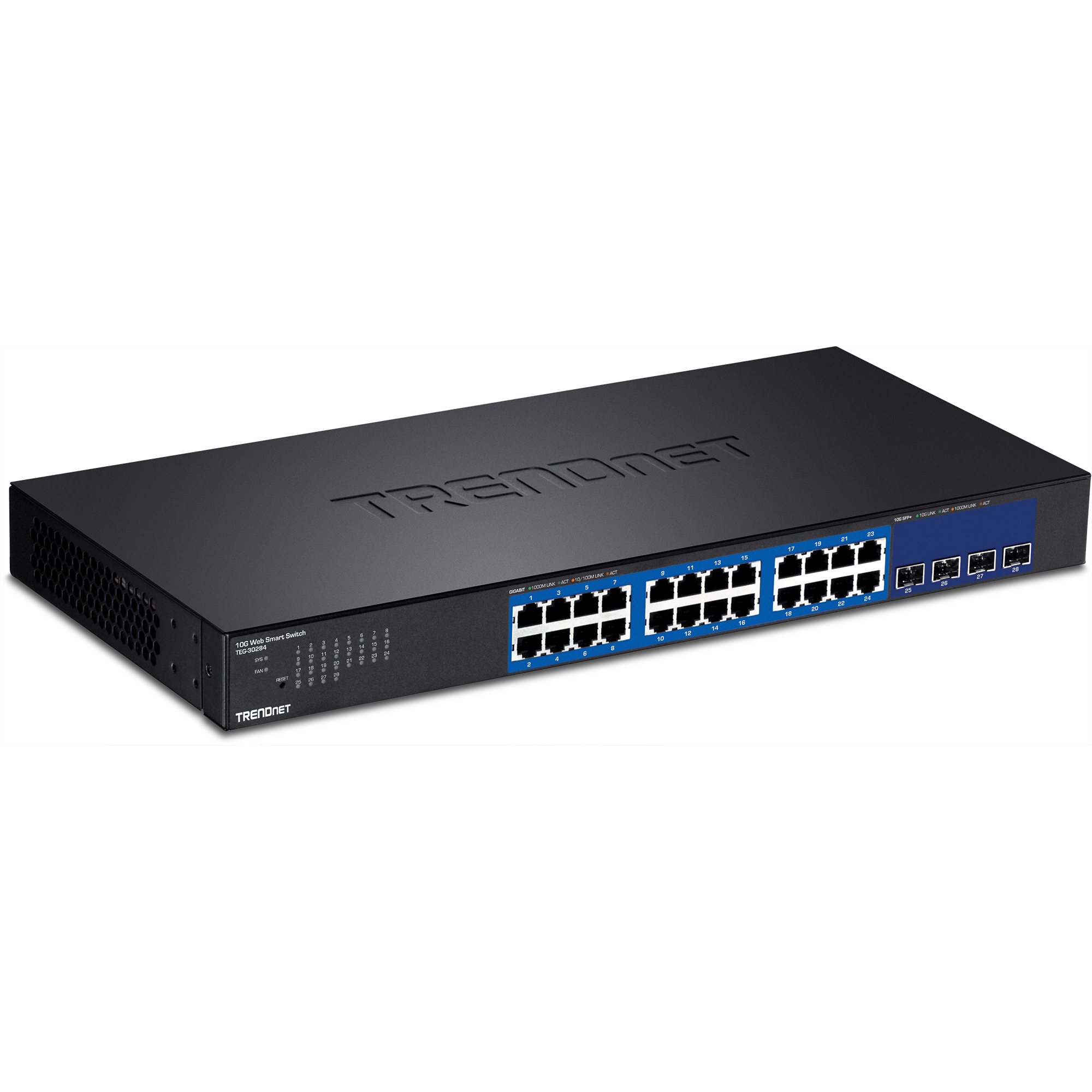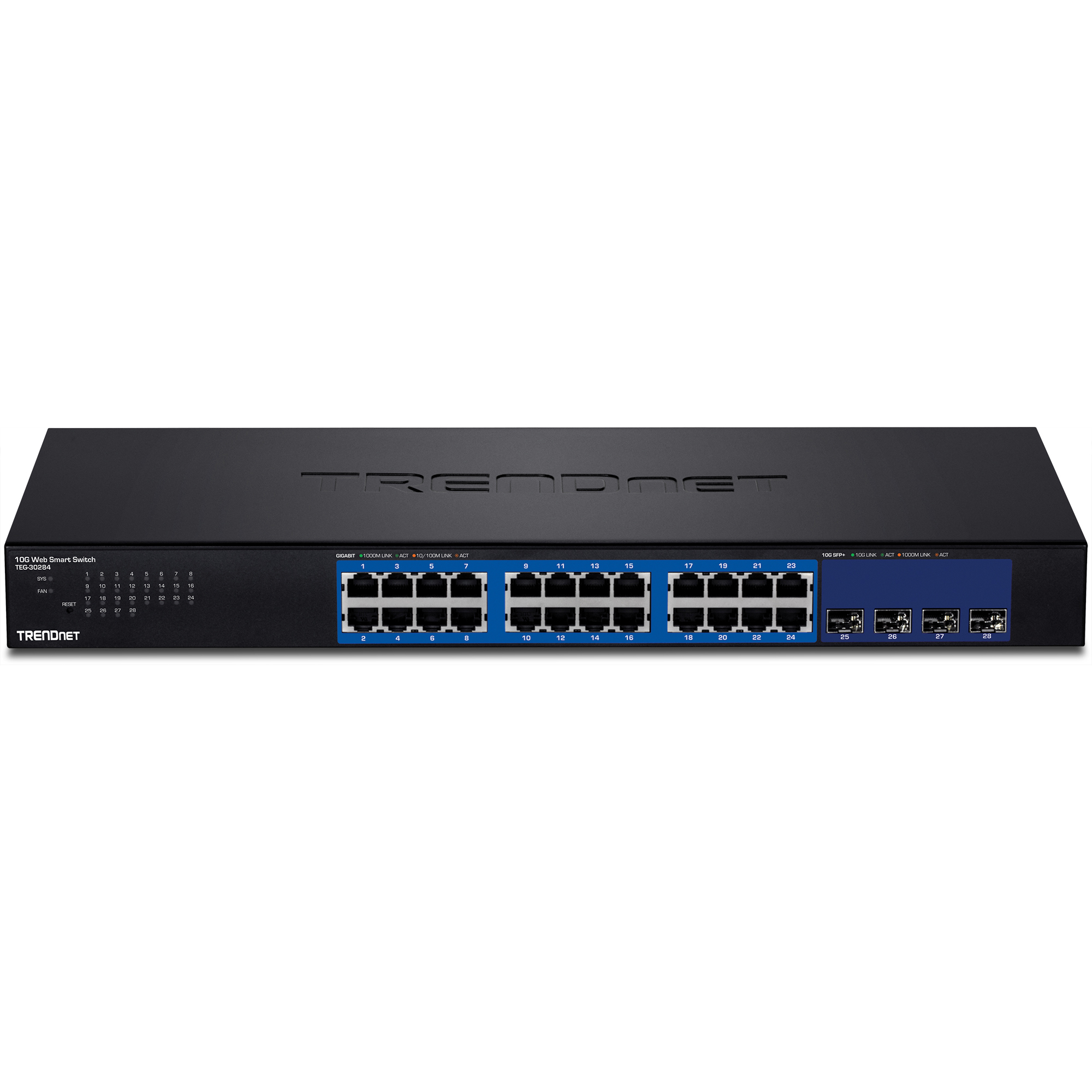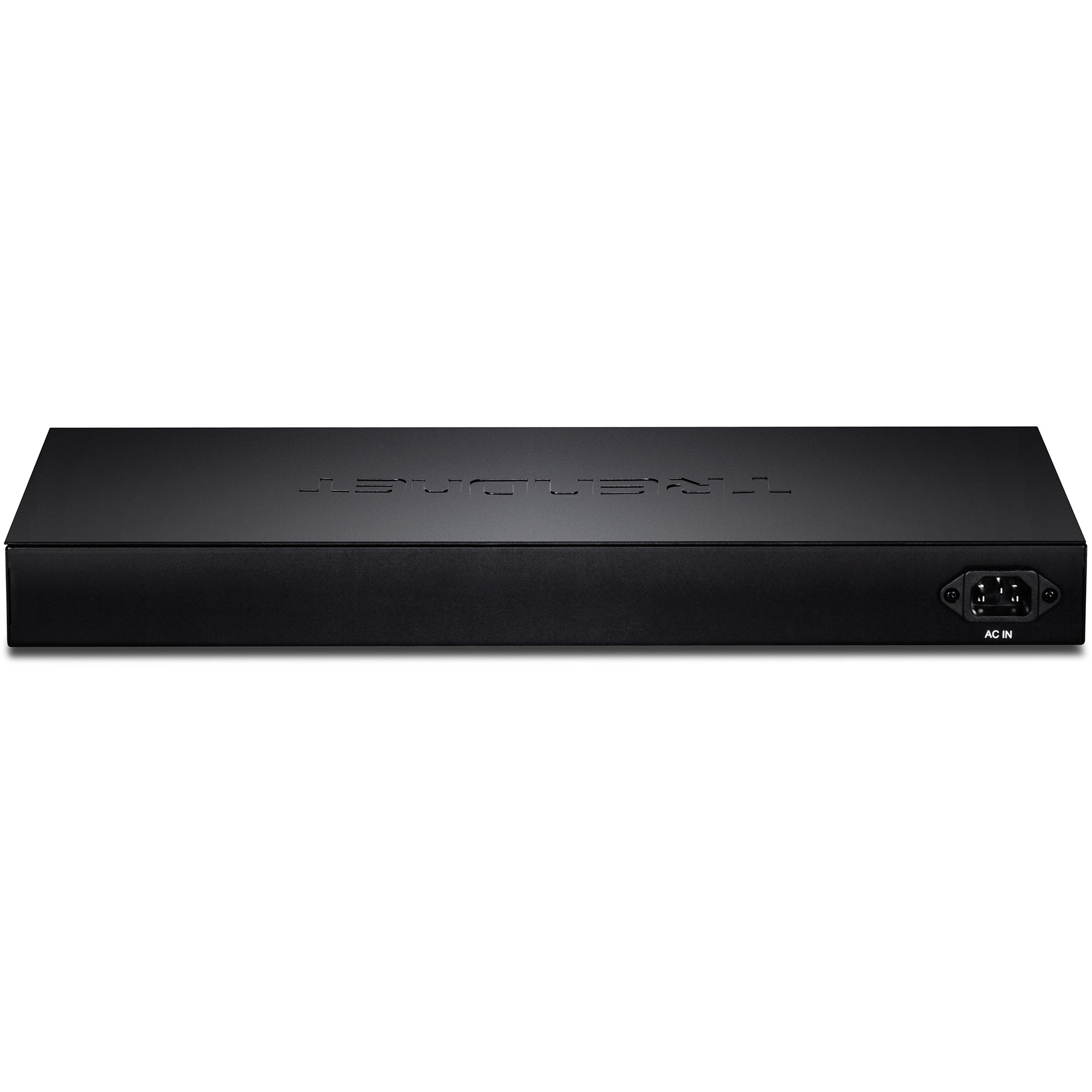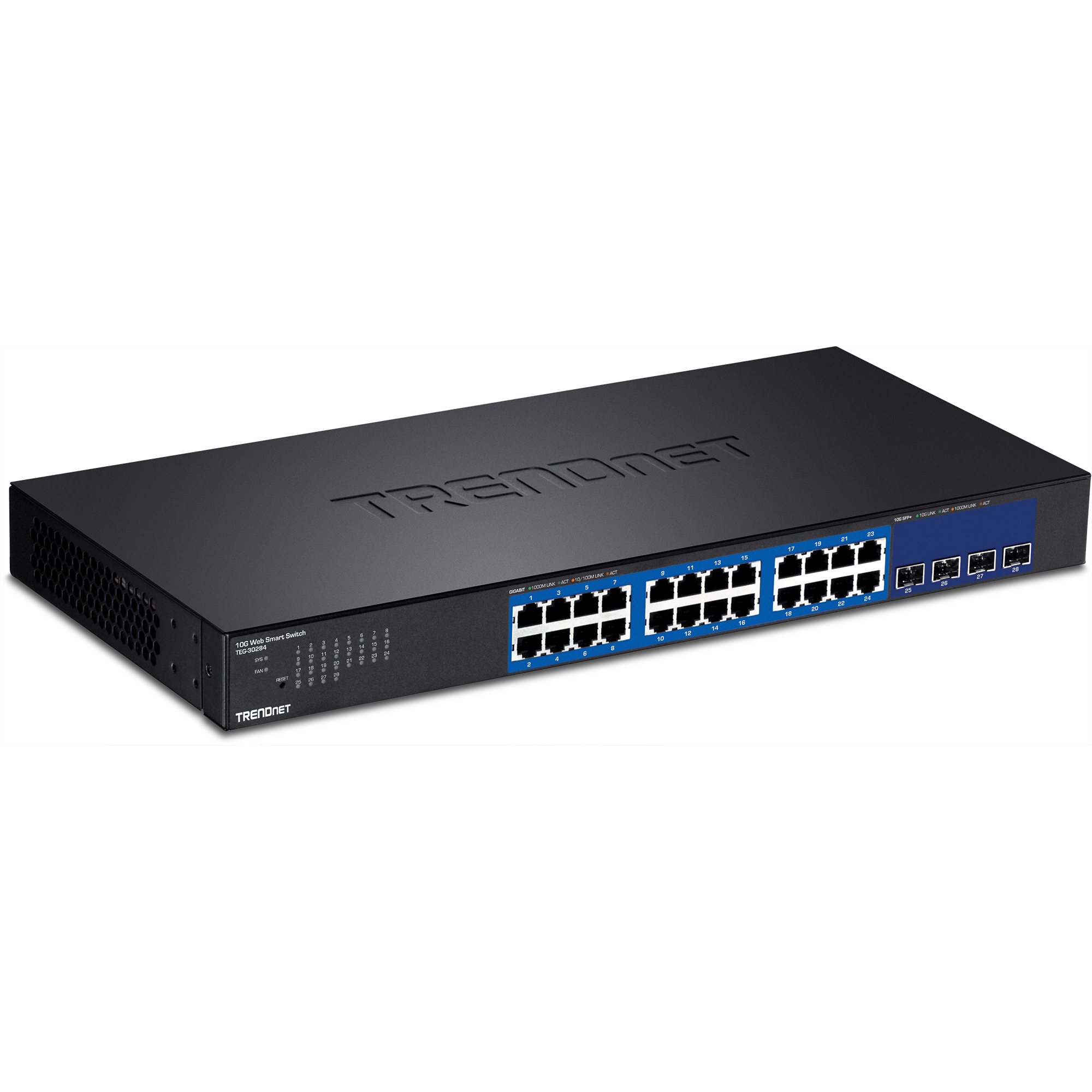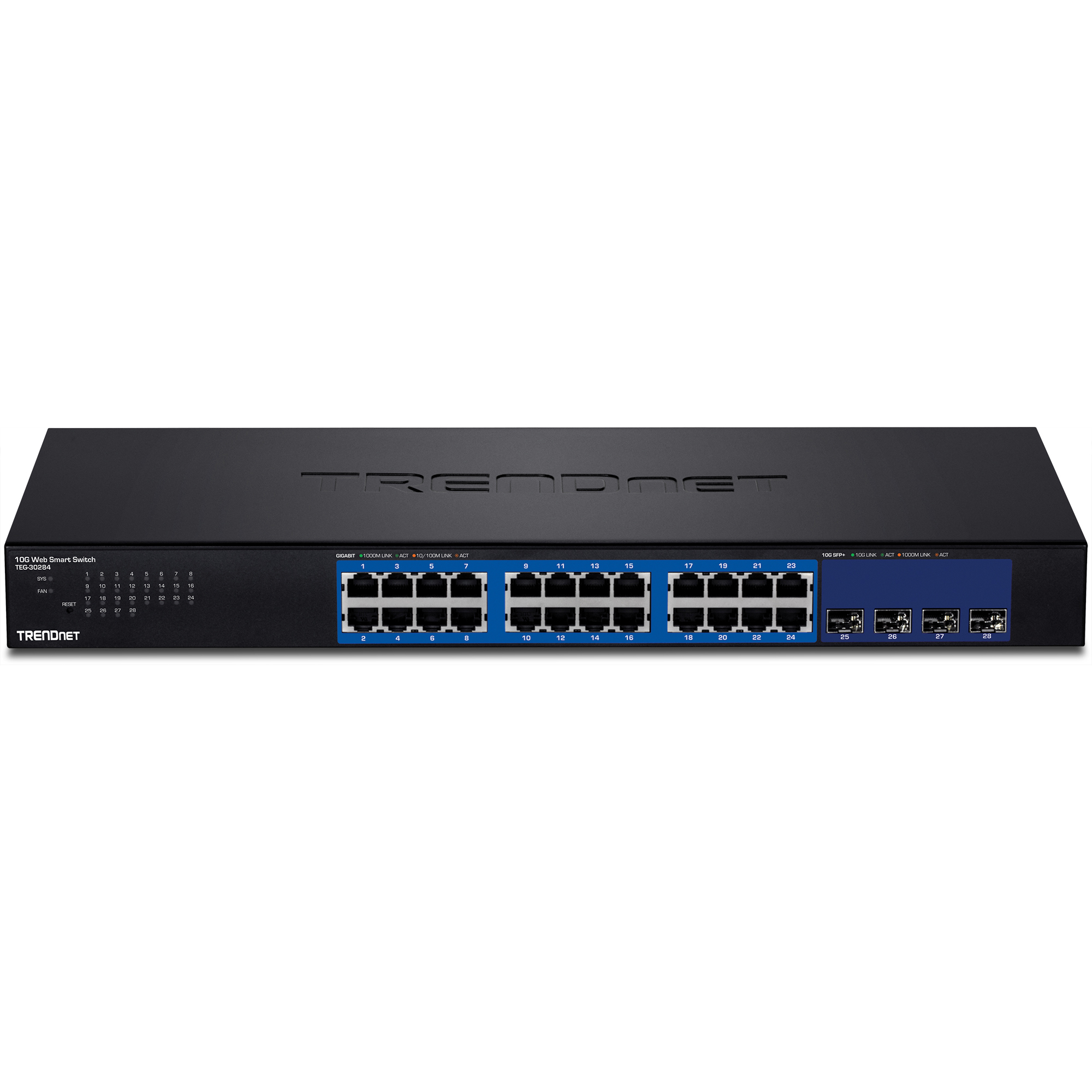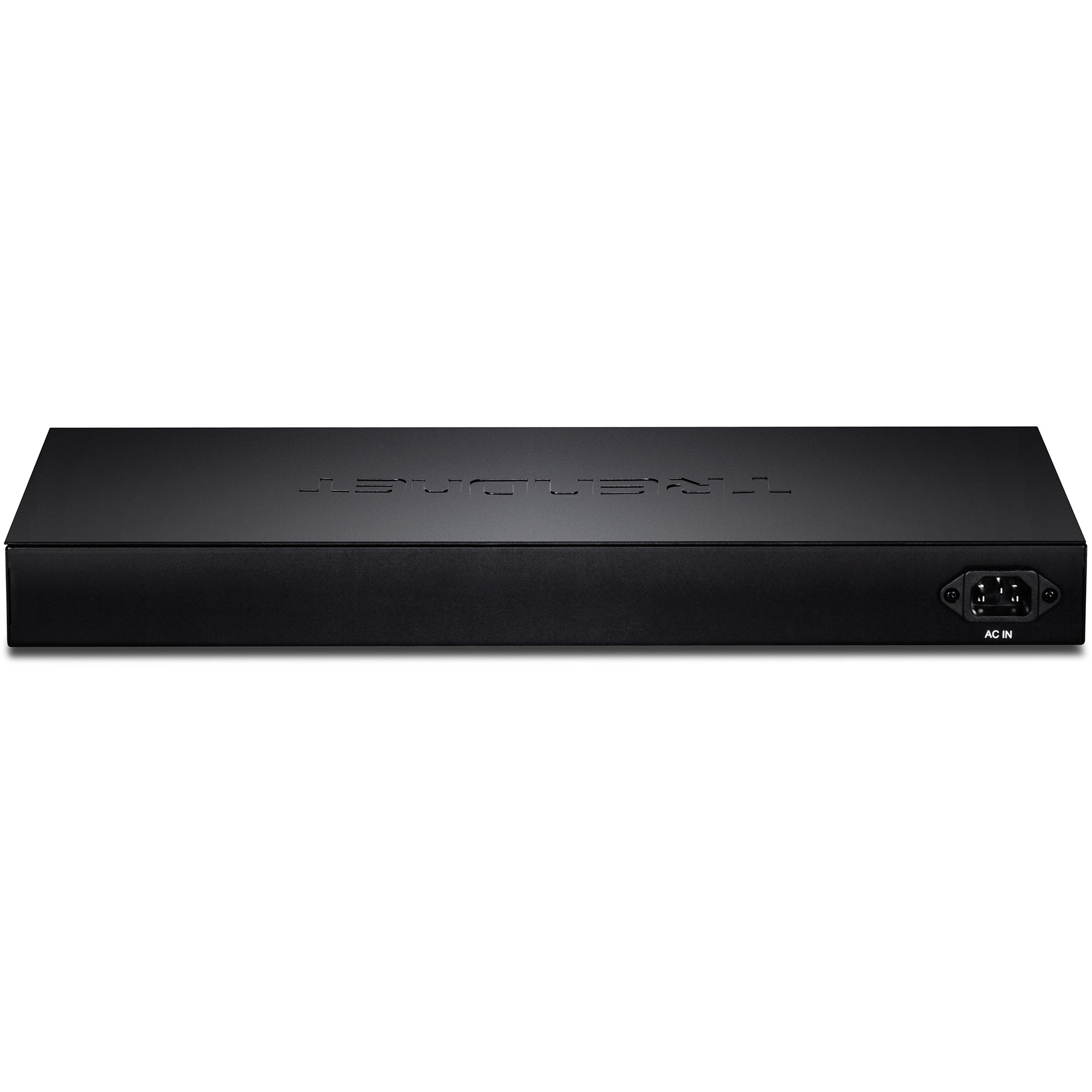 28-Port Web Smart Switch mit 24 x Gigabit Ports und 4 x 10G SFP+ Slots
TEG-30284 (Version v1.0R)
24 x Gigabit Ports und 4 x 10G SFP+ Slots für Hochgeschwindigkeitsverbindungen
Leicht zu bedienende webbasierte Verwaltungsoberfläche
128 Gbps Schaltkapazität
802.1Q, Dynamisches GVRP, Privates VLAN und Voice VLAN
IGMP v1, v2, v3 Snooping
STP, RSTP und MSTP Spanning Tree Protokolle
SNMP (v1, v2c, v3), SNMP Trap, RMON, Port-Spiegelung, Syslog und SMTP-Benachrichtigung
ACLs, MAC-Filterung, DoS, und 802.1X / TACACS+ Netzwerkzugriffskontrolle
802.1p / DSCP / QoS Warteschlangenplanung unterstützt
Intelligente Lüfter reduzieren den Energieverbrauch und passen sich automatisch an für maximale Effizienz
Firmware
Firmware Version: 1.00.026
Release Date: 7/2021
Note:
Fixed security vulnerabilities
**It is highly recommended to clear your web browser cache after upgrading due to updates in GUI layout**
Dateiname: FW_TEG-30284_v1(1.00.026).zip
SHA-1 Checksum: 84E181A1BF865F38AF5312DA3B0AD99DB8616CBE
Datum
7/16/2021
Dateigröße
11.60 mb
Kurzanleitung zur Installation
---
---
---
---
---
---
---
---
---
---
Bedienungsanleitung
Dateiname: UG_TEG-30284(v1).pdf
Datum
3/30/2016
Dateigröße
3.54 mb


You can find detailed instructions in the user's guide. Included with the switch is a hard copy of the quick installation guide. The user's guide is located on the included CD-ROM. You can also download these materials from our website under the Support section....
Your switch will have a reset button. This button is typically recessed and located on the front or the back of the switch. You will need a small pin or paper clip to press it. Press and hold in the reset button for approximately 15 seconds while the power is on to reset the switch to factory def...
You will find management login and default settings in the quick installation guide and user's guide. Included with the switch is a hard copy of the quick installation guide. The user's guide is located on the included CD-ROM. You can also download these materials from our website under the Suppo...
You can find detailed product specifications on our website under the Products section.
Standards

IEEE 802.1d
IEEE 802.1p
IEEE 802.1Q
IEEE 802.1s
IEEE 802.1w
IEEE 802.1X
IEEE 802.1ab
IEEE 802.3
IEEE 802.3u
IEEE 802.3x
IEEE 802.3z
IEEE 802.3ae
IEEE 802.3ab
IEEE 802.3ad
IEEE 802.3az

Geräteschnittstelle

24 x Gigabit Ports
4 x 10G SFP+ Slots
LED-Anzeige

Datenübertragungsrate

Ethernet: 10 Mbps (Halbduplex), 20 Mbps (Vollduplex)
Fast Ethernet: 100 Mbit/s (Halbduplex), 200 Mbit/s (Vollduplex)
Gigabit Ethernet: 2000 Mbit/s (Vollduplex)
10 Gigabit Ethernet: 20 Gbps (Vollduplex)

Leistung

Switch Fabric: 128 Gbps
RAM-Buffer: 1,5 MB
MAC Adresstabelle: 16 K Einträge
Jumbo Frames: 10 KB
HOL Blockiervermeidung
Weiterleitungsrate: 95,2 Mpps (64-byte Paketgröße)

Management

HTTP / HTTPS (SSL v2 / 3 TLS) webbasiertes GUI
SNMP v1, v2c, v3
RMON v1
Static Unicast MAC-Adresse
Stromsparfunktion 802.3az aktivieren / deaktivieren
LLDP
Virtueller Kabeltest
IPv6: IPv6 Neighbor Discovery, IPv6 Statisch IP, DHCPv6, Auto-Konfiguration

MIB

MIB II RFC 1213
Bridge MIB RFC 1493
Bridge MIB Extension RFC 2674
SNMPv2 MIB RFC 1907
Ethernet Interface MIB RFC 1643
Ethernet-ähnliches MIB RFC 2863
Interface Group MIB RFC 2233
MIB Traps Convention RFC 1215
RMON MIB RFC 1757, RFC 2819
802.1p MIB RFC 2674
RADIUS Client Authentication MIB RFC 2618
LLDP-MIB IEEE 802.1ab
Ping MIB RFC 2925, RFC 4560

Spanning Tree

IEEE 802.1D STP (Spanning Tree Protokoll)
IEEE 802.1w RSTP (Rapid Spanning Tree Protokoll)
IEEE 802.1s MSTP (Multiple Spanning Tree Protokoll)

Link Aggregation

Static Link Aggregation
802.3ad Dynamic LACP

Quality of Service (QoS)

802.1p Class of Service (CoS)
DSCP (Differentiated Services Code Point)
Bandbreitenkontrolle je Port
Warteschlangenplanung: Strict Priority, Weighted Round Robin (WRR)

VLAN

Multiple Management VLAN-Zuteilung
Asymmetrisches VLAN
802.1Q Tagged VLAN
Dynamic GVRP
Bis zu 256 VLAN Gruppen, ID Bereich 1-4094
Privates VLAN (geschützte Ports)
Voice VLAN (10 benutzerdefinierte OUIs)

Multicast

IGMP Snooping v1, v2, v3 (per VLAN)
Static Multicast Address
Bis zu 256 Multicast-Einträge

Port-Spiegelung

RX, TX, oder beides
One-to-one
Many-to-one

Zugriffskontrolle

802.1X Port-Based Network Access Control, RADIUS, TACACS+
Lokale Benutzerauthentifizierung
DHCP Snooping (über VLAN)
Loopback-Erkennung
Doppelte Adresserkennung
Trusted Host
Denial of Service (DoS)

ACL IPv4 L2-L4 & IPv6

MAC-Adresse
VLAN ID
Ether Type (nur IPv4)
IP-Protokoll 0-255
TCP / UDP Port 1-65535
802.1p
DSCP (nur IPv4)
IPv6 Adresse (nur IPv6)

Kompatibel

Optionales Softwarehilfsprogramm: Windows® 10, 8.1, 8, 7, Vista, XP, Windows® 2003 / 2008 Server

Sonderfunktionen

10G SFP+ Hochgeschwindigkeits-Glasfaser
IPv6
Rack-montage möglich

Stromversorgung

Input: 100 - 240 V AC, 50/60 Hz, interne Stromversorgung
Verbrauch: 25 Watt max.

Lüfter / Akustik

Menge: 1
Geräuschpegel: 50 dB(A) (max.)

MTBF
Betriebstemperatur
Betriebsfeuchtigkeit

Max. 90% nicht-kondensierend

Maße

440 x 210 x 44,45 mm (17,3 x 8,27 x 1,75 Zoll)
Rackmontierbar, 1U hoch

Gewicht
Zertifizierungen

CE
FCC
UL (Underwriters Laboratory)

Garantie
PACKUNGSINHALT
TEG-30284
Anleitung zur Schnellinstallation
CD-ROM (Hilfsprogramm und Benutzerhandbuch)
Stromkabel (1,8 m / 6 Fuß)
Montagesatz für Gestell
Die in diesem Dokument enthaltenen Informationen beziehen sich auf Produkte von TRENDnet und können jederzeit ohne vorherige Ankündigung geändert werden.