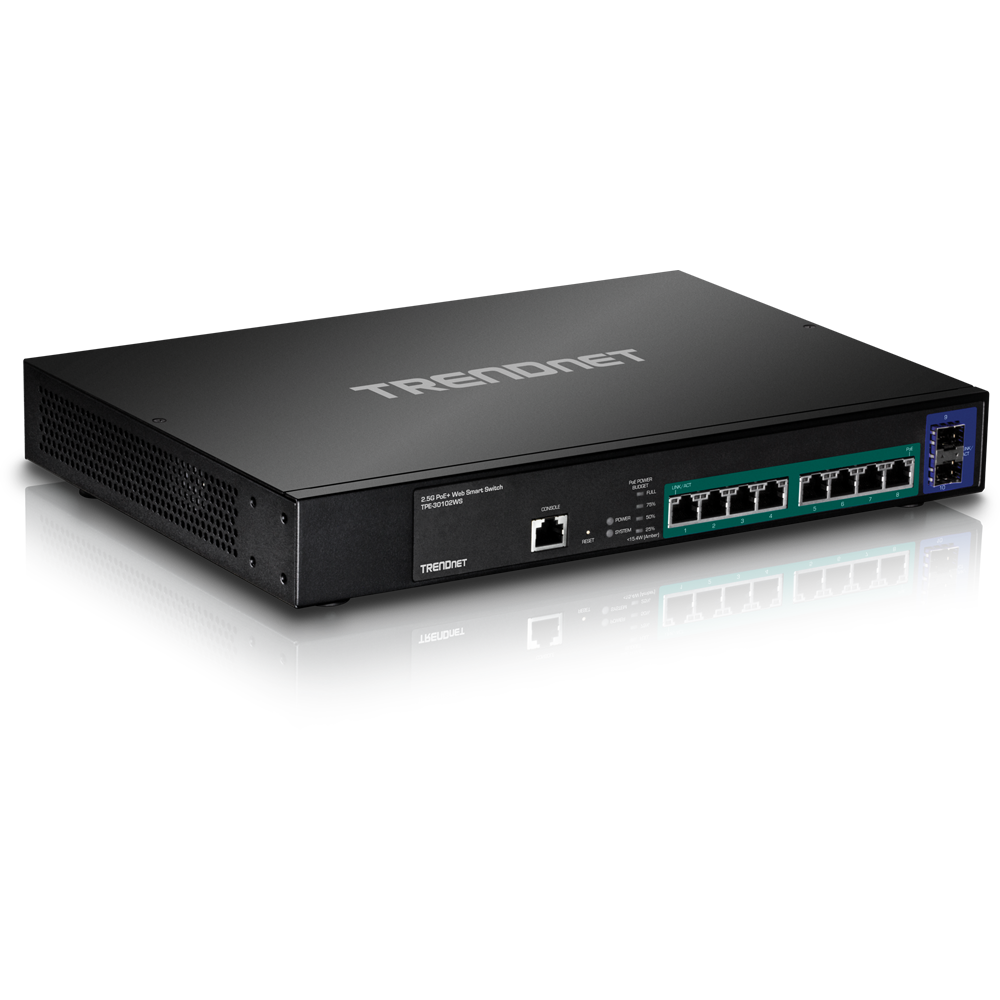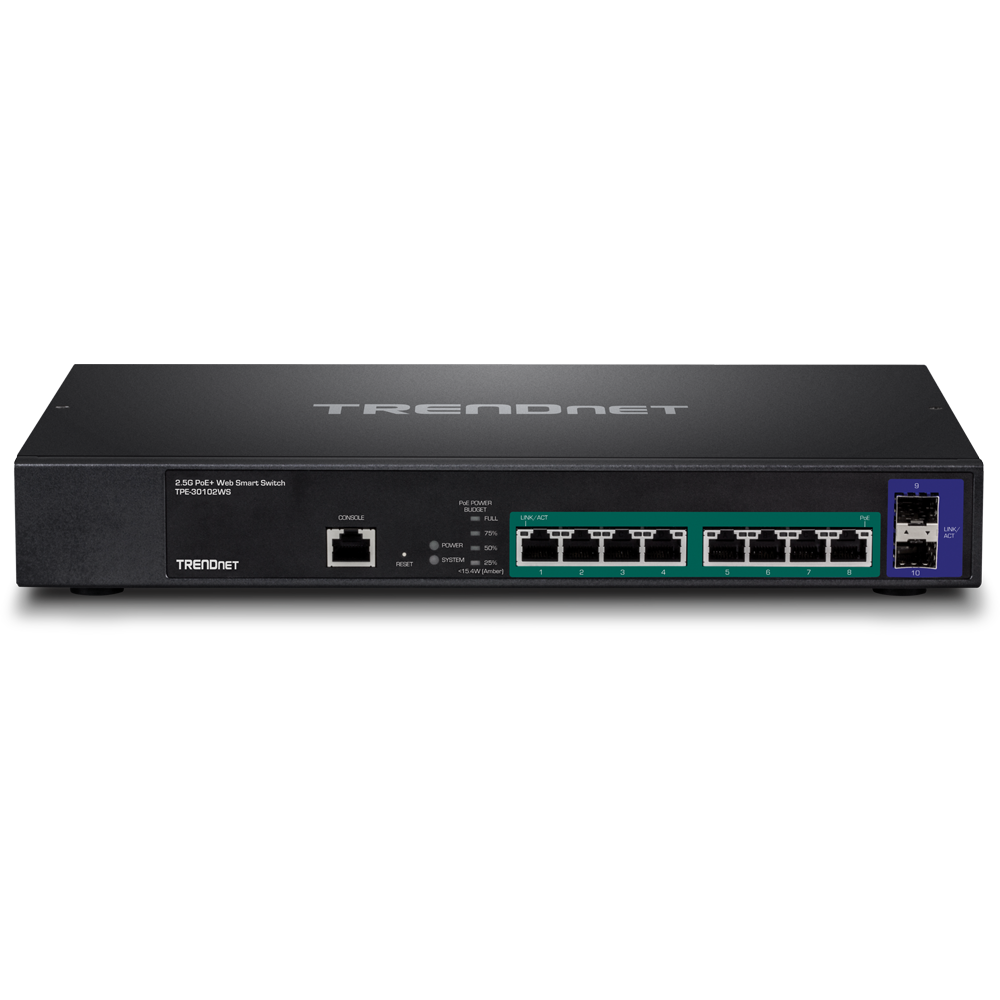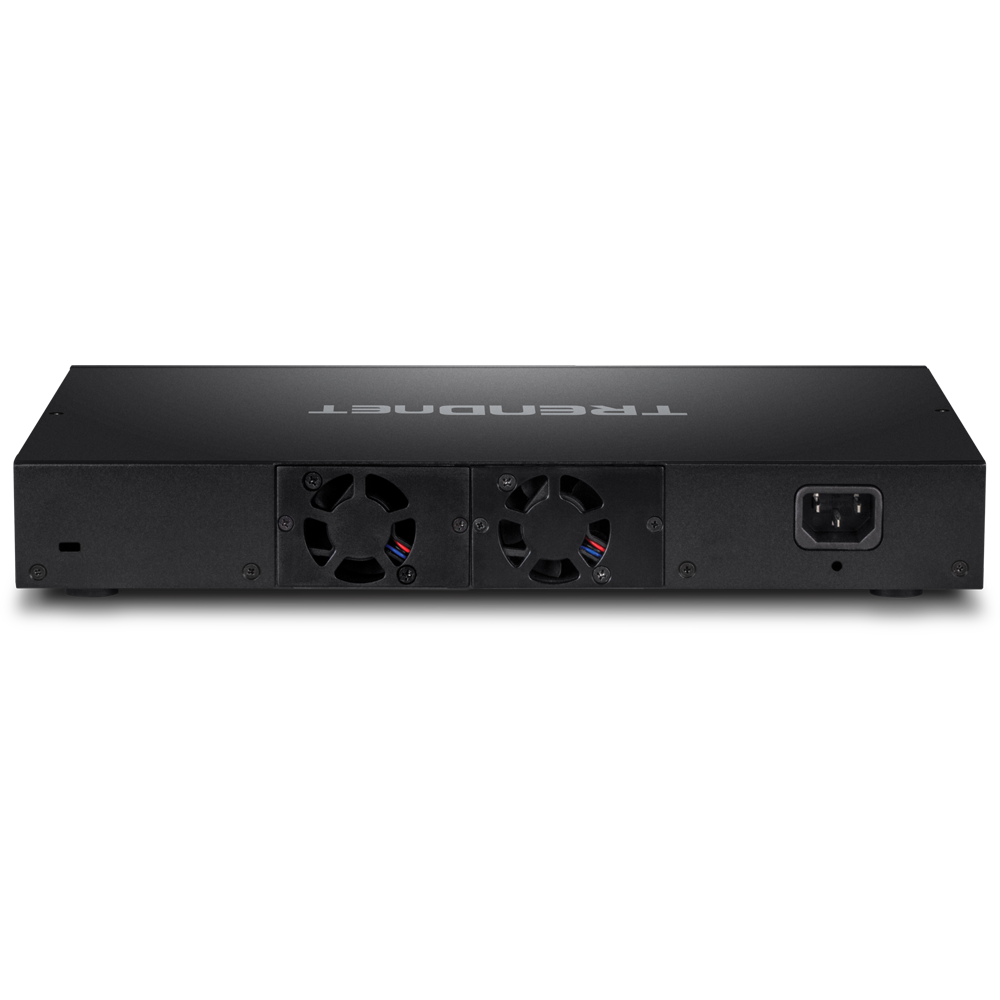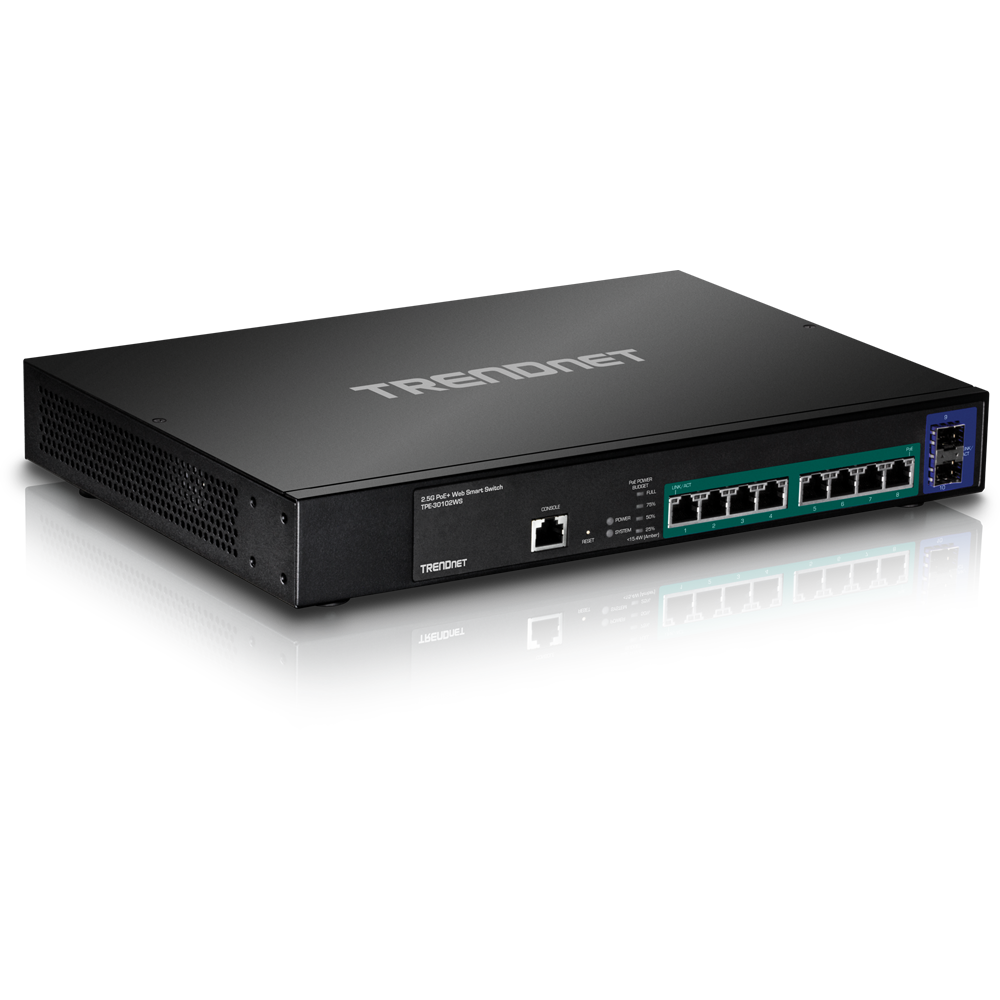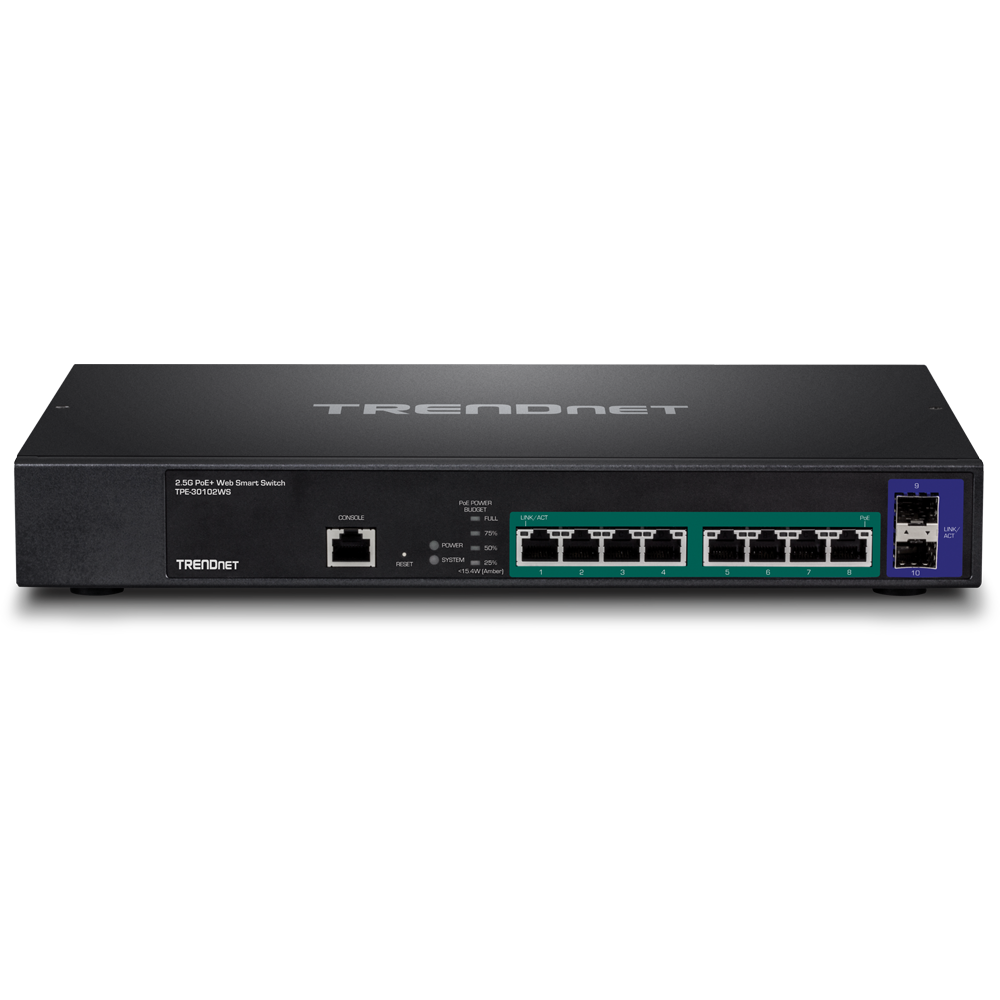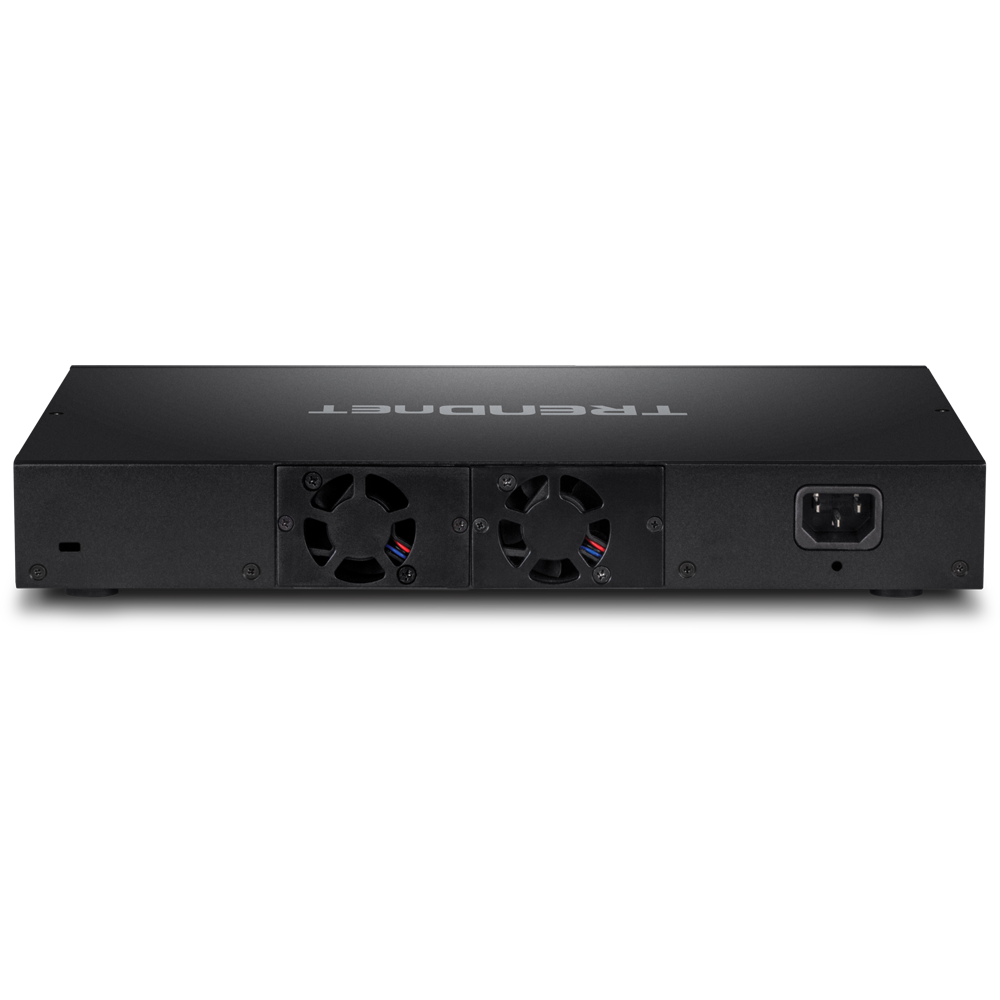 10-Port 2.5GBASE-T Web Smart PoE+ Switch mit zwei 10 G SFP+ Slots
TPE-30102WS (Version v1.0R)
Acht 2.5GBASE-T PoE+ Ports mit zwei 10 G SFP+ Slots
2.5GBASE-T unterstützt bis zu 2.5 Gbit/s Verbindungsgeschwindigkeiten
Kompatibel mit bestehenden Cat5e oder besserer Verkabelung
Leicht zu bedienende webbasierte Verwaltungsoberfläche
Unterstützt bis zu 32 IPv4/IPv6 statische Routes
Unterstützt LACP, VLAN, und IGMP Snooping
IEEE 802.1p QoS mit Warteschlangenplanung
Portspezifische MAC-Beschränkung und dynamische ARP-Inspektion
Bandbreitenkontrolle je Port
80 Gbit/s Schaltkapazität
1U rackmontierbar (Halterungen inbegriffen)
Firmware
Aktualisieren Sie die Firmware von TRENDnet-Produkten NICHT über eine drahtlose Verbindung.
Wenn die Firmware über eine drahtlose Verbindung aktualisiert wird, kann das Produkt Schaden nehmen. Führen Sie Aktualisierungen deshalb bitte nur über verdrahtete Verbindungen durch.
Firmware Version: 1.00.21
Release Date: 5/2021
Release Note:
Fixed security vulnerabilities
Dateiname: FW_TPE-30102WS_v1(1.00.21).zip
SHA-1 Checksum: A1283A5558A2C88267DDC77083EC1714403E5549
Datum
5/21/2021
Dateigröße
12.20 mb
Kurzanleitung zur Installation
---
---
---
---
---
---
Bedienungsanleitung
Dateiname: UG_TPE-30102WS(v1).pdf
Datum
6/18/2018
Dateigröße
4.24 mb


Standards

IEEE 802.1d
IEEE 802.1p
IEEE 802.1Q
IEEE 802.1s
IEEE 802.1w
IEEE 802.1X
IEEE 802.1ab
IEEE 802.3u
IEEE 802.3x
IEEE 802.3z
IEEE 802.3ab
IEEE 802.3ad
IEEE 802.3ae
IEEE 802.3af (15,4 Watt/Port)
IEEE 802.3at (30 Watt/Port)
IEEE 802.3bz

Geräteschnittstelle

8 x 2.5GBASE-T PoE+ Ports (100Mbit/s / 1Gbit/s / 2.5Gbit/s)
2 x 10G SFP+ Slots (1Gbit/s / 10Gbit/s)
1 x RJ-45 Konsolenanschluss
LED-Anzeige
Rückstelltaste

Datenübertragungsrate

Fast Ethernet: 100 Mbit/s (Halbduplex), 200 Mbit/s (Vollduplex)
Gigabit Ethernet: 2000 Mbit/s (Vollduplex)
2,5 Gigabit Ethernet: 5 Gbit/s (Vollduplex)
10 Gigabit Ethernet: 20 Gbit/s (Vollduplex)

Leistung

Switch Fabric: 80 Gbit/s
RAM-Buffer: 2 MB
MAC Adresstabelle: 32 K Einträge
Jumbo Frames: 9 KB
Weiterleitungsmodus: Speichern und weiterleiten
Weiterleitungsrate: 59,5 Mbit/s (64-byte Paketgröße)

Management

CLI (Konsole / Telnet / SSHv2) nur für IP-Adresseinstellungen und Passwortkonfiguration
HTTP/HTTPS (SSL v2/3 TLS 1,2) webbasiertes GUI
SNMP v1, v2c, v3
SNMP Trap (bis zu 4 Empfänger)
RMON v1/2/3/9
Kabeldiagnostiktest
Statische Unicast-Einträge
LLDP
LLDP-MED
IPv6 Neighbor Discovery, IPv6 statisches IP und DHCPv6

MIB

MIB II RFC 1213
Bridge MIB IEEE8021-Q
RMON (Group 1,2,3,9) RFC 2819
Schnittstelle Gruppe MIB mit SMIv2 RFC 2863
Multicast Group Membership Discovery MIB RFC 5519
SNMP Management Frameworks RFC 3411
Benutzerbasiertes Sicherheitsmodell für SNMPv3 RFC 3414
Ansichtsbasiertes Zugriffskontrollmodell für SNMP RFC 3415
Ethernet-ähnliches MIB RFC 3635
802.3 MAU MIB RFC 3636
LLDP-MED PoE RFC 3621
Entity MIB v3 RFC 4133
Bridge MIB RFC 4188
IP MIB RFC 4293
RADIUS Authentifizierung Client MIB RFC 4668
RADIUS-Kontoführung MIB RFC 4670
LLDP-MIB IEEE802.1AB
PAE MIB IEEE 802.1X

Spanning Tree

IEEE 802.1D STP (Spanning Tree Protokoll)
IEEE 802.1w RSTP (Rapid Spanning Tree Protokoll)
IEEE 802.1s MSTP (Multiple Spanning Tree Protokoll)

Link Aggregation

Static Link Aggregation und 802.3ad dynamisches LACP (bis zu 4 Gruppen)

Quality of Service (QoS)

802.1p Class of Service (CoS)
DSCP (Differentiated Services Code Point)
Bandbreitenkontrolle je Port
Warteschlangenplanung: Strict Priority (SP), Deficit Weighted Round Robin (DWRR)

VLAN

Multiple Management VLAN-Zuteilung
Asymmetrisches VLAN
802.1Q Tagged VLAN
Dynamic GVRP
Bis zu 32 VLAN Gruppen, ID Bereich 1-4094
Privates VLAN
Voice VLAN (16 benutzerdefinierte OUIs)

Multicast

IGMP Snooping v1, v2, v3
IGMP Fast Leave
Static Multicast Einträge
MLD Snooping v1, v2
Bis zu 1000 Multicast-Gruppen

Port-Spiegelung
Storm Control

Übertragung (Mindestgrenze: 10pps)
Multicast (Mindestgrenze: 10pps)
Ziel nicht gefunden (Mindestgrenze: 10pps)

Zugriffskontrolle

802.1X portbasierte Netzwerkzugangskontrolle
MAC-basierte Authentifizierung
RADIUS (bis zu 5 Server)
TACACS+ (bis zu 5 Server)
Lokale Benutzerauthentifizierung
DHCP IPv4 Snooping
Doppelte Adresserkennung
Loopback-Erkennung
Vermeidung von Head-of-Line (HoL) Blocking
Vermeidung von Denial of Service (DoS)
Trusted Host/IP-Zugriffsliste
Port Security/MAC Adresslernbegrenzung (bis zu 64 Einträge je Port)
Ziel-MAC-Filter
Statische/dynamische ARP-Inspektion

ACL IPv4 & IPv6

MAC-Adresse
VLAN ID
ARP/RARP
Ether Type
ICMP Typ 1-255
IP-Protokoll 1-255
TCP/UDP Port 1-65535
802.1p
DSCP
IPv4/IPv6 Adresse
Bis zu 256 Einträge

Layer 3 Funktionen

IPv4 / IPv6 statisches Routing
IP-Schnittstellen: Bis zu 8
Routingtabelleneinträge: Bis zu 32 (IPv4 / IPv6)
ARP-Tabelle (bis zu 1024 Einträge)
DHCP Server, relais, option 82
Inter-VLAN Routing

Stromversorgung

Input: 100 - 240V AC , 50/60 Hz
Max. Verbrauch: 27.36 Watt (keine PoE-Last)

PoE

PoE-Gesamtleistung: 240 Watt
802.3at: Bis zu 30 Watt je Port (Ports 1-8)
Modus A: Pole 1,2 für Strom(+) und Pole 3,6 für Strom(-) (modus A)
Automatische / manuelle Klassifizierung betriebener Geräte
PoE Port-Priorität
PoE-Stromverzögerung
PoE-Leistungsplanung
Überlast-/Kurzschlussschutz

Intelligente Lüftung / Akustik

Menge: 2 (im laufenden Betrieb austauschbar)
Geräuschpegel: 41,7 dBA (max.)

MTBF
Betriebstemperatur
Betriebsfeuchtigkeit

Max. 80% nicht-kondensierend

Maße

330 x 230 x 44,45mm (13 x 9,1 x 1,75 Zoll)
Rackmontierbar, 1U hoch

Gewicht
Zertifizierungen
Garantie
PACKUNGSINHALT
TPE-30102WS
Anleitung zur Schnellinstallation
Stromkabel
RJ-45 zu RS-232 Konsolenkabel (1m / 3,28 Zoll)
Montagesatz für Gestell
Die in diesem Dokument enthaltenen Informationen beziehen sich auf Produkte von TRENDnet und können jederzeit ohne vorherige Ankündigung geändert werden.