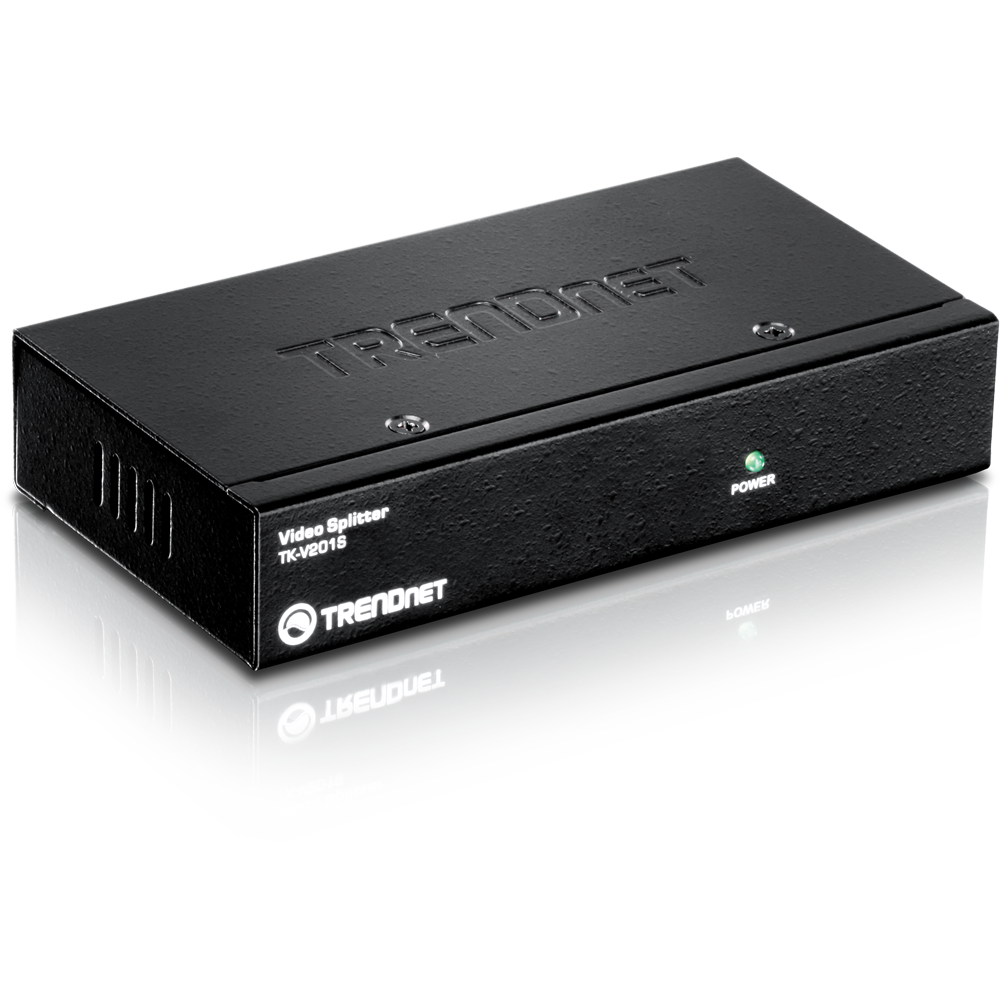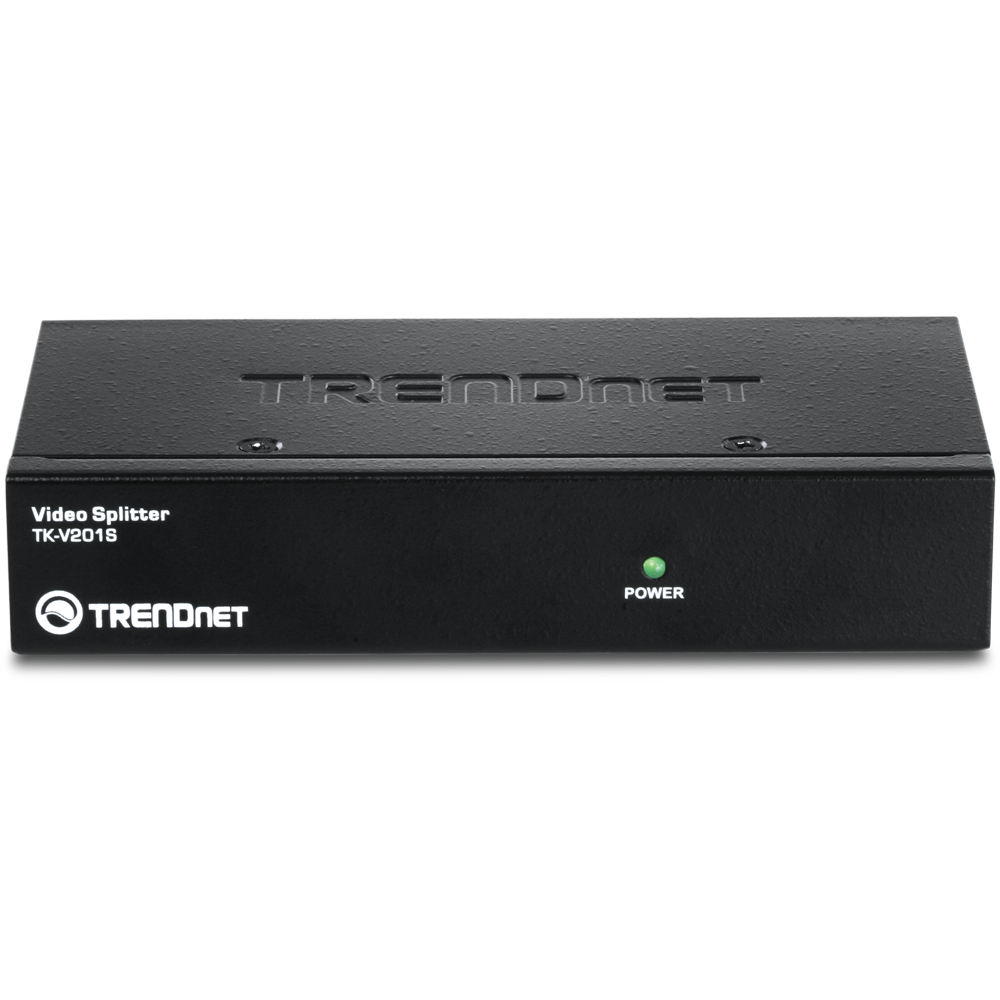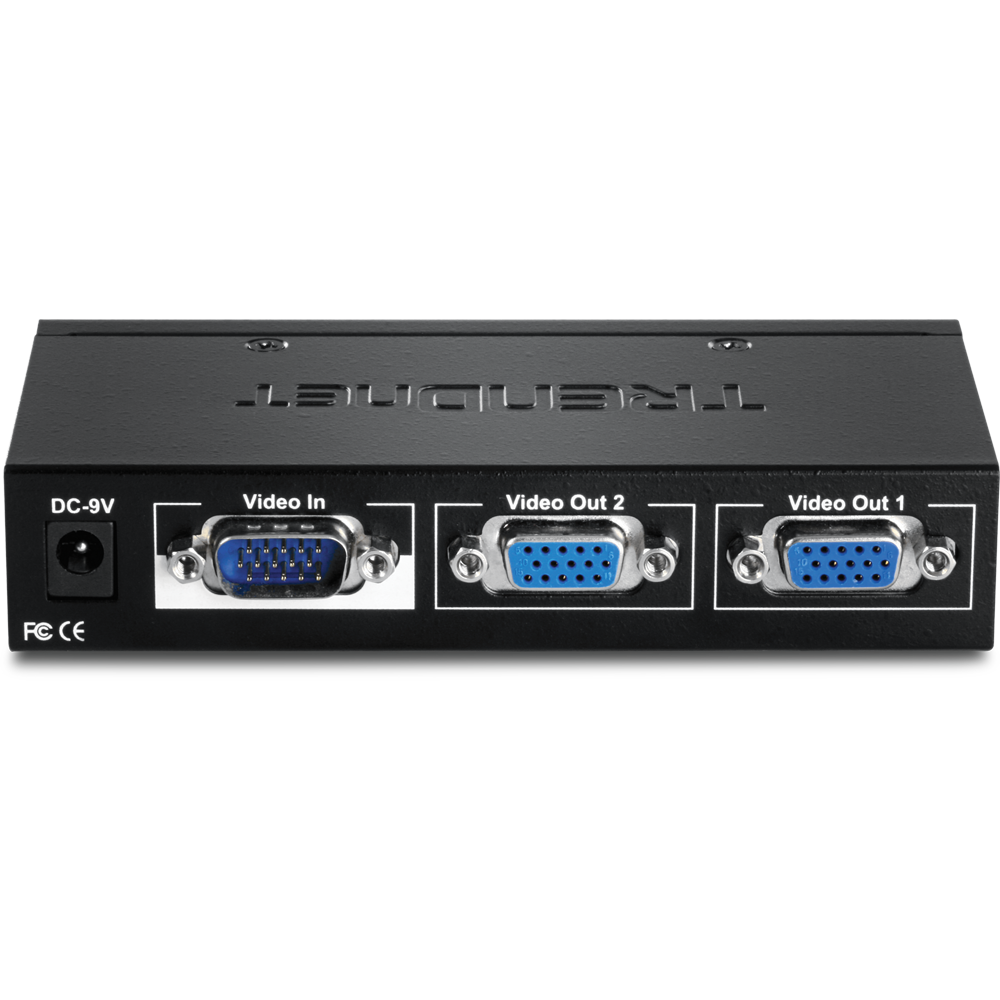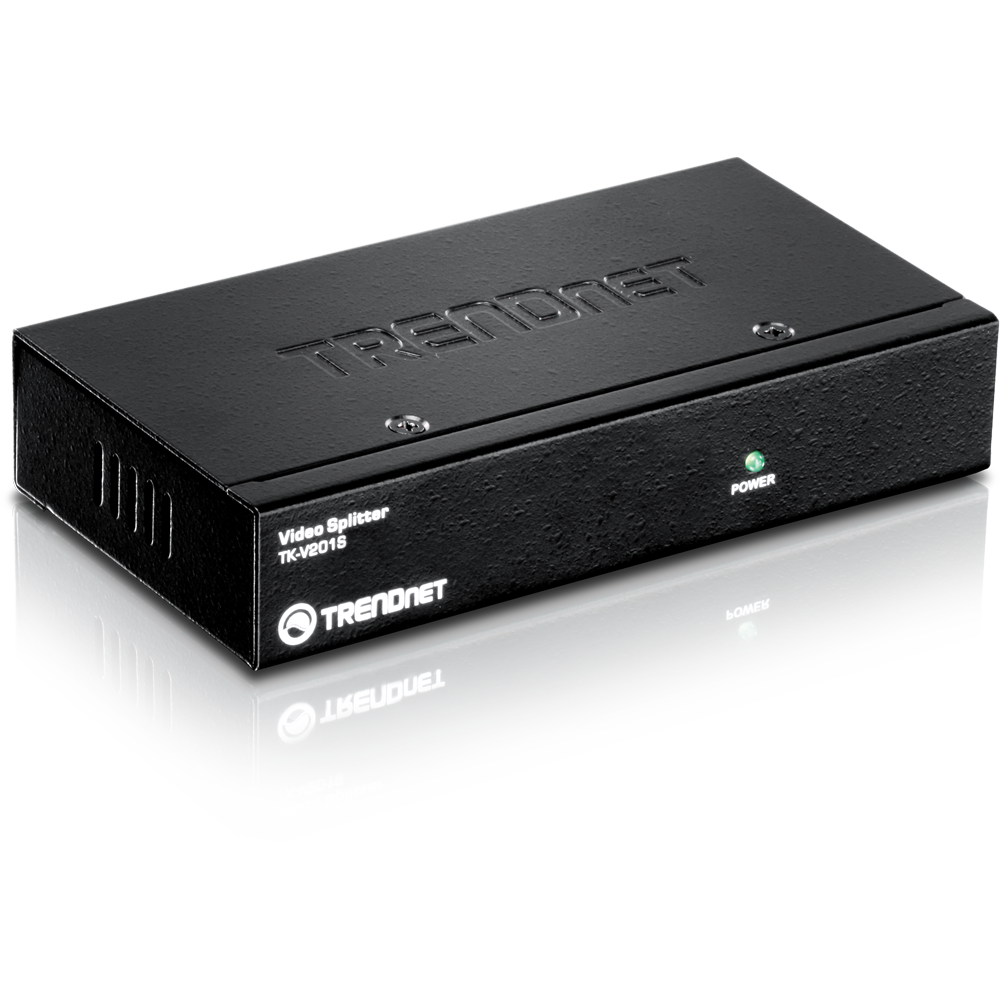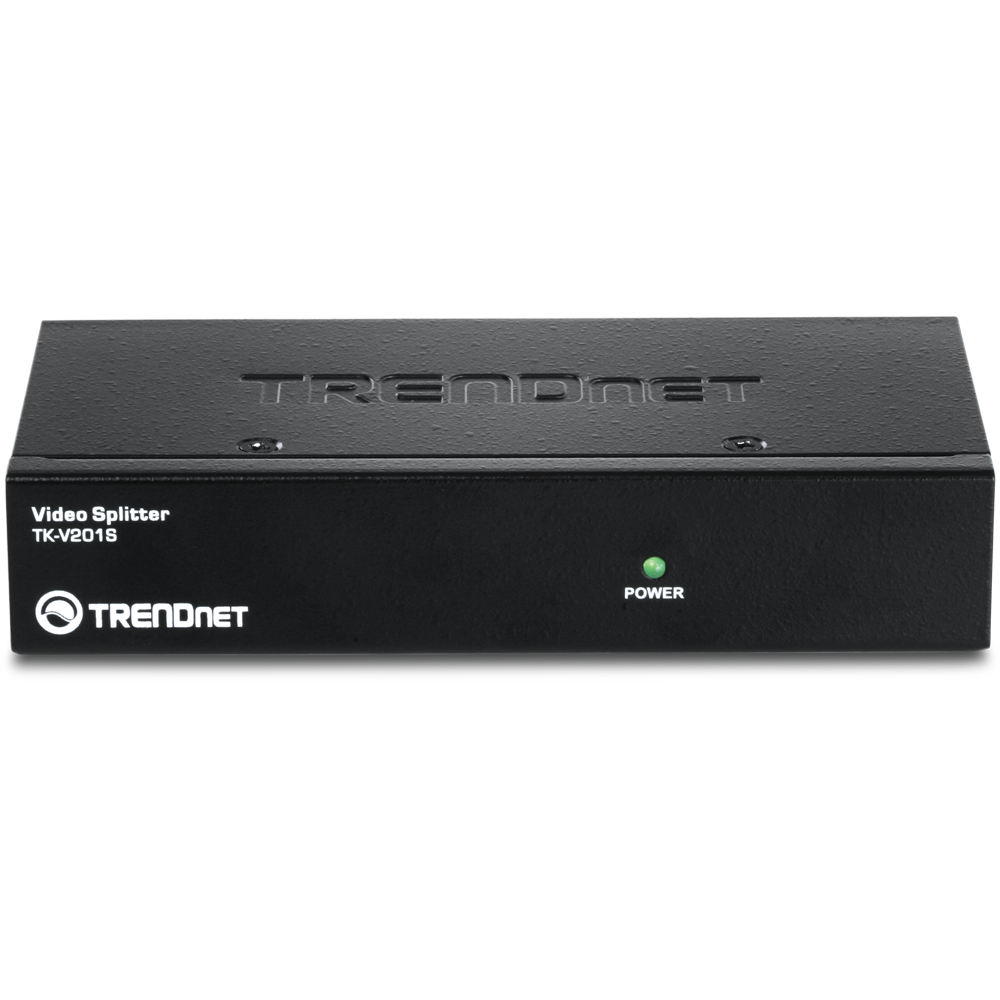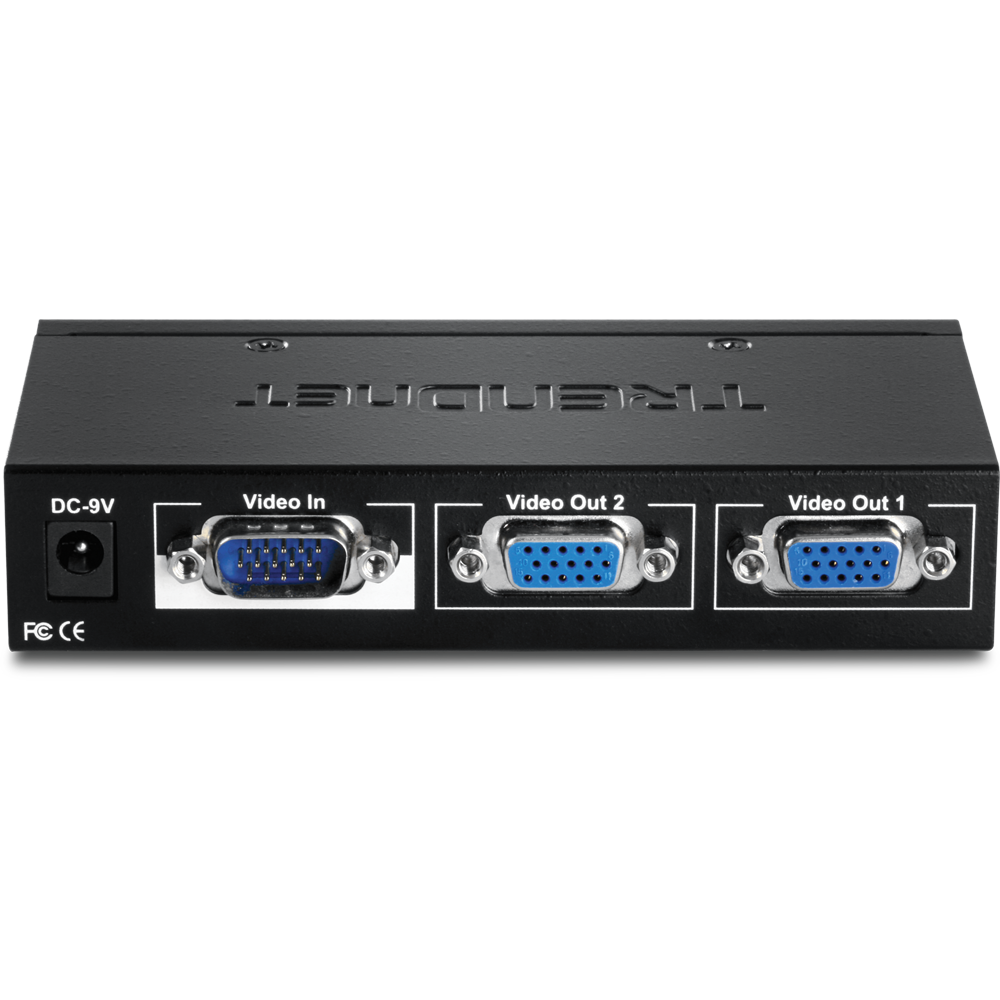 2-facher stapelbarer Video-Repeater
Vervielfältigung eines Sichtfelds zu mehrere Monitoren ohne zusätzliche Software
Hohe Videoauflösung mit bis zu 1920 x 1440 Bildpunkten
Bis zu drei Geräte lassen sich hintereinander schalten, um zusätzliche Monitore anzusteuern
Haltbares Metallgehäuse
Kurzanleitung zur Installation
---
---
---
---
---
---


The maximum cable distance supported is 65 meters (210 feet).
The TK-V201S and TK-V401S do not support HDMI or DVI interface types. The interface type supported is VGA. ...
Yes, you can cascade up to 2 additional units for a total of 3.
The video interface for the TK-V201S and TK-V401S is VGA.
The TK-V201S and TK-V401S support resolutions up to 1920 x 1440.
Hardware
Video-Eingang

1 x 15-poliger VGA-HDB-Stecker(mit VGA-Kabel (1,85 m))

Video-Ausgang

2 x 15-polige VGA-HDB-Buchsen

Auflösung
Signaltypen:

WUXGA, HD, UXGA, SXGA+, SXGA, WSXGA, WXGA, XGA, SVGA, VGA, QVGA und Multi-Synchronisation

Kabellänge
Verlängerungen (Hintereinanderschaltung)
Kabel (mitgeliefert)

1 x 15-polige VGA-HDB (Stecker zu Buchse), 1,2 m / 4ft.

Stromversorgung
LEDs
Abmessungen (L x B x H)

131 x 65 x 25 mm (6.3 x 2.5 x 1in.)

Gewicht
Temperatur

Betrieb: 0°C bis 40°C (32°C bis 104°F)
Lagerung: -20°C bis 60°C (-4°F bis 140°F)

Luftfeuchtigkeit

90% (nicht kondensierend)

Zulassungen
PACKUNGSINHALT
TK-V201S
Mehrsprachige Installationsanleitung
Netzteil (9 V DC, 1 A)
VGA-kabel (1,85 m / 6ft.)
Die in diesem Dokument enthaltenen Informationen beziehen sich auf Produkte von TRENDnet und können jederzeit ohne vorherige Ankündigung geändert werden.