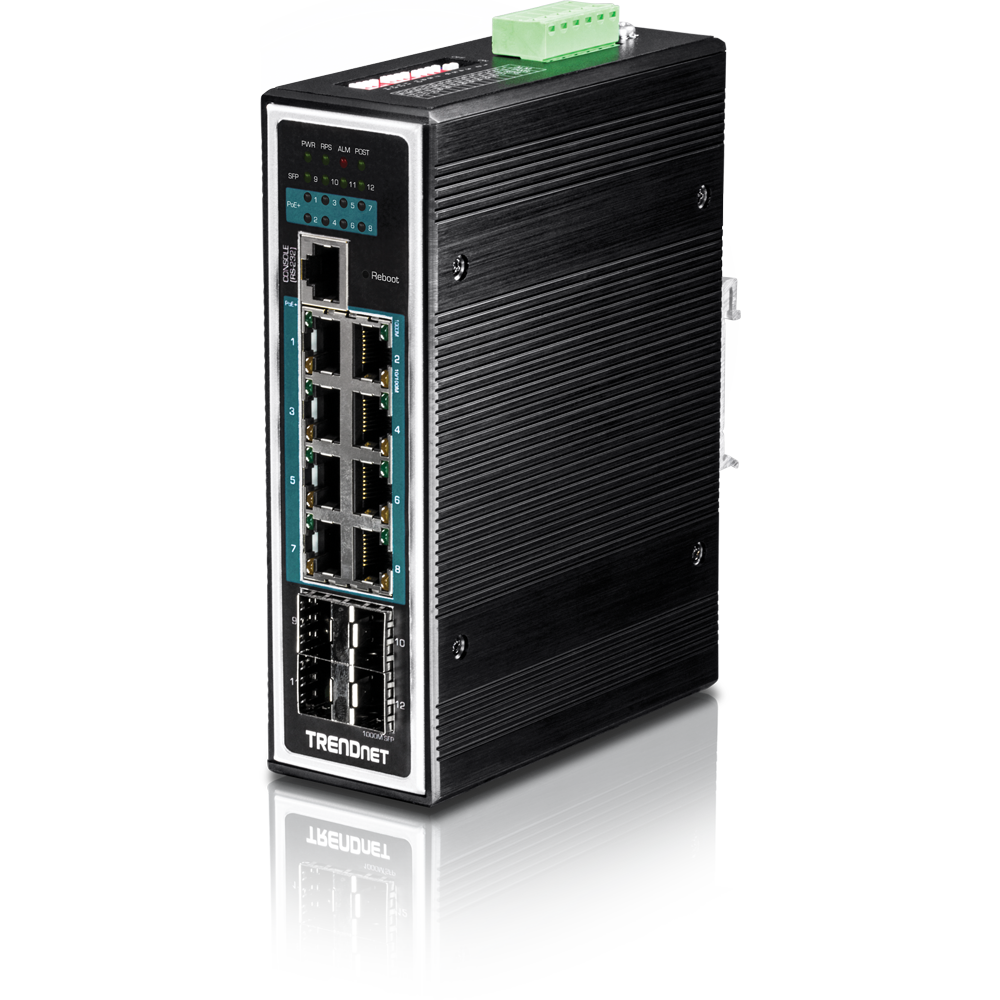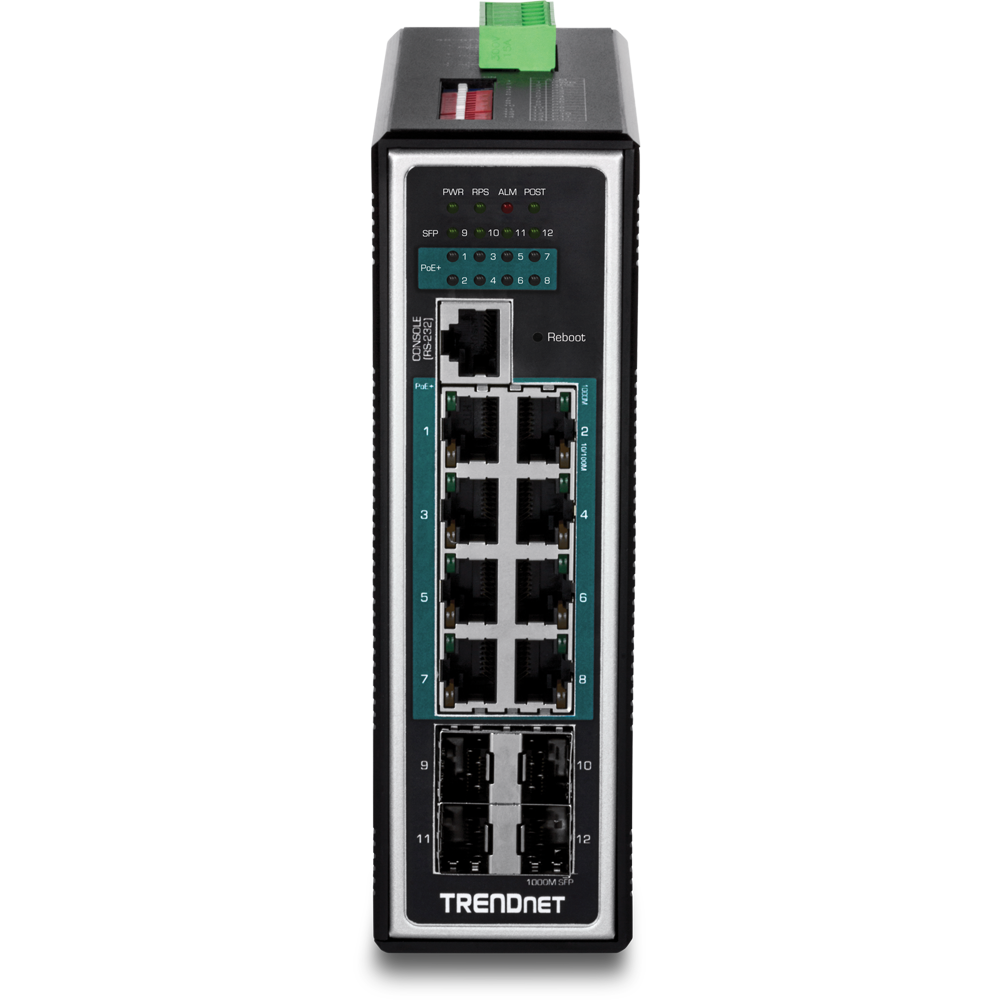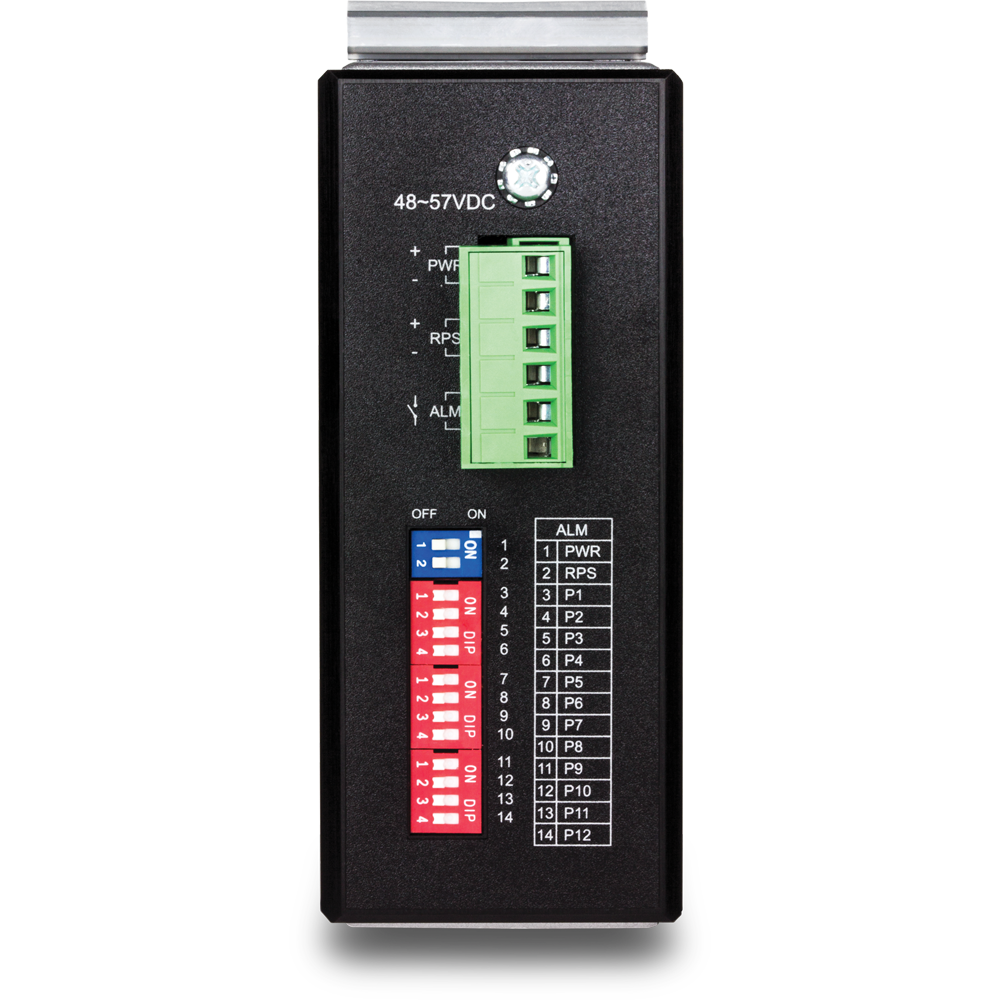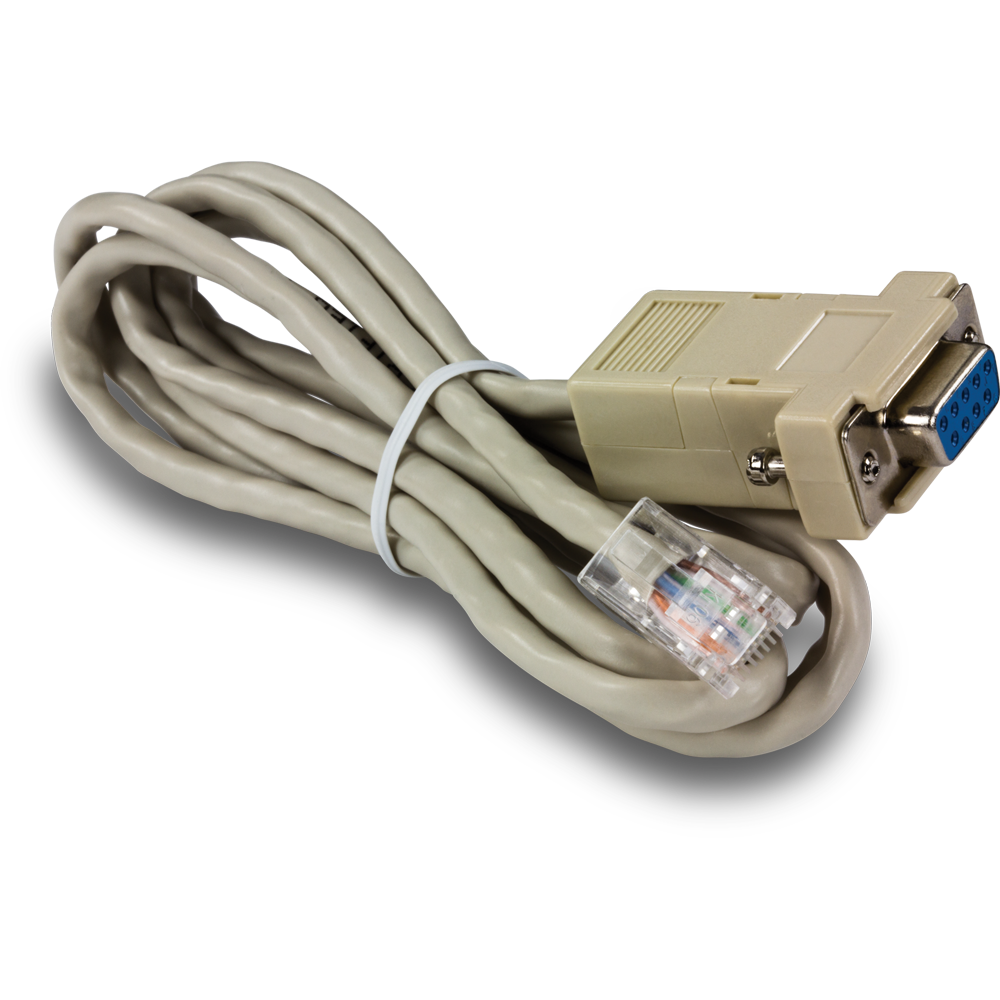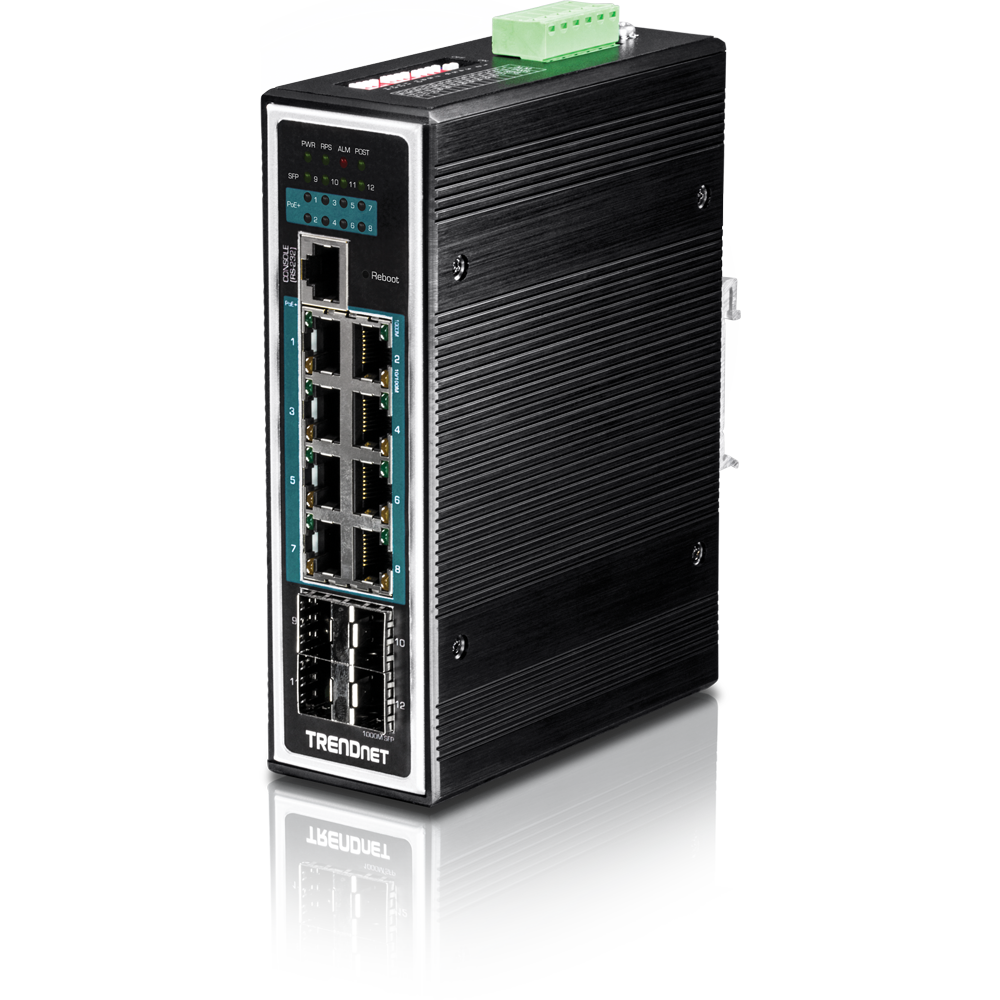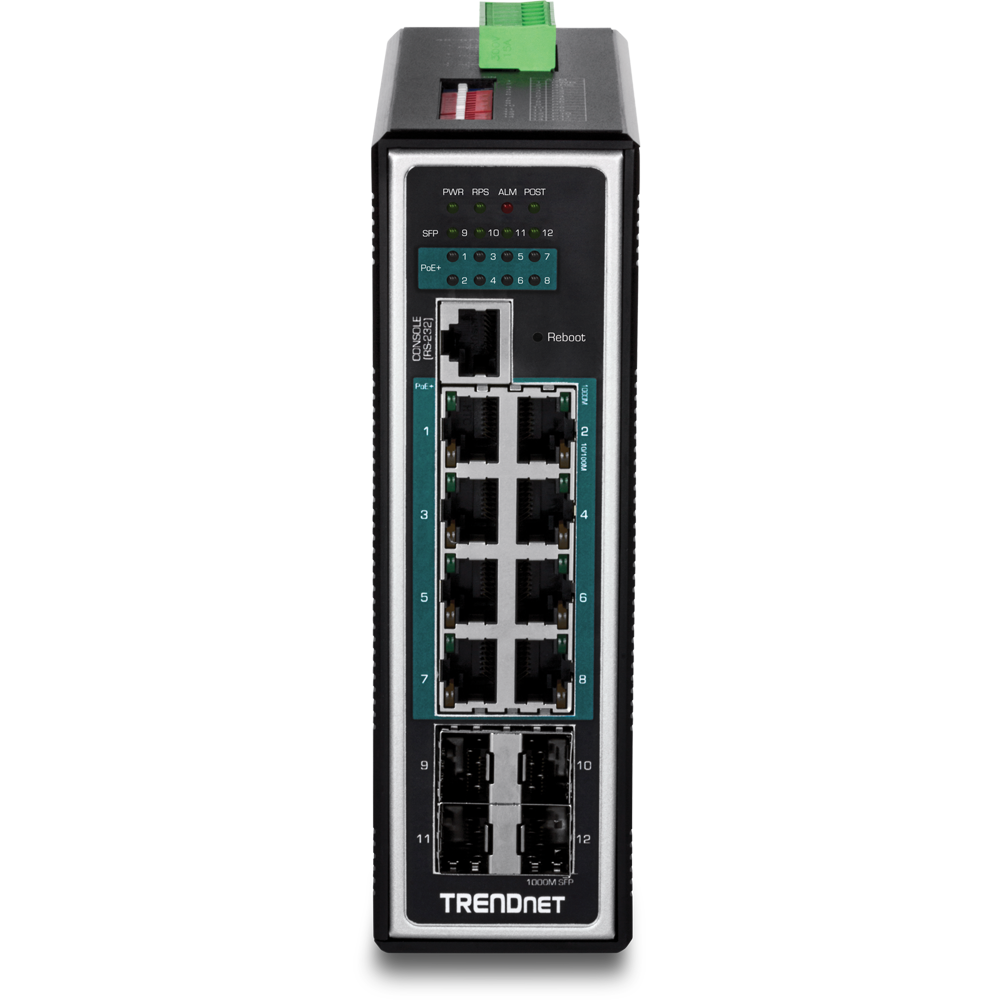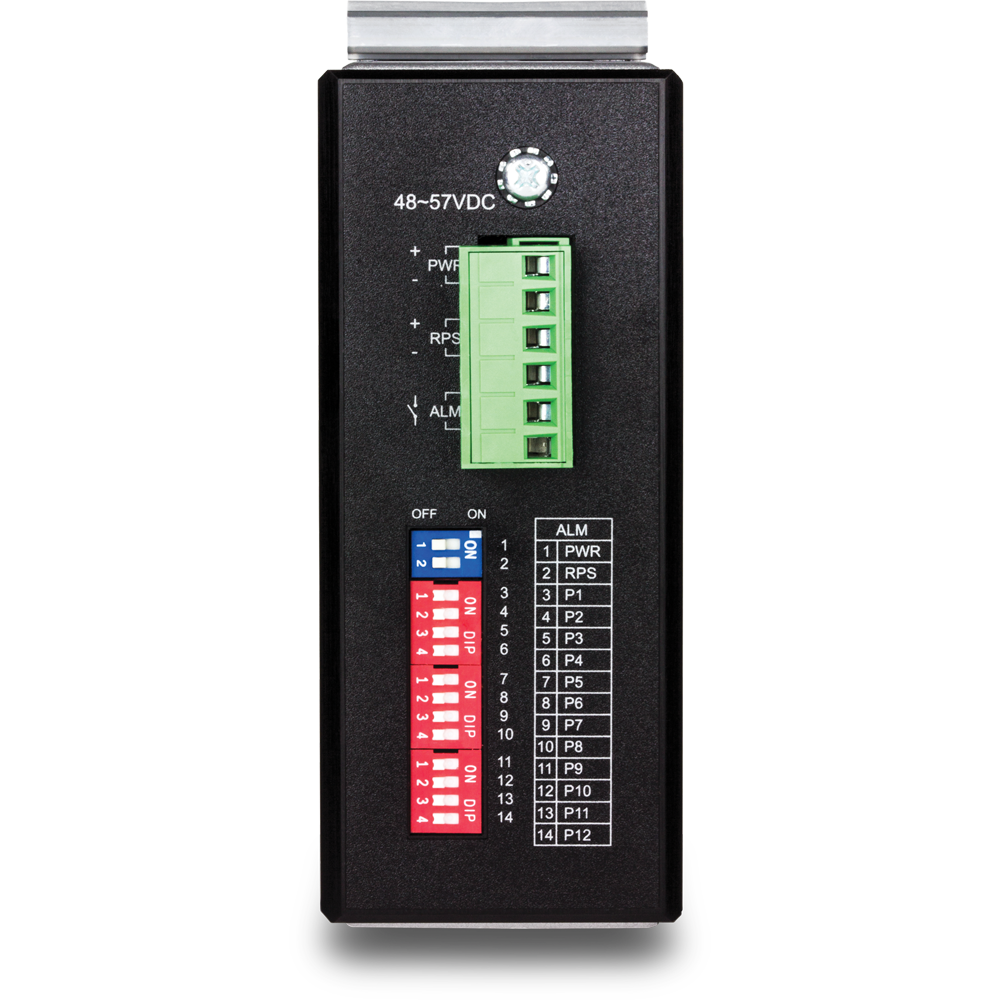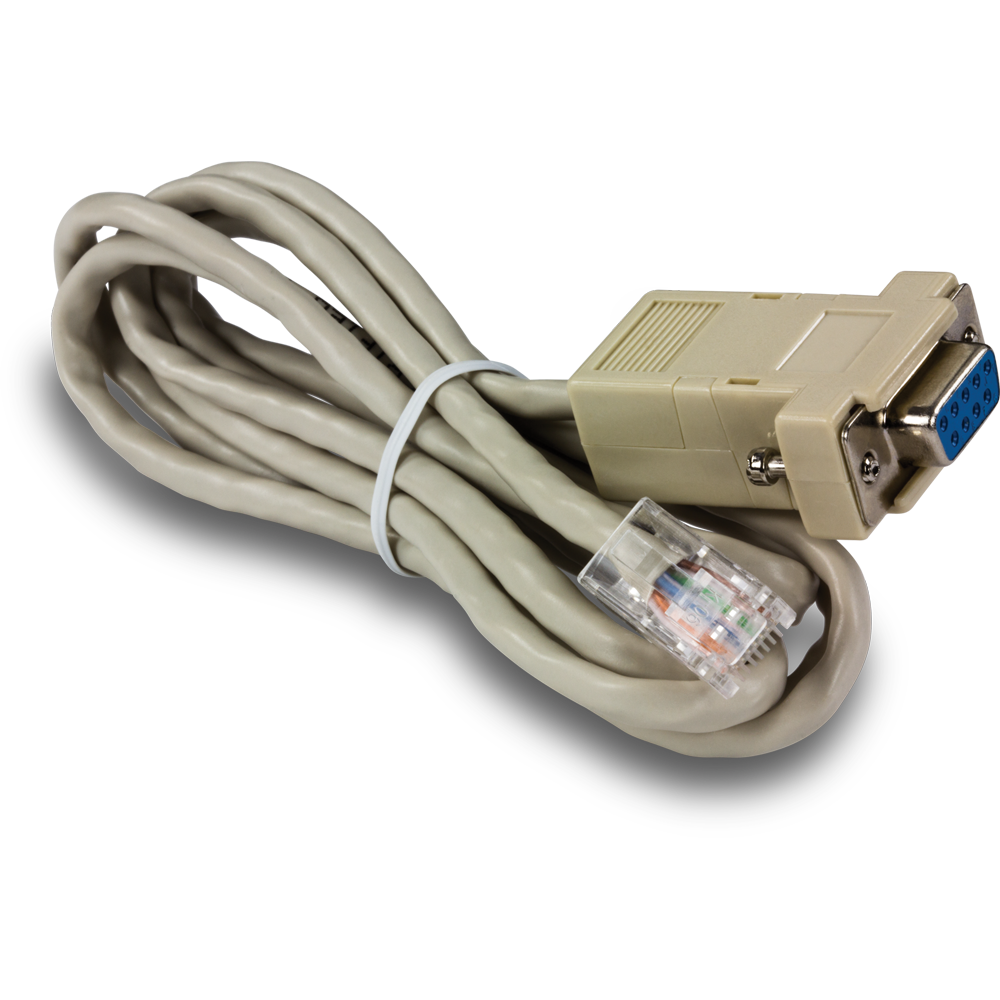 12-Port gehärteter industrieller Gigabit PoE+ Layer 2+ verwalteter DIN-Rail Switch
TI-PG1284i (Version v1.0R)
Gehärtetes Metallgehäuse mit Wetterschutzklasse IP30 mit integrierter DIN-Schiene
Breiter Betriebstemperaturbereich - 40 bis 75 °C (-40 bis 167 °F)
8 Gigabit PoE+ (802.3at) Ports, 4 Gigabit SFP-Slots und 1 Konsolen-Port
240 Watt Gesamtleistung
Dual redundante Stromversorgung und Alarmrelais
CLI (Console / Telnet / SSH), Web (HTTP / HTTPS), SNMP v1 / 2c / 3 Verwaltung
802.1Q / Q-in-Q VLAN und IGMP Snooping / MLD / MVR Unterstützung
802.1p / DSCP / Warteschlangenplanung (SPQ / WRR) QoS-Unterstützung
Netzteil separat erhältlich (modelle: TI-S24048)
Firmware
Aktualisieren Sie die Firmware von TRENDnet-Produkten NICHT über eine drahtlose Verbindung.
Wenn die Firmware über eine drahtlose Verbindung aktualisiert wird, kann das Produkt Schaden nehmen. Führen Sie Aktualisierungen deshalb bitte nur über verdrahtete Verbindungen durch.
Model:
TI-PG1284i
Hardware Version:
v1.xR
Firmware Version:
1.1.9.S0
Release Date:
11/2019
Dateiname: FW_TI-PG1284i_v1(1.1.9.S0).zip
SHA-1 Checksum: 6F11A62B452F2392F7B7978305DA4AD8E10B07D5
Datum
11/18/2019
Dateigröße
9.94 mb
Kurzanleitung zur Installation
---
---
---
---
---
---
---
---
---
Bedienungsanleitung
Dateiname: UG_TI-PG1284i(v1).pdf
Datum
7/8/2016
Dateigröße
5.79 mb


Standards

IEEE 802.1d
IEEE 802.1p
IEEE 802.1Q
IEEE 802.1S
IEEE 802.1w
IEEE 802.1X
IEEE 802.1ab
IEEE 802.3
IEEE 802.3u
IEEE 802.3x
IEEE 802.3z
IEEE 802.3ab
IEEE 802.3ad
IEEE 802.3af
IEEE 802.3at

Geräteschnittstelle

8 x Gigabit PoE+ Ports
4 x Gigabit SFP Slots
1 x Konsolenanschluss (RJ-45)
6-Pol herausnehmbare Klemmleiste (primär / RPS Leistungsaufnahme & Alarmrelaisausgang)
DIP-Schalter (Alarm für Ausfall primärer / RPS Stromversorgung und Ausfall von Ports / Slots)
LED-Anzeige

Datenübertragungsrate

Ethernet: 10 Mbps (Halbduplex), 20 Mbps (Vollduplex)
Fast Ethernet: 100 Mbps (Halbduplex), 200 Mbps (Vollduplex)
Gigabit Ethernet: 2000 Mbit / s (Vollduplex)
SX / LX: 2000 Mbps (Vollduplex)

Leistung

Switch Fabric: 24 Gbps
RAM-Buffer: 128 MB
MAC Adresstabelle: 16 K Einträge
Jumbo Frames: 10 KB
Weiterleitungsrate: 17,86 Mpps (64-byte Paketgröße)

Management

CLI (Konsole, Telnet, SSH)
HTTP / HTTPS (SSL) webbasiertes GUI
SNMP v1, v2c, 3
SNMP Trap
RMON Gruppen 1, 2, 3, 9
LLDP
SNTP
SMTP Alarm
Syslog
Portstatistiken / -nutzung
Verkehrsmonitor
Portspiegelung (Ingress, Egress, beides)
Storm Control (Multicast, DLF, Broadcast)
Modbus / TCP
IPv6 statische IP-Adresse, DHCPv6 Client
Zweibildsystem
Automatische Bereitstellung durch FTP / TFTP / HTTP Server
Xpress Ring
ERPS (Ethernet Ring Protection Switching) G8032v2
SFP DDMI (Digital Diagnostic Monitoring Interface)

MIB

MIB II RFC 1213
Bridge MIB RFC 1493
Ethernet Interface MIB RFC 1643
RMON MIB RFC 1757

Spanning Tree

STP (Spanning Tree Protokoll)
RSTP (Rapid Spanning Tree Protokoll)
MSTP (Multiple Spanning Tree Protokoll)

Link Aggregation

Static Link Aggregation
802.3ad Dynamic LACP
Bis zu 6 Linkaggregationsgruppen

Quality of Service (QoS)

802.1p Class of Service (CoS)
DSCP (Differentiated Services Code Point)
Bandbreitenkontrolle je Port
Warteschlangenplanung: Strict Priority (SP), Weighted Round Robin (WRR)

VLAN

802.1Q Tagged VLAN
MAC-basiertes VLAN
Dynamic GVRP
Protokollbasiert (Ethernet II, Non-LLC-SNAP, LLC-SNAP)
Q-in-Q VLAN Stacking / doppeltes VLAN (portbasiert, selektiv)
Portisolierung
Bis zu 256 VLAN Gruppen, ID Bereich 1-4094

Multicast

IGMP Snooping v1, v2, v3
MVR
MLD v1, v2
IGMP Filtering / Querier / Proxy
Static Multicast Address
Bis zu 256 Multicast-Einträge

Zugriffskontrolle

802.1X portbasierte Netzwerkzugangskontrolle RADIUS
Lokale Einwahl-Client-Authentifizierung
DHCP Snooping / Screening
Loopback-Erkennung
ARP Inspektion
IP Source Guard
Trusted Host
MAC Address Learning

ACL IPv4

MAC-Adresse
VLAN ID
Ethernet-Typ
IP-Protokoll 0-255
TCP / UDP Port 1-65535
DSCP

Layer 3 Features

IPv4 / IPv6 statisches Routing
IPv4 / IPv6 Proxy ARP
IP-Schnittstellen: Bis zu 16
Routingtabelleneinträge: Bis zu 500 (IPv4: 400 / IPv6: 100)
DHCP Relais / Option 82

Sonderfunktionen

CLI & webbasierte Verwaltung
Vollleistungs-PoE+
Breiter Betriebstemperaturbereich
Dual redundante Stromversorgungen
Alarmrelais ausgelöst durch Strom- und Port- / Slot-Ausfall
Überlast- / ESD-Schutz
L2+ Verwaltungsfunktionen

Stromversorgung

PWR (Primärer) Terminal-Input: 48 – 57 V DC (TI-S24048 separat erhältlich)
RPS (Redundanter) Terminal-Input: 48 – 57 V DC (TI-S24048 separat erhältlich)
Verbrauch : 18 W (max.), 260 W (max.) bei PoE+ Vollauslastung

Optionale Stromversorgung (TI-S24048 separat erhältlich)

Eingangsleistung: 100 – 240 V AC, 50/60 Hz, 1.8 A 125 – 370 V DC
Ausgangsleistung: 240 Watt, 48 V, 5 A
Hutschiene: TS-35 / 7,5 oder 15
Betriebstemperatur: -25 bis 70 °C (-13 bis 158 °F)

PoE

PoE-Gesamtleistung: 240 W
Bis zu 15 W je Port für PoE
Bis zu 30 W je Port für PoE+
Mode A: Pole 1, 2 (V+) und Pole 3, 6 (V-)
Einstellung zur Aktivierung / Deaktivierung von PoE je Port, Priorität, Zeitplan, Einschaltverzögerung und PD Alive Check

Einschließung

Metallgehäuse mit Schutzklasse IP30
DIN-Schienenmontage
Erdungspunkt
ESD (Ethernet) Schutz: 8 KV DC
Überlastschutz: 6 KV DC

MTBF

99,992 Stunden bei 75 °C
322,805 Stunden bei 25 °C

Betriebstemperatur

- 40 to 75 °C (-40 to 167 °F)

Betriebsfeuchtigkeit

Max. 95% nicht-kondensierend

Maße

170 x 132 x 50 mm (6.69 x 5.2 x 1.97 in.)

Gewicht
Zertifizierungen

CE
FCC
Shock (IEC 60068-2-27)
Freier Fall (IEC 60068-2-32)
Vibration (IEC 60068-2-6)

Garantie
PACKUNGSINHALT
TI-PG1284i
Anleitung zur Schnellinstallation
CD-ROM (Benutzerhandbuch)
Konsolenkabel (RJ-45 zu RS-232)
Die in diesem Dokument enthaltenen Informationen beziehen sich auf Produkte von TRENDnet und können jederzeit ohne vorherige Ankündigung geändert werden.