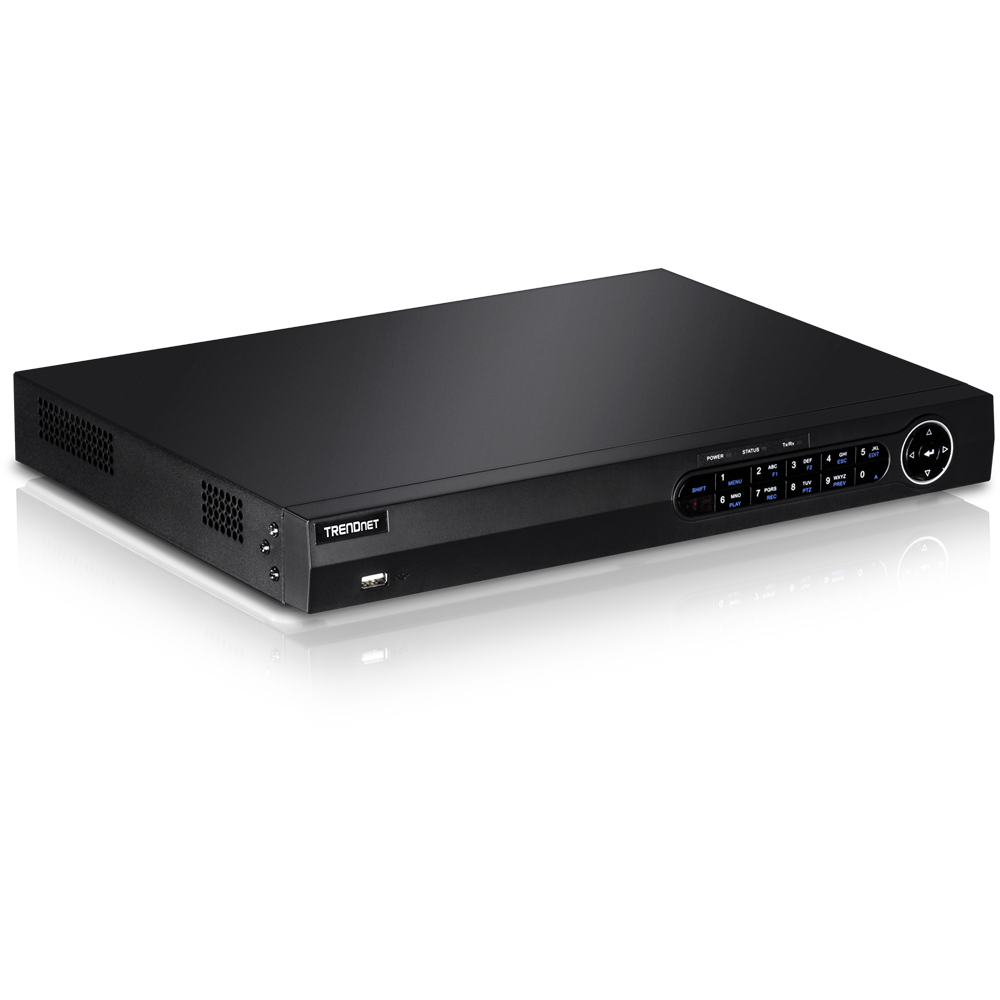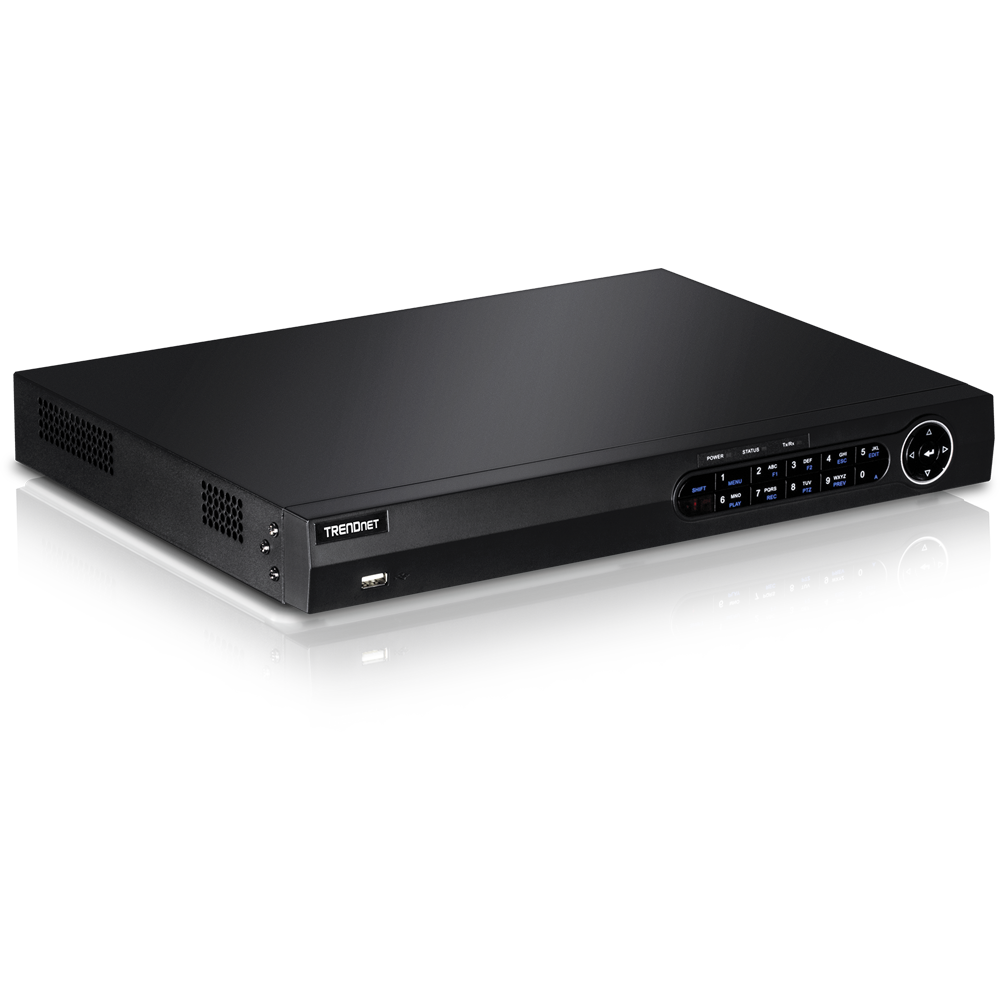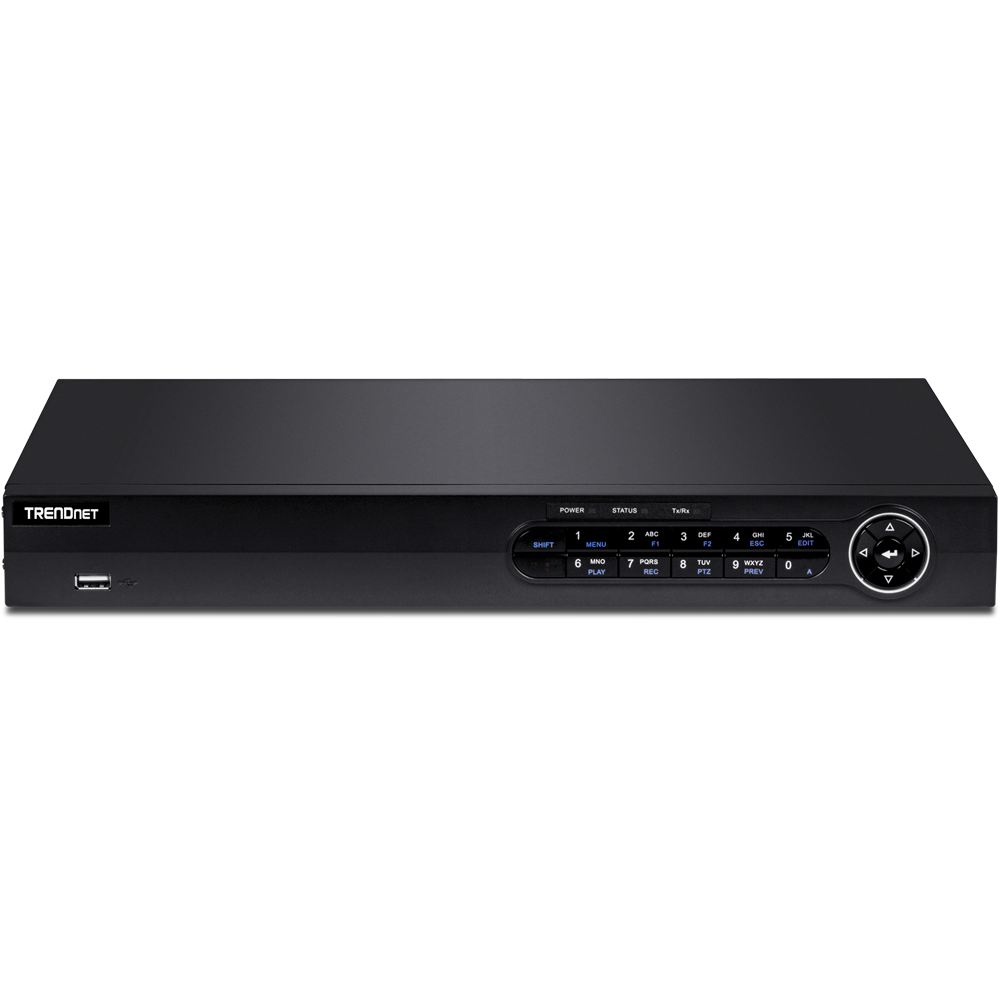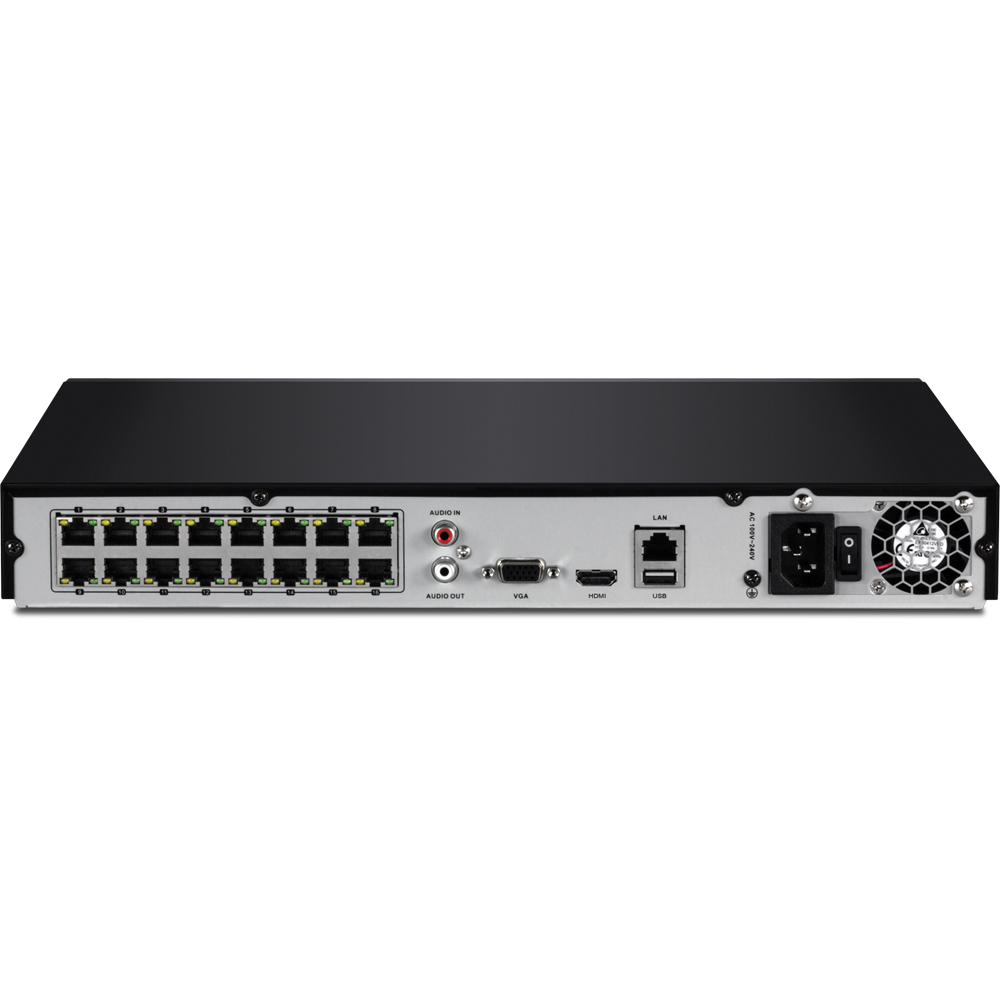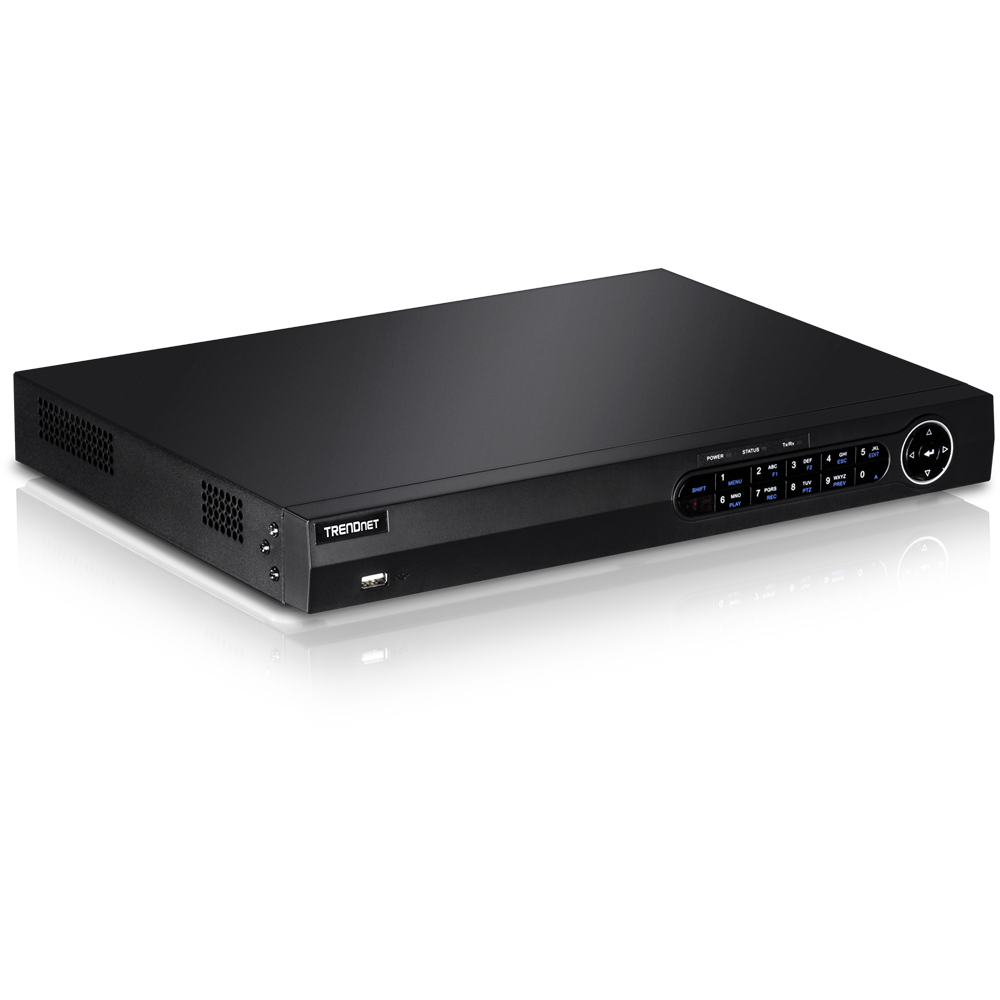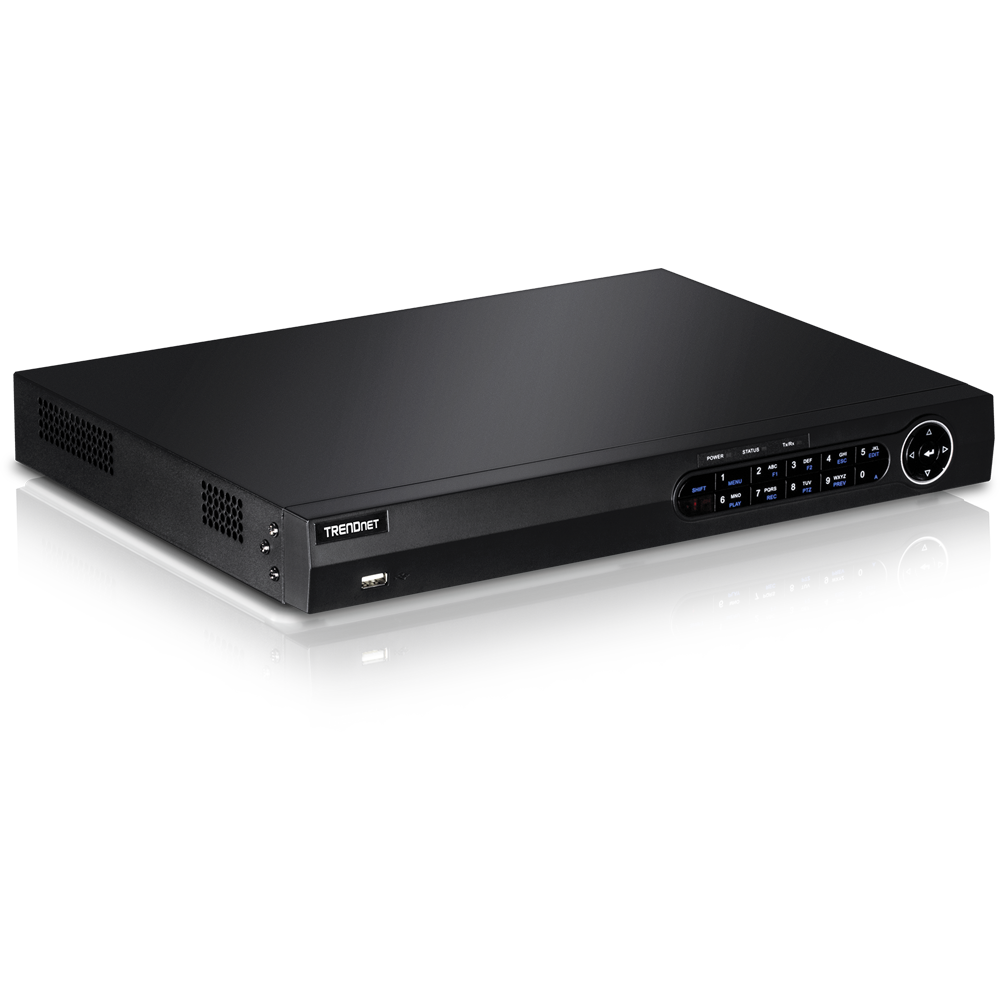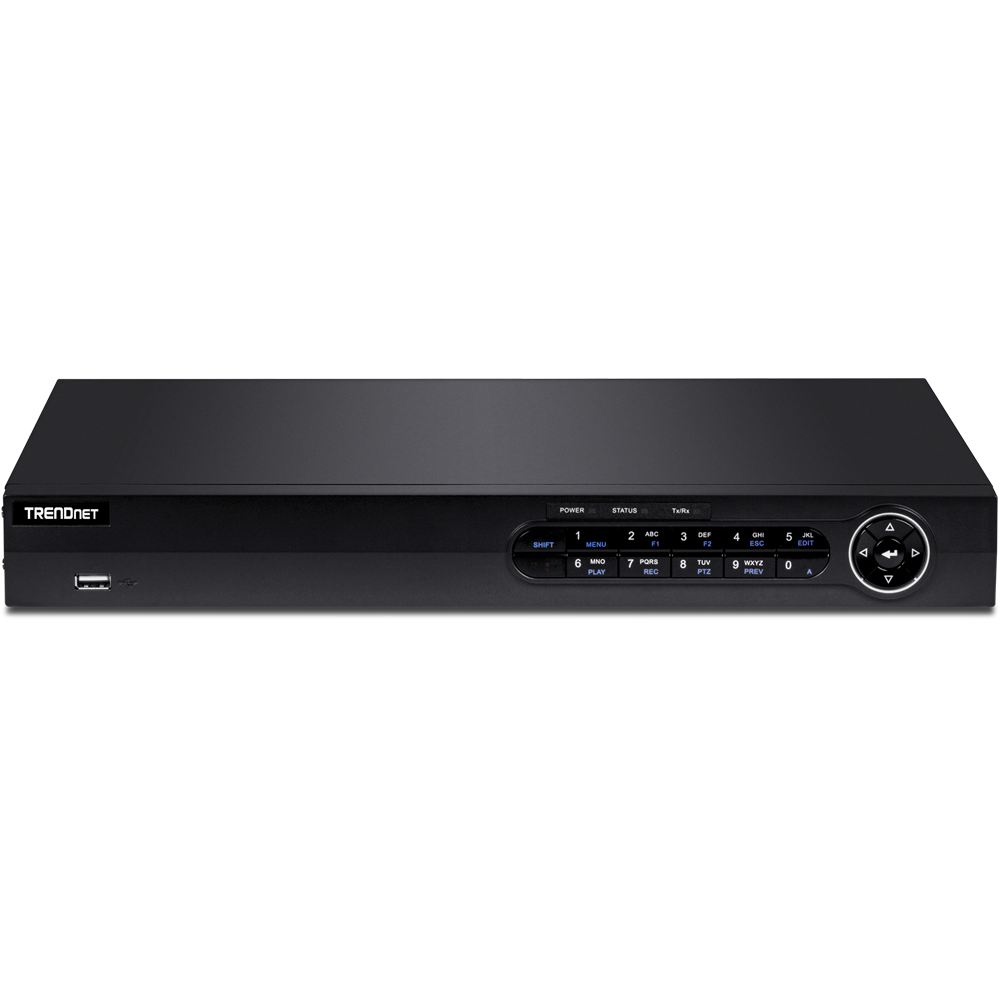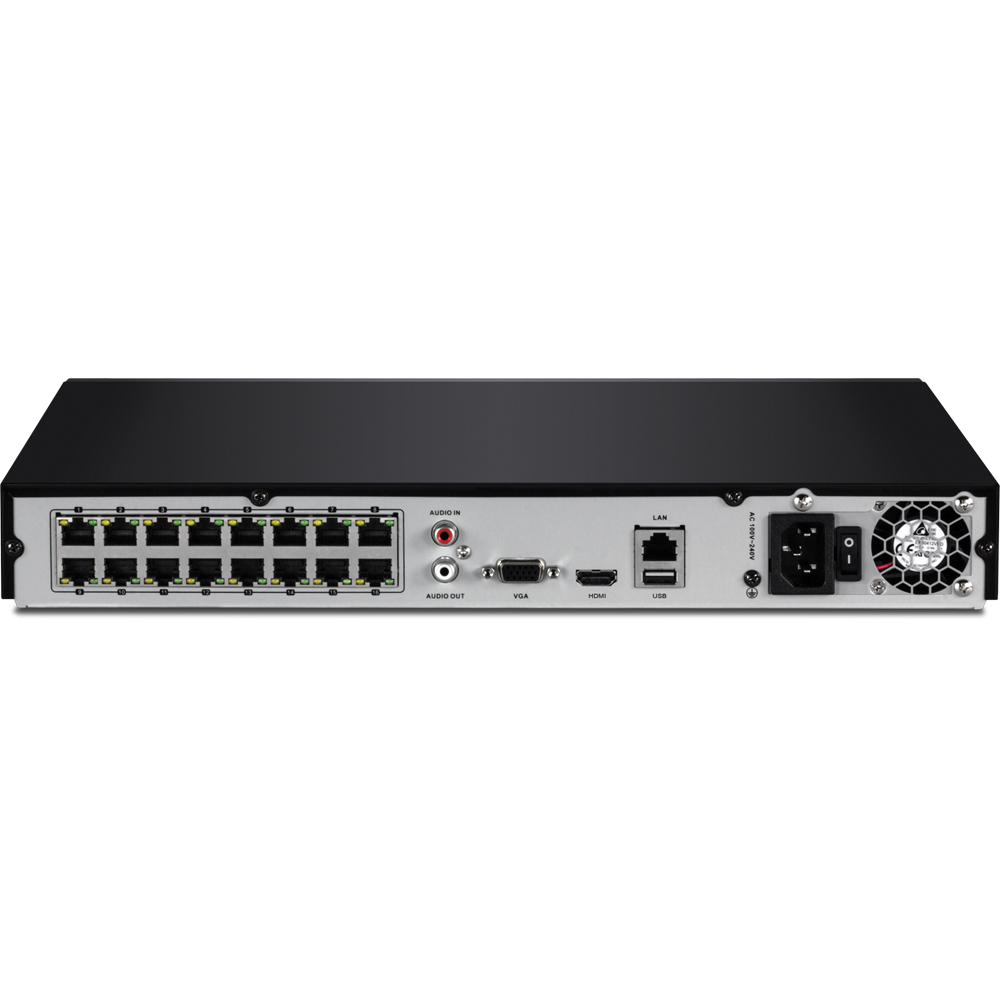 16-Kanal H.265 1080p HD PoE+ NVR
TV-NVR416 (Version v1.0R)
Freistehender 16-Kanal HD PoE+ Netzwerkvideorekorder
Unterstützt einen 4 K Kamerakanal
Unterstützt H.264 und H.265 Videoverschlüsselung
Plug-and-Play bis zu 16 PoE-Kameras*
Simultane 1080p HD Videoaufzeichnung für alle Kanäle
Zwei 3,5 Zoll SATA II Buchten für bis zu 12 TB Speicher (6 TB je Bucht, Festplatten separat erhältlich)
Einen Monat fortlaufende 1080p HD Videoaufzeichnung **
Fortschrittliche Videowiedergabe
Hardware zur Rackmontierung inbegriffen
PoE Gesamtleistung: 150 Watt
ONVIF-konform
Hilfsprogramme
Dateiname: Camera_Utility.zip
SHA-1 Checksum: 6D4A74278F10BD5CC1EB5C79AB5DE644503CD1AE
Datum
9/15/2020
Dateigröße
22.45 mb
---
Dateiname: Mac_SADPTool.pkg.zip
SHA-1 Checksum: 922CB2BF646DE35EA6F58B606645DAFD6BDEDABC
Datum
9/15/2020
Dateigröße
17.41 mb
Firmware
Aktualisieren Sie die Firmware von TRENDnet-Produkten NICHT über eine drahtlose Verbindung.
Wenn die Firmware über eine drahtlose Verbindung aktualisiert wird, kann das Produkt Schaden nehmen. Führen Sie Aktualisierungen deshalb bitte nur über verdrahtete Verbindungen durch.
Version: 3.4.98 (build 201111)
Date: 11/2020

Improved PoE camera compatiblity
Fixed recording schedule settings
Dateiname: FW_TV-NVR408_416(3.4.98_201111).zip
SHA-1 Checksum: D36E61FF7CA8B9C368FAE7A58A1160E7B13A807C
Datum
8/16/2021
Dateigröße
21.43 mb
Software
Release Note:
Added TV-IP323PI, TV-IP460PI, TV-IP344PIv2, TV-IP345PIv2, TV-IP328PI, TV-IP329PI support
Fixed TV-NVR408, TV-NVR416 detection issue
Fixed PT speed on TV-IP420P, TV-IP440PI issue
Removed offline activation option
Version 1.12.0
Product Information
Dateiname: TRENDnetView_EVO__x64_1.12.0.zip
SHA-1 Checksum: A4566734A9DBAE4DD283B85576AEB4E0FF8A0B96
Datum
2/14/2019
Dateigröße
372.89 mb
---
Release Note:
Added TV-IP323PI, TV-IP460PI, TV-IP344PIv2, TV-IP345PIv2, TV-IP328PI, TV-IP329PI support
Fixed TV-NVR408, TV-NVR416 detection issue
Fixed PT speed on TV-IP420P, TV-IP440PI issue
Removed offline activation option
Version 1.12.0
Product Information
Dateiname: TRENDnetView_EVO__x86_1.12.0.zip
SHA-1 Checksum: B9F07E9FAA203B8CA71FCB1489EAC236BF1D0E23
Datum
2/14/2019
Dateigröße
269.18 mb
Kurzanleitung zur Installation
---
---
---
---
---
---
Bedienungsanleitung
Dateiname: UG_TV-NVR416(v1.0R).pdf
Datum
4/16/2018
Dateigröße
7.01 mb


Answer: The NVR supports a single 4K camera channel.
Answer: With HEVC video compression, TRENDnet's H.265 HD PoE+ NVRs boosts video streaming by providing better video compression efficiency while still retaining high quality video. H.265 video compression will be vital for viewing and storing 4K UHD and 8K UHD surveillance video files. You can expec...
Answer: A list of supported TRENDnet cameras can be found in the user's guide. You can also find a list of supported cameras on our website under the Products > Surveillance > NVR/DVR > NVR Solutions page. ...
Answer: You can find detailed product specifications on our website under the Products section....
Answer: TRENDnet has multiple apps for various systems. The TRENDnet app for use with an NVR/DVR is available in the Google Play store and App store as TRENDnet IPView. ...
Answer: You can reset a TRENDnet NVR/DVR from within the web based management GUI under the Advanced > System > Maintenance page. You can also reset the NVR/DVR from the stand-alone console interface under the Menu > Maintenance > Default page. If you have forgotten the password, TRENDnet NVR/DVR s...
Answer: Make sure you assign a static IP address or use DHCP reservations to statically address the TRENDnet NVR/DVR. In your router, forward the HTTP and RTSP ports to the NVR/DVR. By default the HTTP port is TCP port 80 and the RTSP port is TCP port 554. If you set a static IP address on the NV...
Videoeingang

H.265 / H.264 Videoformate
Bis zu 16 Kameras

Videoausgang

HDMI bis zu 4K 3840 x 2160 bei 30Hz
VGA bis zu 1920 x 1080 bei 60Hz

Audio

Eingang mit RCA-Anschluss (2,0Vp-p, 1k?)
Ausgang mit RCA-Anschluss

Aufzeichnung

Bis zu 8 MP Auflösung
16-Kanal Simultanaufzeichnung bis zu 1080p / 30bps
2 SATA Schnittstellen für HDD oder SSD mit jeweils bis zu 6 TB Speicherkapazität

Play-back

H.265 / H.264 / MPEG4
Wiedergabeauflösung: 8MP, 6MP, 5MP, 4MP, 3MP, 1080p, UXGA, 720p, VGA, 4CIF, DCIF, 2CIF, CIF, QCIF
1 Kanäle mit 8MP / 8 Kanäle mit 1080p

Hardware-Standards

IEEE 802.3
IEEE 802.3u
IEEE 802.3x
IEEE 802.3ab
IEEE 802.3af
IEEE 802.3at

Geräteschnittstelle

1 x Gigabit-Netzwerk-Port
16 x 10/100 PoE+ Kamera-Netzwerk-Port
2 x USB 2.0
HDMI-Port
VGA-Port
Analoger Audioeingang / -ausgang
Stromversorgungsbuchse
Netzschalter
LED-Leuchten (Strom, Speicher und Netzwerk)

PoE-Ports

PoE 802.3at (max. 30 Watt je Port)
PoE Gesamtleistung: 150 Watt
Plug and Play mit TRENDnet PoE Kameras*

Netzwerkprotokoll

IPv4, IPv6, UDP, TCP, ICMP, SSL, TLS, ONVIF v2.2
DHCP, NTP, DNS, DDNS, SMTP, FTP, SNMP v2
HTTP, UPnP, RTSP, RTP, RTCP

Betriebstemperatur

-10° - 55° C (14° - 131° F)

Betriebsfeuchtigkeit

Max. 90% nicht-kondensierend

Zertifizierungen
Maße

380 x 310 x 45 mm (15 x 12 x 1,8 zoll)

Gewicht
Stromversorgung

Eingang: 100 – 240 V AC, 50/60 Hz, eingebautes Netzteil

Stromverbrauch:

Mainboard: 15 Watt max.
Voll ausgestattet mit HDD und PoE: 280 Watt max.

Verwaltungsschnittstelle

Live-Ansicht: Simultan 3x3, 1+7, 1+5 und 2x2 Ansichten oder Einzelansicht mit automatischem Wechsel
Geplante Aufzeichnung: Laufende Aufzeichnung und Aufzeichnung bei Bewegungserkennung mit optionalen Ausnahmen an Feiertagen.
Unterstützt Kamerakonfiguration über NVR*: On Screen Display, Displayeinstellungen: Helligkeit, Kontrast, Sättigung, Schwenken/Neigen/Zoomen, Bewegungserkennungseinstellung, Videomanipulation und Videoausfall.
Feiertagszeitplan für benutzerdefinierte Aufzeichnungszeitpläne an Feiertagen.
Fortschrittliche Wiedergabe: Wiedergabe mehrere Kanäle gleichzeitig und Durchsuchen von Videoaufzeichnungen nachbestimmten Ereignissen oder nach Markierung
Video-Export: Markieren, Schneiden und Exportieren von Videoclips
USB externe Speicherung: Firmware-Upgrade, Import-/Export-Konfigurationsdatei und Protokolle, Exportieren von aufgezeichneten Videodateien, Suchen und Wiedergabe von Videos direkt in externem Speicher
Lokale Live-View-Einstellungen: Definition von Bildschirm-Layout und Reihenfolge, in der die Kanäle angezeigt werden
Benachrichtigungen: Speicher voll, Speicherfehler, Netzwerkverbindung getrennt, IP-Konflikt, unbefugter Anmeldeversuch, Aufzeichnungsausnahmen und PoE Überlast.
Unterstützte dynamische DNS-Dienste: Dyn.com und NO-IP.com
Verwaltungseinstellung: Maximal 32 Benutzerkonten
Verkehrstabelle und Statistiken für Netzwerkverwaltung

TRENDnet IP View App

Kostenlose Apple® und Android™ App
Sehen Sie Ihre NVR-Videos auf Ihrem Mobilgerät an
Schnappschüsse machen
Zoom

Garantie
PACKUNGSINHALT
TV-NVR416
Stromkabel (1,4 m / 5 Fuß)
Netzwerkkabel (1,4 m / 5 Fuß)
HDMI-Kabel (1,8 m / 6 Fuß)
Optische Maus
SATA-Datenkabel / Stromkabel
Anleitung zur Schnellinstallation
Die in diesem Dokument enthaltenen Informationen beziehen sich auf Produkte von TRENDnet und können jederzeit ohne vorherige Ankündigung geändert werden.