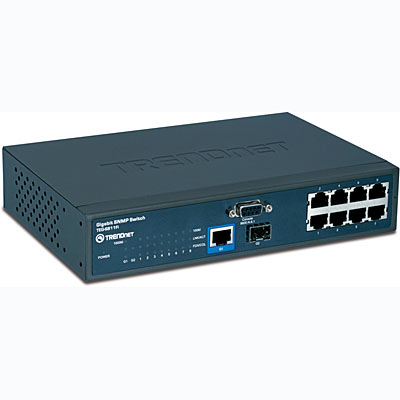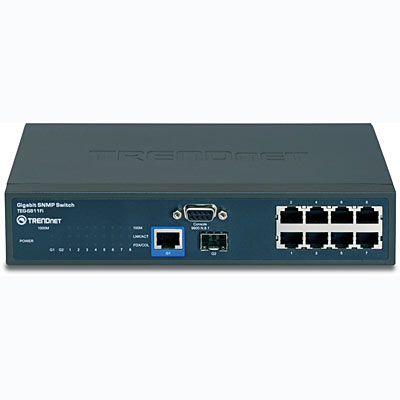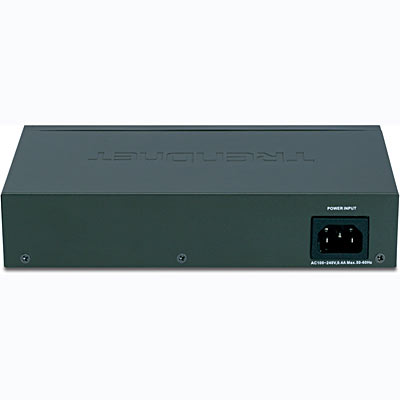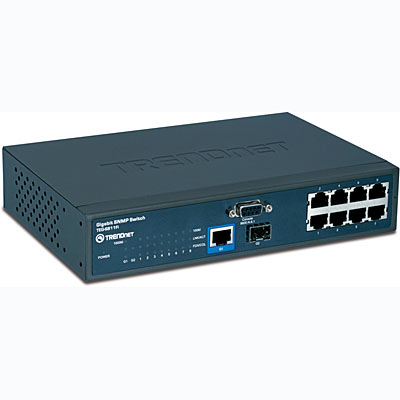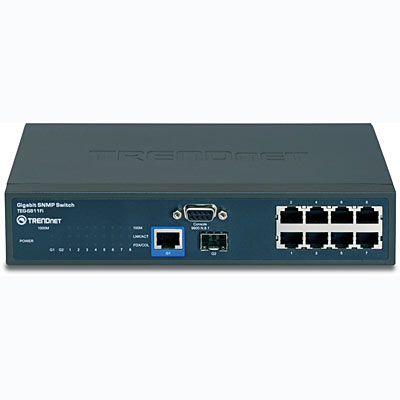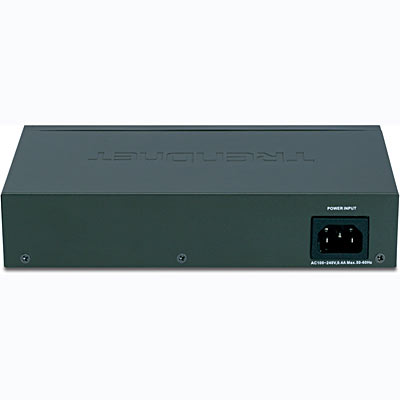 8-Port 10/100Mbps Layer 2 Managed Switch with Gigabit Copper and Mini-GBIC Slot
TEG-S811Fi (Version 1.0R)
8 x 10/100Mbps RJ-45 Fast Ethernet ports
1 x 10/100/1000Mbps RJ-45 Gigabit port and 1 x 1000Base Mini-GBIC Gigabit port
Supports Layer 2 features such as Port Trunking, Load Balancing, SNMP, IGMP and VLAN
Robust 3.6Gbps switching capacity
DISCONTINUED PRODUCT
The TEG-S811Fi (Version 1.0R) has been discontinued. For a list of discontinued products,
click here
.
User's Guide
Filename: UG_TEG-S811Fi6-6-2011.pdf
Date
6/7/2011
File Size
2.21 mb


Hardware
Standards

IEEE 802.3 10Base-T Ethernet
IEEE 802.3u 100Base-TX
IEEE802.3ab 1000Base-T
IEEE802.3z Gigabit fiber
IEEE802.3x Flow Control and Back Pressure
IEEE802.3ad Port trunk with LACP
IEEE802.1d Spanning Tree/ IEEE802.1w Rapid Spanning Tree
IEEE802.1p Class of Service
IEEE802.1Q VLAN Tag
IEEE 802.1x User Authentication (Radius)

Interface

8 x 10/100TX Ports RJ-45 with Auto MDI/MDI-X Function
1 x 10/100/1000T Ports RJ-45 with Auto MDI/MDI-X Function
1 x Gigabit Fiber Mini-GBIC
1 x RS-232 DB-9 Connector for Switch Management

Packet Forwarding and Filtering Rate

Gigabit: 1,488,000 Packets per Second per Port
100M Ethernet: 148,800 Packets per Second per Port

Cabling

Network:
10Base-T: 2-pair UTP/STP Cat. 3, 4, 5 Cable
EIA/TIA-568 100-ohm (100m)
100Base-TX: 2-pair UTP/STP Cat. 5/ 5E Cable
EIA/TIA-568 100-ohm (100m)
Optional:
LC (Multi-Mode): 50/125um~62.5/125um
LC (Single Mode): 9/125um~10/125um
Available Distance: 2KM (Multi-mode) / 30KM (Single-Mode)
Wavelength: 1310nm (Multi-Mode/ Single Mode)

Protocol/Topology
Buffer Memory
Filtering Address Table
Switching Fabric
LED Display

System Power (Green)10/100TX Port: Link/Activity (Green), Full-Duplex/Collision (Yellow), 100Mbps(Green)Gigabit Copper Port: 1000/100Mbps (Green/Yellow), Link/Activity (Green), Full Duplex/Collision (Yellow)Mini GBIC: Link/Activity (Green)

Power

Input: 100~240VAC, 50/60Hz Internal Power Supply

Power Consumption
Dimensions

217 x 160 x 43mm (8.5 x 6.2 x 1.6 inch) (W x H x D)

Weight
Temperature

Operating: 0° ~ 45° C (32° ~ 113° F)
Storage: -40° ~ 70° C (-40° ~ 158° F)

Humidity
Certifications
Management

SNMP v1 v2c, v3/ Web/Telnet/CLI/Menu Driven** Management

Trunk

LACP Port Trunk: 4 Trunk Groups/Maximum 4 Trunk Members

Class of Service

Support IEEE802.1p Class of Service, Per Port Provides 4 Priority Queues

QoS

QoS Determined by Port, Tag and IPv4 Type of Service, IPv4/IPv6 Different Service

VLAN

Port Based VLANIEEE 802.1Q Tag VLAN (256 Entries)/ VLAN ID (Up to 4K, VLAN ID From 1 to 4096.)GVRP (256 Groups)Double Tag VLAN (Q in Q)*

X-Ring

Support X-ring, Dual Homing, and Couple Ring Provides Redundant Backup and Recovery Time Below 300ms

IGMP

Support IGMP Snooping v1,v2256 Multicast Groups and IGMP Query

Port Mirror

Supports 3 Mirroring Types: "RX, TX and Both Packets".

Port security

Supports 100 static MAC Address Entries And 100 MAC Filter Entries

Spanning Tree

Support IEEE802.1d Spanning Tree and IEEE802.1w Rapid Spanning Tree

IP Security

Supports 10 Permitted Access IP Addresses

Login Security

Support IEEE802.1X Authentication/RADIUS

Bandwidth Control

Ingress Filter Packet Types Include Broadcast/Multicast/Unknown, Unicast Packet, Broadcast/Multicast Packet and Broadcast Packet Only/ All of Packet. Packet Filter Rate: 100k to 250Mbps

Flow Control

Supports Flow Control For Full-duplex and Back Pressure For Half-Duplex

System Log

Supports System Log Record And Remote System Log Server

SMTP

SMTP Server support And 6 E-mail Accounts For Event Alerts

SNMP Trap

Up to 3 Trap Stations, Cold start, Port Link Up, Port Link Down, Authentication Failure, Power Status Private Trap and X-ring Topology Change

DHCP

Provides DHCP Client/ DHCP Server

DNS

Provides DNS Client Feature and Supports Primary And Secondary DNS servers

SNTP

Supports SNTP To Synchronize System Clock

Firmware Update

Support TFTP Firmware Update, TFTP Backup and Restore.

Configuration Upload and Download

Support Text Format Configuration File For System Quick Installation
PACKAGE CONTENTS
TEG-S811Fi
Quick Installation Guide
CD-ROM user guide
Power cord
(1 m, 3.28 ft)
RS-232 cable
(1 m, 3.28 ft)
Rack mounting kit
Information provided in this document pertain to TRENDnet products and is subject to change at any time, without notice.