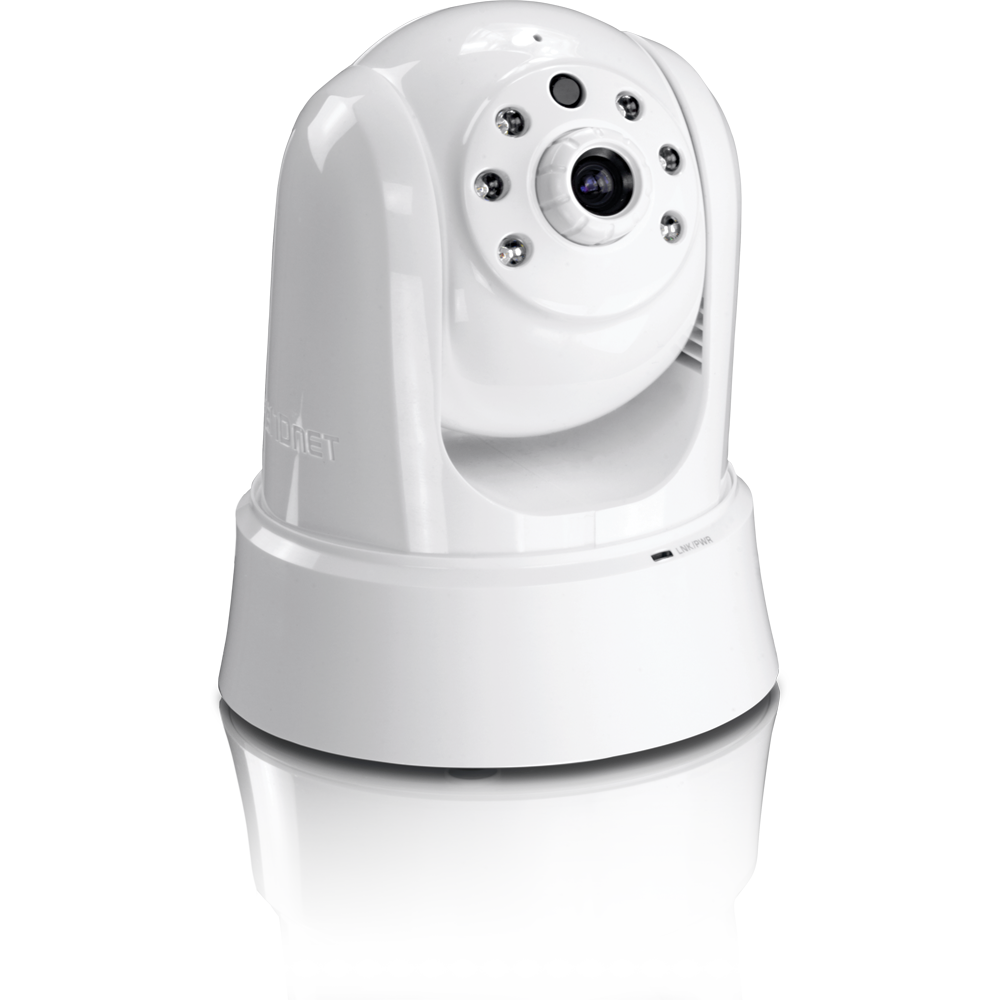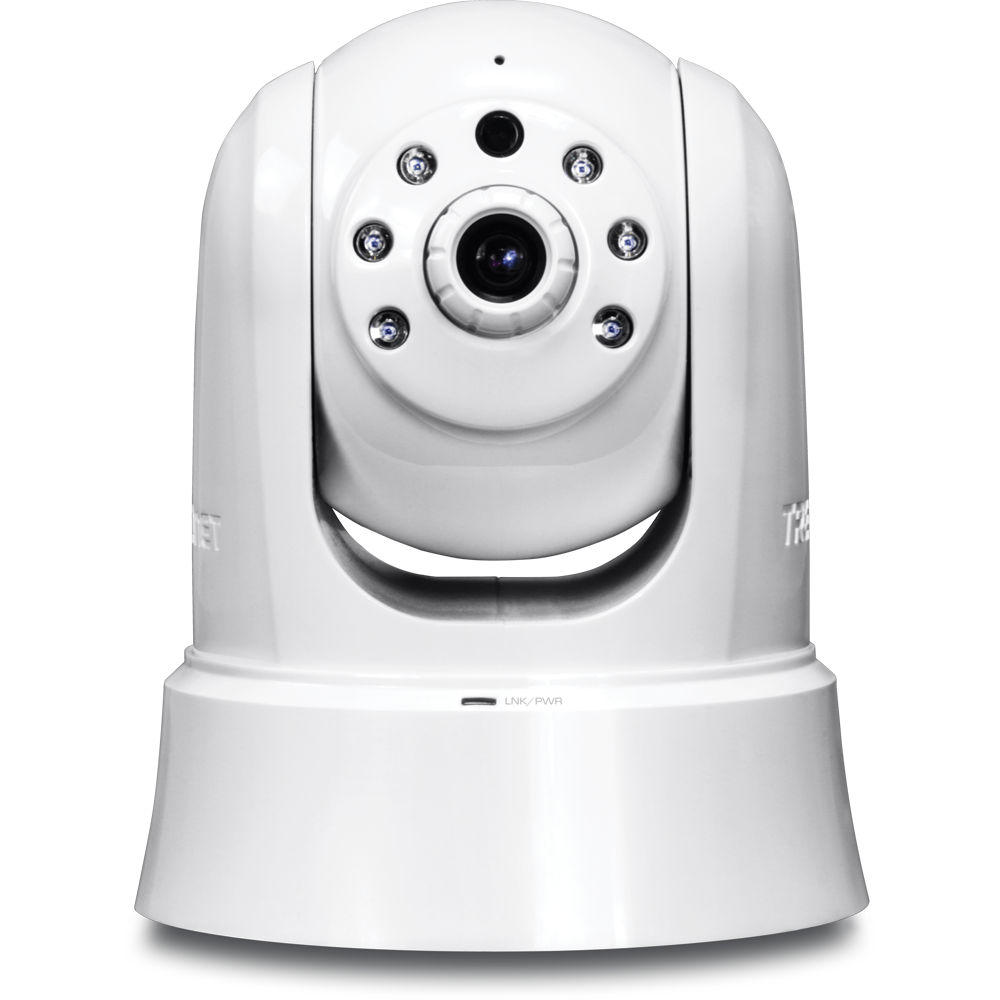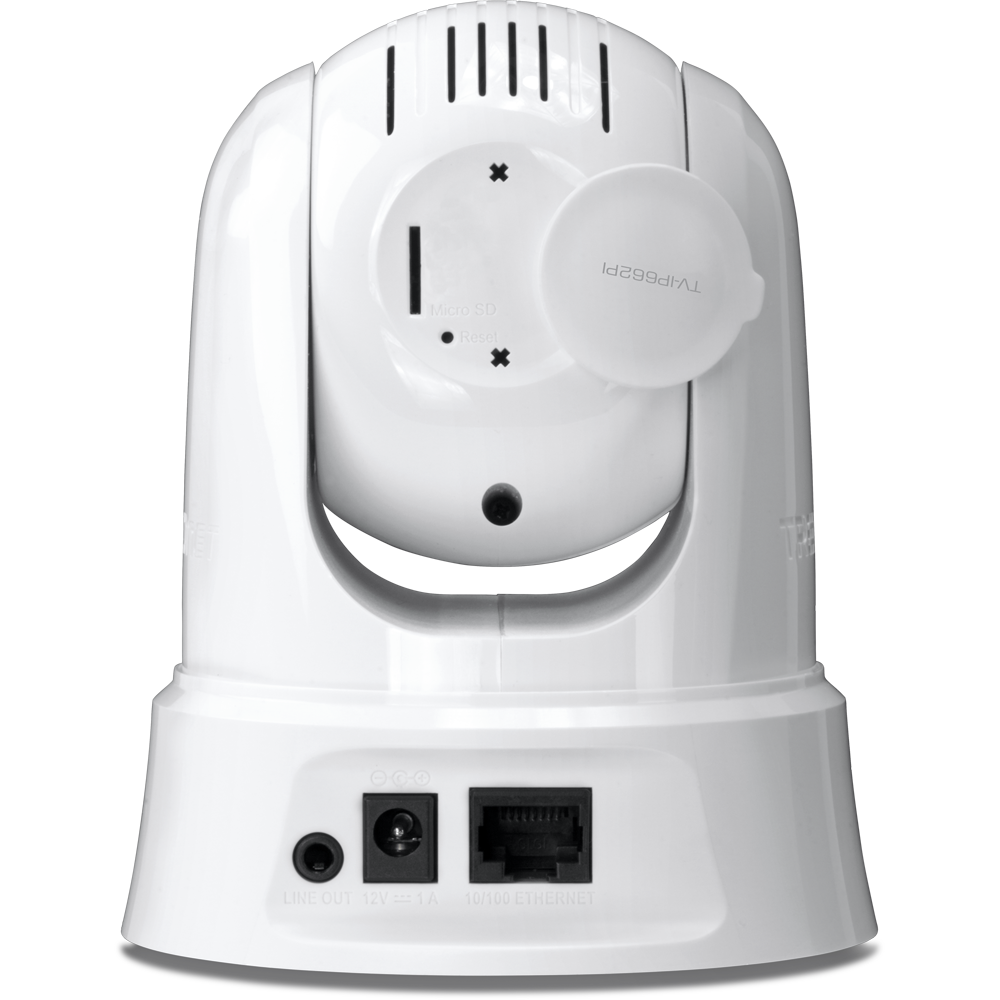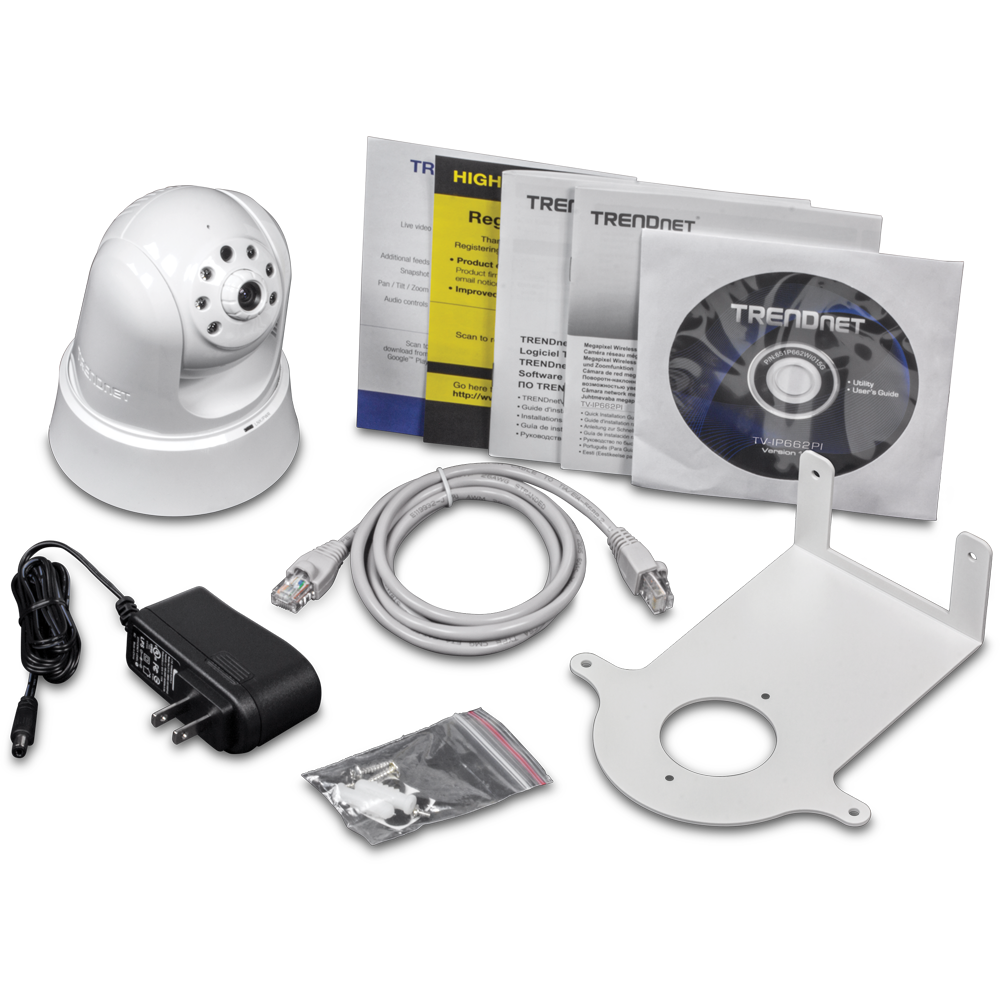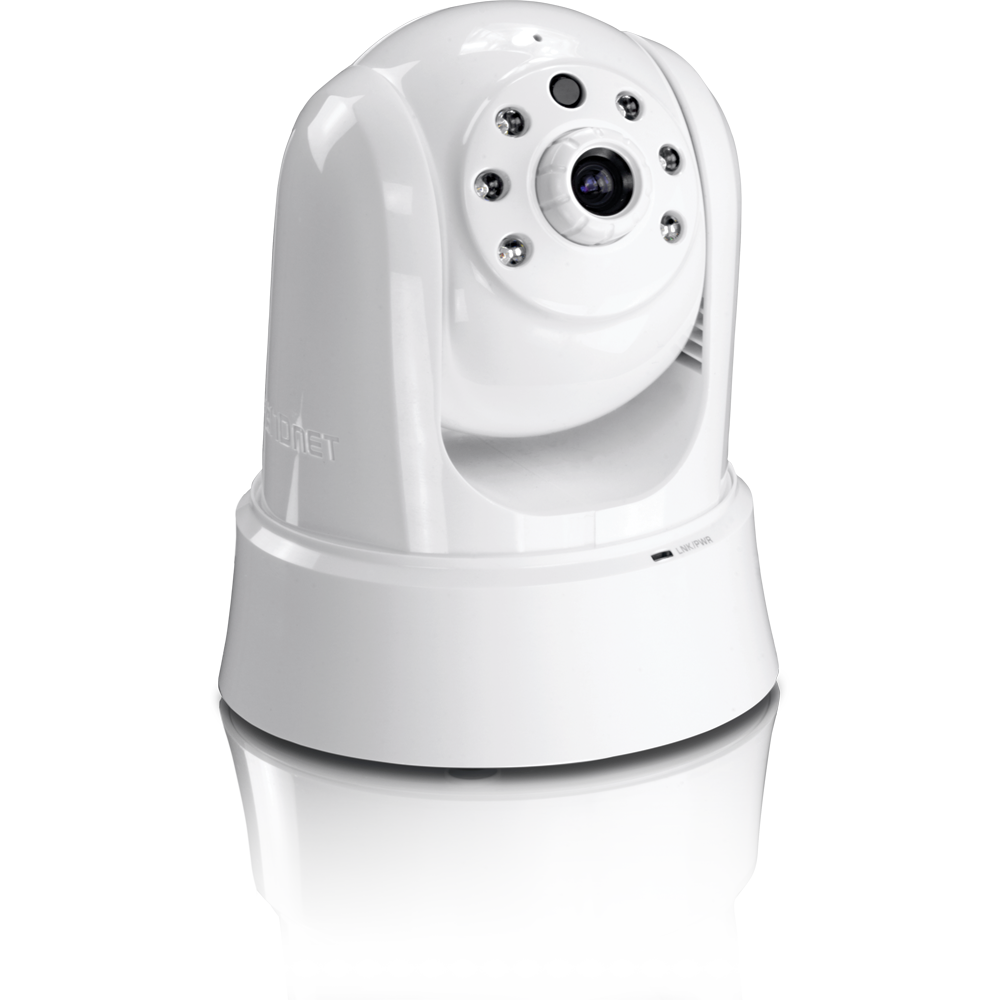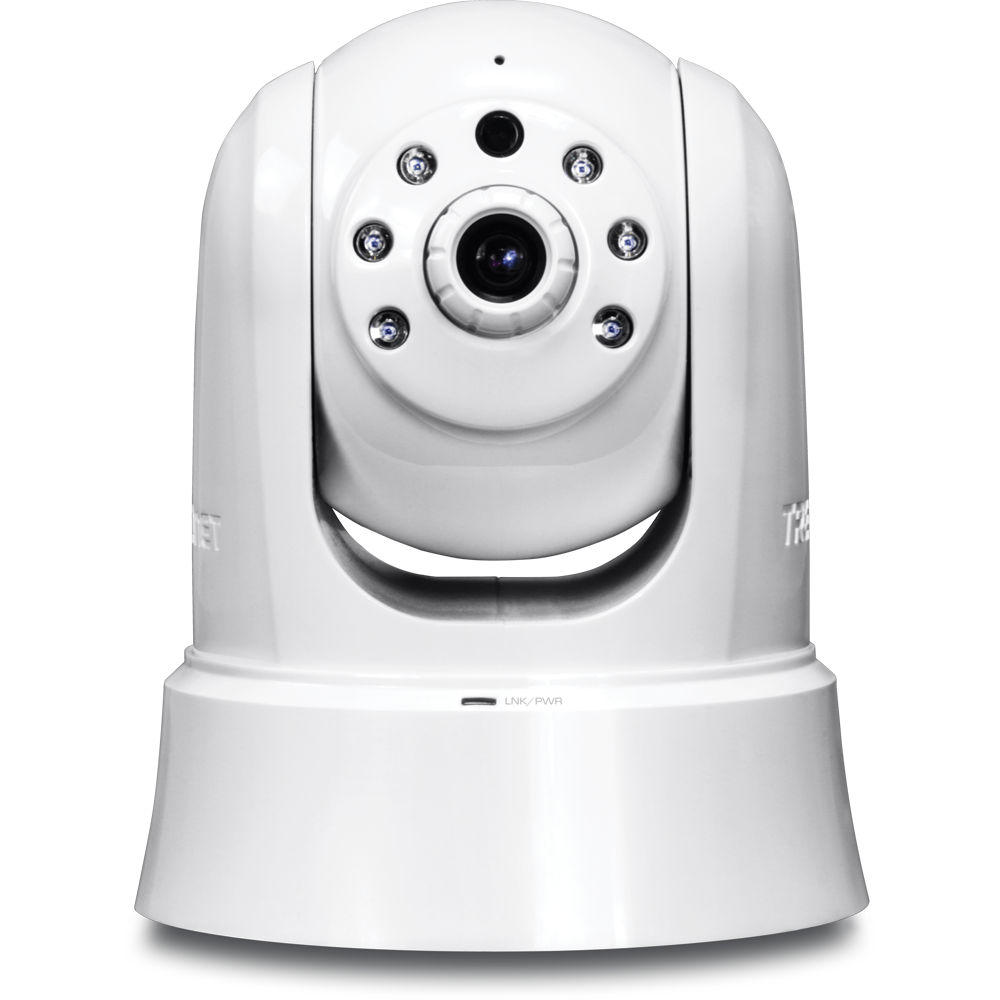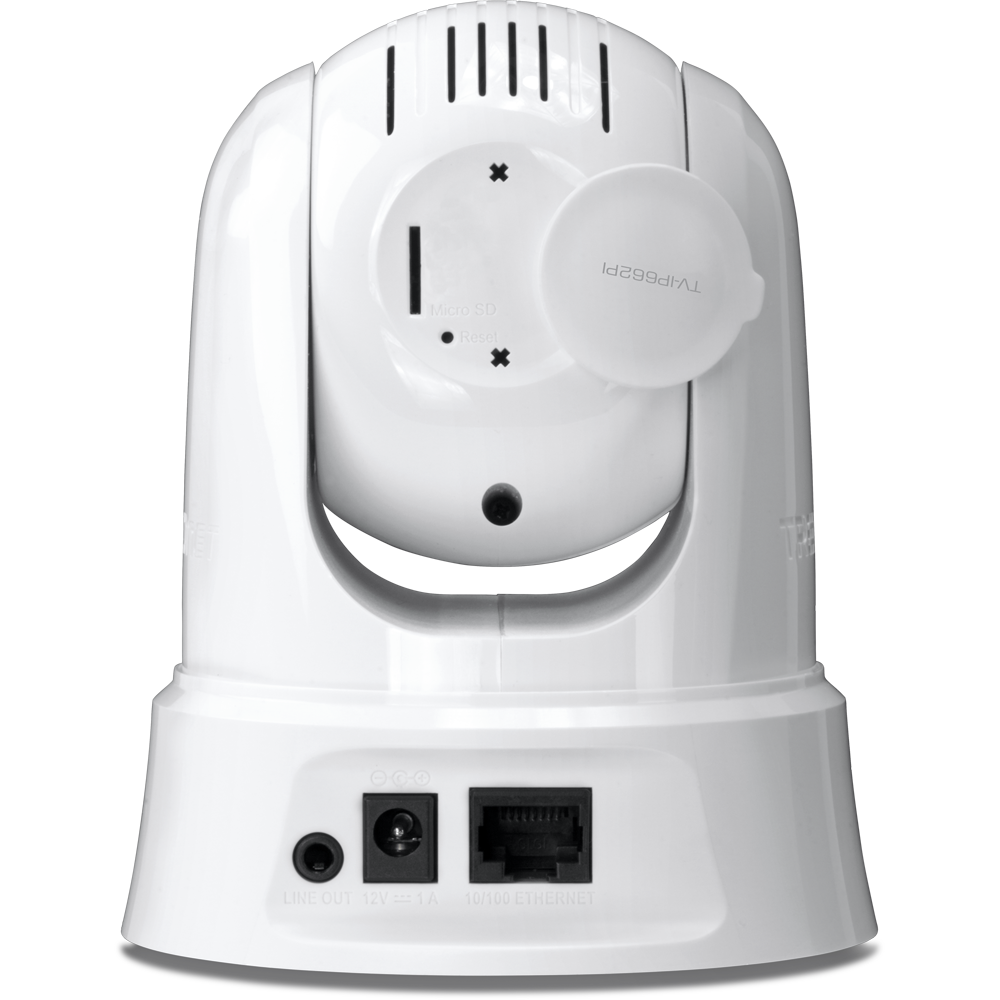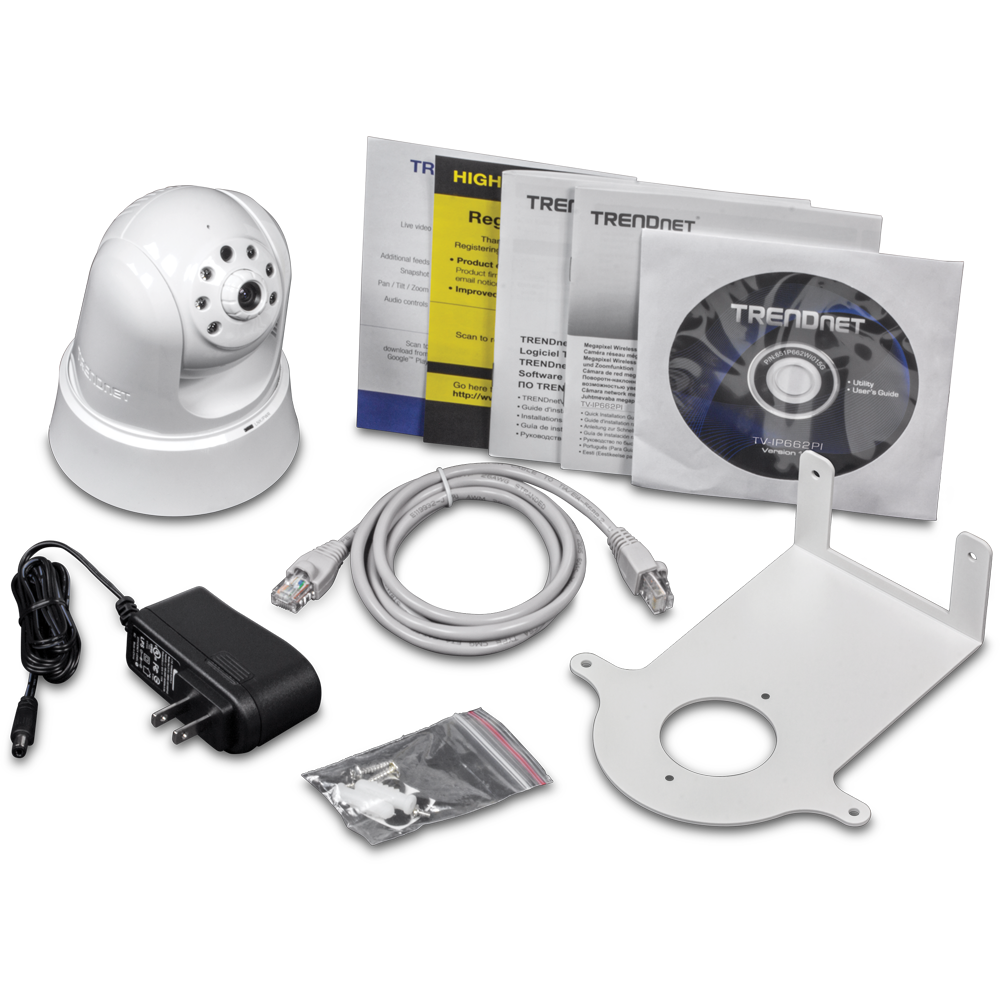 Megapixel HD PoE Tag/Nacht Schwenk-/Neige-/Zoom-Kamera
TV-IP662PI (Version v1.0R)
Schwenken und Neigen der Kamera über ein Mobilgerät
720p HD Megapixel Auflösung
Sichtweite bei Nacht bis zu 7,5 Meter (25 Fuss)
Strom und Daten werden über ein einziges Ethernet-Kabel empfangen
Versenden von Videoclips aus Bewegungs- und Geräuscherkennung per Email
Videoaufzeichnung auf Micro-SD-Karte oder NAS-Gerät (separat erhältlich)
2-Wege Audio
Kostenlose mobile Anwendung und professionelle Verwaltungssoftware
DISCONTINUED PRODUCT
The TV-IP662PI (Version v1.0R) has been discontinued. For a list of discontinued products,
click here
.
Hilfsprogramme
Dateiname: Utility_Mac_TV-IP662PI(V1).zip
SHA-1 Checksum: D077D08C51152454B75EFAA79ADE18E6362EDCEB
Datum
7/27/2017
Dateigröße
50.03 mb
---
Dateiname: Utility_Windows_TV-IP662PI(V1).zip
SHA-1 Checksum: 08D8F0D0846CB7AA32A8984C84BA9017546B123C
Datum
7/27/2017
Dateigröße
41.46 mb
Firmware
Aktualisieren Sie die Firmware von TRENDnet-Produkten NICHT über eine drahtlose Verbindung.
Wenn die Firmware über eine drahtlose Verbindung aktualisiert wird, kann das Produkt Schaden nehmen. Führen Sie Aktualisierungen deshalb bitte nur über verdrahtete Verbindungen durch.
Version: 1.0.4
Date: 09/2015
Note:
Fix SMTP compatibility issue.
Fix cross site scripting vulnerability.
Fix buffer overrun vulnerability.
Fix password saving privacy attack vulnerability.
* Restore to factory default after firmware upgrade.
Dateiname: FW_TV-IP662PI_TV-IP662WI(V1.0.4).zip
SHA-1 Checksum: 0652F2FE386AC99B8B5E035690460C365B4A4B4A
Datum
7/27/2017
Dateigröße
12.68 mb
Software
Software Version: 2.5.9
Release Date: 4/2017
Notes:
Fixed TV-IP420P P/T issue
Dateiname: TRENDnetViewPro(2.5.9).zip
SHA-1 Checksum: 7CD1D9AE621816395E9FE9644B651F3696388215
Datum
7/27/2017
Dateigröße
41.15 mb
Kurzanleitung zur Installation
---
---
---
---
---
---
---
---
---
---
---
Other
Dateiname: IPView_app.pdf
Datum
7/15/2016
Dateigröße
5.02 mb
TrendnetVIEW Pro Kurzanleitung zur Installation
---
---
---
---
---
---
---
---
---
Bedienungsanleitung
Dateiname: UG_TRENDnetVIEW_Pro.pdf
Datum
6/11/2014
Dateigröße
7.92 mb
---
---
Dateiname: UG_TV-IP662PI(v1).pdf
Datum
5/27/2016
Dateigröße
4.82 mb


Objektiv

Brennweite: 4,6 mm, F2,0
Tiefenschärfe: 20 cm - unendlich
Manuell fokussierbares Objektiv
Sensor: ¼" CMOS sensor
Zoom: 4x Digitaler

Sichtwinkel

Diagonal: 58˚
Horizontale: 49˚
Vertikale: 31˚

Schwenk-/Neigekopf

Schwenk: 330 °
Neigekopf: 115 °
Voreingestellte Positionen (nicht fortlaufend)

Mindestbelichtung

IR aus: 1 lux
IR an: 0 lux
7,5 meter (25 fuss) IR Distanzausleuchtung (Innenbereich)

Video-Codecs/Auflösung

H.264: 1280 x 720 bis zu 30 fps
MPEG4: 1280 x 720 bis zu 30 fps
JPEG: 1280 x 720 bis zu 5 fps (oder 640 x 480 bis zu 30 fps)

Audio

Eingebautes Mikrofon
3,5 mm Audio-Buchse zum Anschließen von Lautsprechern

Standard

IEEE 802.3
IEEE 802.3u
IEEE 802.3x
IEEE 802.3af

Geräteschnittstellen

10/100 MBit/s Port
Micro SD Port (bis zu 32 GB)
Rücksetztaste
LED-Anzeigen
3,5 mm Lautsprecher-Buchse
Stromanschlüsse (optionale nicht-PoE-Installation)

Netzwerkprotokolle

IPv4, DHCPv6, ARP, TCP, UDP, ICMP, Bonjour, ONVIF Profile S
DHCP, NTP, DNS, DDNS, SMTP, FTP, Samba
HTTP
PPPoE
UPnP
RTP, RTCP, RTSP, 3GPP

Abmessungen

Kamera: 128 x 100 X 100 mm (5.0 x 3.9 x 3.9 in.)
Mit Klammern: 128 x 158 X 142 mm (5,0 x 6,2 x 5,6 Zoll)

Gewicht

Kamera: 322 g (11.4 oz)
Mit Klammern: 554 g (19.5 oz)

Betriebstemperatur
Luftfeuchtigkeit

Max. 90% nicht-kondensierend

Stromversorgung

Eingang: 100 - 240 V AC, 50/60 Hz, 0,5 A
Ausgang: 12 V DC 1 A; Externes Netzteil
Max. Verbrauch: 10,5 W

Garantie
Managementschnittstelle

Bildeinstellungen: Helligkeit, Kontrast, Sättigung, schwarz/weiss, Farbton, spiegel, flip, Gebäuden/Freien, Lichtfrequenz, Weißausgleich, Tag-/Nacht-Modus mit IR-Empfindlichkeitsanpassung, lange Verschlusszeit (deaktiviert, 1/15s, 1/10s, 1/7.5s, 1/3.75s)
Aufnahme: zu einer Samba und zu CIFS-Anteil, Micro SD-Karte oder durch Software
Aufnahmeart: Fortlaufend, geplant, Bewegungs-, oder Geräuscherkennung
Event-Trigger: Bewegungs- oder Geräuscherkennung als Vorfallauslöser
Vorfallaufzeichnung: Momentaufnahme oder Video (bis zu 15 Sekunden)
Vorfallaktivität: Email oder FTP-Benachrichtigung
DynDNS: Unterstützung für NO-IP.com und Dyn.com
Einstellungen: Max. 20 Anwenderkonten und Unterstützung für Fernverwaltung
Kompatibilität: Internet Explorer® 9 oder höher, Safari® 4 - 8

TRENDnetVIEW Pro Software

Unterstützt bis zu 32 Kameras
Unterstützung mehrere Sprachen
Einstellbare Aufnahmeoptionen (Bewegungserkennung, per Zeitplan, Event-Trigger)
Suche und Wiedergabe
Selbst einstellbare persönliche Sichteinstellungen und Optionen
Kompatibel: Windows® 10, 8.1, 8, 7, Vista, XP, Windows Server® 2003, 2008

TRENDnetVIEW App

Kostenlose Apple® und Android™ Apps
Sehen Sie Bilder von Ihrer Kamera auf Ihrem Mobilgerät
Schwenk-/Neige-/Zoom-Steuerung
Snapshotaufnahmen
Digitaler Zoom
Zwei wege audio
PACKUNGSINHALT
TV-IP662PI
Mehrsprachige Installationsanleitung
CD-ROM (Dienstprogramme, Software und Bedienungsanleitung)
Netzteil (12 V DC, 1 A) (1,5m/5 fuss)
Netwerkkabel (1,8 m/6 fuss)
Kameramontage-Hardware
Die in diesem Dokument enthaltenen Informationen beziehen sich auf Produkte von TRENDnet und können jederzeit ohne vorherige Ankündigung geändert werden.