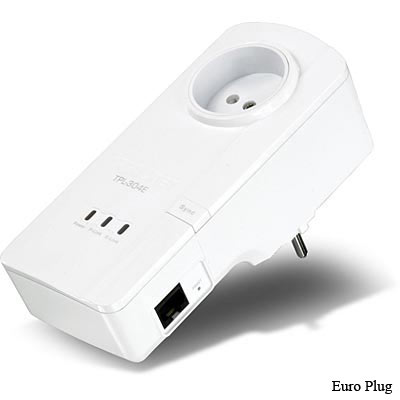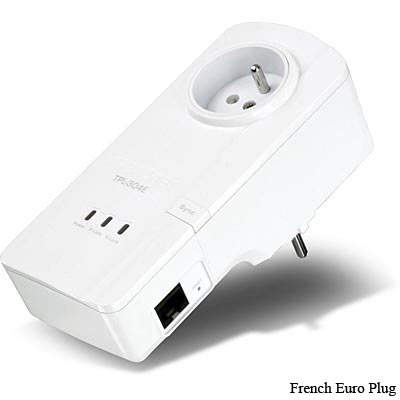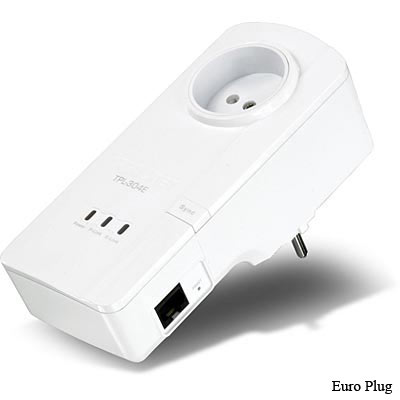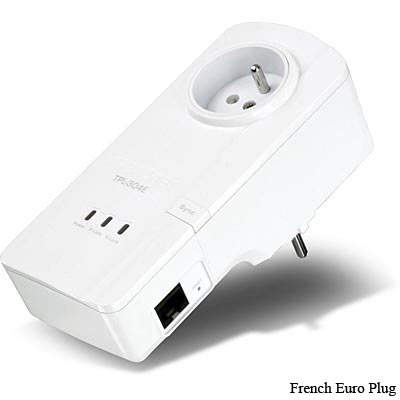 200 MBit/s Powerline-AV-Adapter mit Zusatzsteckdose
Extrem schnelles gebäudeweites Netzwerk über beliebige Steckdosen
Dank integrierter Zusatzsteckdose bleibt die ursprüngliche Anzahl der Steckdosen erhalten
Fortgeschrittener Rauschfilter steigert Leistungsfähigkeit
Der Stromsparmodus verringert Leistungsaufnahme um bis zu 70%.
Netzwerksignal kann von einem Gerät gesendet und von bis zu 7 TPL-304Es empfangen werden
DISCONTINUED PRODUCT
The TPL-304E (Version v1.0R) has been discontinued. For a list of discontinued products,
click here
.
Hilfsprogramme
Release Date: 9/2013
Utility Version: v7.1 Build 0101
WinPcap Version: v4.1.3
OS Compatibility: Windows® 8.1 (32/64-bit), 8 (32/64-bit), Windows 7 (32/64-bit), Vista (32/64-bit), XP (32/64-bit)
Notes:
Added compatibility for Windows® 8/8.1
*Prerequisite: Requires Microsoft® .NET Framework 2.0. Please refer to the Microsoft download center for details on downloading and installing .NET Framework 2.0
***To start the installation, double click the file "Installer_CD.bat***
Dateiname: Utility_Powerline(v7.1.0101).zip
SHA-1 Checksum: 764C84BB70A7ED416094EBF79A2E91F70CB97023
Datum
7/28/2017
Dateigröße
6.52 mb
Kurzanleitung zur Installation
---
---
---
---
---
---
---
Bedienungsanleitung
Dateiname: UG_TPL-304E_304E2K(1.01).pdf
Datum
3/18/2013
Dateigröße
910.87 kb


Hardware
Standards
IEEE 802.3, IEEE 802.3u, IEEE 802.3x, HomePlug AV
Schnittstelle
10/100 MBit/s Auto-MDIX RJ45-Port Stromkabel
1 Buchse für Netzteil mit Rauschfilterung (5A max. Last)
1 Synchronisierungstaste
Frequenzband
2~30 MHz
modulationen
OFDM, QAM, QPSK, BPSK, ROBO
Geschwindigkeit

Powerline: Bis zu 200 MBit/s
LAN: 200MBit/s im Vollduplexmodus

Kompatibilität mit Dienstprogrammen
Windows 7 (32/64-bit), Vista (32/64-bit), XP(32/64-bit)
Geräte
bis zu 8 Adapter
Verschlüsselung
128-bit AES
LED
Power, Powerline, Ethernet
Abmessungen (B x T x H)
70 x 143 x 83 mm (2.8 x 5.6 x 3.3inches)
Gewicht
198g (7 oz.)
Stromversorgung
Stromverbrauch

Aktiver Modus: max. 3.5 Watt
Bereitschaftsmodus: max. 0.93 Watt

Temperatur

Betriebstemperatur: 0° ~ 40° C (32° ~ 104° F)
Temperatur bei Lagerung : -10° ~ 55° C (14° ~ 131° F)

Luftfeuchtigkeit
Max. 95% (nicht kondensierend)
Zulassungen
CE, FCC
PACKUNGSINHALT
TPL-304E
Mehrsprachige Installationsanleitung
CD Rom (Dienstprogramm & Bedienungsanleitung)
Kat. 5 Ethernet Kabel (1.8m/6ft.)
Die in diesem Dokument enthaltenen Informationen beziehen sich auf Produkte von TRENDnet und können jederzeit ohne vorherige Ankündigung geändert werden.