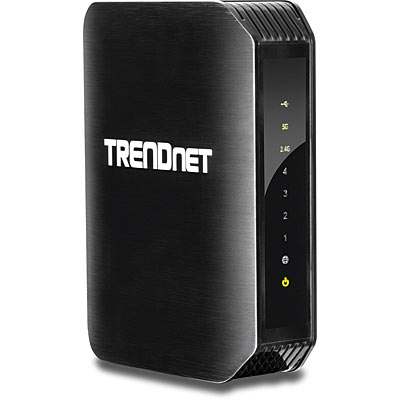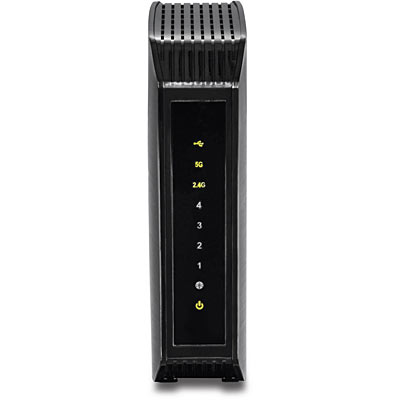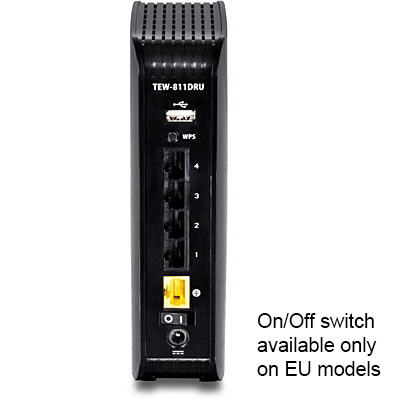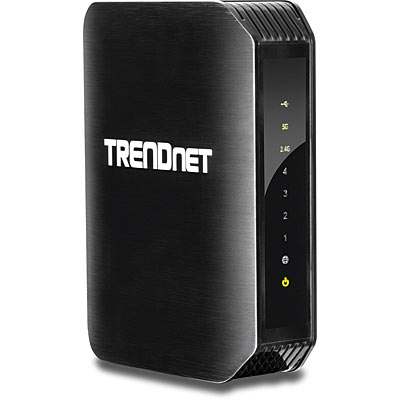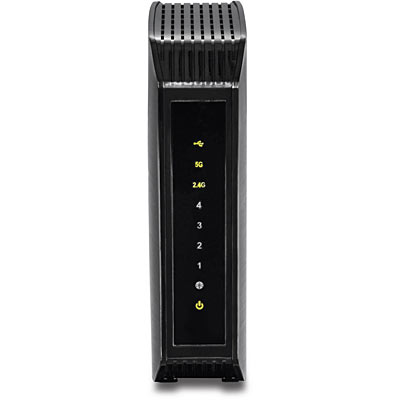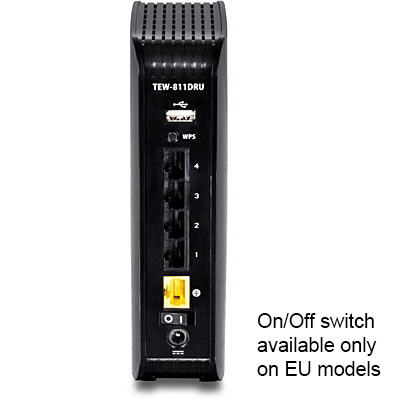 AC1200 Dual Band Wireless Router
TEW-811DRU (Version v1.0R)
AC1200: 867 MBit/s AC band + 300 MBit/s N band
Teilen Sie Musik und Videos über den USB Port
Mit Vorverschlüsselung für Ihre Sicherheit
Erstellen Sie ein isoliertes Gast-Netzwerk
One-Touch-Netzwerkverbindung mit WPS-Taste
Alle Ports Gigabit LAN
Hochleistungsverstärker erweitern die Funkabdeckung
Vereinbar mit DD-WRT open-source firmware****
DISCONTINUED PRODUCT
The TEW-811DRU (Version v1.0R) has been discontinued. For a list of discontinued products,
click here
.
Hilfsprogramme
Dateiname: Utility(MacOS)_PrinterSharing(v2.16).zip
SHA-1 Checksum: 835237BB68FF22D52CD2B6C00653F1721CD24324
Datum
7/28/2017
Dateigröße
2.41 mb
---
Dateiname: Utility(Windows)_PrinterSharing(v2.41).zip
SHA-1 Checksum: A39F70B9EA2FE0895C61778D9A08C3F0D790FBA7
Datum
7/28/2017
Dateigröße
7.27 mb
Firmware
Note: Important note: The provided OpenSource firmware has no affiliation with, nor was it produced by TRENDnet. Using this firmware requires advanced knowledge and experience with OpenSource code. TRENDnet does not provide support for this firmware. Use of this firmware voids the product warranty. This firmware may damage your product, use at your own risk.
Dateiname: TEW-811DRUv1.0R_OpenSource.rar
SHA-1 Checksum: CE8DCFC535E626D32C86B2032D83A791CFF41A75
Datum
7/28/2017
Dateigröße
7.34 mb
---
Aktualisieren Sie die Firmware von TRENDnet-Produkten NICHT über eine drahtlose Verbindung.
Wenn die Firmware über eine drahtlose Verbindung aktualisiert wird, kann das Produkt Schaden nehmen. Führen Sie Aktualisierungen deshalb bitte nur über verdrahtete Verbindungen durch.
Version: 1.0.10.0
Date: 08/2015
Notes:
NetUSB Security Updates
WPS PIN Security Updates
Dateiname: FW_TEW-811DRU_v1(1.0.10.0).zip
SHA-1 Checksum: 2ABF266995A19BAB950BB92704D241ADAD55CB34
Datum
7/28/2017
Dateigröße
6.39 mb
Kurzanleitung zur Installation
---
---
---
---
---
---
---
---
---
Bedienungsanleitung
Dateiname: UG_TEW-811DRU(v1).pdf
Datum
10/3/2013
Dateigröße
2.32 mb


Standards

IEEE 802.3
IEEE 802.3u
IEEE 802.3ab
IEEE 802.11ac (draft 2,0, bis zu 867 MBit/s)
IEEE 802.11n (bis zu 300 MBit/s)
IEEE 802.11g
IEEE 802.11b
IEEE 802.11a

Hardware-Schnittstelle

4 x Gigabit LAN-Ports
1 x Gigabit WAN-Port
USB 2,0 (Speicher-FTP, Samba, Drucken)
Netzschalter (Power) (EU Version)
WPS Taste
LED-Anzeigen

Sicherheit

Wireless Verschlüsselung bis zu WPA2
Firewall: NAT, SPI
Elterliche (Zugangs-)kontrolle: filtre MAC, filtre IP et filtre URL

Systemanforderungen

USB-Druckfunktion: Windows® 8.1, 8, 7, Vista, XP Mac OS® 10.4-10.9

Besondere Eigenschaften

QoS-Management
IPv6 (Internet Protokoll v6) Unterstützung (6to4 und Native)
WDS Unterstützung
1 Gastnetzwerk je Band mit Internet-Isolierung
DDNS-Unterstützung für dyndns,com & no-ip,com
Samba / FTP server unterstützung

Open-Source

Vereinbar mit DD-WRT open-source firmware

Stromversorgung

Eingang: 100 ~ 240 V AC, 50~60 Hz
Ausgang: 12 V DC, 2 A
Stromverbrauch: 18 Watts (Max.)

Betriebstemperatur
Betriebsluftfeuchtigkeit

Max. 85% (nicht kondensierend)

Zulassungen
Abmessungen

45 x 120 x 164 mm (1,8 x 4,7 x 6,5 zoll)
395 g (14 unzen)

Garantie
PACKUNGSINHALT
TEW-811DRU
Mehrsprachige Installationsanleitung
CD-ROM (Dienstprogramm und Gebrauchsanleitung)
Netzwerkkabel (1,5 m / 5 ft,)
Netzteil (12 V, 2 A)
Die in diesem Dokument enthaltenen Informationen beziehen sich auf Produkte von TRENDnet und können jederzeit ohne vorherige Ankündigung geändert werden.