D-Tools Welcomes TRENDnet to Manufacturer Vantage Point (MVP) Program
TRENDnet (4/18/2017)


New partnership provides D-Tools users with access to TRENDnet's vast product catalog within the System Integrator platform, offers valuable insights to the security, networking, and surveillance solutions provider
CONCORD, CA (April 2017) - D-Tools Inc., the worldwide leader in data-driven system integration software, announced today that TRENDnet has officially joined the D-Tools Manufacturer Vantage Point (MVP) program. A global leader in reliable SMB and consumer networking and surveillance solutions, TRENDnet now makes it easier for networking, security, and technology professionals using D-Tools to specify TRENDnet products in projects of any size. The company's MVP program participation provides D-Tools System Integrator™ (SI) licensees access to the TRENDnet's detailed product specifications and related information for use in their system design, proposal, estimation, and installation management activities.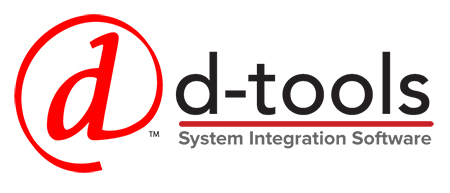 As a new D-Tools MVP partner, TRENDnet will gain access to robust product download analytics to help analyze and measure its own product pipeline. "In an effort to improve project design and management for systems integrators, installers, and resellers, TRENDnet has partnered with industry-leading software developer, D-Tools," says TRENDnet's Director of Sales, North America, Rod Finney. "TRENDnet is a strong and trusted networking and surveillance solutions brand and our product offerings will now be incorporated into D-Tool's applications, making them more readily accessible to D-Tool partners."

The D-Tools MVP Program Delivers Valuable Insights to Manufacturer Partners
The D-Tools Manufacturer Vantage Point (MVP) program ensures systems designers, specifiers, integrators, and installers have access to the most up-to-date and detailed product information available, in a format that can be utilized effectively in a cross-functional capacity to deliver maximum workflow efficiency. With hundreds of MVP Program vendors on board, D-Tools provides the largest aggregated product database available for system integrators, installers, technology professionals, and retailers worldwide.

The program also gives manufacturer partners like TRENDnet critical insights and a direct connection with the D-Tools user database, which helps build customer loyalty by ensuring that dealers have the information they need to recommend, specify, install and integrate its products. SI users are granted free access to the D-Tools product library and MVPs have the ability to track how many dealers are downloading product data by day, month, or year, and monitor which products are being downloaded in order to gain valuable insights and better manage their pipeline.

About D-Tools, Inc.
D-Tools, Inc., founded in 1998 and based in Concord, California, is a worldwide leader in accessible, highly accurate system design and documentation software platform. The company's flagship product, System Integrator™ (SI), is a robust solution that utilizes Autodesk® AutoCAD and Microsoft® Visio to facilitate comprehensive system design, documentation and project management. D-Tools enables residential and commercial integrators to streamline business processes and increase revenues while reducing the time and cost associated with the installation and integration of low voltage electronic systems. More than 5,000 leading companies in 87 countries currently use the award-winning D-Tools platform to reduce time, costs and to streamline the system integration process.


Über TRENDnet, Inc.

TRENDnet ist ein globaler Anbieter von preisgekrönten Netzwerk- und Überwachungslösungen für kleine und mittelständige Unternehmen und Privatnutzer. TRENDnet baut seit 1990 Netzwerklösungen auf und ermöglicht den Nutzern, Breitbandzugänge, Multimedia-Inhalte und Netzwerkumgebungen für eine wahre, uneingeschränkte Konnektivität zu teilen. Der vielfältige Produktportfolio von TRENDnet beinhaltet Drahtlostechnologie, Internetkameras (IP-Kameras), Schalter, PoE-Anwendungen, Glasfaser, Gigabit, Hausautomatisierung, Netzwerk-Videorecorder (NVR), Tastatur/Video/Maus (KVM), Druckserver, Powerline, NAS-Media-Server, Multimedia-Zubehör u.v.m. Für weitere Informationen zu TRENDnet, besuchen Sie bitte www.trendnet.com.
Kontaktinformationen:
TRENDnet
20675 Manhattan Place
Torrance, CA 90501
USA

Marketingabteilung
(310) 961-5500
PR@trendnet.com

Vertriebsabteilung
(888) 326-6061
sales@trendnet.com