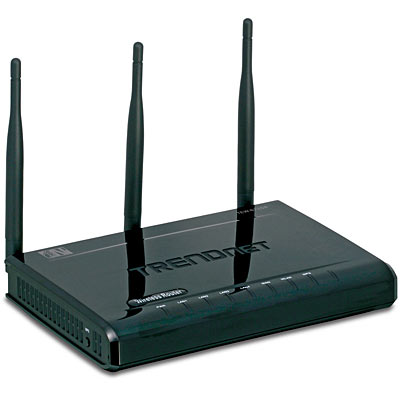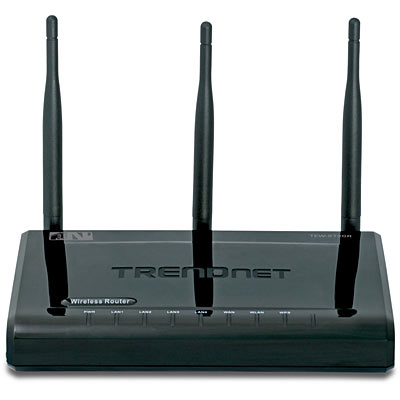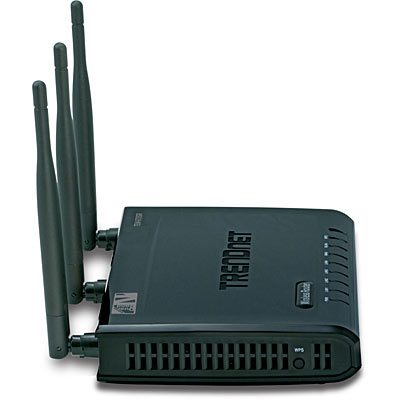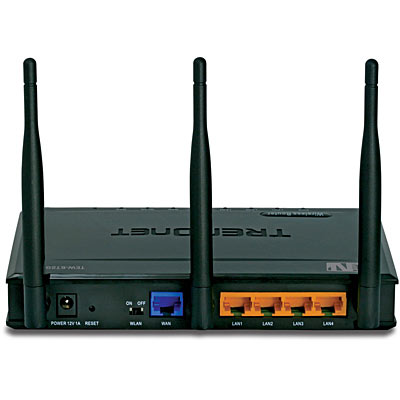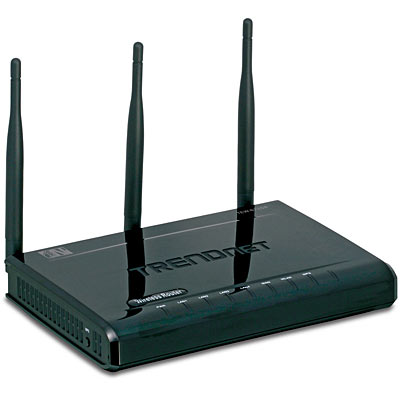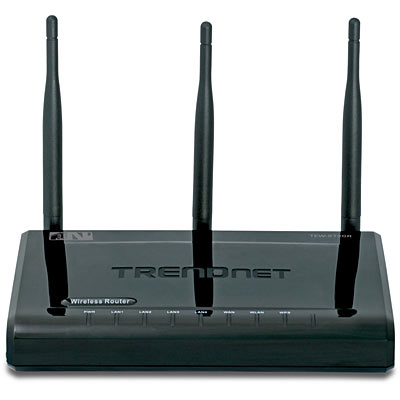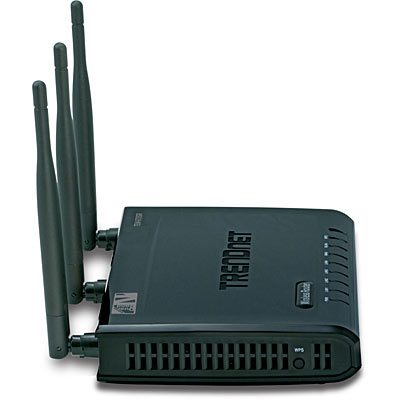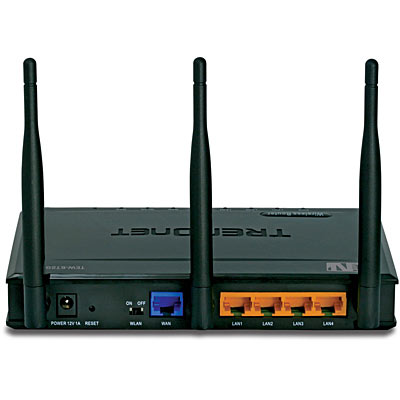 300Mbps Dual Band Wireless N Gigabit Router
TEW-672GR (Version V1.0R)
Increased wireless coverage and speed over standard wireless n
Seamlessly stream HD video, download files, surf and play games all at the same time
14x the speed and 6x the coverage of a wireless g network*
Features Wi-Fi Protected Setup (WPS) and a manual wireless on/off switch
DISCONTINUED PRODUCT
The TEW-672GR (Version V1.0R) has been discontinued. For a list of discontinued products,
click here
.
Firmware
DO NOT upgrade firmware on any TRENDnet product using wireless connection.
Firmware upgrade over wireless connection may damage the product. Please perform firmware upgrade with "wired" network connection only
Firmware : 1.0.9.161
Release Date: 01/2010
Note:
Corrected "remote management always enabled" issue.
Fixed schedule related issues.
Resolved unnecessary packet broadcasting.
Note:
with current firmware, the schedule name does not support space and special characters (e.g. -, $, #, @, and %).
Filename: FW_TEW-639GR_672GR(v1.0.9.161).zip
SHA-1 Checksum: 30E09C14300DF8E3FB5A0C87742438A9B39AEEF4
Date
7/28/2017
File Size
2.72 mb
User's Guide
Filename: UG_TEW-672GR.pdf
Date
10/3/2008
File Size
2.58 mb


Hardware
Standards
Wired: IEEE 802.3 (10Base-T), IEEE 802.3u (100Base-TX) and IEEE 802.3ab (1000BaseT) Wireless: IEEE 802.11a, IEEE 802.11b, IEEE 802.11g, IEEE 802.11n (draft 2.0)
WAN
1 x 10/100/1000Mbps Auto-MDIX port (Internet)
LAN
4 x 10/100/1000Mbps Auto-MDIX port
Wireless On/Off Switch
Turn on/off wireless LAN
WPS Button
Wi-Fi Protected Setup (WPS) with other WPS compliant devices
Connection Type
Dynamic IP, Static (fixed) IP, PPPoE, PPTP, L2TP
NAT Firewall

3K configurable NAT entries; restricted NAPT
IP ranges, port ranges and schedule
Pre-defined game hosting configurations
Port triggering for 24 special applications
ALG support (enable/disable support) –RTP/RTSP, AOL, FTP, ICMP, WMP/MMS, NetMeeting, SIP

SPI Firewall

Up to 24 rules; cyber attack protection – verified against over 2000 attacks

WDS
Enable/disable Wireless Distribution System support
UPnP
UPnP IGD 1.0 compliant
DMZ
DMZ host, 24 configurable Virtual Servers and Game Servers
DNS
Static or WAN assigned DNS servers; 10 verified services for DDNS
Internet Access Control
Policy based parental control; time based Internet access; port range/service filtering; 16 user defined schedules, 24 MAC address filter entries
Logging
3 types and 3 severities event logging; up to 1,000 entries
Email notifications
LED Indicator
Power, LAN1~LAN4, WAN, and WLAN
Power Adapter
12V DC, 1A external power adapter
Power Consumption
779mA
Dimension (L x W x H)
180 x 122 x 30 mm (6.8 x 4.6 x 1.1 inches)
Weight
350g (0.8 lb)
Temperature
Operation: 0°~ 40°C (32°F~ 104°F); Storage: -20°~ 60°C (-4°F~140 °F)
Humidity
Max. 90% (non-condensing)
Certifications
CE, FCC
Wireless

Frequency

2.412 ~ 2.462 GHz (FCC); 2.412 ~ 2.472 GHz (ETSI)
5.150~5.250GHz; 5.725~5.825GHz (FCC)
5.150~5.250MHz (ETSI)

Antenna

3 x 2dBi fixed dipole antenna

Media Access Protocol

CSMA/CA with ACK

Module Technique

802.11n: BPSK, QPSK, 16QAM, with OFDM
802.11b:CCK (11 and 5.5Mbps) DQPSK (2Mbps) DBSPK (1Mbps)
802.11g: OFDM with BPSK, QPSK and 16/64-QAM sub-carrier modulations

Data Rate

802.11a: 54Mbps, 48Mbps, 36Mbps, 24Mbps, 18Mbps, 12Mbps, 9Mbps and 6Mbps
802.11b: 11Mbps, 5.5Mbps, 2Mbps, and 1Mbps
802.11g: 54Mbps, 48Mbps, 36Mbps, 24Mbps, 18Mbps, 12Mbps, 9Mbps and 6Mbps
802.11n: up to 300Mbps

Security
Encryption: hardware AES/TKIP, 64/128-bit WEP (HEX/ passphrase, 11a/b/g/n)
802.1X/EAP: EAP-TLE, EAP-TTLE/MSCHAPv2, PEAPv0/EAP-MSCHAPv2, PEAPv1/EAP-GTC
WPA: WPA/WPA2, WPA-PSK/WPA2-PSK (AES-11b/g/n, TKIP-11b/g)
WPS: support PIN and PBC
SSID broadcast control
Output Power
802.11a: 14dBm (typical)
802.11b: 18dBm (typical)
802.11g: 15dBm (typical)
802.11n: 11dBm (typical) with HT20 or HT40

Receiving Sensitivity

802.11a: -72dBm (typical) @ 54Mbps
802.11b: -84dBm (typical) @ 11Mpbs
802.11g: -73dBm (typical) @ 54Mbps
802.11n: -69dBm (typical) with HT20 or HT40

Channels

2.4GHz 1~ 11 (US), 1~13 (EU) 5GHz 36, 40, 44, 48, 149, 153, 157, 161, and 165




PACKAGE CONTENTS
TEW-672GR
Multi-Language Quick Installation Guide
Power adapter (12V, 1A)
RJ-45 cable (1.5m / 4.9ft)
Information provided in this document pertain to TRENDnet products and is subject to change at any time, without notice.