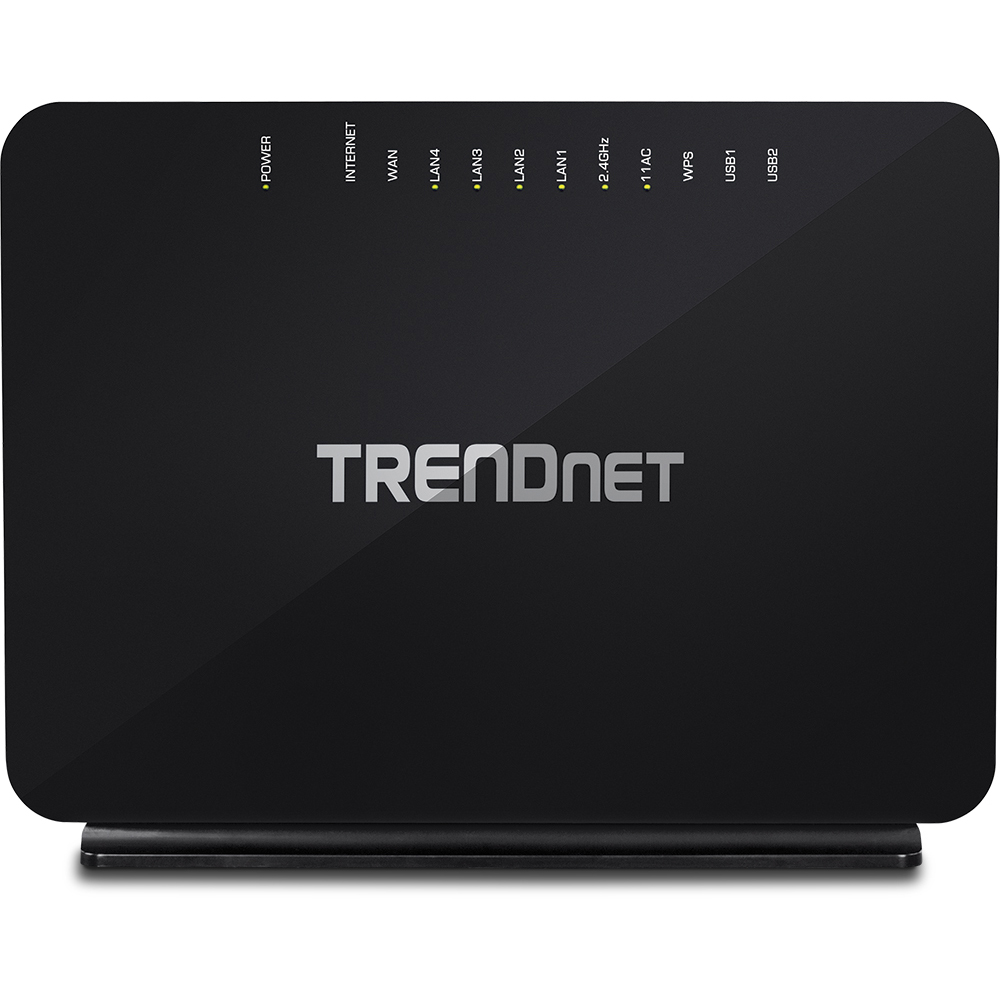 AC750 Wireless VDSL2/ADSL2+ Modem Router
TEW-816DRM (Version: v1.0R)
Combination high performance modem and wireless router
Compatible with VDSL2/ADSL2+ ISP networks
VDSL2: downstream throughput of up to 200 Mbps
Wireless AC750: 433 Mbps AC + 300 Mbps N bands
Pre-encrypted wireless for your convenience
Two USB and four Ethernet ports
TRENDnet's AC750 Wireless VDSL2/ADSL2+ Modem Router, model TEW-816DRM, offers a combination high performance modem for internet access and a powerful wireless AC750 router. The built-in modem supports the latest ADSL2+ and VDSL2 standards for downstream speeds of up to 200 Mbps*. Wireless AC750 produces concurrent high speed 433 Mbps Wireless AC and 300 Mbps Wireless N networks. Use the two USB and four Ethernet ports to share content and devices across the network.
Features
Easy Setup
Get up and running quickly with the intuitive guided setup
VDSL Internet Service
Compatible with VDSL2 internet service provider networks (Profile 8a, 8b, 8c, 8d, 12a, 12b, 17a, and 30a support) for downstream throughput of up to 200 Mbps*
ADSL Internet Service
Compatible with ADSL 2/2+ internet service provider networks (ADSL 2/2+ and Annex A, B, I, J, L, and M support)*
Wireless AC750
Concurrent high speed 433 Mbps Wireless AC + 300 Mbps Wireless N bands
Pre-Encrypted Wireless
For your convenience the wireless network arrives pre-encrypted with its own unique password
One Touch Connection
Connect to the router at the touch of the Wi-Fi Protected Setup (WPS) button
Ethernet Ports
Four Ethernet ports to connect wired devices
USB Share Ports
Plug in flash or storage drives to the two high speed USB ports to share content across the network
Parental Controls
Control access to specific websites and manage which devices can access the router
Remote Management
Remote management and troubleshooting support with TR-069
3G WAN Backup
3G WAN backup support
IPv6
IPv6 network support
On/Off Power Button
Convenient on/off power button
Specifications
VDSL/ADSL Line Interface
ADSL: ANSI T1.413 Issue2, G.992.1 (G.dmt, Annex A, and Annex B), G.992.2 (G.lite)
ADSL2: G.992.3 (G.bis/ADSL2)
ADSL2+: G.992.5 (Annex A, B, I, J, M, and L)
ITU G.994.1 (G.hs)
ITU-T: G.993.2 VDSL2: 8a, 8b, 8c, 8d, 12a, 12b, 17a, 30a, profile G.vector
ATM and PTM
G.INP
Standards
IEEE 802.3
IEEE 802.3u
IEEE 802.3ab
IEEE 802.11b
IEEE 802.11g
IEEE 802.11n (up to 300 Mbps)
IEEE 802.11ac (up to 433 Mbps)
Hardware Interface
4 x 10/100 Mbps LAN ports
1 x Gigabit Mbps WAN port
1 x RJ-11 WAN port
2 x USB 2.0 port
WPS/Wireless 2.4 GHz on/off button
WPS/Wireless 5 GHz on/off button
Power on/off button
Reset button
LED indicators
Special Features
TR-069 remote management support
Pre-encrypted wireless network
Port mapping
3G WAN backup
IPv6
Wireless WDS support
SAMBA server
Dyn DNS support for: DynDNS.org and NO-IP.com
Diagnostics: DSL test, Traceroute test, and Ping test
Access Control
Wireless encryption: WEP, WPA/WPA2-PSK, WPA/WPA2-RADIUS
Firewall: NAT, ALG, Port Trigger, SPI, Virtual Server, Special Applications, DMZ Host, PPTP/L2TP/IPsec VPN Passthrough, Multicast Passthrough, IGMP, MLD, allow/deny ping request from internet
SNMP v1 and v2c
Guest Networks: Create up to 3 guest networks per band
Parental (Access) Controls: MAC, URL, IP Filter
DoS protection
Packet filter
Quality of Service
DCSP
802.1p
Internet Connection Types
Dynamic IP (DHCP)
Static IP (Fixed)
ATM/PTM
PPPoE (Dynamic IP/Static IP)
PPPoA (Dynamic IP/Static IP)
IPoA
MAC Encapsulation Routing (IPoEoA/MER)
Bridge (RFC-1483)
Management/Monitoring
Local/remote web based management
Remote management (FTP, HTTP, ICMP, SNMP, SSH, Telnet, TFTP)
TR-069 remote management
Upgrade firmware
Backup/restore configuration
Logging – internal/remote
Reboot
Restore to factory defaults
Ping test
Traceroute
Routing
Static
Dynamic (RIP v1/2)
Frequency
5 GHz: FCC 5.180 – 5.240 + 5.745 – 5.825; ETSI: 5.180 – 5.240 GHz
2.4 GHz: FCC 2.412 – 2.472; ETSI: 2.412 – 2.462 GHz
Modulation
802.11b: CCK, DQPSK, DBPSK
802.11a/g/n: BPSK, QPSK, 16 QAM, 64 QAM sub carrier with OFDM
802.11ac: BPSK, QPSK, 16 QAM, 64 QAM, 256 QAM with OFDM
Antenna Gain
5 GHz: 3 dBi (max.) internal
2.4 GHz: 2 dBi (max.) internal
Wireless Output Power/Receiving Sensitivity
802.11a: FCC: 20 dBm, CE: 22 dBm (max.)/-73 dBm (typical) @ 54 Mbps
802.11b: FCC: 24 dBm, CE: 13 dBm (max.)/-84 dBm (typical) @ 11 Mbps
802.11g: FCC: 22 dBm, CE: 14 dBm (max.)/-70 dBm (typical) @ 54 Mbps
802.11n (2.4 GHz): FCC: 22 dBm, CE: 14 dBm (max.)/-66 dBm (typical) @ 300 Mbps
802.11n (5 GHz): FCC: 20 dBm, CE: 22 dBm (max.)/-66 dBm (typical) @ 300 Mbps
802.11ac: FCC: 18 dBm, CE: 21 dBm (max.)/-56 dBm (typical) @ 433 Mbps
Wireless Channel
5 GHz: FCC: 36, 40, 44, 48, 149, 159, 157, 161, and 165; CE: 36, 40, 44, 48
2.4 GHz: FCC: 1 – 11; CE: 1 - 13
Power
Input: 100 – 240 V AC, 50 - 60 Hz, 0.5 A
Output: 12 V DC, 1.5 A external power adapter
Consumption: 14 Watts (max.)
Operating Temperature
0 – 40 °C (32 – 104 °F)
Operating Humidity
Max. 95 % non-condensing
Certifications
CE
FCC
Dimensions
190 x 146 x 55 mm (7.5 x 5.7 x 2.2 in.)
Weight
323 g (11.4 oz.)
Warranty
3 year limited
Package Contents
TEW-816DRM
Quick Installation Guide
CD-ROM (User's Guide)
Network cable (1.5 m/5 ft.)
RJ11 telephone cable (1 m/3 ft.)
Power adapter (12 V DC, 1.5 A)
Ordering Information
20675 Manhattan Place
Torrance, CA 90501
USA

Tel: 1-310-961-5500
Fax: 1-310-961-5511
Web: www.trendnet.com
Email: sales@trendnet.com
To Order Please Call

1-888-326-6061
Information provided in this document pertain to TRENDnet products and is subject to change at any time, without notice. Copyright © 2018 TRENDnet. All rights reserved.